Gallery Tour
Charlottenburg
by Christian Ganzenberg, 2023
English Version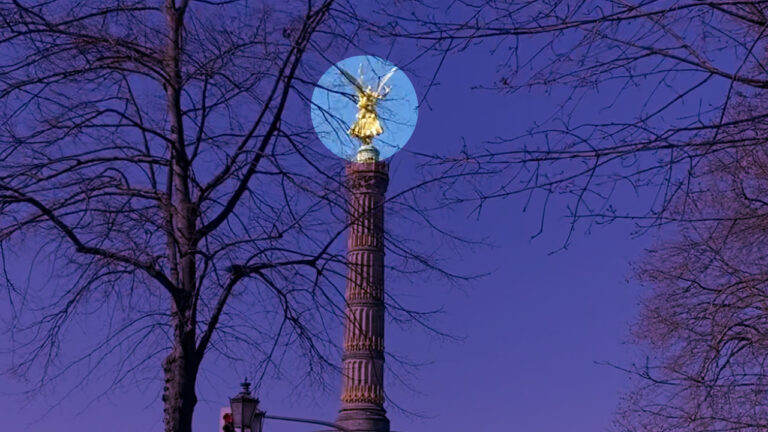 We are starting our trajectory quite traditionally in Ernst-Reuter-Platz and heading south to visit as many Charlottenburg venues participating in this year's Gallery Weekend as possible. At Efremidis, we are welcomed by Reba Maybury's display window project From Paris with Love. To create this work, the British-Pakistani artist and dominatrix, who was born in 1990, requested her "submissives" to repeatedly reproduce Toulouse-Lautrec's Medical Examination (1894), which depicts two prostitutes waiting to be examined by a doctor. By ordering a paint-by-numbers exercise, the dominant artist hustled her submissive collaborators into reproducing a motif in order to challenge our perspective on women's bodies. The gallery awaits us with new large-scale paintings, a new mural, and small "icons" by Tony Just.
At Wentrup, the works presented immediately transport us to a film set, replete with rigging, cameras, spotlights, tripods, and every kind of filmmaking equipment. Britta Thie offers us a glimpse behind the scenes of TV and film productions and exposes the entertainment industry's infrastructure. Her painterly translation of these almost anthropomorphic pieces of equipment not only imparts a physiognomy to these objects, almost personifying them, but also freezes such "instruments" of moving image production in the timeless and silent medium of painting.
The work of the painter and poet Gaston Chaissac (1910–1964) also navigates different media, including forays into the literary realm. Michael Werner is now showing the artist's work in Berlin for the first time. Chaissac, whose admirers included the likes of Georg Baselitz, shunned all schools and categorizations already during his lifetime. Since his oeuvre is difficult to grasp even posthumously, he has yet to achieve the renown of many of his contemporaries. Chaissac's formal investigations, which oscillate between abstraction and representation, formalism and figuration, bear a resemblance to Paul Klee's pictorial language. He painted on anything he could get his hands on, switching between a wide variety of techniques in order to draw out the best qualities of each material.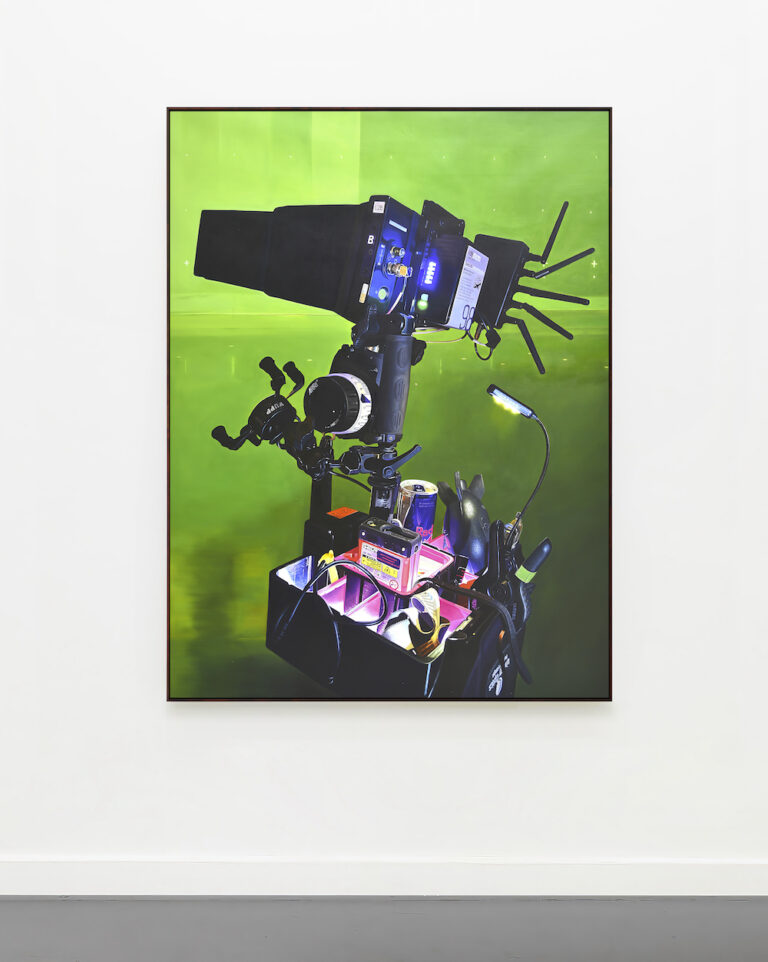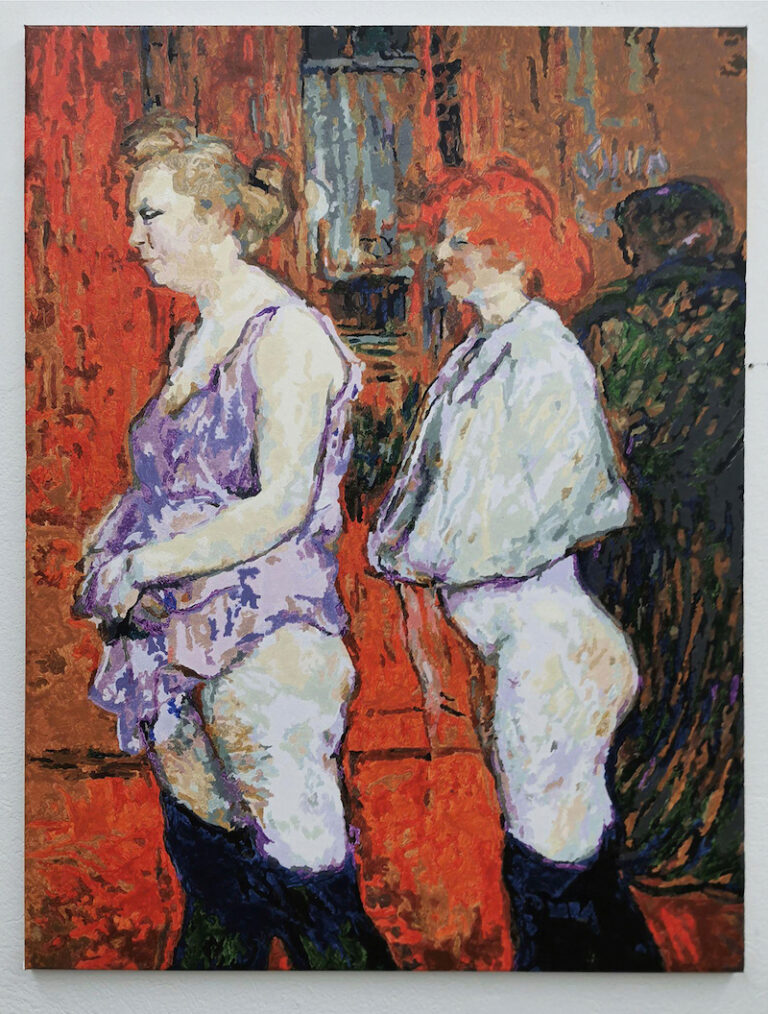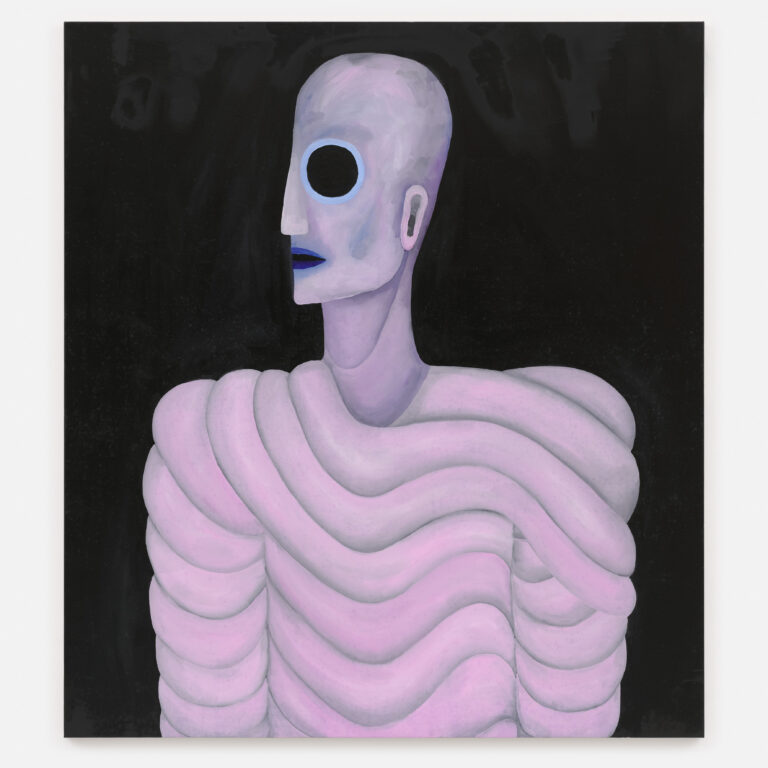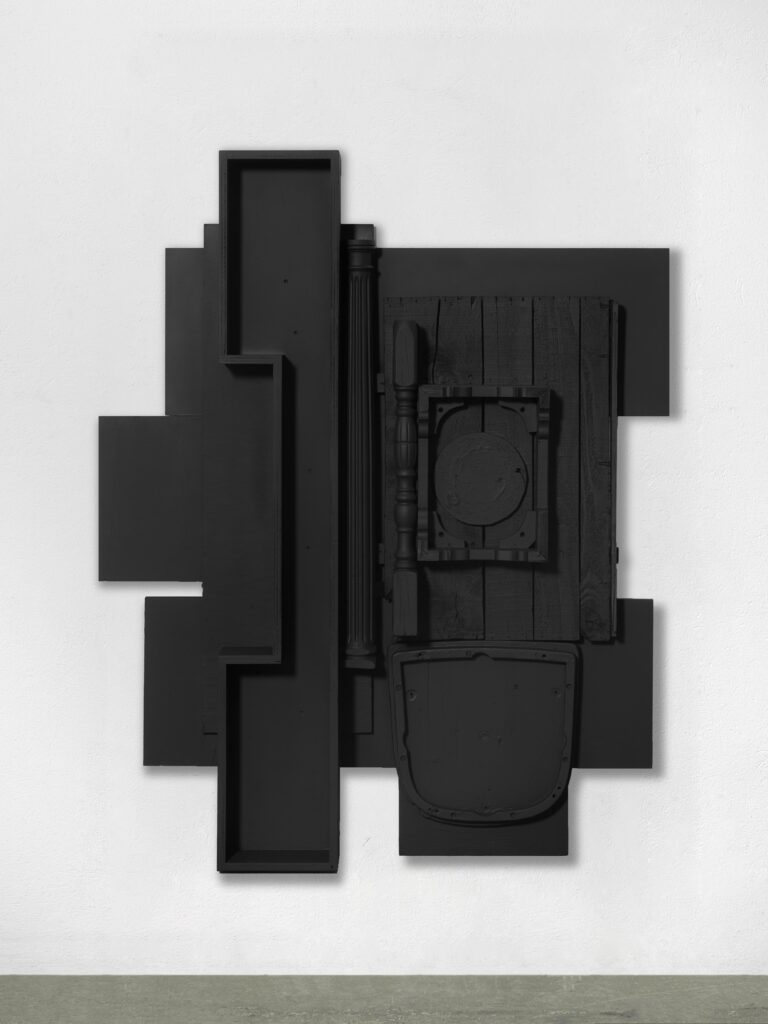 Max Hetzler currently has three exhibition spaces in the west of Berlin. New works by Raphaela Simon (b. 1986) are on view at the Goethestraße location. Set against monochromatic backgrounds, Nighthawks gathers large-scale portrayals of figures that seem strangely dehumanized and contradictory. Simon's nighthawks tell us about their insomnia and explore the potentiality of nocturnal rest as a space and time for human violence and brutality. On Bleibtreustraße, "resortization" serves as the premise for the presentation curated by Isabelle Graw, which features paintings by artists including Merlin Carpenter, Jutta Koether, Kerry James Marshall, Avery Singer, and Rosemarie Trockel. The art critic uses this term to describe the current trend of establishing branches of major galleries in international luxury resorts, scrutinizing the resulting disconnect between such spaces and artworks. It is not only visual works that are presented at the gallery; the musician Jens-Uwe Beyer has also composed a soundtrack for the exhibition based on recordings made by the participating artists.
Just around the corner, at Michael Haas, historical works by Louise Nevelson and George Rickey are being shown for the first time in a joint exhibition. While the kinetic stainless steel sculptures consisting of geometric forms created by Rickey (1907–2002) are a prominent fixture in Berlin and elsewhere, works by Nevelson (1899-1988) are not as well-known in Germany. Her assemblage-like, mostly monochrome reliefs and sculptures made of wood scraps and furniture pieces drew strong inspiration from Cubism. Both artists consistently highlighted poetic and playful dimensions in their creative process, which they primarily expressed through their kinetic works. Principles of movement and balance, the perception of space and time, and the dynamic relationship between work and viewer wonderfully connect their practices—and not only in terms of content.
The exhibition Mind Hours Hand Minutes by Min Yoon at Lars Friedrich on Kantstraße brings us back to the present. The Vienna-based artist, who was born in South Korea, does not focus on the finished work nor its creative process. Rather, he is concerned with "de-creation," meaning the reverse transformation of the work of art back into time and material. To achieve this, he dissects his objects into individual "organs," "disorganizing" the anatomical structure of his source works.
Henning Strassburger is presenting his third solo exhibition at Contemporary Fine Arts on Grolmanstraße. Strassburger turns his back on abstraction in his new series, showing large-format paintings, mostly in warm and vibrant colors, that revert to depicting human bodies. These often turn away from the viewer to guard their intimacy. "I have tried to develop a timeless iconography for myself in these new paintings. Maybe because they are so connected to art history elements." The gallery is dedicating its bel étage to Norbert Schwontkowski, who passed away in 2013. Schwontkowski always gravitated toward somber atmospheres; and here, too, human figures, if present at all, become lost in overwhelming and mysterious landscapes.
Instead of getting lost, we keep moving towards Fasanenstraße, where we encounter an exhibition of works by Olle Bӕrtling and Gerhard von Graevenitz at Kunsthandel Wolfgang Werner. These two major names are not only connected by their participation in various exhibitions and their association with the ZERO Group; they also share an interest in expanding abstraction to incorporate kinetic and systemic elements. In their individual practices, Bӕrtling and von Graevenitz explored movement and the transformation of form and color, each developing a highly idiosyncratic "language" within geometric abstraction.
Samuel Hindolo is an American artist born in 1990. Guest room is the title of his first exhibition, which is now showing at Galerie Buchholz. Primarily a painter, Hindolo also occasionally employs other media. His works are characterized by the spaces—architectures, passages, or places—that surround his figures. These remain only roughly sketched and merely suggested. Subliminal feelings of violence are also evoked by his works' themes, which range from historical African-American references to current political debates. The artist's paintings do not convey a subjective view of the world; instead, they enable us to critically examine contemporary social structures.
The same aim is pursued in the exhibition Simurgh. Ten Woman Artists from Iran, which the curator Başak Şenova has organized for Galerie Crone. According to the legend, Simurgh is a giant wise bird with supernatural powers that has already witnessed the world's demise three times. In this exhibition, this human-oriented bird serves as a symbol of the life of Iranian people, both in Iran and abroad. The participating artists Yalda Afsah, Anahita Razmi, and Nooshin Farhid are also part of the Iranian diaspora.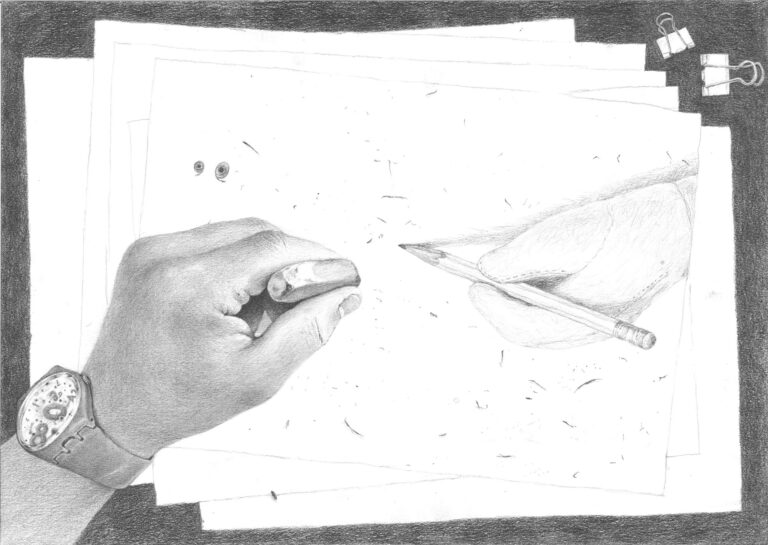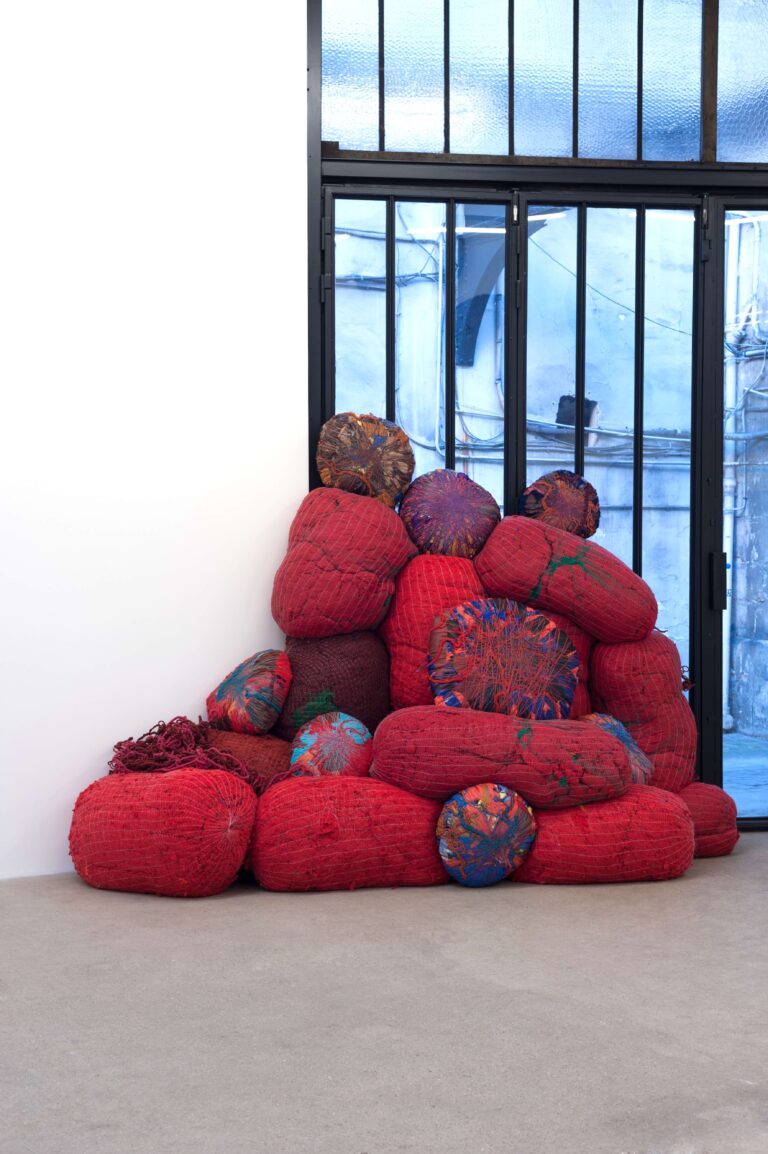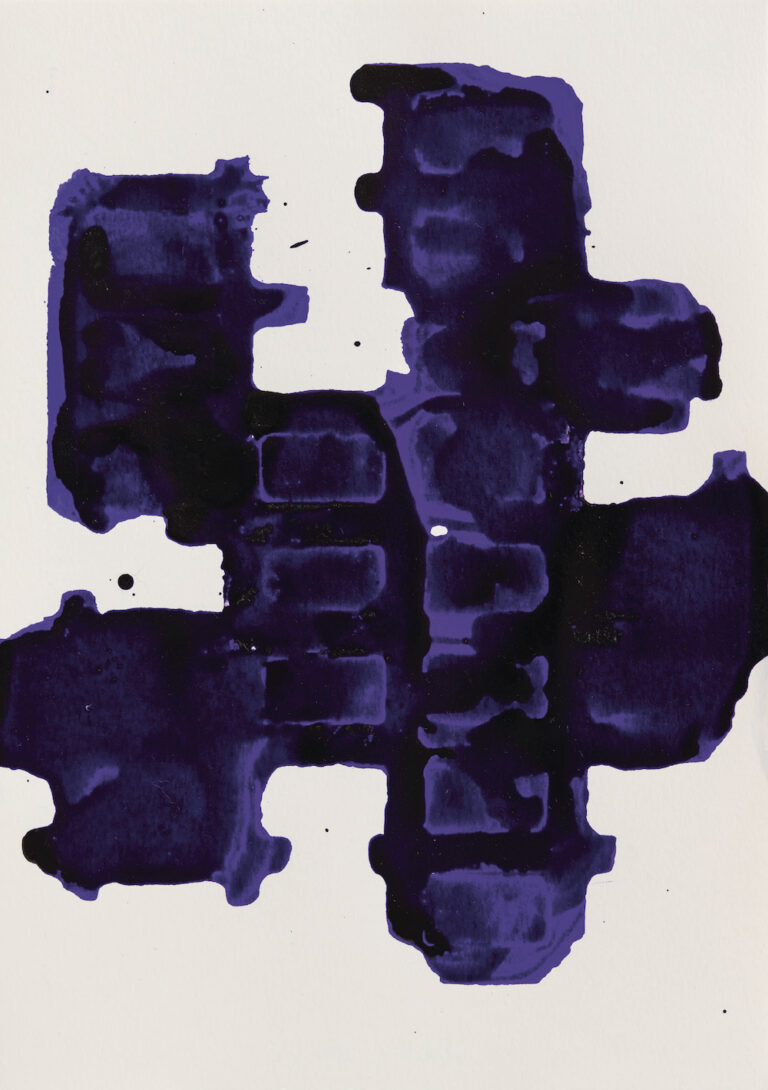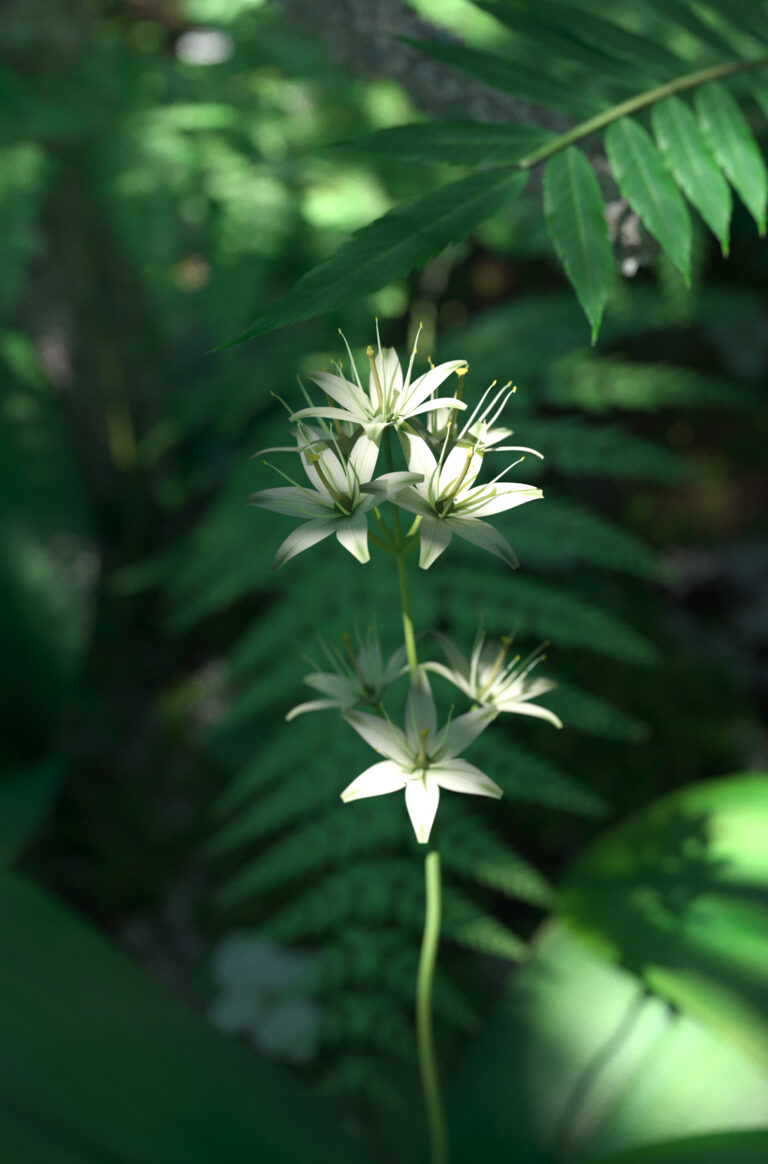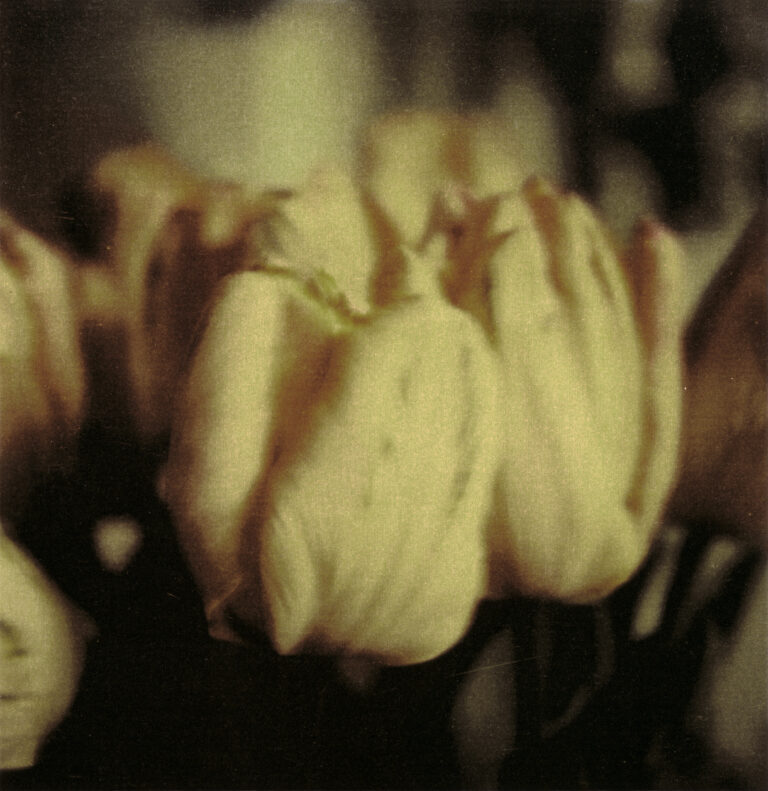 We continue our journey at Meyer Riegger on Schaperstraße, where the 89-year-old American artist Sheila Hicks, who now lives in Paris, has been invited to present her colorful and materiality-driven works. Her retrospective presentation offers a good insight into her work as a whole, which also draws on traditional crafts from a wide range of cultures. In the course of long journeys through countries including Chile, Mexico, India, and Morocco, Hicks has gathered not only materials but also extensive knowledge of textile techniques. Her works, which range from fabric paintings to expansive installations, weave together these emotional traveling experiences and cross-cultural encounters. Hicks combines natural fibers with synthetic materials, quite often weaving together more unusual elements such as shells, slate, or pasta into her works.
Compositions by Thomas Müller, whose second solo exhibition is on view at Galerie Friese in Fasanenplatz, are also unusually complex, richly hued, and abstract. Employing a plethora of materials, the artist draws non-objective structures through "crystalline, woven, wave-like, two-dimensional, taut, and floating" forms on differently-sized paper supports. His work is concerned with aesthetic questions that arise for the artist in the ongoing development of the medium of drawing, mainly as a result of the tension between line and surface, structure and depth.
Mehdi Chouakri is dedicating two simultaneous exhibitions to the artist Saâdane Afif. The two interrelated presentations in Fasanenplatz and Wilhelm Hallen give continuation to a cycle of exhibitions, all of which are based on a theater piece. In her search for a seven-sided body, a heptahedron, the play's heroine encounters seven enigmatic figures. Each of these figures is able to reveal a part of the mystery surrounding her desired object. The works presented are related to these characters; they are marvelously interwoven with the overarching narrative and real-life memorabilia, such as a letter by Claude Debussy or the opening's limited-edition cocktail. Maybe the exhibition curator, a namesake of the heroine, can help us solve its riddle? Actually, maybe not. Konstantin Grcic's staging of Charlotte Posenenske's works, which is also being shown in Wilhelm Hallen, is much more straightforward. The designer has restaged Posenenske's modular square tubes in the exhibition space as a "yellow idea" of the Frankfurt kitchen, making few but skillful interventions.
But let's hop back to the west, where Galerie Kicken on Kaiserdamm is continuing its Sheroes of Photography exhibition series as part of Gallery Weekend. In its fifth iteration, the achievements of outstanding women photographers such as Barbara Klemm, Lucia Moholy, and Lotte Jacobi are again honored in a dialogue-oriented, comprehensive exhibition.
At Société on Wielandstraße, Timur Si-Qin is presenting his fifth solo exhibition entitled Natural Origin. Here he delves deeper into his reflections on evolution and ecology, technology and nature. The sculptures on view address possible origins of the Coronavirus, which the New York-based artist understands as a "planetary immune response." Drawing from his visual art works, Si-Qin has developed a campaign that serves as a conceptual and visual framework to rethink our relationship with the planet. Here we linger briefly and devotedly as we imagine ourselves "snapping back into the world of life" (Eduardo Kohn), before we end our journey by traveling back in time once more.
We are rounding off with a visit to the Form and Shades exhibition by Cy Twombly at Galerie Bastian in Dahlem. Alongside two sculptures, this exhibition focuses on the lesser-known but no less fascinating photographic work of the artist, who passed away in 2011. Also in this medium, Twombly refuses any claim to explicitness and rejects technical standards. His photographic still lifes, landscapes, self-portraits, or details of his works are infused with the film grain's presence. The artist's everyday observations, which today seem almost intimate, are as blurred and faded as our memories of the beginning of this wonderful tour de force through the exuberant gallery landscape in the west of Berlin.
Gallery Tour
Charlottenburg
von Christian Ganzenberg, 2023
Deutsche Version
Wir beginnen unsere Route ganz klassisch am Ernst-Reuter-Platz und bewegen uns südwärts, um möglichst alle Charlottenburger Teilnehmenden des diesjährigen Gallery Weekends zu ergehen. Begrüßt werden wir bei Efremidis von Reba Mayburys Schaufensterprojekt From Paris with Love. Dafür hat die 1990 geborene britisch-pakistanische Künstlerin und Domina Toulouse-Lautrecs Medical Examination (1894), das zwei auf eine ärztliche Untersuchung wartende Prostituierte zeigt, gleich mehrfach von ihren "Gehorsamen" reproduzieren lassen. Befohlenes Malen-nach-Zahlen, bei dem die dominante Künstlerin ihre unterwürfigen Kollaborateure dazu drängt, ein Motiv zu reproduzieren, um unsere Perspektive auf den weiblichen Körper in Frage zu stellen. In der Galerie erwarten uns neue großformatige Malereien, ein neues Wandgemälde und kleine "Ikonen" von Tony Just.
Bei Wentrup versetzen uns die präsentierten Werke unmittelbar in ein Filmset, mit Riggs, Kameras, Scheinwerfern, Tripods und all dem anderen Film-Equipment. Britta Thie eröffnet uns den Blick hinter die Kulissen von TV- und Filmproduktionen und macht die Infrastruktur der Unterhaltungsindustrie sichtbar. Ihre malerische Übersetzung dieser fast anthropomorphen Gerätschaften gibt den Dingen nicht nur ein Antlitz, eine Quasi-Persönlichkeit, sondern friert diese "Instrumente" zur Produktion von Bewegtbildern im zeitlosen und stillen Medium der Malerei ein.
Zwischen den Medien bewegt sich auch der Maler-Poet Gaston Chaissac (1910-1964), der sich auch der Literatur zuwandte, und nun erstmals bei Michael Werner in Berlin zu sehen ist. Bereits zu Lebzeiten vermied, der nicht nur von Georg Baselitz geschätzte, Chaissac alle Schulen und Kategorisierungen. Da sein Schaffen auch posthum nur schwer fassbar ist, blieb ihm der Ruhm vieler seiner Zeitgenossen noch verwehrt. Chaissac Formfindungen, die zwischen Abstraktion und Gegenständlichkeit, Formalismus und Figuration changieren, sind der Bildsprache von Paul Klee nicht unähnlich Er malte auf allem, was er fand und wechselten zwischen den verschiedensten Techniken, um den Materialien ihre besten Eigenschaften zu entlocken. Uns locken die Galerien von Max Hetzler, der mittlerweile drei Dependancen im Berliner Westen vorzuweisen hat: In der Goethestraße sind neue Werke von Raphaela Simon (1986) zu sehen. Vor monochromen Hintergründen versammelt Nighthawks großformatige Darstellungen von Figuren, die seltsam entmenschlicht und widersprüchlich erscheinen. Simons Nachtschwärmer erzählen uns von ihrer Schlaflosigkeit und der Potentialität der nächtlichen Ruhe als Raum und Zeit für menschliche Gewalt und Brutalität. In der Bleibtreustraße ist "Resortisierung" der Ausgangspunkt der Präsentation, die Isabelle Graw mit Malereien von Merlin Carpenter, Jutta Koether, Kerry James Marshall, Avery Singer, Rosemarie Trockel und anderen zusammengestellt hat. Mit diesem Begriff beschreibt die Kunstkritikerin den aktuellen Trend zur Ansiedlung von Dependancen der Megagalerien in internationalen Luxusresorts. Sie hinterfragt die dadurch entstehende Abkopplung von der künstlerischen Arbeit. Ihre Ausstellung zeigt nicht nur die Bildwerke, der Musiker Jens-Uwe Beyer hat aus den Tonaufnahmen der Künstler:innen zudem einen Soundtrack für die Ausstellung komponiert.
Um die Ecke bei Michael Haas sind erstmals historische Werke von Louise Nevelson und George Rickey in einer gemeinsamen Ausstellung zu sehen. Während Rickey (1907–2002) mit seinen kinetischen Edelstahl-Skulpturen aus geometrischen Formen nicht nur in Berlin prominent vertreten ist, sind die Werke von Nevelson (1899–1988) in Deutschland weniger bekannt. Ihre Assemblage-artigen, meist monochromen Reliefs und Skulpturen aus Holzabfällen und Möbelstücken wurden stark vom Kubismus inspiriert. Beide Künstler:innen betonten in ihrem Schaffen stets die poetische und spielerische Dimension, die sie vor allem in ihren kinetischen Werken zum Ausdruck brachten. Prinzipien von Bewegung und Gleichgewicht, die Wahrnehmung des Raums und der Zeit und die dynamische Beziehung zwischen Werk und Betrachtenden verbinden ihre Positionen nicht nur inhaltlich wunderbar.
Zurück ins Jetzt befördert uns die Ausstellung Mind Hours Hand Minutes von Min Yoon bei Lars Friedrich in der Kantstraße. Der aus Südkorea stammende und in Wien lebende Künstler betont weder das finale Werk noch dessen schöpferischen Entstehungsprozess. Es geht ihm vielmehr um "De-Kreation", also um die Rückverwandlung des Kunstwerkes in Zeit und Material. Dazu zerlegt er seine Objekte in einzelne "Organe" und "desorganisiert" die anatomische Struktur seiner Ausgangswerke.
Henning Strassburger präsentiert seine dritte Einzelausstellung bei Contemporary Fine Arts in der Grolmanstraße. In seiner neuen Serie kehrt Strassburger der Abstraktion den Rücken zu und zeigt in seinen großformatigen Gemälden, meist in warmen und kräftigen Farben, nun wieder menschliche Körper. Diese wenden sich oft vom Betrachtenden ab, um ihre Intimität zu schützen. "In meinen neuen Bildern habe ich versucht, eine zeitlose Ikonographie für mich zu entwickeln. Vielleicht, weil sie so sehr mit Elementen der Kunstgeschichte verbunden sind." Dem bereits 2013 verstorbenen Norbert Schwontkowski widmet die Galerie ihre Beletage. Schwontkowski tendierte stets zu düsteren Atmosphären, und auch hier verlieren sich die menschlichen Figuren, wenn überhaupt präsent, in überwältigenden und mysteriösen Landschaften.
Wir verlieren uns nicht, sondern schreiten weiter zur Fasanenstraße, wo wir beim Kunsthandel Wolfgang Werner auf die Ausstellung von Olle Bӕrtling und und Gerhard von Graevenitz treffen. Die beiden großen Namen verbindet nicht nur die Teilnahme an verschiedenen Ausstellungen und die gemeinsame Zugehörigkeit zur ZERO Gruppe; sie teilen darüber hinaus das Interesse an der Erweiterung der Abstraktion um kinetische und systemische Aspekte. In ihrem jeweiligen Schaffen beschäftigten sich Bӕrtling und von Graevenitz mit Bewegung und dem Wandel von Form und Farbe, und entwickelte jeweils eine ganz individuelle "Sprache" innerhalb der geometrischen Abstraktion.
Guest room heißt die erste Ausstellung von Samuel Hindolo, einem 1990 geborenen amerikanischen Künstler, die in der Galerie Buchholz zu sehen ist. Hindolo ist vornehmlich Maler, der gelegentlich auch anderen Medien einsetzt. Seine Werke sind durch die seine Figuren umgebenden Räume—Architekturen, Passagen oder Orte—geprägt, die jedoch nur grob skizziert und angedeutet werden. Unterschwellige Gefühle von Gewalt werden auch durch die Themen seiner Werke evoziert, die von historischen, afroamerikanischen Referenzen bis zu aktuellen, politischen Debatten reichen. Diese Malerei vermittelt keine subjektive Weltsicht, sondern lässt uns kritisch auf aktuelle gesellschaftliche Strukturen blicken.
Dasselbe will ebenfalls die Ausstellung Simurgh. Ten Woman Artists from Iran, welche die Kuratorin Başak Şenova für die Galerie Crone zusammengestellt hat. Der Legende nach ist Simurg ein riesiger weiser Vogel mit übernatürlichen Kräften, der bereits dreimal den Untergang der Welt erlebt hat. In dieser Ausstellung dient dieser den Menschen zugewandte Vogel als ein Sinnbild für das Leben der Iraner:innen, sowohl im Iran als auch in der Diaspora, in der u.a. die teilnehmenden Yalda Afsah, Anahita Razmi oder Nooshin Farhid leben.
Farbenfroh und sehr stofflich geht es weiter bei Meyer Riegger in der Schaperstraße, wo die mittlerweile 89-jährige, in Paris lebende, amerikanische Künstlerin Sheila Hicks zu Gast ist. Ihre retrospektiv angelegte Präsentation gibt einen guten Einblick in ihr Gesamtschaffen, das sich auch aus dem traditionellen Kunsthandwerk verschiedenster Kulturen speist. Auf langen Reisen, unter anderem durch Chile, Mexiko, Indien und Marokko, hat Hicks neben Materialien auch umfangreiches Wissen über textile Techniken gesammelt. Ihre Werke, die von Stoffmalereien bis zu raumgreifenden Installationen reichen, verweben diese emotionalen Reiseerfahrungen und Begegnungen mit den Kulturen. Hicks verbindet natürliche Fasern mit synthetischen Materialien und fügt ihren Webereien nicht selten noch ein ungewöhnliches Element wie Muscheln, Schiefer oder Nudeln hinzu.
Ungewöhnlich komplex, farbintensiv und abstrakt sind auch die Kompositionen von Thomas Müller, dessen zweite Einzelausstellung in der Galerie Friese am Fasanenplatz zu sehen ist. Mit einer Fülle an Materialien zeichnet der Künstler auf verschiedengroßen Papieren gegenstandslose Gebilde in "kristallinen, gewebten, wellenförmigen, flächigen, gespannten und schwebenden" Formen. Dabei geht es um ästhetische Fragestellungen, die sich dem Künstler bei der Weiterentwicklung des Mediums Zeichnung stellen, vornehmlich im Spannungsfeld zwischen Linie und Fläche, Struktur und Tiefe.
Gleich zwei Ausstellungen widmet Mehdi Chouakri dem Künstler Saâdane Afif. Die beiden zusammenhängenden Präsentationen am Fasanenplatz und in den Wilhelm Hallen sind eine Fortsetzung eines Zyklus von Ausstellungen, die alle auf einem Theaterstück basieren. Die Heldin dieses Stückes trifft bei ihrer Suche nach einem siebenseitigen Körper, einem Heptaeder, auf sieben rätselhafte Figuren. Jede dieser Figuren kann einen Teil des Geheimnisses über das Objekt der Begierde lüften. Die präsentierten Werke beziehen sich auf diese Charaktere und sind mit der rahmenden Erzählung, aber auch mit realen Devotionalien, wie einem Brief von Claude Debussy oder dem limitierten Cocktail bei der Eröffnung, wundersam versponnen. Vielleicht kann uns die Kuratorin der Ausstellung, eine Namensvetterin der Heldin, bei der Auflösung helfen? Vielleicht auch nicht. Wesentlich sortierter ist die parallel in den Wilhelm Hallen gezeigte Inszenierung der Werke von Charlotte Posenenske durch Konstantin Grcic. Der Designer hat Posenenskes modulare Vierkantrohre mit wenigen, aber gekonnten Eingriffen, im Ausstellungsraum als eine "gelbe Idee" der Frankfurter Küche neu inszeniert.
Doch springen wir noch einmal zurück in den Westen, wo am Kaiserdamm die Galerie Kicken anlässlich des Gallery Weekend ihre Ausstellungsreihe Sheroes of Photography weiterführt. Auch im fünften Teil werden in einer dialogischen Überblickschau die Leistungen von herausragenden Fotografinnen wie Barbara Klemm, Lucia Moholy oder Lotte Jacobi gewürdigt.
Bei Société in der Wielandstraße zeigt Timur Si-Qin seine fünfte Einzelausstellung mit dem Titel Natural Origin, in der er seine Überlegungen zu Evolution und Ökologie, Technologie und Natur vertieft. Die präsentierten Skulpturen widmen sich möglichen Ursprüngen des Corona-Virus, den der in New York lebende Künstler als eine "planetarische Immunreaktion" versteht. Aus seinen bildkünstlerischen Arbeiten entwickelt Si-Qin eine Kampagne, die als konzeptueller und visueller Rahmen dient, um die Beziehung zu unserem Planeten neu zu denken. Hier verweilen wir noch kurz und andächtig in der Vorstellung, wie wir "zurück in die Welt des Lebens eintauchen" (Eduardo Kohn) ["Snapping back into the world of life"], bevor wir zu guter Letzt noch einmal in die Vergangenheit reisen.
Denn zum Abschluss besuchen wir die Präsentation Form and Shades von Cy Twombly bei der Galerie Bastian in Dahlem. Diese Ausstellung konzentriert sich, neben zwei Skulpturen, auf das weniger bekannte, aber nicht minder faszinierende fotografische Werk des 2011 verstorbenen Künstlers. Twombly verweigert sich auch in diesem Medium jeglichem Anspruch auf Eindeutigkeit und negiert technische Standards. Seine Stillleben, Landschaften, Selbstportraits oder Details seiner Werke werden mit grobem Korn wiedergegeben. Diese heute als fast intim erscheinenden Alltagsbeobachtungen des Künstlers sind ähnlich unscharf und verblasst wie unsere Erinnerungen an den Beginn dieser wunderbaren Tour de Force durch die üppige Galerienlandschaft im Berliner Westen.