Hans-Peter Feldmann
Kunstausstellung
Hans-Peter Feldmann has been exploring the perception and use of images for more than five decades. He regards them not only as "a window to the world" but also as a subject of work. From an early age, the artist engaged with the pictorial world of stamps, collecting various motifs, ranging from Queen Elizabeth II to the Statue of Liberty, and sticking his selection into small-format notebooks. Another form of Feldmann's early commitment to images reveals itself in his collection of so-called "Sanella pictures". It is in the margarine brand Sanella's packaging material that Feldmann discovered the cosmos of image collections, which he stuck into albums. As a young artist, after attending art school in Linz, Austria, in the mid-1960s, Feldmann advanced his method of cutting, collecting, and sticking. In doing so, he infused the everyday aesthetics of reproduced images with a new meaning by removing them from their original contexts and transferring them into new pictorial association fields. Initially, Feldmann mounted the pictures he had cut from advertising brochures onto the backs of his early paintings and arranged magazine cut-outs with scrapbook pictures, creating his own interpretation and a new visual world. His later collages, presented in this Art Exhibition, show everyday images containing trivial and romanticizing motifs or obscene and gruesome scenes. There are visual juxtapositions of different motifs, monothematic image compositions, as well as objects that construct the stories, associations, and remembrances of our collective memory. Feldmann's paintings are tied to memory production in that they can be understood both as an act of personal processing and a societal representation of experience.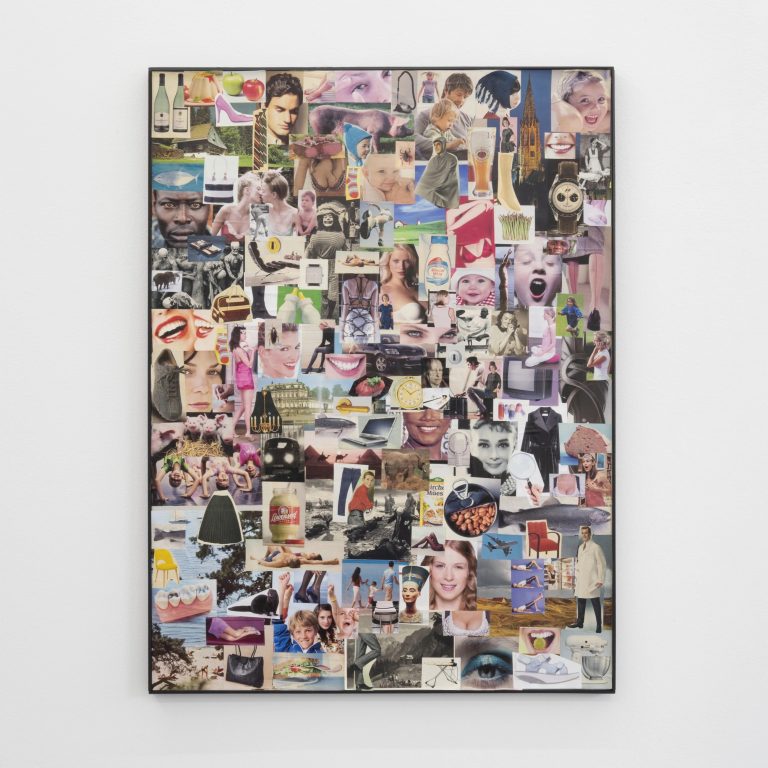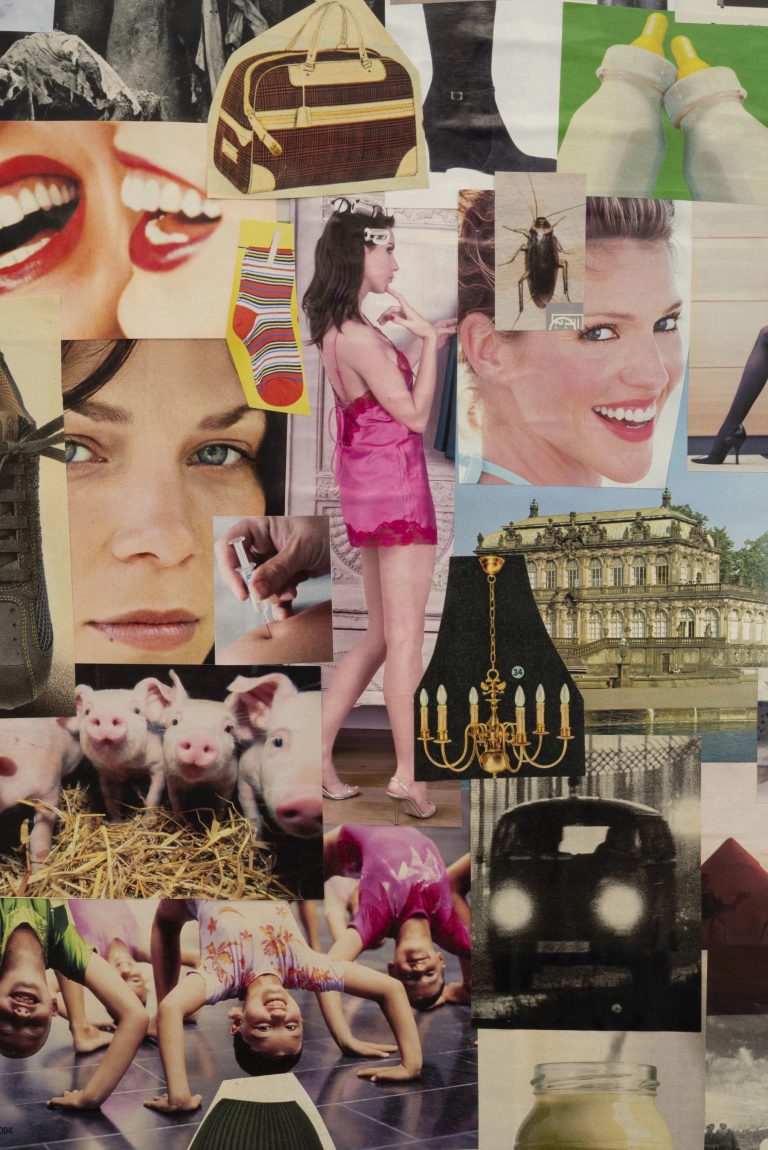 By not using captions or accompanying comments, the artist refrains from giving an interpretation of his work, consequently elevating the respective painting or object beyond its immediate presence. Each work thrives on the viewers' individual willingness to perceive and interpret. Detailed artwork specifications, the artist's signature, or other art practice formalisms are not a part of the artist's self-positioning. Feldmann, who does not refer to himself as an artist, works with enigmas, like many of his contemporaries. No one can tell what is inside the cardboard boxes of the wooden shelf on display here, and the backs of the oil paintings provide equally little information about the pictorial motifs. In his art, Feldmann merges the idea and the concept, as well as action, emotion, and personal narrative.
Before the 1980s, practically no one could live from making art and no one expected to. So everyone had to earn their money somewhere else. And if there was no art scene, then I would still cut out pictures and paste them down somewhere.
Hans-Peter Feldmann, 2010
A defining theme of Feldmann's oeuvre is the collection, reuse, appropriation, and modification of found objects and pictures. For example, he paints over existing paintings from earlier periods, giving a dog a squint, placing a black bar in front of the eyes of a group of putti, or applying a red clown's nose to a skeleton, thereby transforming the found picture into his own.  Laid out as a leitmotif, Feldmann's collection of paintings is encountered through various forms of presentation; for example, there are paintings suspended in the exhibition space, leaned against walls, or displayed in a "Petersburg hanging." Feldmann's installations know no limits as he chooses to vary between fixed principles of order and arranged disorganisation. He produces his own visual material, reproduces that of others, and presents it in series or groupings within the exhibition space or in books. Feldmann's "books, publications, and notebooks" play an essential role in his oeuvre; their aesthetics and content are inextricably linked to his artworks. His artist's books are vehicles of his conceptual ideas; they are carriers of his works, spaces of his personal experiences, and exhibitions in themselves.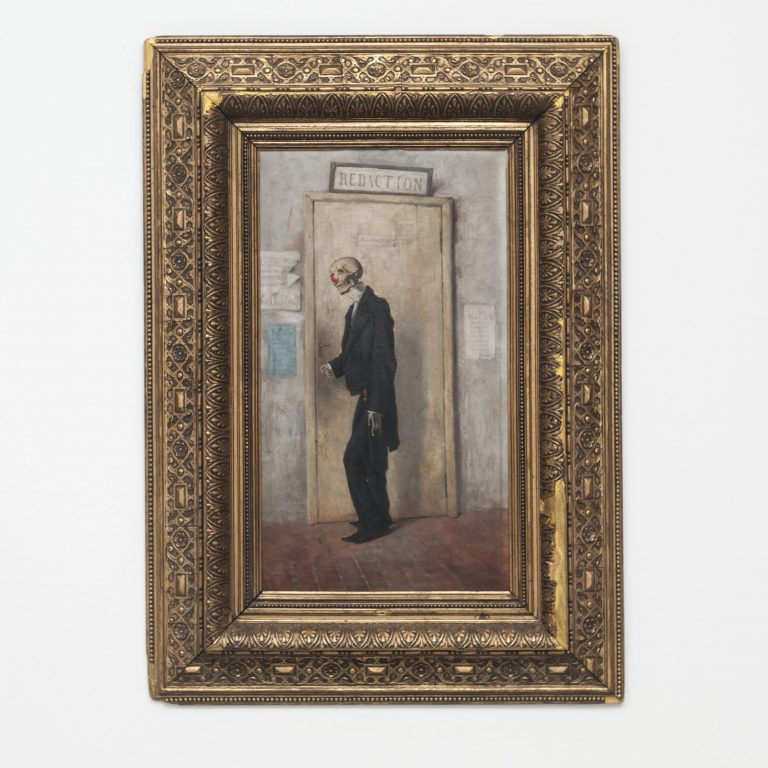 Hans-Peter Feldmann oscillates between different techniques, genres, and media. He founded his own publishing house with a store and a mail-order business for thimbles; he ran a gift shop in Düsseldorf, intending to move it to a museum context for preservation. He anticipated trends in art history, such as Appropriation Art, and continues to reject being categorised into any one art movement. To this day, his art is as socially critical as it is humorous. The attempt to apply terminological attributions such as the activity of archiving to the artist and his work is nipped in the bud by Feldmann: "I have nothing to do with archives. Just as I don't have a submarine, I don't have an archive." Instead, as a collector of images, Feldmann presents us with familiar imagery from everyday existence, advertising, and print media in order not only to establish a connection between art and life but also to declare regular events and things as worthy of depiction. In doing so, he pursues the principle of reproducibility to the utmost, expanding notions of the original beyond traditional concepts of the image and value. With his democratic approach of making art accessible to all, not signing his works, and producing them in unlimited editions, Feldmann defies the rules of the market, the exhibition system, and typical artists' attitudes. As one of today's most important contemporary artists, Feldmann continues to be at the pulse of our time.
Greta Kühnast
Translation: Katerine Niedinger
Charlotte Posenenske
B/C/D/DW/E – Schöne Neue Plastik
9 The Series B Reliefs
By Reliefs, thus words objects between surface and space, Charlotte meant the canted or arched objects made of sheet aluminum, elements which together form a whole from identical (sometimes also non identical) parts-or a continuable series. In Series B there are five types of elements: 1) convexly arched, 2) concavely arched, 3) convexly canted, 4) concavely canted, and 5) convexly canted with one short and one long side. All elements measure 50 x 100 x 14 cm, are sprayed all over in monochrome, matt RAL standard yellow, red, blue and black, and, unlike the sheet-steel Series A Reliefs, are weatherproof (only the concavely arched element is made of sheet steel for technical reasons) (ills. 33-39). In contrast to the prototypes, these are unsigned mass-produced objects, i.e., they are a) reproduced (in series and not as a numbered edition), and b) the same elements were and are preferably hung, laid, or stood in rows. The serial configuration avoids the hierarchical composition. In 2008, at the Galerie Mehdi Chouakri in Berlin we hung five yellow elements in arithmetical rows (successively doubling the space between them), suggesting a progression. However, combinations of non-similar but identical color elements are possible. The artist, for example, hung them up next to each other to form a sort of triptych. Elements with dissimilar colors were never combined. The breaking down into elements and the creation of series are the main features of this group of works. The elements in the Series B (and A) were derived from complicated previous works, multicolored folds whose application of paint is reminiscent of Pop Art and car bodies (exhibited at the Landesmuseum Wiesbaden in 1967 and at the gallery Peter Freeman, Inc., New York in 2008, ill. 28 and p. 26). It is not until these complex Faltungen (Folds) were split up into individual parts that the Series A and B became elements in themselves. These multicolored, "jazzy" Faltungen and Wölbungen-'Wellen" ("Waves") (ills. 24, 27) are in turn preceded by the Plastische Bilder (Sculptural Pictures) (ill. 25). The all-color Series B Reliefs were the first objects Posenenske positioned on their own in the space, in other words no longer considered merely wall objects (ills. 33, 34). They, too, like the Faltungen before, reflected her origins in painting, as they arch or cant out of a right-angled surface-the former surface of the picture-into the room, and in color. At the same time, however, these objects also reflect the basic forms of any sculpture: convex arches and concave cavities. Thus these Reliefs are fundamental interim forms: in terms of painting, the use of primary chromaticity land thus the reference to color and painting at all), and, in terms of sculpture, arches and concavities. "The things I do are changeable, as straightforward as possible, reproducible …. I make series because | do not want to make individual pieces for individuals" (C. P., cf. p. 135). By means of this factory-like reproducibility, the artist was attempting to undermine the aura of originality and exclusivity that goes with a one-of-a-kind piece, as well as the corresponding market prices. The unsigned, though authorized reconstructions only differ from any other goods by virtue of the certificate. The few elements the artist still commissioned herself are signed "CP 67" in stencil and are and considered to be prototypes. The objects in the Series B have something in common with Minimal Art in that they are produced geometrically, are extremely simple, and are factory produced. What they also share is the fact that they address the difference between the objective properties of the objet d'art (shape, surface) and the manner in which it is perceived subjectively depending on the way the observer moves and the incidence of light (for example, the objectively identical RAL standard yellow of the Reliefs has a totally different impact on our perception). It goes without saying that differentiating between objective being and its subjective perception touches on a fundamental problem of epistemology.
9. Die Series B Reliefs, Burkhard Brunn, in: Renate Wiehager (Ed.), Charlotte Posenenske, 1930 – 1985, Hantje Cantz, Ostfildern, 2009, S. 58-63.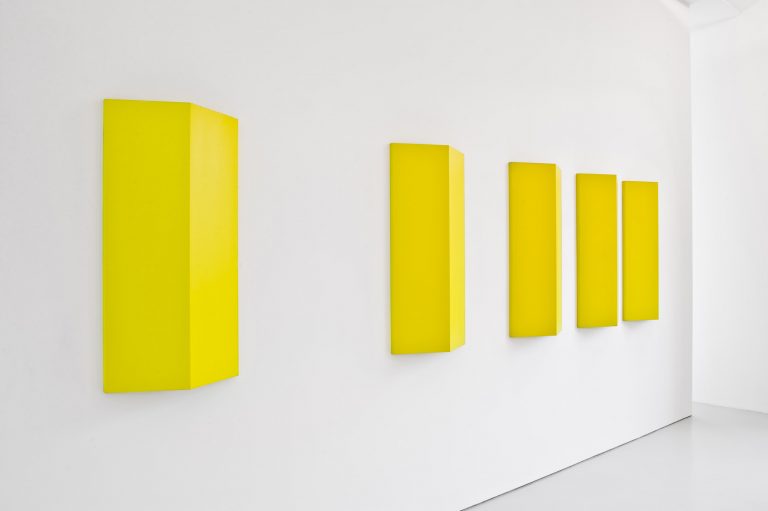 10 The Series C Reliefs
The Series C Reliefs, which date from 1967, differ from those from Series B by virtue of reduction: there are no longer five types of elements but only one, and this is no longer in yellow, blue, red and black, but in RAL standard yellow. These Reliefs are slightly larger than those from Series B. They measure 40 x 40 x 125 cm and are convexly canted at an angle of forty-five degrees. Once again, these are serial objects. In the case of the convexly canted Series B Reliefs, the angle was determined by the width of the objects (fifty centimeters) and its distance from the wall. It would appear, however, that the artist chose the forty-five-degree angle, which plays an important role in the geometry of the triangle, for the sake of further objectification. In addition, compared with the canted Series B Reliefs there is also an advantage: whereas these were preferably hung in a row and their elements remained individual and did not really join together to form a whole, given their transverse sections, the Series C Relief can easily be combined with each other. The transverse section of the relief is a triangle with two sides of the same length, one ninety degree and two forty-five-degree angles. The Reliefs can therefore be positioned up to one seam apart in various formations. As such, the same parts of Series C cannot only be hung serially (as was the case in 1986-87 at the Galerie Paul Maenz in Cologne), but also combined into different, sometimes expansive formations (such as in the exhibitions at the Daimler Art Collection) (ill. 40). Besides the serial (i.e., continuable) arrangement, which in the case of the Vierkantrohre (Square Tubes) is so important in terms of principle continuability (cf. Chap. 17, Continuability and Gap), the artist never abandoned combination to form a whole. I would explain her restriction to the color yellow in the latter's strong luminance. The subsequent Series D, the sheet-steel Vierkantrohre, are the color of the material, i.e., the light itself determines the luminance of the surface, which the observer perceives as brighter or darker depending on his or her position vis-à-vis the object. In other words: in the case of the Series C Reliefs, the artist reinforces their presence by means of the color yellow. After this, she ultimately disassociates herself from color and thus from painting.
10. Die Series C Reliefs, Burkhard Brunn, in: Renate Wiehager (Ed.), Charlotte Posenenske, 1930 – 1985, Hantje Cantz, Ostfildern, 2009, S. 64.