Gallery portrait
Mehdi Chouakri
by Christian Ganzenberg
When Mehdi Chouakri first came to Berlin as a young art history student in 1994, he immediately recognized that the city was not only full of freedoms but also many stories to be written. Chouakri was well-versed in Paris' comparatively established art scene with its many major galleries and prominent artists. Alongside his studies at the Sorbonne, he had worked at Galerie Gilbert Brownstone and assisted with exhibitions. He invested most of his earnings in travel: not back to his hometown of Algiers but anywhere else on the map, including Mexico, North America, and Berlin. It was in this last destination that he was reacquainted with Paul Maenz, whom he had previously met in Venice. Although Maenz had already moved on from his life as a successful gallerist, he remained influential as Chouakri's new partner, especially in terms of the gallery. Nevertheless, Chouakri forged his own path at first—and swiftly at that.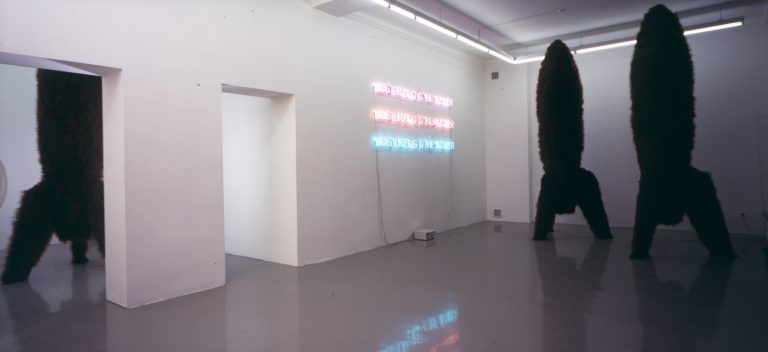 He discovered the space at Gipsstraße 11 on a gallery tour in July 1996; by the start of Art Forum Berlin that year, he promptly opened with Sylvie Fleury's first solo exhibition in Berlin, Moisturizing is the Answer. During his studies, Chouakri had observed how artistic references were shifting away from art and toward fashion, film, theory, and everyday life. A new aesthetic was surfacing that Nicolas Bourriaud fittingly termed "esthétique relationnelle" that year. The experimental fervor of Chouakri's early gallery programming evidenced a conceptual affinity; in 1997 Jens Haaning converted the gallery into a travel agency; a year later, Monica Bonvicini showed her legendary wind installation; in 1999 Dejanov & Heger shut the gallery down for a full two weeks sending Chouakri on an involuntary holiday. The list of artists gradually increased. Viennese artist Gerwald Rockenschaub joined Isabell Heimerdinger, Gitte Schäfer (now Athena Vida), and Mathieu Mercier. The choice of artists has always been deliberate, decisive, and sustainable. Today, the gallery's roster of artists comes across like a small family that occasionally grows to include guests and friends.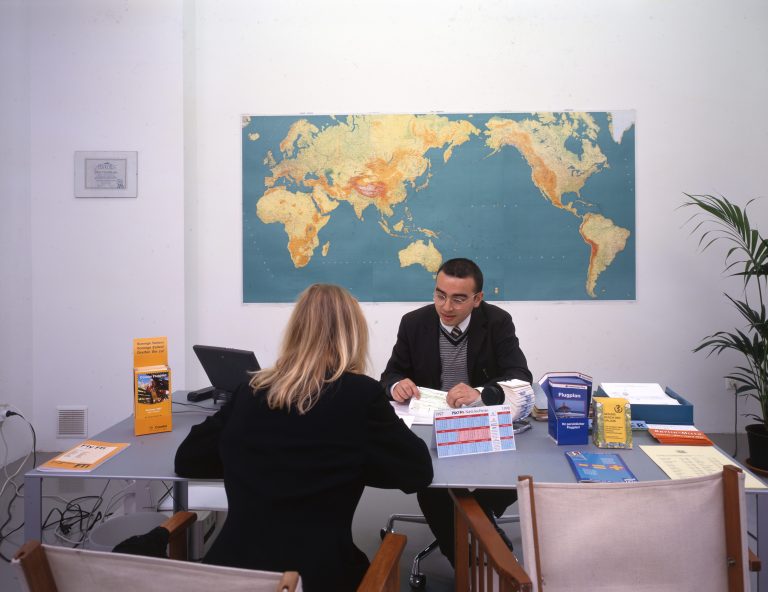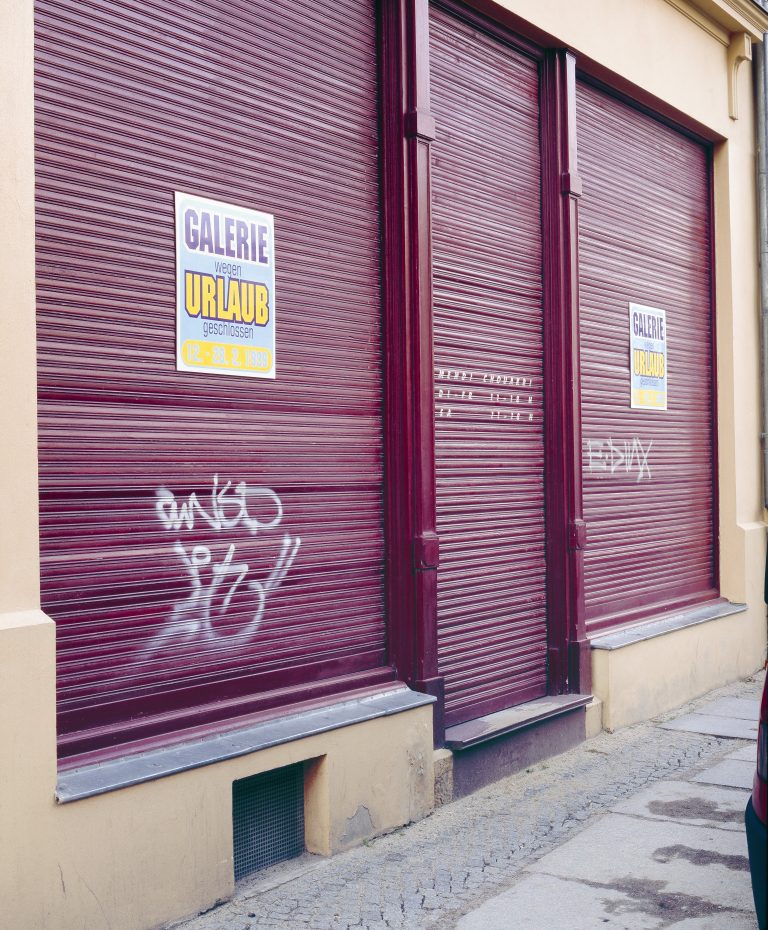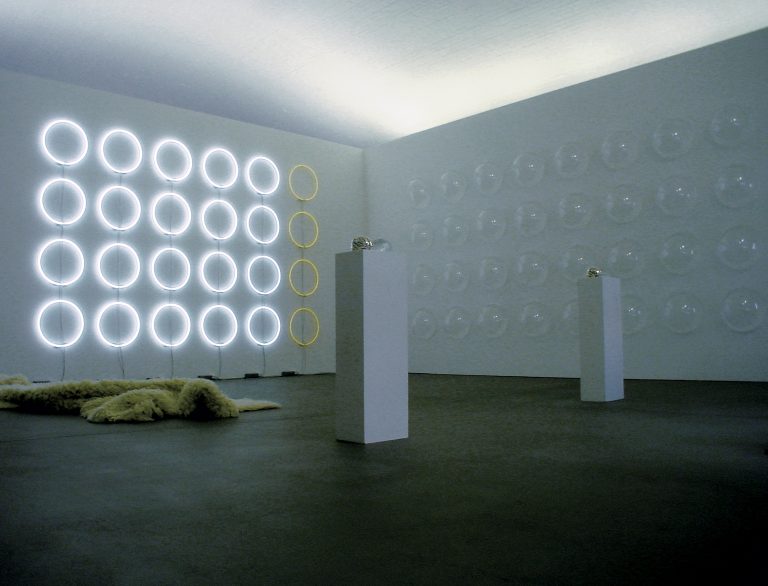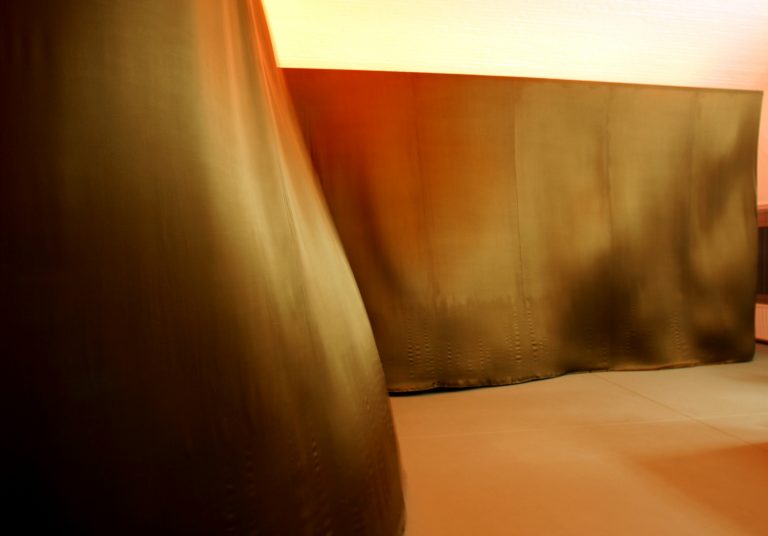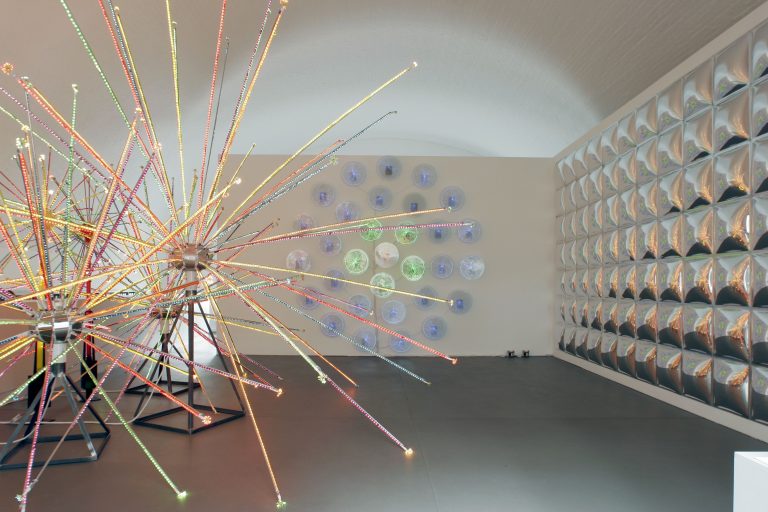 The gallery relocated for the first time in 2001. It moved from Mitte to Holzmarkstraße in the same neighborhood as its colleagues Carlier Gebauer, Hetzler, and Atle Gehardsen. For several years Chouakri operated out of one those striking S-Bahn arches that are spread across the city and yet quite unique to each neighborhood. This location had a very distinct architectural ambience with its purely artificial light and walls initially painted an elegant grey. John M Armleder did several spectacular installations including nothing, a presentation of one ton of luminescent material and reflective objects the artist acquired in South Korea.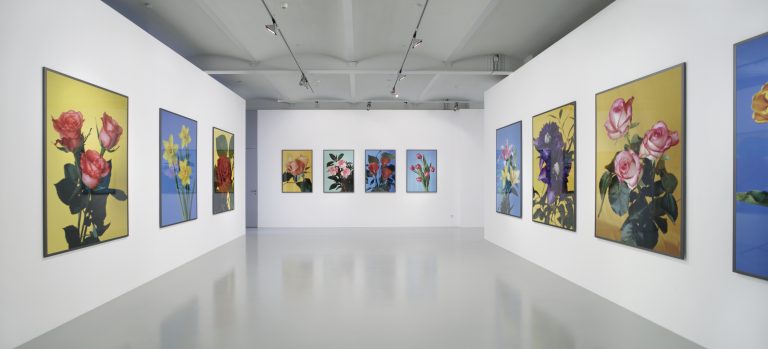 Once these spaces had also been "used up," Chouakri and the architect Jürgen Mayer H. transformed a former night club and off space on Invalidenstraße into a stylish, half-open gallery space. Through 2017, the Edison Höfe afforded him a lot of flexibility in exhibiting a wide array of artistic practices including Hans-Peter Feldmann, Saâdane Afif, Luca Trevisani, and N. Dash. Since 2017, the gallery has been based in Charlottenburg on Mommsenstraße and Fasanenplatz, where Bernd Ribbeck and Lothar Hempel joined the program. When entering either of these locations, one can sense the host's well refined and cultivated spirit, partial as he is to receiving his guests in a suit. "Life is too short to dress poorly," Chouakri once told Artnewspaper, advancing a countermodel to the casual disaffection of New York gallery etiquette. His gallery is a cultural meeting grounds with tasteful seating, where one can leaf through publications and start a conversation.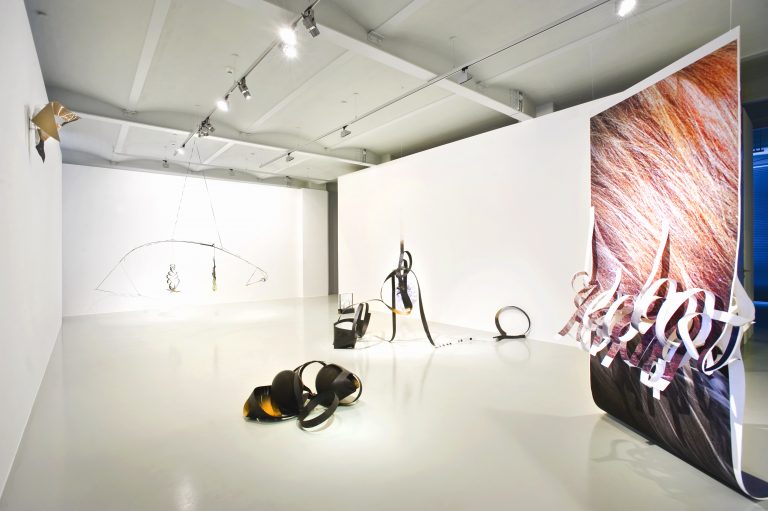 A further location is set to open in Berlin just in time for the coming Gallery Weekend. A 1,000 m2 section of the Willhelm Hallen will be devoted to additional exhibition space, an art warehouse, offices, and a space dedicated to the work of Charlotte Posenenske, whose practice is intimately linked to Maenz and Chouakri. John M Armleder will be the first to exhibit at the new location, which promises to be no less spectacular than the huge inflatable sculptures that Sylvie Fleury showed at the last Gallery Weekend. The lease extends long enough to bring further striking exhibitions to fruition and to begin a new chapter in the history of Galerie Mehdi Chouakri.
No need to look back, yet!
Als der junge Kunstgeschichtsstudent Mehdi Chouakri 1994 erstmals nach Berlin kam, verstand er geradewegs, dass diese Stadt nicht nur Freiheiten zu bieten hatte, sondern auch noch einige Geschichten zu schreiben hatte. Chouakri war ein Kenner der vergleichsweise etablierten Pariser Kunstszene, mit seinen vielen großen Galerien und bekannten Künstler:innen. Neben seinem Studium an der Sorbonne jobbte er in der Galerie von Gilbert Brownstone und assistierte ihm bei Ausstellungen. Seinen Lohn investierte er vornehmlich in Reisen, nicht zurück ins heimatliche Algier, sondern in alle anderen Himmelsrichtungen, unter anderem nach Mexiko, Nordamerika oder eben Berlin. Hier traf er wieder auf Paul Maenz, den er zuvor in Venedig kennengelernt hatte. Zwar hatte Maenz sein erfolgreiches Galeristendasein bereits aufgegeben, aber als neuer Lebenspartner sollte er, auch für Chouakris Galerie, nicht unwichtig werden. Doch zunächst ging Chouakri seine eigenen Wege, und zwar zügig.
Im Juli 1996 entdeckte er auf einem Galerienrundgang die Räumlichkeiten in der Gipsstraße 11, und pünktlich zum gleichjährigen Art Forum Berlin eröffnete er – mit Moisturizing is the Answer – die erste Einzelpräsentation von Sylvie Fleury in Berlin. Chouakri hatte während seines Studiums beobachtet, wie sich die Referenzen der Künstler:innen verschoben: Weg von der Kunst, hinein in die Alltagswelt, in die Mode, zum Film und zu den Wissenschaften. Es kam eine neue Ästhetik zum Vorschein, die Nicolas Bourriaud im gleichen Jahr treffend als "Esthétique relationnelle" bezeichnete. Die Experimentierfreudigkeit seines frühen Galerieprogramms bezeugt diese gedankliche Verwandtschaft: 1997 funktionierte Jens Haaning die Galerie in ein Reisebüro um, Monica Bonvicini zeigte ein Jahr später ihre legendäre Wind-Installation und 1999 schlossen Dejanov & Heger die Galerie für ganze zwei Wochen und schickten Chouakri in den Zwangsurlaub. Langsam erweiterte sich die Künstler:innenliste: neben Isabell Heimerdinger, Gitte Schäfer (heute Athena Vida) und Mathieu Mercier kam auch der Wiener Gerwald Rockenschaub hinzu. Die Entscheidungsprozesse für künstlerische Positionen sind wohlüberlegt, entschieden und nachhaltig. Heute erscheint die Künstler:innenliste der Galerie wie eine kleine Familie, die gelegentlich um Gäste und Freund:innen erweitert wird.
2001 folgte der erste Umzug der Galerie: Aus Mitte ging es in die Holzmarkstraße, in Nachbarschaft der Kollegen Carlier Gebauer, Hetzler und Atle Gerhardsen. Für mehrere Jahre bespielte Chouakri einen dieser markanten S-Bahn-Bögen, die die ganze Stadt durchziehen und doch in jedem Stadtteil ganz eigen sind. Diese Architektur hatte einen ganz anderen Zungenschlag, denn hier gab es nur künstliches Licht und anfänglich waren die Wände in vornehmem Grau gestrichen. Unter anderen zeigte John M Armleder verschiedene spektakuläre Installationen, wie nothing, eine Präsentation von einer Tonne Leuchtmaterial und Spiegelobjekten, die der Künstler in Südkorea erworben hatte.
Nachdem auch diese Räume "verbraucht waren", verwandelte Chouakri – zusammen mit dem Architekten Jürgen Mayer H. – einen ehemaligen Nachtclub und Off-Space in der Invalidenstraße in stilvolle, halb-offene Galerieräume. Die Edison-Höfe boten ihm bis 2017 viel Flexibilität, um so unterschiedliche Positionen wie Hans-Peter Feldmann, Saâdane Afif, Luca Trevisani oder N. Dash zu präsentieren. Seit 2017 ist die Galerie in Charlottenburg beheimatet, in der Mommsenstraße und am Fasanenplatz, wo Bernd Ribbeck und Lothar Hempel zum Programm stießen. Betritt man einen dieser beiden Standorte, kann man den feinen, ziselierten und kultivierten Geist des Gastgebers spüren, der gern im Anzug seine Gäste in Empfang nimmt. "Life is too short to dress poorly", sagte Chouakri einst im Artnewspaper, und propagiert das Gegenmodell zur unterkühlt-lässigen New Yorker Galerienetikette. Hier ist die Galerie ein kultureller Ort der Begegnung, an dem man stilvoll Platz nehmen, Publikationen durchblättern und ins Gespräch kommen kann.
Rechtzeitig zum kommenden Gallery Weekend wird nun ein weiterer Standort in Berlin eröffnet: In der Kopenhagener Straße entstehen in einem 1.000 qm großen Hallensegment der Wilhelm-Hallen zusätzliche Ausstellungsflächen, ein Kunstlager, Büros und ein eigenes Kabinett für das Werk von Charlotte Posenenske, deren Schaffen eng mit Maenz und Chouakri verbunden ist. Den Auftakt macht John M Armleder, sicher nicht minder spektakulär als Sylvie Fleury, die zum letzten Gallery Weekend riesige Aufblasskulpturen zeigte. Der Mietvertrag läuft lang genug, um weitere eindrucksvolle Ausstellungen zu realisieren und die Geschichte der Galerie Mehdi Chouakri in einem neuen Kapitel weiterzuschreiben.
No need to look back, yet!