Gerwald Rockenschaub
sentimental braindance / allure selec +
Karsten Löckemann on Gerwald Rockenschaub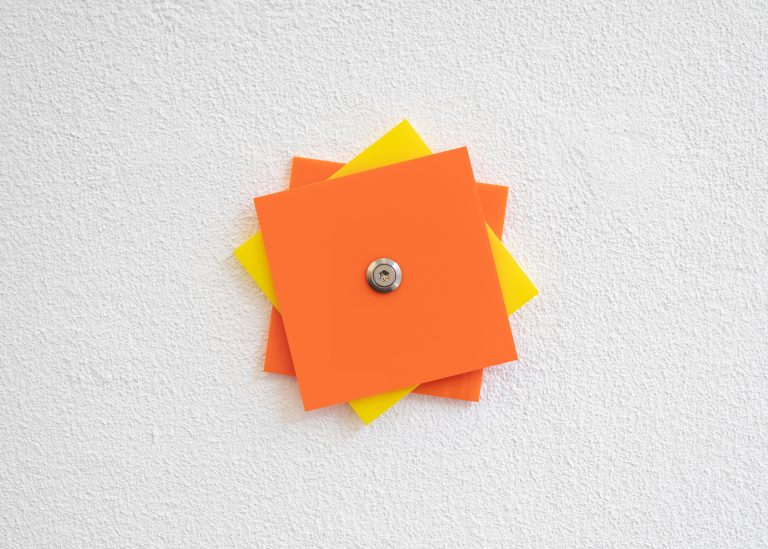 At Galerie Mehdi Chouakri, visitors now have the rare opportunity to view works from Rockenschaub's early practice, presented alongside his current works. Their materiality and execution are particularly compelling and shed light on the progression of technical possibilities in the artist's oeuvre. Canvases and wooden objects that look charmingly handcrafted are shown alongside machine-produced synthetic elements with a high gloss aesthetic. The contrast could not be starker. And yet, these early works already indicate the direction of subsequent artistic developments. Music, among other things, was a characteristic element of Rockenschaub's style from an early stage. His square paintings and objects frequently call to mind the format and design of records and record covers. The titles  of his monographic exhibitions tend to sound like song titles—hence the current exhibition title "sentimental braindance / allure selec +" fits this pattern.
Formally, his early painting in the 1980s associated him with the Neo-Geo movement. The artist was, however, never concerned with classical painting as such. He regards his painterly work as a reflection of the medium and considers the paintings primarily as objects for an installation or a stage production.
The range of materials Rockenschaub uses further demonstrates that he never distanced himself from popular culture. For quite some time, he has been working with acrylic glass, plastic film, and MDF boards that replace the canvas and allow his works to be produced by machine.
His extraordinarily wide-ranging oeuvre reveals a great deal about his understanding of art and his role as an artist. He maintains a pragmatic, invariably solution-oriented approach that allows him to expand and adapt the framework of his artistic practice to suit any given situation. When it comes to Rockenschaub, there is no clear distinction between creation and service. His installations and room designs at various international galleries and museums have impressively confirmed the fruitful symbiosis between these two spheres. Rockenschaub considers his art to be a visual game, and he continues to astonish the viewer with new game variations to this day.
Expanding from a seemingly restrictive abstract-minimalist framework, the Austrian artist
Gerwald Rockenschaub has been developing an utterly innovative and diverse range of
works since the early 1980s. Their production method and degree of perfection have
continuously mirrored the technical and artistic possibilities of the present day. Never
allowing the rigid rules of classic Minimal Art to constrain his work, he sought a crossover of
art, design, media, and everyday life from the very beginning. Before attending Herbert
Tasquil's class at the University of Applied Arts in Vienna from 1978 to 1982, Rockenschaub
studied history, philosophy, and psychology. During this period, he extensively explored
perceptual psychology. The insights and conceptual approaches gained then have continued
to define him as a person and his understanding of art until today.
Rockenschaub's mastery is most evident in his vast scope of artistic expression, his
engagement with spatial circumstances, and his dramaturgically pointed use of colour. In his
oeuvre, luminous colours regularly coincide with minimalist-geometric forms, occasionally
bringing to mind pictograms. His art ranges from painting to wall objects, sculptures, sitespecific
installations, and filmic animations that playfully draw on his formal repertoire and set
it in motion. His sources of inspiration include positions of modern art, abstract concepts, Pop
Art, Minimal Art, popular culture, and notably the techno and electro scene—he repeatedly
samples all these influences to form a new whole. In doing so, he soon discovered the
virtually unlimited possibilities of computer-assisted composition. In his own words: "When
my finances made it possible for me to buy a computer, I relocated my studio into a laptop. It
was a terrific and efficient way to expand my artistic production."
Seit den frühen 1980er-Jahren hat der österreichische Künstler Gerwald Rockenschaub aus
einem scheinbar begrenzten, abstrakt-minimalistischen Rahmen heraus, eine äußerst
innovative und umfangreiche Palette an Werken entwickelt, die in ihrer Machart und
Perfektion immer auch die technischen und künstlerischen Möglichkeiten der Gegenwart
widerspiegeln. Dabei hat sich der Künstler nie von den starren Regeln der klassischen
Minimal Art einengen lassen, sondern von Anfang an ein Cross-over aus Kunst, Design,
Medien und Alltagswelt gesucht. Bevor Rockenschaub von 1978-1982 die Klasse von
Herbert Tasquil an der Hochschule für angewandte Kunst in Wien besuchte, studierte er
Geschichte, Philosophie und Psychologie. In dieser Zeit hat er sich intensiv mit der
Wahrnehmungspsychologie beschäftigt. Diese Erkenntnisse und Denkansätze prägen ihn
und seinen Kunstbegriff bis heute.
Rockenschaubs Meisterschaft zeigt sich vor allem in der enormen Vielfalt seiner
Ausdrucksmöglichkeiten, sowie im Umgang mit räumlichen Situationen und im
dramaturgisch-pointierten Einsatz einer breiten Farbpalette. Ein leuchtendes Farbkonzept
trifft in seinem Oeuvre immer wieder auf ein minimalistisch-geometrisches Formenkonzept,
das bisweilen auch piktogrammhafte Züge annehmen kann. Sein Repertoire reicht von der
Malerei über Wandobjekte, Skulpturen, raumspezifische Installationen bis hin zu filmischen
Animationen, die sein künstlerisches Formenrepertoire spielerisch aufgreifen und in
Bewegung versetzen. Inspirationsquellen findet er sowohl bei den Positionen der Moderne,
abstrakten Konzepten, der Pop-Art, der Minimal Art, in der Alltagskultur und nicht zuletzt in
der Techno- und Elektroszene. Alle diese Einflüsse sampelt er immer wieder zu einem neuen
Ganzen. Dabei hat er sehr früh die nahezu unbeschränkten Möglichkeiten des
computergestützten Arbeitens für sich entdeckt. Er selbst sagt dazu: "Als es dann finanziell
möglich wurde, sich einen Rechner zu kaufen, habe ich mein Atelier sozusagen in einen
Laptop verlegt und das als tolle, effiziente Möglichkeit zur Erweiterung meiner künstlerischen
Produktion gesehen."
In der Galerie Mehdi Chouakri gibt es nun die seltene Gelegenheit, die künstlerischen
Anfänge Rockenschaubs in einem Dialog mit aktuellen Arbeiten zu sehen. Dabei zeigt sich
besonders eindrücklich in Materialität und Umsetzung, die Entwicklung der technischen
Möglichkeiten im Werk des Künstlers. Nahezu charmant handwerklich anmutende
Leinwände und Holzobjekte treffen auf maschinell produzierte Kunststoffapplikationen in
Hochglanzästhetik. Größer könnte der Kontrast nicht sein. Doch bereits in den frühen
Arbeiten ist die Idee und der Weg für alle späteren Entwicklungen schon vorgezeichnet.
Unter anderem war die Musik für ihn schon damals ein stilprägendes Element. Seine
quadratischen Gemälde und Objekte erinnern nicht selten von Format und Gestaltung an
Platten und Plattencover. Die Titel seiner monografischen Ausstellungen klingen meist wie
Song-Titel. Auch der aktuelle Ausstellungstitel "sentimental braindance / allure selec +" passt
in dieses Muster.
Formal wurde er bei seiner frühen Malerei in den 1980er-Jahren der Neo-Geo-Richtung
zugeordnet. Dabei ging es ihm aber nie um die klassische Malerei an sich. Er sieht sein
malerisches Werk von Anfang an eher als Reflexion des Mediums und die Bilder in erster
Linie als Objekte für eine Installation oder Inszenierung.
Auch das Materialspektrum belegt nachhaltig, dass sich Rockenschaub nie von der
Populärkultur distanziert hat. Seit geraumer Zeit arbeitet er mit Acrylglas, Plastikfolien und
MDF-Platten, die die Leinwand als Werkstoff ersetzen und aus denen er seine Werke
maschinell erstellen lässt.
Sein enorm breitgefächertes Werk verrät sehr viel über seinen Kunstbegriff und seine Rolle
als Künstler. Er vertritt einen pragmatischen, immer auch lösungsorientierten Ansatz, der es
ihm ermöglicht, den Rahmen seiner künstlerischen Tätigkeit auch situationsbedingt zu
erweitern und anzupassen. Bei ihm gibt es keine klare Trennung zwischen einer
künstlerischen Aufgabe und einer Dienstleistung. Wie er mit seinen Installationen und
Raumkonzepten in diversen Ausstellungshäusern und Museen international eindrucksvoll
bewiesen hat, gehen beide Bereiche eine fruchtbare Symbiose ein.
Rockenschaub versteht seine Kunst als visuelles Spiel und schafft es bis heute, den
Betrachter mit neuen Spielvarianten immer wieder in Erstaunen zu versetzen.