Tony Just
I am pleasure
Opening—28 April 2023, 6 to 9 PM
tony about three weeks before you asked me to write something for your new painting exhibition we bumped into each other at the doorway of the sexual health clinic in neukölln—I didn't tell you about it when i came to visit your studio recently but i had actually already written you a poem shortly after running into you descending the stairs and we were both all wrapped up and focused and leaning on our feet but we stopped to say hello and i am writing to you now in much warmer weather, in fact i am in almost the exact antipodean city to you and the paintings and it is easy to have foggy eyes now on what the winter was offering me there—I didn't tell you about the poem because it felt almost too synchronised that i even wrote to you to begin with and that so soon afterwards you would ask me to write a poem to accompany your show anyway—i was in the middle of the 50 day ritual i was telling you about, where i would write automatically once a day on my typewriter, i sped home on the U7 and quickly and wonderfully you were poem 25 and this is how you looked:
exiting the clinic
again
i see tony
we both take twice timidly
tony
you hit me as an angel today
alright? 
you use punctuation as an embrace
you look brilliant and i hope you are I couldn't imagine
clearly
how you used to panic
here
but you are brave enough to be generous with me and
we inhale together for a sec
tony you make me a new edition of myself
walking down the stairs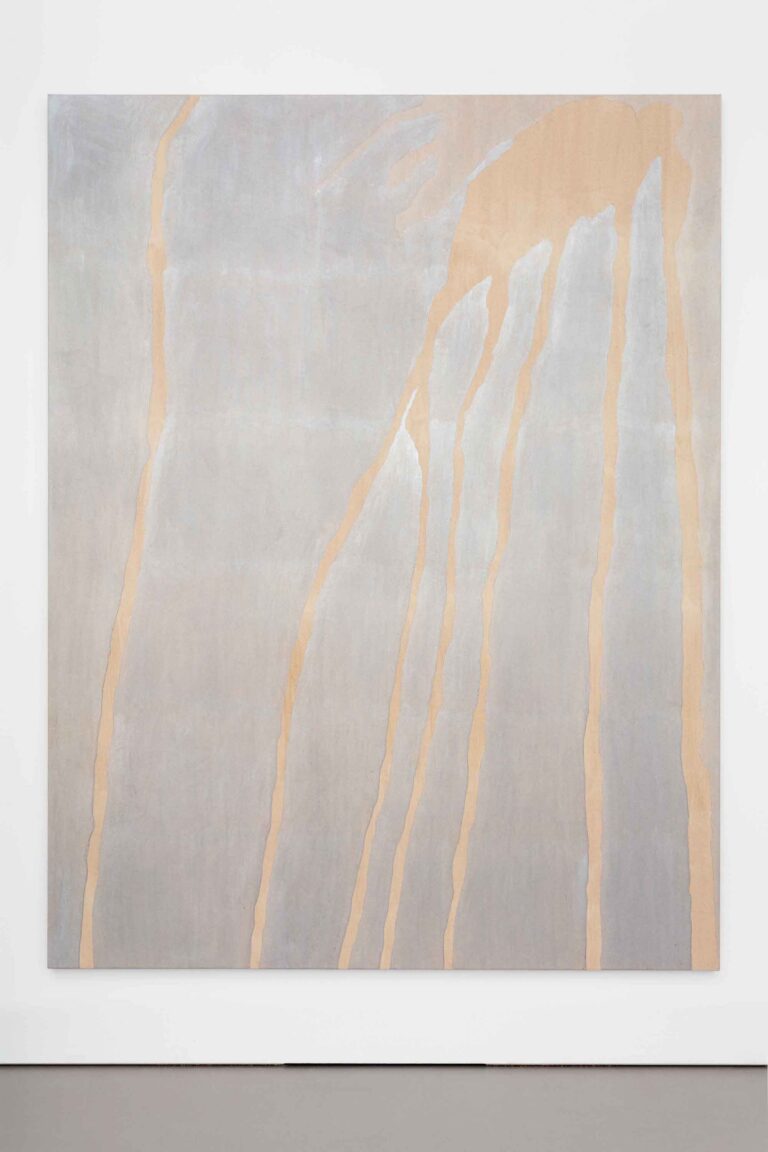 when i came to see the paintings in your studio i noticed a wound on the same part of our left index fingers: a small fleck of skin that neared a slow amber return to what is perhaps good? the spiral continuing as it does the body was welcoming itself back from the air it rests through, here our body was asking what is good, which is of course what is desired here or does healing ever complete or where do we leave it, as if done much like a painting our minds offer many possible exits/doorways/channels/rhythms for which to be lost but of course as we discussed we have formalised a way to end or close the painting, i'd say we have successfully ritualised the death of paintings on their trip into the market and that you have asked me to write the eulogy—before this happens there is a moment where we can come together in our small twisting together pain-song of arriving to each other flecked where you might say to someone close this is my offering to the god of time—i notice that you let go of your paintings tony, where did the last work across the window of efremidis go? i'd like to think you listen to the paintings tony and do as they wish, but I don't know—in your studio there was at one point everything at once shining through the small window at waist height in the corner of the room where much day escaped out this vent of cigarettes and poetry as if life didn't seem to hold itself too well or care about holding itself too well for this day it nursed itself back cradling and i think that is wonderfully daring of the wind to be vulnerable enough to commit to circling the ground and exiting with this bizarre enthusiasm only to return and try something slightly different, again, the movement is much like painting, where we like wind couldn't even tell anyone how we ended up here to execute the something something and it feels so boring to end up at an understanding that life continues tony but the way i have found painting to function like prayer begs the slow value of continuing, rather of continuing to understand life as a great project of listening—tony listen i think we could have lived the same life if we didn't but when we touch hands at the end of the ritual i inspect the moment of our shared indentation and i / we entertain the possibility that our lives are now at least close for a moment and there could be no other way than this room and these paintings and my instruction to write but the way it happened lets me wonder that some have called this magnetised before and even i'm sure some have spoken about destiny but i understand from the small amount of time we have spent together that we share an interest in not acknowledging a name for too long because we!d rather keep moving and get to the work we must do which is to suffer and query—during the visit i think on hearsay, how every time something is touched by our hands, depending on the angle you take, there is this nano-gap-between-all-skin-and material-alike, where when we touch or rather when we think we touch there is in fact this space of the smallest electric brilliance daringly wedged between us, call it our tiny divine darkness of which no love or hate performs but rather separates our intention and leaves us floating in parallel quiet; we hit them, no we don't, you wrangle the canvas but perhaps it was always wrapped, we let them hug us but we don't know if we ever reach and so out of desperation perhaps we understand there to really be only one reach: no noun no object no arrival, but rather a verb called faith; one reach towards everything we will ever/never know, this negative almighty within the microscopic canyon of our togetherness implores us to honour the emptiness in spite of the inevitable acceptance that we will never totally become its expert—but of course still we grab the seasons, the metering, the dancing, the stirring, the calculating, the hammering, the kneeling, the stapling, the grasping, the honouring, the moving of our hard flecked praying hands downward, hands that come fiercely down to wake our circadian earth day with bright quality, with something like pleasure; the blinding flare perpetual of joining each other as hands in the ready public realm of a room marked holy—can i disappear for a minute so that i can be an indeterminate arrival for you sometime soon—it doesn't matter how or where, but we will see each other around—and as all magnets are due the gap never fills long, remains barefooted and smudged along the base, smeared and quietly stood amongst us and crowding our nowhere in molecular jive, in wobbled protest of carnivorous knowledge our surrender to mystery casts a shadow of effulgence that we may rest in from time to time before returning to the pulse—apart from this poem which is a letter which is a poem I haven't been writing all that much in fact rather specifically avoiding it and instead i have directed the unrelenting questions that arrive by living/listening directly at the wall which is the canvas; the pliable island of earth floating and waiting waiting waiting and what i have learnt is that when we paint, where our hand touches the skeins like love's distance, we surrender in gratitude to be passed into this point of unknowing air, we face that light-headed reality each time we return to the dry board and continue. doubt what? where is your will if you were built within surrender? our feet lead this awkward doing and we know how to let them do that and like feet to the earth or hand to the vacuum wall time too is this gap between things and in that gap we are so often left desperately pondering that arrival of done as if a lover estranged and until then our something somethings bring doubt which brings the thought do we really want to know what works in composition with our body and the bodies we encounter with every movement just so that we can be good, so that we can decompose as an exercise in autonomy and coast in those decided pleasantries? perhaps not. today we wish our desire be undefinable, our arrival be continual almost. and so it is. and we wish that our forward love in the world is incomprehensible. we wish language to fail constantly so that it too will change. and then here we stand at the alter (desk, easel) and wonderfully we couldn't even begin to profess certainty, but rather decide to stand as a doorway. empty man. empty, man. the air pushes through the window and swallows the quiet. we lean forward slightly to perform the tiniest kiss ever along the page of the floor, our hand a hovercraft of patience. later we walk with our spit shoes home, understanding all the ways language fails to define what carries us onward and in our most lonely moments tony we may wish this opaque purpose materialises like money in the bank and into a cupboard full of containers or socks or jackets plenty, our things or our temporary friends or our vices and vitamins, but tony what i am learning is that there is no pleasure quite like painting which like writing and dancing and singing is mostly listening where most of our time is spent in the darkness of waiting which is to say i joyfully surrender to the anticipation in-between the suffering of our indecision, for always comes action like wind through the window diagonally sharp carrying that delicate temporary drug of perseverance, igniting an opportunity of deep love for the world—i wish my life be a painter or a meandering vessel or an open window
daniel ward, 29 March 2023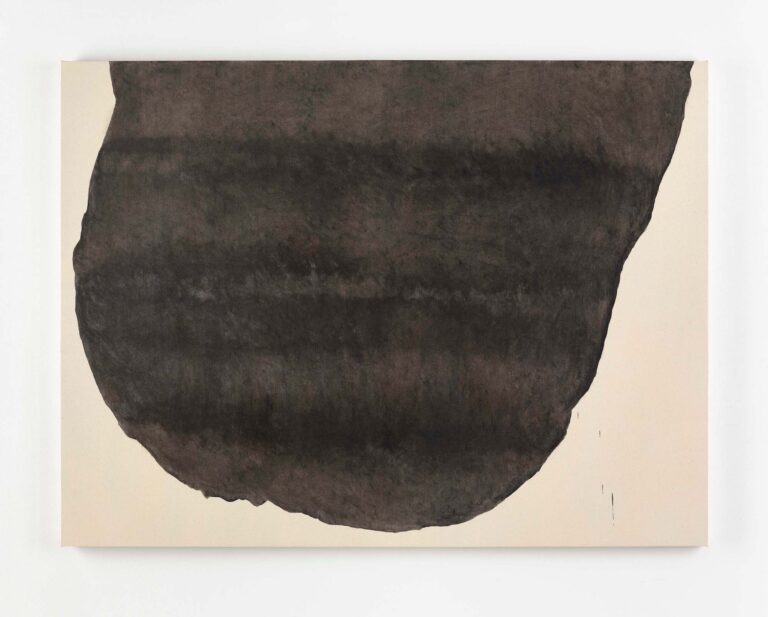 Reba Maybury
[erp] From Paris With Love
Opening—28 April 2023, 6 to 9 PM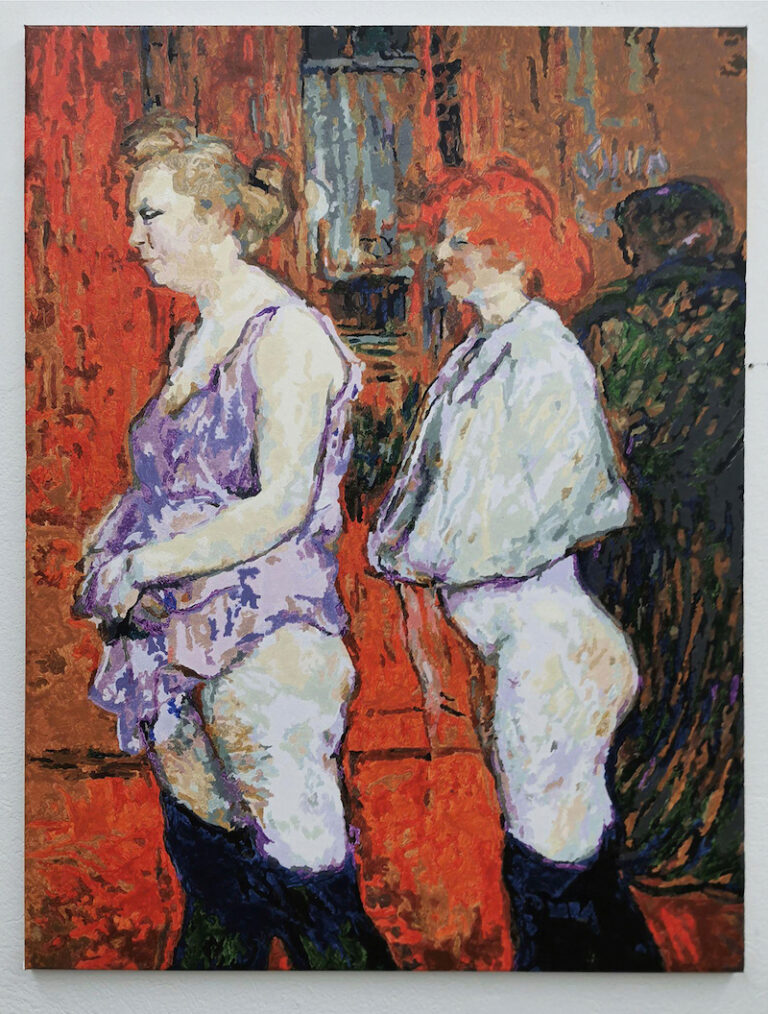 Toulouse Lautrec's late nineteenth century paintings are synonymous with Paris's cultural image, so much so that over a century later they still generate a nostalgic desirability for the French capital.
These paintings' popularity is so vast, that for a majority of people who see them in tourist shops, on products such as postcards or magnets they resemble nothing more than a hazy mirage of Paris's 'heyday', a time of opulence and decadence, a time without responsibility and an image without specific context other than emitting a particular mood. We are made to understand that they have been made by a great man who had a great time.
The Medical Examination, 1894 or sometimes called The Medical Inspection 1894 is an oil painting by Toulouse Lautrec. It shows a side profile view of two women in a red room. These women are not facing the painter and they seem to be queueing or waiting. Their chemises are turned up, revealing their naked butttocks and thighs, their stockings have been pushed down. Their breasts are covered. This state of being semi dressed where the genitals are exposed but not the breasts is an utterly uncommon female position.
 These women are sex workers and this painting shows them at work. They are waiting for a medical inspection in a Parisian brothel that the painter frequented. In 1810 in France it was made mandatory for prostitutes to have medical examinations for venereal diseases every eight to fourteen days by two doctors and one police man, all of whom, unsurprisingly, were men. If their results were positive, they would be sent to prison. Waiting is synonymous with sex work.
The painting shows a particularly unsavoury delight and satisfaction in finding the female both body grotesque and alluring. The sex worker is the main target for the abject contradictions of desire and disgust that the feminine body so often contains, having to inhabit both extremes which the patriarchal gaze is so fixated with.
Toulouse Lautrec's oeuvre has been highly commodified through Paris's tourism industry and with this comes a diluted, if not entirely polluted, superficial consumption of the artist's work. He is perhaps best known for his poster design for the Moulin Rouge, a place that still to this day brings in a fortune to the French capital's economy. It is because of how his legacy has been deployed that this particular painting can seem almost innocuous, a throw away comment amidst this male artist's ability to capture moments of him enjoying himself with paint and canvas and by in turn inviting the viewer to enjoy themselves too.
This bind was accelerated in 2001 upon the release of Baz Lurhmann's Hollywood movie of the same name, a camp extravaganza mythologising this period of time, taking largely from Emile Zola's novel Nana (1880), glamourising this bohemian period and even including a character based on Toulouse Lautrec. This film diverted any attention from its inherent dependence on sex work and instead intoxicated the viewer with a bathos infused narrative about romance and more odiously- the man 'saving' the sex worker from the depths of his apparently pure heart, rendering Nicole Kidman's character a helpless victim.
At the turn of the century, syphilis was considered the destroyer of the bourgeois status quo and it was the sex workers who were punished for this outbreak. The sex worker is and will always be one of the most potent political identities and this will never change because she always has the potential for the upheaval of any existing social power structure because she caters to the invisible behaviour of the respected.
The Medical Examination, 1894 exemplifies the friction between its period's desire for decadence and the banality that modernist capitalism began to enforce on its workers. It shows the work behind the 'scenes', the sex worker when she is not 'on show' and how labour is often out of control for the worker.
Of course this is an artwork about humiliation but it is also about boredom, anxiety and labour. I want to contrast this with how this painting is instrumentalised in the contemporary practices of leisure, especially that of tourists visiting Paris who are usually unconsciously unaware of their own investment with sex work and instead revel in the superficiality of how this period of Paris's art history is presented and consumed.
Toulouse Lautrec was and is widely championed for showing a more 'human' side of these workers. It should not be the artist who is championed for this but the women. Old women are usually forgotten women. Nostalgia is a disease and this painting is sick.
Paint by number kits were invented in America in the 1950s, a sort of post war invention that boomed throughout North America and gave the consumer 'the experience of art without being an artist.' The paint by number kit gives the activity of leisure, perhaps even a hobby, which is something many men consider themselves to be doing when they visit sex workers. It is also something that tourism fulfils,vexistence momentarily in a space you do not truly inhabit. Intimacy without intimacy, and/ or an experience without commitment to a culture.
I have had my submissives recreate this painting by using paint by number kits. Eight were started and six were completed by My submissives in three different countries. I like to laugh at imagining the john turned into a pathetic, or even nice outcome from a hobby activity and I hope you will too.
This exhibition was first shown at Treize in Paris in November 2022. A souvenir stand with the names of john's operating in Paris were printed on to these sentimental objects and available to purchase at the show. All proceeds from the sales of the john's were sent to local sex worker rights groups. To purchase a Berlin john you can email mistressrebecca9@gmail.com. With many thanks to Tony Just, Juliette Desorgues, Olga Rozenblum, Andreas Fuhrer and Vita Mink Maybury.