Gallery Tour
Mitte Nord
by Laura Helena-Wurth, 2023
English Version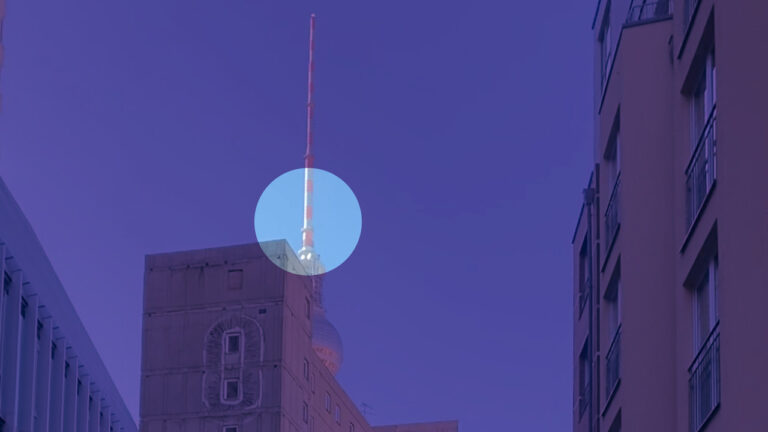 This extensive art walk begins in the very north of Mitte at Galerie Ebensperger. After his first solo show at the gallery's unusual premises inside a former crematorium ten years ago, the artist Bjørn Melhus will now be the last one at this location, a decade later. But the gallery program will of course continue: at other locations within Berlin, as well as in Austria. Melhus has given his exhibition the title [dramatic music continues], which could also cheekily imply the gallery's path toward the future. Melhus is showing a new group of works titled GATEKEEPERS. These are mysterious guards, gatekeepers of another world. It's up to the viewer to decide what they are actually guarding or who they want to prevent from getting in or out.
After your first stop, the best thing to do now is hop on your bike and leisurely cycle toward Linienstrasse to continue your tour with Galerie Neu. Born in 1982, Yngve Holen gives expression to our increasingly digitized environment. He finds physical equivalents that translate the supposedly invisible into something tangible and, above all, visible. Under the title 5G, he shows new works that may help us understand our world a little better. Holen transforms smooth, seductive surfaces into sculptures that tell of a future that has long since become the present.
Further down on Linienstraße, you'll come across neugerriemschneider. At number 155, Andreas Eriksson's third solo exhibition with the gallery goes by the title Year in, Year out. For the duration of a year, the artist retreated to his studio in the Swedish countryside, watching time pass and observing how the seasons changed the landscape. After his introspective period of near-isolation, he brought new paintings, screen prints and hand-woven textiles to the gallery. Like fragments of an inner landscape, his painterly brushstrokes connect with the outer landscape that Eriksson conceived and created over the course of a year, free from any external pressure and self-imposed boundaries.
Next door you'll find Renata Luca's installation short cut: A vending machine whose screen flickers the words "Thank you" after a coin is inserted. A tongue-in-cheek commentary on our era's attention economy.
Thirty years ago, the gallery opened with an exhibition by Jorge Pardo. Today, at Christinenstrasse 18-19, he presents his 11th solo exhibition. Widely known from the Neue National Galerie café, the artist's light sculptures made of hand-blown glass continue their proliferation. Now, forty new ones are on view, along with complex paintings that sensitively examine and encapsulate the atmosphere of his hometown in Mexico.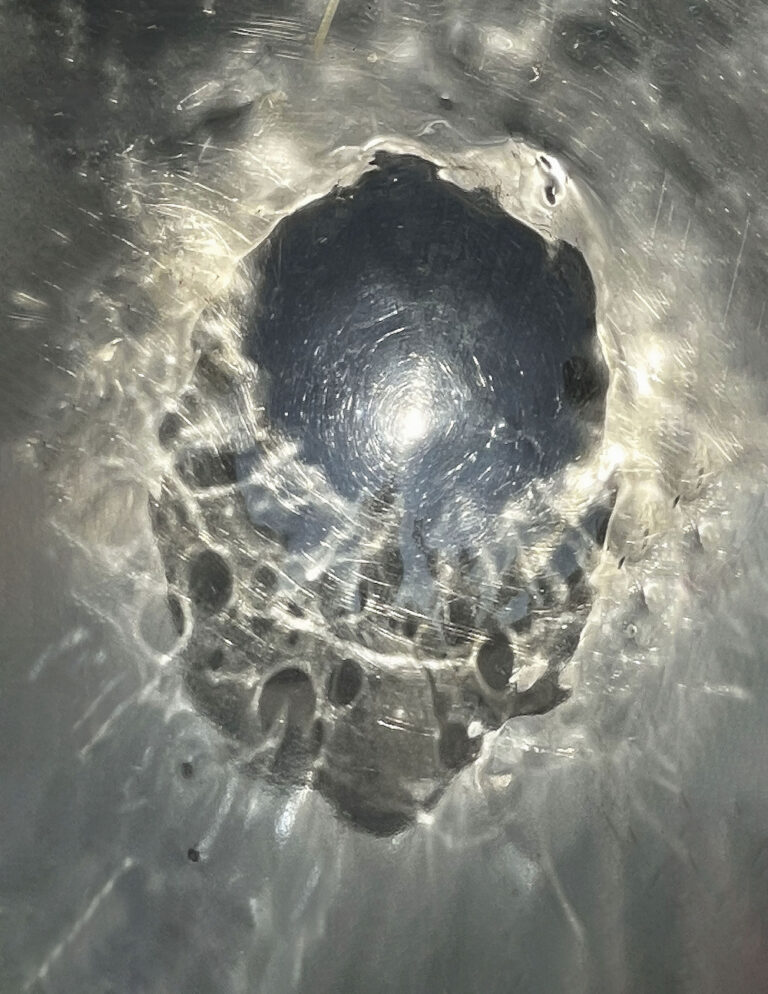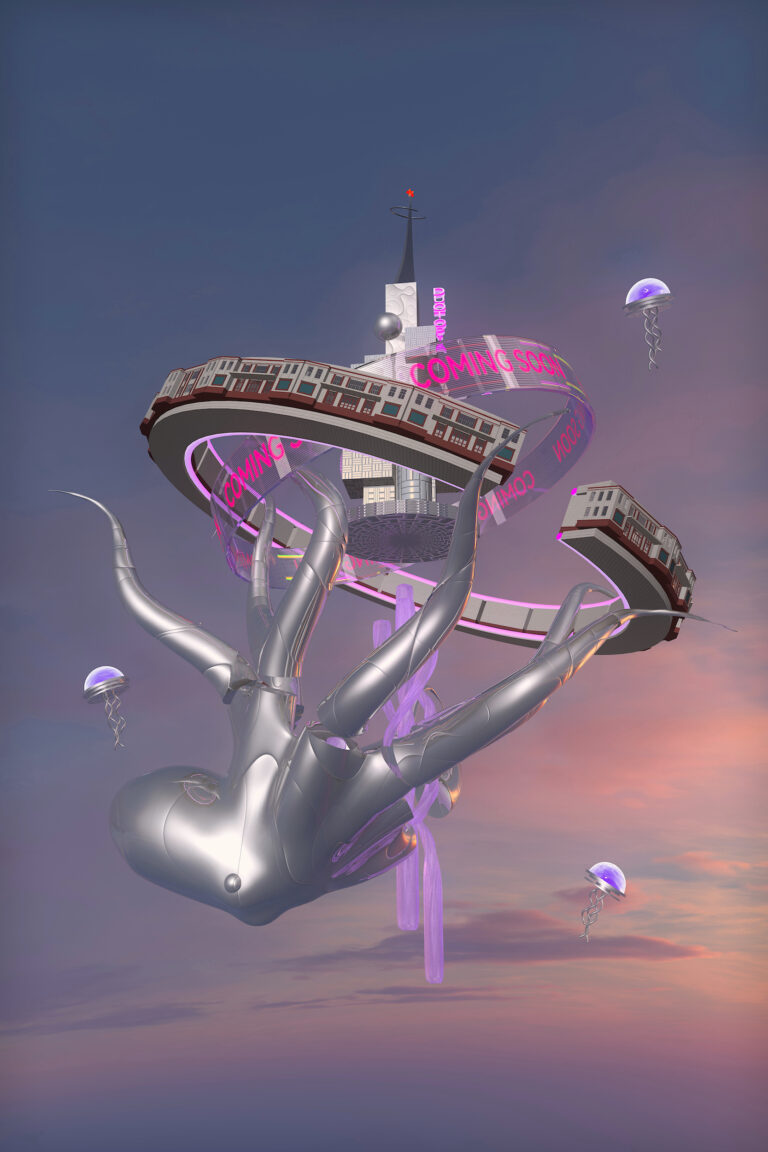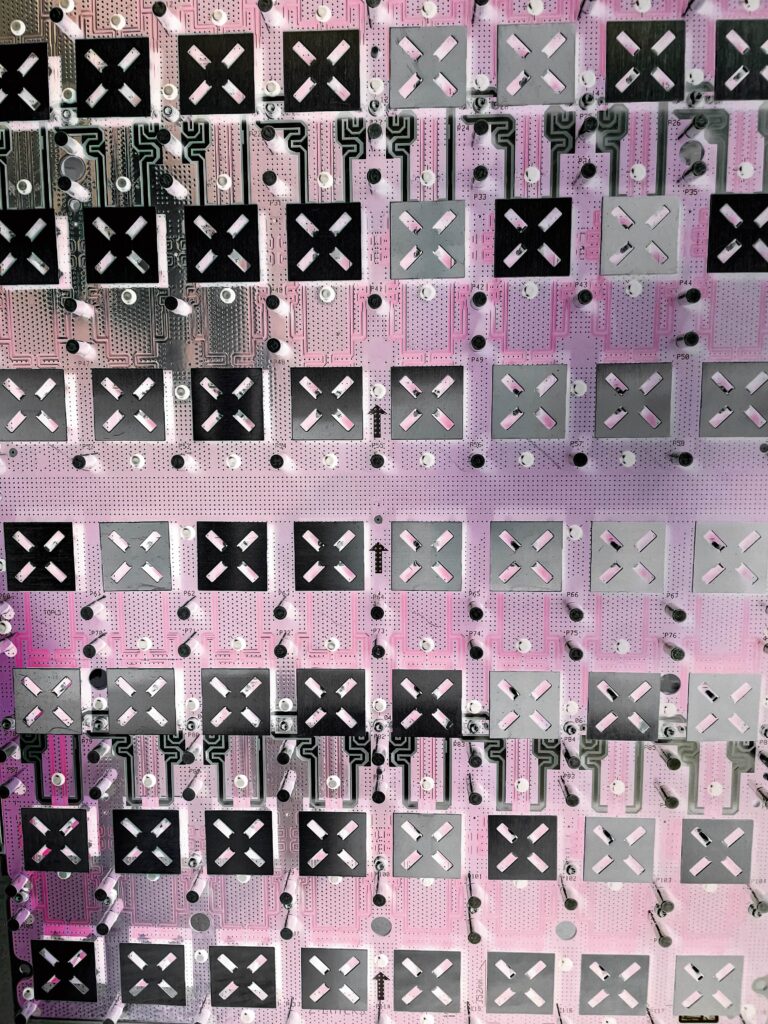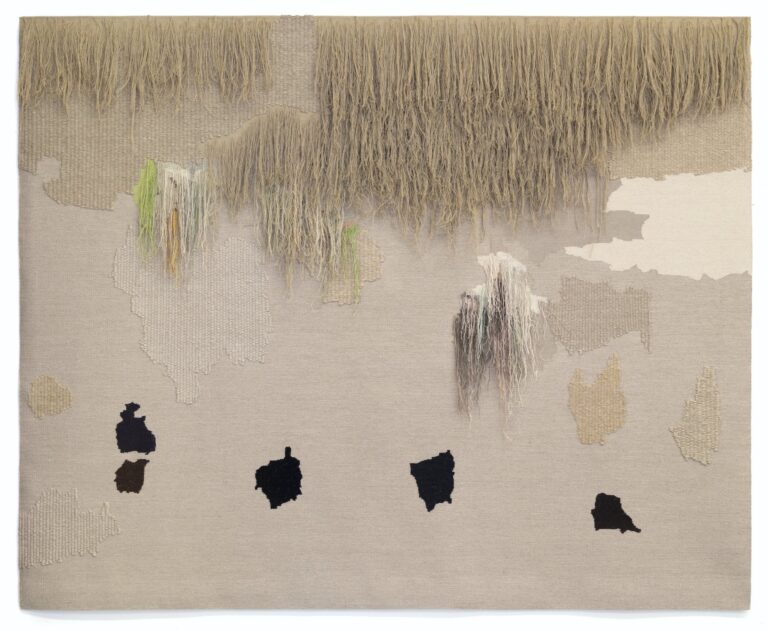 At Sprüth Magers, Chinese artist Cao Fei tackles one of the most pressing issues of our time: the metaverse. In Duotopia, the artist transforms the gallery's spaces while presenting works that delve into virtual reality and the interaction between human and machine consciousness. Among other things, the exhibition showcases the artist's first avatar China Tracy, which she created back in 2007. In the titular work Duotopia, Fei proposes an entire city existing in the metaverse.
The exhibition I never look at you from the place from which you see me by Olaf Nicolai at Eigen + Art takes us to Olympia in Greece. In this work, the artist placed a camera opposite a parabolic mirror—the type of mirror which is used to ignite the Olympic flame with the help of the sun's rays. The resulting photos don't merely reflect the Olympian landscape; they distort, stretch, and rotate it. One sees the mountains, sky and surrounding ruins in glittering, overlapping, merging forms. Hallucinatory images of a deeply mythological world, not so far from ours.
Just a short walk away is Rosa-Luxemburg Platz and the BQ gallery where Alexandra Bircken examines the relationship between inside and outside, between the shell and what it encloses. Each of the works featured in the Musterung exhibition is in a sense a prototype or pattern that attempts to deal with the horrors of current news while giving them a palpable form. Knitted wall hangings repeat grenades and machine guns while a motorcycle engine, separated from the rest of its attachments, resembles the breastplate of an archaic battle uniform.
The painter Andrej Dúbravský is showing Anxiety of Subimago at Dittrich und Schlechtriem—a compilation of large-format acrylic paintings that point to an unresolved tension between humankind and nature. One recognizes forms that are only remotely reminiscent of humans whose outlines bleed into vast landscapes. They are the ruins of industrialization, teetering right on the precipice of falling apart. Circumstances where man becomes even smaller, even more permeable. Deeply anchored in classical art history, Dúbravský explores a new visual language for the present times.
Now it's back up the hill to Schiefe Zähne, where Kurdish artist Leyla Yenirce is showing her exhibition Splitter. As is evident from her impressive solo exhibition at the Hamburger Kunsthalle, Yenirce explores forms of feminist resistance. She draws attention to symbols that embody power and dominance in everyday life, while also playing a game of seeing and being seen. In Splitter, a woman holds a splinter in her hand, redirecting the light that falls on her to blind onlookers and disappear in the reflection. How much does she want to reveal about herself, and how much does she have to reveal at all?
And off we go to Karl-Marx Allee to Peres Projects where dream worlds open up through the hypnotic paintings by Dylan Solomon Kraus. As if taken from dreams one remembers shortly after waking up, these otherworldly paintings shimmer on the surface of the mind. But if you look closely, you will understand how they refer to the world we inhabit in a realistically concrete manner. Symbols are freed from their mythical interpretations and trace out the dimensions of a world that mimics our own. Kraus blends motifs and meanings that are often separate in our waking state. In ExHypnosis he explores the boundaries between what one perceives and what one feels in an unexpected way.
Heading over to Strausberger Platz, we get to discover the new spaces of the freshly relocated Galeria Plan B. Previously based in Schöneberg, the Romanian gallery, which has been based in Berlin since 2008, has expanded. One of the iconic "Haus Berlin" towers from the 1950s now houses Adrian Ghenie's work and the gallery's inaugural show. In the latest series of paintings by the Romanian artist, born in 1977, one can meet time-travelers struggling through the strange state and apprehensive stillness of a world in lockdown. The artist processes the fundamental experience of living without the concept of "now" while exploring the tectonic shifts that occurred during the pandemic.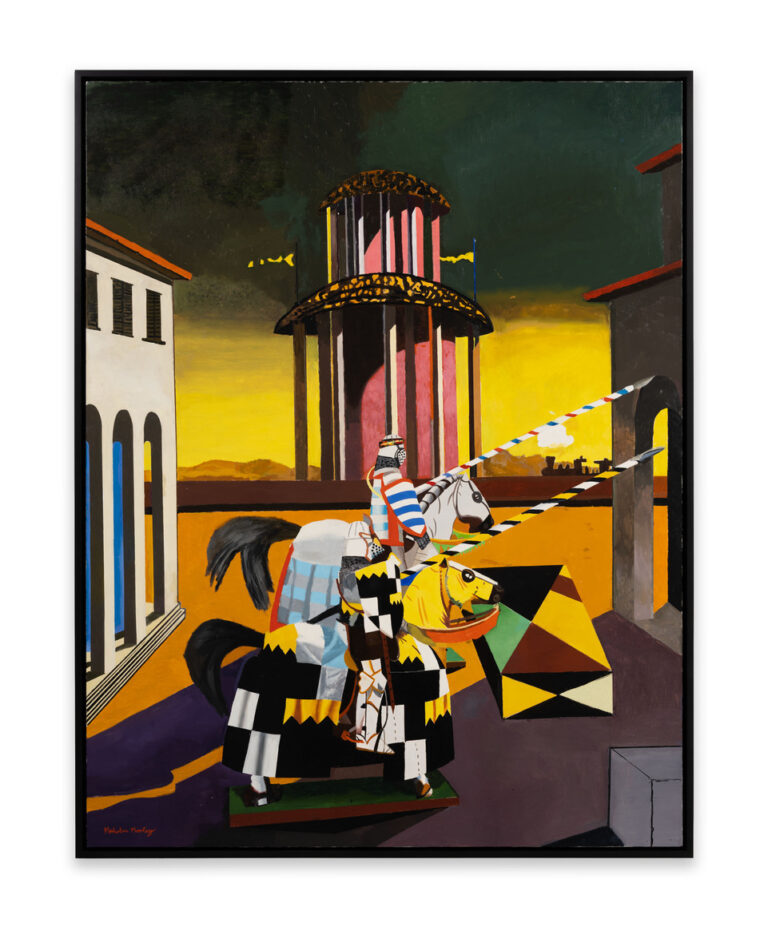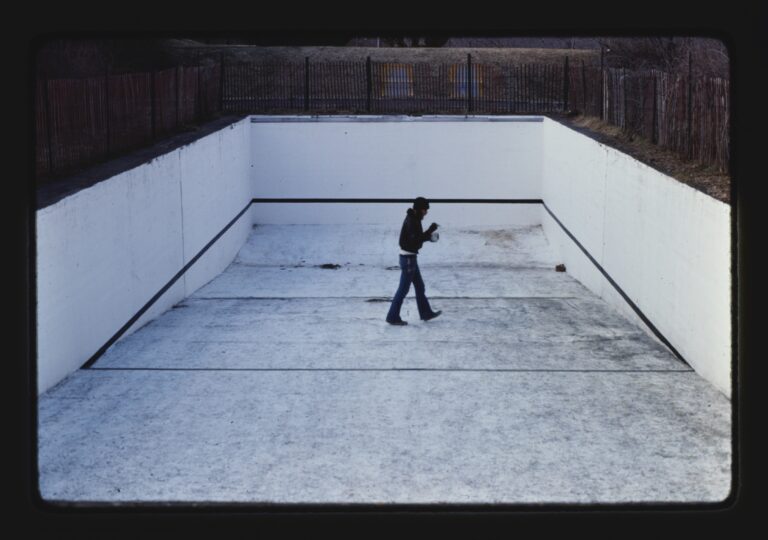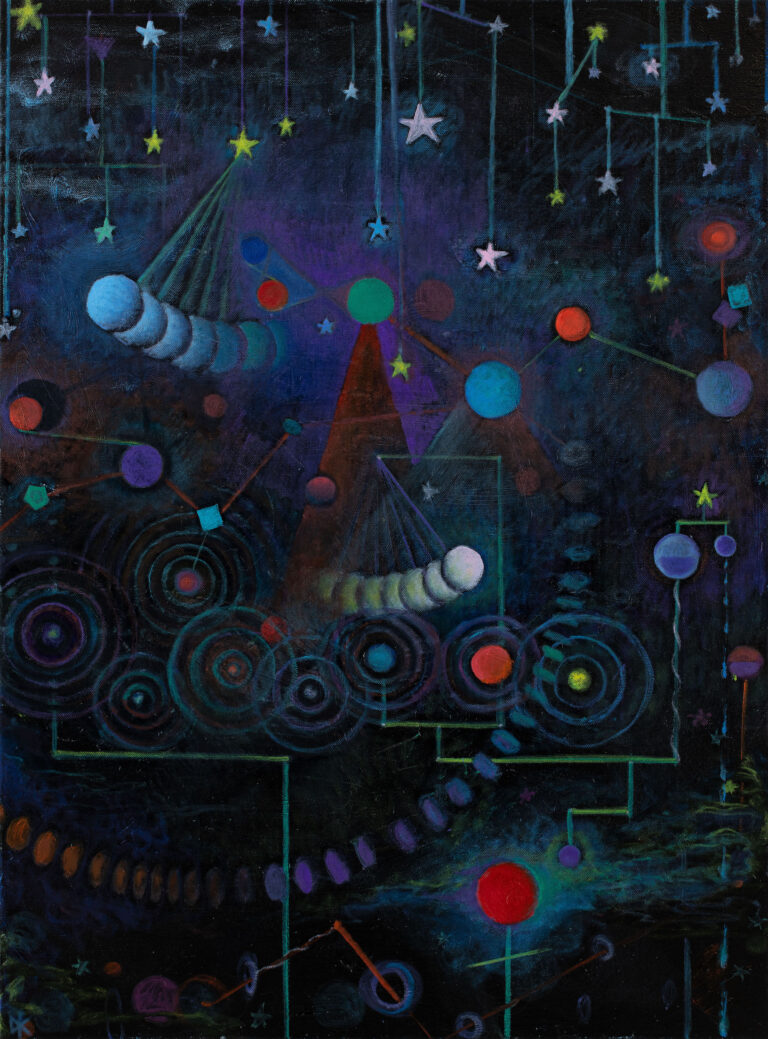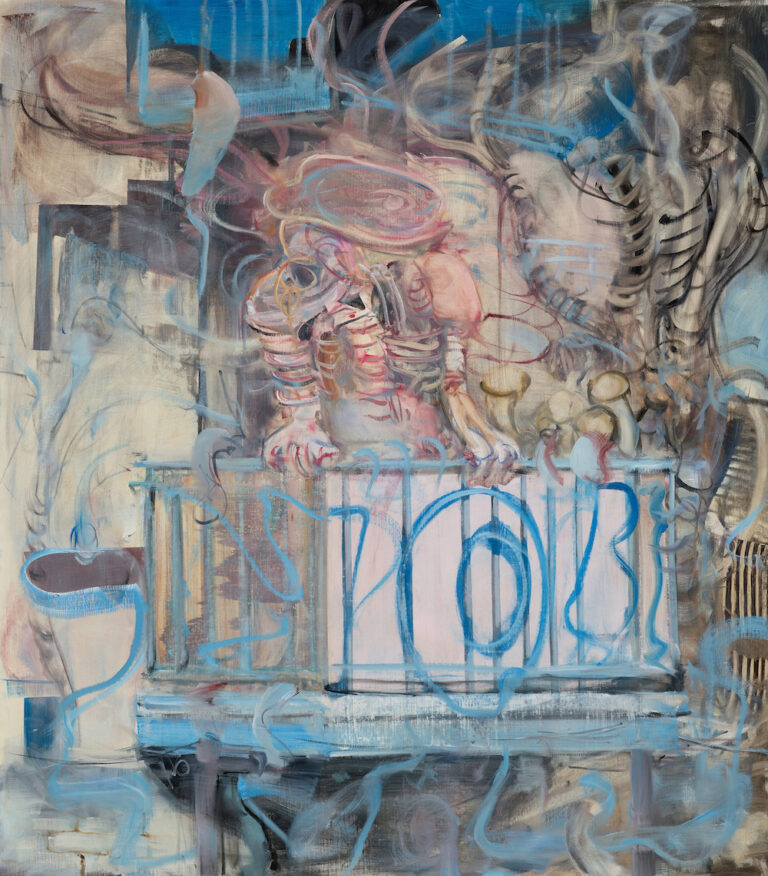 Just down the street you'll find Capitain Petzel, where you can marvel at Malcolm Morley's intensely colorful paintings. The artist counts Cézanne and Van Gogh, among others, as his primary role models throughout his artistic trajectory. Artists for whom the physical experience of their images was more important than what they actually depicted. Not "what" but "how" was the question Morley asked himself and tried to answer in his painting. How does color enter the nervous system of the viewer? The painter, who passed away in 2018, chose large sailing ships, airplanes and  postcards as the objects of his creative experiment. Objects longing for a bygone era.
Our last stop is Kewenig where three different solo exhibitions showcase the works of Ted Stamm, Astha Butail and Peter Wüthrich. Ted Stamm, who died prematurely at the age of 44, has left behind an impressively large artistic œuvre. Living in New York's Soho district in the 1970s, he produced much of his minimalist work on paper, but also worked in numerous different media. From mail art and artist books to outdoor installations. Kewenig is showing works from his Wooster series, in which he experiments with shapes and forms inspired by the outline of a plot of land near his studio. At Pied-à-terre (which—beware—is located in Charlottenburg), the work of Indian artist Astha Butail is on display for the first time ever. At first glance, it's not all that different from Ted Stamm's work. She's worked on the exhibition space's walls in a strictly geometric manner, but with a completely different approach: she is mainly concerned with the transmission of knowledge. Like a house, Butail's wall installation is interconnected and runs through the entire space.
But circling back to Brüderstrasse, to the imposing gallery building, Peter Wüthrich is also exhibited alongside Ted Stamm. Wüthrich's medium is books. He rearranges their content, deforms them and creates new connections between the stories, thus creating entirely new narratives. He translates the infinite possibilities that can open up within books into material compositions, allowing the viewer to immerse themselves anew in the medium of the book.
Gallery Tour
Mitte Nord
von Laura Helena-Wurth, 2023
Deutsche Version
Dieser ausgedehnte Kunst-Spaziergang beginnt ganz im Norden von Mitte bei der Galerie Ebensperger. Vor zehn Jahren eröffnete dort Bjørn Melhus den ungewöhnlichen Standort in einem ehemaligen Krematorium. Jetzt, zehn Jahre später, wird er auch derjenige sein, der das Programm dort beschließt. Doch es wird weitergehen: an anderen Orten innerhalb Berlins, sowie in Österreich. Melhus hat seiner Ausstellung den Titel [dramatic music continues] gegeben, was den Weg der Galerie in die Zukunft schön beschreibt. Melhus zeigt eine neue Werkgruppe mit dem Titel GATEKEEPERS. Das sind mysteriöse Wachleute, Türsteher einer anderen Welt. Wobei nicht ganz klar ist, was sie eigentlich genau bewachen, oder wen sie am Rein- oder Rauskommen hindern wollen.
Am besten schwingt man sich nun aufs Rad und lässt sich direkt in die Linienstraße rollen, wo es bei Galerie Neu weitergeht. Der 1982 geborene Yngve Holen gibt unserer sich immer mehr digitalisierenden Umwelt in seiner künstlerischen Arbeit einen Ausdruck. Er findet physische Entsprechungen, die das, was eigentlich unsichtbar sein soll, erfahrbar und vor allem sichtbar machen. Unter dem Titel 5G zeigt er neue Arbeiten, die vielleicht dabei helfen können, unsere Welt ein bisschen besser zu verstehen. Holen übersetzt glatte, verführerische Oberflächen in Skulpturen, die von einer Zukunft erzählen, die schon längst Gegenwart ist.
Die Linienstraße runter gelangt man zu neugerriemschneider. In der Nummer 155 ist Andreas Erikssons dritte Einzelausstellung mit der Galerie unter dem Titel year in, year out zu sehen. Ein Jahr lang hat der Künstler sich in sein Atelier auf dem Land in Schweden zurückgezogen und beobachtet, wie die Zeit vergeht und das Jahr die Landschaft verändert. Danach hat er der Galerie neue Gemälde, Siebdrucke und handgewebte Textilarbeiten mitgebracht. Wie Versatzstücke einer inneren Landschaft verbinden sich die Pinselstriche mit der äußeren Landschaft, die Eriksson in diesem Jahr, losgelöst von jedem äußeren Druck, geschaffen hat.
Daneben ist Renata Lucas Installation short cut zu sehen: Ein Automat, der nach Münzeinwurf, die Worte "Thank you" aufflackern lässt. Ein wacher und ironischer Kommentar zu Aufmerksamkeit und ihrer Ökonomie.
Vor dreißig Jahren eröffnete die Galerie mit einer Ausstellung von Jorge Pardo. Heute zeigt er in der Christinenstraße 18-19 seine bereits elfte Einzelausstellung. Seine Lichtskulpturen aus mundgeblasenem Glas kennt man auch aus dem Café der Neuen Nationalgalerie. Jetzt sind vierzig neue zu sehen, zusammen mit komplexen Gemälden, die die Atmosphäre seiner Heimatstadt sensibel untersuchen und umkreisen.
Wohl einem der drängendsten Themen unserer Gegenwart nimmt sich die chinesische Künstlerin Cao Fei bei Sprüth Magers an: dem Metaverse. In Duotopia sind Werke aus verschiedenen Perioden ihres Schaffens zu sehen und die Entwicklung ihres künstlerischen Werks wird anhand der Entwicklung der technischen Möglichkeiten nachvollziehbar. In der Ausstellung kann man unter anderem den ersten Avatar der Künstlerin "China Tracy" besuchen, den sie bereits 2007 geschaffen hat. In der titelgebenden Arbeit Duotopia macht Fei einen Vorschlag für eine ganze Stadt im Metaverse.
Ins griechische Olympia geht es bei Eigen + Art, in der Ausstellung von Olaf Nicolai. Sie trägt den Titel I never look at you from the place from which you see me, was sein Vorgehen hier recht gut beschreibt. Er hat dem Parabolspiegel, der sonst benutzt wird, um das olympische Feuer mithilfe der Sonne zu entfachen, eine Kamera gegenübergestellt. Die Fotos, die dabei herauskommen, spiegeln die Landschaft Olympias nicht einfach nur—sie verzerren, dehnen und drehen sie. Man sieht die Landschaft Olympias, die Berge, den Himmel, die Ruinen in glitzernden, sich übereinander stülpenden, ineinanderfließenden Formen. Bilder einer anderen, tief mythologischen Welt, gar nicht so weit von unserer entfernt.
Nur einen kurzen Spaziergang entfernt kommt man zum Rosa-Luxemburg Platz zur Galerie BQ. Dort beschäftigt sich Alexandra Bircken mit der Frage nach dem Innen und dem Außen, nach der Hülle und dem, was sie verhüllt. Jede der Arbeiten, die in der Ausstellung Musterung zu sehen ist, ist ein Prototyp, der versucht, mit den Schrecken der aktuellen Nachrichtenlage umzugehen und ihnen eine Form zu geben. Ein Motorentank wird so lange verfremdet, bis er wie der Brustpanzer einer archaischen Uniform wirkt, und in gewebten Textilien, setzen sich die Panzer und Granaten als Muster fort.
Der Maler Andrej Dúbravský zeigt bei Dittrich und Schlechtriem Anxiety of Subimago—eine Zusammenstellung von großformatigen Acrylbildern, die sich der verzwickten Verbindung zwischen Mensch und Natur annehmen. Man sieht Formen, die nur noch entfernt an Menschen erinnern, vor weiten Landschaften, die sich kaum mehr dagegen abdrücken. Es sind Ruinen der Industrialisierung, hinter denen der Mensch immer kleiner, immer durchlässiger wird. Tief verankert in der klassischen Kunstgeschichte, findet Dúbravský in seinen Arbeiten eine neue Bildsprache für die Gegenwart.
Jetzt geht es den Berg wieder hinauf zu Schiefe Zähne, wo die kurdische Künstlerin Leyla Yenirce ihre Ausstellung Splitter zeigt. Yenirce setzt sich mit Formen des feministischen Widerstands auseinander, wie sie erst kürzlich in ihrer eindrucksvollen Einzelausstellung in der Hamburger Kunsthalle gezeigt hat. Sie lenkt den Blick auf Symbole, die Macht und Dominanz im Alltag verkörpern und spielt dabei auch ein Spiel von Sehen und Ansehen. In Splitter hält eine Frau Splitter in der Hand und blendet damit die Betrachtenden so sehr, dass sie hinter dem grellen Licht verschwindet. Wie viel möchte sie von sich preisgeben, und wieviel muss sie überhaupt?
Und schon geht es auf die Karl-Marx Allee in die Räume von Peres Projects. Dort sind die hypnotischen Malereien von ​​Dylan Solomon Kraus zu sehen, in denen sich Traumwelten eröffnen. Wie aus den Träumen, an die man sich gerade kurz nach dem Aufwachen noch erinnert, schimmern diese Gemälde durch die Oberfläche des Verstandes. Doch, wer genau hinschaut, erkennt, dass sich sie sich aus einer sehr konkreten Realität speisen, zu der nun mal auch mythologische Erzählungen und unklare Verhältnisse gehören. Kraus vermengt diese im hellwachen Zustand oft getrennten Bereiche. In ExHypnosis lotet er die Grenzen zwischen dem, was man wahrnimmt und dem, was man fühlt auf ungeahnte Weise aus.
Am Strausberger Platz sind die neuen Räume von Galeria Plan B zu bewundern. Bislang in Schöneberg ansässig gewesen, vergrößert die rumänische Galerie, die seit 2008 auch in Berlin ist, ihre Räume. In einem der ikonischen Türme aus den 1950er Jahren ist jetzt Adrian Ghenie zu sehen. Im neuesten Bilderzyklus des 1977 geborenen Rumänen kann man Zeitreisende treffen, die sich durch die seltsamen Aggregatzustände, die die Zeit während der Pandemie angenommen hat, kämpfen. Er verarbeitet die grundlegende Erfahrung ohne das "Jetzt" zu leben in diesen Bildern und untersucht, welche Veränderungen und steckengebliebenen Entwicklungen sich daraus ergeben. 
Gleich die Straße runter ist man schon bei Capitain Petzel, wo man Malcolm Morleys farbintensiven Bilder bestaunen kann. Als seine Vorbilder nannte er unter anderem Cézanne und Van Gogh. Künstler, denen die körperliche Erfahrung ihrer Bilder wichtiger war, als das, was sie da eigentlich abbildeten. Nicht "was", sondern "wie" war die Frage, die Morley sich stellte und die er versuchte in seiner Malerei zu beantworten. Wie gelangt die Farbe ins Nervensystem des Betrachters? Als Objekt dieses Versuchs hat sich der 2018 verstorbene Maler große Segelschiffe und Flugzeuge, aber auch Postkarten ausgesucht. Die Sehnsuchtsobjekte einer ganzen Epoche.
Die letzte Station ist Kewenig. Hier werden die Werke von Ted Stamm, Astha Butail und Peter Wüthrich in drei Einzelausstellungen präsentiert. Ted Stamm, bereits mit 44 Jahren verstorben, hat ein großes Œuvre hinterlassen. In den 1970er Jahren im New Yorker Stadtteil Soho hat er einen Großteil seiner minimalistischen Arbeiten auf Papier produziert, aber auch darüber hinaus in vielen verschiedenen Medien gearbeitet. Von Mail-Art über Künstlerbücher hin zu Installationen im Außenraum. Bei Kewenig sind Arbeiten seiner Reihe Wooster zu sehen, in der er, ausgehend von den Außenlinien eines Grundstücks in der Nähe seines Ateliers, formale Überlegungen anstellte. Im Pied-à-terre (das sich—Achtung!—in Charlottenburg befindet) kann man zum ersten Mal überhaupt die Arbeit der indischen Künstlerin Ashta Butail sehen. Auf den ersten Blick sind die gar nicht so anders als das, was Ted Stamm macht. Streng geometrisch bearbeitet sie die Wandflächen des Ausstellungsraums, aber mit einem ganz und gar anderen Ansatz: Ihr geht es um die Weitergabe von Wissen. Die Wandinstallation ist, wie ein Haus, miteinander vernetzt und zieht sich durch den gesamten Raum.
Doch zurück in die Brüderstrasse, in das imposante Galeriehaus: Dort ist neben Ted Stamm nämlich noch Peter Wüthrich ausgestellt. Wüthrichs Material sind Bücher. Er arrangiert ihren Inhalt neu, verformt sie und schafft so zwischen den Geschichten neue Verbindungen und wieder gänzlich neue Erzählungen. Er übersetzt die unendlichen Möglichkeiten, die sich innerhalb von Büchern auftun können, in ihre materielle Erscheinung und lässt den Betrachter nochmal neu eintauchen in das Medium Buch.