Achraf Touloub
ʿAssabīya
Galeria Plan B is pleased to announce the fourth solo exhibition of Achraf Touloub with the gallery. This will be the last exhibition in the current gallery space. After more than 10 years in Potsdamer Straße, the gallery will relocate to a historical building at Strausberger Platz. More details about the inauguration of the new space in spring 2023 will follow.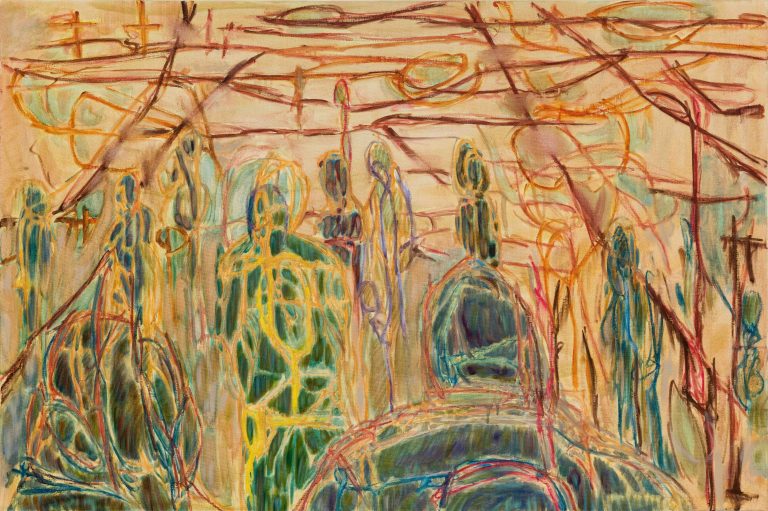 "The exhibition assembles seven new paintings in an allegory of perception, legible at both the scale of individual works and at that of the project. As they shift between viewpoints or orders of magnitude and telescope between distances to their subject and modes of their capture, the paintings stage the reciprocal instability of figures and grounds, hallucinations of decryption and vice-versa. If the abstraction of a generic visuality could be embodied, if a subjectivity that is truly no-one's but is fully immersed in our current visual regime could be made palpable, then perhaps the paintings would serve as flashes from its biography, moments when what it sees coincide with how it is seen. The exhibition would then come to illustrate its trajectory through the world – its effort to safeguard its contours or narrate its internal consistency, and its simultaneous othering, the multitudinous transformations it absorbs into its own becoming. As a generic self is both situated in particular spatial circumstances and projected at the macroscopic scales that the exhibition explores, the works figure the intersection between specific data and an equally deliberate imprecision: the points at which my experience might connect with yours, morph into or twine with everyone's or no-one's, communicating via levers of negation, point of fracture and moments of obfuscation as much as through that which the paintings show. Such a generic, distributed self is then portrayed through its fissures, as a composition of cuts, lacunae and wounds always mended and reassembled in the shape of an in-dividual: as the negation of a constitutive division, as a provisional triumph over their centrifugal force."
Excerpt from exhibition text by Mihnea Mircan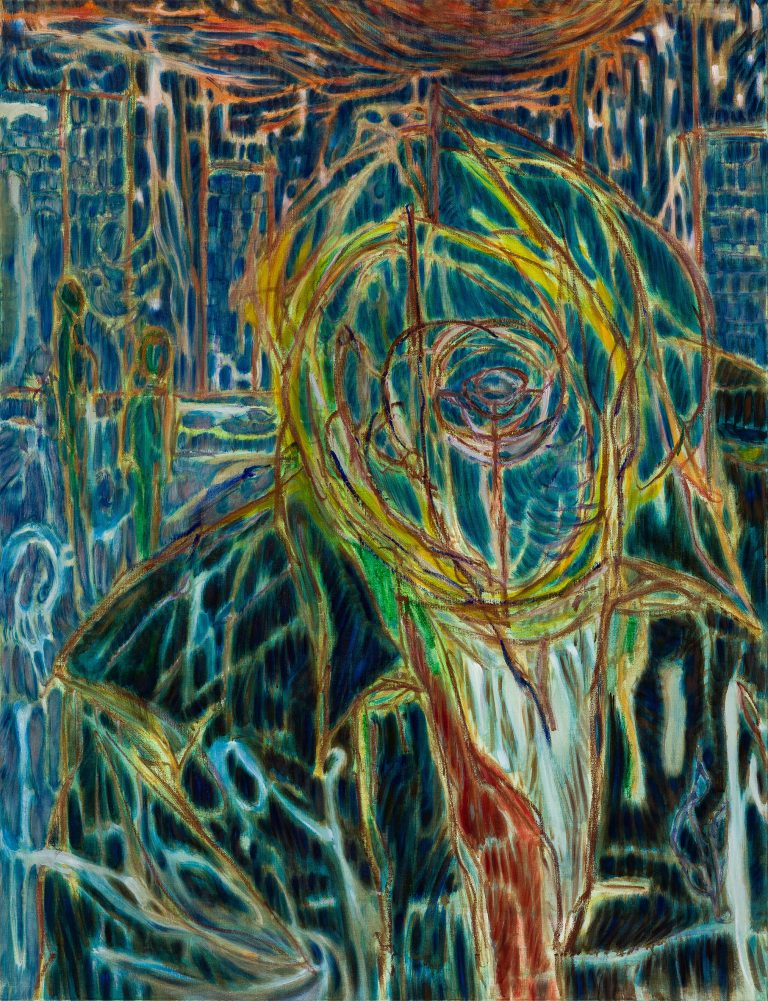 Achraf Touloub, born 1986 in Casablanca, Morocco, lives and works in Paris. Solo exhibitions and projects include: Les Arrivées, Centre d'art contemporain PASSERELLE, Brest (2021); Art Club #30Achraf Touloub, Villa Medici, Rome (2019); European Night, Plan B, Berlin (2019); CONT'D, Plan B, Berlin (2016); standard condition, Galerie Albert Baronian, Brussels (2015); Latent, Plan B, Berlin (2014).
Group exhibitions include: Es-senze, Museo di Palazzo Mocenigo, Venice (2022); Landscape in a Convex Mirror, Art Encounters Biennial, Timisoara (2021); Anticorps, Palais de Tokyo, Paris (2020); Iulia Nistor and Achraf Touloub. Space (Continuation and End), Rezidenta BRD Scena9, Bucharest (2019); Baltic Triennial 13: Give Up the Ghost, Tallinn (2018); The World on Paper, Deutsche Bank Collection, Berlin (2018); Night was paper and we were ink, Barjeel Art Foundation, Sharjah (2018); Auguries, Art space Geumcheon, Seoul (2017); Viva Arte Viva, 57th Venice Biennale (2017); 100 chefs-d'oeuvre de l'art moderne et contemporain arabe. La collection Barjeel, Institut du Monde Arabe, Paris (2017); Mutations-Creations / Imprimer le monde, Centre Pompidou, Paris (2017); Dissolve into a red dwarf, Island, Brussels (2017); Art Club #12/ Folies d'hiver, Villa Medici, Rome (2016); Cher(e)s Ami(e)s. New presentation of works from the collection, Centre Pompidou, Paris (2016); Kochi-Muziris Biennale, Kochi (2016); Club of Matinee Idolz, CO2, Turin (2015); Des hommes, des mondes, College des Bernardins, Paris (2014).