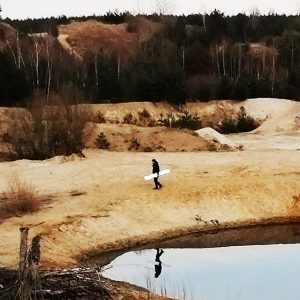 Richard Sides
The Matrix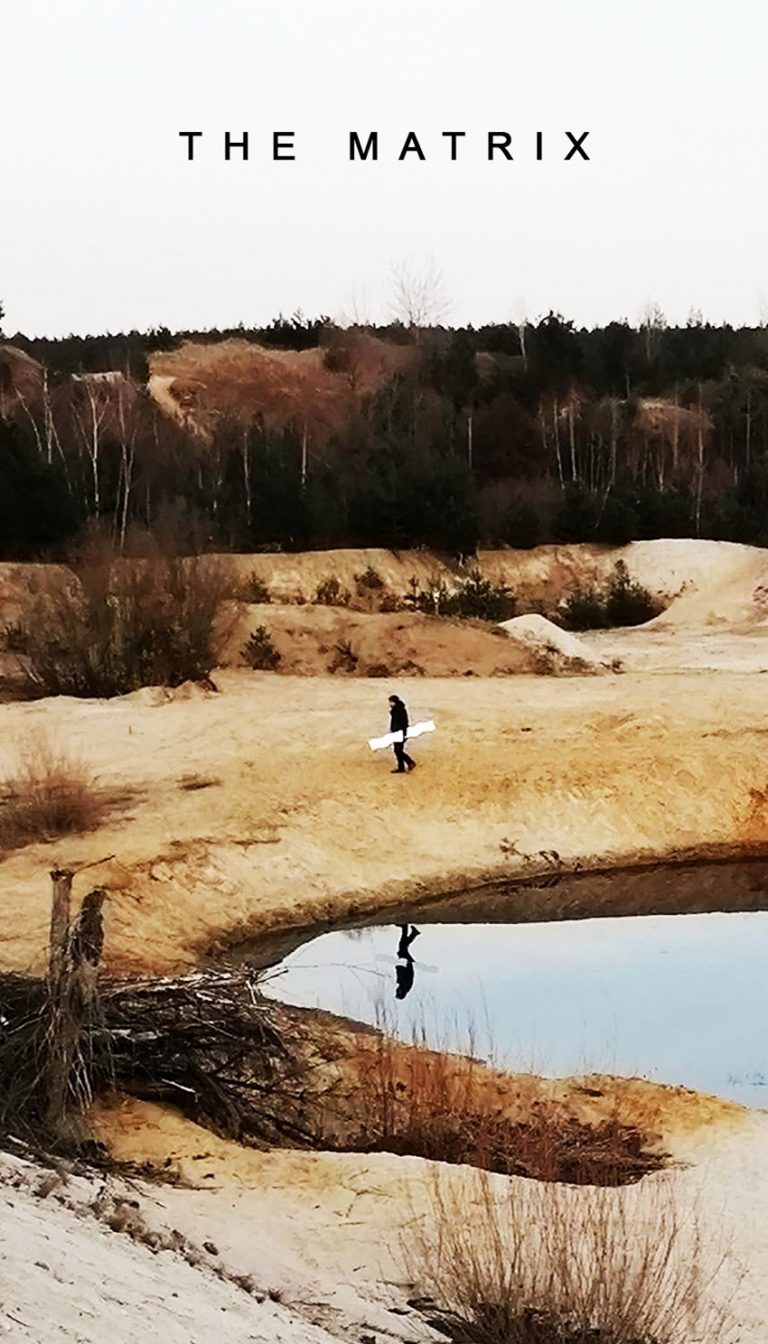 Richard Sides' exhibition The Matrix, already names the exhibition space in its title as an unmar- ked, re-editable structure. In this expansive installation, Sides redefines the architectural conditi- ons of Schiefe Zähne's space entirely from floor to ceiling. The Matrix consists of structural inter- vention, mural, video, sculpture and collage. The height of the space is lowered by a suspended ceiling installed by the artist to a height of 250 cm; this new level consists of newspaper, which allows the neon light installed above it to penetrate only diffusely into the exhibition space. On the gallery walls Sides paints a mural consisting of a series of vertical stripes in a wide variety of blue hues stretching across existing walls as well as a new wall thus spatially restructuring the gallery.
Some of the images and collages shown mirror the murals' pattern. On them, individual pages from magazines appear to date from the 1960s and subsequent decades are collaged together. Images of familial interaction, and among other things, groups of people in shared ecstasy.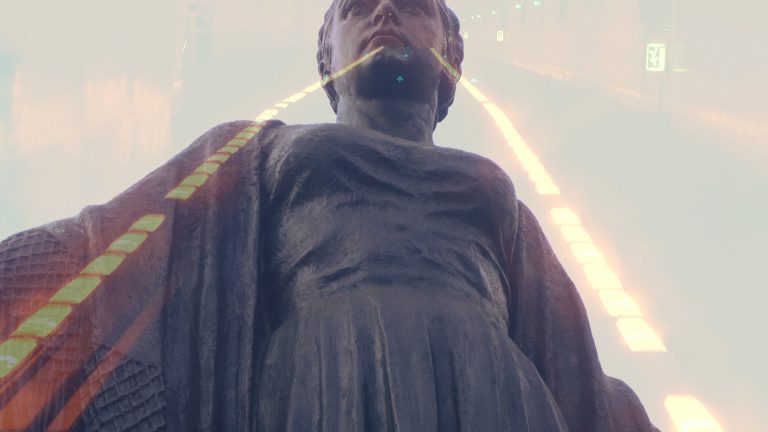 Suspended at an impossible angle is a sculpture in the form of Boston Dynamics' recently comple- ted Robot Dog 'Spot'. Sides builds the dog as though it were a puppet with hinged limbs and as- sembles its body with the simplest means – pizza boxes and DHL packaging. Hanging on the wall, it may be in a malevolent stand-by mode. This 'creature' seems to have sprung from a dystopian fantasy. Spot has already been seen wandering through parks in real-life, ensuring compli- ance with pandemic rules as well as assisting the New York Police Department in street operations on a test basis; and almost inevitably – it is being used in the military sector.
This adaptive AI robot is in its terse design perhaps, the most direct reference to the 1999 film 'The Matrix', in which a man-made technology takes over and subjugates its own creators. A reference could also be derived from the giant Superman Exctasy pill that would enable an entire army to have a love orgy.
In an anachronistic way, different timelines overlap in the space, the viewers sense of time may now be completely lost. However, many of the objects and stagings are far from being committed to the idea of a complete illusion. On the contrary, the objects and installations are mostly compre- hensibly handmade, making use of generally accessible everyday objects such as pizza boxes, newspaper, concrete, and so on.
Sides eschews making specific moral critiques rather, the artist reproduces variants of stories we tell ourselves about our own existence, which in the process become our substance, and also seem to foreshadow the future direction of techni- cal development and social relations. Discarded printers and scanners also exhibited in the room, found on the street, could be understood as a cue for such a reading.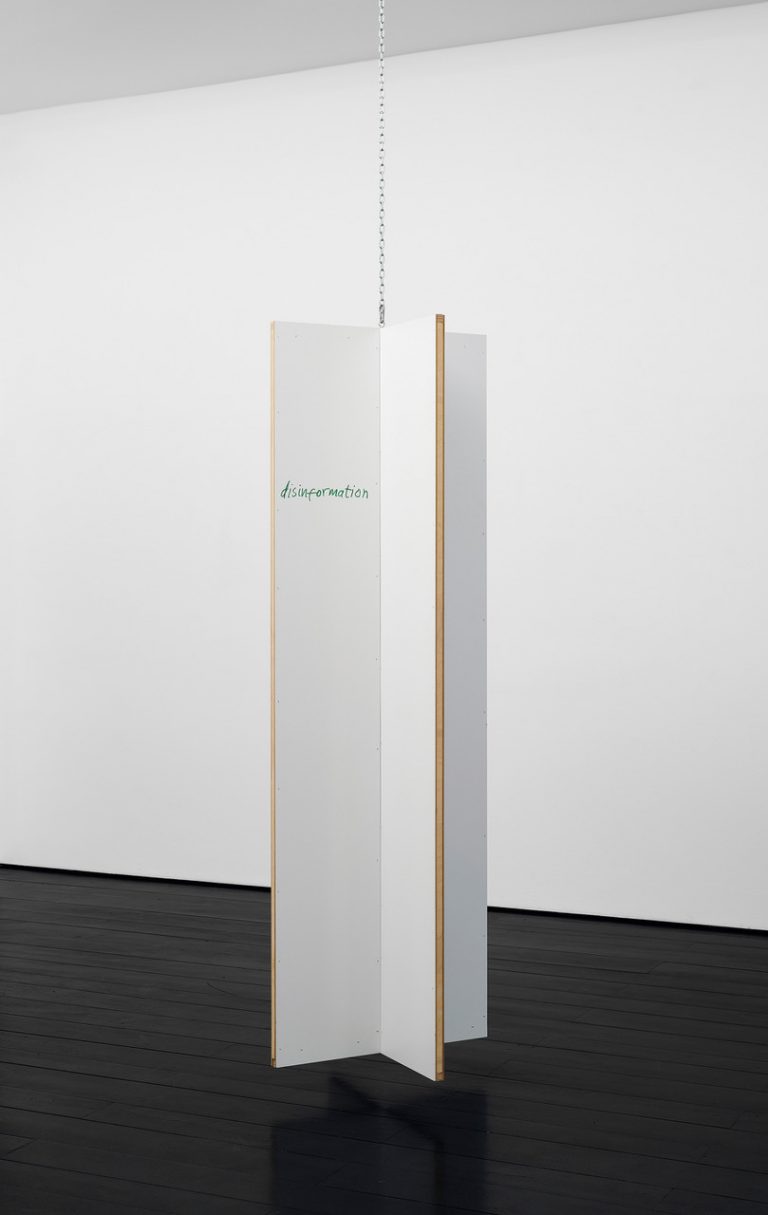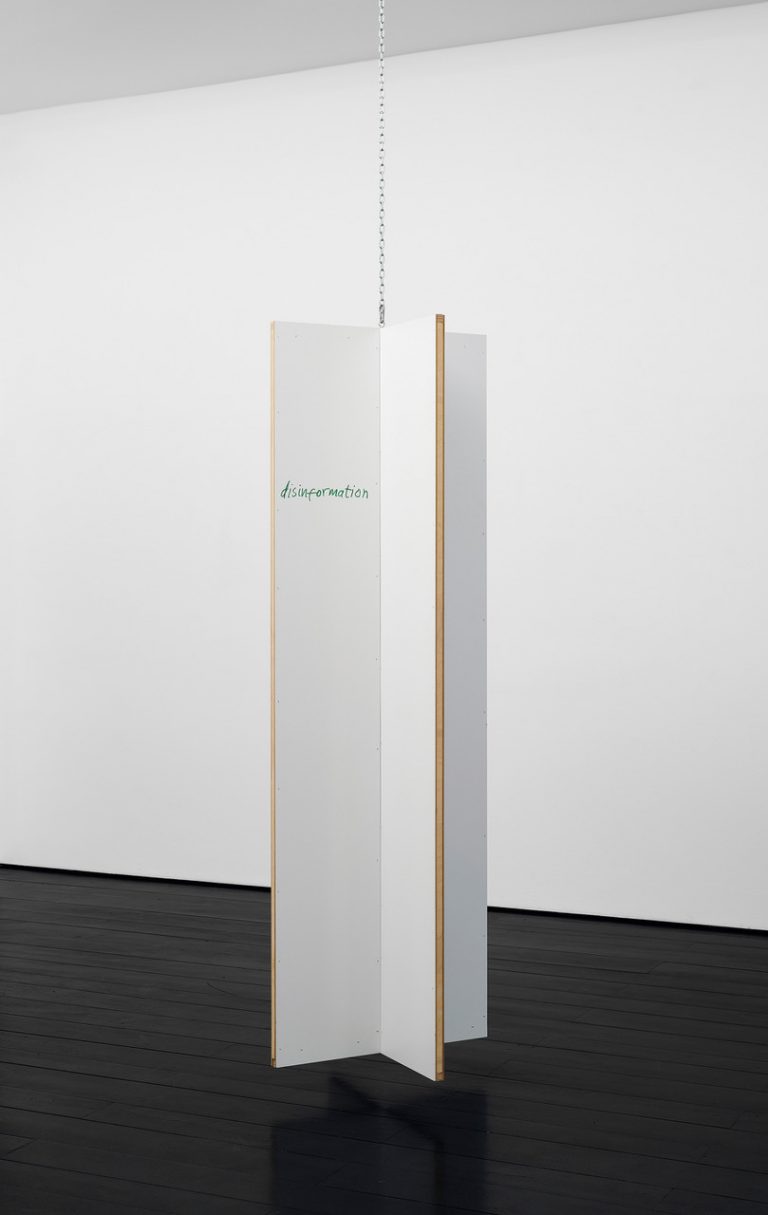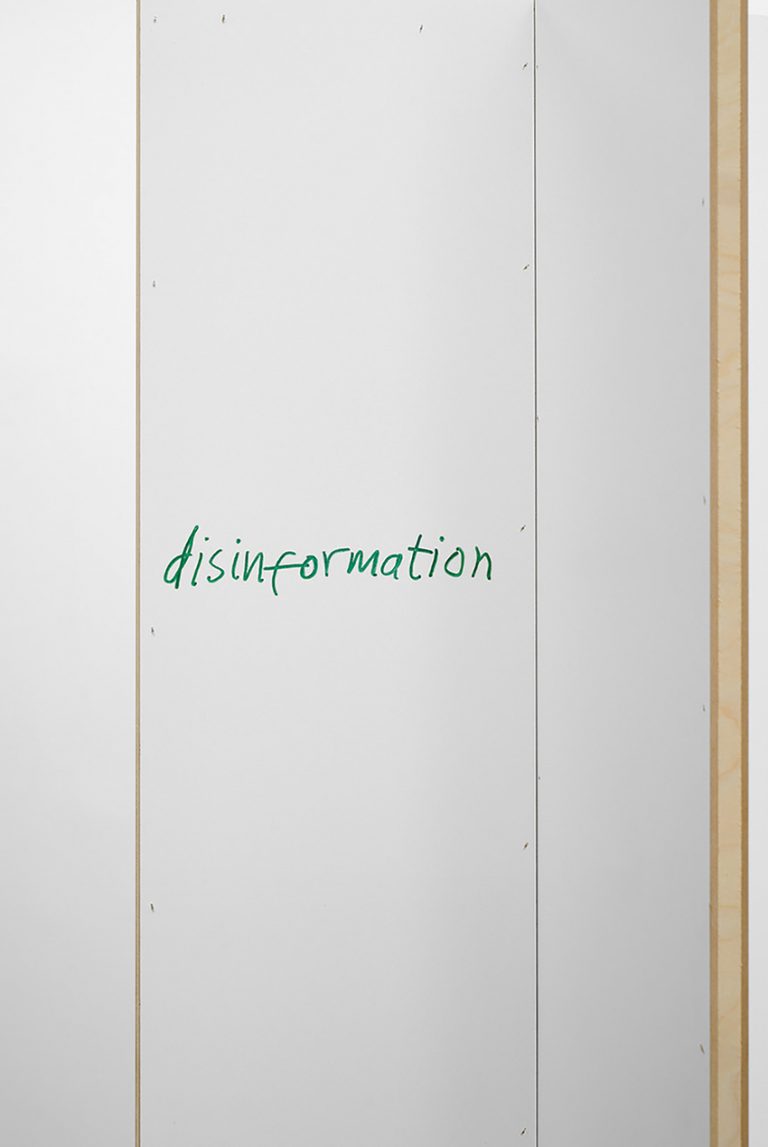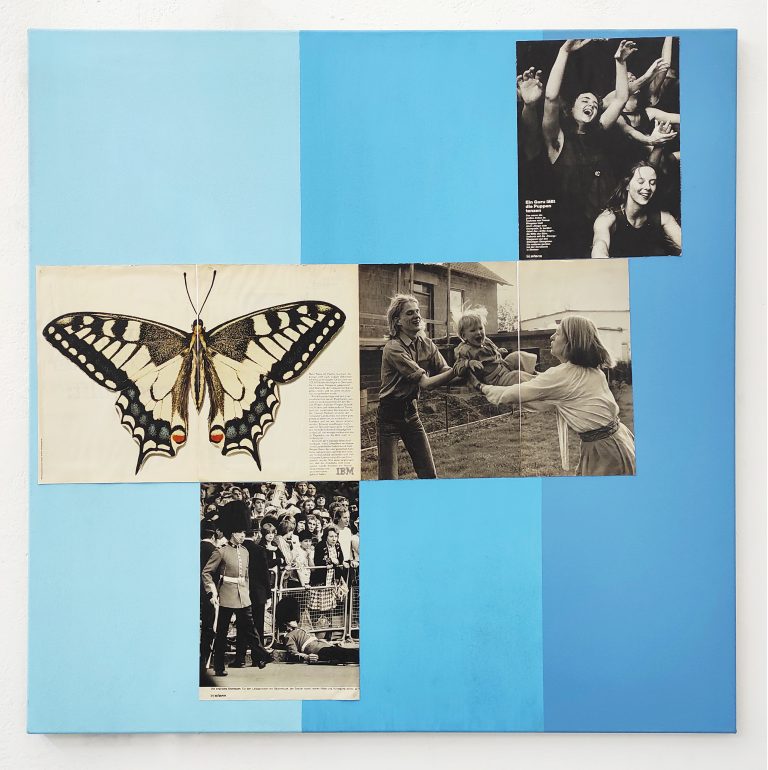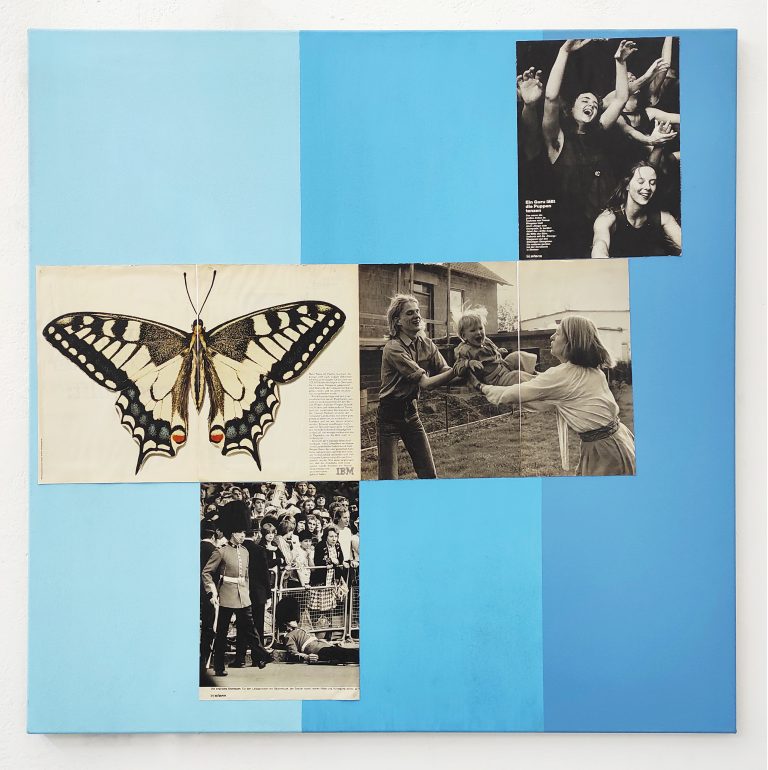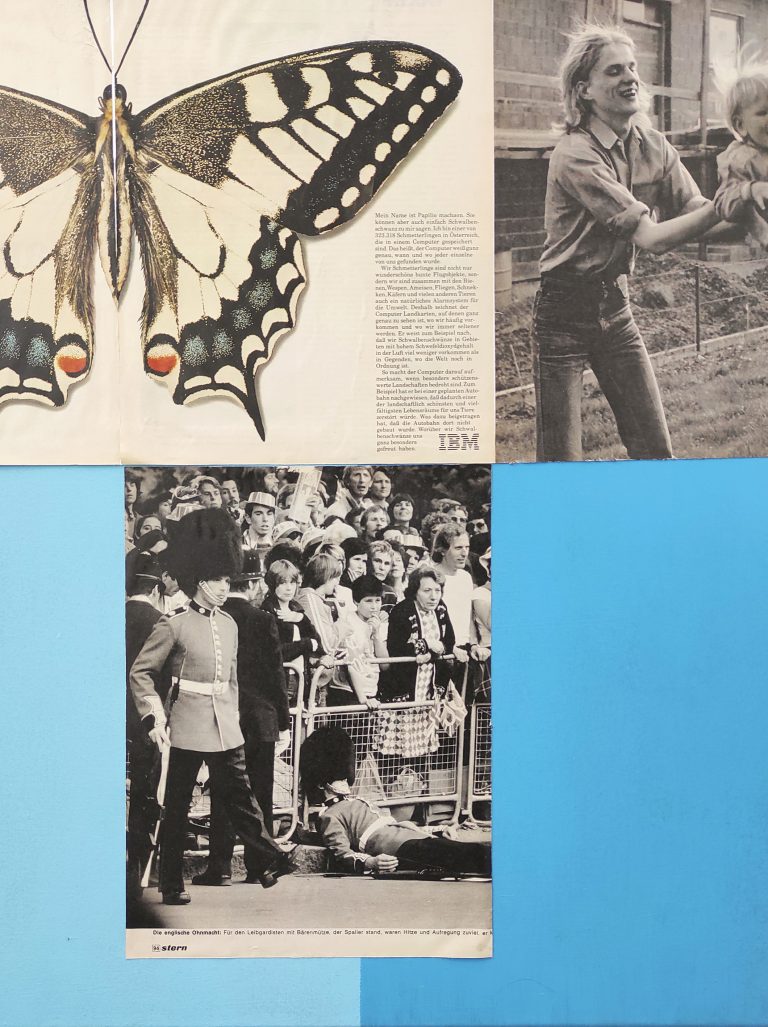 While Sides demonstrates to us  the paradox of this state of being "in-between", along with the cult of mediation that currently rages through our markets, codes, and relationships, even the "media-polemic beating to death of an opponent" he does not attempt to come down on one side of any heated debate with his art. In full knowledge that criticality and artistic autonomy have long since been incorporated into the plastic sphere of value (say hello to "the new spirit of capitalism"), he does not offer any platitudes of technophilic intoxication or technophobia. On the contrary, Sides makes transparent use of technology in his networked and de-centralized space, by acknowledging their frameworks and what is codified within them. In doing so, he mirrors the tendency of sampling and memes and their creative replicatory genesis, where creation goes hand in hand with imitation and alteration, thereby leading to the irritating ambiguity of a degraded form of communication, one that lacks understanding. That he rarely acts alone in doing so, and more often collectively, ultimately serves as recognition of the necessity of community.