Gallery tour Charlottenburg
by Jana Janika Bach

What can we do to counter a world on fire? This could be the title of a gallery tour around western Berlin today—it offers far more than a simple escapist refuge.
The carefree and easy feel of pre-pandemic times is evoked in the intimate black-and-white photos by the African American artist Alvin Baltrop at Buchholz. What he began capturing with his camera at the Hudson River Piers in the mid-1970s is now long gone: before AIDS, the city's gay scene would meet in this dilapidated New York industrial landscape.
From the global pandemic to the rise of "right"-wing ideas, Julie Mehretu addresses alarming topics in her series of polychrome large formats. They are on display at Borch under a title borrowed from an essay by Joan Didion in which she analyzes the moment of confusion just before a collision.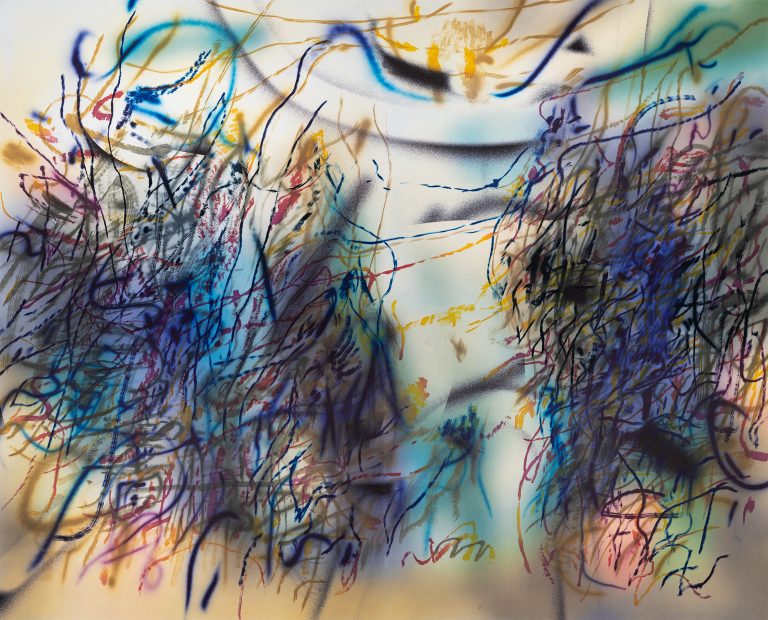 Mathis Altmann confirms that his millennial generation is heading for a collapse. Their compulsion for self-expression is manifest in his sculpture series Butcher Block at Efremidis. It is flanked by two new paintings by the American artist Lisa Jo, who explores the poignantly ephemeral in this year without contact and forms disembodied chimeras.
Despite all the intangibility of vibrating on a higher frequency, the exhibition at Meyer Riegger undertakes just that. Ulla von Brandenburg expands consciousness into a state of trance in the tradition of the pioneers of free dance, while the American painter Jeanette Mundt is collapsing time within a single figure at Société.
At Crone, meanwhile, the old world has been left behind altogether and we have returned to the Big Bang. Ashley Hans Scheirl and his/her partner Jakob Lena Knebl have created a new digital and anarchistic order that breaks new ground as an exuberant dream world and spatial installation.
Natalie Ball also relies on the power of renewal: as a member of the Klamath Tribes from the US state of Oregon, she deconstructs the stereotype and narrative of the "Indian" with her art made out of beads and coyote teeth. Wentrup also presents the group show ABSTRAKT, featuring works by Gregor Hildebrandt, Markus Amm, Wyatt Kahn, Katy Moran, Mary Ramsden, David Renggli, Robin Rhode and others, who circle around abstraction from different angles.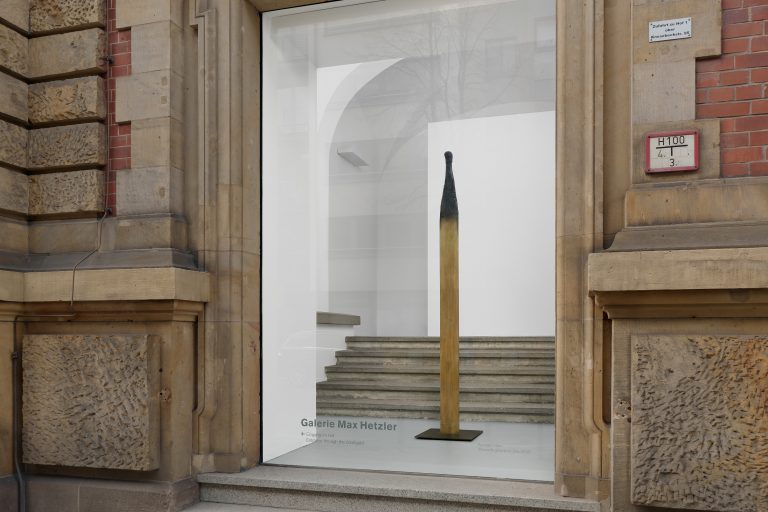 The introspective mood continues at Max Hetzler, where Albert Oehlen resumes his interrogation of painting in the twenty new works he is exhibiting. The gallery also presents a solo show of individual works from Raymond Hains' sometimes monumental Matchstick Series. The co-founder of the Nouveaux Réalistes even created the fictional characters Saffa and Seita for this body of work, and occasionally pretended to be their agent.
While the nearby Kunsthandel Wolfgang Werner focuses on figurative painting with portraits by Paula Modersohn-Becker and large-format paintings by three contemporary female artists—Almut Heise, Birgitt Bolsmann, and Rissa—Mehdi Chouakri juxtaposes Gerwald Rockenschaub's old and new works, ranging from early paintings to acrylic glass objects.
Fischerboote an der Hafenmole (Fishing Boats on the Pier) is not as colorful as many of Ernst Wilhelm Nay's more famous paintings, and seems instead to be shrouded in gloom. Not unlike its history: the Berlin Nationalgalerie purchased the painting in 1931, and it was then confiscated by the National Socialists just a few years later. Galerie Michael Haas provides insights into the early to late creative phases of this painter, who was once ostracized as "degenerate" in his own country. The gallery is also host to Jakob Mattner's poetic images, in which the imprints of ferns or acanthus leaves shine like celestial bodies on the shellac-primed paper. His installation Second Planet is both a glimmer of hope and a warning in equal measure.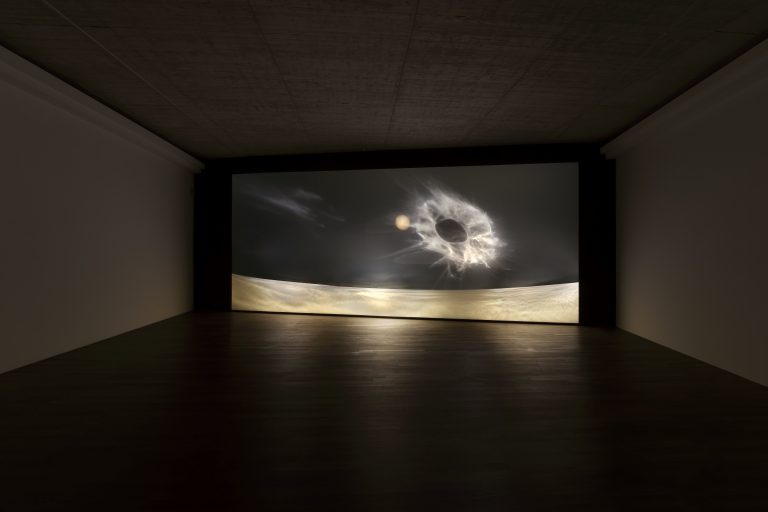 Claire de Santa Coloma's sculptures at Friese, made out of eucalyptus and turpentine wood, also elicit sensual, gentle contemplation; time has left its mark on the material, as has the Argentine artist herself.
A latecomer stylishly apologizes with a card draped on a red tablecloth: Christian Philipp Müller and Ricardo Valentim refer to the value of Freundschaft und Kunst (Friendship and Art) at Lars Friedrich.
Some possessions are more precious than you might think—the works of the Croatian artist Ivan Kožarić, once a member of the avant-garde group Gorgona, are rarely shown abroad. At Gregor Podnar, viewers can marvel at the extent to which his works bear witness to an urge for spontaneity and, above all, freedom.
Was einer Welt "on fire" entgegensetzen? So ließe sich ein aktueller Galerien-Rundgang im Westen Berlins überschreiben – geboten wird weit mehr als bloß eskapistische Zuflucht.
Wie sich das anfühlte in vorpandemischen Zeiten, unbeschwert und ungezwungen, daran erinnern die intimen Schwarz-Weiß-Fotos des Afroamerikaners Alvin Baltrop bei Buchholz. Heute ist lange verschwunden, was er mit seiner Kamera ab Mitte der Siebziger an den Hudson River Piers festhielt: in einer maroden New Yorker Industrielandschaft traf sich die schwule Szene der Stadt vor AIDS.
Ob globale Seuche oder "rechtes" Denken auf dem Vormarsch, solch Beängstigendes hat Julie Mehretu in ihrer Serie polychromer Großformate verarbeitet. Zu sehen ist diese bei Borch, dem Titel eines Essays von Joan Didion unterstellt, die darin den Moment von Konfusion kurz vor einer Kollision analysierte.
Auf einen Kollaps hinzusteuern, attestiert Mathis Altmann seiner Generation der Millennials. Ihr Selbstdarstellungszwang manifestiert sich in seiner Skulpturen-Serie "Butcher Block" bei Efremidis. Flankiert wird sie von zwei neuen Gemälden der US-Künstlerin Lisa Jo, die im kontaktlosen 2021 schmerzlich Schwindendes auslotet und körperlose Chimären formt.
Trotz all des Unwägbaren auf einer höheren Frequenz zu schwingen, verspricht Ausgestelltes bei Meyer Riegger. Hier erweitert Ulla von Brandenburg im Sinne der Pioniere des freien Tanzes das Bewusstsein zum Trancezustand, während die amerikanische Malerin Jeanette Mundt bei Société die Zeit in einer einzigen Figur zusammenfallen lässt.
Bei Crone hat man derweil die alte Welt gänzlich hinter sich gelassen und ist wieder beim Urknall angelangt. Nach Ashley Hans Scheirl und ihrem/r Partner/in Jakob Lena Knebl folgte dem eine digital-anarchistische Neuordnung, die sich als überbordende Traumwelt und raumgreifende Installation Bahn bricht.
Auf die Kraft der Erneuerung setzt ebenso Natalie Ball, die als Angehörige der Klamath im US-Staat Oregon mit ihrer Kunst aus Perlen oder Kojotenzähnen das Stereotyp und Narrativ vom "Indianer" dekonstruiert. Zeitgleich präsentiert Wentrup mit der Gruppenschau "ABSTRAKT" Werke von Gregor Hildebrandt oder Katy Moran, die aus diverser Richtung die Abstraktion umkreisen.
Auch bei Max Hetzler wird der Blick nach innen vertieft, Albert Oehlen hat für die von ihm ausgestellten 20 neuen Arbeiten seine Befragung der Malerei fortgesetzt. Parallel dazu zeigt die Galerie in einer Soloschau Einzelnes aus der teils monumentalen "Streichholz-Serie" von Raymond Hains. Ein Werkkomplex für den der Mitbegründer der "Nouveaux Réalistes" sogar die fiktiven Charaktere Saffa und Seita schuf, als deren Agent er sich bisweilen ausgab.
Während unweit beim Kunsthandel Wolfgang Werner mit Bildnissen von Paula Modersohn-Becker und großformatigen Gemälden der drei zeitgenössischen Künstlerinnen Almut Heise, Birgitt Bolsmann und Rissa die figurative Malerei in den Fokus rückt, wird bei Mehdi Chouakri die Gegenüberstellung mit alten und neuen Werken – von früher Malerei bis zu Acrylglasobjekten – Gerwald Rockenschaubs möglich.
Nicht so farbenfroh, wie viele der bekannten Gemälde von Ernst Wilhelm Nay, sondern von Düsternis umwabert scheinen die "Fischerboote an der Hafenmole". Ähnlich ihrer Geschichte – 1931 hatte die Berliner Nationalgalerie das Bild gekauft, das wenige Jahre darauf von den Nationalsozialisten beschlagnahmt wurde. Galerie Michael Haas gibt Einblicke in frühe bis späte Schöpfungsphasen des einst im eigenen Lande als "entartet" verfemten Malers. Weiter bildet Jakob Mattner in den Räumen der Galerie poetisch Anmutendes ab, Gestirnen gleich leuchten die Abdrücke der Farne oder Akanthusblätter vor dem mit Schellack grundiertem Papier. Auch seine Installation "Second Planet" fungiert als Lichtblick und Mahnung gleichermaßen.
Ebenfalls zur sinnlich-sanften Nachdenklichkeit laden die aus Eukalyptus oder Terpentinbaumholz gefertigten Skulpturen von Claire de Santa Coloma bei Friese ein, die Zeit hat ihre Spuren in dem Material hinterlassen wie die argentinische Künstlerin selbst.
Stilvoll entschuldigt sich ein Verspäteter mit einer auf dem roten Tischtuch drapierten Karte; Christian Philipp Müller und Ricardo Valentim berufen sich bei Lars Friedrich auf den Wert von "Freundschaft und Kunst".
Manches Gut ist kostbarer als womöglich angenommen – nur selten wurde das Oeuvre des kroatischen Künstlers Ivan Kožarić, einst Mitglied der Avantgarde-Gruppe Gorgona, im Ausland gezeigt. Wie sehr seine Arbeiten vom Drang nach Spontanität und vor allem Freiheit zeugen, kann bei Gregor Podnar bestaunt werden.