Gallery tour
Charlottenburg
by Kito Nedo

Compliance is the title of American artist Megan Marrin's European debut, which is on view at Efremidis on Ernst-Reuter-Platz. As the title suggests, the cool, unadorned paintings of ballet barres and wall bars, which transform the exhibition space into an imaginary gym, do indeed conjure images of physical drills and questions of obedience. These themes, in turn, have been closely intertwined with cultural, political, and societal discourses since at least the modern era, if not much earlier.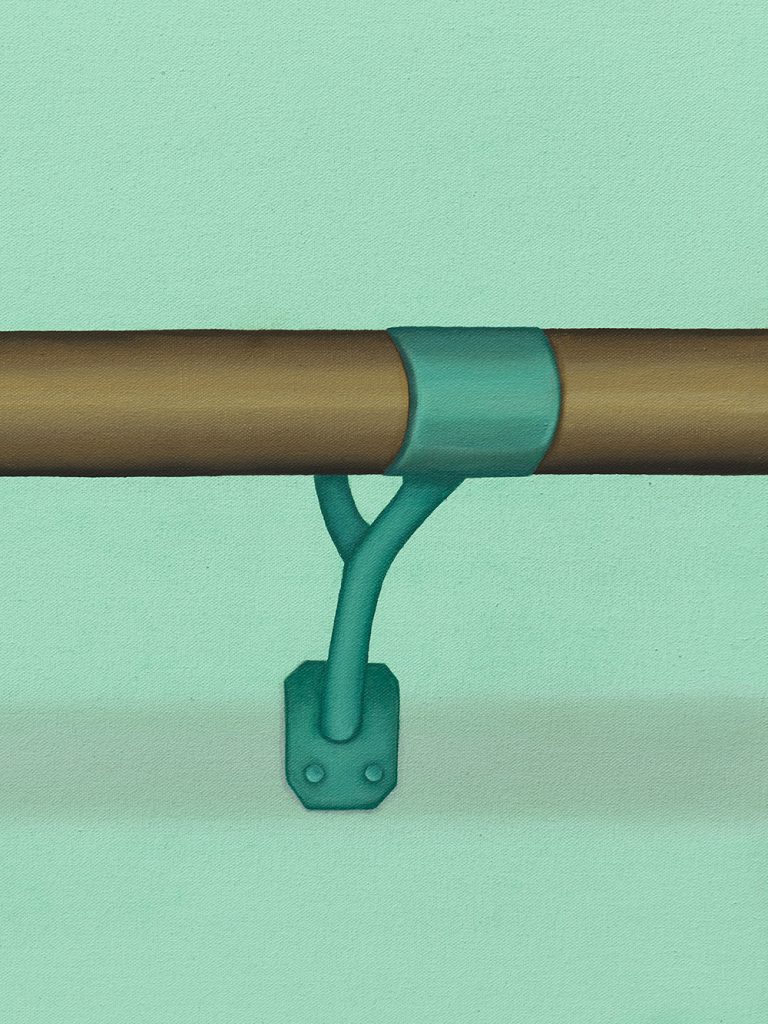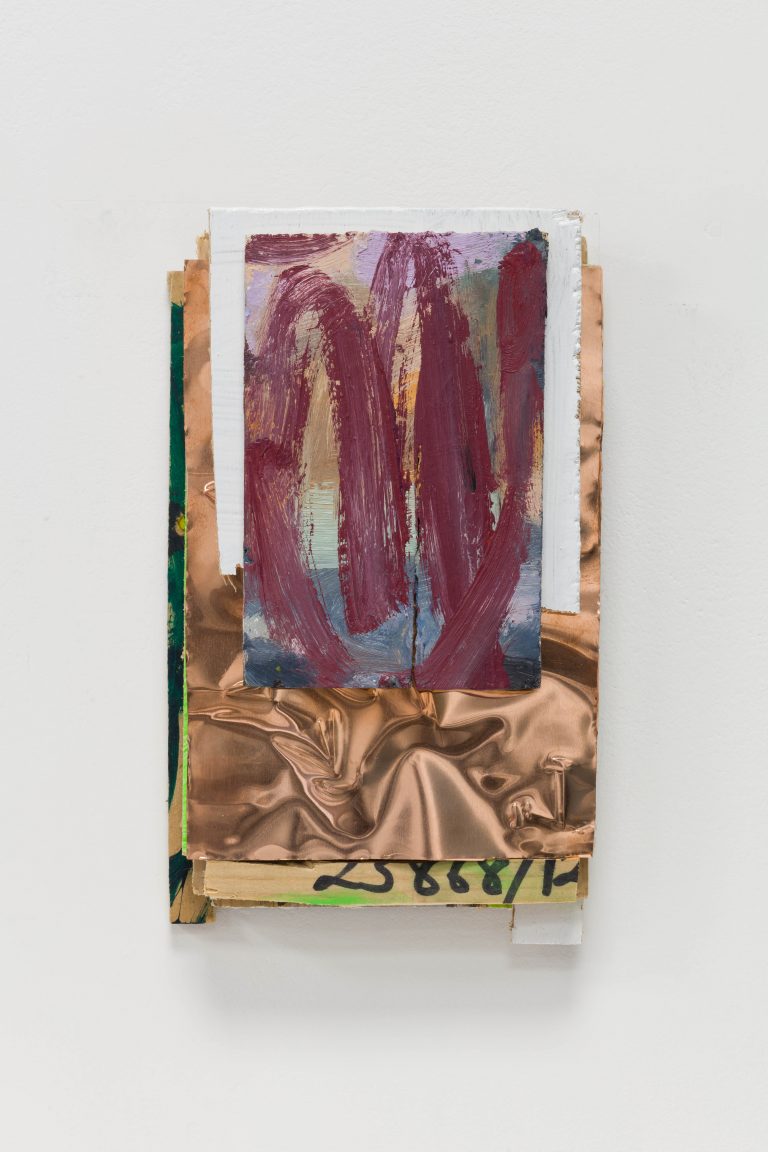 The abstract paintings by London-based painter Mary Ramsden at Wentrup, on the other hand, originate from elaborate speculative processes in which diverse painterly gestures, the use of different materials, and time all play a major role. Born in 1984, the painter is particularly interested in the marginal zones and transitions between different materialities within her paintings, but also between the image space and the exhibition space.
The theme of fire is like a leitmotif running through the work of the Icelandic video and performance artist, painter, sculptor, and musician Ragnar Kjartansson, born in Reykjavík in 1976. "As a child I liked to draw flames," says Kjartansson, "I would draw houses and then set them on fire by drawing flames in the windows. You could say that it was clear from an early age that I was either a psychopath or a romantic." For his exhibition at Borch, the artist has produced seven large-format woodcuts on this theme.
Born in Villingen, Baden-Württemberg in 1986, Raphaela Simon paints wonderfully contradictory, subtly humorous paintings. The artist, whose show can be seen at Max Hetzler on Bleibtreustraße, brings large-scale everyday objects onto her canvases with monochrome backgrounds. She reduces the form and color of her subjects to their essence. In this process of reduction, the images accrue an almost magical intensity. Ubiquitous items such as a tennis racket or a Teewurst with its end sliced off suddenly make a grand entrance into the realm of art. Meanwhile, new drawings by Matthew Barney (Bleibtreustraße 45) and new paintings by Julian Schnabel (Goethestraße 2/3) are on view in the gallery's two other exhibition spaces
At Lars Friedrich, Nuri Koerfer's art makes you feel "received" in the literal sense of the word, for her works revolve around hospitality. Born in Zürich in 1981, the artist's "social sculptures" not only invite you to look at them, but also to make yourself right at home. The animal motifs cited by the artist in her work playfully challenge the idea of human domination over nature.
A comprehensive overview of the painted and graphic oeuvre of the Hamburg artist Birgitt Bolsmann (1944–2000) is on display at Kunsthandel Wolfgang Werner. Bolsmann had already decided on a representational visual language while studying art at the Hamburger Hochschule für Bildende Künste in the 1960s. The artist found the motifs for her peculiarly cool, Old Master-style paintings in fashion photography, advertising, and even mythology: "I try to make it clear that the flawless beauty we encounter in magazines and on billboards is the beauty of a death mask and not of a living human being," explained Bolsmann in an interview in 1977.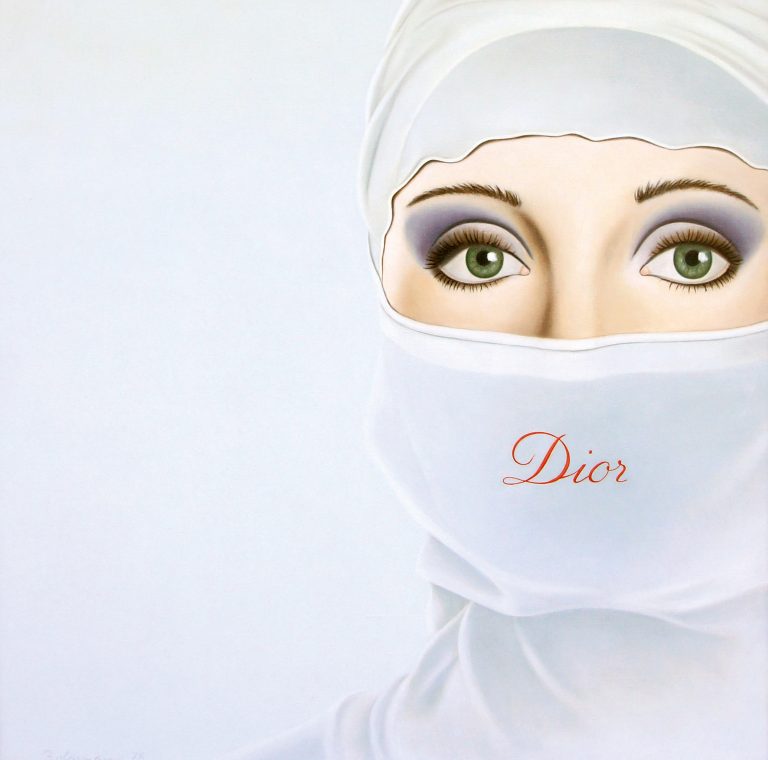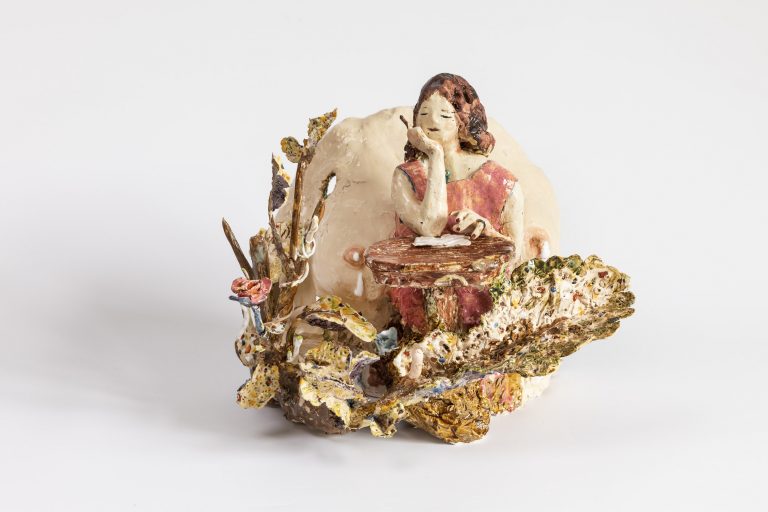 A discreet form of media monitoring, perhaps even critique, pervades Peter Fischli's show at Galerie Buchholz. In the summer of 2018, Fischli made twenty-three visits to a Mediamarkt store in the immediate vicinity of his studio in the northwestern outskirts of Zürich. While there, the artist used his cell phone to film commercials advertising GoPro cameras from a flat screen monitor: "You can say, without hesitation, that the whole thing is saturated with excessive positivity, everything and everyone is moving constantly. I, on the contrary, tried to stand as still as possible, to film everything as smoothly as possible, apart from a 360-degree panoramic shot that captures the whole scene." The twelve-minute video work Work, Summer 2018 will be presented alongside two other recent series of works.
Flowers is the title of the exhibition by New York artist Donald Baechler at Crone Gallery. Born in Hartford, Connecticut in 1956, Baechler's career began back in the New York art scene of the 1980s, whose vibrant center was the East Village. The combination of paintings from that period and today creates a broad overview of Baechler's oeuvre. In their project space in Tempelhof, Crone is simultaneously showing the first solo exhibition of works by Ruscha Voormann under the title "Swipe Up. Born in Flensburg in 1992, the artist produces large-format, non-representational  compositions made of acrylic, acrylic glass and Plexiglas.
Travel is the central mode of production of Paulo Nazareth, born in Governador Valadares in Minas Gerais, Brazil in 1977, whose exhibition Garden Eden is on view at Meyer Riegger. Nazareth, who stages himself as a nomad in his art, turns himself, his body, into an artistic medium. Through his journeys, Nazareth traces the routes of migrants and migrant workers. They differ radically in geography and means of transport from the streams of people flowing between art fairs and biennials that usually defined the routes of the art world before the global pandemic.
Part of N. Dash's artistic work also takes place en route, but on the way to the studio. For her ongoing series Commuter, which is exhibited at Mehdi Chouakri, the artist uses paper that she primes by touching, folding or crumpling while in transit, such as on the New York subway. Through the artist's hands, both her body and the path she has traveled are discreetly inscribed in the material used.
Asana Fujikawa was born in Tokyo in 1981 and lives and works in Hamburg. The artist's first solo exhibition at Galerie Friese focuses on her sculptural work: Once white drops fell from your nipple on my high heel, do you still remember? is the title of the exhibition. Fujikawa draws inspiration for her peculiarly fascinating ceramics from a diverse range of sources, such as Japanese comics or stories from Greek mythology. In another parallel solo presentation titled Lack of sleep is my eye shadow, the gallery presents labyrinthine drawings and works on canvas by the German-Italian artist and author Ambra Durante, born in Genoa in 2000. Last year, Durante published her highly acclaimed debut Black Box Blues—an extremely personal graphic novel about dark feelings, fears, and sadness.
Finally, the artistic universe of Thornton Dial (1928–2016) unfolds across Société's exhibition space. Dial, whose major theme was the African American struggle against racism and oppression in the American South, used all kinds of materials for his spectacular assemblages and installations, from pieces of rope, scrap wood, old clothes, and fly screens to bones and even scrap metal. "I like to use things I am acquainted with, whose feel I'm familiar with," the New York Times once quoted him as saying. The astounding power of Dial's assemblages stems from the combination of objects in which the energy of everyday life and history itself seem to be stored.
"Compliance" ist der Titel des Europa-Debüts der US-amerikanischen Künstlerin Megan Marrin, die in der Efremidis Galerie am Ernst-Reuter-Platz zu sehen ist. Der Begriff lässt sich ins Deutsche etwa mit "Einhaltung der Vorschriften" übersetzen. Und tatsächlich assoziiert man mit den kühlen, schnörkellosen Gemälden von Ballettstangen oder einer Sprossenwand, die den Ausstellungsraum in ein imaginäres Fitness-Studio verwandeln, körperlichen Drill und Haltungsfragen. Diese Themen wiederum sind mindestens seit der Moderne, wenn schon nicht sehr viel früher eng mit kulturellen, politischen und gesellschaftlichen Diskursen verwoben.
Die bei Wentrup präsentierten, nicht-figurativen Bilder der Londoner Malerin Mary Ramsden hingegen entspringen elaborierten spekulativen Prozessen, in denen diverse malerische Gesten, der Umgang mit unterschiedlichen Materialien und der Zeit eine große Rolle spielen. Besonders interessiert sich die 1984 geborene Malerin für die Randzonen und Übergänge zwischen verschiedenen Materialitäten innerhalb ihrer Bilder, aber auch zwischen Bild- und Ausstellungsraum.
Das Feuer-Motiv zieht sich wie ein Leitmotiv durch das Werk des isländischen Video- und Performancekünstlers, Malers, Bildhauers und Musikers Ragnar Kjartansson, geboren 1976 in Reykjavík. "Als Kind habe ich gerne Flammen gezeichnet," sagt Kjartansson, "ich habe Häuser gezeichnet und sie dann angezündet, indem ich Flammen in die Fenster zeichnete. Man könnte sagen, dass schon früh klar war, dass ich entweder ein Psychopath oder ein Romantiker bin." Für seine Ausstellung bei Borch hat der Künstler nun sieben thematische großformatige Holzschnitte produziert.
Raphaela Simon, geboren 1986 im baden-württembergischen Villingen, malt wunderbar widersprüchliche, subtil-humoristische Gemälde. Die Künstlerin, deren Schau bei Max Hetzler in der Bleibtreustraße zu sehen ist, bringt Alltagsgegenstände im Großformat auf ihre Leinwände mit monochromen Hintergründen. Form und Farbe des Dargestellten reduziert sie auf das Nötigste. In diesem Prozess der Reduktion wächst den Bildern eine fast magische Eindringlichkeit zu. Ubiquitäre Dinge wie ein Tennisschläger oder eine angeschnittene Teewurst haben plötzlich einen großen Auftritt im Reich der Kunst. In den beiden anderen Ausstellungsräumen der Galerie sind unterdessen neue Zeichnungen Matthew Barney's (Bleibtreustraße 45) sowie neue Gemälde von Julian Schnabel (Goethestraße 2/3) zu sehen.
Von Nuri Koerfers Kunst, ausgestellt bei Lars Friedrich, fühlt man sich im Wortsinn "empfangen", sie dreht sich um Gastfreundschaft. Die "sozialen Skulpturen" der 1981 in Zürich geborenen Künstlerin laden nicht nur zur Betrachtung, sondern auch gleich zum Niederlassen ein. Die Tiermotive, welche die Künstlerin in ihrem Werk zitiert, stellen die Idee der Naturbeherrschung durch den Menschen auf spielerische Weise infrage.
Einen umfassenden Überblick über das gemalte und grafische Werk der Hamburger Künstlerin Birgitt Bolsmann (1944–2000) gibt es in der Galerie Kunsthandel Wolfgang Werner zu sehen. Bolsmann entschied sich schon während des Kunststudiums in den Sechzigern an der Hamburger Hochschule für Bildende Künste für eine gegenständliche Bildsprache. Die Motive für ihre eigentümlich kühlen, altmeisterlich gemalten Bilder fand die Künstlerin in der Modefotografie, Werbung oder auch Mythologie: "Ich versuche, deutlich zu machen, dass die makellose Schönheit, wie sie uns in Illustrierten und an Plakatwänden begegnet, eine Schönheit der toten Maske und nicht des lebendigen Menschen ist" erklärte Bolsmann 1977 in einem Interview.
Eine diskrete Form von Medienbeobachtung, vielleicht sogar -kritik durchzieht die Schau von Peter Fischli in der Galerie Buchholz. Im Sommer 2018 besuchte Fischli dreiundzwanzig Mal einen Mediamarkt, der sich in unmittelbarer Nähe seines Ateliers in der nordwestlichen Peripherie von Zürich befindet. Mit seinem Mobiltelefon filmte der Künstler dort Werbefilme für die Bewerbung von GoProKameras von einem Flachbildschirm ab: "Ohne zu zögern kann man sagen, das Ganze sei von einem Übermaß an Positivität durchdrungen, alles und alle sind in ständiger Bewegung. Im Gegensatz dazu versuchte ich möglichst still zu stehen, alles möglichst ruhig abzufilmen, ausgenommen von einem 360-Grad Panoramaschwenk, der den Ort des Geschehens erfasst." Die zwölfminütige Videoarbeit "Work, Summer 2018" wird neben zwei weiteren aktuellen Werkserien präsentiert.
"Flowers" ist der Titel der Ausstellung, die der New Yorker Künster Donald Baechler, geboren 1956 in Hartford (Connecticut), in der Galerie Crone zeigt. Baechlers Karriere begann einst in der New Yorker Kunstszene der Achtziger Jahre, deren vibrierendes Zentrum das East Village war. Mit der Zusammenschau von Bildern aus dieser Zeit und Gemälden aus der aktuellen Produktion wird ein großer Bogen durch das Werk Baechlers geschlagen. Im Crone-Projektraum in Tempelhof zeigt die Galerie unter dem Titel "Swipe Up" zeitgleich die erste Einzelausstellung mit Werken von Ruscha Voormann. Die 1992 in Flensburg geborene Künstlerin  produziert großformatige, nichtgegenständliche Bildkompositionen aus Acryl, Acrylglas und Plexiglas.
Die Reise ist der zentrale Produktionsmodus von Paulo Nazareth, geboren 1977 im brasilianischen Governador Valadares, Minas Gerais, dessen Ausstellung "Garden Eden" in der Galerie Meyer Riegger zu sehen ist. Nazareth, der sich in seiner Kunst als Nomade inszeniert, macht sich selbst, seinen Körper zum künstlerischen Medium. Mit seinen Reisen zeichnet Nazareth die Routen von Migranten und Wander-Arbeitern nach. Sie unterscheiden sich in Geografie und Fortbewegungsmitteln radikal von den Menschenströmen zwischen Messen und Biennalen, die in der Zeit vor der globalen Pandemie für gewöhnlich die Routen der Kunstwelt bestimmten.
Auch ein Teil der künstlerischen Arbeit von N. Dash findet unterwegs, aber auf dem Weg zum Atelier statt. Für ihre fortlaufende Serie "Commuter" (auf Deutsch etwa: "Pendler"), die bei Mehdi Chouakri ausgestellt wird, benutzt die Künstlerin Papiere, die sie unterwegs, etwa in der New Yorker Subway durch Berühren, Falten oder Knittern präpariert. Auf diskrete Art und Weise schreibt sich über die Hände sowohl der Körper der Künstlerin als auch der zurückgelegte Weg in das verwendete Material ein.
Die erste Einzelausstellung der 1981 in Tokio geborenen und in Hamburg lebenden und arbeitenden Künstlerin Asana Fujikawa in der Galerie Friese konzentriert sich auf das skulpturale Werk der Künstlerin. "Einmal fielen weiße Tropfen aus deiner Brustwarze auf meinen Stöckelschuh, weißt du noch?" lautet der Titel der Schau. Für ihre eigentümlich faszinierenden Keramiken lässt sich Fujikawa von ganz unterschiedlichen Quellen inspirieren, zum Beispiel von japanischen Comics oder Geschichten aus der griechischen Mythologie. Parallel dazu zeigt die Galerie in einer weiteren Einzelpräsentation unter dem Titel "Lack of sleep is my eye shadow" labyrinthische Zeichnungen und Arbeiten auf Leinwand der 2000 in Genua geborenen deutsch-italienischen Künstlerin und Autorin Ambra Durante, die im vergangenen Jahr mit "Black Box Blues" ihr vielbeachtetes Debüt veröffentlichte – eine sehr persönliche Graphic Novel über dunkle Gefühle, Ängste und Traurigkeit.
In den Ausstellungsräumen von Société schliesslich wird das künstlerische Universum von Thornton Dial (1928–2016) ausgebreitet. Dial, dessen großes Thema der Kampf der afroamerikanischen Bevölkerung gegen Rassismus und Unterdrückung in den Südstaaten war, nutzte für seine spektakulären Assemblagen und Installationen alle möglichen Materialien, von Seilstücken, Altholz, Altkleidern, Fliegengittern über Knochen, bis hin zu Metallschrott. "Ich verwende gerne Dinge, mit denen ich mich auskenne, mit deren Gefühl ich vertraut bin" zitierte ihn einmal die New York Times. Die umwerfende Kraft in Dials Assemblagen kommt aus der Kombination von Objekten, in denen die Energie des Alltags und die Geschichte selbst gespeichert erscheint.