Ozioma Onuzulike
Strings the Length of Our Palm's Seal
Gallery Two
Opening—12 Nov 2022, 6-9pm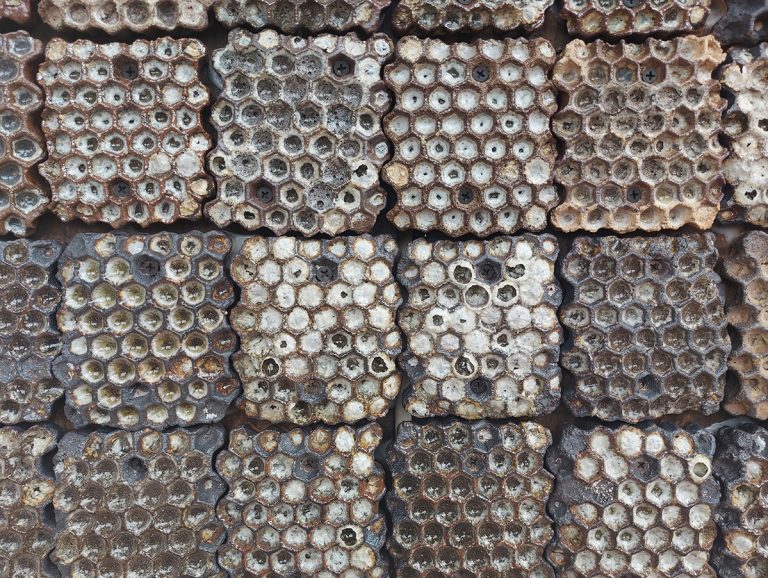 The exhibition Strings the Length of Our Palm's Seal is the third solo exhibition outside Africa by Ozioma Onuzulike (Nigeria, 1972). 
A ceramicist, poet and scholar, Onuzulike began his career as an artist at the University of Nigeria, Nsukka, where he is now a professor. Through high-fired earthen- and stoneware clay works, Onuzulike articulates analogies for deeply embedded traumas from civil wars and corporative battles across the continent, for memories that continue to shape and form the present. 
Among recent works by the artist, the exhibition presents a series of large-scale ceramic installations. In The Honeycomb Project, hexagonal holes cut into clay slabs are placed consecutively like tiles to mimic the architecture of beehives. A product of immense labor, detail and craft, the installations were initially conceived as an homage to the global importance of frontline workers during the first wave of the 2020 pandemic. Simultaneously, the ceramic installations exist as significant demurrals against the lasting passages of transatlantic trade routes, which still witness the global distribution of natural resources taken from Africa. These journeys, referenced also as strings in the exhibition title, are poetically visualized through the long lines threaded through ceramic seeds of works such as Agbada ("1,500 Brand") and Extra-Large-Sized Jumper, both from 2022.
Please join us on November 12th, 2022 at 16:00 for a lecture by Professor Ozioma Onuzulike, in which the artist will present his work within the larger context of modern and contemporary ceramic art in West Africa. The vernissage will begin at 18:00 later that evening.
Zora Mann
Nectar Hive
Gallery One
Opening—12 Nov 2022, 6-9pm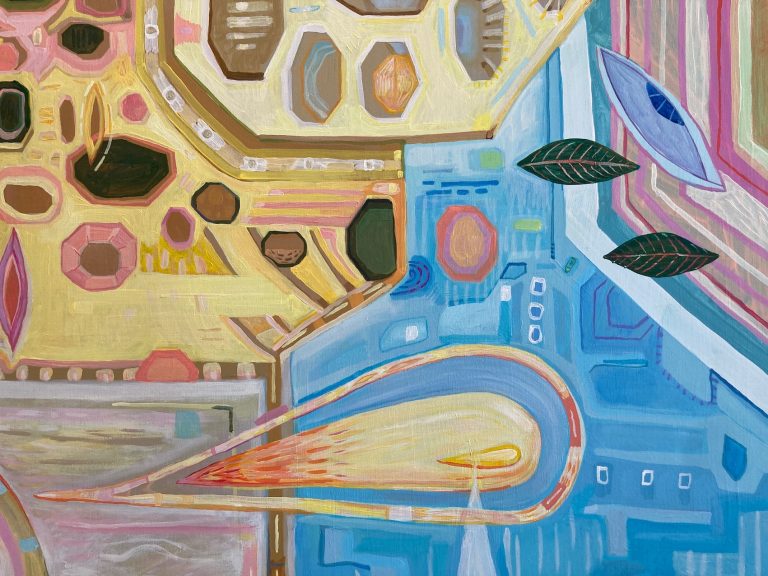 In Zora Mann's Nectar Hive, loose figurations meet on top of urbanesque and honeycomb structures to form a complex network of origin and memories. Seen through a fly-on-the-wall perspective on the artist's own life, Mann's forthcoming exhibition at the gallery expands on her world-building capabilities by taking inspiration from the geometry found in nature.
Deeply personal, yet distorted through the gaze of compounding, kaleidoscopic prisms, Mann's rich imagery pollinates the mind with subconscious impressions. Resting on a cellular membrane with the soft sheen of oil and acrylic paints but the transparency of watercolor, her canvases become both the setting and an emotional roadmap for the viewers to navigate. Among the paintings, a swarm of biomorphic ceramics hang from the ceiling to tangibly represent the physical and cerebral manifestations of emotions. Fixating on the interconnectedness of nature and its intuitive knowledge, Mann's exhibition uses color, pattern and visual likeness to point towards both human and nonhuman collectivity.