Kaloki Nyamai
Unlimited Dining in Chaos
Opening—3 Nov 2023, 6 to 9 PM
Galerie Barbara Thumm proudly presents Unlimited Dining in Chaos, featuring exceptional works of Kenyan artist Kaloki Nyamai. For the first time in Berlin, two paintings of Nyamai's monumental series will be on view, following his recent presentation at Art Basel Unlimited in Basel 2023. The installation of two epic large paintings is combined with new small pieces, challenging traditional artistic norms and persuade the view to explore the intricate layers of human experience.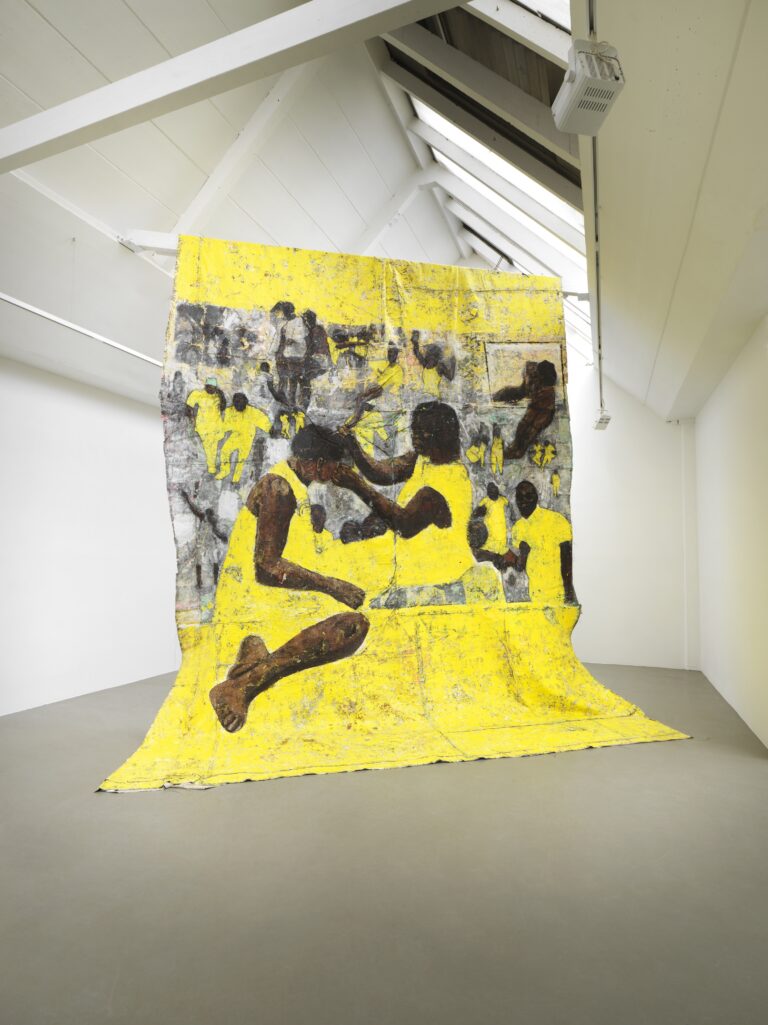 Nyamai's understanding of painting as a sculptural medium blurs the lines of traditional painting, mixing acrylic paint, layered collages, and stitchings in sisal rope on the canvas. These large creations hang suspended from the gallery's ceiling, inviting visitors to immerse themselves in their narratives.
The paintings depict people resting and taking care of each other, in front of tumultuous scenes, ranging from playful and euphoric to aggravated protest. Nyamai paints a heartfelt social portrait of what it feels to live through times of global crisis. Barely healed and stitched-up wounds inflicted by colonialism, as well as pre-colonial history and identity of the Kamba people, which Nyamai heavily draws from for his work, are overlaid with contemporary struggles and conflicts but always crack through the surface.
Nyamai's art is a testament to his remarkable ability to unravel the intricate interplay between history, identity, and contemporary society. Drawing inspiration from his rich heritage, tales of the Kamba people told by his grandmother, he weaves together stories that bridge the gaps between cultures and generations. Furthermore, the expansive canvases Nyamai employs provide the perfect backdrop to delve deeply into the narratives of African history— stories of resilience, struggle, and triumph. Each piece becomes a visual epic, inviting viewers to embark on a profound journey through layers of history, identity, and societal critique.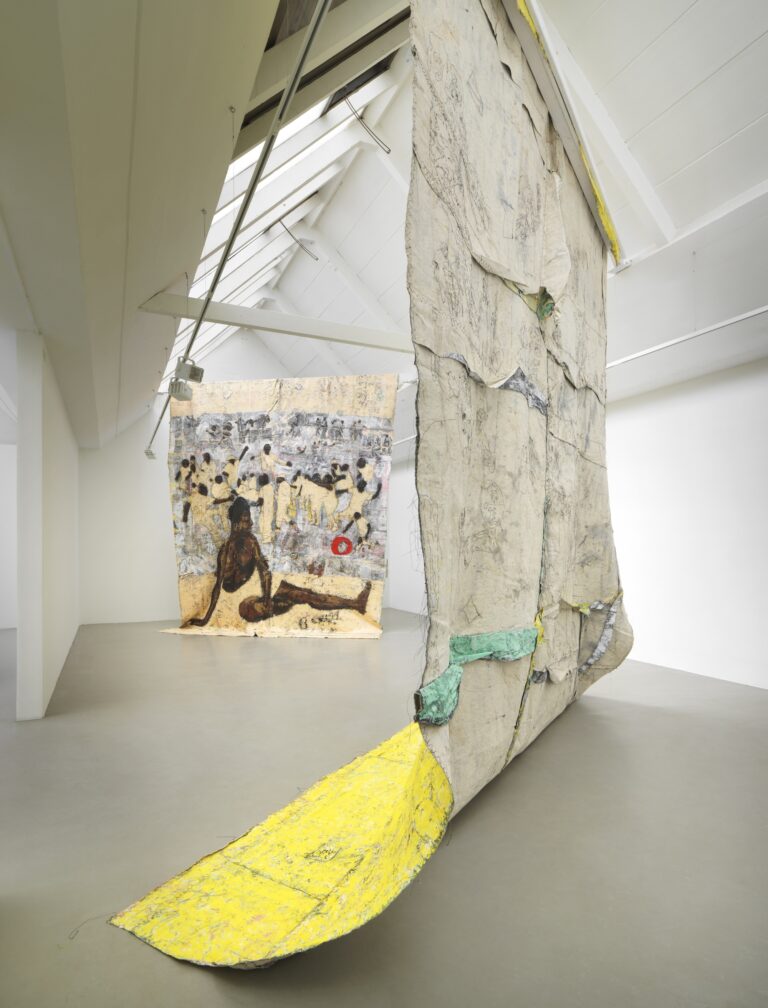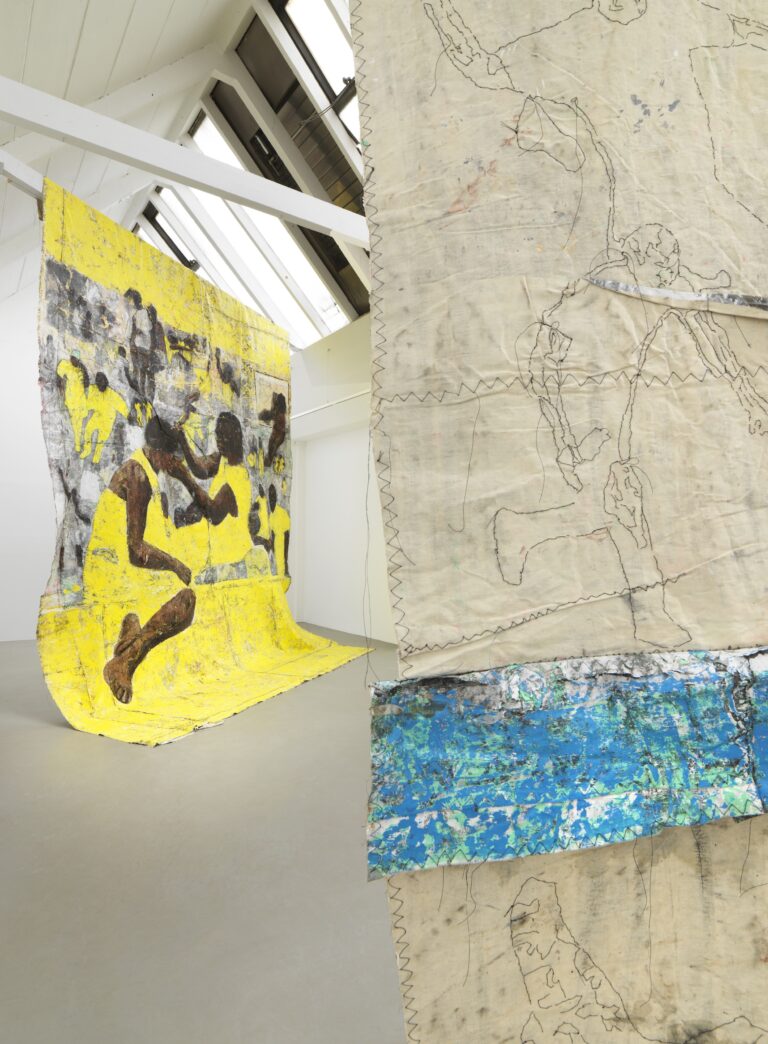 Through his monumental art, Kaloki Nyamai proudly upholds the legacy of African artistic heritage. With unmatched talent and creativity, he illuminates the complexities and beauty of the continent's cultural legacy, inviting us to contemplate our world's discomforting realities—from racial inequalities to the pervasive grip of capitalism.
Kaloki Nyamai (born 1985 in Kitui, Kenya) creates intricate compositions on canvas. He has shown works internationally at the Stellenbosch Triennale (2020), Dakar Biennale, and Venice Biennale (2022); as well as the solo shows 'Moments That I Miss' (2022) and 'Dining in Chaos' (2023) at Galerie Barbara Thumm. Nyamai lives and works in Nairobi.
Valérie Favre
Intérieurs
4 Nov–22 Dec 2023
Opening: 3 Nov 2023, 6 to 9 pm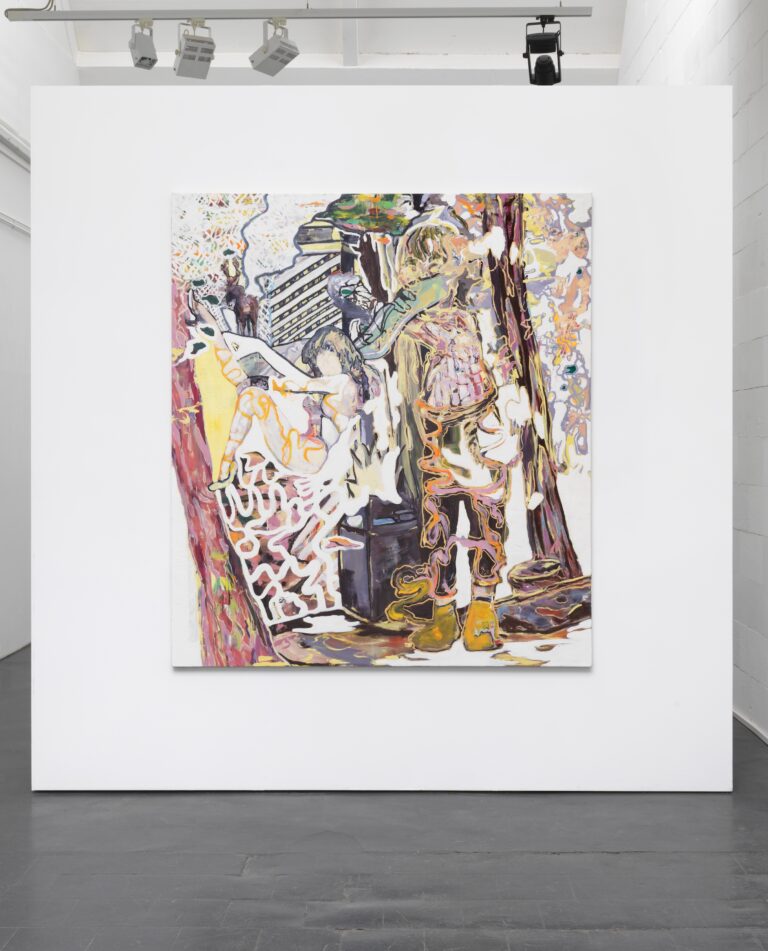 Valérie Favre's paintings open up fresh narratives and conceptual perspectives, moving between figuration and abstraction. Her works are dominated by a fictional world made up of contrasts, contradictions, resistance, and restlessness.
She works in an openly experimental manner, using a repertory informed by art history. Her demands of the medium are extensive; she is always engaged in a radical interrogation of both painting and artistic work processes. Favre paints scenes developed over the course of several years in large series and work cycles. The exhibition "Intérieurs" traces some of these series back to their beginnings and shows an early group of works, painted when Favre first moved to Berlin, between 2000 and 2001. Many of her later motifs and compositions can be already found in the large-scale paintings. Favre explains:
"'Intérieurs' is a series of paintings that I made when I came to Berlin in 1999. A large part of these works are key paintings. Exemplary paintings. It is a source that I promised myself I would return to one day. Possibly now is the right time to do so?
In the 'Intérieurs' series, there are motifs such as the tree and the deer, which I revisited a few years later in the 'Forest' series. The graphic representation of the female body also hints at the 'Lapine Universe' series. You can already see the edges of the canvases, which are left blank, similar to the series 'At the Table'. The 'Intérieurs' also hint at the series 'The Small Theatres of Life' through their impressions of collages of shapes and different layers of composition.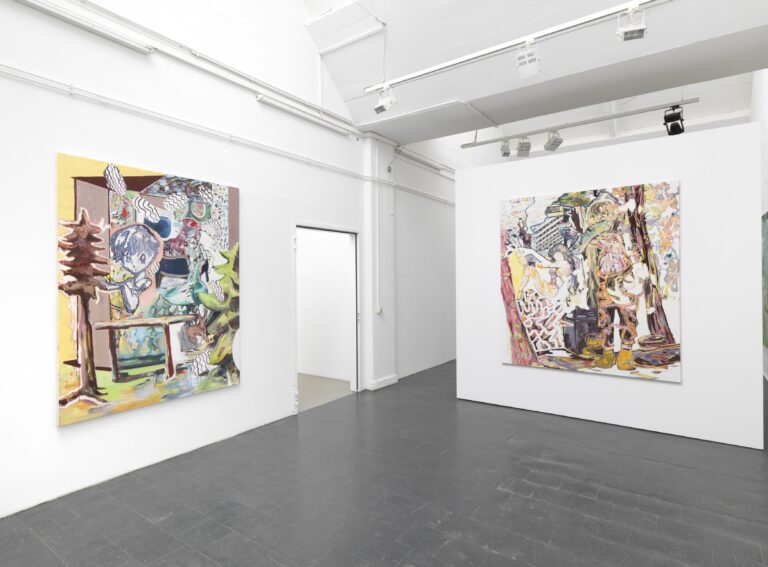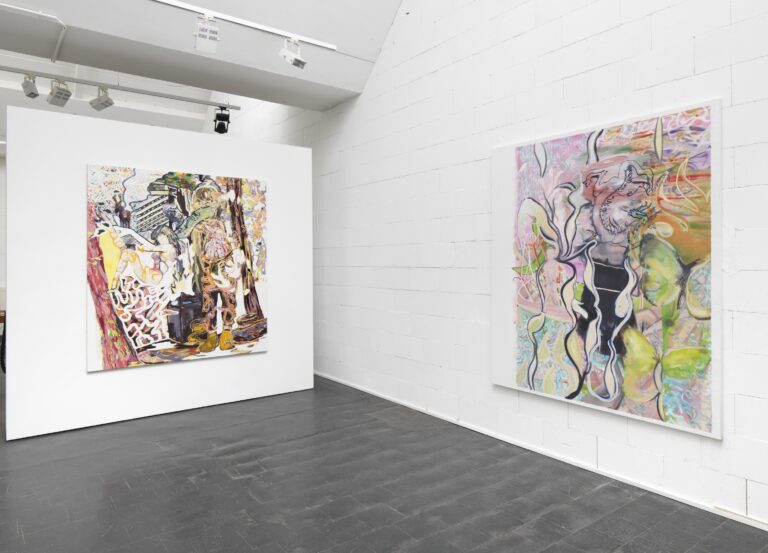 The paintings in the 'Intérieurs' series mark a departure from my earlier series of paintings created over many years in Paris. (I lived and worked there since the early 1980s.) They include 'Périmètre' and 'Robe Rouge', among others.
These paintings are explorations of my personal thought processes, my emotionality expressed in painting, in the face of the contemporary German and especially Berlin art scene, in which I have immersed myself with all my energy.
One of the paintings shown here, has already been exhibited in the show 'Malkunst' curated by Birgit Hoffmeister at the Mudima Foundation in Milan from November 6 to December 6, 2000." 
(Valérie Favre, October 2023)