Mike Nelson
a forgotten kingdom, remembered
Opening—17 November 2023, 6 to 9 PM
Linienstrasse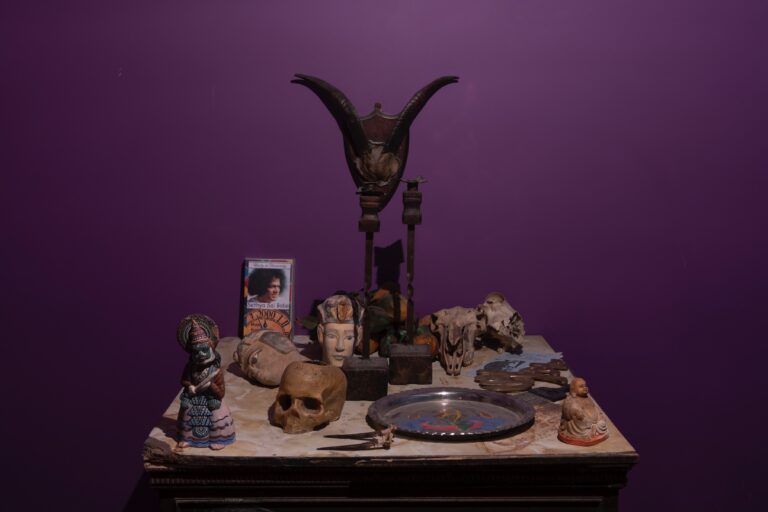 Mike Nelson, known for his intricately layered constructions, here returns his installations to their narrative foundations. a forgotten kingdom, remembered follows his far-reaching survey Extinction Beckons at the Hayward Gallery earlier this year, developing upon and beyond its explanatory work descriptions with a collection of new texts by the artist that echo the bodily impacts of his large-scale work. The writings on view become expansive by means of the realms they create within a viewer, with each piece tracing the lineage of a particular sculpture by the artist, implanting itself in memory much like its antecedent. Together they map his practice and the approaches that crucially shape it, communicating the deeply engrained, albeit unseen underpinnings of significant projects, lending voice with devices previously unexplored.
Throughout his oeuvre Nelson has composed work that, by way of amalgamated objects that have long been cast off and regarded as detritus, uncovers hidden pasts, legacies of trade and industry, and literary genres. Taking on scales both monumental and intimate, his sculpture derives its anecdotal gravity from the transformation of matter. He compiles disparate elements into structures, altars, likenesses, trophies, apparitions or relics that fade in and out of focus, regularly reverting back to their very materials – each symbolic framework becomes more than its repurposed component parts through Nelson's hand, their qualities of suggestion ever- evolving as he adapts, reevaluates and crafts installations anew for their present contexts. This malleability manifests not only physically but psychologically, impacting the body's understanding of itself within its surroundings and invoking empathetic understanding through the building of worlds.
Writing and making, for Nelson, are often equivalents. In a forgotten kingdom, remembered, short texts in varied form are pinned to wall-mounted noticeboards, their surfaces punctured and scarred with use, bordered by frames truncated as if extracted and preserved behind acrylic glass. Nelson's pages are rooted in recollection of the works themselves – or of their literary points of reference and of his life at the time of their creation – and see him reflect on each, textually conjuring them in whole or in part, weaving written fictions around absent assemblages. They approach and modify the processes that initially birthed them as if reflected in a distorted mirror, speaking not only of their explicit subjects, but to the plasticity of memory. Nelson's noticeboards hang at heights determined by the seats that sit opposite them – sculptures in and of themselves – in an invitation to extended viewing. His texts occupy distinct moments and locations, allowing viewers to share the real space of the gallery, but to exist separately within each work's musings and imaginings.
a forgotten kingdom, remembered grows from the artist's short story "On Monkeys Without Tails," published in 2020 as part of the anthology "The New Abject: Tales of Modern Unease." Set sometime in the future in Nelson's South London studio, the artist has forsaken sculpture and turned instead to the immaterial language of words – a prophecy now realized through the works on display.
Ai Weiwei
Know Thyself
Ai here continues his extended engagement with imagery created from Lego bricks to reassess, de- and reconstruct or contextualize anew works from throughout art history and the contemporary media landscape. Using a traditionally playful, immediate, generationally and geographically ubiquitous medium to analytical, critical extents, Ai shapes a veritable survey of both the Western cultural canon and of his own artistic trajectory.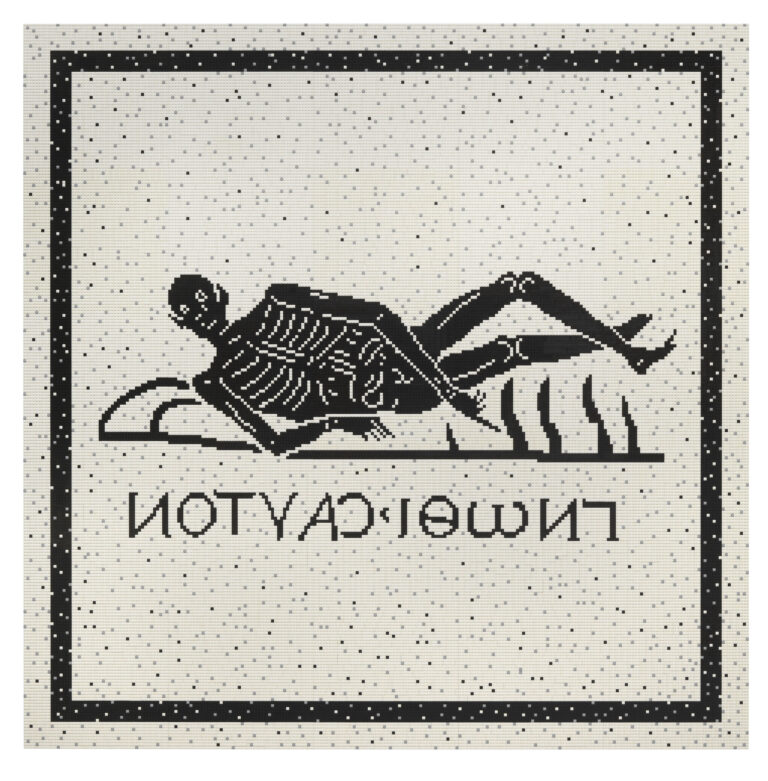 Throughout his body of work Ai has returned to Lego bricks time and again, laboriously harnessing pieces by the hundreds of thousands to interrogate the parameters of imagemaking and production, honing his use of the material and expanding its representational and theoretical capacities to shape facsimiles of well-known works of art and other popular media. Honoring Marcel Duchamp and his legacy of the readymade, Ai deploys the mass-produced objects for adaptations of preexisting motifs, translating and often modifying them within his own social and political contexts, the angular components mimicking the pixels that coalesce to become today's digital, widely and infinitely distributed imagery.
For his exhibition at neugerriemschneider, Ai presents eight such interpretations in Lego. Know Thyself (2022), which lends the show its name, finds its base in a mosaic from the first century CE, initially discovered along Rome's Via Appia and now housed in the city's Baths of Diocletian. Ai makes use of vanitas messaging, along with the imperative to "Know thyself," written in Greek, to existentially, life-affirmingly reflect on the complex interfaces, contrasts and overlaps between past and present, while morphing the source's irregular four-sided tiles to their modernized analogs.
Pollock in Black (2020), a cornerstone of this same exploration, is constructed on the basis of Jackson Pollock's One: Number 31, 1950 (1950). The original's energetically choreographed, nearly calligraphic applications of oil and enamel paint are converted here, in nearly one-to-one scale, to a binary of either black or white, with the now-aged canvas portrayed in a single shade of grey. Within the context of Ai's own development, the Pollock stands as emblematic of his immersion in American post-war art during his time spent living in New York between 1983 and 1993, and illuminates a formative facet of his practice.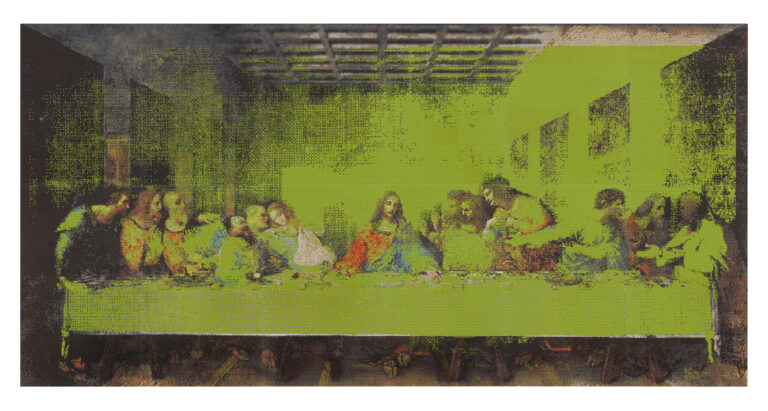 With The Last Supper in Green, The Last Supper in Blue, The Last Supper in Pink and The Last Supper in White (all 2022), Ai draws upon Leonardo da Vinci's mural of the same name housed in the Convent of Santa Maria delle Grazie in Milan, casting each iteration in modified color palettes directly reminiscent of the silkscreen prints by Andy Warhol that crystalized Ai's conception of the entwined nature of art, its history and its contemporary media landscape. In each Last Supper permutation, the face of Judas is replaced by that of the artist laughing, building upon the art-historical tradition of self-inclusion, and positioning Ai himself as an agent of disruption, making explicit his fraught relationship with the Chinese government.

Continuing the exhibition's showcase of masterwork-derived compositions is Water Lilies #2 (2022), devised in reference to Claude Monet's early 20th-century series of monumental paintings. Portraying a meditative tableau from the storied Impressionist's meticulously crafted gardens, Ai's Water Lilies #2 spans three walls and a length of over 15 meters. Its scale and form cast the work as all-enveloping, allowing for a viewer's complete absorption in its intricacies. Punctuating the right-hand side of the color-shifted composition is a rectangular door—the entrance to the subterranean home in which the young artist and his father, poet Ai Qing, lived after being driven into exile in the late 1950s, transforming the work through autobiographical, intergenerational dialogue.
For Nord Stream (2022), Ai departs from reproductions of canonical works and turns his focus to a contemporary news photograph showing the result of the ruptured Nord Stream 2 natural-gas pipeline—a nearly frame-filling whirlpool set against a blue field of waves that encapsulates over two decades of heated international relations. Here, Ai brings to mind his own career-long political involvement and activism, expanding on his past work around migration to Europe across treacherous waterways, and questioning the dichotomy between international concern for human lives and that for resources and capital. The image itself and its large-scale maelstrom possess a visual magnetism, wavering between abstraction and representation in a mode that alludes to both the Pollock and Monet tributes on view.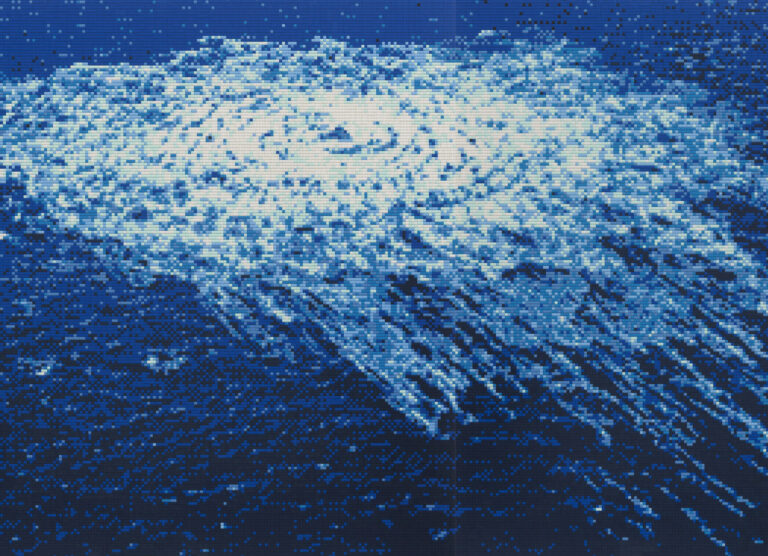 Ai Weiwei (b. 1957) has been the subject of solo exhibitions at international museums and institutions including Design Museum, London (2023); Basilica di San Giorgio Maggiore, Venice (2022); Albertina Modern, Vienna (2022); Serralves Park, Porto (2021); Mildred Lane Kemper Art Museum, St. Louis (2019); K20 and K21, Kunstsammlung Nordrhein-Westfalen, Dusseldorf (2019); Oca, São Paulo (2018); Sakıp Sabancı Museum, Istanbul (2017); Israel Museum, Jerusalem (2017); National Gallery Prague, Prague (2017); The Andy Warhol Museum, Pittsburgh (2016); National Gallery of Victoria, Melbourne (2015); Royal Academy of Arts, London (2015); Alcatraz, San Francisco (2014); Martin-Gropius-Bau, Berlin (2014); Brooklyn Museum, New York (2014); Art Gallery of Ontario, Toronto (2013); Hirshhorn Museum and Sculpture Garden, Washington, D.C. (2012); German Pavilion, 55th Venice Biennale, Venice (2013); Tate Modern, London (2010); Haus der Kunst, Munich (2009); documenta 12, Kassel (2007) and Kunsthalle Bern, Bern (2004).