Peter Buggenhout
The ever changing repetition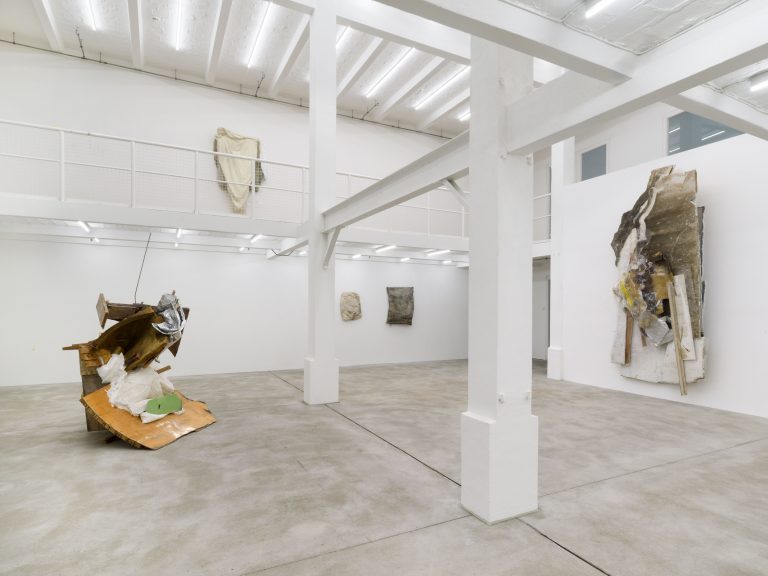 With the sixth solo exhibition of the Belgian artist Peter Buggenhout, Konrad Fischer Galerie is gathering works that, although originating from different groups of works, were all created in 2022. These include works from the series "The Blind Leading the Blind" (since 2004), "Mont Ventoux" (since 2007) and "On Hold" (since 2013). Also on display are works from the more recent series of works "Mute Witness" (since 2018) and "I am the Tablet" (since 2020), as well as from the newest series just begun, "King Louie" and "L. do D.". Peter Buggenhout confronts his audience with materials that have rarely found their way into contemporary art: household dust meets garbage, tanned cow stomachs and remnants of bouncing castles meet acrylic glass and Ertalon. Even when the artist is using classical materials such as Carrara marble, the objects (or better: abjects) applied to the stone surface seem idiosyncratically assembled and condensed. The viewer finds himself, at first glance, irritated at best, but mostly disturbed or shocked; any association runs into the void.
Not only because of the special choice of materials, but also because of the enormous physical presence and their archaic hermeticism, Peter Buggenhout's analog sculptures occupy a special position in contemporary sculpture. Committed both to the radical materialism of Georges Bataille but also to the melancholic worldview of W.G. Sebald, Peter Buggenhout's sculptures, as Jon Wood notes, certainly contain related tendencies in the work of Beuys, Chamberlain, Rauschenberg, César, and Arman, but also in Informel and Arte Povera. Perpetual Repetition (The Ever Changing Repetition) in Buggenhout's work refers to the continuous processes in which series of works are followed and re-declined over a period of years. These series of recurring elements within the series of works are also metaphors for the ongoing interplay of destruction, creation, chance, order, and disorder in the artist's work. "That life is repetition, and that this is the beauty of life," Kierkegaard already notes in his philosophical reflections.
Peter Buggenhout's works are in the collections of Centre Pompidou, Paris, Colección Jumex, Mexico City, Neues Museum, Nuremberg, at SMAK, Ghent, at KIASMA, Helsinki, in the Philara Collection, Düsseldorf, La Maison Rouge, Fondation Antoine de Galbert, Paris, in the Rubell Family Collection and the Martin Z. Margulies Collection, Miami, at MONA in Hobarth, Tasmania, and in the collections of Hauser & Wirth, Zurich, and Axel Vervoordt, Antwerp. The artist's work has been recently shown in major solo exhibitions at the Neues Museum Nuremberg and the Kunstmuseum Reutlingen, and also at the Bonnefantenmuseum Maastricht, the Palais de Tokyo, Paris, MARTA Herford, the Deichtorhallen Hamburg, MoMA P.S.1 in New York, and the Hamburger Bahnhof, Museum der Gegenwart in Berlin, among others.