*Discoveries
Birgitt Bolsmann
On the occasion of Gallery Weekend *Discoveries, Kunsthandel Wolfgang Werner is presenting a comprehensive overview of the German artist Birgitt Bolsmann (1944-2000) for the first time in Berlin; a selection of important paintings will be accompanied by Bolsmann's exquisite pencil drawings, which are outstanding in their perfection and technique. We are re-publishing an

article on Bolsmann's realism and an

interview with the artist, which was conducted by the feminist art magazine Lichtblick in 1988.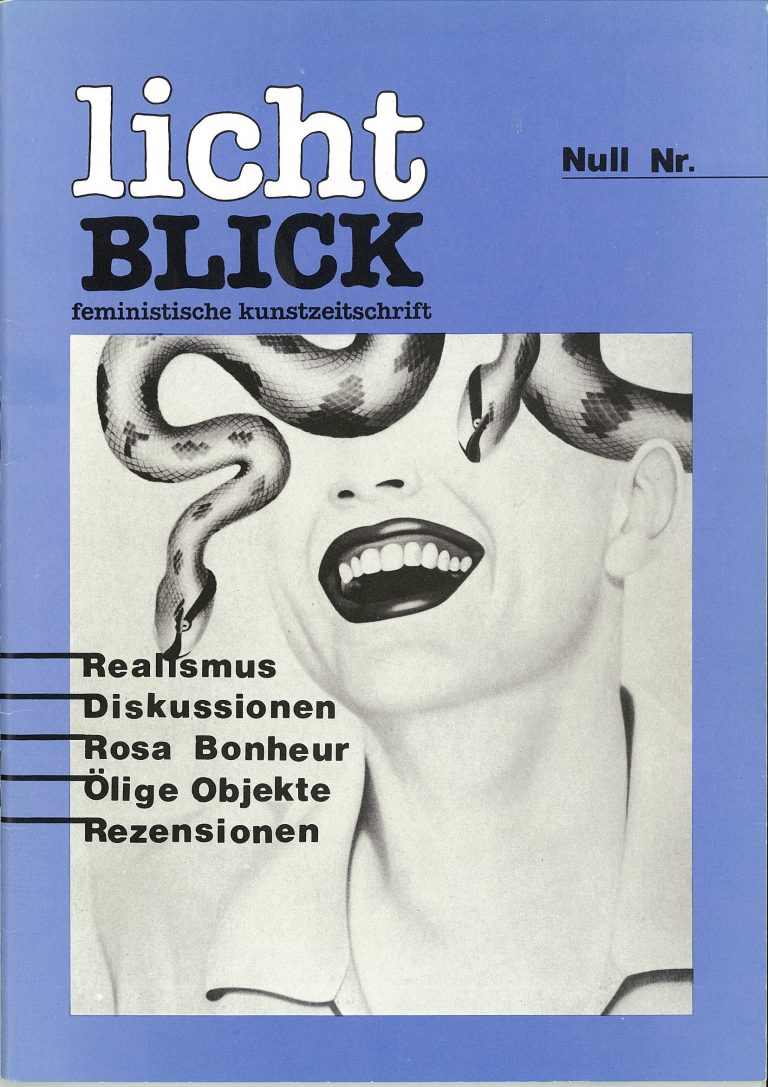 »Medusa laughing«, thus reads the title of the picture executed in 1983 by the Hamburg painter Birgitt Bolsmann. A red mouth laughs at us with impeccable teeth, while poison-green vipers twist around her head: Medusa. Who was that woman? […] She and her two sisters Stheino and Euryale were »… terrifying, winged maidens with petrifying gaze. They had snakes instead of hair and also wore belts of snakes. Furthermore, they had brazen claws and a boar's teeth. Others spoke of the Gorgons as beautiful women.« So does the painter Birgitt Bolsmann, who assigns to the powerful mythic character not the above-mentioned boar's teeth, but the beauty attributes of a modern woman. »Why should women be ugly just because they are powerful?« asks Birgitt Bolsmann, infusing her Medusa with self-assurance and an almost gloating joy in her own power. The painter mockingly contrasts the antique motif of the »terrible Medusa« with the perfect beauty of todays advertising girls. She thus succeeds in transferring the myth of this powerful woman to the present. […]
Birgitt Bolsmann, born in Hamburg in 1944, studied at the HfbK (Hamburg) [Hamburg University of Fine Arts] from 1963 to 1969 starting with liberal painting, tapestry and graphic arts and focusing on analytical-abstract painting. Any advances into realistic painting are rejected by her professor. Realism is no longer possible today, she is told.
Despite this, Birgitt Bolsmann continues to pursue her own artistic direction, although being forced to earn her living as a bank employee until the end of 1973. Since 1974 she works as an independant artist. Ulrika Evers summarises her topics as early as 1983: »…the objectification of women in fashion and advertising; the detachment of individual parts of the body; the woman as a casing for beautiful clothing only, as beautiful flesh or as a brainless doll.« […]
Birgitt Bolsmann's theme invariably is the human being, the female in particular. Thus, on the basis of her initiative with colleague Ulrike Loos, the group »Frauen malen Frauen« [Women paint Women] joined forces in 1985. In the resulting travelling exhibition, the painting »Aesthetic Imprisonment« done in 1978 was on display alongside the Medusa.
An elegant woman wears a veil hat. Behind the veil's net, which unnoticedly changes to a wire netting, a mind is imprisoned by role conditioning. […] In the painting »The Outsider« (1982) Birgitt Bolsmann takes up the topic of role conditioning again, now by questioning the role of men as well. In her representation, she undermines the notion of what is »male« and what is »female« and she has the portrayed person courageously wear the pink triangle, once a Nazi mark for homosexuals, today a sign of emerging self-confidence of a marginalised group.
One last picture is worth mentioning: »A Farewell to childhood«, (1987). The gravity emanating from this girl is astonishing, provoking reflection at the same time. Awakening self-consciousness between childhood dreams and the adult world. Is the course already mapped out for this young girl, as it is alluded to in the background?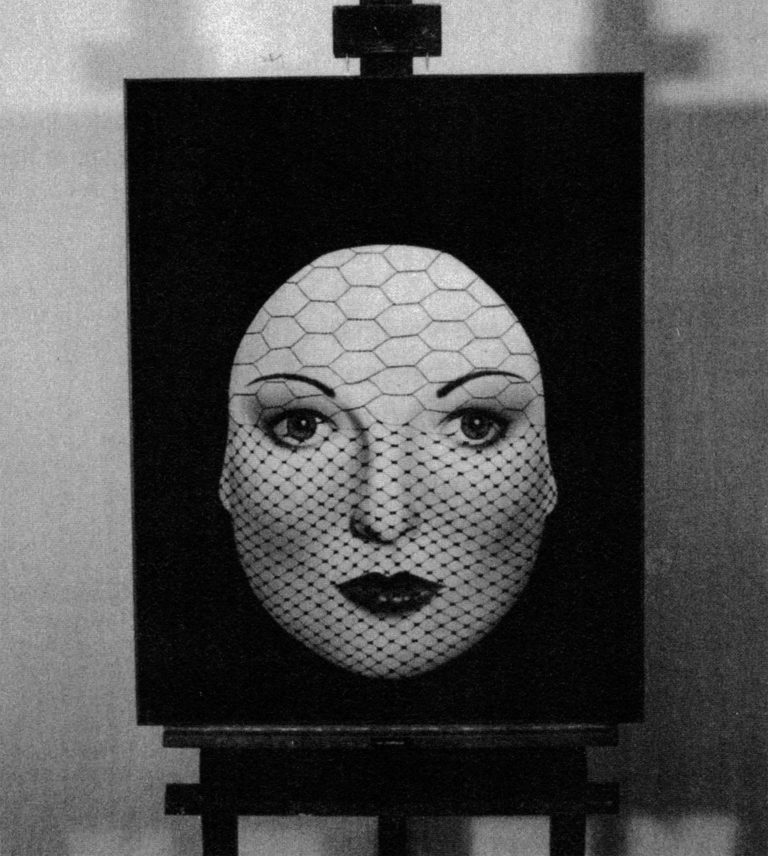 LB [Lichtblick]: Birgitt, you make use of a realistic representation. However, the trend is heading in a completely different direction. Are there any difficulties?
BB [Birgitt Bolsmann]: While studying, I had a close look at abstract art and I noticed that I cannot make use of it to depict the issues that really affect me. I wish to apply a straight visual language and would like to be understood by as many people as possible with as little art mediation as necessary. The difficulty is that at present [= 1988] one is hushed up as a realist.
LB: Your pictorial topics are contemporary, even critical of the times. Isn't the use of "new media", of film and video, of particular interest for this very reason?
BB: No, it isn't. I was educated at a Waldorf School, there was an indirect ban on cinema and television. From those days, I have retained a strong dislike of »screens«. When the first television set got into our family, I felt this was destructive for our living together. As far as films are concerned, there are of course exceptions. I like, for example, the early poetic Chaplin films and the films by Fellini.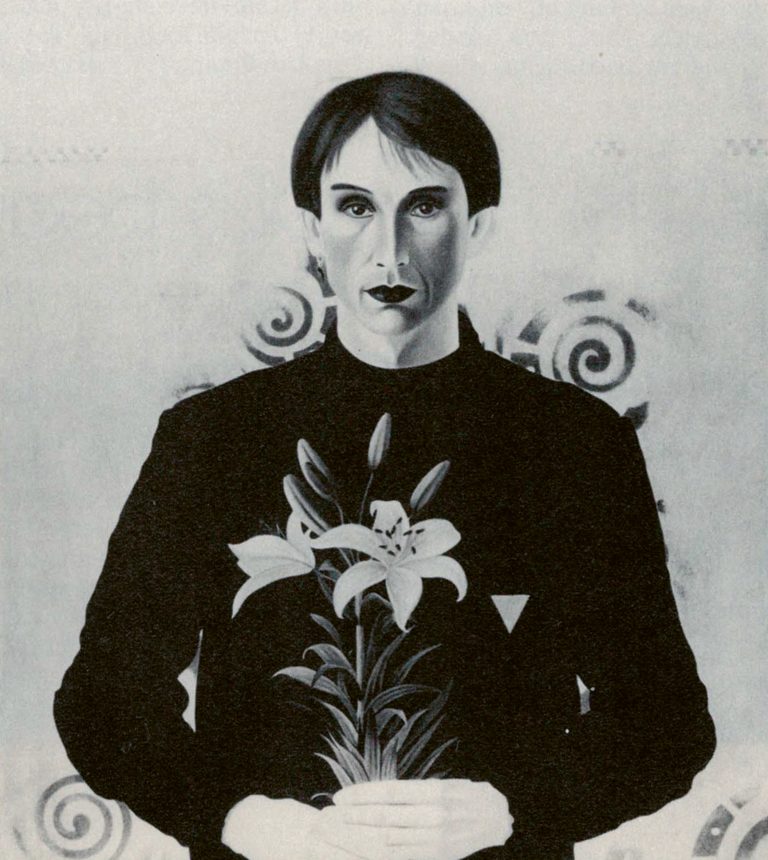 LB: You were co-initiator of the exhibition »Frauen malen Frauen« [Women paint Women], which was on show at the times of »Eva und die Zukunft« [Eve and the Future] in the AOK spaces. What did you get out of this »juxtaposition«?
BB: First of all, we were enraged by the Woman's image on display in »Eva und die Zukunft«. The title »Eve from a patriarchal point of view« would have been more honest. We were pleased that many women, as well as men, shared our point of view and found our counter-exhibition to be a very important addition. […]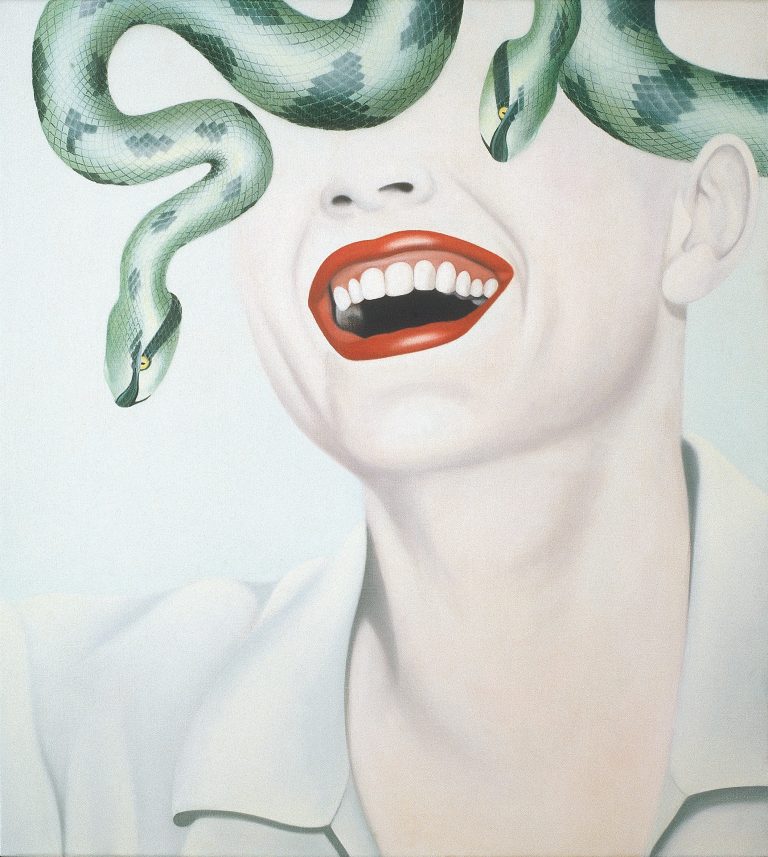 LB: I think your »Medusa laughing« is particularly exciting. Why does a painter of our times refer to classical, antique topics?
BB: Because they were, in the arts for men, a recurrent topic. According to the male point of view, Medusa, for example, was predominantly represented as very ugly, evil and aggressive. I enjoyed creating a counter-image, painting a Medusa not suffering from herself but enjoying her power.
LB: Calling you a realist may also refer to a non-artistic, to a global approach. The way of representation stimulates a conscious reaction to contemporary conditions on the part of the spectator. How do you deal with the problem of artistic form and critical content or rather, is this a borderline path?
BB: It is fatal that there is far too much of looking away in our society. Hence the poor standing of the realist art conception. The Western world does not want to find its degenerated face mirrored in the arts. I cannot make the claim of accurate observation on others, but I can do so on myself. I do wish that the spectators of my pictures, through the pictures, perceive a part of reality.
LB: Many thanks for the interview.
»Medusa lacht«, so lautet der Titel des 1983 entstandenen Bildes der Hamburger Malerin Birgitt Bolsmann. Ein roter Mund lacht uns mit makellosen Zähnen entgegen, während sich giftgrüne Vipern um ihr Haupt winden: Medusa. Wer war diese Frau? […]
Sie und ihre beiden Schwestern Stheino und Euryale waren »…furchtbare, geflügelte Jungfrauen mit versteinertem Blick. Statt der Haare trugen sie Schlangen und waren auch mit Schlangen umgürtet. Ferner hatten sie eherne Klauen und Eberzähne. Andere sprachen von den Gorgonen als von schönen Frauen.«
So auch die Malerin Birgitt Bolsmann, die der machtvollen Sagengestalt nicht die oben erwähnten Eberzähne, sondern die Schönheitsmerkmale der modernen Frau zuordnet.
»Warum sollen Frauen häßlich sein, nur weil sie mächtig sind«, fragt Birgitt Bolsmann und verleiht ihrer Medusa Selbstsicherheit und eine fast hämische Freude an der eigenen Kraft. Dem antiken Motiv der »schrecklichen Medusa« stellt die Malerin spöttisch die perfekte Schönheit der Reklamegirls unserer Tage gegenüber. So gelingt es ihr, den Mythos dieser machtvollen Frau auf heute zu übertragen. […]
Birgitt Bolsmann, 1944 in Hamburg geboren, studierte von 1963–1969 an der HfbK (Hamburg) zunächst freie Malerei, Tapisserie und Grafik, wobei sie sich dem Bereich analytisch-abstrakten Malerei widmete. Vorstöße in die realistische Malerei werden von ihrem Professor zurückgewiesen. Realismus sei heute nicht mehr möglich, so wird ihr gesagt. Desungeachtet verfolgt Birgitt Bolsmann ihre Linie weiter, ist aber gezwungen, ihren täglichen Lebensunterhalt bis Ende 1973 als Bankangestellte zu verdienen. Seit 1974 ist sie freischaffende Künstlerin. Ihre Themen faßt Ulrika Evers bereits 1983 zusammen: »…die Verdinglichung der Frau in Mode und Werbung; die Verselbständigung einzelner Körperteile; die Frau nur als Hülle für schöne Kleider, als schönes Fleisch oder als Puppe ohne Gehirn«.[1] […]
Birgitt Bolsmanns Thema ist immer wieder der Mensch, insbesondere der Weibliche. So schloß sich aufgrund ihrer Initiative mit der Kollegin Ulrike Loos 1985 die Gruppe »Frauen malen Frauen« zusammen. In der darauf folgenden Wanderausstellung war neben der Medusa auch das Bild »Ästhetische Gefangenschaft« von 1978 zu sehen. Eine elegante Frau trägt ein Schleierhütchen. Hinter dem Netz, das sich unmerklich zu einem Maschendraht verändert, steckt ein durch Rollenkonditionierung eingesperrter Geist. […].
Mit dem Bild »Der Außenseiter« (1982) nimmt Birgitt Bolsmann das Thema der Rollenkonditionierung erneut auf, nunmehr indem sie auch die Rolle des Mannes hinterfragt. Sie weicht in ihrer Darstellung die Vorstellung über das auf, was 'männlich' und was 'weiblich' ist und läßt die portraitierte Person mutig den rosa Winkel tragen, einst Kennzeichnung der Nazis für Homosexuelle, heute ein Zeichen entstehenden Selbstbewußtseins einer Randgruppe.
Ein letztes Bild sei hier noch erwähnt: »Abschied von der Kindheit«, (1987). Die Ernsthaftigkeit, die von diesem Mädchen ausgeht, verblüfft, macht ebenso nachdenklich. Erwachendes Ich-Bewußtsein zwischen Kindheitsträumen und Erwachsenenwelt. Ist für dieses junge Mädchen der Weg schon vorgezeichnet, wie er im Hintergrund angedeutet wird?
LB [Lichtblick]: Birgitt, du benutzt die realistische Darstellungsweise. Der Trend geht aber in eine ganz andere Richtung. Gibt es da Schwierigkeiten?
BB [Birgitt Bolsmann]:  Ich habe am Anfang meines Studiums eine Zeitlang abstrakt gearbeitet und dabei festgestellt, daß die Themen, die mich wirklich berühren, damit nicht darstellbar sind. Ich möchte eine klare Bildsprache benutzen und möchte von möglichst vielen Menschen mit so wenig Kunstvermittlung als nötig verstanden werden. Die Schwierigkeit liegt darin, daß man/frau als Realistin z.Zt. [= 1988] totgeschwiegen wird.
LB: Deine Bildthemen sind zeitgenössisch, auch zeitkritisch. Ist der Einsatz »neuer Medien«, Film und Video, nicht gerade deshalb besonders interessant?
BB: Nein. Ich komme von der Waldorfschule, wo es ein indirektes Kino- und Fernsehverbot gab. Aus dieser Zeit habe ich eine starke Abneigung gegen »Mattscheiben« verinnerlicht. Als der erste Fernsehapparat in unsere Familie kam, empfand ich dies als zerstörend für das Zusammenleben. Was Filme anbelangt, gibt es natürlich Ausnahmen. Ich mag z.B. die frühen poetischen Chaplin-Filme und die Filme von Fellini.
LB: Du bist Mit-Initiatorin der Ausstellung »Frauen malen Frauen« gewesen, die zeitgleich zu »Eva und die Zukunft«[2] in den Räumen der AOK gezeigt wurde. Was hat euch diese »Gegenüberstellung« gebracht?
BB: Zunächst einmal waren wir wütend über das Frauenbild, das in »Eva und die Zukunft« präsentiert wurde. Ehrlicher wäre da schon der Titel »Eva aus patriarchalischer Sicht« gewesen. Erfreut waren wir darüber, daß viele Frauen, aber auch Männer, dies auch so gesehen haben und unsere Gegenausstellung als ganz wichtige Ergänzung empfanden. […]
LB: Besonders aufregend finde ich deine »Medusa lacht«. Warum bezieht sich eine Malerin von heute auf klassische, antike Themen?
BB: Gerade weil sie in der Kunst für Männer immer wieder ein Thema waren. Der männlichen Sicht entsprechend wurde z.B. Medusa vorwiegend sehr häßlich, böse und aggressiv dargestellt. Es machte mir Spaß, ein Gegenbild zu schaffen, eine Medusa zu malen, die nicht an sich selbst leidet, sondern ihre Macht genießt.
LB: Wenn ich dich als Realistin bezeichne, mag sich das auch auf eine außerkünstlerische, eine weltanschauliche Haltung beziehen. Die Art der Darstellung provoziert eine bewußte Reaktion auf zeitgenössische Verhältnisse auf seiten der BetrachterIn. Wie löst Du das Problem von künstlerischer Form und kritischem Inhalt, bzw. ist dies ein Grenzweg?
BB: Das Fatale ist, daß in unserer Gesellschaft viel zu viel weggesehen wird. Daher auch der niedrige Stellenwert der realistischen Kunstauffassung. Die westliche Welt möchte nicht ihr degeneriertes Gesicht im Spiegel der Kunst wiederfinden. Ich kann den Anspruch der genauen Beobachtung nicht an andere stellen, aber an mich. Ich wünsche mir, daß die BetrachterInnen meiner Bilder, durch die Bilder hindurch, ein Stück Realität wahrnehmen.
LB: Vielen Dank für das Gespräch.
[1] Ulrika Evers: Deutsche Künstlerinnen des 20. Jahrhunderts: Malerei, Bildhauerei, Tapisserie. Hamburg 1983.
[2] Eva und die Zukunft: das Bild der Frau seit der Französischen Revolution. Hg. Werner Hofmann. Ausstellungskatalog Hamburger Kunsthalle, 11.7.–14.9.1986.