20 Nov 2020 –
31 Jan 2021
Dierk Schmidt
Columns – how to hohenzollern (it's a thing)
20 Nov 2020 –
06 Mar 2021
Eugenio Dittborn
Airmail Painting 186 and 192
DOWNSTAIRS
Dierk Schmidt
Columns - how to hohenzollern (it's a thing)
It's a hot potato, that restitution business. The formerly colonized demand the return of the cultural assets that were stolen from them during the colonial era or that entered German collections in questionable ways. The Federal Republic, for its part, argues that it isn't all quite so simple—and actually rebuilds the old palace of the Prussian rulers who helped write a chapter of the history of colonialism. Renamed in honor of Humboldt, the building is destined to become a repository for those same cultural assets.
And now this. In 2013—the ground had just been broken for the reconstruction of the Berlin City Palace—the former lords of the manor, the Prussian princes of the House of Hohenzollern, came out of the woodwork to demand their own restitution: 5,000 pieces from the former crown estate now held by the Prussian Cultural Heritage Foundation, 266 paintings by Lucas Cranach and others—all this and much more, they claimed, was rightfully theirs. For good measure, they wanted to move back into Cecilienhof Palace in Potsdam with its 176 rooms. The Soviets' seizure of the family seat after the war and its transfer to public—which is to say, our collective—ownership, they argued, was unlawful, and so they wanted it back.
What makes their demands provocative and indeed scandalous is that anyone who "significantly aided and abetted" the Nazi regime is precluded by law from obtaining restitution of or compensation for assets expropriated after the war. The Hohenzollerns were chummy with the Nazis or certainly not opposed to them, and today they exhaust all legal avenues to suppress historical research into their own Nazi past, as the public learned when Jan Böhmermann leaked relevant documents. Their strategy is of a piece with the perpetual aggrievement of today's Trumpists and populists, who pose as victims of history's injustices to distract from their role as perpetrators, distort the facts beyond recognition, and even hijack discourses of resistance to repurpose them in support of their own, frequently illegitimate claims to power.
Dierk Schmidt's latest work cuts to the core of this confusing melee. For several years, his art has grappled with the legal and other frameworks of Germany's and other countries' colonial histories and with questions of restitution. A critic of the Humboldt Forum, he was actively involved in numerous initiatives; he is familiar with the facts and the history behind them and only too familiar with anger and frustration. (In our showroom, we present the installation Berliner Schlossgeister, his contribution to the 2004 Berlin Biennale, which investigated the entanglements between neo-monarchists and political and business elites around the reconstruction of the City Palace.)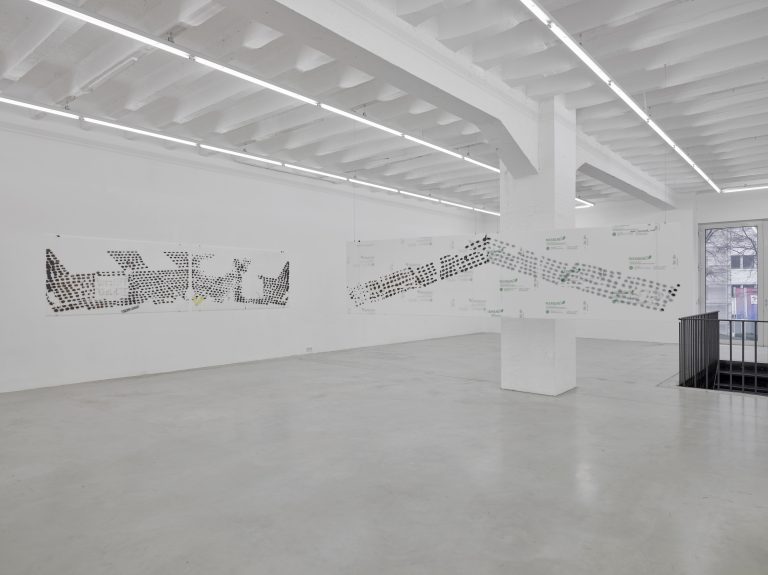 The exhibition features four new diptychs, painted in tar (and a bit of paint) on white acrylic glass panes. More specifically, one pane in each pair was painted on; then a second pane was pressed down on it to produce a mirror-inverted decal of the first. The resulting pair of pictures is reminiscent of Rorschach tests, whose random structures leave room for psychological interpretation. But it also looks like a thematic complex that was convoluted and sticky enough as it was duplicated itself to make everything yet more complicated. Who is guilty of, bears responsibility for what in this muddle? What came first, what happened later? Can we even establish a critical logic of situations and events? How can we exit the dialectic of weird victim-perpetrator constellations?
Groups of black dots fan out into armies, columns, occupied territories. Controversies and clashes are about to erupt into the pictorial space. Also appearing: a Prussian spiked helmet, the logo of the Prussian Cultural Heritage Foundation (SPK), miniatures of the splendid modern bathrooms at Cecilienhof Palace. "If you say Prussia," the lettering on one acrylic glass pane reads; the other completes the sentence: "you get Hohenzollerns." On another, one can make out the silhouette of a cart, with a chest on it. An inscription warns, not once but twice: "Caution Gold." A fairy-tale motif from "The Robber Hotzenplotz," whom Kasperl and Seppel try to dupe with a fake hoard of gold. The viewer has to look for all these tenuous visual and verbal clues, as though to confront the pictures were to embark on a research expedition designed to give the traces meaning. But there's no cohesive (critical) narrative waiting to be extracted.
And for good reason. Dierk Schmidt is a history painter. Remember? History painting, that fusty and ponderous genre, relating decisive events in history in the form of pictures that typically endow their subjects with a mythical aura. Schmidt has given the genre a different twist, looking beyond entrenched ideas and techniques of representation. It almost feels like the engagement with a revolting chapter in more recent German history has alienated the artist from his own medium of articulation, painting. Setting out what manifests itself, what we can know and make sense of, Schmidt everywhere leaves baffling gaps. Blanks and information eye each other with a distrust that makes your blood run cold and puts a damper on your desire for truth. Even the postmodern truism that history is a construction absconds from the pictures. What remains are constituent dots compressed to form blots and arrayed under helmets that do not bode well.