Cevdet Erek
In Circulation
Gallery Openings—15 Sep 2023, 6 to 9 PM
Linienstrasse
In his work, Erek engages with the broad spectrum of interfaces between tone, space, perception, reception and time, applying his extensive backgrounds as an architect, educator, musician and sound engineer and designer to rhythmically draw out parallels through site-reactive installations and sonic environments. For in circulation, the artist presents a concise group of works that reflects upon sound as lived sensation and its profound physical manifestations.
The exhibition's trio of Daf without Skin (2021), Larger Daf without Skin (2023) and Ruler Daf without Skin (2021) originate from Erek's extensive work as a percussionist and the resultant deeply engrained attunement to instruments, their employ and their particularities. The three in-dialogue works, developed in collaboration with instrument maker Sami Hosseini, derive their general constructions from the eponymous frame drum. Held in front of a player's body, gently supported by their palms or thumbs, the daf gains its distinctive rustle from a series of rings that rub against or bounce off of the drum's stretched membrane as it is manipulated or struck. Erek's works subvert this mode of teasing tone from the instrument, and are created without drumheads: Here, they are suspended by barely visible cord, thus redefining and rebalancing the connections between action and interaction, noise and motion, or response and its prompt. Daf without Skin and its magnified counterpart, Larger Daf without Skin, retain their source's circular form and, nearly floating, become akin to halos waiting to be donned. When at their centers, a participant becomes the focus for the uniquely encompassing impression of sound that the modified drums, when played in the space, produce. Ruler Daf without Skin is a straightened-out version of the daf's wooden hoop that visually translates cyclical time to linear. Here the metallic adornments hang in a row, each chain discrete, acting simultaneously as percussive agents and as waypoints – markers along a cryptic scale or notes in a novel system of temporal notation.
Erek's The Mother Ear (2023), the first figurative sculpture in a body of work characterized by sonic landscapes, built environments and the objects that may populate them, is based on a silicone-mold portrait of his mother. Rendered monochromatically, with points of reference as diverse as antique reliefs, Dadaist constructions, contemporary animatronics and dummy-head microphones, Erek's cast bears wearable binaural microphones nestled in its ears. These audio-capture devices are intended to produce three-dimensional, perspectival experiences of sound – auditory illusions whose efficacy relies on similarity between the listener's physical makeup and the microphones' placement during recording. The Mother Ear's dimensions, and thus its inaudible experience, is tailored to a specific individual, and constitutes a touching tribute. The form gently sways, dancing to a silent groove and twitching involuntarily as if by neurological reflex, its movements taken from the artist's own mapped gestures in a fusion of portraitist and the portrayed. An adjacent listening room features a library of Erek's new sound works, illuminating the auditory potential of The Mother Ear's unheard soundtrack and that produced by the Daf without Skin triplet.
The artwork of Cevdet Erek (b. 1974) has been the subject of international solo exhibitions at Hamburger Bahnhof – Museum der Gegenwart, Berlin (2019); Art Institute of Chicago, Chicago (2019); Ruhrtriennale, Bochum (2019); Museum of Contemporary Art, Antwerp (2018); Museo Universitario Arte Contemporáneo, Mexico City (2017); Turkish Pavilion, 57th Venice Biennale, Venice (2017); Spike Island Artspace, Bristol (2014); and Kunsthalle Basel, Basel (2012). He has also taken part in Manifesta 14, Pristina (2022); 7th Singapore Biennale, Singapore (2022); 11th Shanghai Biennale, Shanghai (2016); 20th Biennale of Sydney, Sydney (2016); 14th Istanbul Biennial, Istanbul (2015); 5th Marrakech Biennale, Marrakesh (2014); Sharjah Biennial 11, Sharjah (2013); 7th Asia Pacific Triennial of Contemporary Art, Brisbane (2012); and dOCUMENTA (13), Kassel (2012). Erek lives and works in Istanbul.
Noa Eshkol
Movement Notations
Gallery Openings—15 Sep 2023, 6 to 9 PM
Linienstrasse
As a prelude to what would have been the artist's 100th birthday, this exhibition turns from our previous engagement with her wall carpets to our first showcase of rare sculptural, graphic and filmic material from her archive. These crucial documents, many of which have remained unseen for decades, trace her pioneering development of Eshkol-Wachman Movement Notation and shed light on the foundations of her practice.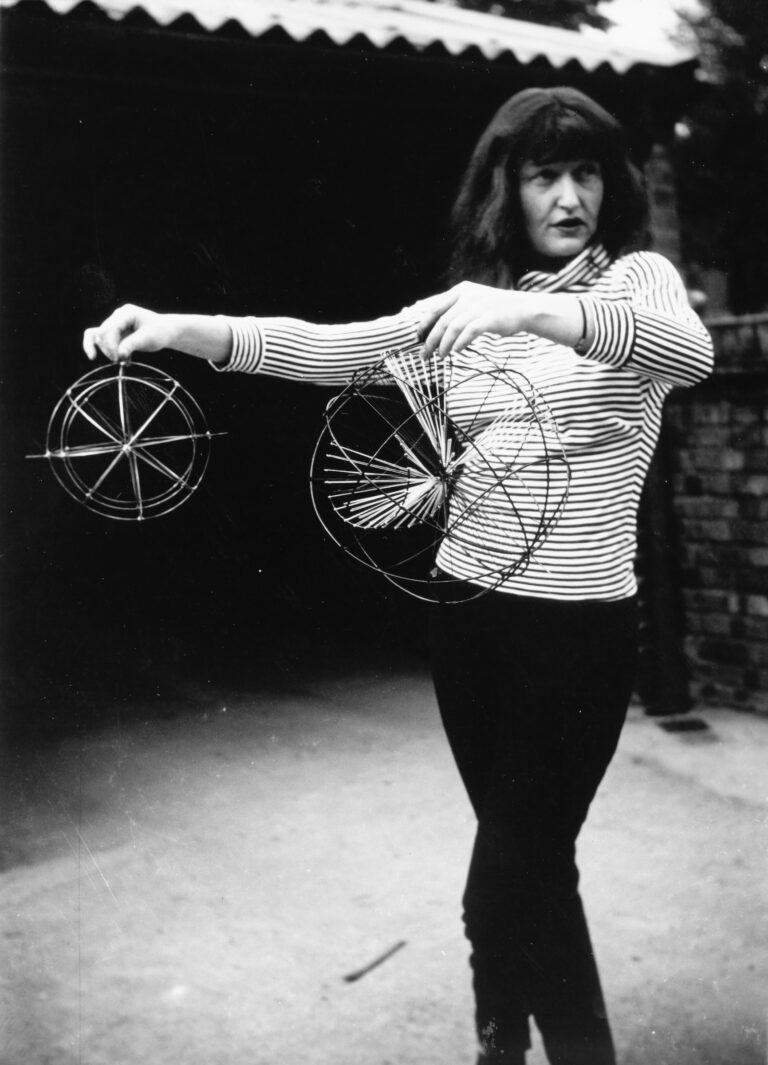 From 1951 to 1956, following her return to Israel on the heels of a five-year course of expressionist-dance studies in England, Eshkol devised Eshkol-Wachman Movement Notation along with architect Avraham Wachman. Published in 1958 as the book "Movement Notation," the pair's treatise outlined a new, unprecedented system for recording motion by way of an interdisciplinary, universally applicable structure. It was to transcend dance or the human form, moving beyond these boundaries to prioritize the articulation of appendages and extremities regardless of arrangement, composition or intention. Eshkol and Wachman laid the foundations for their notation, defining a schematic for all bodies, standardizing the properties of limbs and dividing all movement into three distinct categories, expounding on each with scientific precision. With these in place, the two detailed the construction of written manuscript pages – grid-like matrices that placed bodies and time in explicit relation – and supplemented them with diagrams by designer, theorist and performer John Harries, illustrating what they dubbed the System of Reference.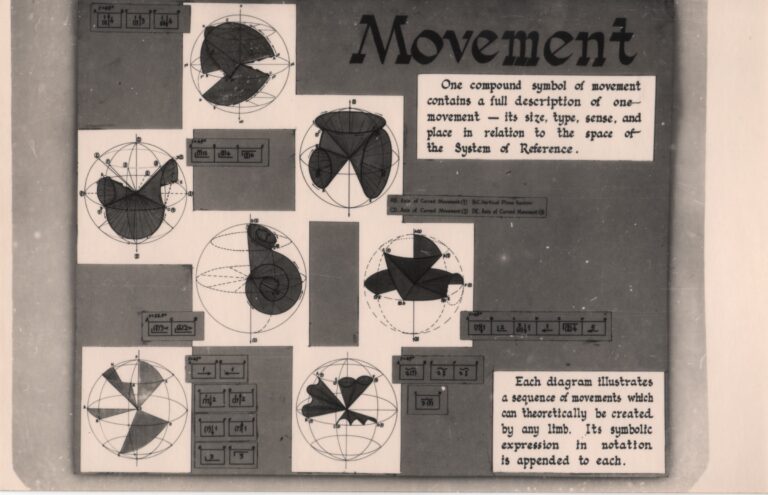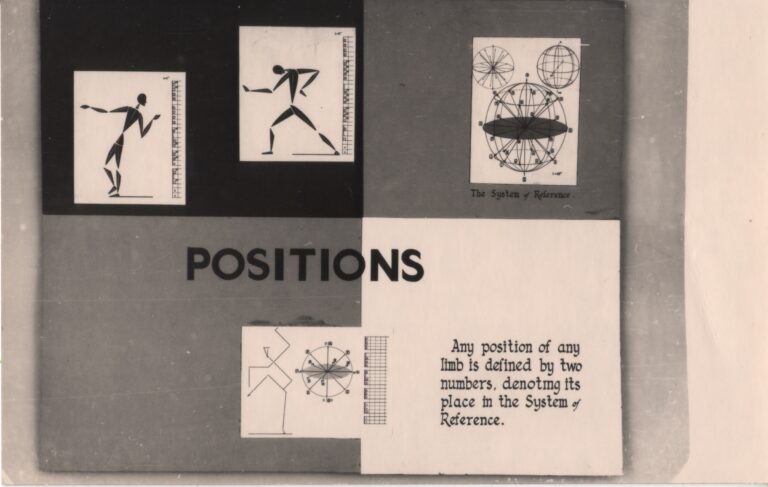 On view at neugerriemschneider is a selection of original drawings by Wachman and Harries, conceptualized in concert with Eshkol, presented alongside a grouping of suspended wire-and-mesh spheres that lend the System of Reference a third dimension. Ranging from abstract to representational, including sketches and inked graphics, these visualizations stand as testaments to the Notation's innovative classification and archival of seemingly ephemeral actions. They hover between stylized and purely informational modes, existing as unique documents that highlight the duality of the theory's necessarily systematic makeup and the often dramatically harmonious gestures, such as those that comprise Eshkol's compositions, that they describe. Film material created of and by Eshkol and her collaborators showcasing studies of human and animal movement, manifestations of notation in motion, and documentary footage of Eshkol and her Chamber Dance Group, complement these artifacts, illuminating the system's origins, enactment and the environments that it directly informed.
Eshkol's choreographic work is showcased in a performance by the Noa Eshkol Chamber Dance Group at KW Institute for Contemporary Art on August 25 and 27. In early 2024, the institution and Berlin's Georg Kolbe Museum will reissue Eshkol and Wachman's Movement Notation for the first time since its initial release. In March of 2024, the Georg Kolbe Museum opens a solo exhibition on Eshkol's choreographic legacy, presented alongside and in dialogue with her wall carpets.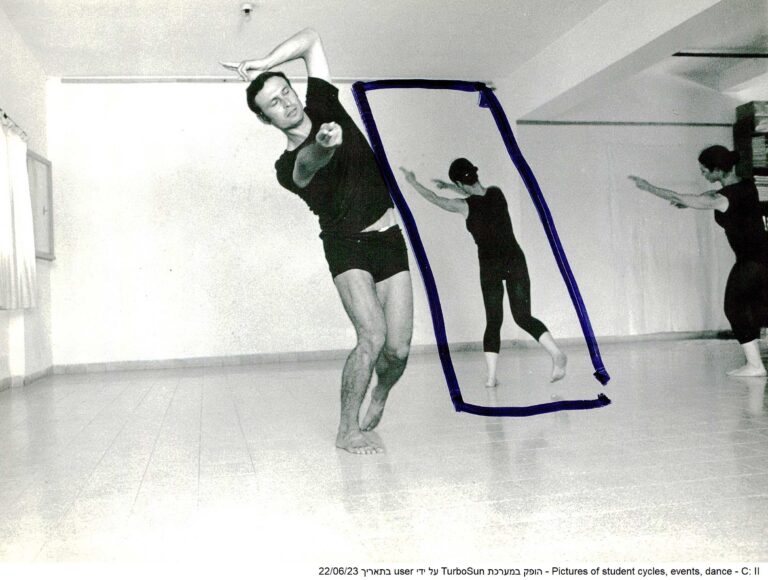 The artwork of Noa Eshkol (b. 1924, Degania Bet, Palestine; d. 2007, Holon, Israel) has been the subject of international solo and group exhibitions at Norrköpings Konstmuseum, Norrköping (2022); Oslo Kunstforening, Oslo (2021); Casa do Povo, São Paulo (2021); 34th Bienal de São Paulo, São Paulo (2021); Van Abbemuseum, Eindhoven (2019); CFHILL Art Space, Stockholm (2019); Vleeshal, Middelburg (2017); Kunstverein, Amsterdam (2017); 20th Biennale of Sydney, Sydney (2016); Badischer Kunstverein, Karlsruhe (2016); Kunst- und Kulturstiftung Opelvillen Rüsselsheim, Rüsselsheim (2013); TBA21 Thyssen-Bornemisza Art Contemporary, Vienna (2012); Jewish Museum, New York (2012); Los Angeles County Museum of Art, Los Angeles (2012); Israel Museum, Jerusalem (2011); Center for Contemporary Art, Tel Aviv (2011); Open Museum Tefen, Kfar Vradim (2010); Hamumche Gallery, Tel Aviv (1998); Mishkan Museum of Art, Ein Harod (1996); Danish Museum of Decorative Art, Copenhagen (1980); and Tel Aviv Museum of Art, Tel Aviv (1978).
Ai Weiwei
Know Thyself
Ai here continues his extended engagement with imagery created from Lego bricks to reassess, de- and reconstruct or contextualize anew works from throughout art history and the contemporary media landscape. Using a traditionally playful, immediate, generationally and geographically ubiquitous medium to analytical, critical extents, Ai shapes a veritable survey of both the Western cultural canon and of his own artistic trajectory.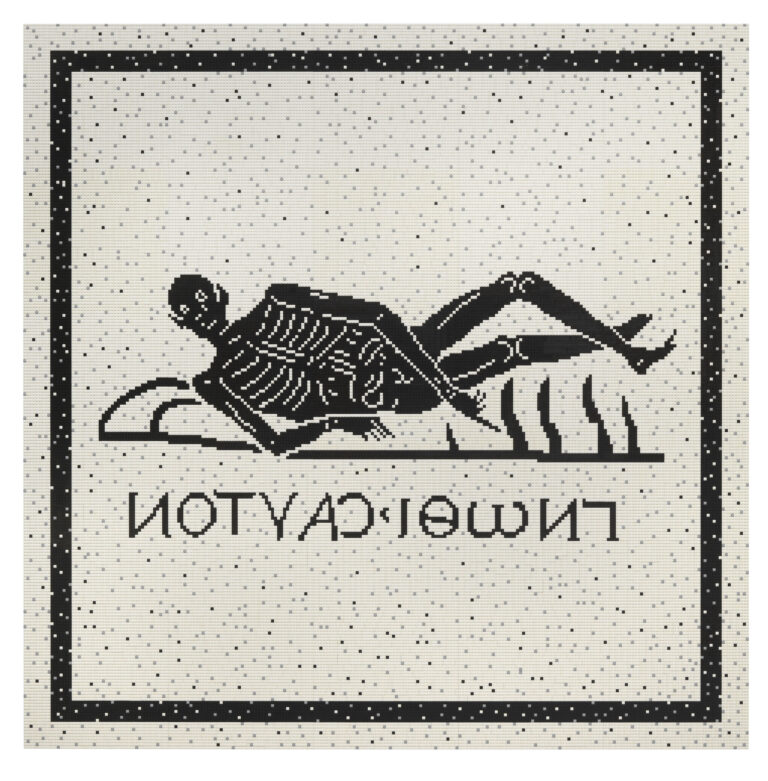 Throughout his body of work Ai has returned to Lego bricks time and again, laboriously harnessing pieces by the hundreds of thousands to interrogate the parameters of imagemaking and production, honing his use of the material and expanding its representational and theoretical capacities to shape facsimiles of well-known works of art and other popular media. Honoring Marcel Duchamp and his legacy of the readymade, Ai deploys the mass-produced objects for adaptations of preexisting motifs, translating and often modifying them within his own social and political contexts, the angular components mimicking the pixels that coalesce to become today's digital, widely and infinitely distributed imagery.
For his exhibition at neugerriemschneider, Ai presents eight such interpretations in Lego. Know Thyself (2022), which lends the show its name, finds its base in a mosaic from the first century CE, initially discovered along Rome's Via Appia and now housed in the city's Baths of Diocletian. Ai makes use of vanitas messaging, along with the imperative to "Know thyself," written in Greek, to existentially, life-affirmingly reflect on the complex interfaces, contrasts and overlaps between past and present, while morphing the source's irregular four-sided tiles to their modernized analogs.
Pollock in Black (2020), a cornerstone of this same exploration, is constructed on the basis of Jackson Pollock's One: Number 31, 1950 (1950). The original's energetically choreographed, nearly calligraphic applications of oil and enamel paint are converted here, in nearly one-to-one scale, to a binary of either black or white, with the now-aged canvas portrayed in a single shade of grey. Within the context of Ai's own development, the Pollock stands as emblematic of his immersion in American post-war art during his time spent living in New York between 1983 and 1993, and illuminates a formative facet of his practice.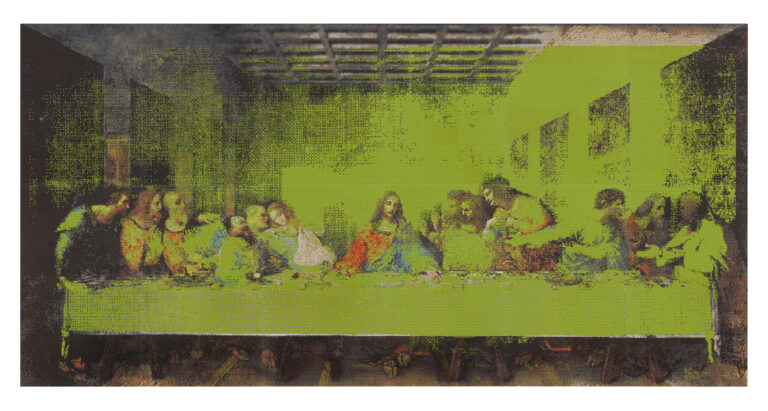 With The Last Supper in Green, The Last Supper in Blue, The Last Supper in Pink and The Last Supper in White (all 2022), Ai draws upon Leonardo da Vinci's mural of the same name housed in the Convent of Santa Maria delle Grazie in Milan, casting each iteration in modified color palettes directly reminiscent of the silkscreen prints by Andy Warhol that crystalized Ai's conception of the entwined nature of art, its history and its contemporary media landscape. In each Last Supper permutation, the face of Judas is replaced by that of the artist laughing, building upon the art-historical tradition of self-inclusion, and positioning Ai himself as an agent of disruption, making explicit his fraught relationship with the Chinese government.

Continuing the exhibition's showcase of masterwork-derived compositions is Water Lilies #2 (2022), devised in reference to Claude Monet's early 20th-century series of monumental paintings. Portraying a meditative tableau from the storied Impressionist's meticulously crafted gardens, Ai's Water Lilies #2 spans three walls and a length of over 15 meters. Its scale and form cast the work as all-enveloping, allowing for a viewer's complete absorption in its intricacies. Punctuating the right-hand side of the color-shifted composition is a rectangular door—the entrance to the subterranean home in which the young artist and his father, poet Ai Qing, lived after being driven into exile in the late 1950s, transforming the work through autobiographical, intergenerational dialogue.
For Nord Stream (2022), Ai departs from reproductions of canonical works and turns his focus to a contemporary news photograph showing the result of the ruptured Nord Stream 2 natural-gas pipeline—a nearly frame-filling whirlpool set against a blue field of waves that encapsulates over two decades of heated international relations. Here, Ai brings to mind his own career-long political involvement and activism, expanding on his past work around migration to Europe across treacherous waterways, and questioning the dichotomy between international concern for human lives and that for resources and capital. The image itself and its large-scale maelstrom possess a visual magnetism, wavering between abstraction and representation in a mode that alludes to both the Pollock and Monet tributes on view.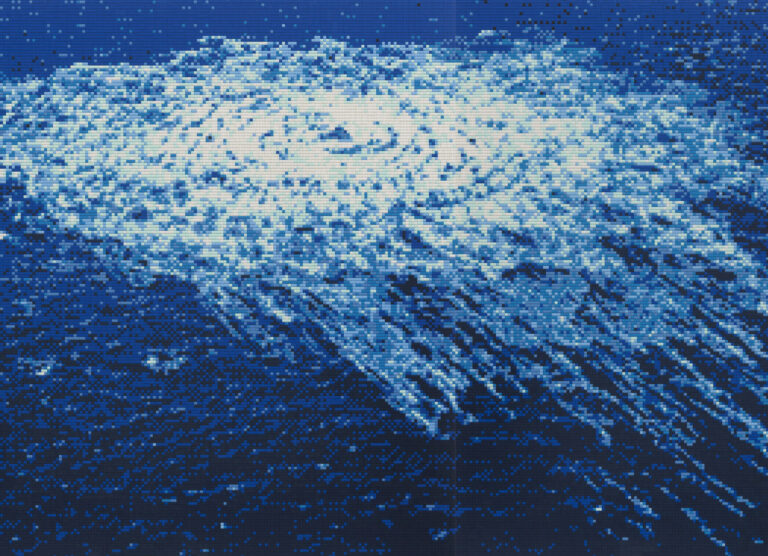 Ai Weiwei (b. 1957) has been the subject of solo exhibitions at international museums and institutions including Design Museum, London (2023); Basilica di San Giorgio Maggiore, Venice (2022); Albertina Modern, Vienna (2022); Serralves Park, Porto (2021); Mildred Lane Kemper Art Museum, St. Louis (2019); K20 and K21, Kunstsammlung Nordrhein-Westfalen, Dusseldorf (2019); Oca, São Paulo (2018); Sakıp Sabancı Museum, Istanbul (2017); Israel Museum, Jerusalem (2017); National Gallery Prague, Prague (2017); The Andy Warhol Museum, Pittsburgh (2016); National Gallery of Victoria, Melbourne (2015); Royal Academy of Arts, London (2015); Alcatraz, San Francisco (2014); Martin-Gropius-Bau, Berlin (2014); Brooklyn Museum, New York (2014); Art Gallery of Ontario, Toronto (2013); Hirshhorn Museum and Sculpture Garden, Washington, D.C. (2012); German Pavilion, 55th Venice Biennale, Venice (2013); Tate Modern, London (2010); Haus der Kunst, Munich (2009); documenta 12, Kassel (2007) and Kunsthalle Bern, Bern (2004).