The Rhythmist of Light
Florian Illies on Raimund Girke at Kewenig
Now, as dusk is falling earlier over the city once again, and as we realize that our longing for light is far from being satisfied despite this seemingly never-ending summer, Raimund Girke's paintings at the Kewenig Gallery from the seventies, eighties, and nineties invite us to dive into the depths of white and the infinities of bright light.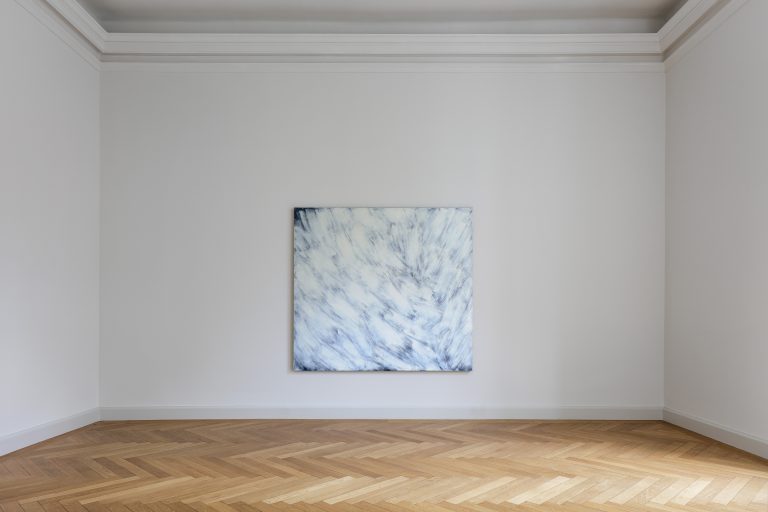 The spectacularly spacious rooms of Kewenig's hidden baroque palace on Brüderstraße enable Girke's canvases to display their intensity with particular resplendence. The exhibition marks the beginning of the collaboration between Kewenig and Madeleine Girke, the artist's daughter and trustee of his estate. Spanning seven rooms and two floors, the first retrospective of his work at this new location reveals the entire scope of Girke's painterly career. The singular rhythm of Girke's brushstrokes on his watercolors both large and small can be followed across different formats and decades. Anyone who engages with the richness of this work will be amazed to realize that the color white alone—whether it is painted on black or on beige, allowed to shout for joy next to blue, or fade next to gray—can contain an entire universe. And, to be more precise: an entire universe of painting as well as the viewer's inner universe. The painter's physical access to the canvas immediately creates a vibrant resonance within those of us standing before it.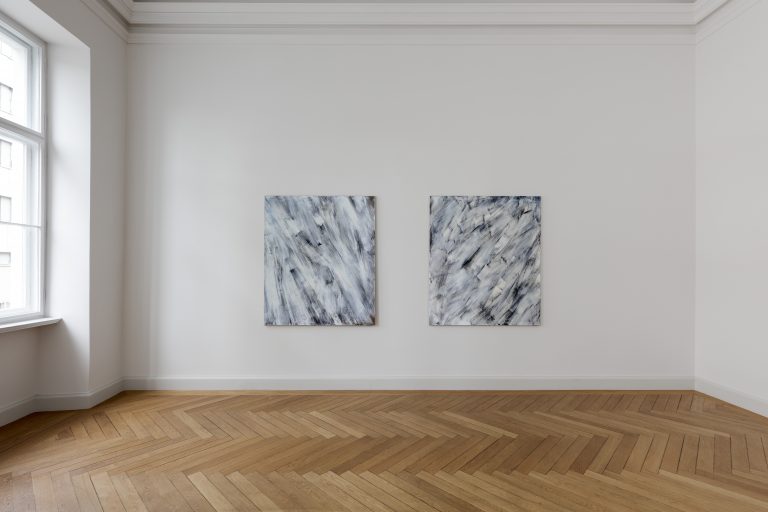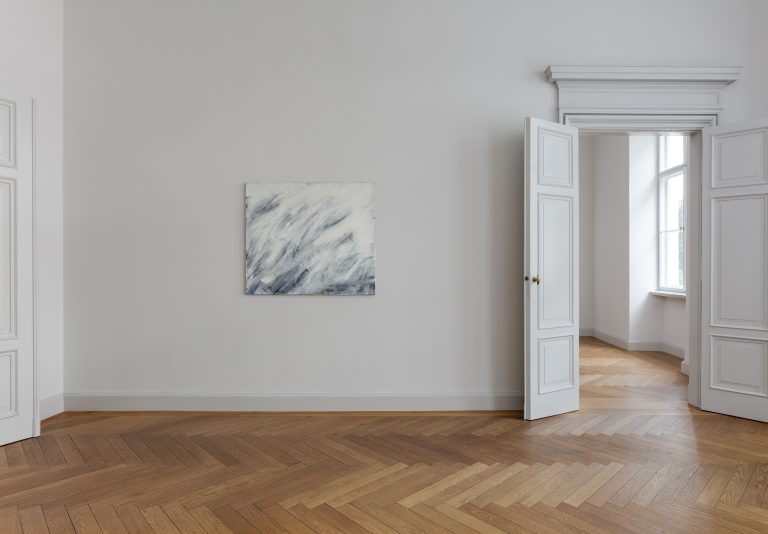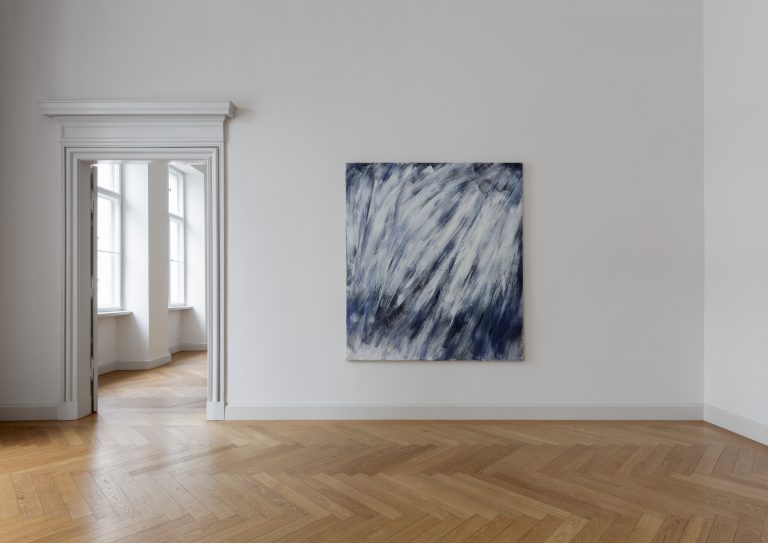 Girke's painterly oeuvre is characterized by an unwavering consistency, an inexhaustible wealth of invention, and a perpetual flow of form. The paintbrush sweeps white across the canvases like an eternally blowing wind, sometimes tempestuous, sometimes tender, but always perceptible on the canvas as well as the skin. The rhythm of Girke's brushstrokes creates vibrations that bring first the image space and then the viewer into a state of active calm. It is incredible just how much white knows about us.
Girke is certainly the most consistent German abstract painter from the second half of the century—comparable only to Gotthard Graubner and his explorations of color. Both would have been ninety years old this year, and we are particularly fortunate that we can learn more about the work of these two exceptional artists in museum-level retrospectives this September in Berlin. Graubner's large-format picture cushions, which absorb color first and then our gaze, are on display at Wolfgang Werner in Fasanenstraße. Despite all their coloristic implosions, Graubner's color-space bodies are first and foremost—as he himself called them—"trampolines of light." And from there it is in fact only a very small jump to Raimund Girke's decades-long exploration of the depths and transcendental heights of white.
Der Rhythmiker des Lichts
Florian Illies über Raimund Girke in der Galerie Kewenig
Jetzt, wo die Dämmerung sich wieder früher hinabsenkt über die Stadt, wo wir merken, daß unsere Sehnsucht nach dem Licht noch lange nicht befriedigt ist trotz dieses scheinbar nicht enden wollenden Sommers, da laden uns die Bilder von Raimund Girke aus den siebziger, achtziger und neunziger Jahren in der Galerie Kewenig ein: zum Eintauchen in die Untiefen des Weiß und in die Unendlichkeiten des hellen Lichts. 
In den spektakulären weitläufigen Räumen des versteckten Barockpalais von Kewenig in der Brüderstraße können die Leinwände Girkes ihre Intensität besonders strahlend entfalten. Die Ausstellung ist der Beginn der Zusammenarbeit von Madeleine Girke, der Tochter des Künstlers und Nachlaßverwalterin, mit Kewenig. Die erste Werküberblick am neuen Ort entfaltet auf zwei Etagen in sieben Räumen die ganze Bandbreite von Girkes malerischem Lebensweg. Auf Aquarellen, kleinen und großen Leinwänden, folgt man dem singulären Rhythmus der Pinselschläge Girkes über die Formate und Jahrzehnte hinweg. Wer sich einlässt auf den Reichtum dieses Werkes, registriert verblüfft, wie sich in der Farbe Weiß allein, malt man sie auf Schwarz oder auf Beige, lässt man sie aufjauchzen neben Blau oder Verdämmern neben Grau, ein ganzes Universum entfalten kann. Und zwar genauer gesagt: das Universum der Malerei ebenso wie das innere Universum des Betrachters. Der körperliche Zugriff des Malers auf die Leinwand sorgt auch bei uns, die wir davor stehen, sofort für eine vibrierende Resonanz.
Girkes malerisches Oeuvre ist geprägt von einer unbeirrbaren Konsequenz, einem unerschöpflichen Reichtum der Erfindung und einem ewigen Fluß der Form. Über die Leinwände streicht der Pinsel mit Weiß wie ein ewig wehender Wind, mal stürmisch, mal zart, aber immer spürt man ihn auf dem Malgrund wie auf der Haut. Der Rhythmus der Pinselstriche Girkes erzeugt Schwingungen, die erst den Bildraum und dann den Betrachter in einen Zustand bewegter Ruhe versetzen. Unglaublich, was das Weiß alles von uns weiß.
Girke ist sicherlich die konsequenteste Position der abstrakten Malerei im Deutschland der zweiten Jahrhunderthälfte – allenfalls vergleichbar den farbigen Erkundungen Gotthard Graubners. Beide wären in diesem Jahr neunzig Jahre alt geworden und so ist es ein besonderes Glück, daß man in diesem September in Berlin das Werk beider Ausnahmekünstler in Retrospektiven musealer Ausmaße kennenlernen kann. Graubners großformatige Bildkissen, die erst die Farbe und dann unsere Blicke aufsaugen, sind bei Wolfgang Werner in der Fasanenstraße zu sehen. Auch Graubners Farbraumkörper sind, allen koloristischen Implosionen zum Trotz, vor allem, wie er es selbst nannte "Trampoline des Lichts". Und von dort ist es in der Tat nur ein sehr kleiner Sprung zu Raimund Girkes jahrzehntelangen Erkundungen der Fallhöhen und transzendentalen Höhen des Weiß.