*Discoveries
Daniel Hölzl
DITTRICH & SCHLECHTRIEM is pleased to introduce the work of Daniel Hölzl. In his first presentation with the gallery, Hölzl creates a site-specific performative-sculptural installation on and extending off the facade of the gallery building located at Linienstraße 23, Berlin-Mitte. The project, titled BAIT, will be on view day and night for the duration of the Gallery Weekend *Discoveries programming, Wednesday through Sunday, September 15–19, from 11 AM to 7 PM.
Gallery Weekend Berlin  Where do you come from, what should we know about you and your background?
Daniel Hölzl  I was born in Austria in 1994, where I went to art school and worked as a restorer for four years. I have been living in Berlin for five years now and I recently graduated from the Art Academy in Weißensee. The current installation BAIT is my fist presentation with Dittrich & Schlechtriem.
GWB  What was the inspiration for your current body of work?
DH  I work mostly on site-specific installations that sometimes contain an element of constant change. What is important to me are the dynamics, both between the individual materials of the installation and those between object, space and exhibition visitors. At Dittrich & Schlechtriem I was offered to work with the whole facade of the building, so I was aiming to utilize the architecture as a framework within all the materials can perform.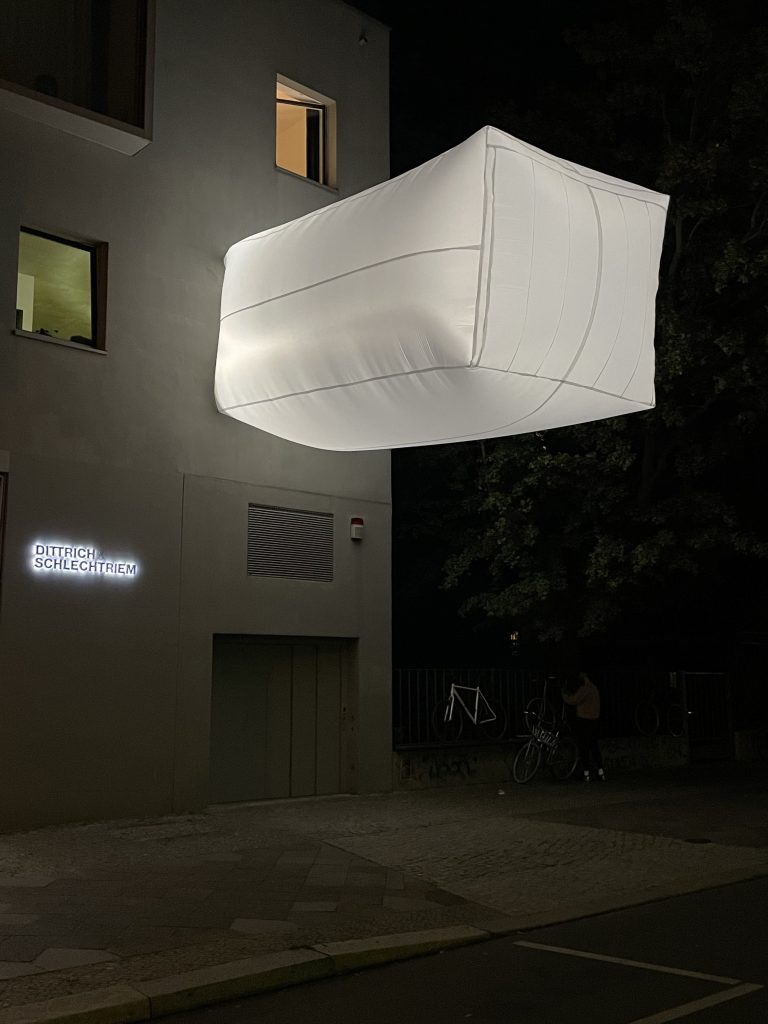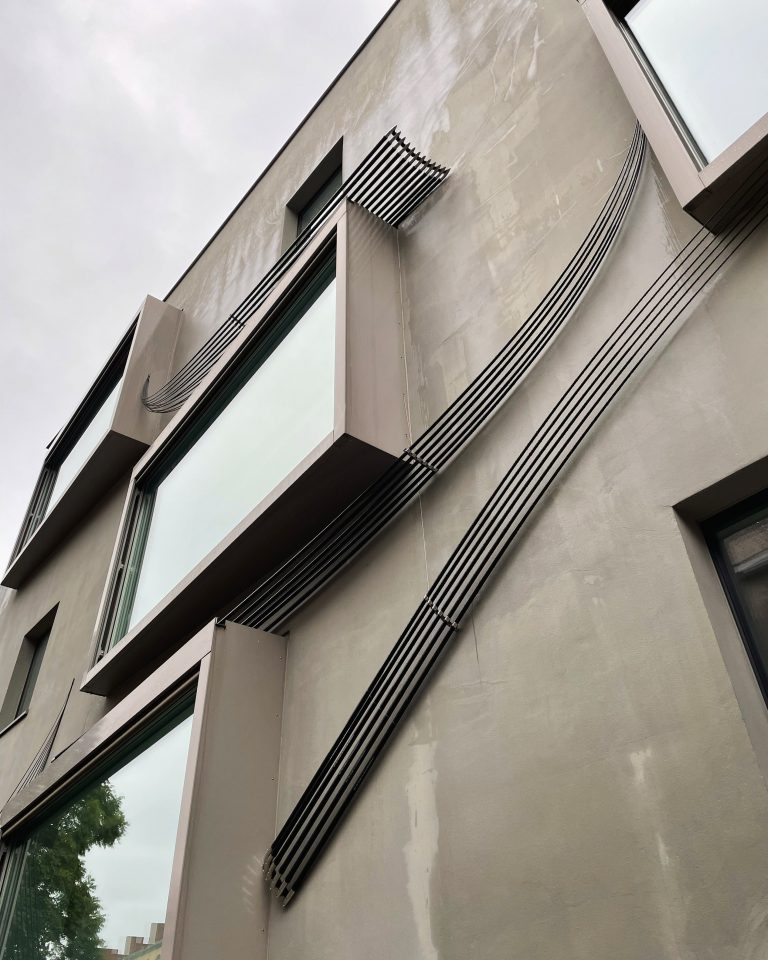 Could you describe your upcoming exhibition in a few words?

The two main elements of the installation, inflated parachute silk and carbon fiber fishing rods, respond to the building's distinctive architecture while raising concerns of hierarchy, prey, temporality, and potential.
Projecting from the ground-floor freight elevator door is an exact full-scale model of its interior space, tailored out of white parachute silk. This form is then duplicated and hung directly above it, installed from the second-floor window.
Starting from street level, reaching upwards and overhanging upper gallery windows is a series of carbon fiber poles. Fishing rods in various lengths, connected with stainless steel elements normally used in the boat building industry. Fixed with wire rope, these structures reach away from the architecture, then curve again inward, bending into and over structures of the facade, augmented by their potential.
In BAIT, I continue to investigate the dynamics of built environments. Employing carefully selected materials, I try to focus on the transience of every moment while connecting the installation to the site and its visitors. The objects relate and respond to their surroundings, obtaining social awareness and performing as we do, jointly shaped by our physical and increasingly digital infrastructures.
GWB  Are there any particular references you like to point out?
DH  The rods are bent in a way how you would bend wooden planks of a boat. The objects are held and pressed into place by the architecture and at the same time seam to somewhat softly stroke it. The connecting metal parts — looking like spikes or the head of a spear — give a visual and conceptual counterpoint to the otherwise quite soft and fragile looking poles – underlining the fact that fishing rods are normally used for hunting.
GWB  How does our show sound like? What is the soundtrack of your exhibition?
DH  If you listen carefully you can hear the parachute silk crackle and the fabric stretching … if I had to play a song right now I would play Morrow by 070 Shake … just because it's great.
GWB  Besides your show, what are you looking forward to during the upcoming Gallery Weekend Discoveries?
DH  To finally get out there and meet actual people in person again, to experience great art and to talk about it.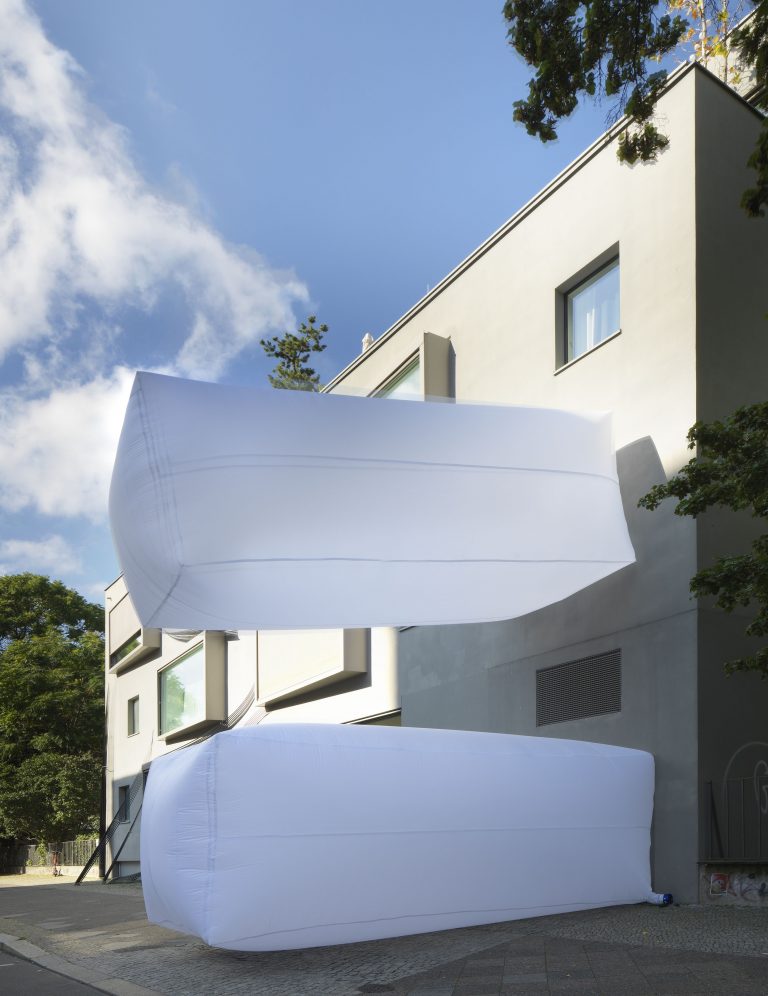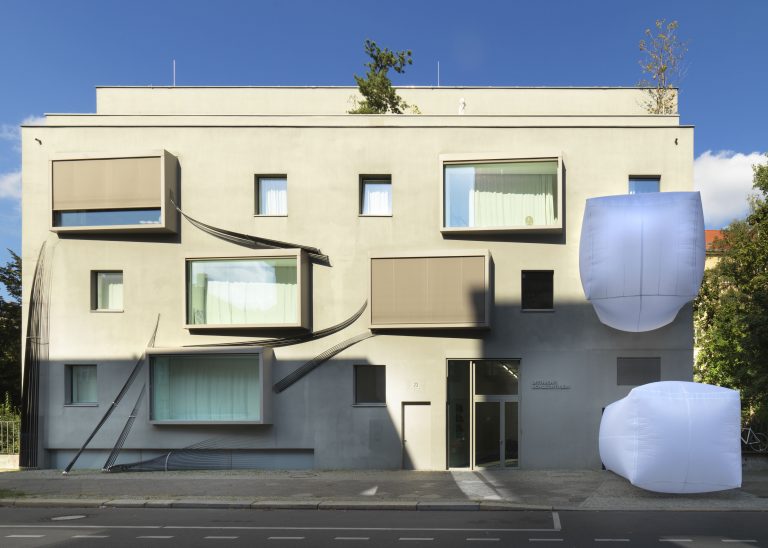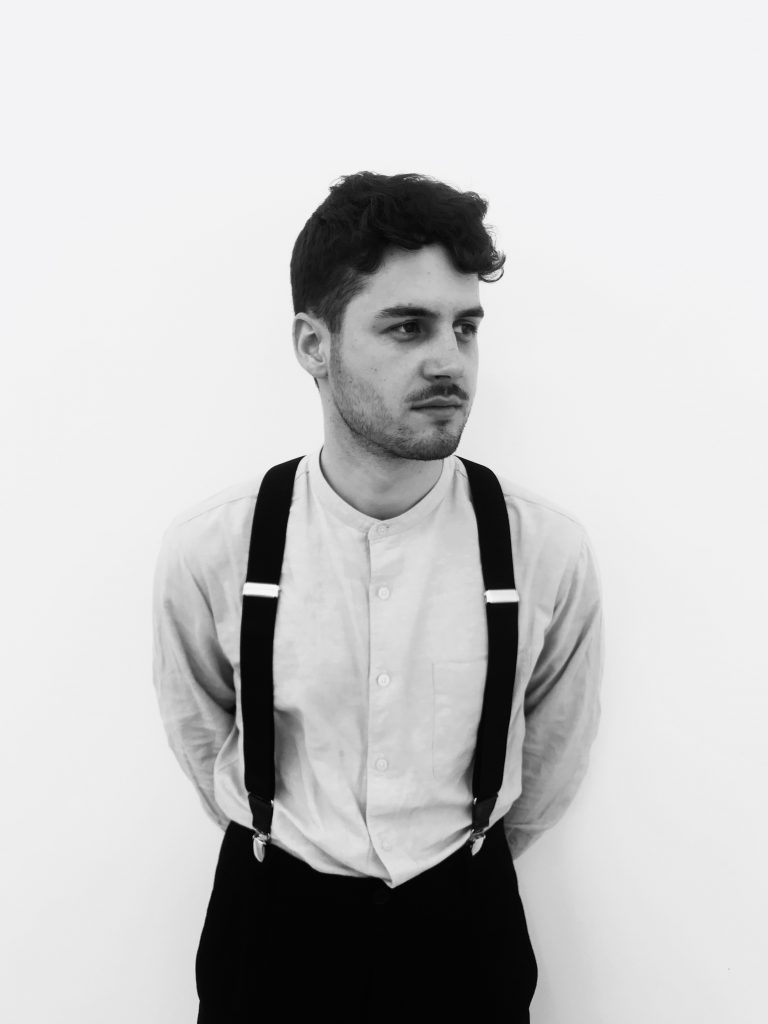 Daniel Hölzl was born in Austria 1994. He studied Fine Art / Sculpture at Kunsthochschule Berlin Weißensee since 2016 and was an exchange student at UAL Chelsea College of Arts London in 2019. Currently he is living and working in Berlin and was recently the Mart Stam / Deutschlandstipendium scholarship recipient 2020/2021.