At Gallery Weekend *Discoveries, KÖNIG Galerie will also focus on aspiring artists. In the former church of St. Agnes in Kreuzberg, the MISA DISCOVERIES will show young artists who have hardly been seen in Germany so far, but who have already attracted international attention with their paintings. Here we are taking a look at US-artist Ana Karkar.
Gallery Weekend Berlin  Where do you come from ,what should we know about you and your background?
Ana Karkar  I'm from San Francisco, California. Mom is Korean, my father Palestinian.  I came to Paris when I was about 18, and spent most of my 20s working in digital media and image production for a major fashion house.
GWB  What was the inspiration for your current body of work?
AK  This body of work was a prelude in the way I would like to create a series of paintings as a phrase to tell a bigger story: German photographer Karin Szekessy (b. 1938) – you will find her in there. Dario Argento is also an influence for use of contrast with color and subject matter and his use of outlines on some of his characters.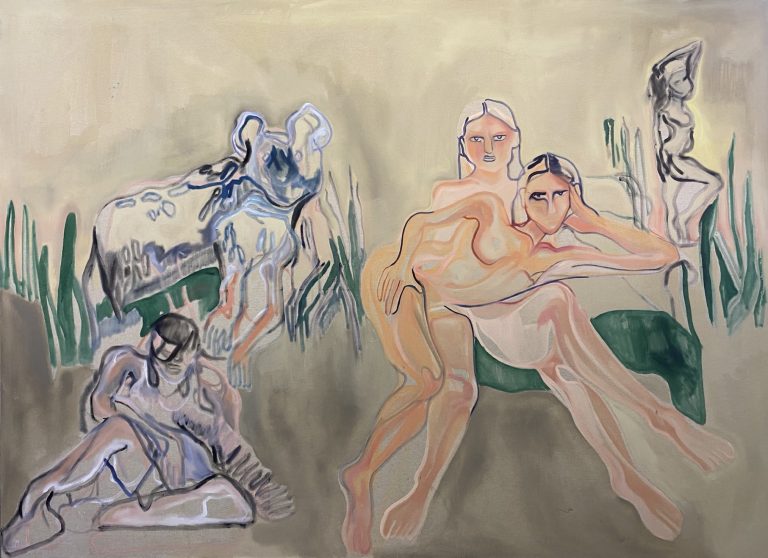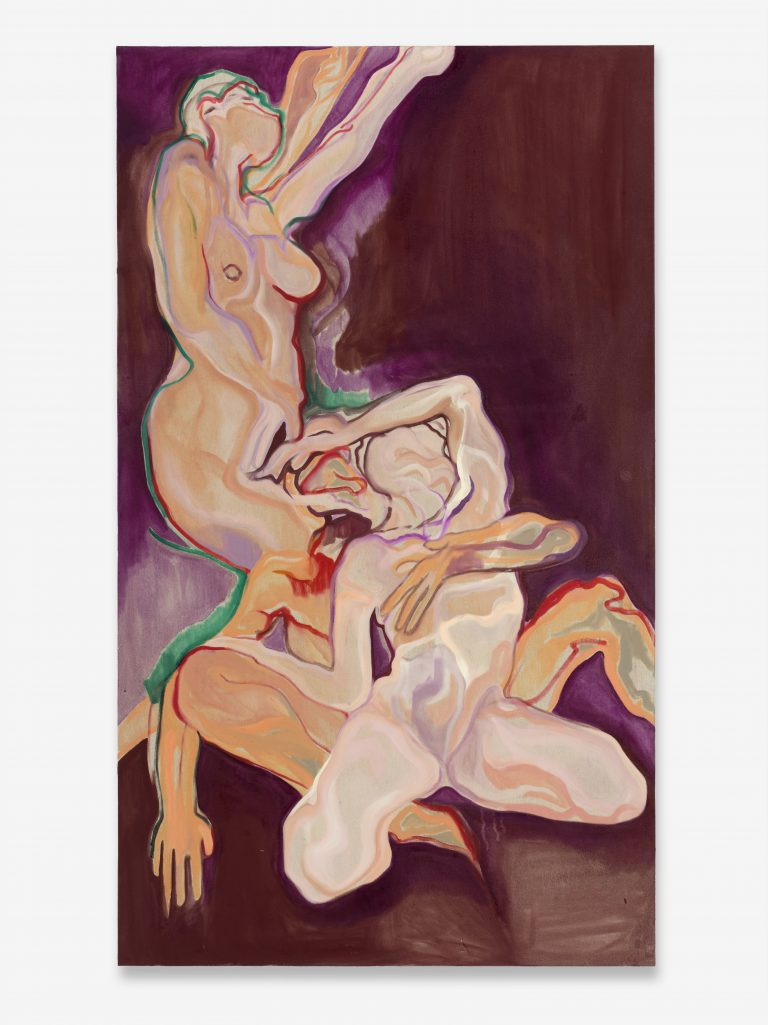 GWB  Could you describe your upcoming exhibition in a few words ? What can we expect to see?
AK  I will go more in depth with Suspiria, escalate intensity of color, and involve hieroglyphics. Some other ideas, I'd rather not say for now.
GWB  Are there any particular visual / literal references you like to point out?
In Stanley Kubrick "Eyes Wide Shut", there is a scene where two women are sitting overlapped in the masked ball. The painting "Gemini" reprises in a much lighter tone. 
"Freak on a Leash" is named after the 1998 Korn song. 
The woman featured in the painting takes the posture of a more classical odalisque. It made sense for me to overlap and remix Jonathan Davis's lyrics and emotional charge with the composure of this subject. 
GWB  How does our show sound like? What is the soundtrack of your exhibition?
AK  The MISA Discoveries show sounds like Tove Lo "Talking Body" Gryffin Remix. My work in it sounds like Haelos – "the Sun Rising".
GWB  What makes it special for you to exhibit in Berlin for the first time?
AK  I really love Berlin, in many ways it reminds me of San Francisco the way it used to be. When I'm there I feel like weird is totally ok.
Ana Karkar – born in San Francisco, USA, in 1986 – lives and works in Paris, France. From 2002 to 2016 she studied in San Francisco, Paris and London.
Having grown up looking at screens of all kinds, Karkar integrates film, television and music video sequences, and found images into her paintings. Her works depict the human form, suggesting a return of the soul to the body. They are a mise-en-scène of the body, even though if it has been assailed and reconfigured by external forces of the world. Her portraits of women can sometimes seem particularly overwhelming. Karkar possesses the fundamental means for presenting material in its full form. Authentically, hauntingly, cruelly, yet peaceably – all at the same time.