The Summer without Spectators
by Nora-Nele Heinvetter
In 2017 Nora-Nele Heinevetter has initiated TROPEZ, a space for art inside the public pool Sommerbad Humboldthain, which at the same time is kiosk, serving the best fries in Berlin. For Gallery Weekend Berlin she writes about the peculiar situation during this summer and how she managed to make the necessary move of this years exhibition into the internet as much fun as possible.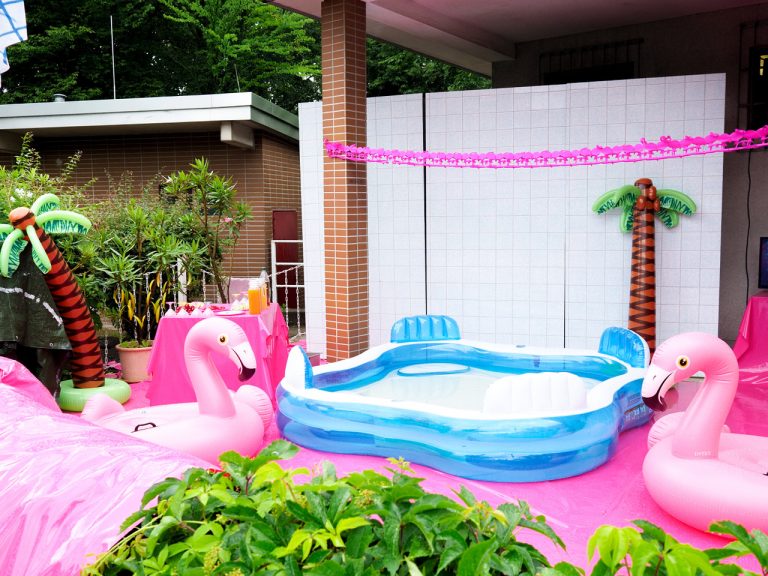 TROPEZ is located at an outdoor pool because we love the mix of people. This is where families and artists, hipsters and pensioners, young people and competitive swimmers meet, share the pools and green spaces, and frequent our kiosk. Because we don't just bring art to the Sommerbad Humboldthain. We also provide our audience with fries, or to be more precise, the customers at our kiosk are also our audience—or at least they normally are. This year, however, there will be no long queues in front of the entrance or the kiosk, no human soup in the swimming pool, no sunbathers lying side by side. The Sommerbad Humboldthain can only admit just under 350 visitors at a time, instead of the usual thousands. Entrance tickets must be purchased online, usually days in advance. Children and families with many children and young people have therefore become a very rare sight. An idyllic or—in my opinion—eerie peace reigns. We miss our audience.
At first it was said that the outdoor pool would not be able to open at all. So we moved to the internet. Our group exhibition REALITY is online: the invited artists—Salim Bayri, Barbosa, Damjanski, Chieko Idetsuki, Line Finderup Jensen, Lindsay Lawson, Elif Saydam, Sung Tieu, Philip Wiegard, and Miriam Yammad—have created wonderful games and videos, because we believe that art and culture should above all be fun. But we are also online: TROPEZ TV, our new livestream, broadcasts whatever is or isn't happening at TROPEZ live from our terrace, twenty-four hours a day. If there is an event, the performers and authors appear against the reduced background of a tiled wall. A few chairs are placed in front of this, spaced 1.5 meters apart, in case spectators stray into the outdoor pool. But we have also found that our online audience is not much bigger. The technical implementation of the live streams is demanding; what works for static readings is much more difficult for performances. Contemporary Cruising, an archive for performance art founded in 2014 that developed the performance series Contemporary Cruising Live for us this summer, produces their videos in advance before they are broadcast. But there are also many wonderful moments, such as when we see ALL the parents watching their children on TROPEZ TV at the children's art workshop with the artists Bitsy Knox and Viviana Abelson. Or when we imagine how the dry swimming lessons on stage by author, artist, and ex-swimmer Anna Szaflarski will "sound" afterwards in the podcast.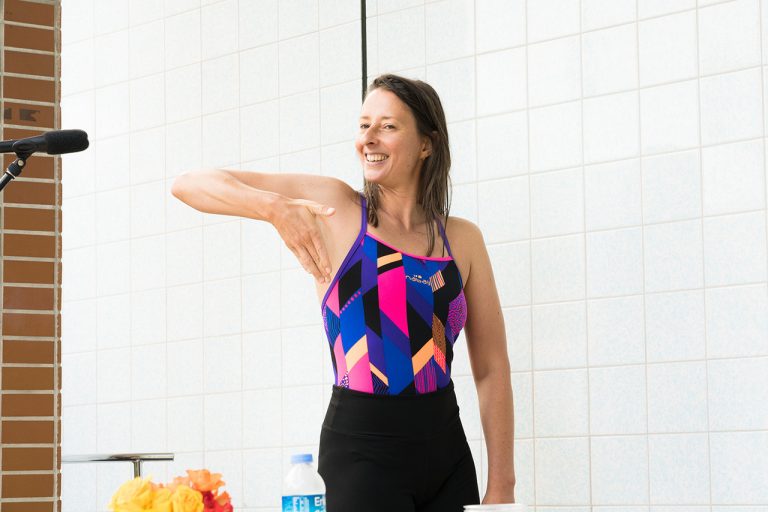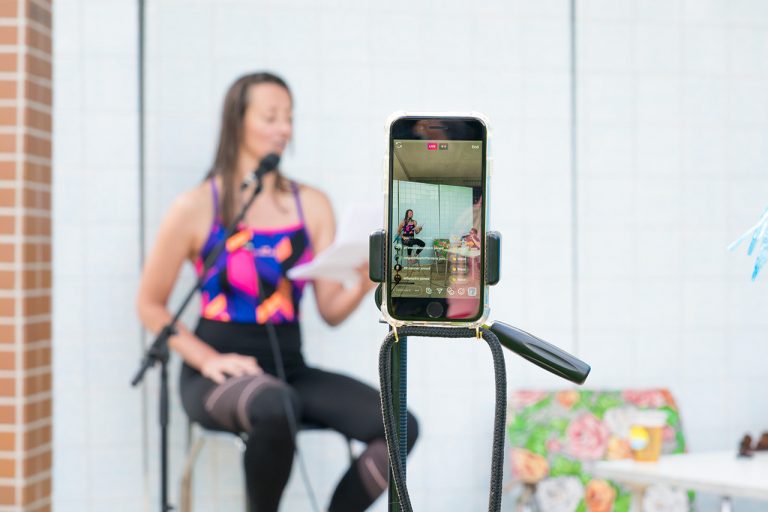 Ironically, our loneliest summer yet will also be our most enduring: the artistic contributions will continue to be viewed and played after the outdoor swimming pool season is over—including the podcast Empathy When, produced in collaboration with the publishing house Broken Dimanche Press, the videos produced by Cruising Contemporary, and numerous other audio and video contributions created during the performances and children's workshops. Our fifth anniversary next year will have the motto Touche-Moi! and we desperately hope to be able to have a physical audience once again.