Richard Deacon
Fourfold Way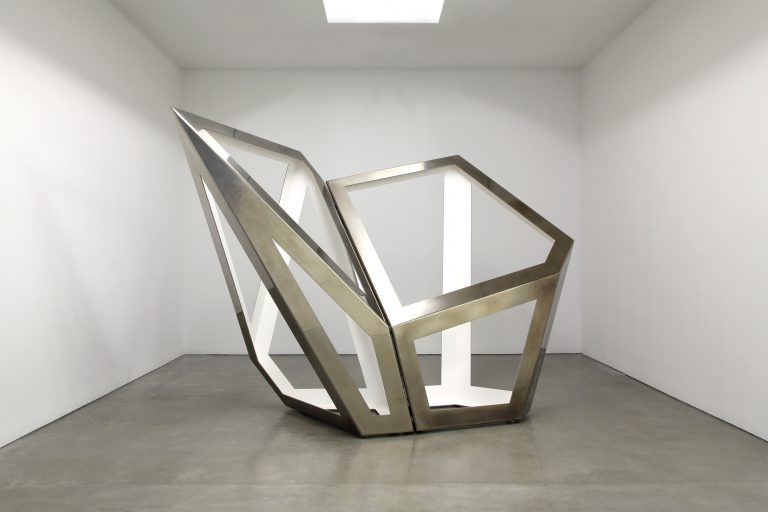 Galerie Thomas Schulte presents new large-scale stainless-steel works by Richard Deacon. The two sculptures, both titled Fourfold Way, are the latest in a series of complex, perspective-shifting skeletal frameworks that the British sculptor has been producing since around 2008.
Deacon, who refers to himself as a 'fabricator', is known for his use of a wide range of materials—from wood, marble, and stainless steel to foam, clay, and leather, among others. In Fourfold Way, he employs stainless steel once again; folded sheets are adjoined into abstract forms comprising irregular polyhedra. The objects' constructedness is palpable in the final works—their seams remain visible. In Deacon's sculptures, in fact, screws or glue used to attach and hold materials together are often left exposed, describing where and how the material has been acted upon—its precise relationship to form.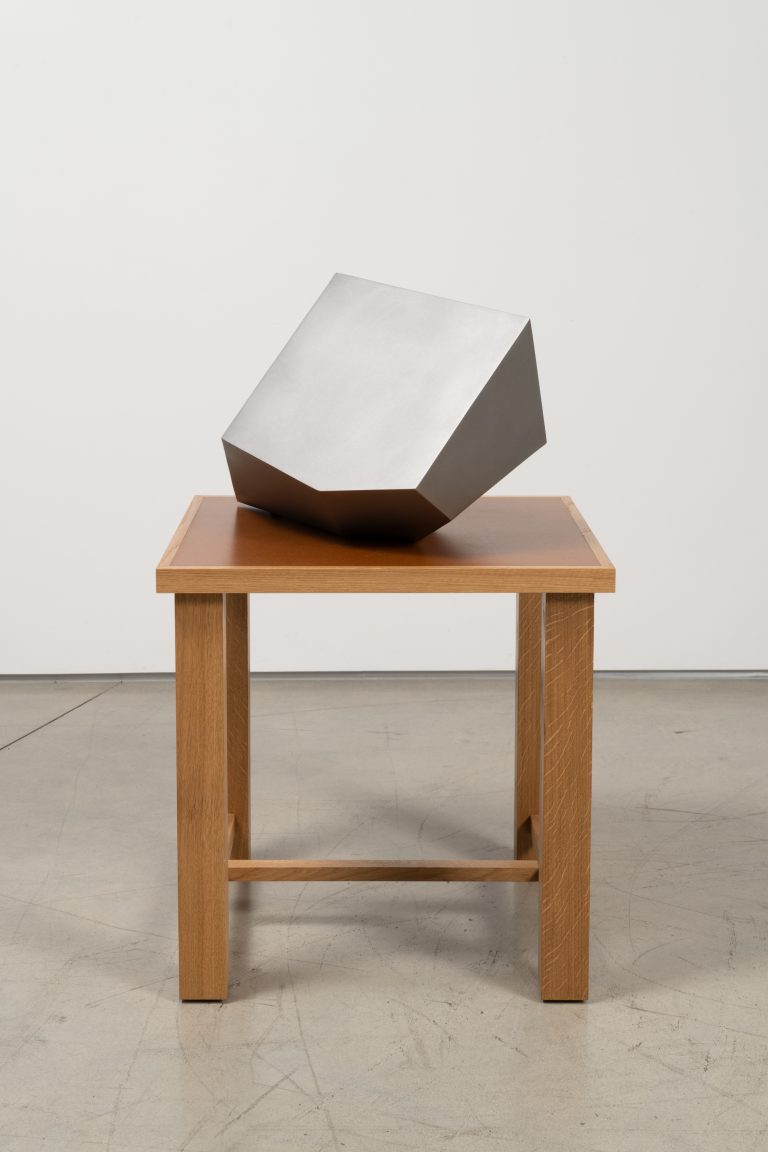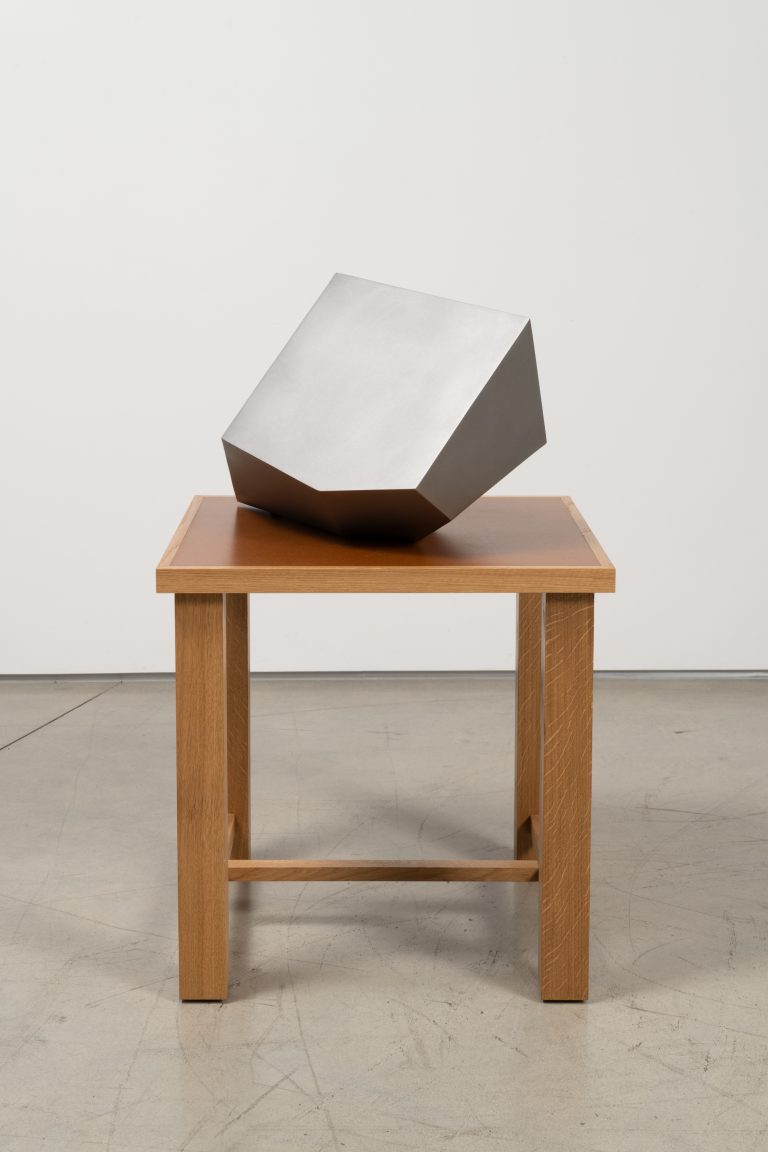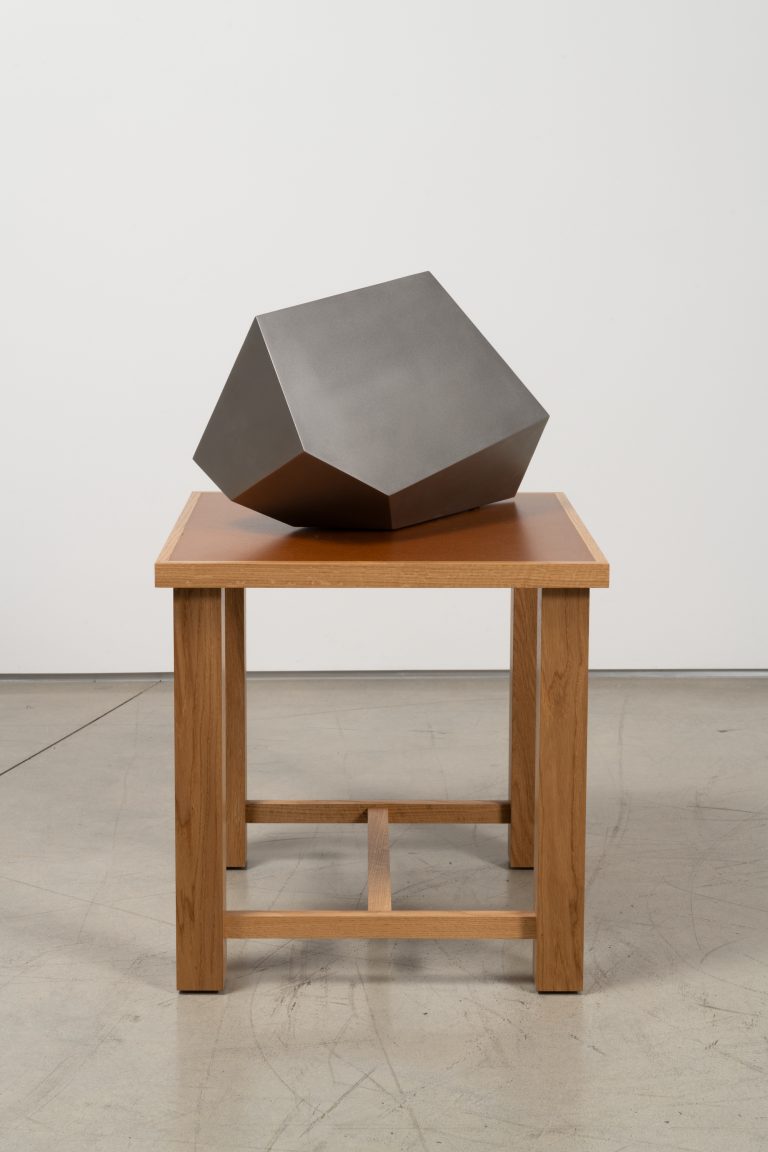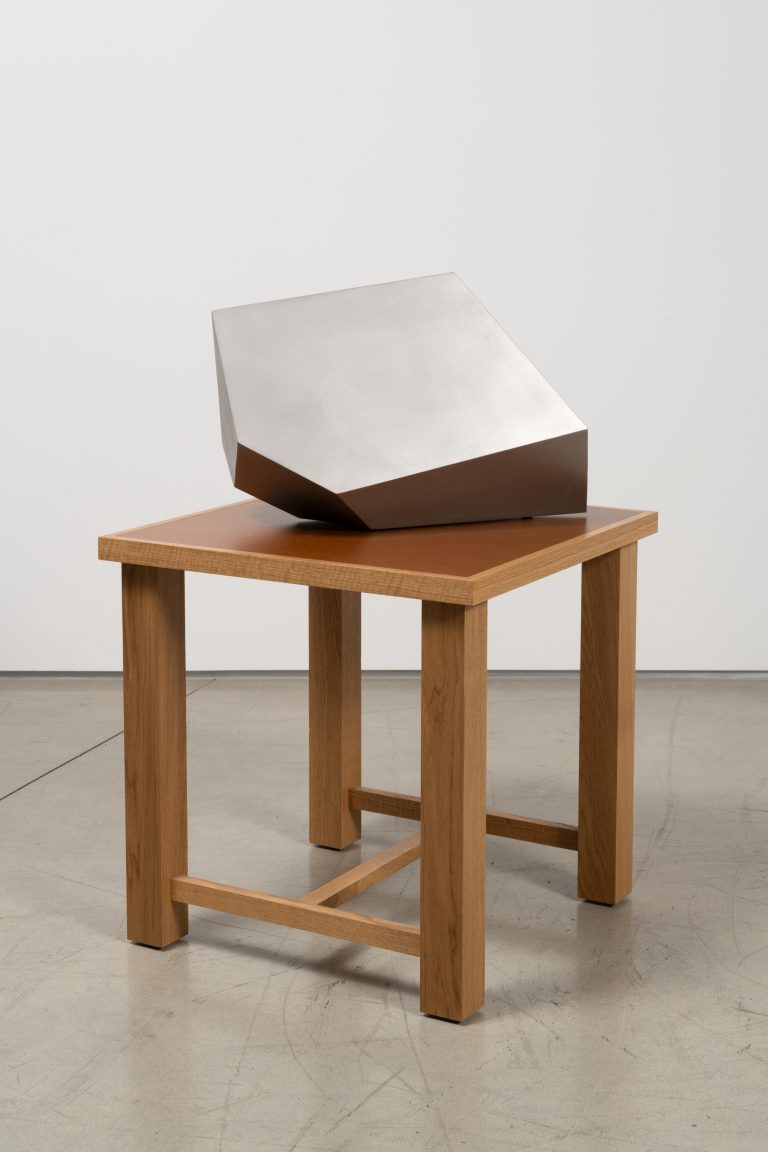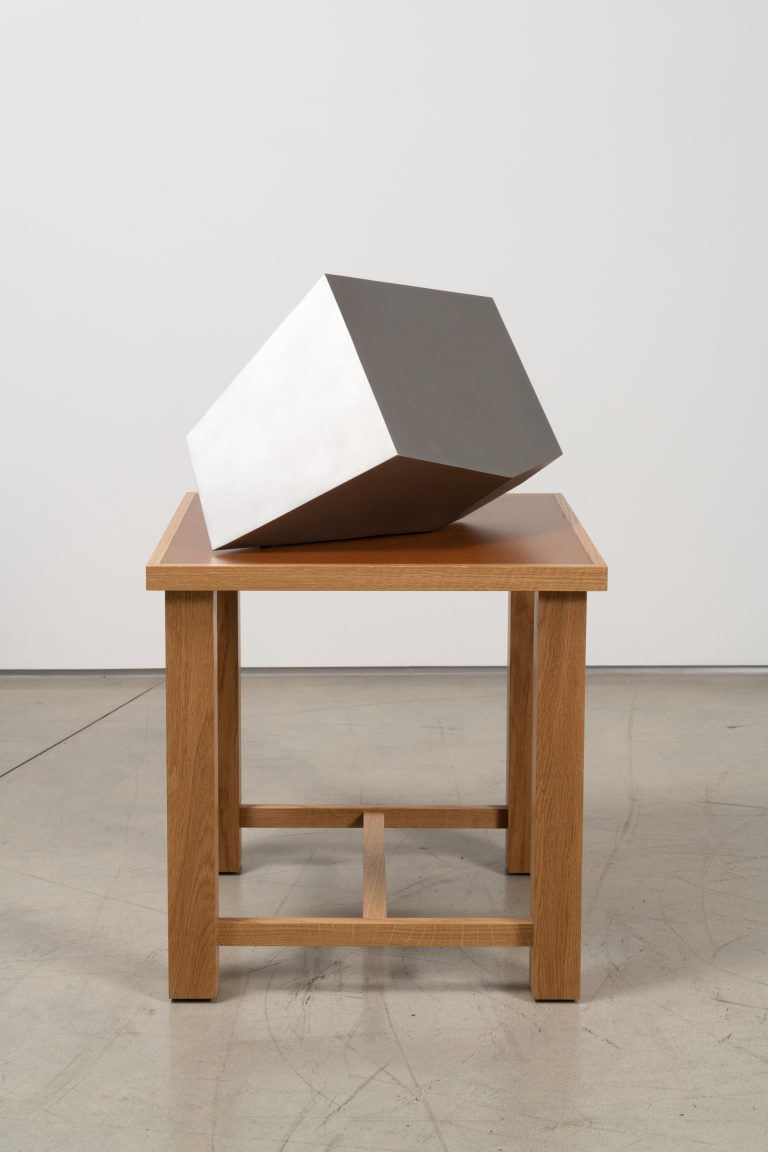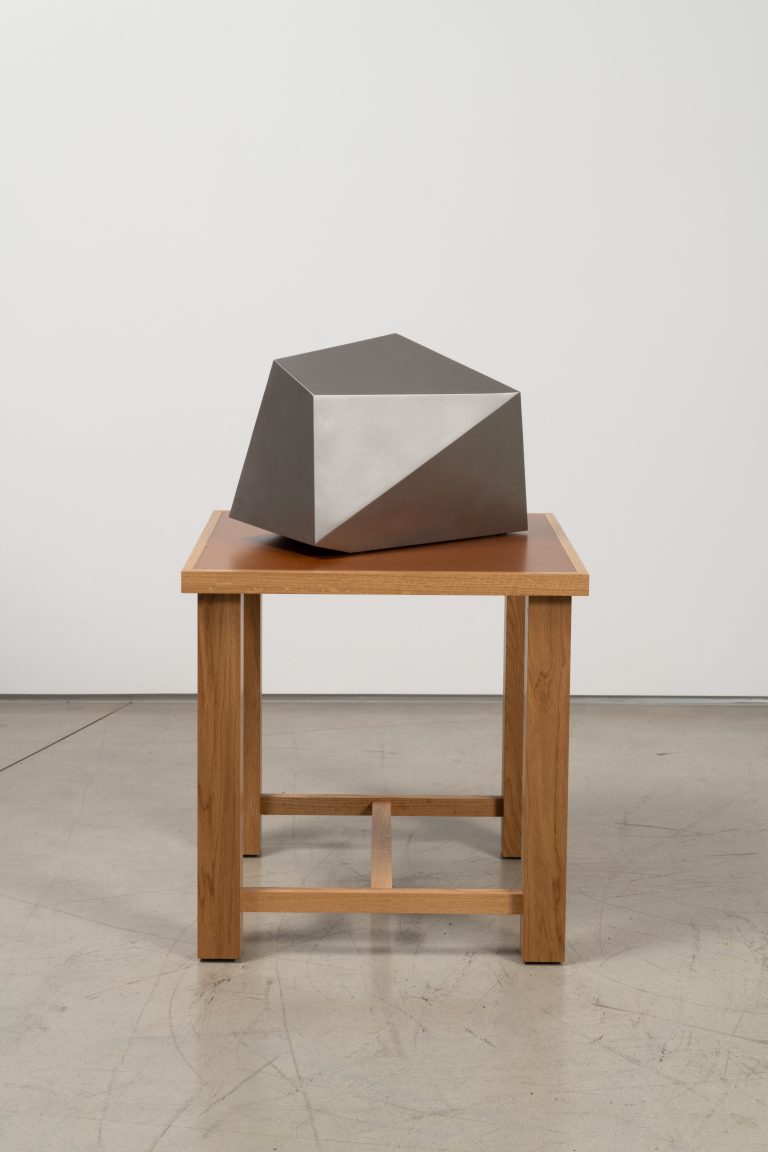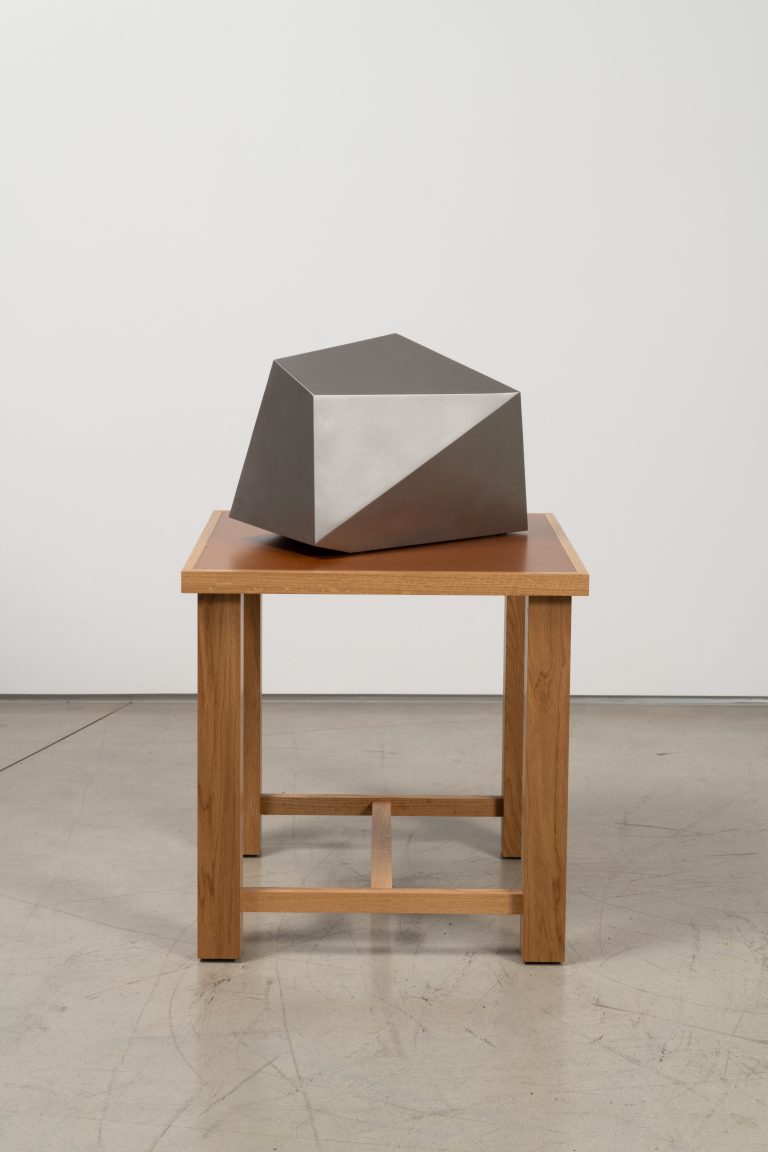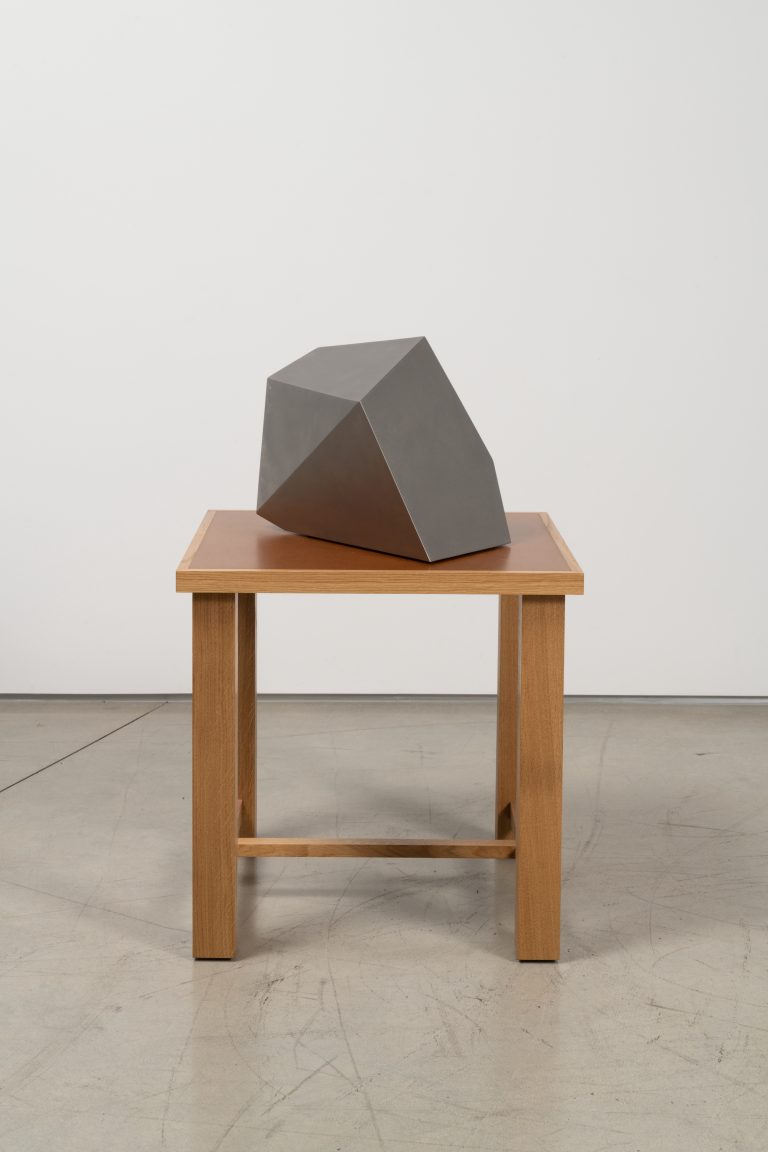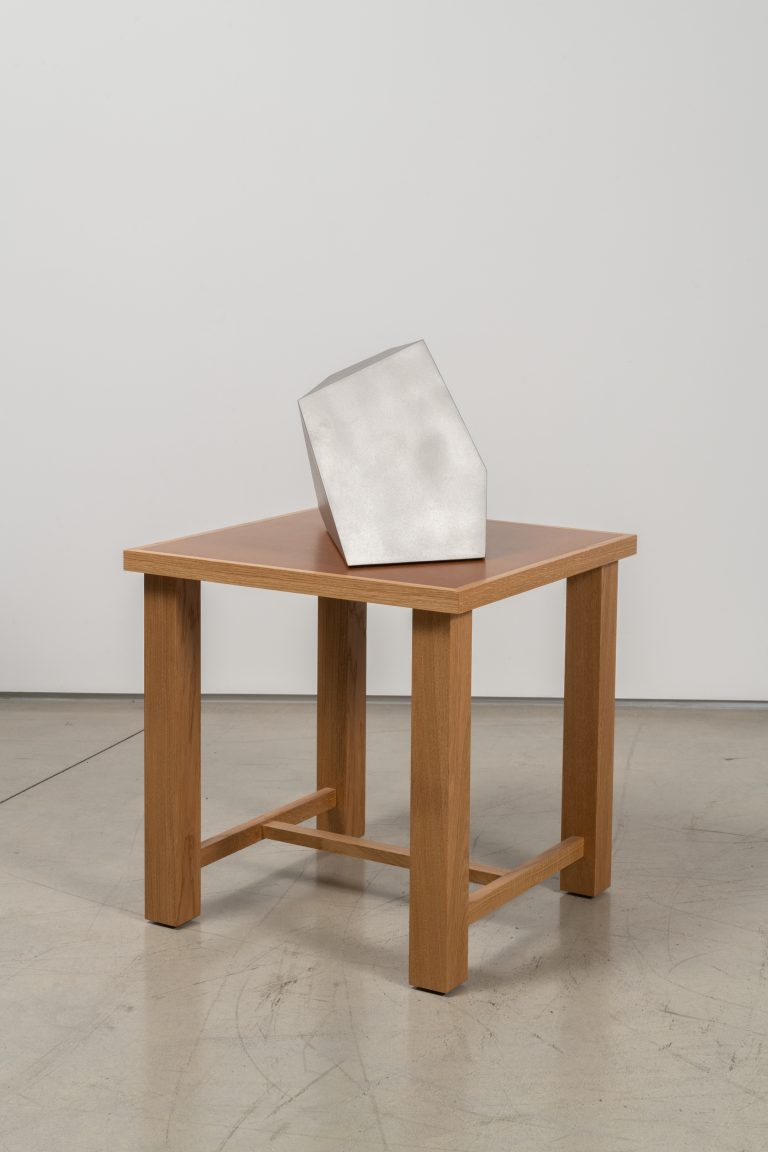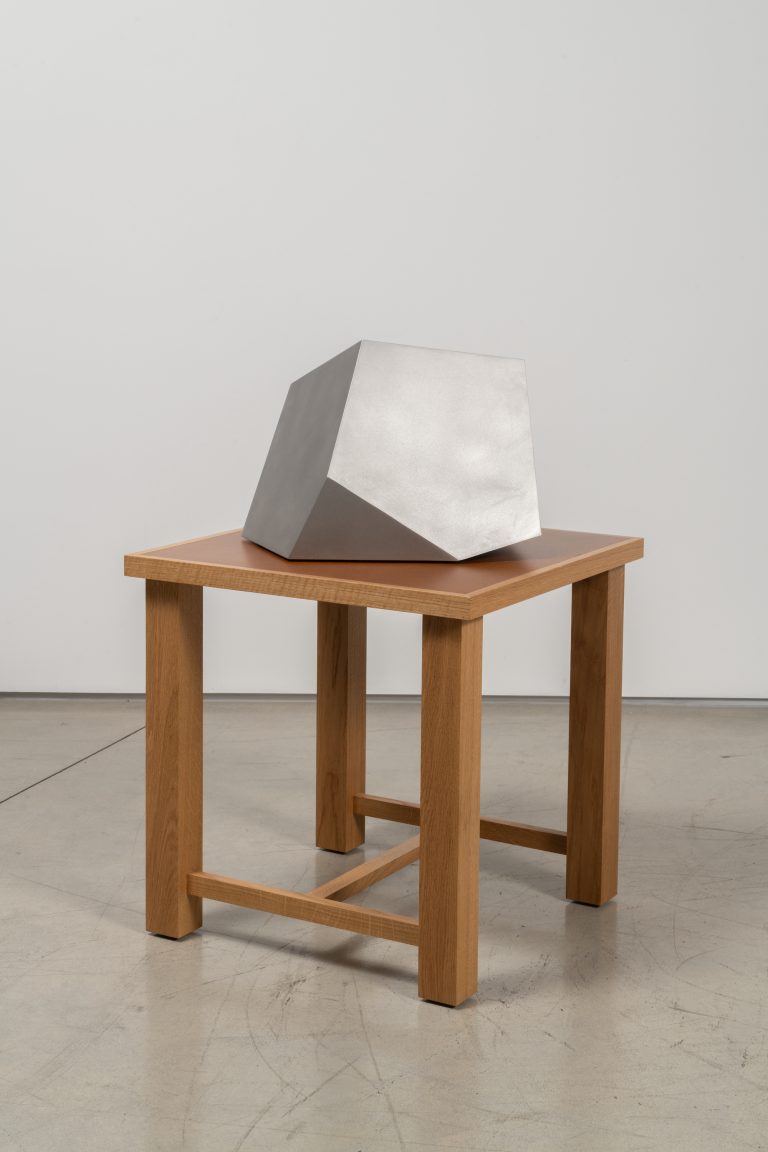 In tandem with this emphatic materiality, language, for Deacon, also plays an integral role. The titles of his works often reference or play on clichés and familiar phrases. They are ambiguous, like the abstract structures themselves. Fourfold Way, for instance, may at once refer to the series of folds in the stainless-steel sheets that produce the forms, or a path branching off in four directions.
Deacon has said that the skeletal frameworks developed from ceramic works in which he had hollowed out lumps of clay—starting with the material and taking some away. In reference to another series of small-scale sculptures titled Art For Other People (which he began in 1982 and for which he has used a variety of materials), he has remarked that, "Most are built around a material that isn't there."[1] This interchange between working from the outside-in and inside-out, between positive and negative space, is visualized in large-scale stainless-steel frameworks like those in Fourfold Way. Fluctuations between inner and outer space, as well as the objects' cast shadows and surface reflections, together with their modular-seeming construction, lend them a certain malleability—a mutating appearance.
Painted on the inside, their material—stainless steel—mutates, too—further underlining the relationship between interior and exterior through changes in texture and surface quality. Such dichotomies also extend beyond the individual works, as one is painted white inside, and the other black—forming a contrast between light and dark. While one sculpture is squatter, more compact, the other rises up sharply, almost cathedral-like. The two remain separate, and, at the same time, suggest parts of a larger whole.
Indeed, taken together, the sculptures may evoke embodiments of cosmic duality, or else architectural structures, networks, a pair of enigmatic entities. They are an open yet substantial presence in the space of the gallery: fluid, prone to shifts, though precisely articulated. Like opposite poles, they engage one another—in the process, pulling their surroundings, and us, into a field of rhythmic exchange.
—Text by Julianne Cordray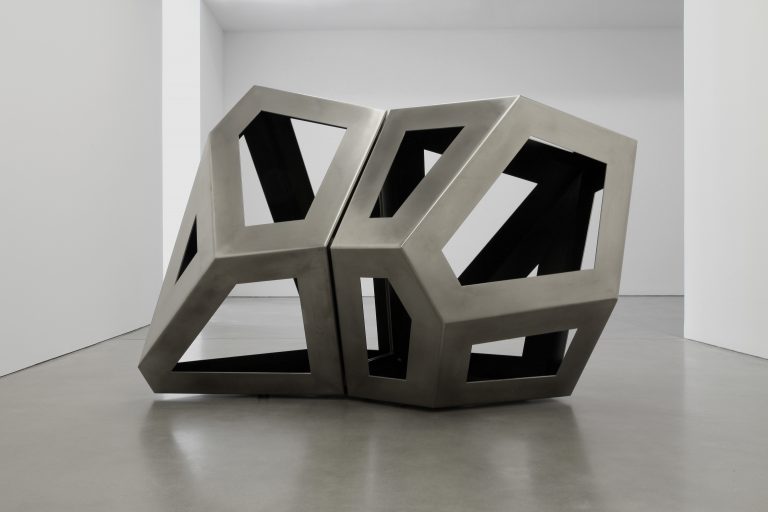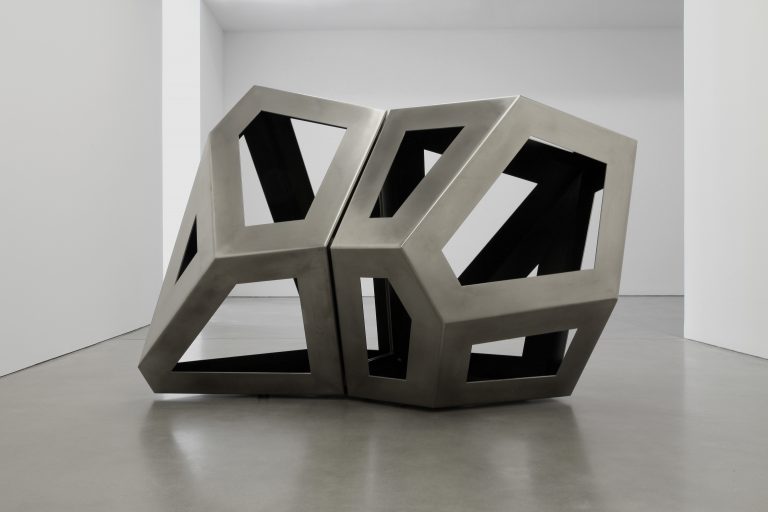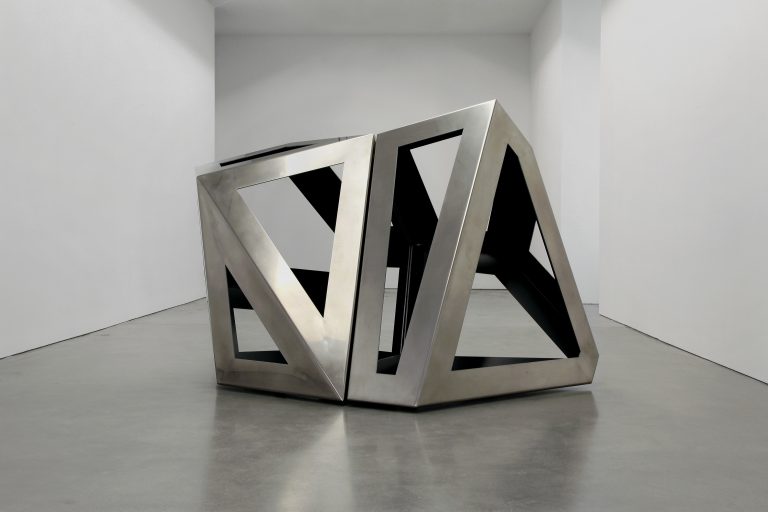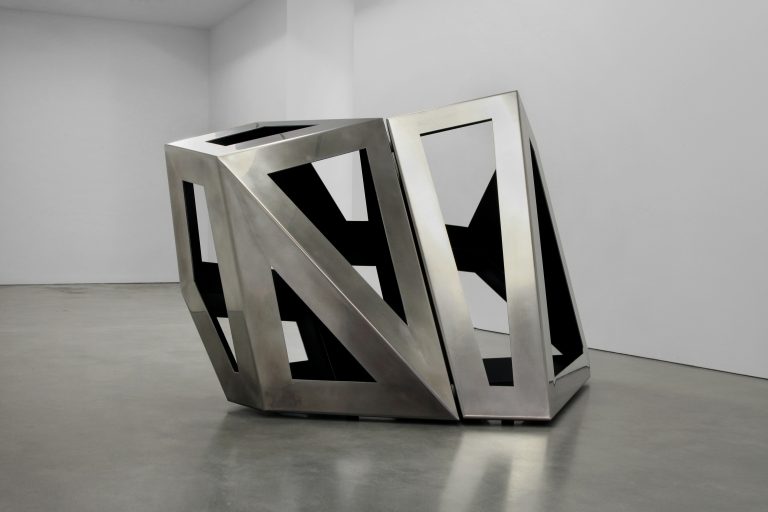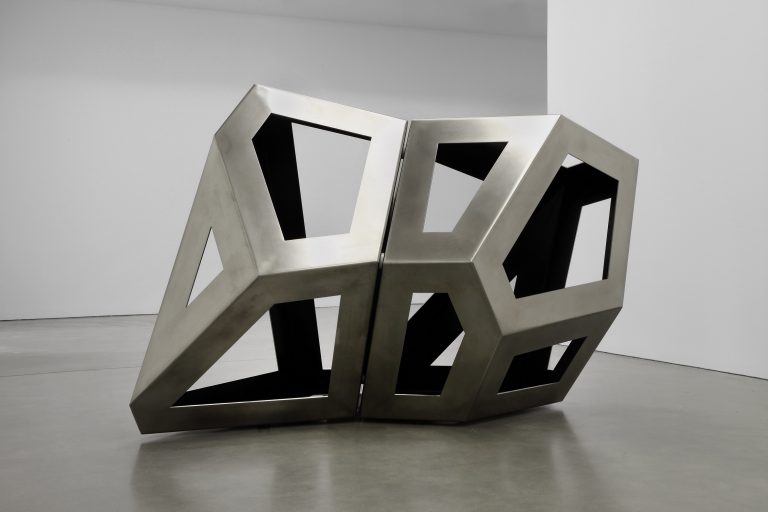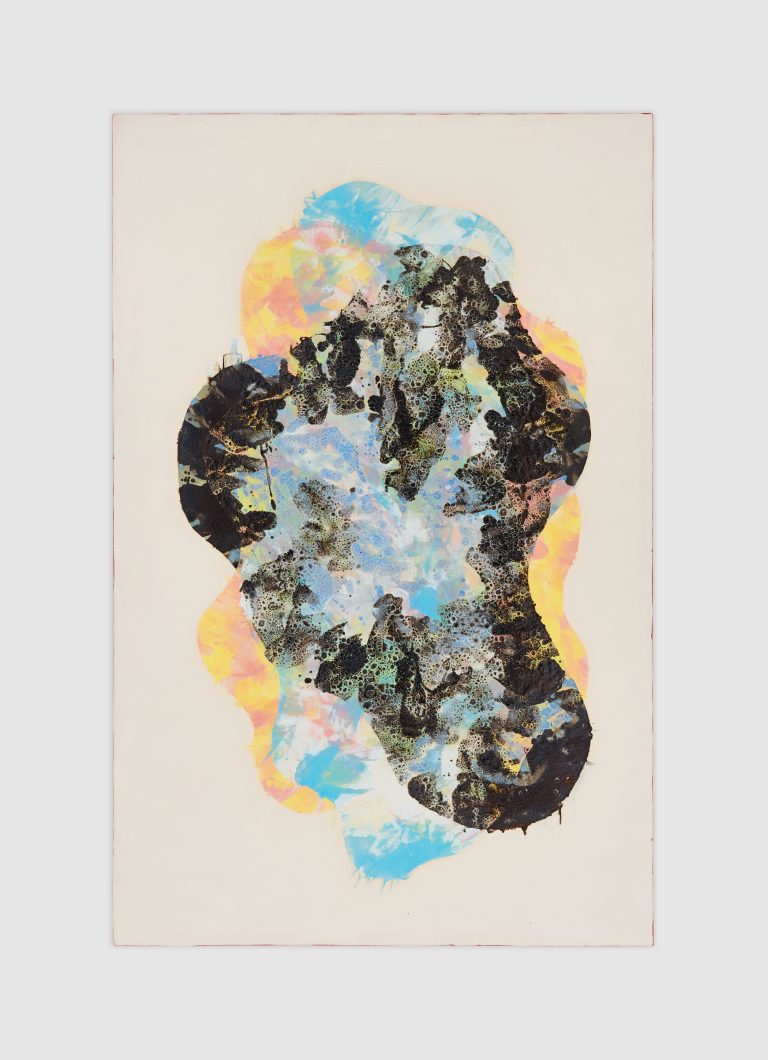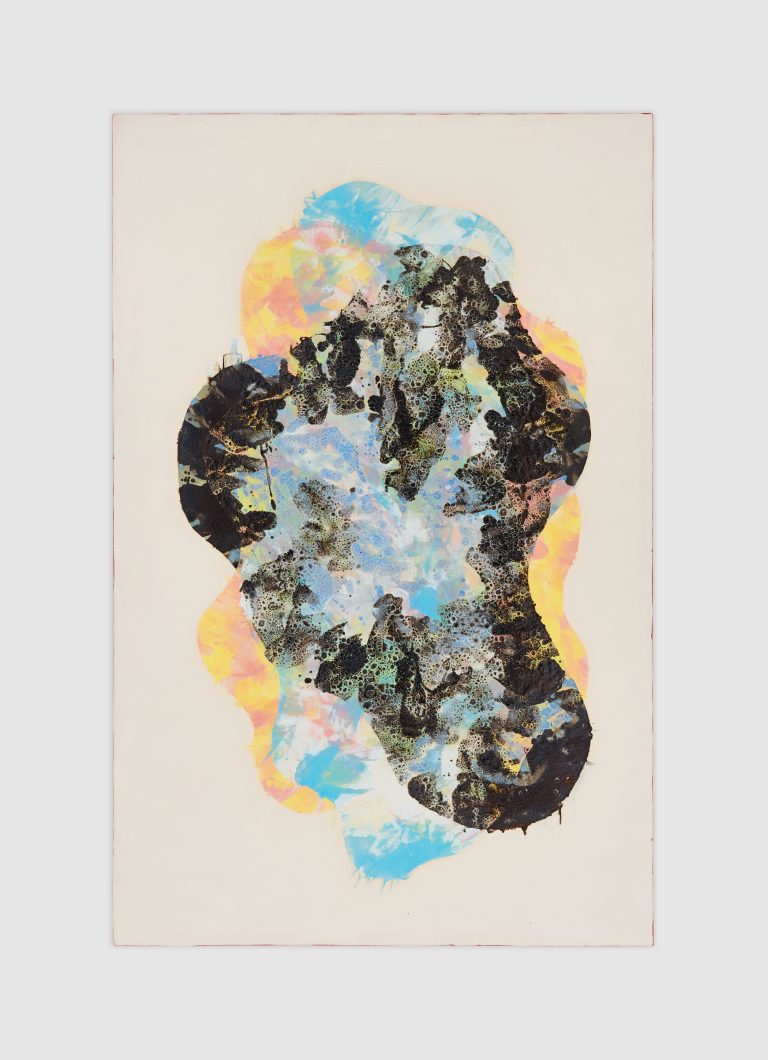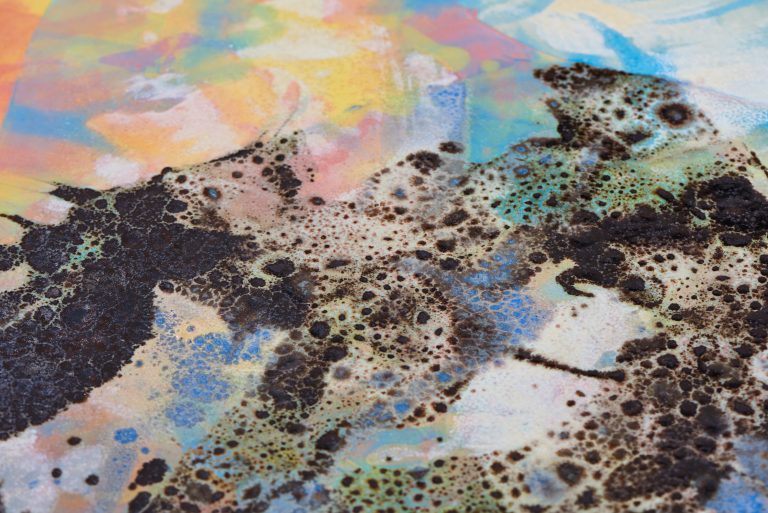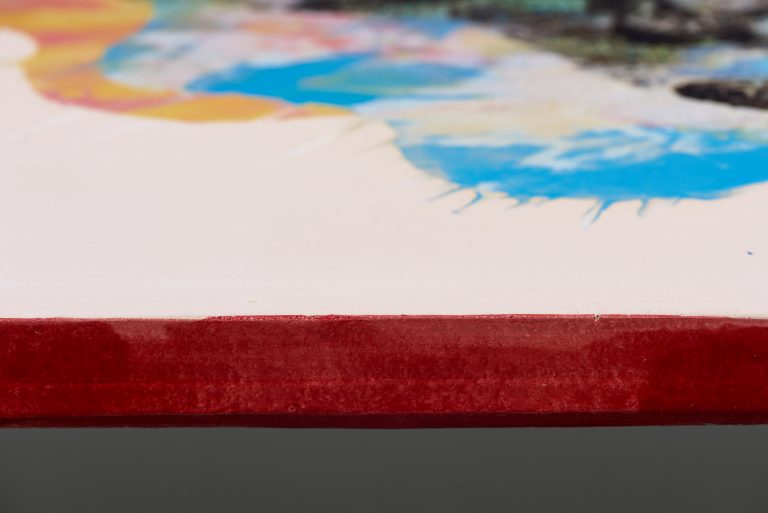 The exhibition is supported by Stiftung Kulturfonds/NEUSTART KULTUR.
Richard Deacon was born in Bangor, Wales, in 1949 and lives and works in London. He received his training at the Somerset College of Art in Taunton, St. Martins School of Art, Chelsea School of Art and the Royal College of Art in London. He is the recipient of the Turner Prize (1987), the Ernst Franz Vogelmann-Preis (2017) and the Will-Grohmann-Preis (2004). In 1996, he has been made Commander of the British Empire and in 1998 he was elected a Royal Academician. The Akademie der Künste in Berlin elected him as a member in 2010. He has held professorships at the Ecole Normale Supérieure des Beaux Arts in Paris and the Kunstakademie Düsseldorf. In 2007, he represented Wales at the Venice Biennale. He participated twice in Skulptur Projekte Münster (1987; 1997) and took part in documenta 9 in 1992. Recent solo exhibitions include Kurt Tucholsky Literaturmuseum, Schloss Rheinsberg (2021), Prague City Gallery (2017), Middelheimmuseum (2017), Langen Foundation and Skulpturenhalle Thomas Schütte in Neuss (2016), Museum Folkwang (2016), Kunstmuseum Winterthur (2015), Tate Britain (2014), the University of New Mexico Art Museum (2011), and Sprengel Museum (2011). His works can be found in leading collections including the Tate, Centre George Pompidou, Museo Reina Sofía, Kunstmuseum Basel, Staatsgalerie Stuttgart, Stedelijk Museum, Kröller-Müller Museum, Louisiana Museum of Modern Art, Hiroshima Museum of Art, MCA, Chicago, MoMA, SFMOMA, Walker Art Gallery, and the Hirshhorn Museum and Sculpture Garden.
Abraham Cruzvillegas
Unbetiteltes Tautologisches Selbstportrait, 2021
Galerie Thomas Schulte is very pleased that Abraham Cruzvillegas has accepted the invitation to realize a new site-specific work for the gallery to first be presented during Art Week Berlin 2021. The colorful installation Unbetiteltes Tautologisches Selbstportrait stretches across the two nine-meter high walls of the Corner Space and consists of boxes of shapes and sizes the bottoms of which are painted in thirty-four different color hues.
In his installations and sculptures Abraham Cruzvillegas often uses found or discarded industrially produced, simple, everyday objects. In preparation for his installation at Galerie Thomas Schulte, the artist asked the gallery staff to collect and accumulate all kinds of empty packaging. The various boxes made from cardboard, paper or wood range, for example, from shoe and egg cartons to cereal, chocolate, pizza and instant rice boxes, household appliances packaging, soap and detergents, make up and beauty products boxes, wine and champagne boxes, and six-packs for beer and soda, along with many of the products that the gallery and its staff had consumed over months. The bottoms of the boxes have been painted in thirty-four different colors, using a color system which the artist first used in his contribution to documenta in 2012.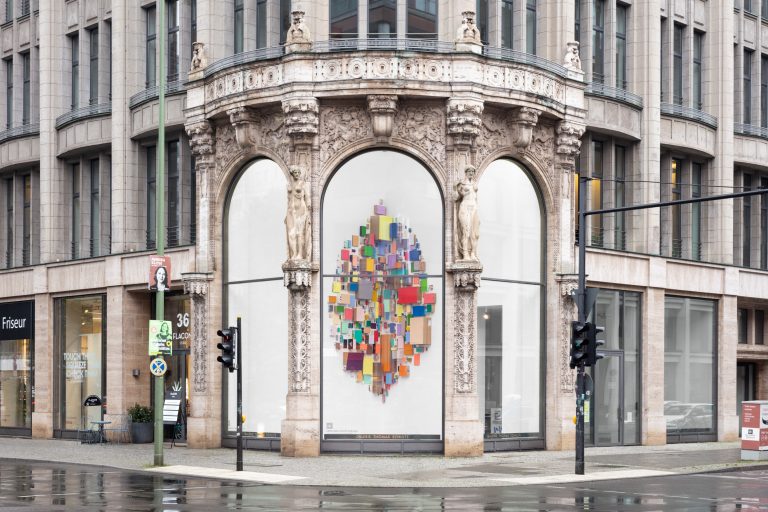 In Cruzvillegas' color scheme, every color stands for a specific idea, intention or quality that has been a constant in the artist's work over the past decades and relates to his ongoing series of projects and artistic practice, which he calls "autoconstrucción." The term is appropriated and originally describes the self-building methods of communities like the artist's family, who build new homes on the outskirts of Mexico City by handling, collecting and recycling everyday materials. Autoconstrucción therefore describes a cultural practice – the collective dynamic of accumulating and appropriating found objects to construct shelter and housing – and speaks of scarcity, necessity, improvisation, inventiveness, solidarity, and chance, with a focus on craft and manual processes – all of which are qualities that also underpin Cruzvillegas' practice: "Autoconstrucción means transformation to me. I apply the notion to houses being both built and destroyed simultaneously, according to the specific needs of their inhabitants. Change is the rule for the Autoconstrucción houses, and transformation of identity is behind my approach (or misuse) of the concept: self-construction is permanently unfinished."
Cruzvillegas' work for Galerie Thomas Schulte is site-specific in two different ways: not only has the final minimalist and grid-like assemblage of the boxes been fitted to the dimensions of the physical space, but the materials gathered for the installation also reflect the consumer behavior of the people who work there. Unbetiteltes Tautologisches Selbstportrait can thus be seen as consumerist critique and at the same time it is a reflection on the nature of collaboration, exchange, and identity. To Cruzvillegas, the personality of a person is shaped by all her relationships and encounters with other people.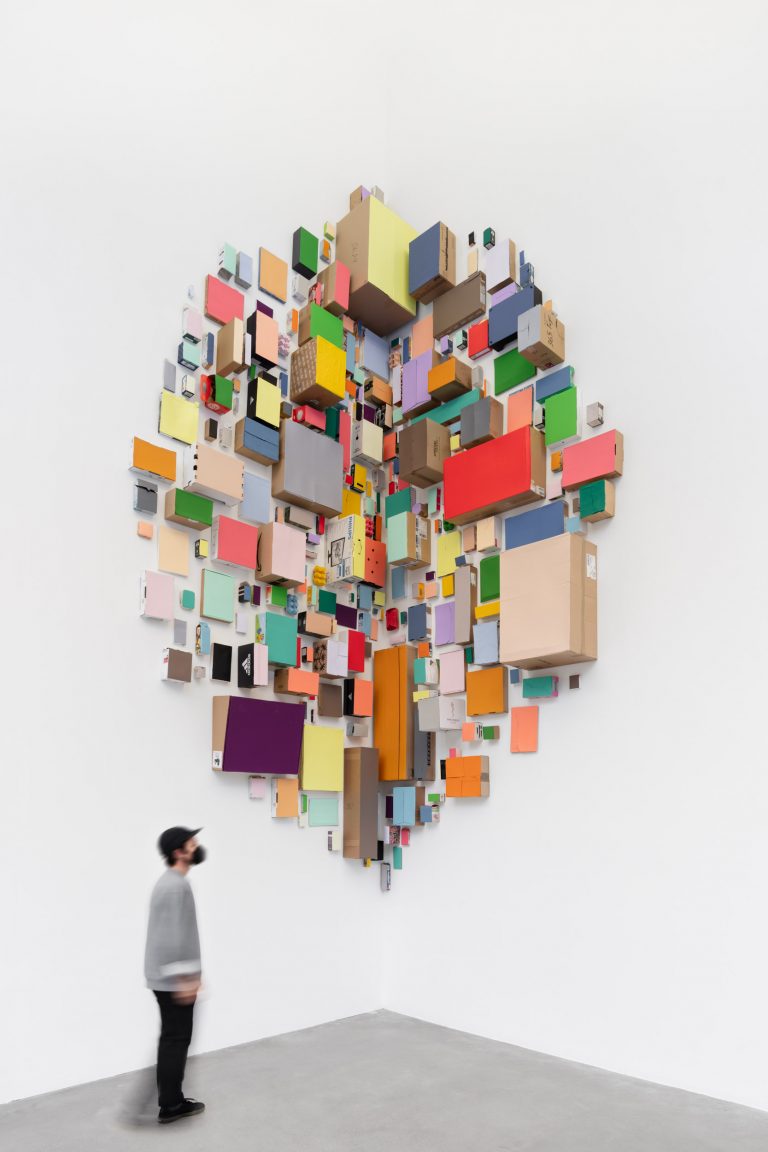 The exhibition is supported by Stiftung Kulturfonds/NEUSTART KULTUR.
Abraham Cruzvillegas (born in Mexico City in 1968) is an artist whose wider-ranging oeuvre includes sculptures, paintings, drawings, installations, and videos. Cruzvillegas himself has adopted the term autoconstrucctión to describe his own artistic practice. Autoconstrucctión is a term used to describe the process of people improvising self-constructed homes built from found and recycled materials. In 2019, he was pedagogical curator of the 14th Media Arts Biennial Chile in Santiago de Chile (2019). In 2012, he was awarded the 5th Yanghyun Prize in Korea and the Prix Altadis d'arts plastiques, France–Spain in 2006. He was artist in residence of the DAAD Artist Residency program in Berlin (2010), the CCA Wattis Institute for Contemporary Arts in San Francisco (2009), the Cove Park Artist Residency of Scotland (2008), the Smithsonian Institution in Washington D.C. (2008), the Civitella Ranieri Foundation in Umbria in Italy (2007), and at Atelier Calder in Saché in France (2005). He participated in many important international exhibitions including Honolulu Biennial (2019), Sydney Biennial (2018), Havana Biennial (2009; 2015), dOCUMENTA (13), Kassel, (2012), 9th Shanghai Biennale (2012), 12th International Istanbul Biennial (2011), 6th Seoul International Media Art Biennale (2010), and the 54th Venice Biennale (2003). His work is included in the public collections of The Jewish Museum in New York, MoMA, the Walker Art Center, the de Young Museum and the Kadist Foundation in San Francisco, MOCA, the Museum of Contemporary Art Chicago, Thyssen-Bornemisza Art Contemporary Collection, the Tate, Kunsthaus Zürich, the Museum of Modern Art, Warsaw, Centre Pompidou, Centre national des arts plastiques, Paris, MUAC, Museo Jumex, and Museo Tamayo Arte Contemporáneo in Mexico City.