Juan Uslé
Norte Abierto
Gallery Openings—15 Sep 2023, 6 to 9 PM
Repetitions and variations radiate across a series of new medium-scale paintings by Juan Uslé in Norte Abierto at Galerie Thomas Schulte. Opening on the occasion of Berlin Art Week, the exhibition marks the artist's fourth solo exhibition at the gallery.
In elongated, vertical canvases comprising horizontal rows of stacked brushstrokes, Uslé's paintings are full of oscillations: gradients in a state of flux. As well as contradictions: they are paced and structured though meandering, marked by lyrical turns. The environments they open up are woven from continuous, processual paths that are nonetheless susceptible to sudden shifts, interruptions and moments of pause.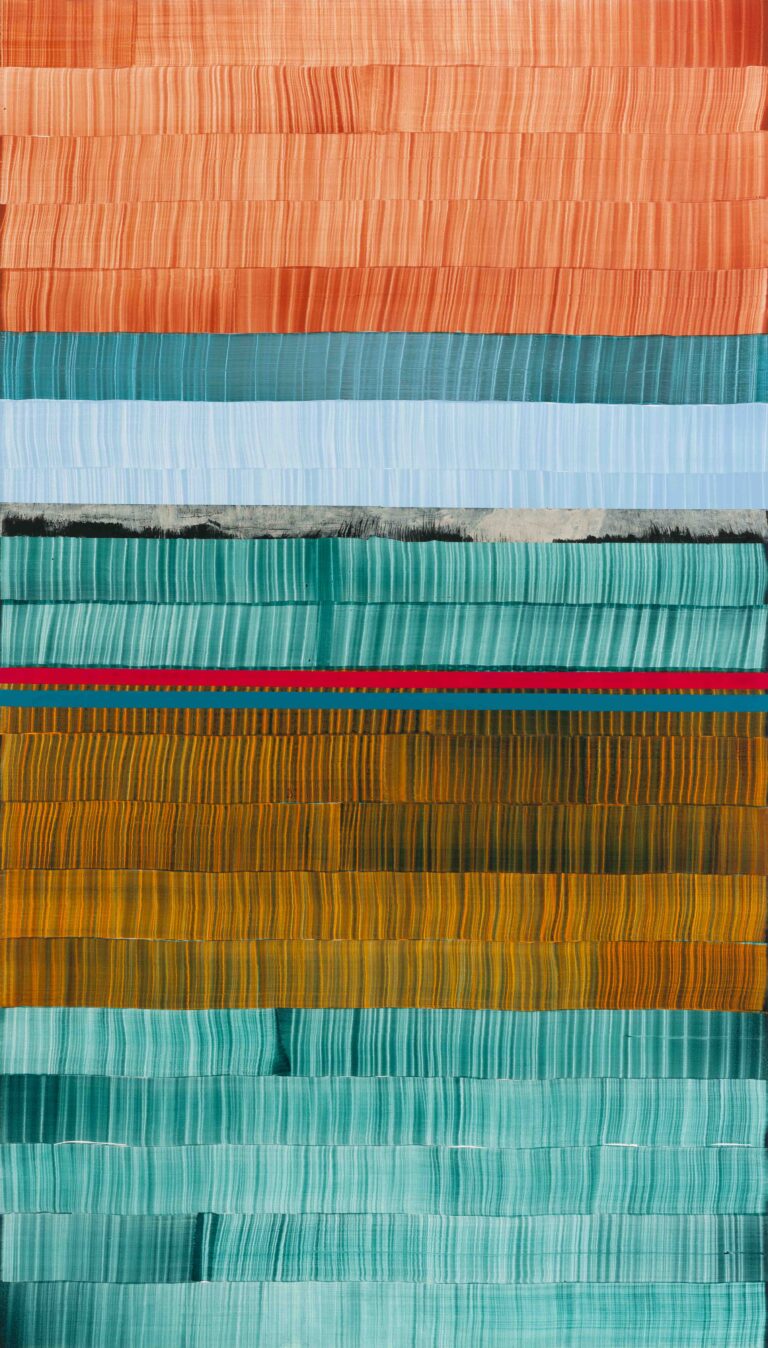 This openness and continuity filters through the works in the exhibition. Heaven adventure, for example, conjures an upward motion. A horizontal series of dark brown bars frame expanses of blue, like the rungs of a ladder, or the windows of a highrise building—towering up beyond the edge of the canvas, stretching ever taller. Perhaps we're seeing the sky, or a reflection of it against transparent glass panes. Wavering someplace between natural landscape and urban architecture, the work offers a vague orientation—further underlined by a subtle yet incongruous strip that cuts between the image's top and bottom sections like a horizon line. But even within the bands of metallic dark brown that constitute the painting's bottom third, light blue shines through in small flashes between fissures, unsettling a prescribed relationship between earth and sky.
Here, the rows of brushstrokes are fluid, gently folding ribbons that glimmer like satin and flow like waves—undulating between flatness and depth. There's an airiness to them, as though they never fully touch down on the surface, but only lightly graze it. With a translucent iridescence like crepe paper, it seems implausible that such a structure can remain intact.
It is in this sense of adventure that we find our way into Uslé's paintings—to be immersed in the experience of them. Or, taking into account the liquid character of their medium: submerged. This perception is prompted by another work in dialogue with I, titled I. The rhythms and shades of the monochromatic blue painting reach another level of depth and expansiveness, conveying a particular sensitivity to fluctuations in light and motion. Its overlapping of rows, brushstrokes and blues produce a gridlike effect in places, similar to a woven textile—complete with wobbly edges, frays, folds and inconsistencies. Once again, there is an upward motion: darker, more dense blues flood the bottom half, giving way to paler shades, light and space near the top. There's a sensation of drifting up from the water's depths to its surface, or moving from night into day. Within this expanse, small points of light appear like lens flare, and brush marks become electrically illuminated. A clash of wave-like blues again forms a horizon of sorts, here buried in the painting's bottom third.
Such horizontal movement is turned over in Tres veces más—in effect bringing moments of interference and unexpected shifts not only into individual works, but across the group of paintings as a whole. Here, the consecutive bands of brushstrokes that run vertically up and down the canvas come to resemble streets in aerial view or a cropping of skyscrapers. There are two prominent colors: deep teal and muted lavender. While bright segues into bold yellow, red and blue run under, trail off and break with the image's more or less consistent vertical edges in a cluster of slender cables. Here, the work's currents and waves become more electrically charged: both in the wiry strands of primary colors, as well as their glitchy presence. We can follow along similar lines into Ahí vivía yo, where parallel stripes of blue and red find stable ground at the painting's center. And further still, into Oculto en la belleza, a striking canvas primarily consumed by reds that flicker like static noise.
Throughout, there's a visible change in tempo that occurs, like fastforwarding, slowing down or rewinding a film. The pace and direction of Uslé's marks and the resulting light that shimmers from them take on different effects, carrying distinct emphases and intonations: at times soft, curved and sprawling, at others more tightly sequenced and flattened out.
In accumulations of time, color, gestures and signs, the repetitional continuity of the works gives way to a richly layered fabric, a constellation of experiences and sensations. We can peer through the cracks and slippages, soak up the reflections that bounce off the surface, follow the threads that construct the whole—line by line, row by row. Like screens, they offer glimpses into another layer of reality, another place, which only unfolds as we navigate through. What Uslé guides us towards is something submerged, hidden—lying just behind, or just beyond, and continuing just out of view.
Text by Julianne Cordray
Juan Uslé, born 1954 in Santander, Spain, has developed a rich painterly oeuvre that operates in the space between pure abstraction and emotionally intense subjective expression. Since the early 1980s he sought to create paintings informed—on a meta-narrative level—by his personal experience, while also reflecting the fundamental rules of his pictorial vocabulary. To date, his most comprehensive series of paintings called Soñé que revelabas (I dreamed that you revealed) distils the poetic-emotional conceptualism that permeates Uslé's visual universe down to its essence; the structural conditions of painting and the pictorial process. Each brushstroke is both the indexical image of the painterly gesture and the direct physical representation of the artist's relationship to his work.
Juan Uslé received his training at the Escuela Superior de Belles Artes San Carlos in Valencia. He participated in the 51st Venice Biennale (2005) and exhibited at documenta 9 in Kassel (1992). In 2002, he was awarded Spain's national art prize. His painting and photography has been presented in numerous individual exhibitions in the US and Europe, including Bombas Gens Centre d' Art, Valencia (2021), Centro Galego de Arte Contemporánea, Santiago de Compostela (2014), Kunstmuseum Bonn (2014), Museu d'Art Modern i Contemporani de Palma (2010), Fundación Bancaja, Valencia (2008), Centro de Arte Contemporáneo de Málaga (2007), and "la Caixa" Foundation, Barcelona (2006). He was also in numerous group exhibitions including Palacio Real de Madrid (2016), Fundación Federico García Lorca, Huerta de San Vicente, Granada (2015/16), Museo de Albacete (2015), Centro Andaluz de Arte Contemporáneo, Sevilla (2015), Centro de Arte Contemporáneo Málaga (2015), Fondazione Giorgio Cini, Venice (2015), CentroCentro Cibeles, Madrid (2015), Patio Herreriano – Museo de Arte Contemporáneo Español, Valladolid (2014), Guggenheim Museum Bilbao (2013/14), Centro Galego de Arte Contemporánea, Santiago de Compostela (2013), Museo Reina Sofía (2013), Fundación Botín, Santander (2011), the Moscow Museum of Modern Art (2011), Kunsthalle Emden (2009), Museo de Arte Contemporánea de Vigo (2008), and Musée d'Art Moderne Grand-Duc Jean, Luxembourg (2008).
His work is part of various public collections, including Boston Museum of Fine Arts, Museo Reina Sofía, "la Caixa" Foundation, Barcelona, Museum Boijmans van Beuningen, MUMOK, MIGROS, Musée d'Art Moderne, Luxembourg, Pinakothek der Moderne, Staatsgalerie Stuttgart, Moderna Museet, New York Public Library, Serralves Museum, Museum Morsbroich, Sammlung Goetz, Munich, Marugame Hirai Museum, Museo de Bellas Artes de Santander, and Saatchi Collection. Juan Uslé lives and works in New York City and Saro in Cantabria, Spain.
Willem de Rooij
Root
Gallery Openings—15 Sep 2023, 6 to 9 PM
Root is a new installation by Willem de Rooij, developed especially for Galerie Thomas Schulte. Touching on notions of identity and nationalism, it juxtaposes a seventeenth-century painting on loan from the Stadtmuseum Berlin with thirty-four unique photographic responses made by De Rooij.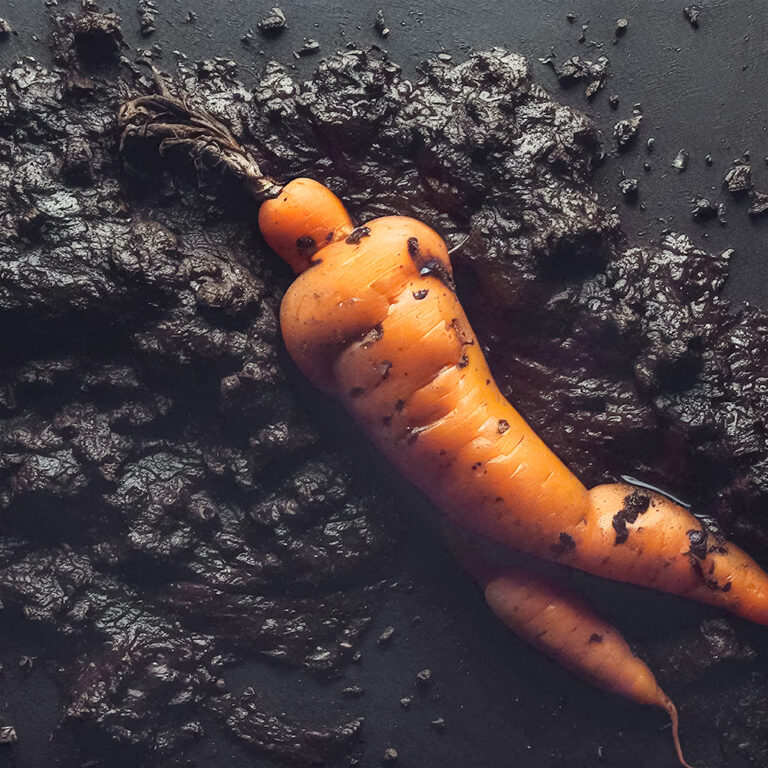 In the seventeenth century, the Dutch Republic housed many prolific painters who developed numerous specialized painting genres. Individual artists cross-appropriated each other's formal and iconographical techniques, which led to a rich and complex visual culture. Because of their innovations, Dutch artists became sought after by wealthy patrons across Europe.
One of them, Willem Frederiksz van Royen (ca. 1645, Haarlem, NL–1723, Berlin), arrived in Berlin from the Dutch Republic in 1669 to become a court painter to Friederich Wilhelm, Elector of Brandenburg, and his successor, Friederich I. Van Royen later became one of the founders of the Akademie der Künste, and after, a director and a professor there. Inspired by artists such as Melchior d'Hondecoeter, he specialized in flower still lifes and menageries. These were decorative genres that were popular with the elites of the time, and Van Royen's works both recorded and idealized their lifestyles.
Today, a number of Van Royen's works are still located in Berlin at the state and city collections, though many were looted in the Second World War. In a small still life from 1712, Orangen, an einem Faden aufgehängt, now in the Hermitage in Saint Petersburg, a cluster of oranges is depicted hanging on a string. In the Dutch Republic, oranges at the time connoted royalism, a reference to the Dutch Royal Family, the House of Orange, and many painters used this motif to express their political convictions. Today, the color orange still signals support for the Dutch nation-state and its policies.
In the seventeenth century, Dutch farmers cultivated a great variety of orange-colored carrot types that became popular export products. There is no proof that the resulting 'hype' was linked to monarchism, but it is known that in 1758, anti-monarchists from The Hague forced local vegetable sellers to hide their orange carrots.
Perhaps Van Royen had the monarchy and his native country in mind when he found an anthropomorphic carrot at a Berlin market on July 18, 1699. On the back of the painting that he made of the carrot, Van Royen describes that it 'was grown in a garden at St Jürgen's Gate'. That means this work was thought of as a realistic depiction of an actual object—unusual for art of the time, though not for Van Royen; the above-mentioned oranges and a striking pair of small still lifes depicting tulips are equally naturalistic. Van Royen's carrot still life is today part of the collection of Berlin's Stadtmuseum and is registered there under the title Rübe.
Willem de Rooij (b. 1969, Beverwijk, NL) moved from Amsterdam to Berlin in 2006 as a fellow of the DAAD's Berliner Künstlerprogramm. Since then, he has been a professor at the Städelschule in Frankfurt am Main and from 2015, a mentor at the Rijksakademie in Amsterdam. He is co-director of the BPA// Berlin Program for Artists, a post-graduate mentoring program he founded in 2016 with colleagues Angela Bulloch and Simon Denny. De Rooij investigates the production, contextualization and interpretation of images through various media. Appropriation and collaboration inform his methods and facilitate research in art history and ethnography.
Throughout his thirty-plus-year career, De Rooij, time and again, scrutinizes visual and conceptual renderings of power. Since his 2010 installation Intolerance at Berlin's Neue Nationalgalerie, he has created several projects that incorporate the display of paintings by seventeenth-century Dutch artists such as Hondecoeter, Jan Weenix, and Dirk Valkenburg, who were all part of the development of the genre that became known as the hunting still life. De Rooij's installations demonstrate how these artists merged notions of exoticism with nationalism in a push to promote the Dutch empire.
Orange, a work from 2004 that De Rooij made with his longtime collaborator Jeroen de Rijke (1970–2006), is a slideshow of eighty-one monochrome shades of orange. It thematizes the relationship between Dutch nationalism and the racist impulses that informed the development of analogue photographic technology.
For the installation Root at Galerie Thomas Schulte, De Rooij experimented with off-the-shelf artificial intelligence (A.I.) image generators to develop thirty-four unique photographic responses to Rübe – one for each day the exhibition is open to the public.
The outcomes of De Rooij's interactions with the A.I. bots used for this project are by nature composites of countless sources made by numerous authors. As such, they follow the artist's understanding of collaboration and appropriation as inextricably linked concepts. De Rooij prompted his photographic responses to echo Van Royen's original. But where Van Royen's fresh and perky-looking vegetable radiates optimistic vitality, De Rooij's anthropomorphic renderings became less idealized and dirtier. The mud on and around these carrot figures reminds one of the earth they grow in. The dirt in these images can thus be read as filth but also as earth, land, and, therewith, as territory and homeland. As visual amalgamates, De Rooij's renderings have a level of artifice in common with any cultivated product from mass-industrial Dutch agriculture.
De Rooij and Van Royen share strong but different attitudes regarding the artistic and political economies of their native country. De Rooij, who has said he finds it 'easier to be Dutch at a distance', engages with recent and historical nationalism and populism in the Netherlands to address broader transnational questions. Van Royen, on the other hand, was a migrant monarchist working for a foreign court. In Dutch, the words for carrot and root are one and the same. By painting an orange carrot, Van Royen seems to have referred to his roots.
Text by Jodie Willmore, August 2023
Willem de Rooij (b. 1969, Beverwijk, NL) is an artist and educator in Berlin. He studied art history at the University of Amsterdam and art at the Rietveld Academie and the Rijksakademie in Amsterdam from 1989 to 1998.
De Rooij was a recipient of the Bâloise Art Prize In 2000 and was nominated for the Hugo Boss Award in 2004 and the Vincent Award in 2014. He was a Robert Fulton Fellow at Harvard University in 2004 and a DAAD fellow in Berlin in 2006. He represented the Netherlands at the 2005 Venice Biennale with Jeroen de Rijke, his collaborative partner from 1994 to 2006.
Recent solo exhibitions were staged at the Gemäldegalerie at the Akademie der Bildende Künste, Vienna; Delgosha Gallery, Tehran; Portikus Frankfurt; IMA Brisbane; Le Consortium, Dijon; and the Jewish Museum, New York. Recent group exhibitions include MAIIAM Contemporary Art Museum, Chiang Mai; Dr. Bhau Daji Lad Museum, Mumbai, Mumbai; Hammer Museum Los Angeles; Jakarta Biennale; Aishti Foundation, Beirut; and the 10th Shanghai Biennale.
De Rooij's works can be found in the collections of Stedelijk Museum, Amsterdam; MUMOK, Vienna; Hamburger Bahnhof, Berlin; Centre Pompidou, Paris; MOCA, Los Angeles; and MoMA, New York.