Thomas Köhler talks about Berlinische Galerie and its close connection to Berlin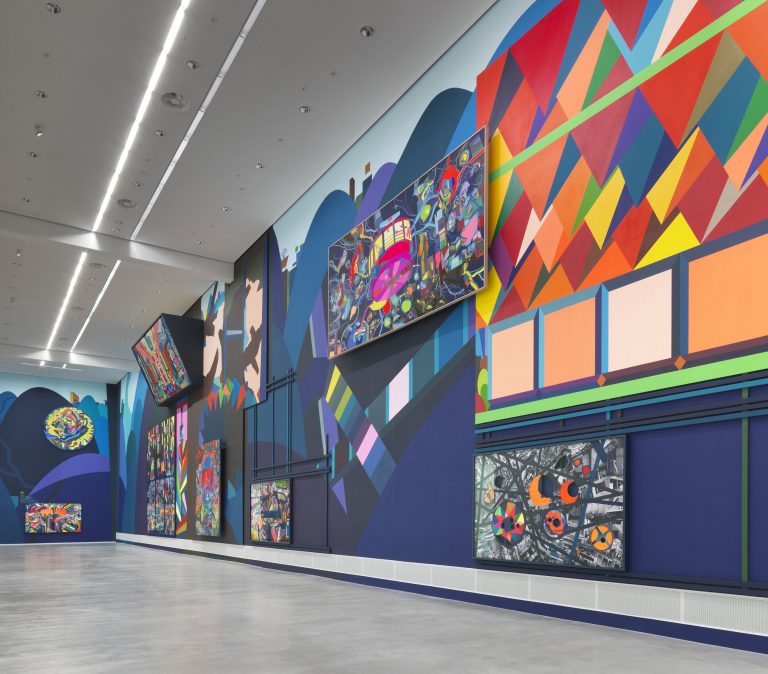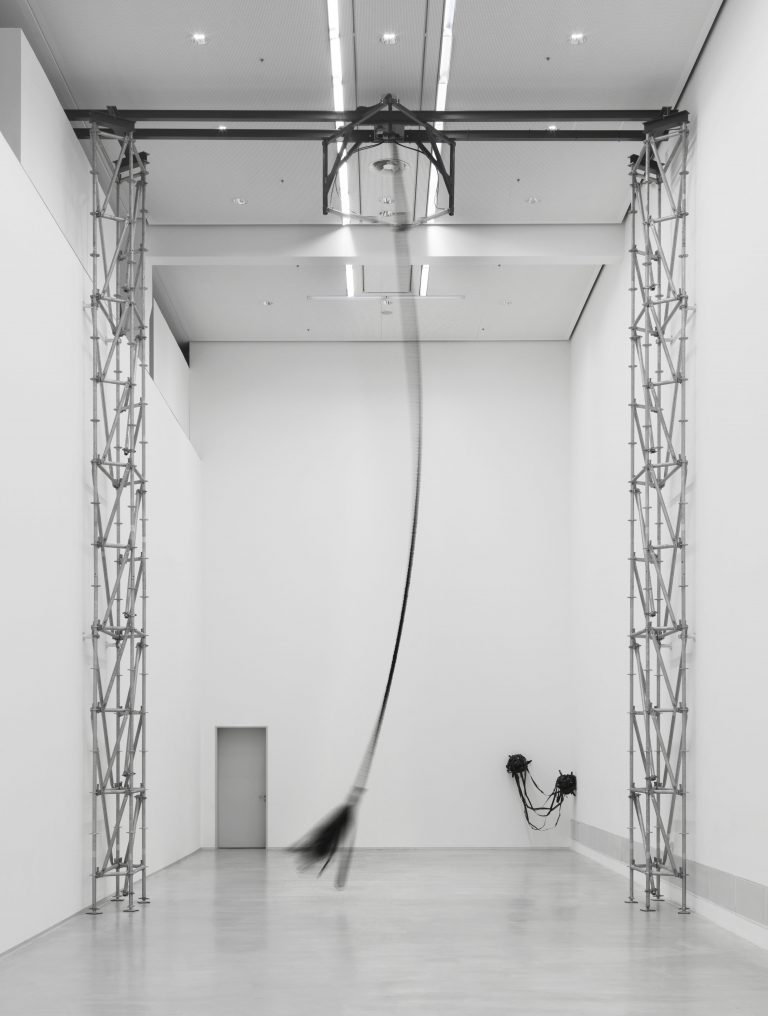 The Berlinische Galerie is one of the city's institutions explicitly dedicated to the history of art and architecture in Berlin. What makes Berlin a city of artists?
Thomas Köhler (TK): Berlin is a city that continues to make it very easy for artists to establish themselves. There are many institutions, initiatives, and project spaces with different focuses. It is easy to make contacts. Although rental prices have increased considerably, Berlin still has reasonably affordable apartments and studio spaces. Those creating art have not yet been driven out, as can be observed in other large cities. And even when the art market is struggling slightly, gallerists and collectors still come here. There continues to be a multitude of international artists. And you can meet them here and immerse yourself in the most diverse communities.
The Berlinische Galerie constantly provides an institutional forum for young artists to present themselves in Berlin. The expansive presentations in the large exhibition hall by Angela Bulloch, Franz Ackermann, Michael Sailstorfer, Monica Bonvicini, or Julian Charrière, for example, are particularly memorable. What are the challenges of this site, with its unusual proportions of forty meters in length and ten meters in height?
TK: It is fascinating to see how each artist finds their own approach to the space. Monica Bonvicini explored its full volume: 3612.54 m³. She challenged the very structure of the room and its capacity as an exhibition space by taking it to its functional limits through built-in installations. Ackermann was also very impressive. He filled the exhibition hall, which is more than forty meters long and ten meters high, with an installation that brought together murals, panel paintings, and photography. For his intervention Forst, Michael Sailstorfer hung five trees from the ceiling that rotated slowly overhead, and Andreas Greiner filled the space with the 3D-printed skeleton of a broiler chicken that resembled a reconstruction of a pterosaur.
This year, Marc Bauer has developed a multimedia concept with The Blow-Up Regime that is an interplay between floor-to-ceiling monumental wall drawings, supplemented by a layer of sound, drawings on paper fastened to the wall with steel pins, and digitized drawings on e-paper displays scattered around the room. The starting point was his wide-ranging research into the history of the internet from the first computers to the present day. He is interested in the question of how ubiquitous digitalization influences our perception of reality, the individual, and society.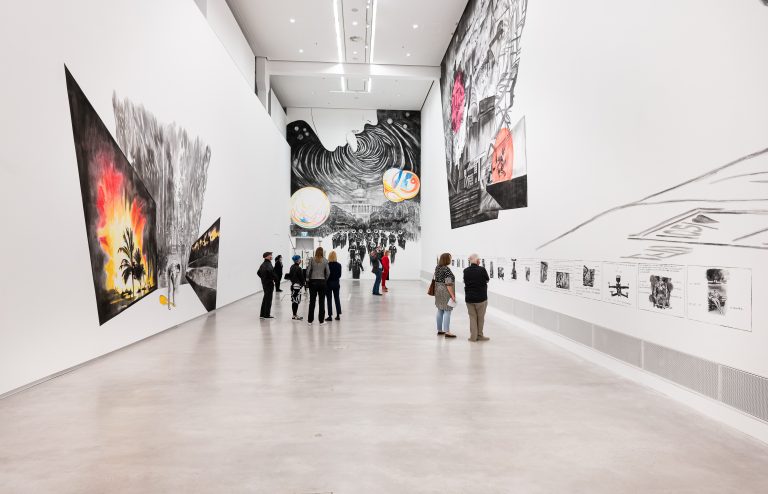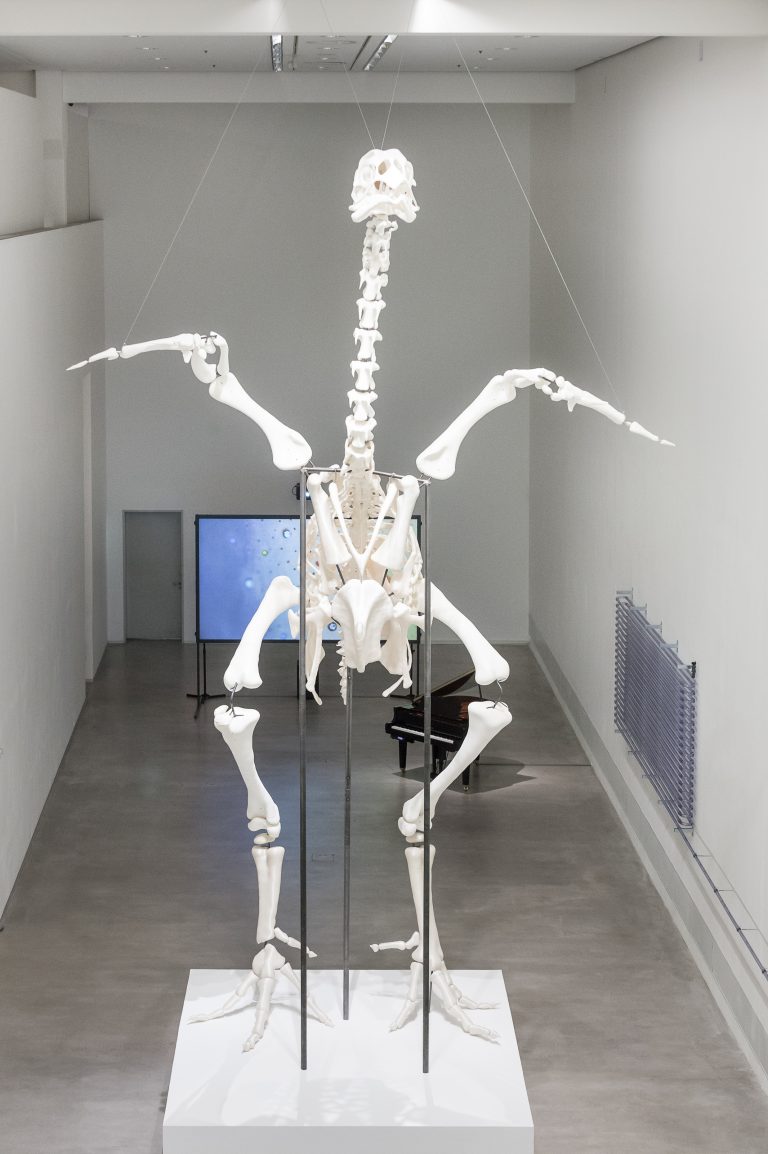 The Berlinische Galerie's contemporary projects focus on the reinterpretation of its spaces. Gallery Weekend is also about discovering (new) gallery spaces in the city. Which gallery spaces and exhibitions are not to be missed?
TK: We are planning an exhibition with the Swedish artist Nina Canell for next year and I am very curious to see how she will approach the museum's first large exhibition hall. You can find out more about her aesthetic practice at Barbara Wien and Daniel Marzona. Andreas Greiner won the GASAG Art Prize in 2016, and you can see how his content has evolved and how he has developed as an artist at his gallery Dittrich & Schlechtriem. The gallerist Esther Schipper has rented the former premises of Blain Southern on Potsdamer Strasse for Gallery Weekend. She is showing works there by Ugo Rondinone and Philippe Parreno in truly museum-like spaces that makes me a little envious.
More than twenty years ago, Ulrich Domröse, now curator for photography at the Berlinische Galerie, organized the exhibition Peripherie als Ort—Das Hellersdorf-Projekt (Periphery as Place—The Hellersdorf Project), which was shown for the first time at the nGbK in Kreuzberg. The nGbK is now showing two of the photographic series that were exhibited back then—Ulrich Wüst's urban images and Helga Paris' portraits of young people—at its outpost in Hellersdorf, urbaner kulturen. A highlight that should not be missed in Hellersdorf.
Berlinische Galerie currently presents The Blow-Up Regime by Swiss artist Marc Bauer.
Thomas Köhler spricht über die Berlinische Galerie und ihre enge Anbindung an Berlin
Die Berlinische Galerie zählt zu den Institutionen der Stadt, die sich ganz explizit der Berliner Kunst- und Architekturgeschichte widmet. Was macht Berlin als Stadt der Künstler*innen aus?
Thomas Köhler (TK): Berlin ist eine Stadt, die es Künstler*innen noch sehr leicht macht, Fuß zu fassen. Es gibt viele Institutionen, Initiativen und Projekträume mit unterschiedlichen Schwerpunkten. Man kann gut Kontakte knüpfen. Obwohl die Mietpreise erheblich angezogen haben, so verfügt Berlin doch noch über einigermaßen bezahlbare Wohnungen und Atelierräume. Kunstproduzent*innen wurden bisher nicht verdrängt, wie es in anderen Metropolen zu beobachten ist. Und auch wenn sich der Kunstmarkt etwas schwer tut, so kommt man doch als Galerist*in oder Sammler*in nicht an der Stadt vorbei. Es gibt nach wie vor eine Vielzahl internationaler Kunstschaffender. Und die kann man hier treffen und in die unterschiedlichsten Communities eintauchen.
Immer wieder gibt die Berlinische Galerie auch jungen Künstler*innen ein institutionelles Forum, um sich in Berlin zu präsentieren. In der großen Ausstellungshalle sind unter anderen die raumgreifenden Präsentationen von Angela Bulloch, Franz Ackermann, Michael Sailstorfer, Monica Bonvicini oder Julian Charrière besonders in Erinnerung geblieben. Was ist die Herausforderungen für diesen Ort mit seinen besonderen Proportionen von 40 Metern Länge und 10 Metern Höhe?
TK: Spannend ist zu sehen, wie jede*r Künstler*in einen eigenen Umgang mit dem Raum findet. Monica Bonvicini hat das volle Volumen ausgelotet: 3612,54 m³. Sie stellte die bauliche Struktur des Raums und seine Eigenschaft als Ausstellungsort in Frage, indem sie ihn durch Einbauten an seine funktionalen Grenzen brachte. Auch Ackermann war eindrucksvoll. Er bespielte die über 40 Meter lange und 10 Meter hohe Ausstellungshalle mit einer Installation, die Wandmalerei, Tafelbilder und Fotografie miteinander in Beziehung setzte. Michael Sailstorfer wiederum brachte für seine Intervention "Forst" fünf über Kopf hängende, sich langsam drehende Bäume an die Decke, und Andreas Greiner füllte den Raum mit einem im 3D-Druckverfahren erzeugten Skelett eines Masthuhns aus, das an die Rekonstruktion eines Flugsauriers erinnerte.
Dieses Jahr entwickelte Marc Bauer mit "The Blow-Up Regime" ein multimediales Gesamtkonzept: ein Zusammenspiel aus raumhohen, monumentalen Wandzeichnungen, ergänzt um eine Soundebene, Zeichnungen auf Papier, die mit Stahlstiften an die Wand gepinnt sind, sowie digitalisierten Zeichnungen auf E-Paper-Displays, die sich im Raum verteilen. Ausgangspunkt war eine breit angelegte Recherche zur Geschichte des Internets von den ersten Computern bis heute. Es geht ihm um die Frage, wie die allgegenwärtige Digitalisierung unsere Wahrnehmung von Realität, Individuum und Gesellschaft beeinflusst.
Die Berlinische Galerie setzt bei ihren zeitgenössischen Projekten einen Schwerpunkt auf die Neuinterpretation ihrer Räume. Auch beim Gallery Weekend geht es stets um die Entdeckung von (neuen) Galerie-Räumen in der Stadt. Welche Galerieräume und Ausstellungen sollte man nicht verpassen?
TK: Mit der schwedischen Künstlerin Nina Canell planen wir im nächsten Jahr eine Ausstellung und ich bin sehr neugierig, wie sie sich mit der ersten großen Ausstellungshalle des Museums auseinandersetzen wird. Ihre ästhetische Praxis kann man bei Barbara Wien und Daniel Marzona kennenlernen. Andreas Greiner war GASAG-Kunstpreisträger des Jahres 2016. Wie er sich inhaltlich und künstlerisch weiterentwickelt hat, kann man sich bei seiner Galerie Dittrich & Schlechtriem anschauen. Die Galeristin Esther Schipper hat zum Gallery Weekend die ehemaligen Räume von Blain Southern an der Potsdamer Straße angemietet. Dort zeigt sie Ugo Rondinone und Philippe Parreno in wahrhaft musealen Räumen, die mich etwas neidisch werden lassen.
Vor über zwanzig Jahren organisierte Ulrich Domröse, heute Kurator für Fotografie an der Berlinischen Galerie, die Ausstellung "Peripherie als Ort—Das Hellersdorf-Projekt", die erstmals in der nGbK in Kreuzberg gezeigt wurde. In ihrer Zweigstelle " urbaner kulturen" in Hellersdorf präsentiert nun die nGbK noch einmal zwei der damals gezeigten Fotoserien: die Stadtaufnahmen von Ulrich Wüst sowie die Jugendlichen-Porträts von Helga Paris. Ein Highlight, das man sich in Hellersdorf nicht entgehen lassen sollte.
Momentan präsentiert die Berlinische Galerie die Ausstellung The Blow-Up Regime des Schweizer Künstlers Marc Bauer.