Grit Richter
Mixed Feelings
Grit Richter
Mixed Feelings
The theme of 'Mixed Feelings' is generally of great interest to me – the almost infinite variations of overlapping, complex, ambivalent and sometimes contradictory mixed feelings – and I already decided on that title last winter. What I could not foresee, of course, was the development of the last few months and what new relevance and contexts would arise in relation to the title.
Galerie Tanja Wagner is pleased to show new works by Grit Richter. Grit Richter explores the representation of a collective human memory: an innately understood set of gestures and feelings that cannot be quantified or measured. Her multi-disciplinary practice of painting, sculpture, murals and textile work unites in a system of intuitive abstract forms and figurations.
Foremost a painter, she uses oils on stretched linen and fabric to create her anthropomorphic abstract forms. Experimentation is an important part of her practice and led Richter to create her unique technique of dying and bleaching black denim fabric onto which she paints and sculpts with. The result is the deeply textured elements that bend, fold and contrast in both foregrounds and backgrounds.
Mixed Feelings refers to the multitudinous combinations of contradictory emotions that can be felt at any one time. In both their singularity and plurality, those mixed emotions, such as longing, hatred, love, fear, loneliness, frustration, shame and joy, constitute the substructures of identity and the complex diversity of human nature.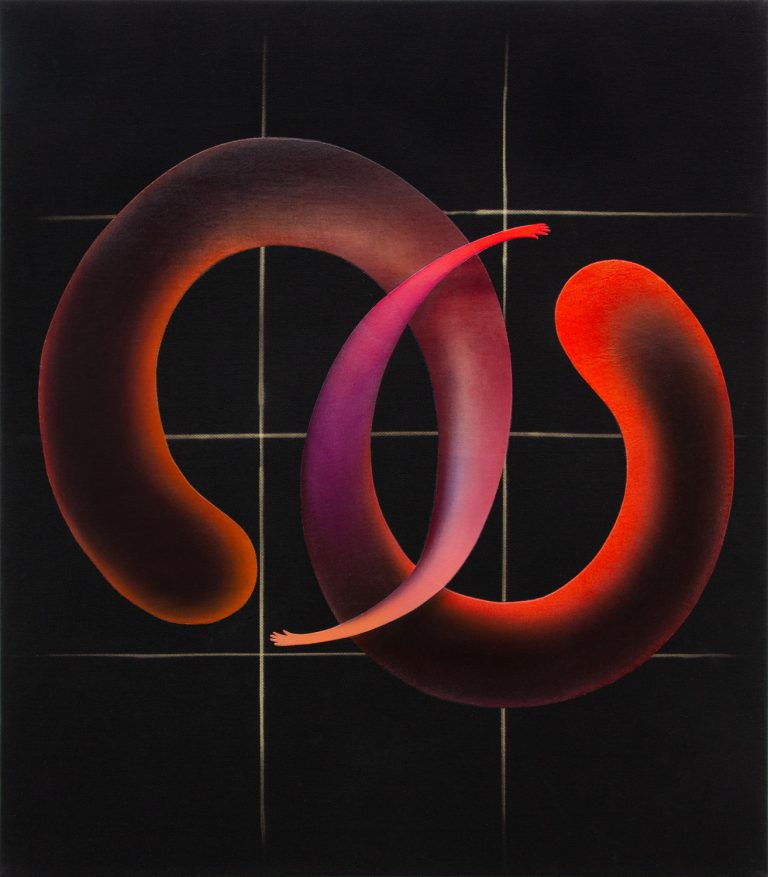 The last few months have been a real challenge in every respect, but also a gift from which strong ideas for new work have emerged. For example, a new group of soft sculptures has developed – the 'Fatigue Moms'. They humorously illuminate the general theme of parental exhaustion, which of course has taken on a new relevance since the pandemic. I had been planning to start a new cycle of Soft Sculptures for quite some time; the lockdown and the resulting challenges have finally given the decisive impulse for the creation of the 'Fatigue Moms'.
It is these undefinable emotions that Richter formalises in her distinctive visual language in an exhibition that activates the whole gallery with new paintings, sculptures, neon and mural works. Richter's abstraction moves closer to figuration as her forms acquire ever more representational elements such as limbs and hands: as two shapes intertwine in the painting The Inner Security (2020), a lone arm and hand opens the mood of their embrace to many readings.
The dark, gridded dimensions in her paintings form the habitats in which the painted figures are set. Reminiscent of early computer graphics, they arouse a more recent collective memory as they gently recall the beginning of a world created from binary code that is now so much a part of our daily lives.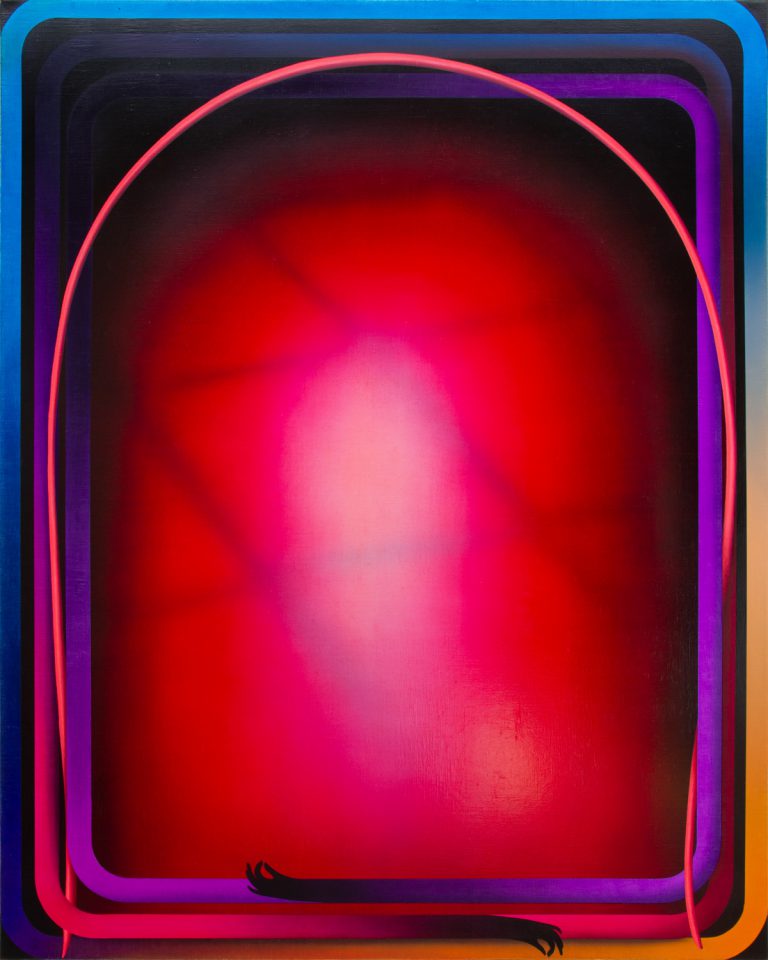 Richter addresses in particular the theme of motherhood in a number of works created after the pandemic lockdown. Its intense and sometimes conflicting emotions, challenges and the strong connection between mother and child find form in fabric covered sculptures. All with disproportionally long and thin limbs, the figures contrast in almost every other respect. The flat oblong pink body of Fatigue Moms (01) (2020) reclines on the floor and is both exhausted but also contorted into a posture that suggests the provision of a seat, as a mother often does for her child. Fatigue Moms (02)'s (2020) bulbous red velvet silhouette evokes a prehistoric fertility figurine whose sturdy but soft form implies security and comfort. Resembling a small mattress slumped against the wall, Fatigue Moms (03) (2020), has no energy left for composure or comportment and simply sags in momentary defeat.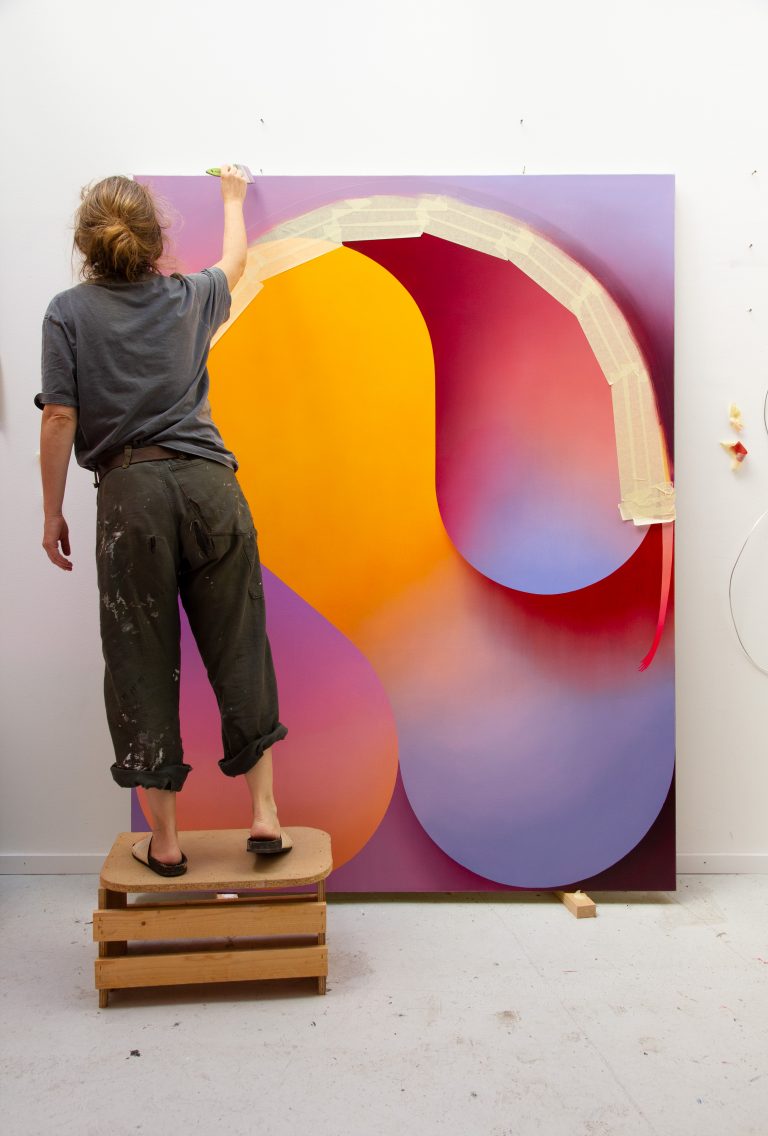 I consider the abstract forms in my work as a representative and projection surface for 'emotions & relations', which form the intersection of individual and collective experience."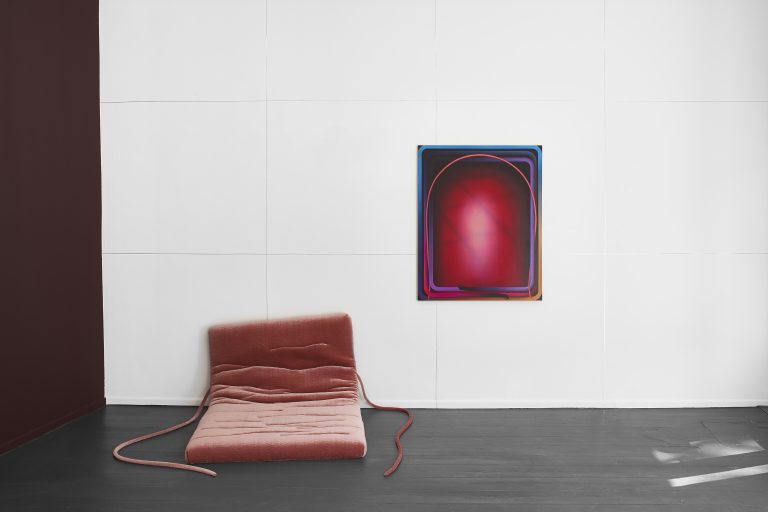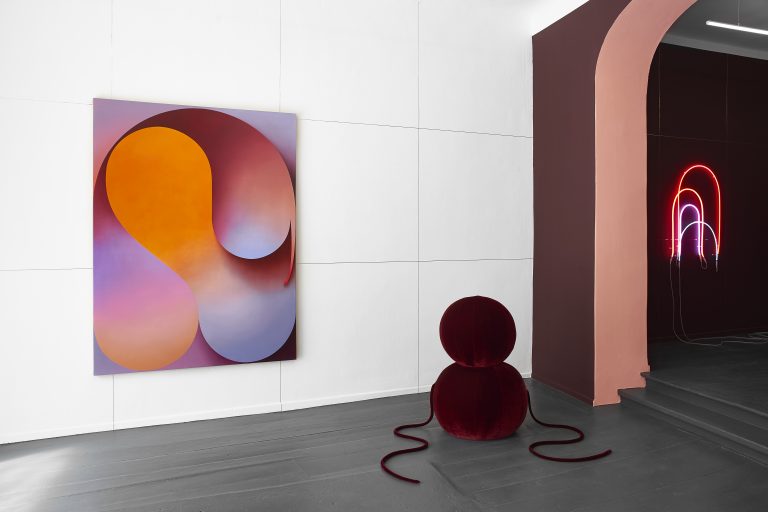 Grit Richter was born in Dresden in 1977 and lives and works in Hamburg. She studied at the College of Fine Arts in Dresden and Hamburg in the class of Prof. Norbert Schwontkowski.
Her works have been exhibited in several solo and group exhibitions (selected): Museum im Prediger, Schwäbisch Gmünd; Kunst- und Projekthaus Torstraße 111, Berlin (2020); salondergegenwart 2019, Hamburg; C. Rockefeller Center for the Contemporary Arts, Dresden; Showroom MTFA, München (2019); VG & S Art & OFFICE IMPART, Hamburg (2018); Museum Gunzenhauser, Kunstsammlungen Chemnitz (2017); Vanha Paukku Cultural Center, Lapua, Finnland (2016); Frappant e.V., Hamburg (2014); Deichtorhallen Hamburg / Sammlung Falckenberg, Hamburg (2013).