Gilbert & George
THE PARADISICAL PICTURES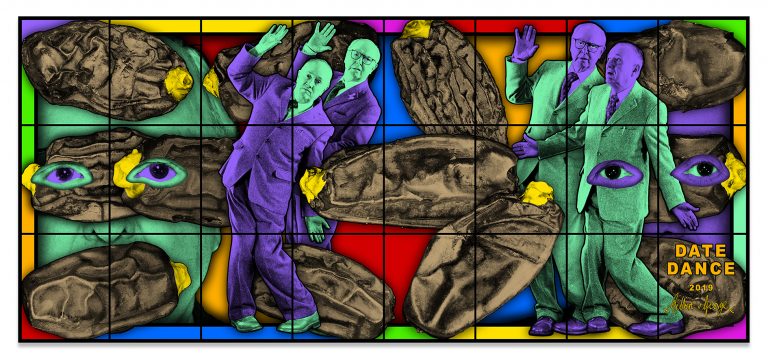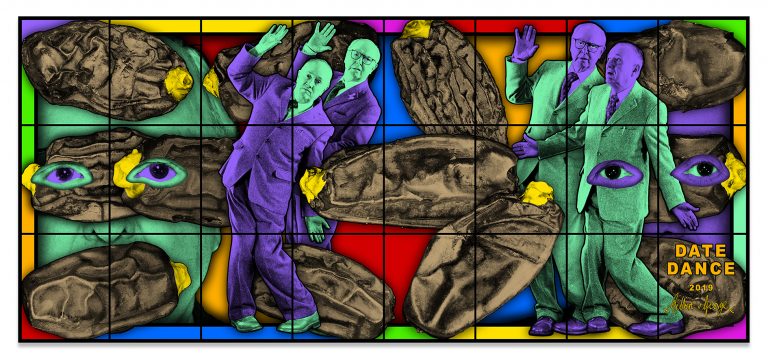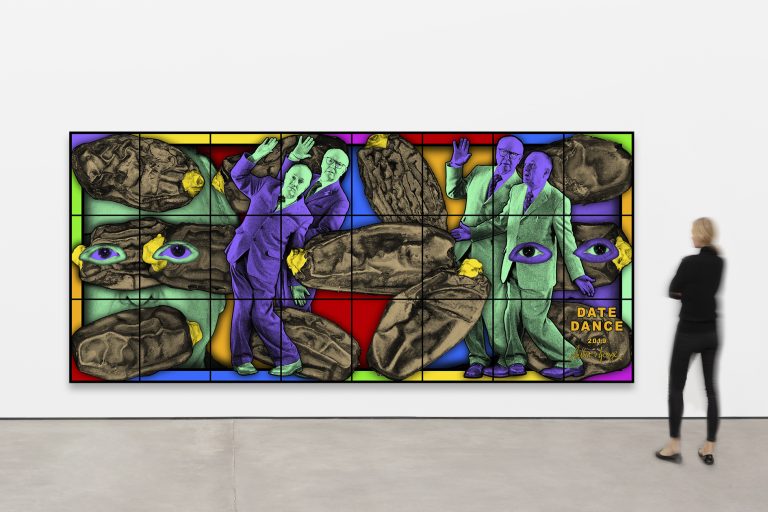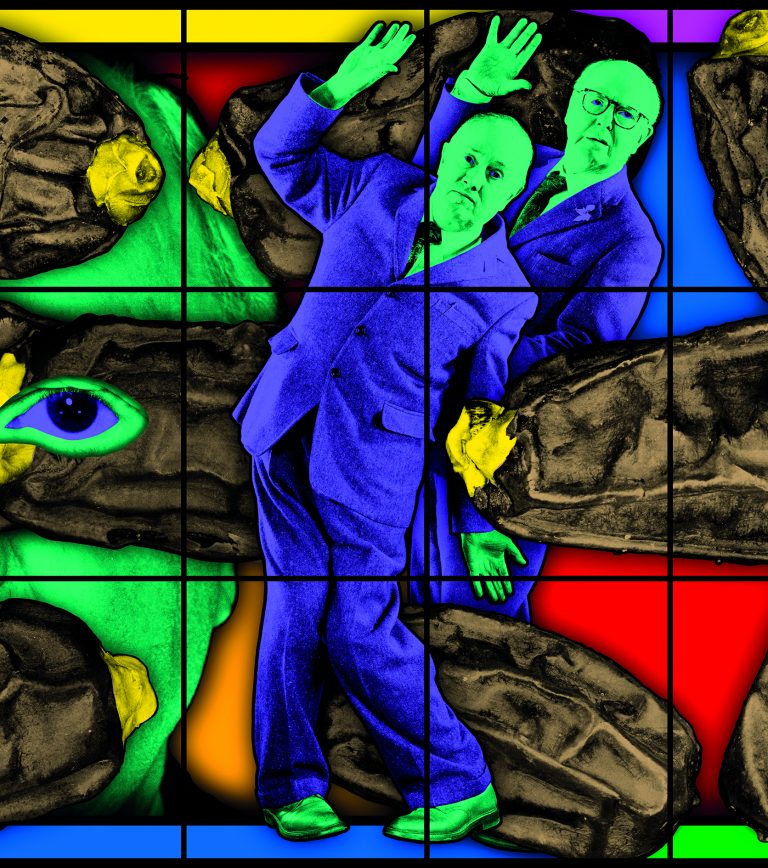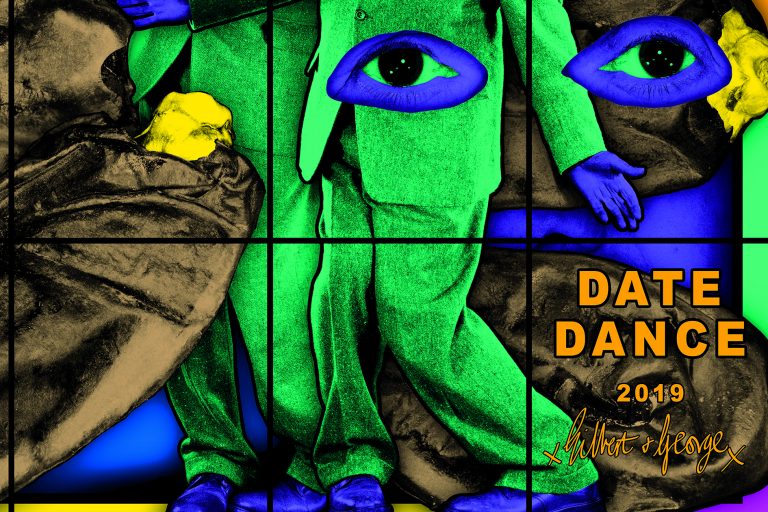 Monika Sprüth and Philomene Magers are pleased to announce British artist duo Gilbert & George's first exhibition at the Berlin gallery. On view are twenty-five large- scale works from the artists' THE PARADISICAL PICTURES (2019) series.
The pictures show Gilbert & George wandering through paradisiacal natural worlds filled with mostly expressionistically-hued fruits, flowers, leaves, and trees. Each one is a cosmos in itself; together they form a spectacular vision of paradise that is at once lush and fantastic, with hallucinatory and psychedelic elements.
Some works find the artists symbiotically merging with the natural world. BED- WETTING and CURL feature their disembodied eyes, noses, and mouths emerging ghost-like from layers of leaves to gaze piercingly at the viewer. In other pictures, they move—sometimes awkwardly dance—through sumptuous landscapes, as in DATE STONES or TENDER, for example. DATE STONE HEADS and DATE HEADS show Gilbert & George becoming part of the plant kingdom themselves, here in the form of dates and date stones bearing their facial features. The choice of fruit is significant: While dates are associated with sensuality and are said to boost both libido and sexual desire, date stones have a look reminiscent of human excrement and feces. The artist duo has already addressed such socially taboo aspects of being human in their NAKED SHIT PICTURES (1994).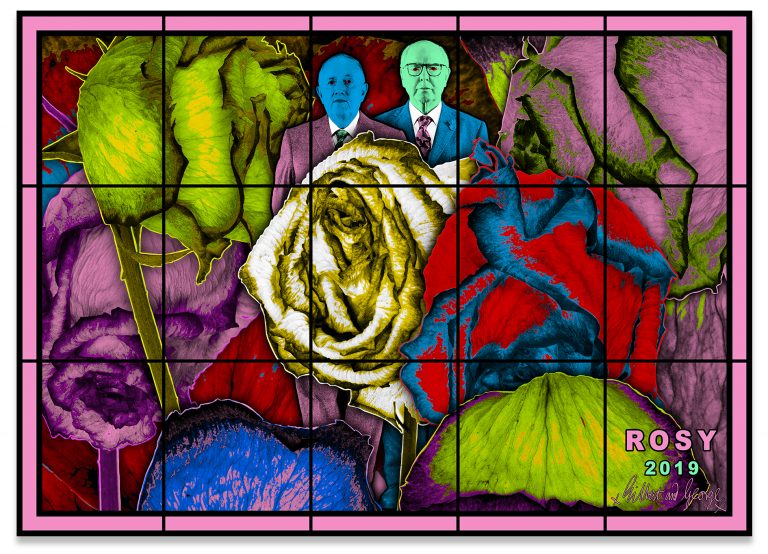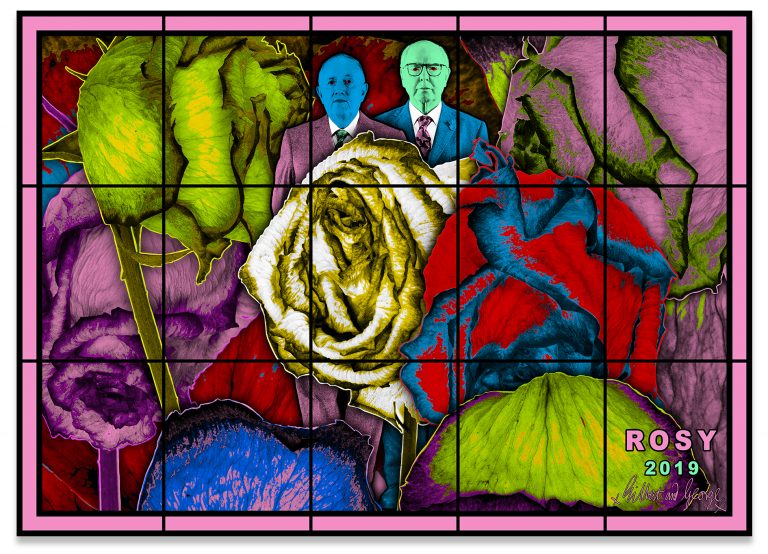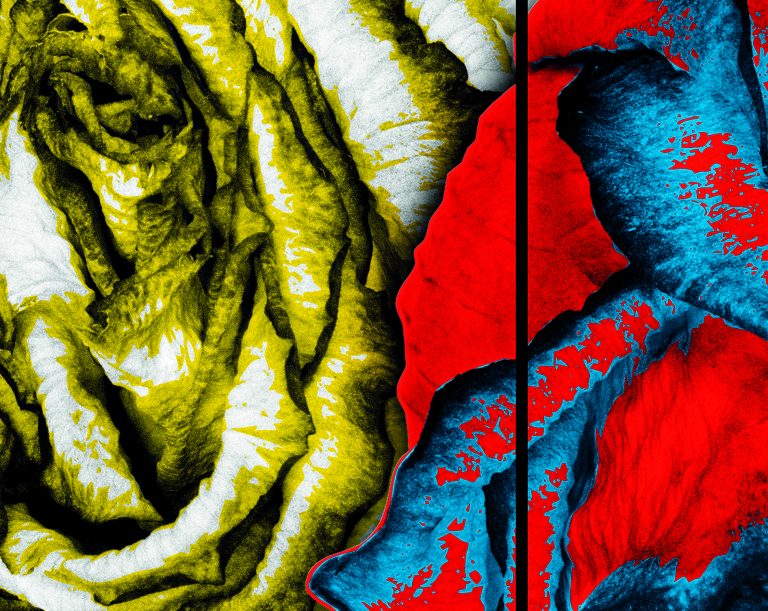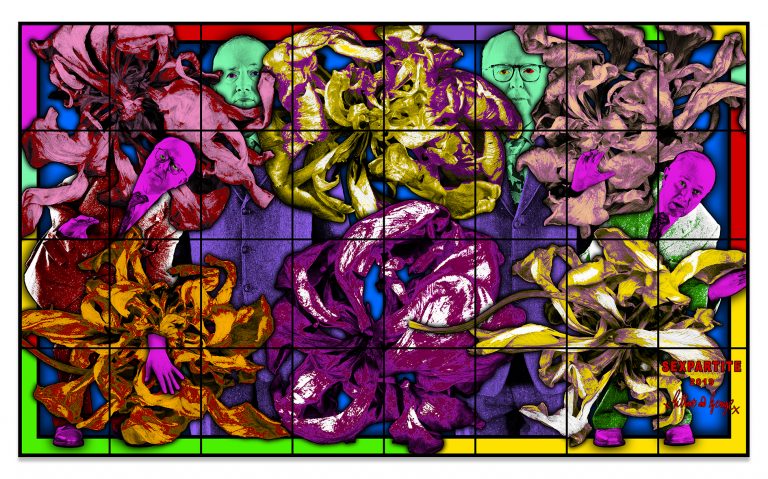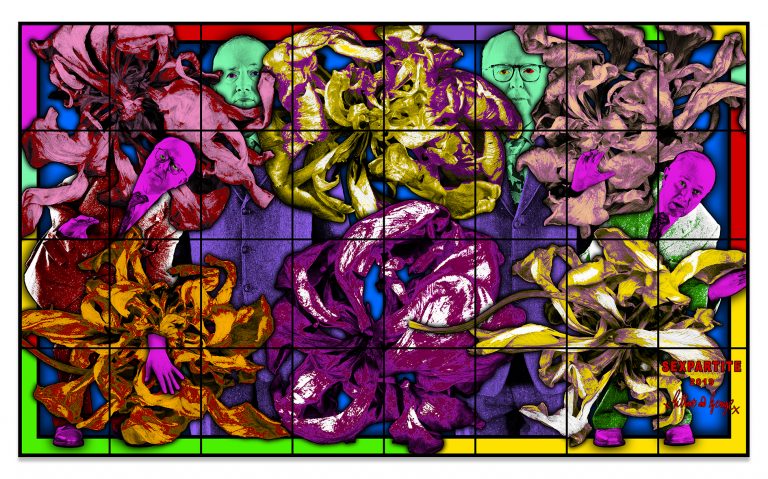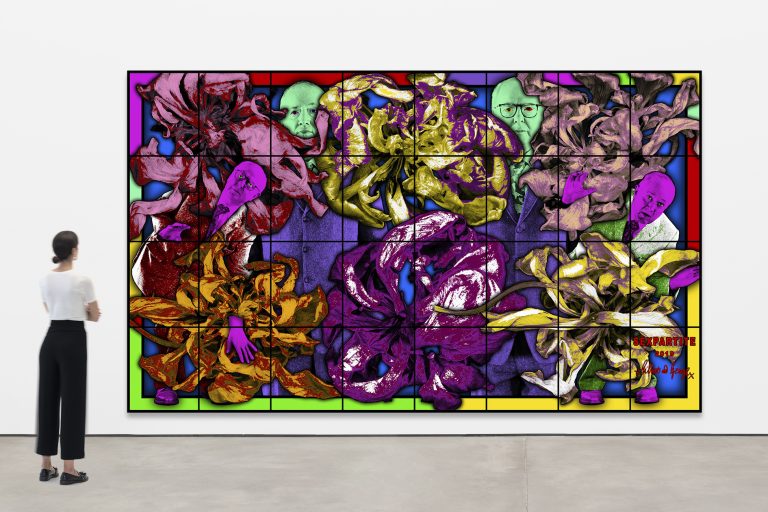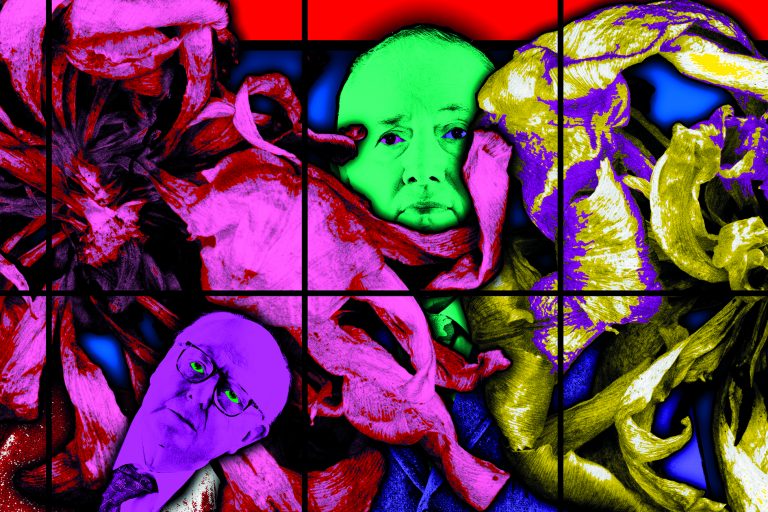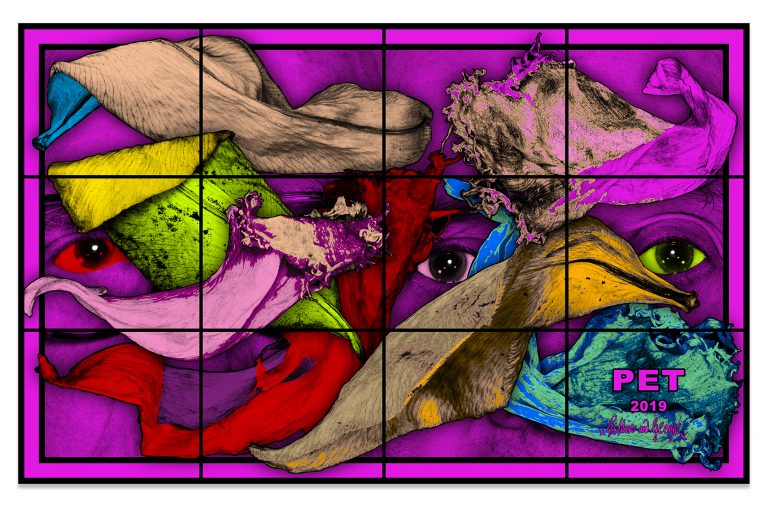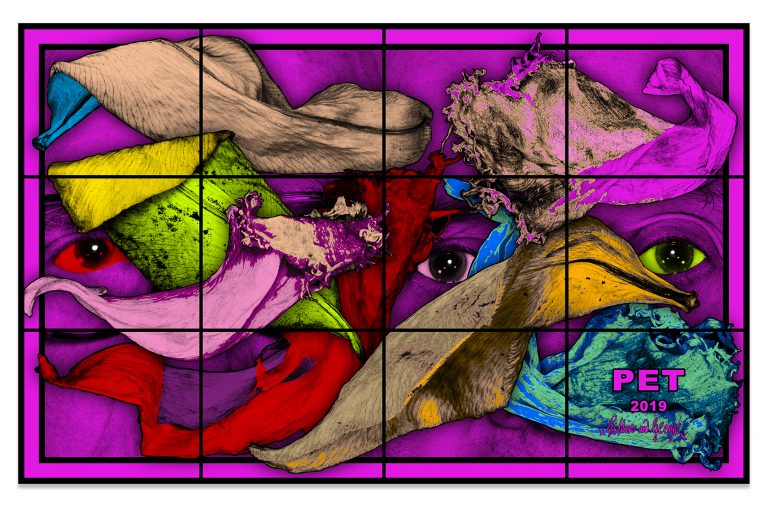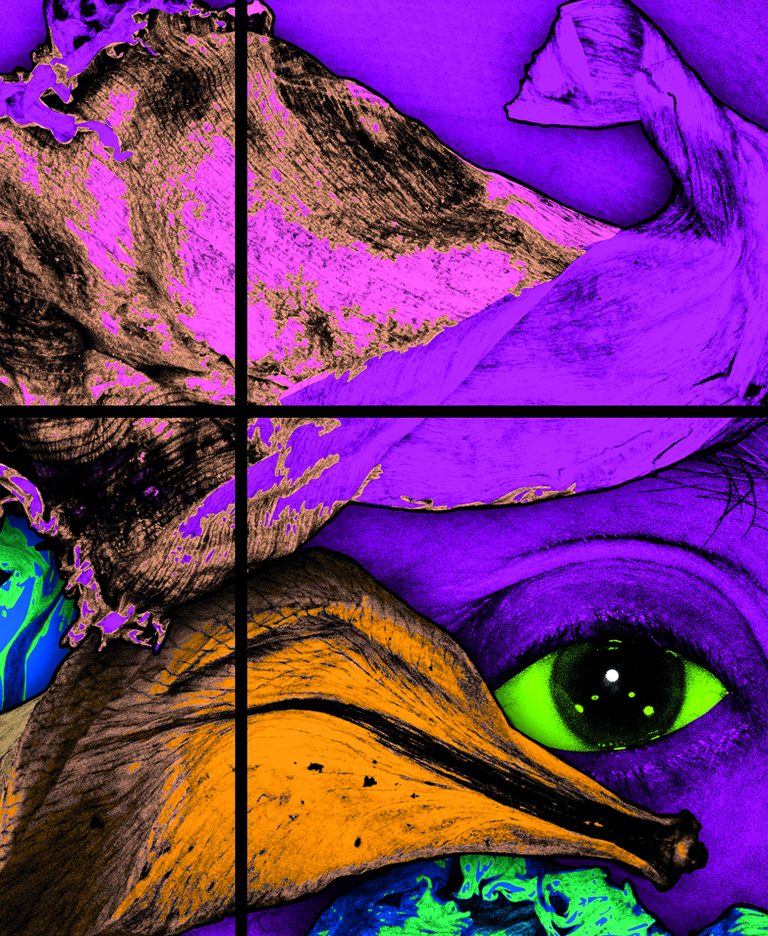 Common to all the pictures is the motif of blossoming in nature—a joyful event further emphasized by the bright colors. Yet a closer look reveals that the flowers have faded; leaves glow in autumnal hues or lie withered on the ground; fruits have dried; the duo's poses exude exhaustion and fatigue. Autumnal scenes of nature can be interpreted as a metaphor for the autumn of life, an eternal cycle of passing and reawakening. The works also allude to the process of aging, to the confrontation with one's own transience—a theme all the more omnipresent and palpable in the wake of a deadly global pandemic.
Completed in 2019, Gilbert & George's studies of the relationship between humans and nature take on new relevance and significance in the current context. The artists present a vision of paradise that is ultimately transcendental—a representation of how we might situate ourselves in the modern world, but also how we can change for the Gilbert & George (*1943, San Martin de Tor; *1942, Plymouth) met as students at St Martin's School of Art in London in 1967 and have collaborated ever since. Recent solo exhibitions include those at Schirn Kunsthalle, Frankfurt (2021); Kunsthalle Zurich (2020); Fondation Louis-Vuitton, Paris; and Moderna Museet, Stockholm (both 2019); Helsinki Art Museum (2018); Ludwig Museum of Contemporary Art, Budapest (2017); Museum of Old and New Art, Tasmania (2016); Museum of Modern Art, New York (2015); Nouveau Musée National de Monaco (2014); Deichtorhallen Hamburg (2011); Laznia Centre for Contemporary Art, Gdansk (2011); Kröller-Müller Museum, Otterlo (2010); De Young Museum, San Francisco (2008); Milwaukee Art Museum, Wisconsin (2008); Brooklyn Museum, New York (2008); and Tate Modern, London (2007). Gilbert & George represented Great Britain at the 51st Venice Biennale in 2005. Group exhibitions include those at The Walker Art Center, Minneapolis (2020); The Warehouse, Dallas (2017); The Jewish Museum, New York (2016); The Drawing Center, New York (2016); Kunstmuseum Liechtenstein, Vaduz (2014); Nottingham Contemporary (2014); Institute of Contemporary Art, London (2013); Metropolitan Museum of Art, New York (2013); Mathaf: Arab Museum of Modern Art, Doha (2012); Gropius Bau, Berlin (2012); Hong Kong Heritage Museum (2011); and Kunsthaus Zurich (2011)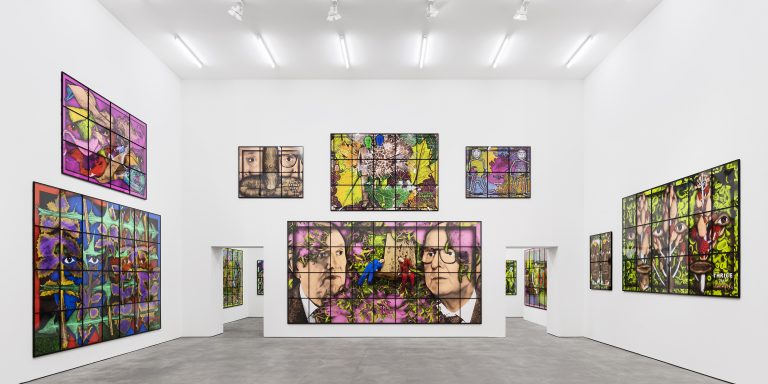 George Condo
Linear expression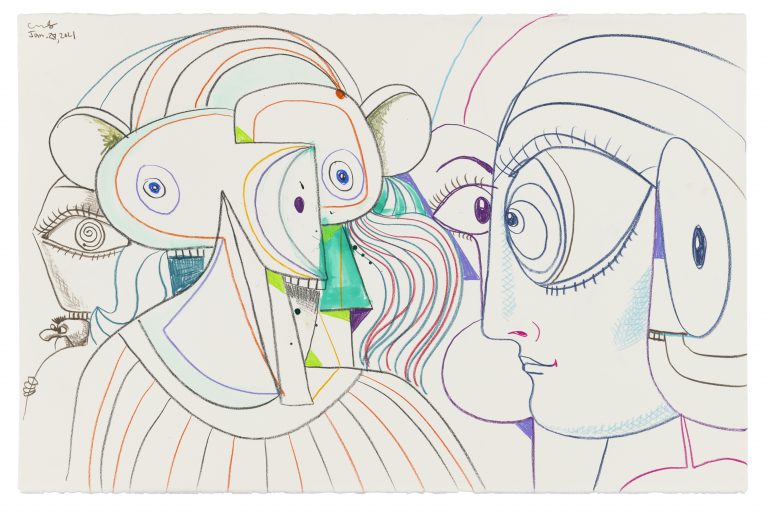 Monika Sprüth and Philomene Magers are pleased to present Linear Expression, an exhibition of recent works on canvas and paper by George Condo that are exemplary of his wide-ranging practice. In particular, they display his virtuosic and varied use of line to delineate the mysterious, symbolic figures that have populated his works for more than four decades. Using quick, calculated gestures, which are then overlaid with rich tonalities and brushwork, Condo's imaginary portraits invoke the kaleidoscopic range of human emotion.
With this new body of work, abstracted characters hold space together but rarely connect through eye contact or touch—a reflection, perhaps, of the past year of uncertainty and distance. Condo links them instead through his complex matrix of lines and gestures. In the painting Anticipation (2021), a palette of creams and pinks— starkly demarcated with black outlines—evokes the human body, as do two pairs of wide-open eyes and a suited torso; while brisk strokes of red, white and blue, as well as deliberate drips and spatters, generate the frenetic, expressionistic energy reflected in the work's title.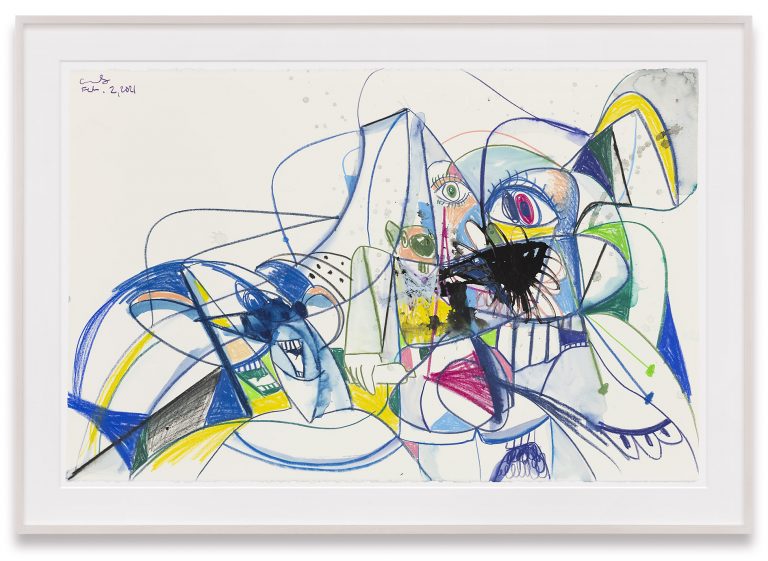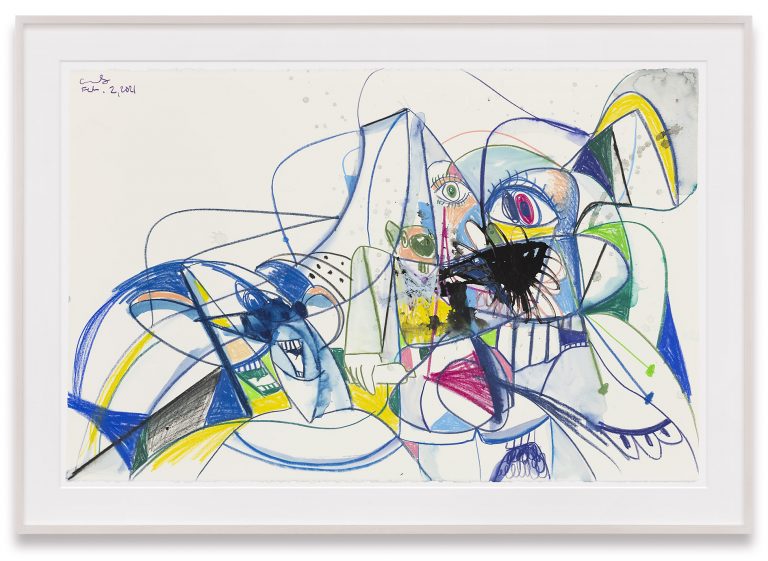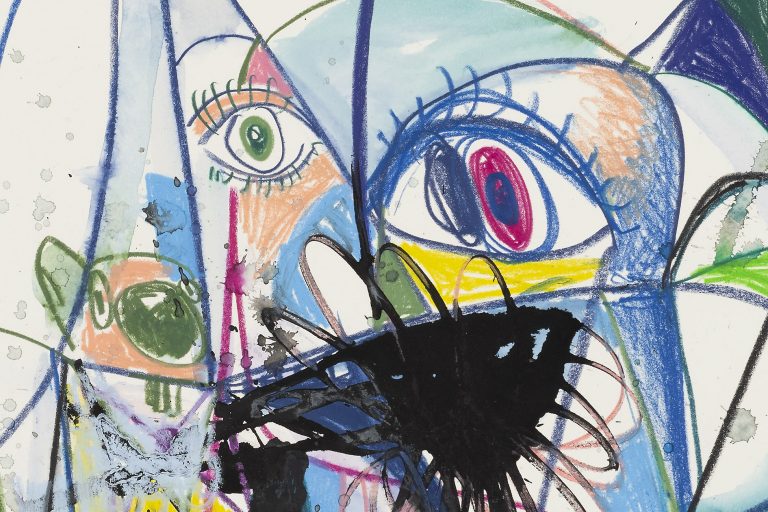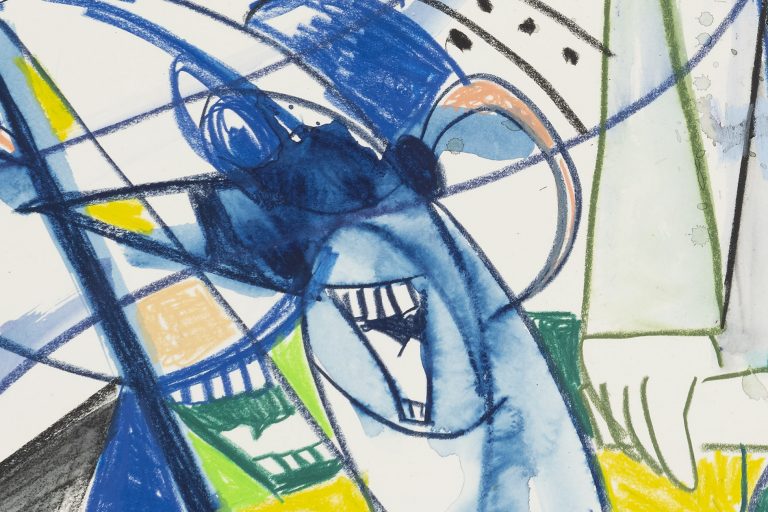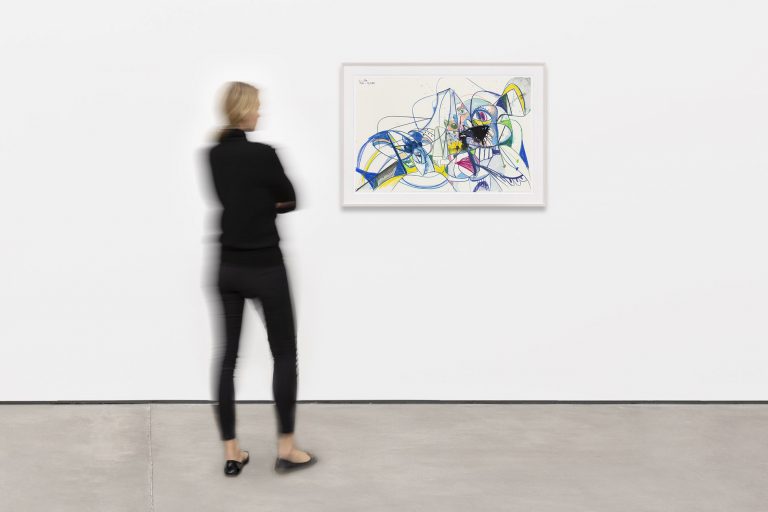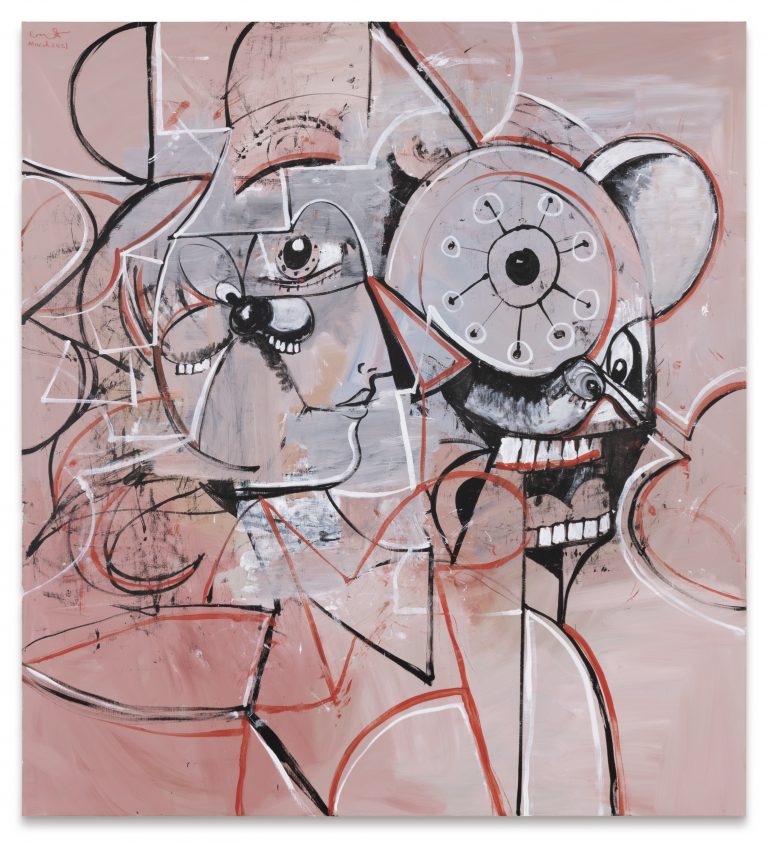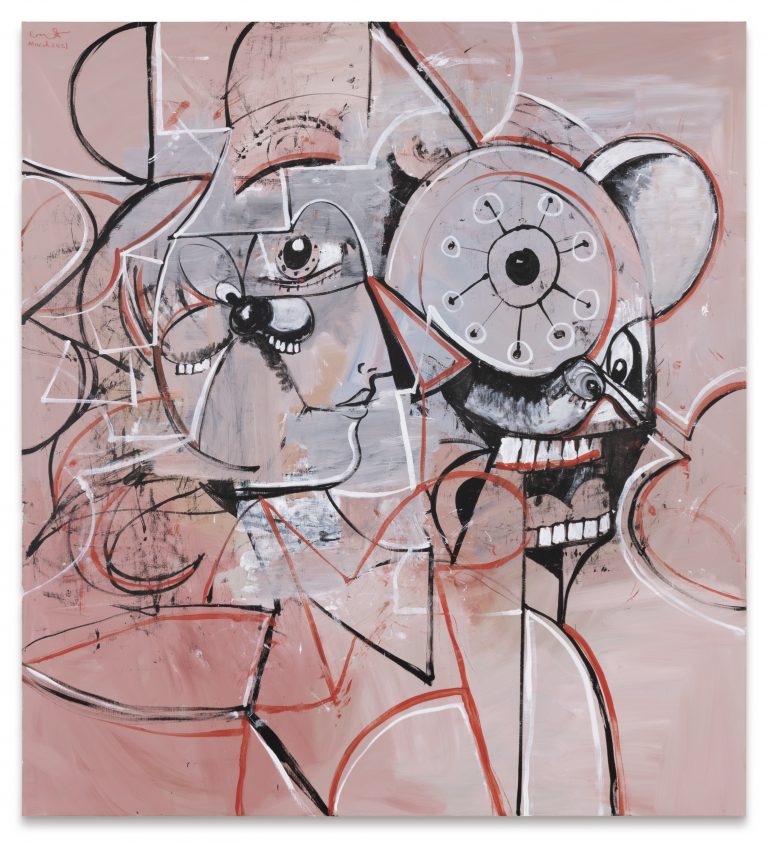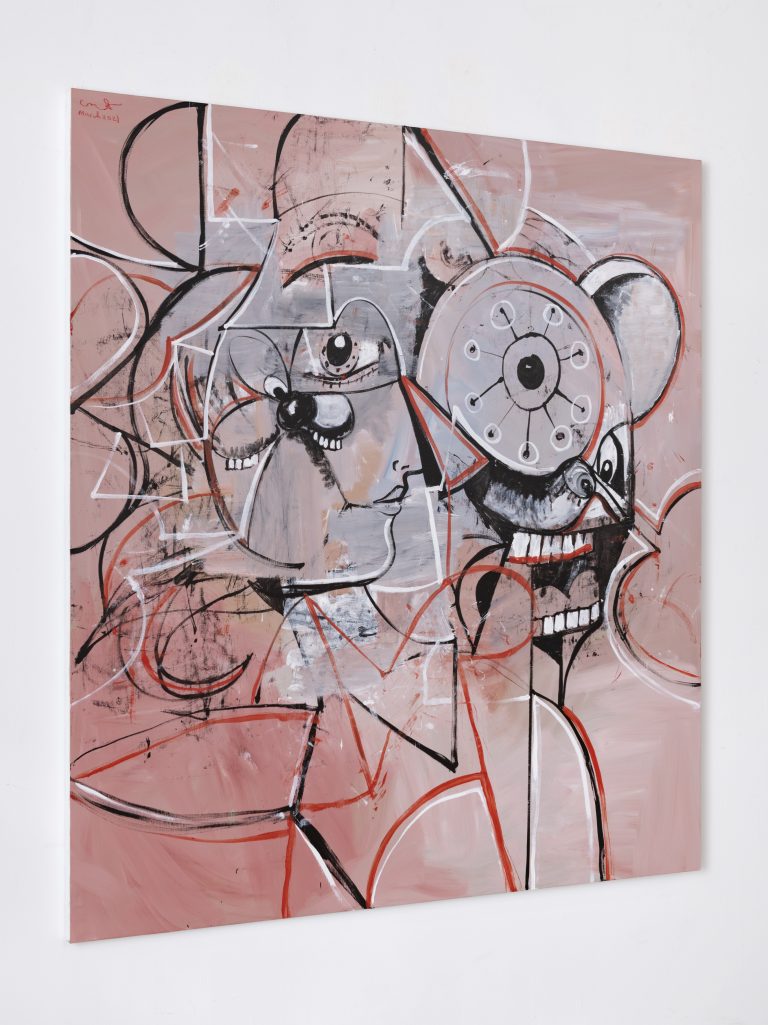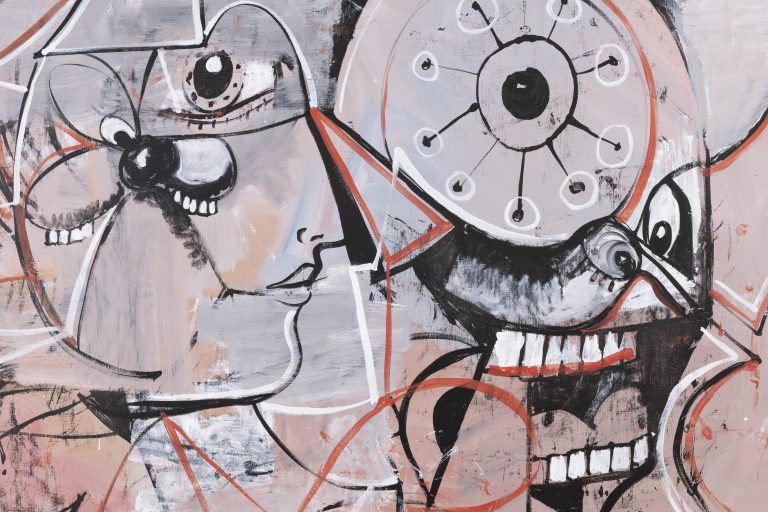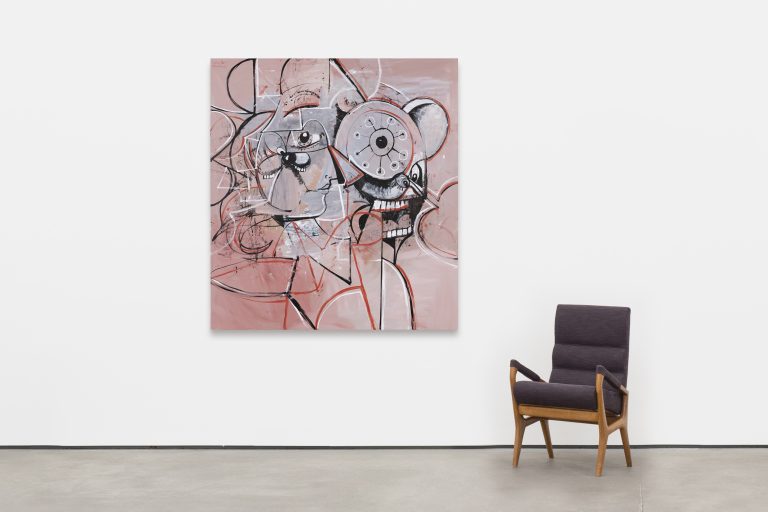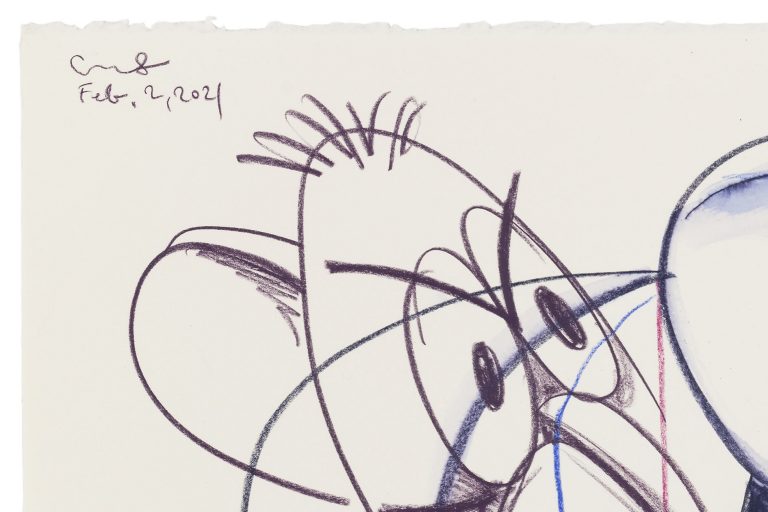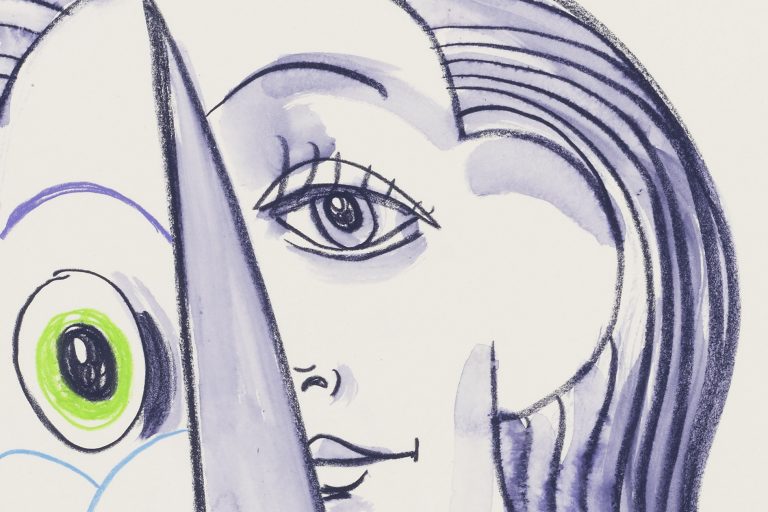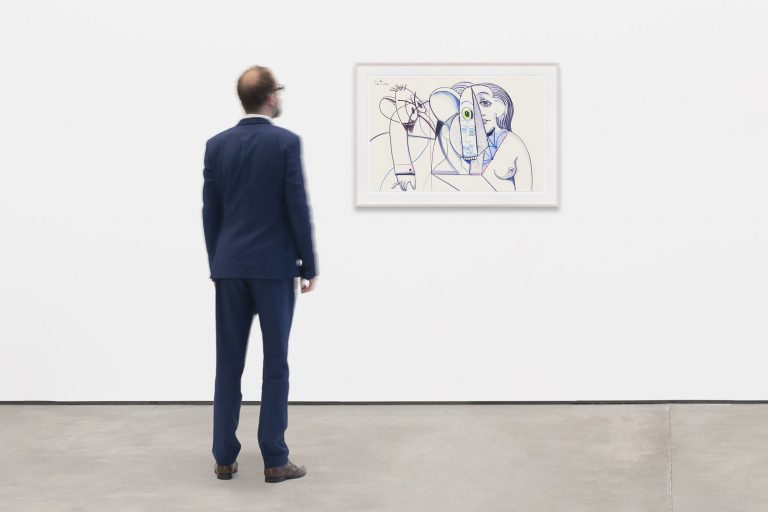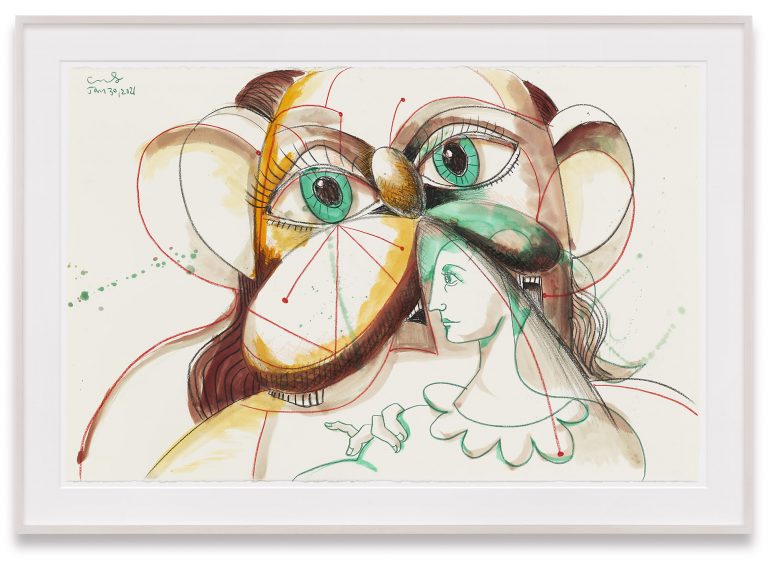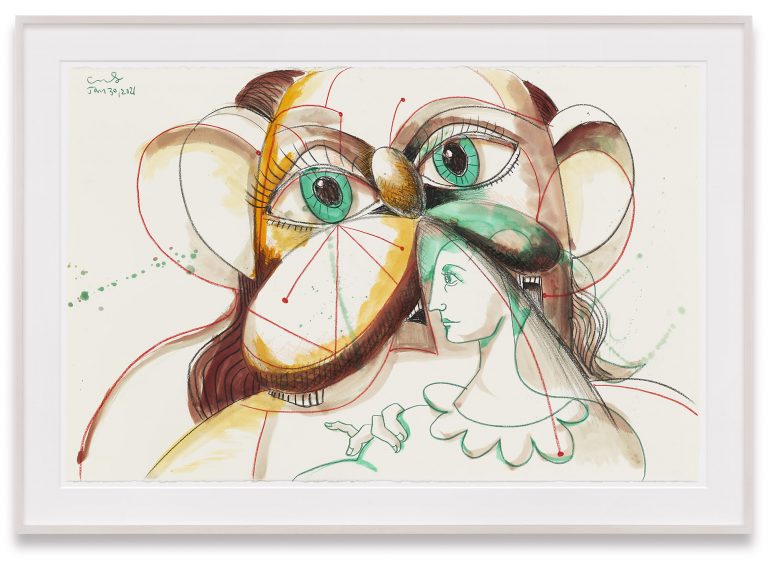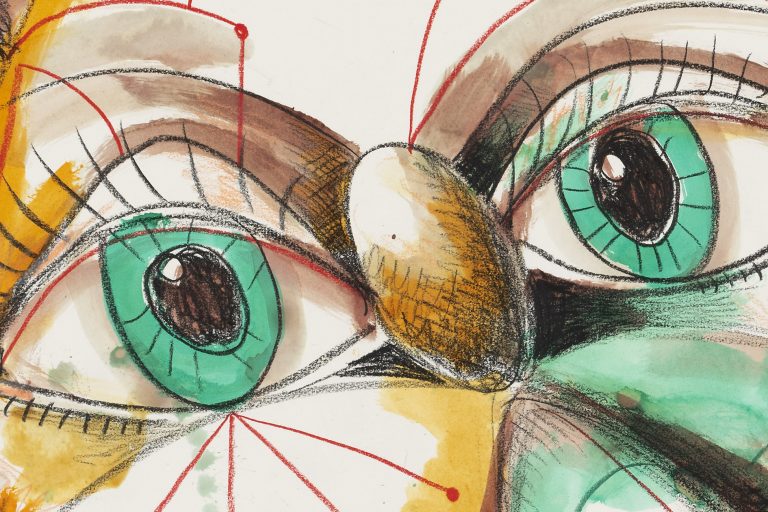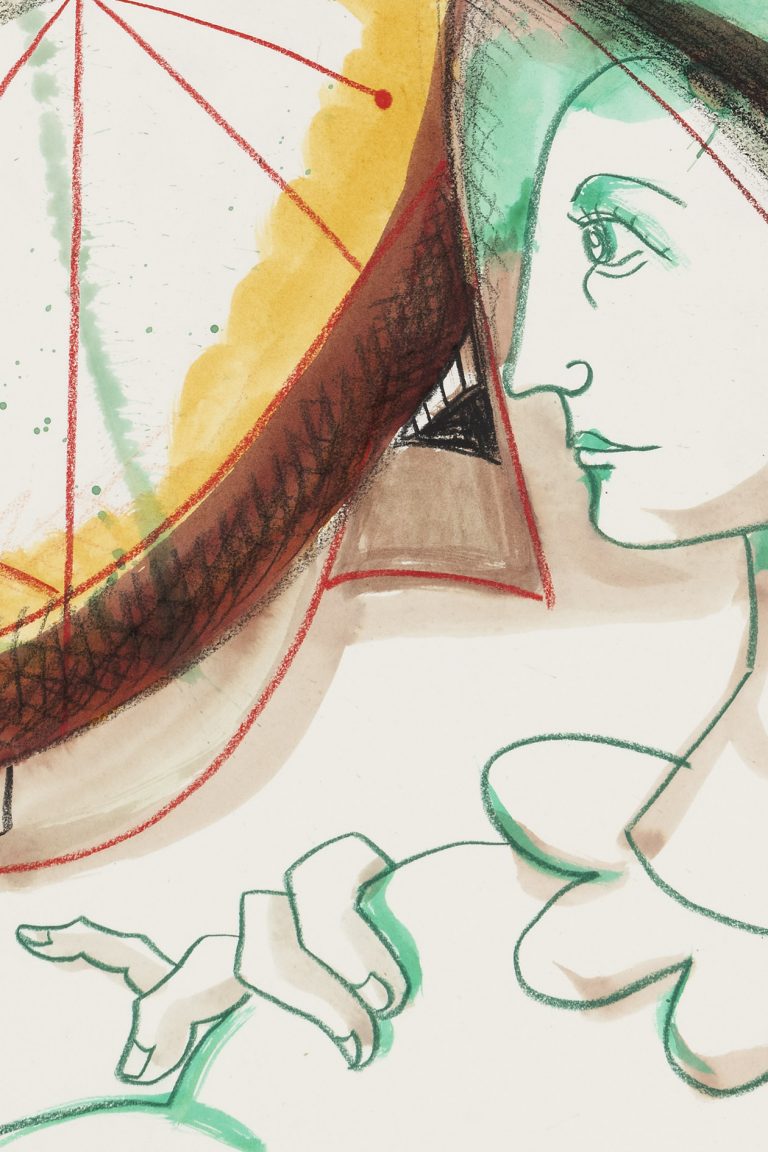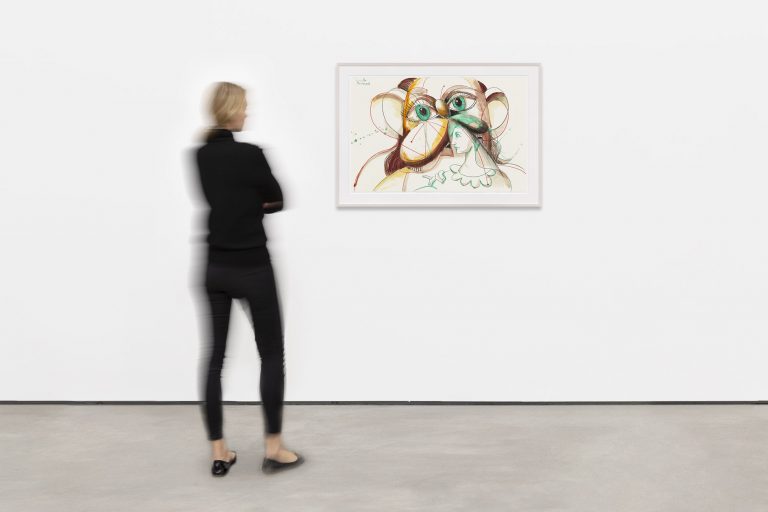 Another oil-on-linen painting, Linear Portrait Composition (2021), introduces the characters for which Condo is so well known: the serene girl, seen in profile and reminiscent of Picasso's classical period nudes; the cartoonish, dog-like figure, whose bulbous black nose and rounded cheeks introduce an element of absurdity to the scene; and the mad, toothy male visage, who here seems to have a cell for a brain, or even a virus. Held together via intersecting geometric planes, they each represent different states of being often trapped within one psyche.
Linear Expression also includes a number of drawings—a medium that has always been crucial to the artist's way of working, and whose intimacy allows the flair and diversity of Condo's draftsmanship to come to the fore. On the one hand are works with open, airy networks of wax crayon lines in cool hues, as in The Unexpected Guest (2020) and Seated Drinkers (2020), which coalesce in groups of figures who gaze across the page or directly toward the viewer. On the other hand, the buildup of inked strokes, colorful facets, and differing methods of mark-making in Scrambled Heads (2021) exudes a layered, cacophonous intensity.
Still other drawings combine Condo's stylistic poles within one composition. In Modern Romance (2021), one of his full-cheeked figures with striking green eyes looms over the portrait of a woman who looks intently to the left. Her precise linear rendering and fanciful collar, as well as the work's sepia tones, recall the eighteenth-century old master drawing traditions that have long influenced Condo. Abstract Figure Composition (2021), meanwhile, positions a highly worked surface with tortured facial features on the left opposite an ethereal, Botticelli-like form on the right, heightening the juxtaposition of the abject and the beautiful that is the cornerstone of the artist's practice. At times tender, at times violent, Condo's new works illustrate his long- standing pursuit to capture the complex and often contradictory nature of human life.
George Condo (*1957, Concord, NH) lives and works in New York. His first major survey in Asia George Condo: The Picture Gallery will be on view at Long Museum, Shanghai (Fall 2021). Other selected solo exhibitions include Cycladic Art Museum, Athens, and Maritime Museum, Hong Kong (both 2018), Phillips Collection, Washington D.C (2017), traveled to Louisiana Museum of Modern Art, Humlebæk, Denmark (2017), Staatliche Museen zu Berlin – Museum Berggruen, Berlin (2016), New Museum, New York (2010), traveled to Hayward Gallery, London (2011), Boijmans Van Beuningen, Rotterdam (2011), and Schirn Kunsthalle, Frankfurt (2012). Selected group exhibitions include Museum Berggruen, Berlin (forthcoming 2021), Venice Biennale (2019,
2013), 13e Biennale de Lyon (2015), Whitney Biennial (2010, 1987), Grand Palais, Paris (2015), Kunsthalle Zurich (2012) and Kunstmuseum Luzern (2008).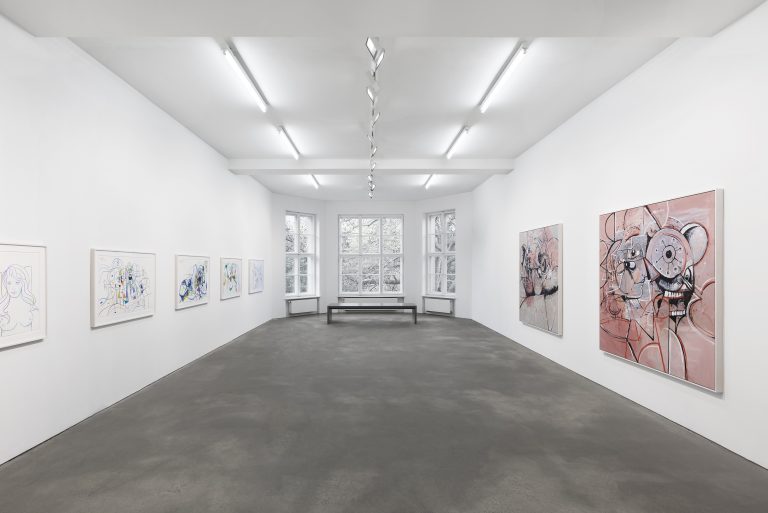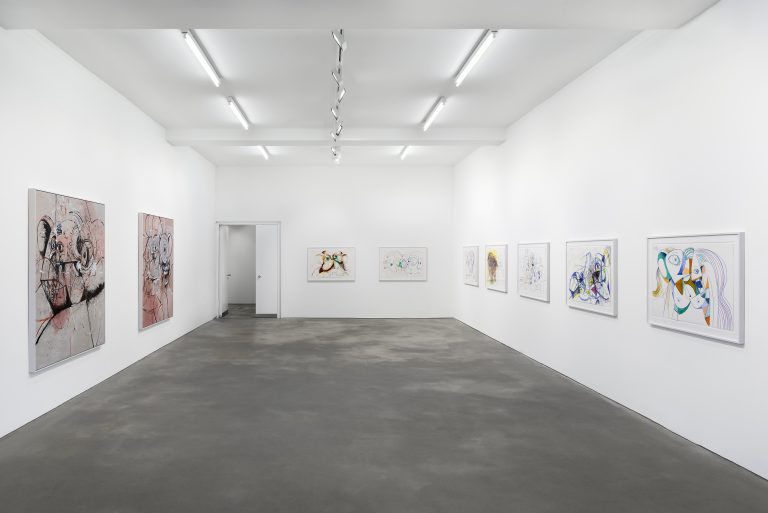 Robert Elfgen
Higgs-Boson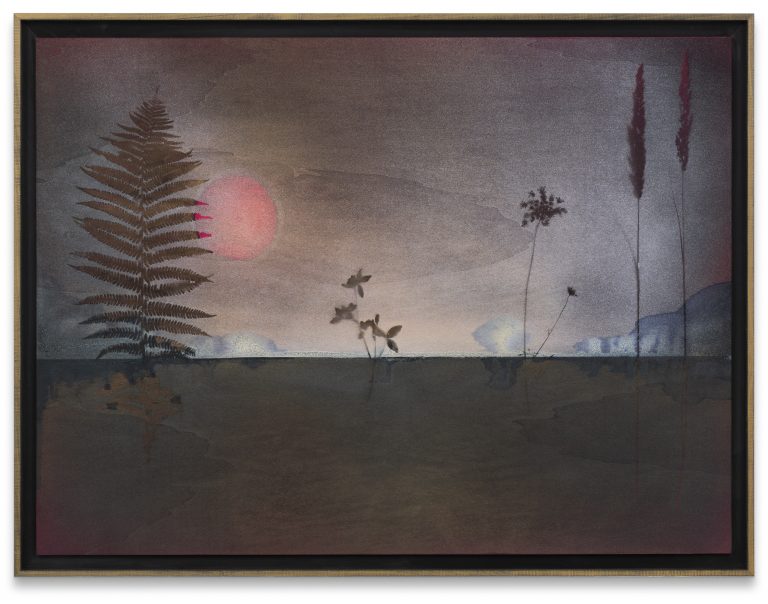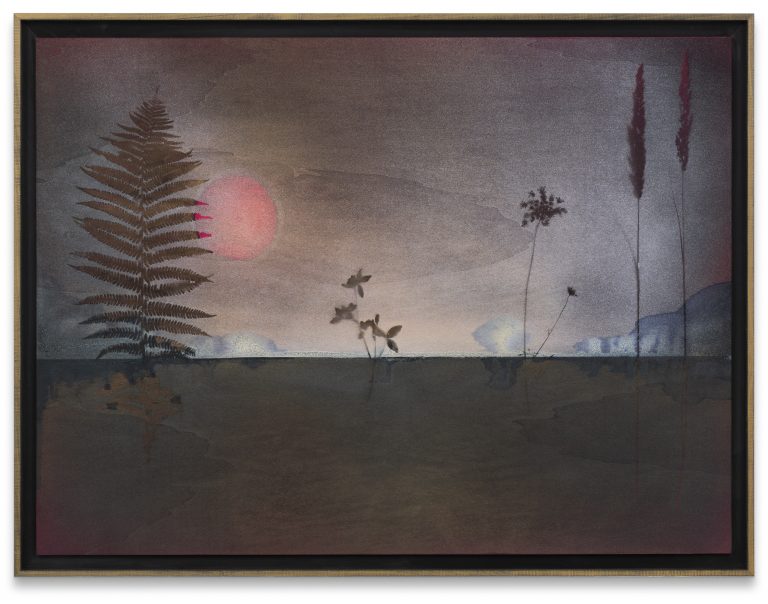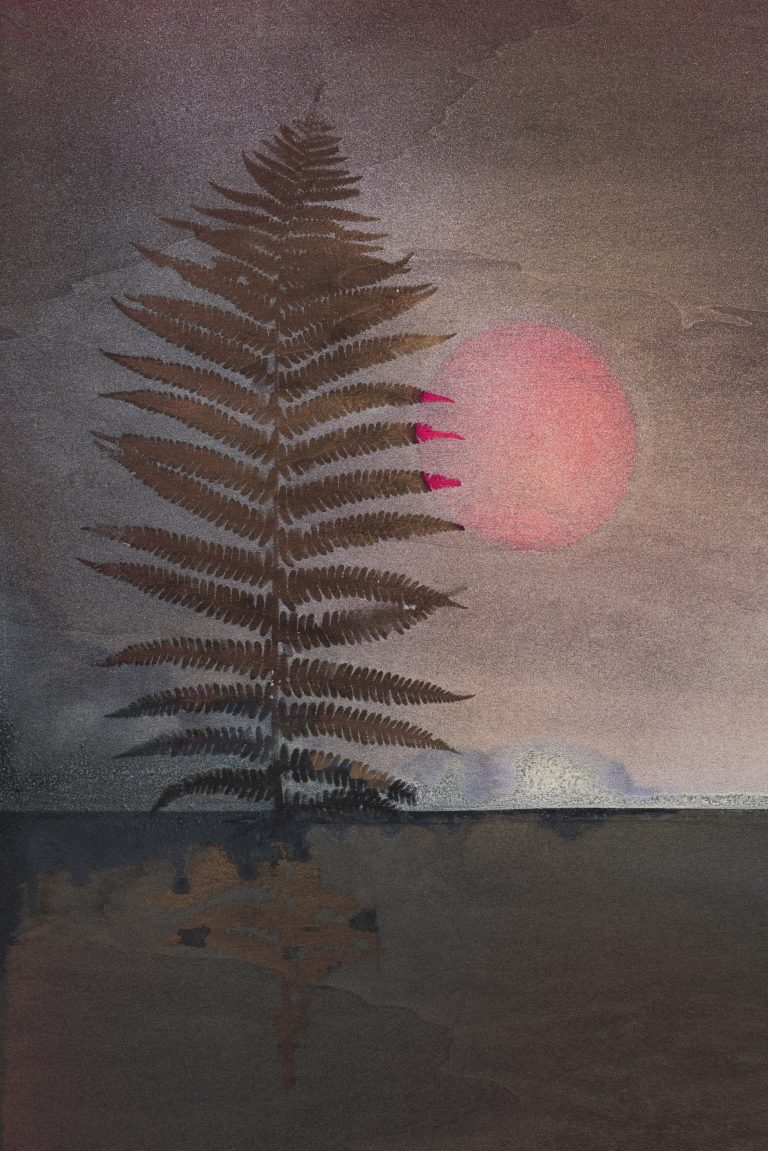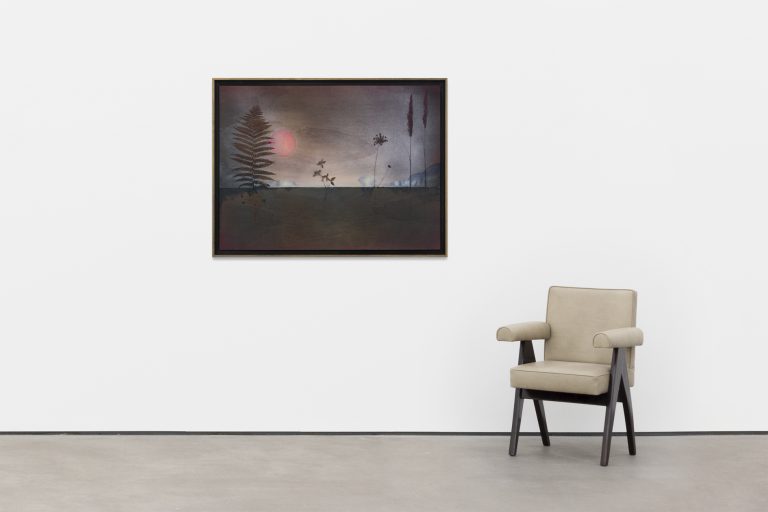 Monika Sprüth and Philomene Magers are delighted to announce Higgs-Boson, a project showcasing new works by Robert Elfgen. It is the first presentation at Sprüth Magers Window, a new format that takes the art out of the gallery space and places it in a more domestic environment with wood-paneled walls, while also offering the chance to experience the exhibition from the street. Elfgen's mystical paintings of landscapes and mythical creatures as well as objects from his studio transform Window into a Wunderkammer, a spatial work of art that addresses man's relationship to the world and our existence in its entity.
The exhibition title refers to the Higgs boson, an elementary particle detected just a few years ago using complex experiments. Also known as the "God particle," it only becomes visible for a fleeting moment before it breaks down and disappears. Its discovery was a watershed moment in the field of elementary physics, as the particle had long been one of the last, unknown building blocks of matter. It is closely tied to the Big Bang and is key to understanding how mass materializes.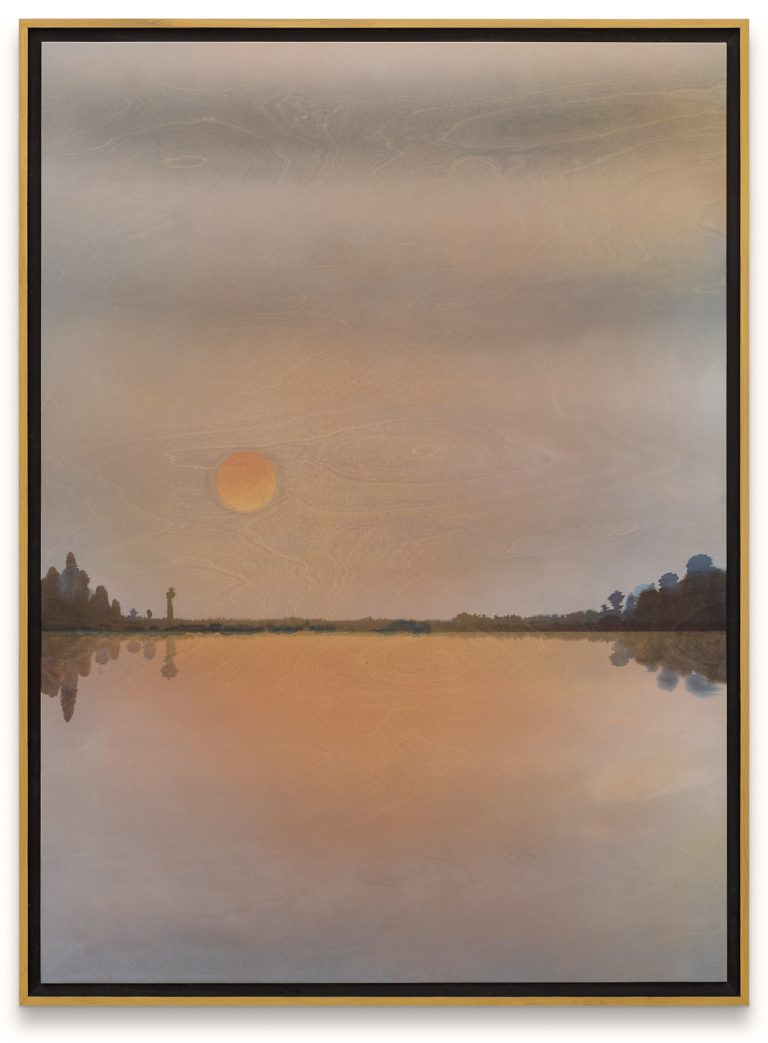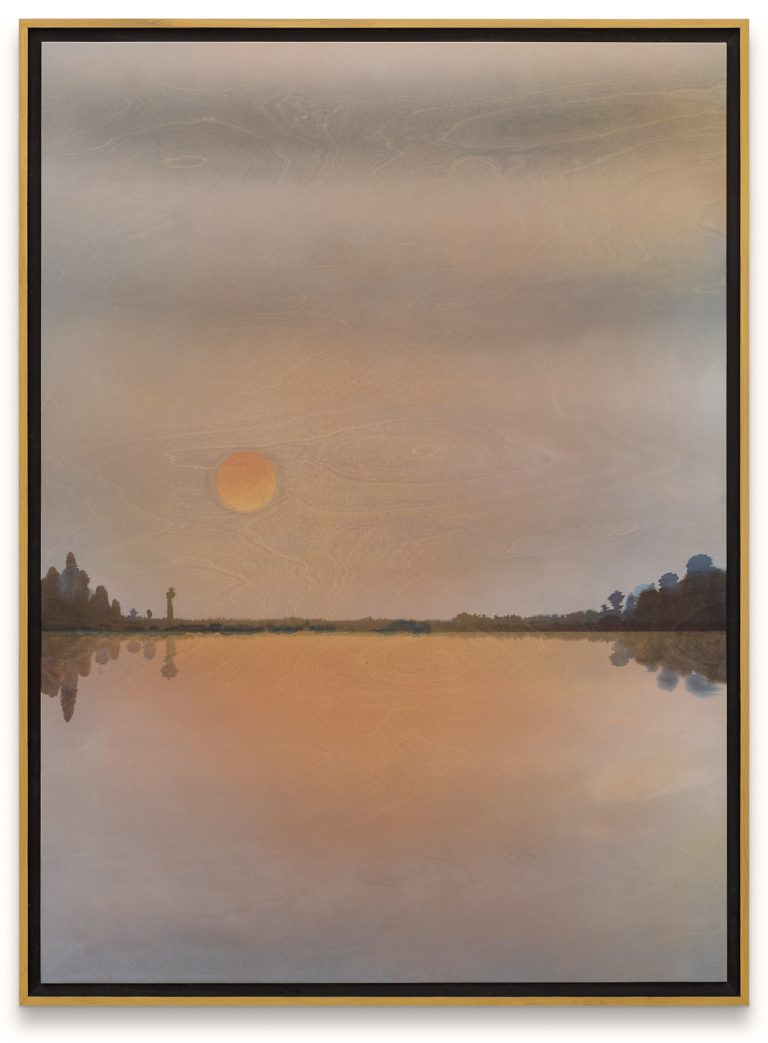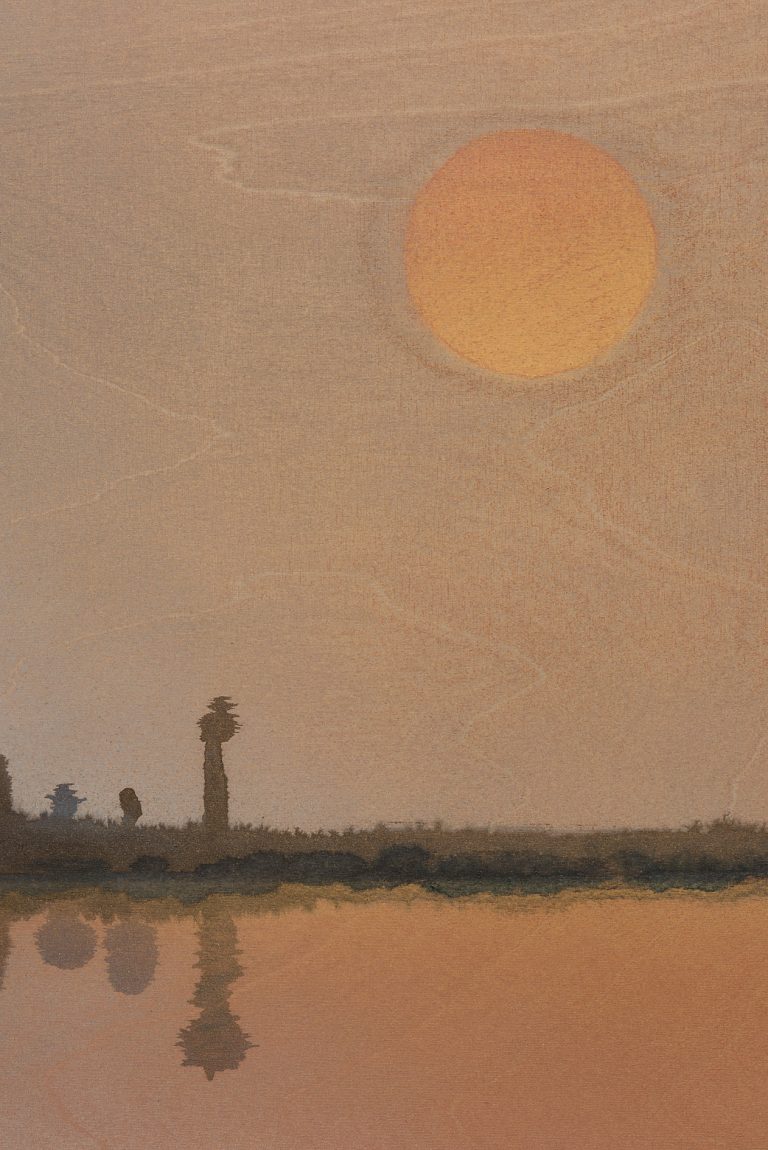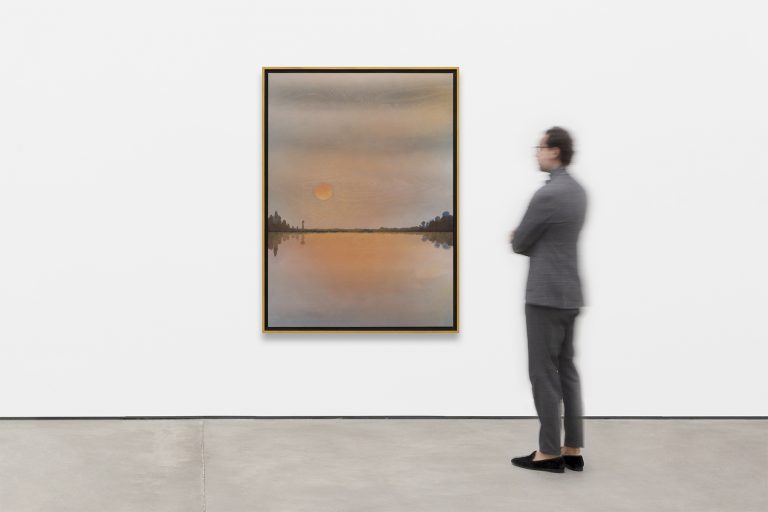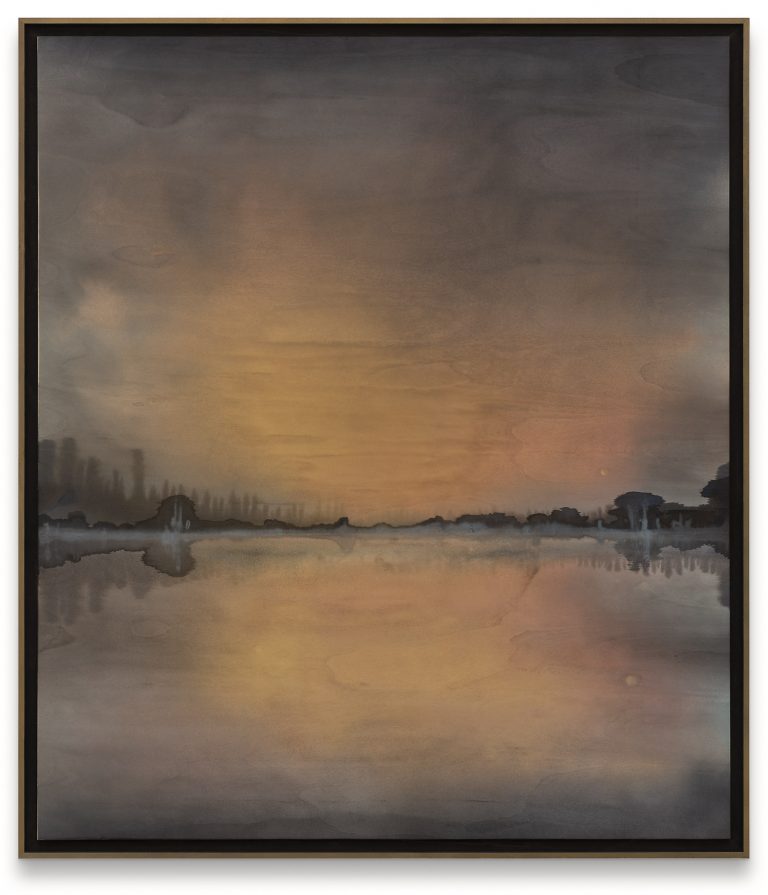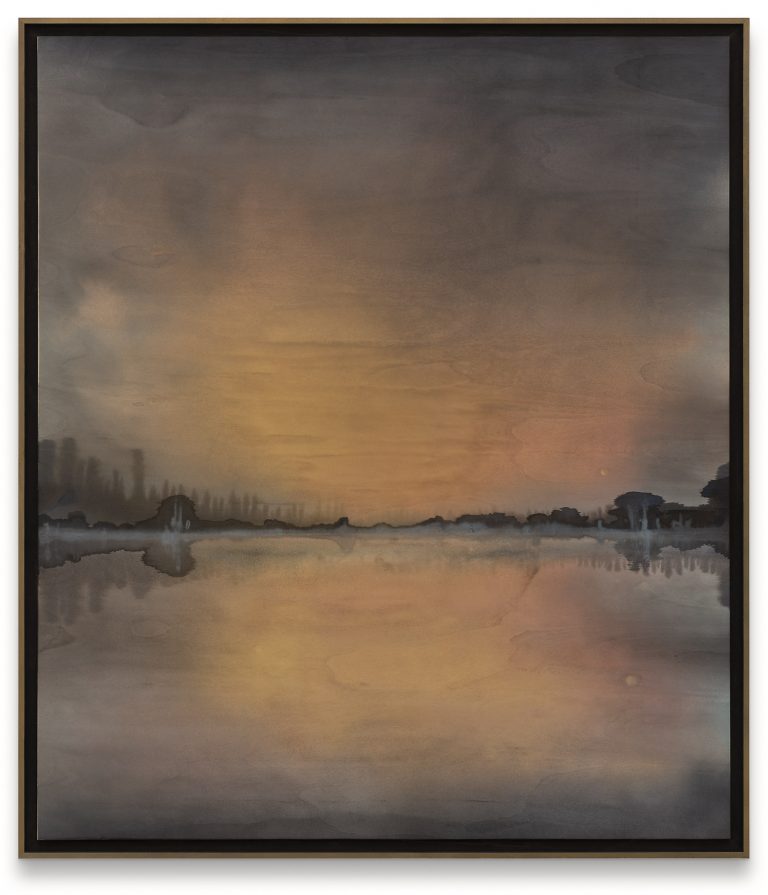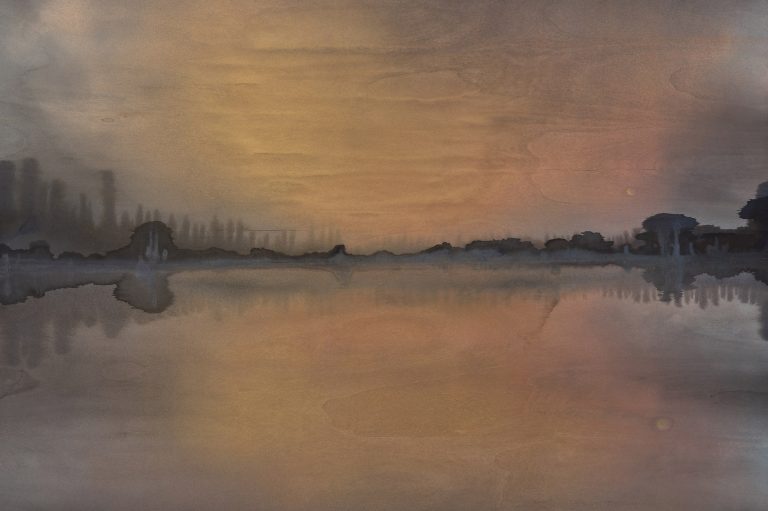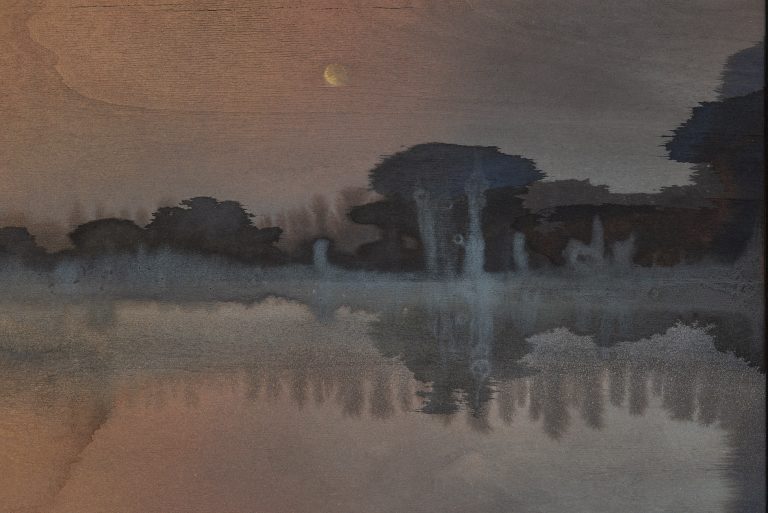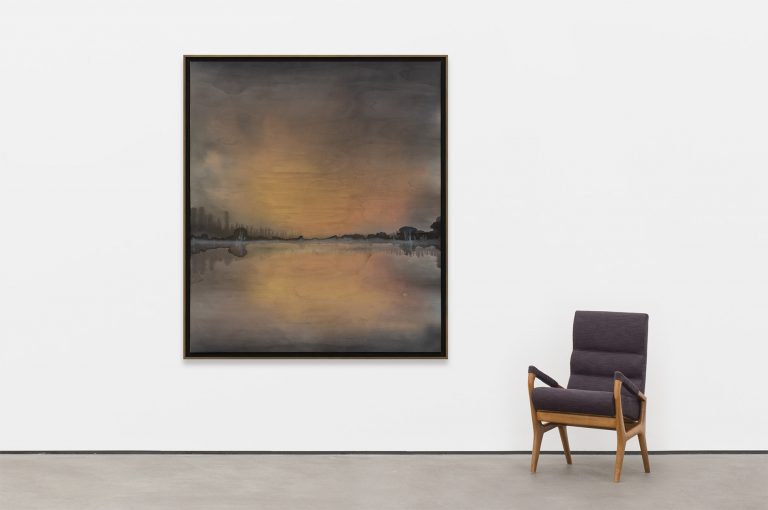 Elfgen's new works have a meaningful connection with the title. They are reminiscent of 19th-century Romantic landscapes in which the artists evoked a kind of painting that sought to depict the divine in the earthly—and with it, the unseen in the seen. Yet a closer look reveals that these paintings are abstractions composed of various, interacting color gradients. In this way, Elfgen uses color to manifest nature. He applies spray paint with accents of ink; the ink introduces an element of chance to his creative process, as the interaction of these media with the surface can only be controlled up to a certain point. Wood grain visible through the color gives the works a highly tactile, painterly ductus; in allowing it to show, Elfgen's works reveal an otherwise concealed element just outside of the immediately visible. The material becomes the substantial creative moment of the work and part of its motif in the form of clouds in the sky or waves on the water. The images materialize. Metallic particles in the spray paint add a shiny shimmer to the surfaces and constitute yet another Higgs boson reference, as the particle also emits a split-second, visible glow just before breaking down.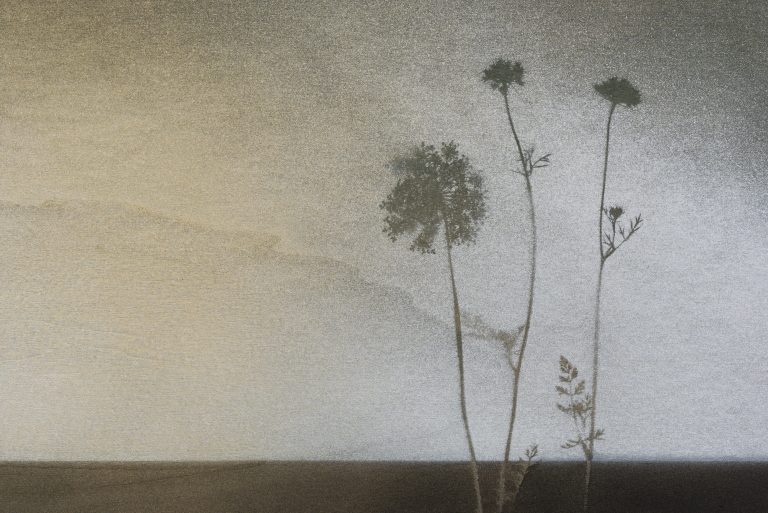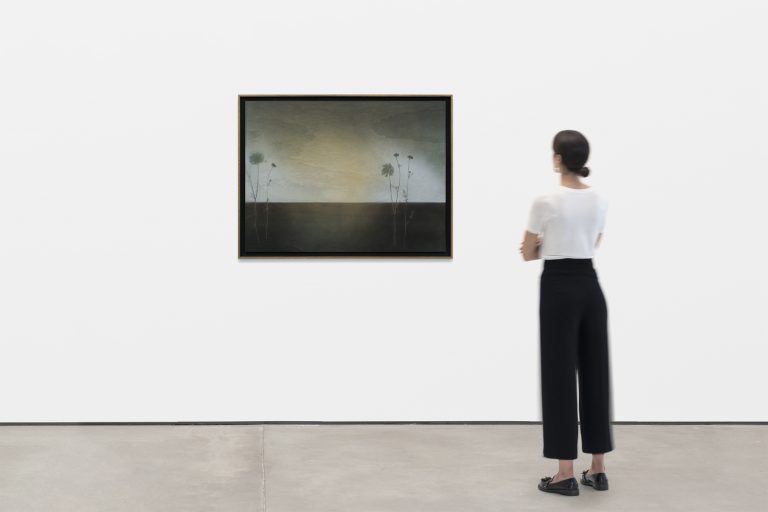 New abstract landscape paintings are joined by other works by Elfgen. They show figurative elements and found objects from nature, such as animals and ferns, or combine them in an atmospherically-charged form of collage. The main subject of his oeuvre—the relationship between humans and nature—is thus taken up and expanded, often on a metaphysical level. Depicted animals recall fantastic mythical creatures, further underscoring the images' mystical character. Elfgen's subject matter and materials create a cosmos in which nature and civilization intertwine. Together they show us the invisible in the visible, and enable us to see the world in a subtle, new light.
Robert Elfgen (*1972, Wesseling) lives and works in Cologne. Elfgen first studied with John Armleder at the Akademie der Künste Braunschweig before transferring to Kunstakademie Düsseldorf, where he studied as a master pupil of Rosemarie Trockel. He was awarded the Atelierstipendium, Kölnischer Kunstverein and Imhoff-Stiftung, Cologne (2004); the Förderpreis des Landes NRW für junge Künstlerinnen und Künstler (2007), and the Grafikpreis des Landes NRW (2009). Important solo exhibitions include Strandspaziergang, Leopold-Hoesch-Museum, Dueren (2016); Hören was zu sehen, Oldenburger Kunstverein (2015); des bien ich, Sprüth Magers Cologne (2008); expedition, westlondonprojects, London (2006) and 1+1=3 Elfgen- Technik, Bonner Kunstverein, Bonn (2005). Important group exhibitions include Berlin Edition, Museum of Now, Berlin (2019); Spargelmatinee, Museum Villa Stuck, Munich (2017); Paperworlds, me Collectors Room Berlin (2014); Kunstmuseum Wolfsburg (2013–14); Plaisirs du Jardin, Museum Morsbroich, Leverkusen (2012), and Paul Thek: Works in the Context of Today's Contemporary Art at ZKM Karlsruhe and at the Falckenberg Collection, Hamburg (2007–08).