Israel Hershberg
Gallery Openings—15 Sep 2023, 6 to 9 PM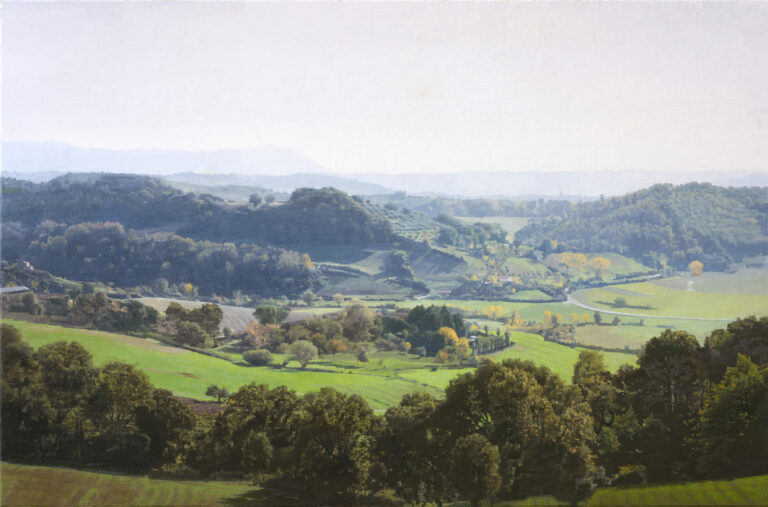 IMAGO, Israel Hershberg's new solo exhibition at Galeria Plan B, his first one with the gallery, brings together a selection of paintings from different periods, situating the painter's approach to pictorial representation as an outcome of a direct, unmediated experience, set against the heavily mediated visual regime the contemporary art world is governed by. As curator Yigal Zalmona once put it, Hershberg paints "'from life.'" His landscapes are based on (ideally) uninterrupted observation in situ. The kind of painterly realism Hershberg is known for may be regarded as an attempt to revive traditional modes of pictorial production, which should also be considered a response to and rejection of the screened, filtered, and mechanized imagery characterizing contemporary painting.
The title of the exhibition, IMAGO anchors Hershberg's painterly endeavour within a theological-philosophical context alluding to the biblical 'Imago Dei' of the Garden of Eden and the creation of Man, as described in the first chapters of the Book of Genesis. In addition to conveying the image of the world in its natural, pure state, the title points to the consequences and implications of transforming the world into an image, a picture. As such, it indicates a withdrawal from the world, a substitution, and to some extent, cancellation thereof. The title reconfirms the mysterious irreducible quality of painting, even realist, with regard to the represented world it both reflects and conceals.
Hershberg's mimetic landscapes are tied to specific sights and locations, but at the same time they are also independent mental images. They re-establish pictorial subjectivity without employing expressionistic aesthetics. As manifested in a painting like View from Giglio – Fall (2022-23), where the green foliage of the trees and the mountains stretch from side to side and are cropped by the frame, Hershberg's landscapes are both contained and expansive, concurrently a totality and a segment of an infinite continuum; encapsulation as well as segmentation implying extension and boundlessness.
Hershberg's reference to Italian renaissance painting highlights the tension within his pictorial practice between timelessness and contingency. His practice explores the validity of canonical modes of representation. It confronts the spectators with the possibility of ahistorical painterly vision, seeking to reveal that which defeats, or is subjected to, the permutations of time. In a different way to a contemporary realist painter like Franz Gertsch (1930-2022), who utilized handmade likeness to process the impact of photography and technical representation on painting, Hershberg is interested in the enduring aspects of painting. However, one cannot easily reduce Hershberg's project to nostalgic, or rather, classicist, aestheticist terms. His project (re)humanizes our vision of the world—of nature. It has a holistic, restorative potential, and in this sense, it is political. It is an act of re-imagining—of correcting and transfiguring.
In contrast to Bertolt Brecht's poem To Those Born After (An die Nachgeborenen) (1939), where the German writer states that there are times in which "A conversation about trees is almost a crime / Because it entails a silence about so many misdeeds!," Hershberg's recent landscapes turn a plastic/visual conversation about trees into a utopian scenario, which supersedes our politically dictated social reality. They introduce, uncover, and somehow retrieve the world we left unnoticed and seem to have forgotten.
Text by Ory Dessau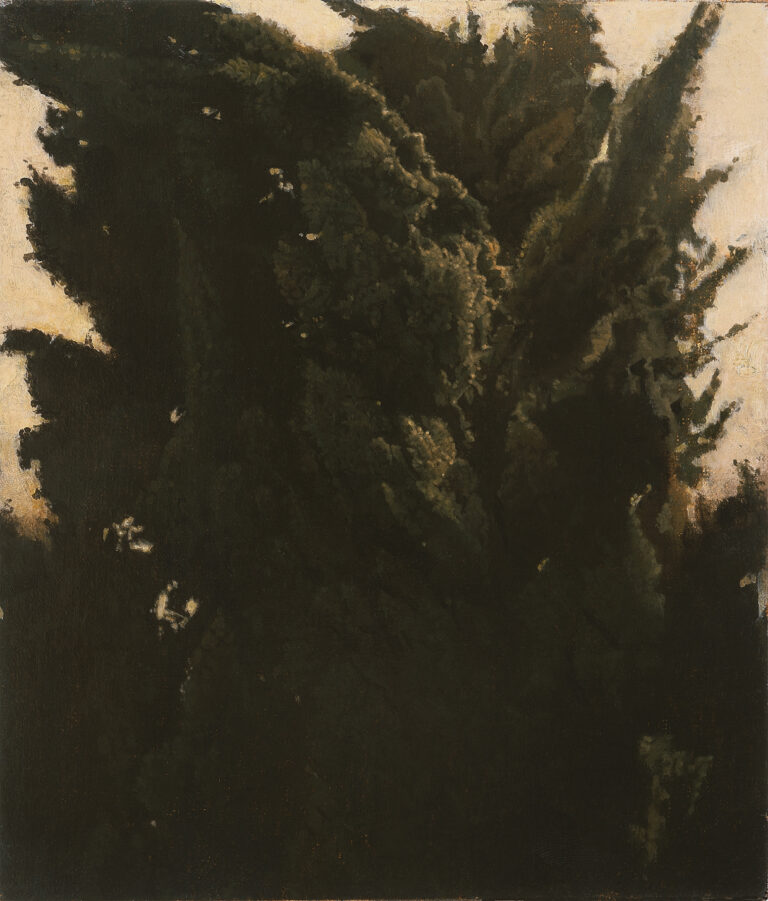 "There is a quality, an essential concrete experience that I wish very much to transmit, but in its various formational stages (…). My finished pictures are not a document of the thing observed—I'd like them to be a new nature, a registration, if you will, of experience as opposed to record."
Israel Hershberg, Interview with John Seed, Huffington Post, 2013
Israel Hershberg was born a refugee on November 7, 1948 in a Displaced Persons camp in Linz, Austria. In 1949 he immigrated to Israel. In 1958 he moved with his parents to the United States where he attended the Brooklyn Museum School, Pratt Institute, Brooklyn, New York, and the State University of New York, Albany, New York. From 1973 to 1983 he was Instructor of painting and drawing at the Maryland Institute College of Art, Baltimore, Maryland. In 1983 he taught painting at the New York Academy of Art, New York, New York. 
Israel Hershberg moved back to Israel with his wife and family in 1984. In 1991 he was awarded the Sandberg Prize for Israel Art and in 1998 the Tel Aviv Museum of Art Prize for Israel Art. The artist is the Founder and former Artistic Director of the Jerusalem Studio School in Jerusalem and is currently the Director & Founder of the JSS in Civita Master Class & Residency in Civita Castellana, Italy. His work is included in private and public collections internationally. Israel Hershberg is represented by Galeria Plan B, Berlin and lives and works in Pardes Hanna Karkur, Israel.