Pae White
~ ~ ~ ~~~~~~~v2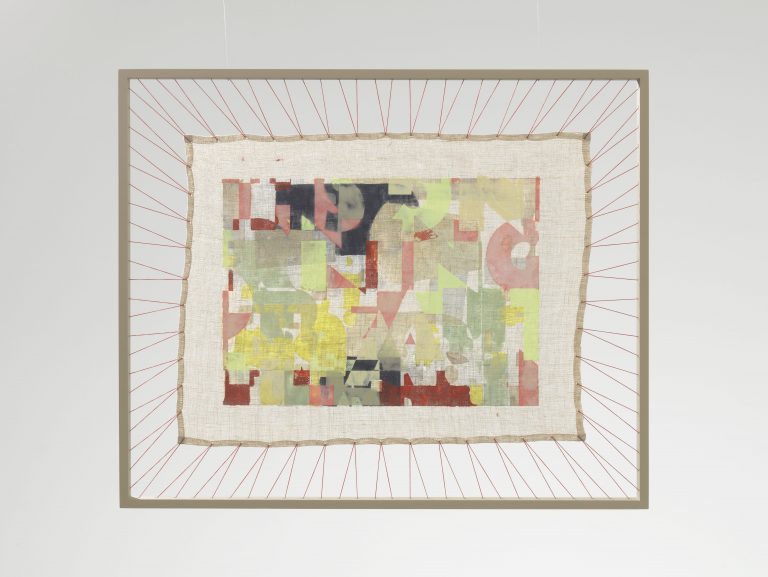 White's work is remarkable for the way it mixes the handmade and the industrially fabricated, natural and artificial materials, the unique and the multiple, and for how it presses on the limits of facture. She is persistent in her questioning of how we see, and how the notion of "we" is as unknowable as the concept of "I." Her work deftly orchestrates the roles of color, form, shape, outline, depth, surface, and transparency.
Jenelle Porter, Senior Curator, ICA Boston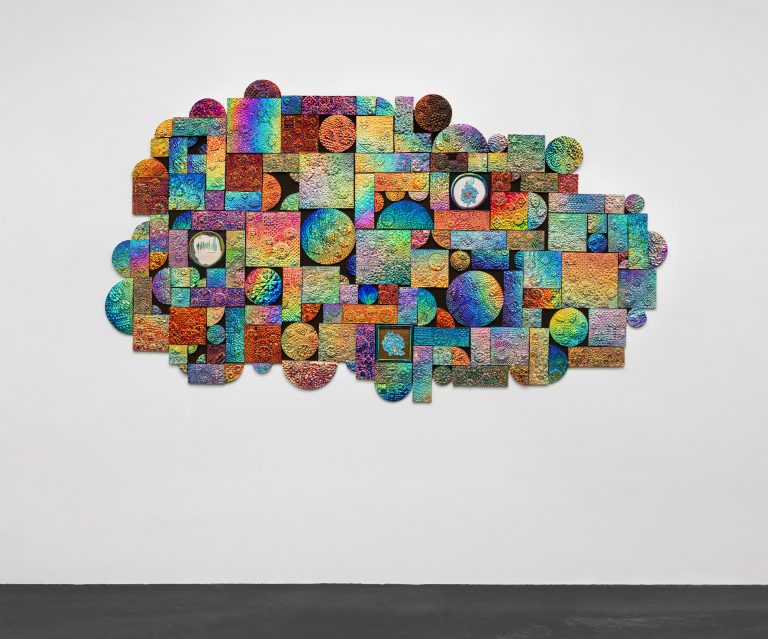 neugerriemschneider is pleased to present Pae White's sixth solo exhibition with the gallery, entitled ~ ~ ~ ~~~~~~~v2. This exhibition of new work pays special homage to the natural world and is reimagined from a show originally planned for Gallery Weekend Berlin 2020 – its title implying a series of pulses and a "version two". ~ ~ ~ ~~~~~~~v2 evokes the intervening year of research and production by Pae White while living in the wild, coastal landscapes of Northern California. Wall-, floor- and free-standing works, tapestry and tiles respond to organic phenomena, from the iridescence of abalone shells, to sheaths of falling rain, the immaculate husks of crab shells, and the palette of dye made from fungi.
Materials, their permutations and their unexpected uses have taken center stage throughout Pae White's expansive oeuvre, serving as the basis for both large-scale installation and intimately scaled work in diverse media. With each iteration of a given medium, she explores its limits and upends its associations, pushing it to its extremes. In ~ ~ ~ ~~~~~~~v2, White deepens her research of material possibilities in two- and three-dimensions and engages with codes – the decryption and reencoding of systems – whether visual, linguistic or numeric, these codes act as agents of creation and transformation. Guided by the artist, the handmade combines with the technologically derived, everyday media and motifs are portrayed through complicated scientific processes, and organic complexity fuses with human invention.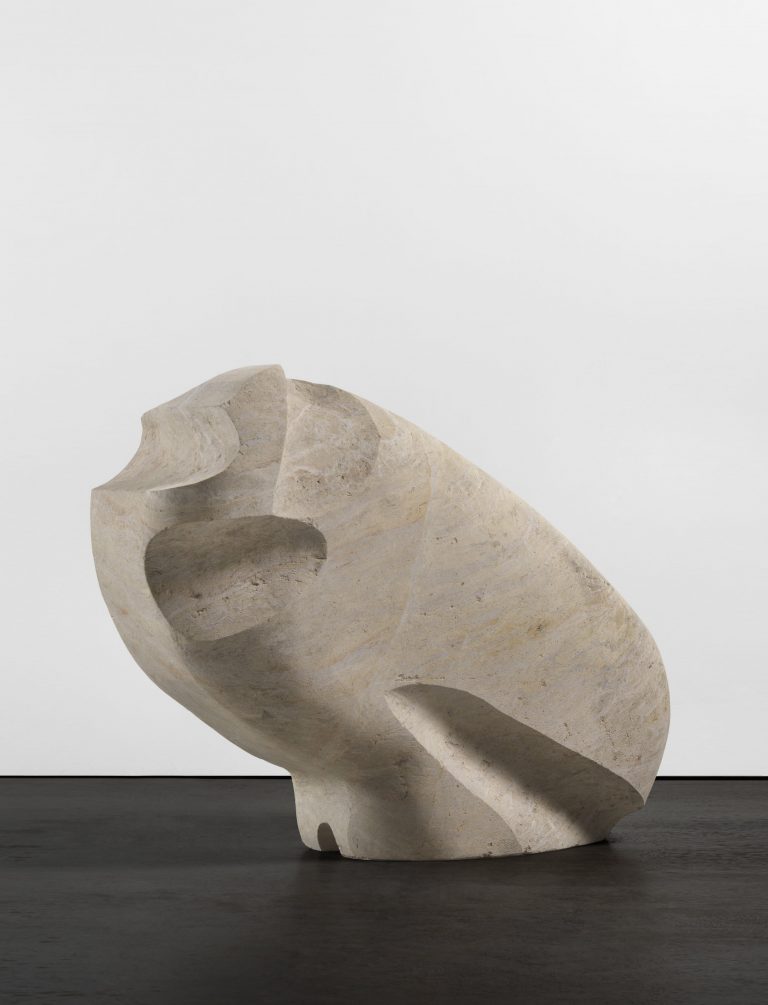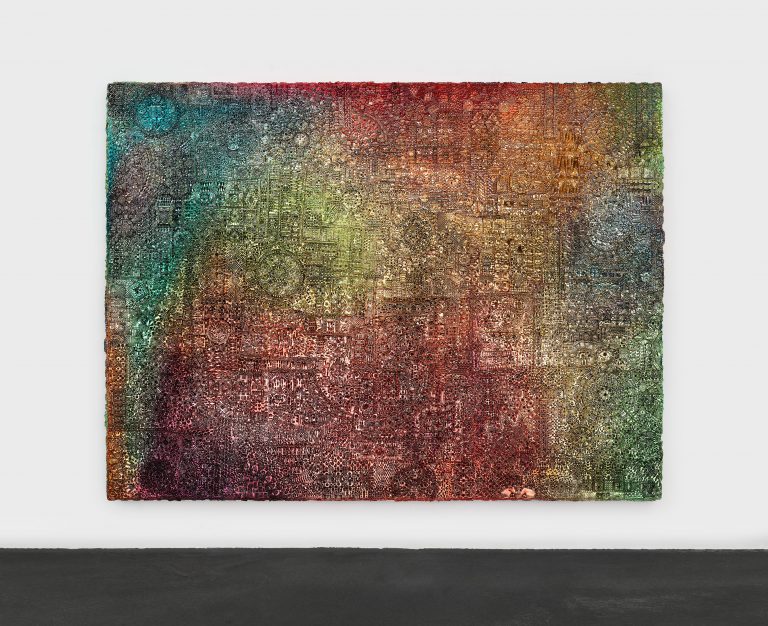 ~ ~ ~ ~~~~~~~v2 comprises five distinct bodies of work, linked by these concepts and approaches. A large-scale tapestry woven in Flanders uses gleaming metallic threads in the warp to appear like glistening trails of rain, with colors that flow, emerge and transform across a surreal cloudscape. Stone sculptures, quarried and shaped in Mexico are placed around the gallery and appear at first like gently rounded natural forms, but are in fact totemic tributes to animals including bats, bears and tortoises, millions of whom perished in the California forest fires of 2020. Hand-painted, intimately-scaled textile compositions incorporate found materials, such as crab shells, with letters and geometric forms, and are made with an extraordinary color palette, drawn, in part, from the dye made from mushrooms. They appear suspended in their frames, like scientific specimens for our close study and offer colors that are subtle and seemingly light-absorbent. Handmade ceramic tiles by contrast are clustered in a radiant, iridescent array, with each piece's ever-shifting metallic sheen the result of the scientific process of physical vapor deposition (PVD). As with the Japanese paper clay works, whose variegated, glistening surfaces are coated with car enamel, the tiles' intricate textures are achieved by the pressing of everyday objects into the surface. Clustered across a wall as tiles, or placed singly as paper clay compositions, the works appear like runic glass pulled from the earth, and continue the artist's engagement with the natural world through an enchantment of materials.
Pae White (b. 1963) has been the subject of solo exhibitions at museums and institutions worldwide including at San Jose Museum of Art, San Jose (2019), Saarlandmuseum, Saarbrücken (2017), MAK, Vienna (2013); Langen Foundation, Düsseldorf (2013); South London Gallery, London (2013); The Power Plant, Toronto (2011); SITE, Santa Fe (2011); The Art Institute of Chicago, Chicago (2011); St Louis Art Museum, St Louis (2010); 53rd Venice Biennale, Venice (2009); Skulpturprojekte, Münster (2007); Hirshhorn Museum and Sculpture Garden, Washington D.C. (2007); Manchester Art Gallery, Manchester (2006) and Hammer Museum, Los Angeles (2004). She has created public commissions at Swiss Re Klubhaus, Zurich (2018-2020); Fondazione Giorgio Cini, Venice
(2017); Broadway Pier, San Diego (2014) and Berlin-Brandenburg Airport, Berlin (2012), among others. Pae White lives and works in Los Angeles.
For further press information and imagery, please contact Sophie Furse at neugerriemschneider: +49 30 288 77277 or sophie@neugerriemschneider.com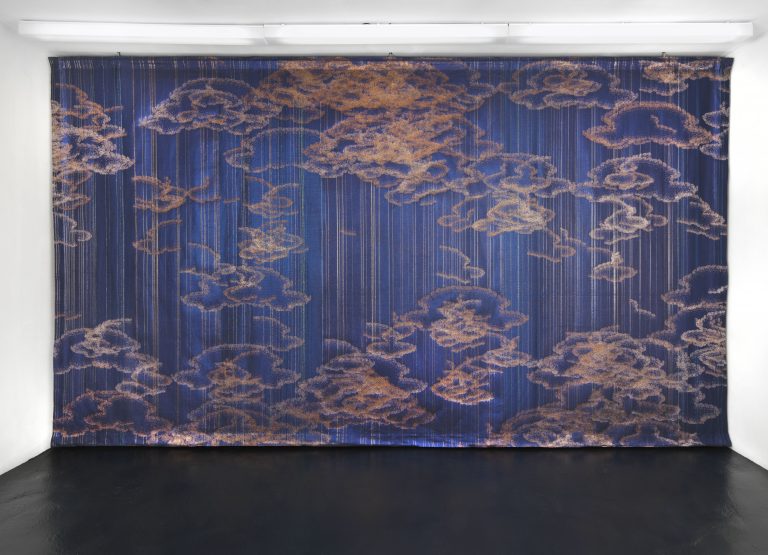 Noa Eshkol
a village, flowers and homages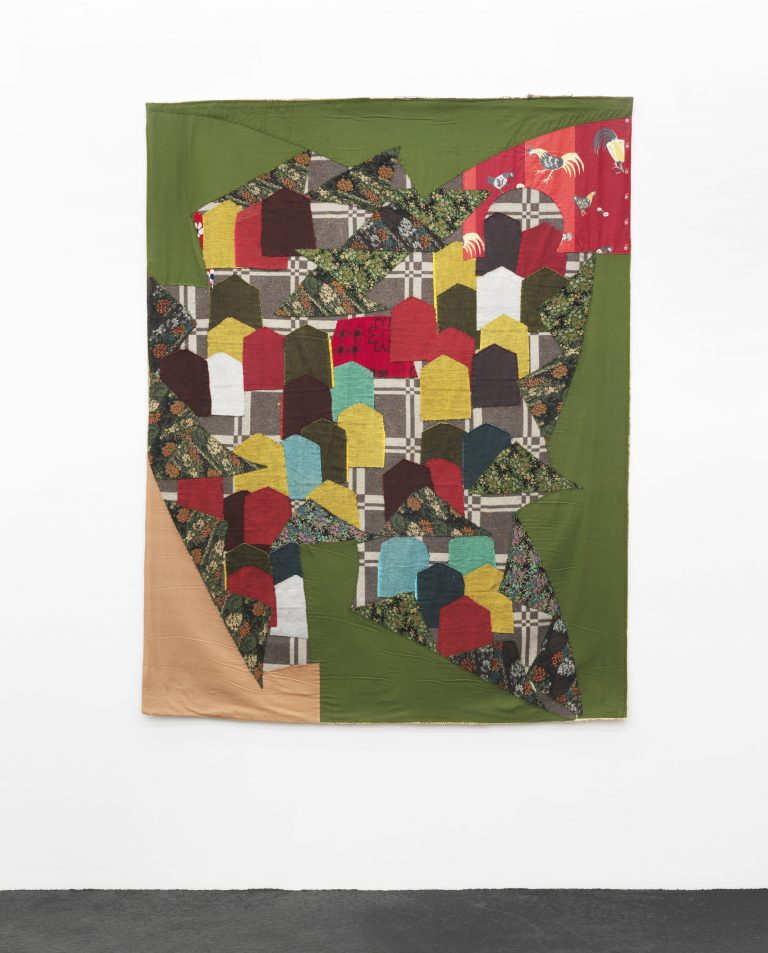 The use of randomly acquired material gives the hangings virtually the nature of objets trouvés. Looking at the material, it is seen that they are themselves compositions, at a low level – compositions in their printed or woven design, which is most often periodic in form. When not amorphic, the shapes of the pieces are quite repetitive, being mainly the negative shapes of body covering (sleeves, etc.), which bestow upon them a near-organic character, because of their association with parts of the human body which they were intended to enclose… It has no rules… no theory – only passion.
Noa Eshkol on the creation of the wall carpets; excerpt from the catalogue, "Noa Eshkol; Wall Carpets", Opelvillen Russelsheim, Hatje Cantz, 2013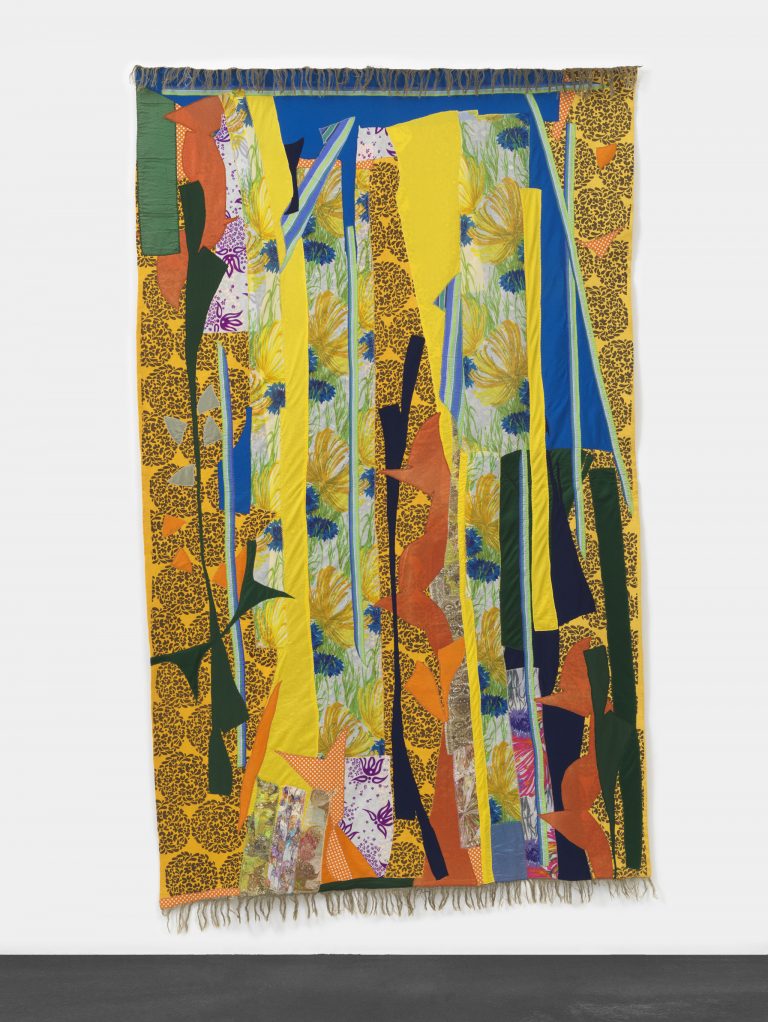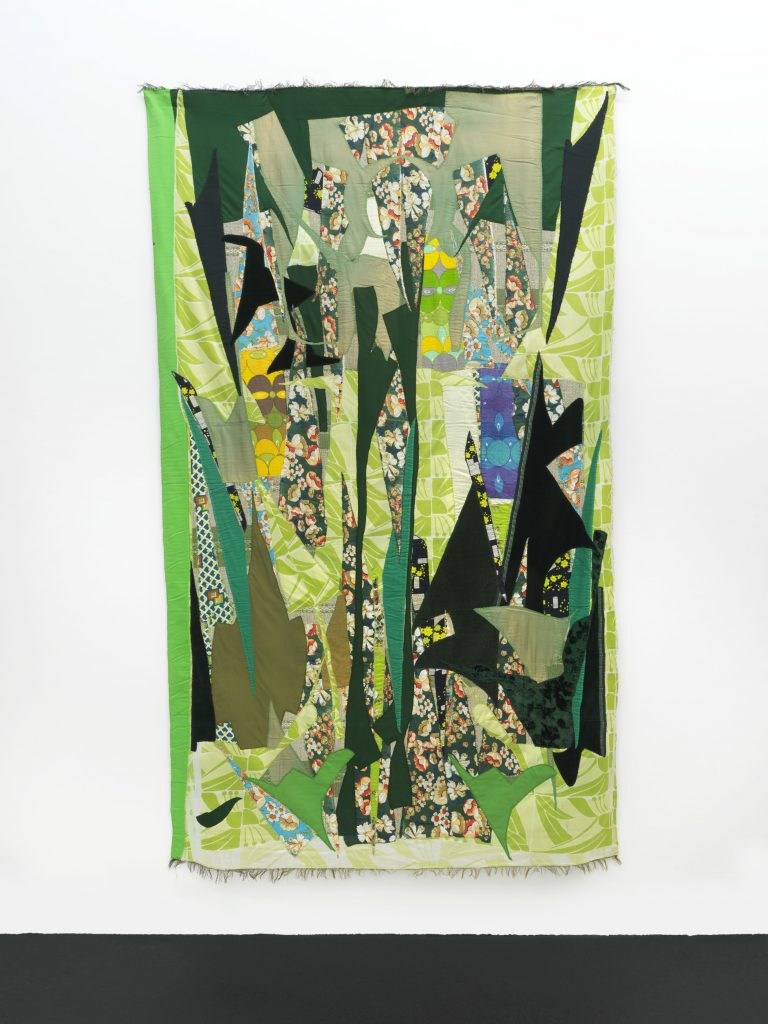 neugerriemschneider is pleased to present its fourth solo exhibition of work by Noa Eshkol (1924-2007). Bringing together eight rarely seen wall carpets from the 1970s to 1990s by the Israeli artist, choreographer, dancer and professor, the exhibition examines interconnected themes at the heart of Eshkol's practice; plant life and flowers, village and pastoral views, and the playful homages she paid to art history and other artists.   
Now also celebrated for her vibrant works in textile, which she described as "wall carpets", Noa Eshkol began her artistic career as a choreographer and movement theorist in the 1950s. In 1954 she founded the Noa Eshkol Chamber Dance Group, based in Holon, Israel, and went on to invent the pioneering Eshkol-Wachman Movement Notation to capture and analyze corporeal movement. Her troupe of dancers both lived and rehearsed together, shaping a communal experience centered on collective exchange and discipline. In the 1970s Eshkol began working with textiles. For these works, she adopted the overarching tenet that each wall carpet was to be comprised of found or gifted pieces of fabric. These fragments were unmodified after being gathered by Eshkol and were never cut or torn for inclusion in her compositions. Her textile works, like her dances, were the results of everyone's efforts – members of the Chamber Dance Group sewed the elements together by hand from compositions arranged by Eshkol.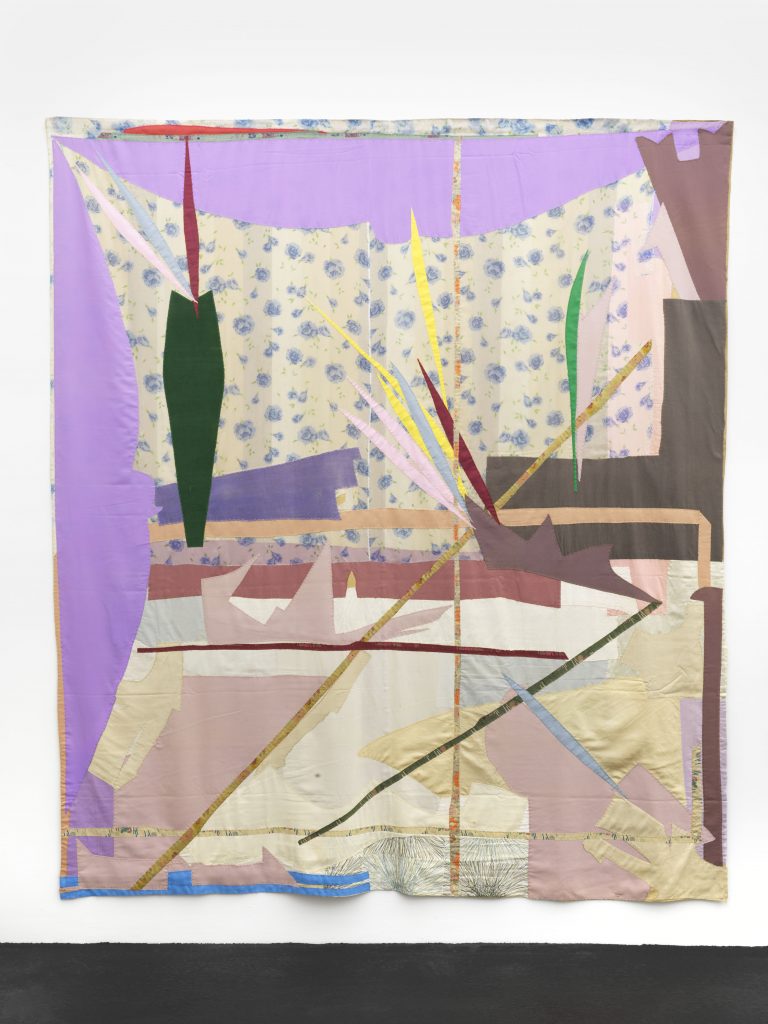 Noa Eshkol cultivated an expansive garden at her home in Holon, Israel. Tightly packed ferns, cacti, trees and flowers of all descriptions abounded in her personal nursery, and their forms appeared from the outset of her work with textile. As well as travelling in Israel, Eshkol occasionally went abroad, and her impressions of the new geographies she encountered and their unique color palettes are manifest in the works she composed on her return. Across her oeuvre, Eshkol's wall carpets draw freely from themes as diverse as folktales, literature, the work of other artists, geometry, still lifes, village- city- and landscapes. Her love of pastoral views and plant life in particular is intertwined with a recurring, playful homage to art history and the work of other artists. Numerous 19th- and 20th-century artists she admired make their way into these works, with wall carpets by Noa Eshkol alluding to André Derain, Vincent van Gogh and David Hockney on view for this exhibition at neugerriemschneider.
The artwork of Noa Eshkol (b. 1924 Kibbutz Degania Bet, Israel; d. 2007 Holon, Israel) has been the subject of international solo and group exhibitions at Van Abbemuseum, Eindhoven (2019); CFHILL Art Space, Stockholm (2019); Istanbul Museum of Modern Art (2019); Vleeshal, Middelburg and Kunstverein, Amsterdam (both 2017); 20th Biennale of Sydney (2016); Badischer Kunstverein, Karlsruhe (2016); Stiftung Opelvillen, Rüsselsheim (2013); TBA21, Vienna; Jewish Museum, New York; LACMA Los Angeles County Museum of Art, Los Angeles; The Israel Museum, Jerusalem and CCA Center for Contemporary Art, Tel Aviv (2011-2012); The Open Museum, Tefen Industrial Park, Kfar Vradim, Israel (2010); Hamumche Gallery, Tel Aviv (1998); Museum of Art, Ein Harod (1996); Museum of Decorative Art, Copenhagen (1980); and Helena Rubinstein Pavilion for Contemporary Art, Tel Aviv Museum of Art, Tel Aviv (1978).