Renata Lucas
short cut
Linienstraße
Opening Reception—28 April 2023, 6 to 9 PM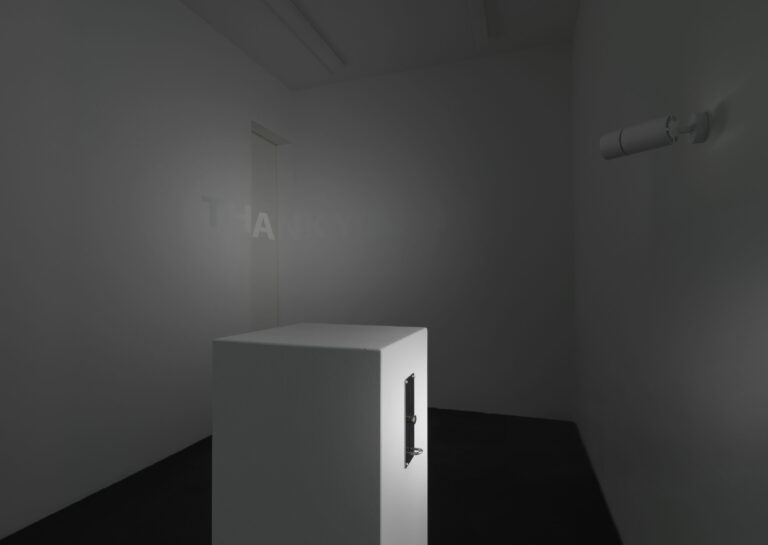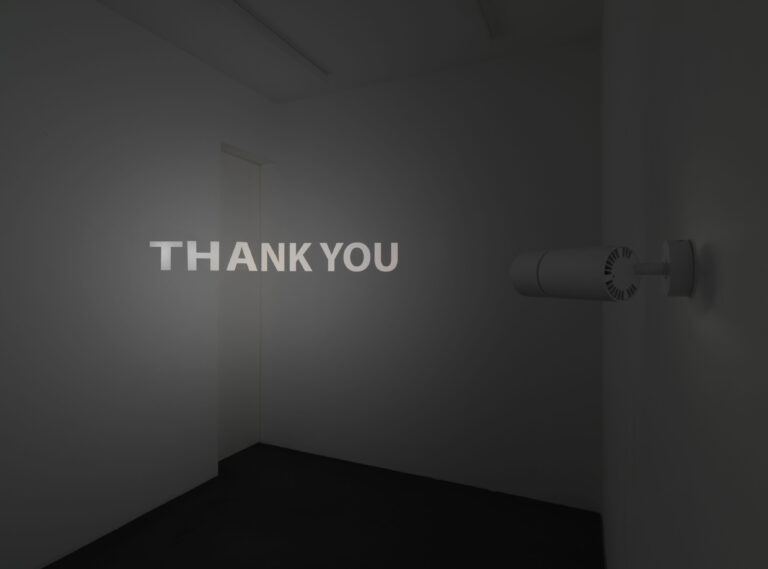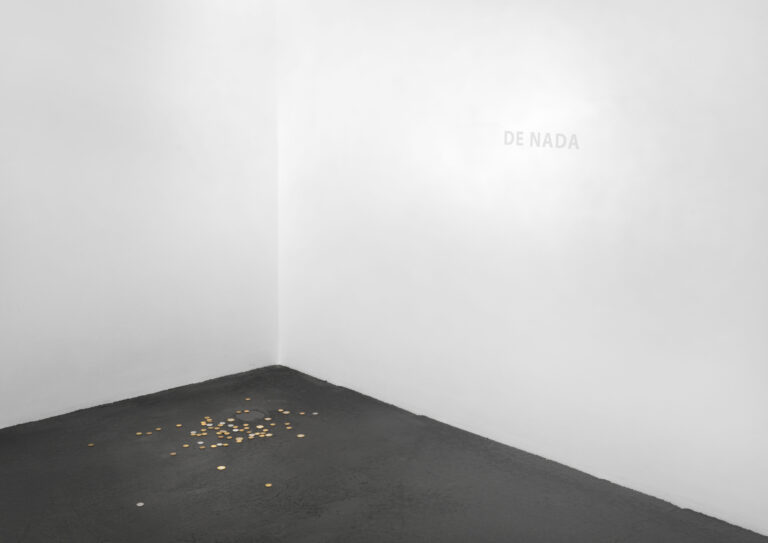 neugerriemschneider is pleased to present Renata Lucas' solo exhibition short cut. In this presentation, Lucas builds upon competing notions of contemplative, intangible interaction and its quantifiable valuation, inviting viewers to actively participate in a coin-operated installation that rethinks the conditions of attention and processes of interpretation. With each deposit, the phrase "THANK YOU" appears for a brief instant before becoming deactivated. Its Portuguese-language counterpart "DE NADA" stands across the space, serving as the backdrop for falling coins and the pile in which they accumulate. Together, the work captures a minimal, circular action that complicates messaging while questioning the very act of looking and its commodification.
Interrogating concepts of perception on scales both grand and intimate, Lucas' practice is centered on the psychological implications of space, its design and what it contains. She draws on sociocultural mores, subconscious preconditioning, codes of conduct and the behavioral influence of one's surroundings to create interventions that subvert expectations. Finding their sites at busy intersections, on sidewalks or across cityscapes, her works address both hyperlocal and global histories to guide new approaches to interpreting once-familiar environments. By invigorating situations through seemingly happenstance encounters, Lucas deconstructs boundaries, and in turn, fosters new channels of connection.
"Lucas manipulates structural frameworks in order to expose, reshape, and redefine intrinsic definitions of ownership, use, and social interaction in a manner that is both playful and radical."
short cut (2023) draws inspiration from the coin-operated lighting occasionally found in churches, momentarily illuminating a particular painting once a tithe is deposited. Here, a simplified plinth stands within the gallery space, sculptural in its presence, awaiting a monetary prompt. This simple, transactional exchange, triggering the message "THANK YOU" in an adjacent room akin to a church's niche, is direct and without pretext, relying on its context to inform—or complicate—its utility. Despite its seemingly innocuous role, this system's temporal link problematizes the visibility it initially enables. Functioning as a timer, it by nature transforms one's experience of seeing: The intent, scrutinizing, unimpeded gaze that a work of art demands is now assigned a precisely defined constraint, creating an imposed, time-bound barrier to a vital sense.
In this work, the gesture of viewing—an innately physical one generally enabled, at no cost, by the human body's own facilities—becomes moderated by an external force. Reversing this act, it is here ascribed a value, and as currency is added, duration increases proportionally. Reliant on user input, its start and end points predetermined, short cut exists as a complete work nearly entirely in the present moment, with its past seemingly limited to the period elapsed since its illumination. The mechanism provides for stark immediacy that in turn gives way to a conceptual and practical loop. Opposite the projected message, coins drop from above, indistinguishable at first glance from those deposited, landing below the static text "DE NADA." In concert, the paired actions and statements feed curiosity stoked by their inscrutability and capacities for rebalancing social dynamics. Lucas' creation exists only in a brief moment, able to be reliably recalled, on demand, at the drop of a coin.
"Much has been written about social critique and the relation between public and private spaces in Renata Lucas' art. But what sets her works apart from many others that address similar issues is the fundamental absurdity of her interventions, which is rooted in her refusal to make them conform to the functionalist aspiration in urban architecture."
Noemi Smolik, Artforum 09/2015
Renata Lucas (b. 1971) has been the subject of international solo exhibitions, including those at Performance Space New York, New York (2019); Peep-Hole, Milan (2011); Secession, Vienna (2014); KW Institute for Contemporary Art, Berlin (2010); Redcat, Los Angeles (2007) and Gasworks, London (2007). She has created site-specific works also for the 8th biennale internationale d'art contemporain de Melle, Melle (2018); dOCUMENTA (13), Kassel (2012); the 12th Istanbul Biennial, Istanbul (2011); the 53rd Venice Biennale, Venice (2009) and the 27th Bienal de São Paulo, São Paulo (2006). She was the recipient of the Absolut Art Award (2013); the Dena Foundation Art Award (2009) and the Schering Stiftung Art Award (2009). Renata Lucas lives and works in São Paulo.
Andreas Eriksson
year in, year out
Linienstraße
Opening Reception—28 April 2023, 6 to 9 PM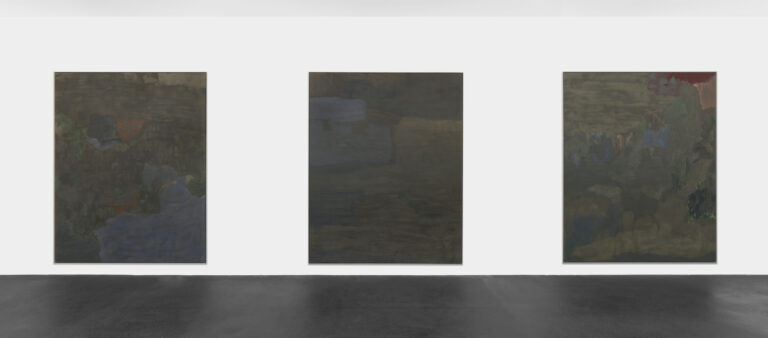 neugerriemschneider is pleased to present Year in, Year out, Andreas Eriksson's third solo exhibition with the gallery. This presentation stems from a year of reflective, focused near isolation and continued exploration of the artist's own approaches—a unique initiative within his otherwise prolific practice. Retreating to his studio in rural Sweden, Eriksson freed himself from any self-imposed expectations, concrete endpoints or boundaries, allowing himself to further develop conceptual and practical approaches to artmaking in fluid, natural, unconstrained strides. The results of this 12-month process are on view here, including new paintings, silkscreen works and hand-woven textiles. 
Contrasting the thematic nature of his previous exhibitions at the gallery – the first of which featured works woven from a diverse archive of linens, followed by a suite of aerial, nighttime impressions in paint—the grouping currently on view takes process as its locus. In direct reference to the presentation's title, itself an evocation of progress as a function of time's continuous passage, Eriksson centers the value of time itself, which manifests here in varying in scales and media as acute, impassioned attention to detail, and engrossment in painting's technical aspects.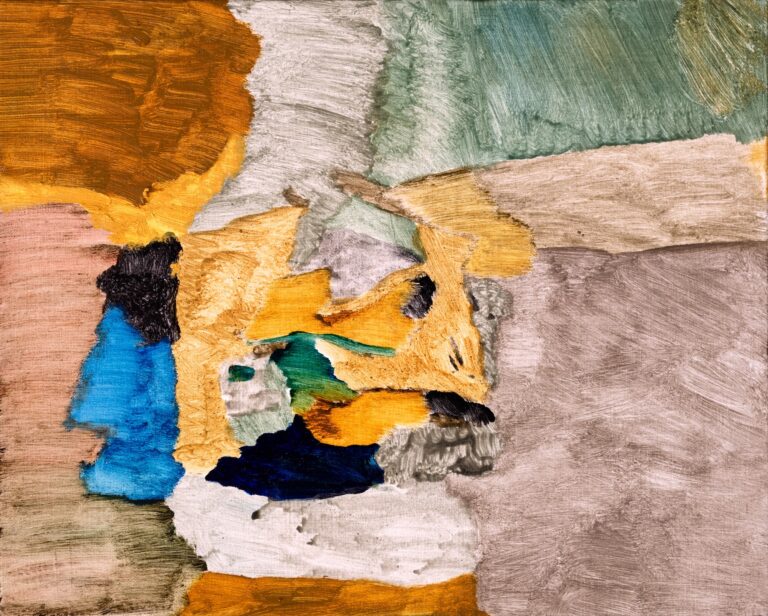 "What's remarkable about Andreas Eriksson's paintings is that even as they manage to impart this quite particular, somehow cold, hard sense of separation, the crumbling crusts of their surfaces make them seem alive." 
Kristian Vistrup Madsen, Artforum 05/2020
From the distinct care paid to the properties of each work's surface, to the customized batch production of select oil paints and close consideration of their physical application, Eriksson shapes compositions that derive exceptional depth from their extended periods of creation. Two cycles of paintings, differentiating themselves with dramatically varied coloration, lend the endeavor structure by encapsulating the year's passage: While darkened earth tones emulate the sensation of entering the shortening days of fall and winter, bold fields of bright pigments indicate in seemingly real-time emerging into the bloom of spring and summer. Taking up the tact of these painted works is an eight-part silkscreen and a large-scale linen tapestry, both mirroring this tonal dichotomy in near monochrome.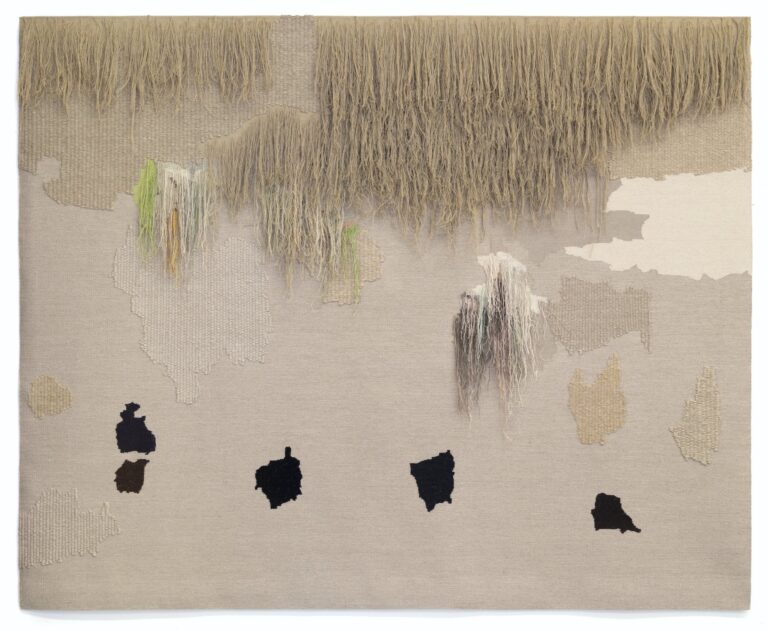 A floor-to-ceiling woven curtain sees threads of red-dyed wool handwoven in geometric balance. Inspired by the exterior of Eriksson's studio in Medelplana, a vernacular Swedish structure with siding of overlapping wooden slats, this work translates the built form into textile. Here, he replicates the context of the exhibition's creation and inverts the outward-facing perspective of his landscape-like paintings. In portraying the atelier's façade—both a barrier to the world and an outward allusion to what may lie inside—the length of tapestry muses on the tradition of studio as sanctuary: one that acts as a site of seclusion and a venue for visual representation of the often unspoken. This engagement is expanded by a strip of thin, loosely woven wool as it forms a gauzy banner. The airy fabric's weave, nearly translucent against incoming daylight, tightens to a one-to-one reproduction of a window from the artist's home. While Eriksson's work primarily focuses on the natural world, this architectural approach finds root in his presentation at the 54th Venice Biennale's Nordic Pavilion, for which he created sculptural platforms shaped after his house's floor plan. 
"The description of Andreas Eriksson's works calls for the invention of new terms, because the available ones—landscape, nature, memory—have gone through centuries of wear and tear and are irrevocably associated with the hackneyed tropes of the European Romantic Tradition. Perhaps a successful articulation could be achieved using the same process of applying thick layers of pigment that the artist uses to compose his paintings, and adopting it to writing by combining multiple layers of words, one on the top of the other, until the resultant phonesthemes speak for themselves." 
Filipa Ramos, Frieze 04/2014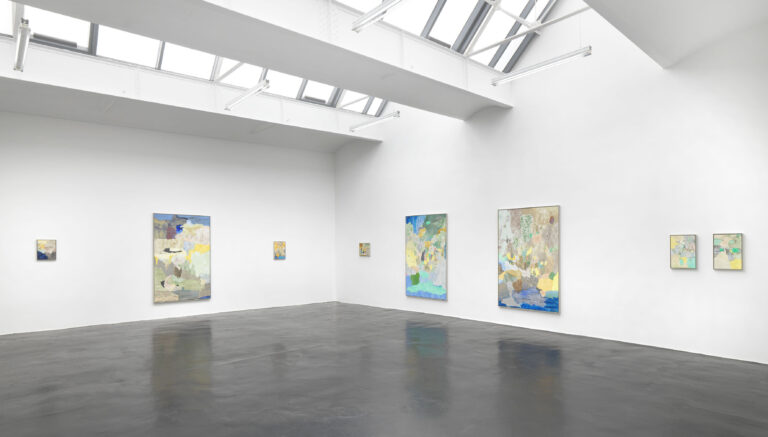 A publication designed by Eriksson, also entitled Year in, Year out, accompanies the exhibition at neugerriemschneider. Black outlines of the works on view in accurately scaled-down form adorn its pages. With the compositions' evocative colors removed, Eriksson's experimentation with size—from wall-filling to singularly intimate—is brought to the forefront. 
Andreas Eriksson (b. 1975) has been the subject of international exhibitions, including those at Thielska Galleriet, Stockholm (2023, upcoming); Skissernas Museum, Lund (2021); Nordiska Akvarellmuseet, Skärhamn (2020); Cahiers d'Art, Paris (2020); Braunsfelder, Cologne (2019); Kunstforum Baloise, Basel (2015); Bonniers Konsthall, Stockholm (2014); Trondheim Kunstmuseum, Trondheim (2014); Centre PasquArt, Biel (2014); Reykjavik Art Museum, Reykjavik (2014) and mumok – Mxuseum moderner Kunst Stiftung Ludwig Wien, Vienna (2008). Eriksson was selected to participate in the third Jeju Biennale, Jeju-do in 2022, and in 2011, created works for a presentation with Fia Backström at the 54th Venice Biennale's Nordic Pavilion, Venice. Andreas Eriksson lives and works in Medelplana, Sweden. 
Jorge Pardo
Christinenstraße
Opening Reception—28 April 2023, 6 to 9 PM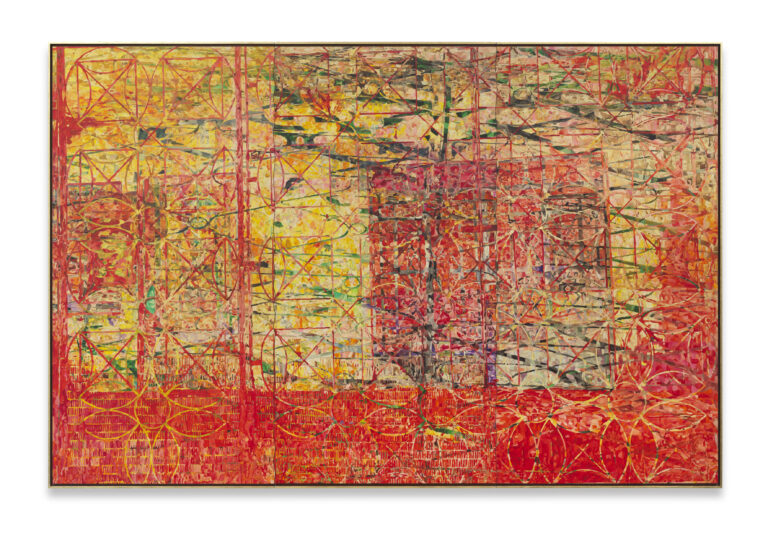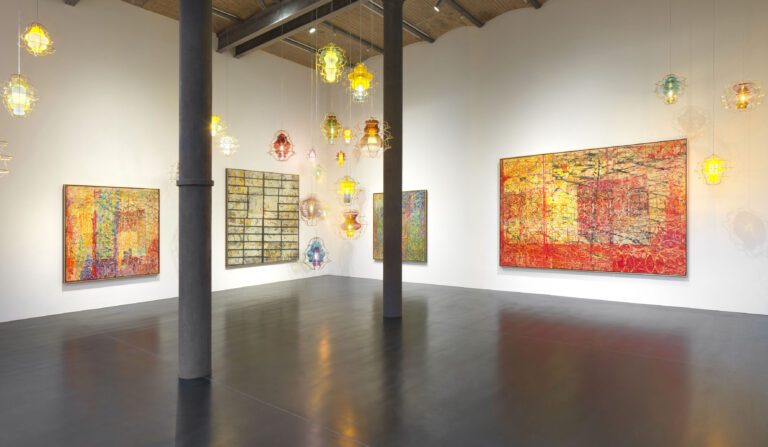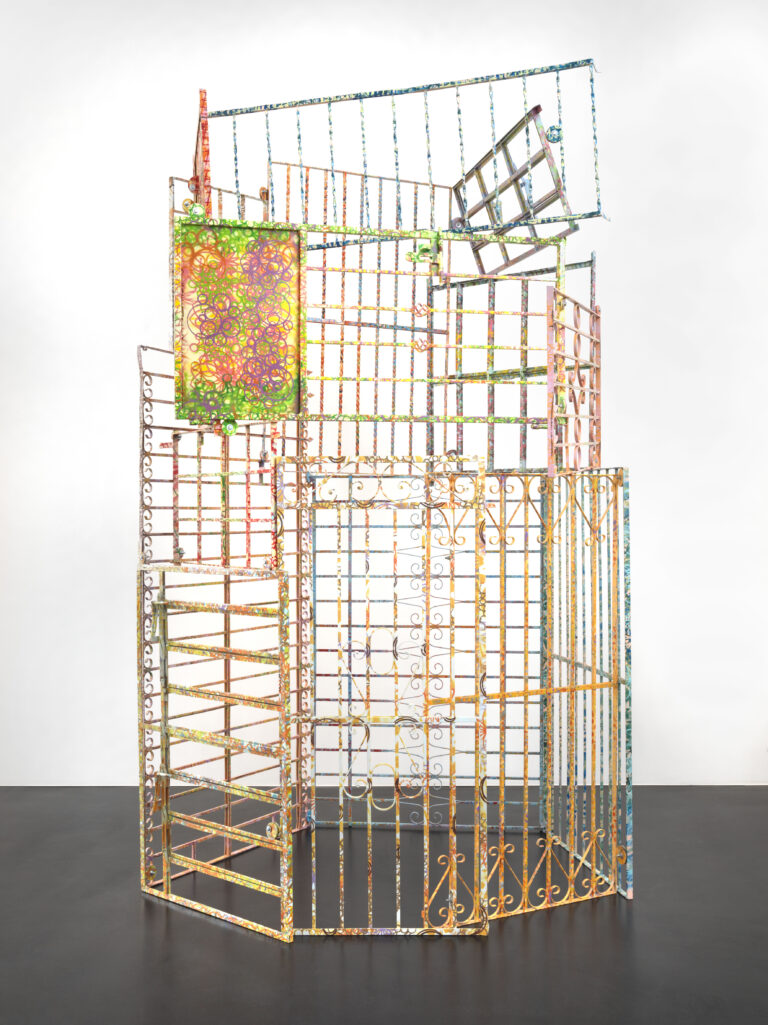 neugerriemschneider is pleased to present Jorge Pardo's 11th solo exhibition with the gallery, which sees the artist take as his point of departure iron window-covering bars found around Mérida, Mexico, where he lives and works. These constructions, in forms both abstract and physical, manifest here as monumental assemblages, intricate, vibrant paintings and brass-encased glass light sculptures. Building upon and departing from the window view as an art-historical trope, Pardo's works are crucial developments within his practice-spanning exploration of the criteria by which a space is defined, and how it may be bridged to coexist with others.
Originally intended as purely protective architectural elements, window grilles gradually morphed to suit and complement their contexts, taking on the sensibilities, and eventually becoming integral parts of local vernaculars. With dynamic ambiguity, their significance shifting in accordance with physical perspective, they stand as intermediaries between public and private, outdoor and indoor, and are exemplary of built environments' capacity to adapt to life around them. This notion – practical concerns becoming aesthetic, conceptual and social ones – is closely tied to Pardo's artistic approach, a key anchoring point of which is the mutual exchange between disciplines, and the formation and perception of space.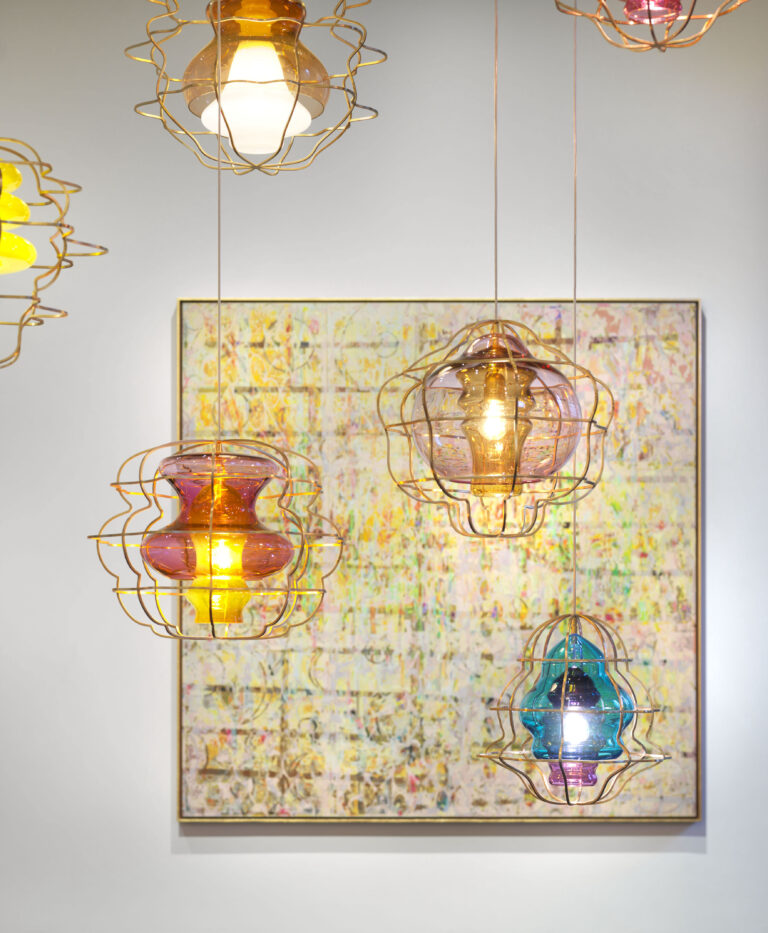 "According to Jorge Pardo, 'to be an interesting artist, you really have to understand your relation to other forms of production'. Pardo has always claimed that his work oscillated between the 'poetic' and the 'sinister', suggesting that he attends equally to the liberating emergence of new formal languages and to the obstinate resistance of old ones." 
Jan Tumlir, Artforum 09/2013
Two towering assemblages—angular, painted, porous monoliths—are assembled from reclaimed metal window bars, stacked end-to-end in irregular arrays, and linking in rings. For these, the innately sculptural ironwork is transposed from its origins, but not stripped of its utilitarian roots. Instead, its purpose is adapted, now cordoning an area off from itself in reconfigurations of access and navigation.
A suite of large-scale paintings on laser-etched MDF fuses a wealth of visual material, ranging from photographs of found window bars, to everyday cell-phone screenshots and artwork reproductions. Digital manipulations of these sources are overlaid in layered compositions, their subjects transformed into near-painterly motifs, allowing the once-representative to become parts of a cohesive whole. Here, Pardo takes barriers designed to tangibly divide worlds, and deploys them as structural framing devices for a multifaceted, additive imagemaking process.
Illuminated, hand-blown glass light works suffuse the gallery, suspended in clusters, their shapes shifting through stages of abstraction. The cage-like brass encasements expand the window-grille through line that pervades the exhibition, adhering to the contours of the glass forms themselves. Seemingly containing the translucent glass without ever making contact, the robust exoskeletons materially contrast that which they surround. Select groupings descend into the sculptures, their light shining through sets of metallic bars in a modified simulation of the division and union of the domestic and the communal. 
"Assuming the guise of décor, Jorge Pardo's art, paradoxically, trades in essences rather than objects. It transforms a gallery into a showroom of interior design but, conversely, if it were installed in your apartment, it would carry the art space with it. […] Overstepping their remit, from function to art, and from art to decor, they also exceed—in quality of construction and finish—the artisanal economies they reference and deploy. Offering themselves up to be judged by materialistic or aesthetic criteria, the objects claim a functional space in which they are free to do more insubstantial, metaphysical work."
Mark Prince, Frieze 11/2011