Thomas & Alexander Levy
– A Dialog between Art Generations
LEVY Galerie has been open since 1970, while Alexander Levy was founded in 2012. For Alex, what lessons were passed down from your father? And for Thomas, what have you learned from your son?
AL (Alexander Levy, *1984): I learned from my father, above all, the importance of personal and private relationships with the artists you want to work with successfully. That is, to understand that successful collaboration needs human, friendly roots. I observed how he surrounded himself with personalities and artists with whom he was also friends. After all, it's not just about goods and objects being traded, but about people and ideas being exchanged.
TL (Thomas Levy, *1947): I'm still learning from my son that you have to hang exhibitions differently, i.e., that the visual presentation, the exhibition design, has a direct influence on the narrative of the works and that you consciously create a dialog context.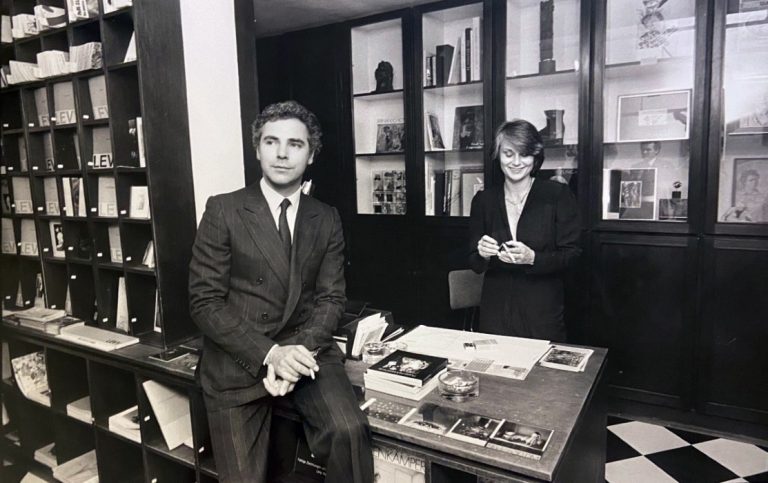 Alex, your mother also played a key role in your family's gallery business. What qualities did she pass on to you that help you today as a gallery owner?
AL: My mother was primarily involved in the personal relationships within the gallery business, and with her warmth, she helped shape the atmosphere at the openings and events. She also took care of the order and structure in the preparations and the day-to-day business and kept an eye on the big picture – also economically.
Meret Oppenheim, Man Ray, Daniel Spoerri – are these names you grew up with, Alex? You might have known Oppenheim but probably don't remember her yourself; nevertheless, with Daniel Spoerri you indeed have a close connection like your father?
AL: I always say that Meret Oppenheim used to read to me, but that's not true at all, so I've got that wrong in my memory. I know Daniel Spoerri closely, of course, and enjoy spending time with him. He is incredibly charming and funny, and my parents are very attached to him.
Art is obviously a core foundational element for your family, but can you speak on how art and the art world impacted both of you?
AL:  Because I grew up in art, it was elementary for me to do something else that was creative, so I first immersed myself in the world of music and was abroad. But then I returned to art because it is a direct filter of society and current issues. Here, ideas are implemented to significantly impact our understanding of our environment and human structures. 
TL: For me, art has always been part of life, and I can't imagine my everyday life without it.
What is the key element to a good piece of art?
AL: Art must ask questions and abandon new perspectives.
TL: Art must be innovative and reflect the time in which it was created.
What are some of the biggest changes you've seen within the art world since opening your respective galleries?
TL: When I first opened my gallery, the social resonance for art felt much less [important]. Today it is enormous.
AL: …whether that's just because of the artistic-creative output or the investigative interest?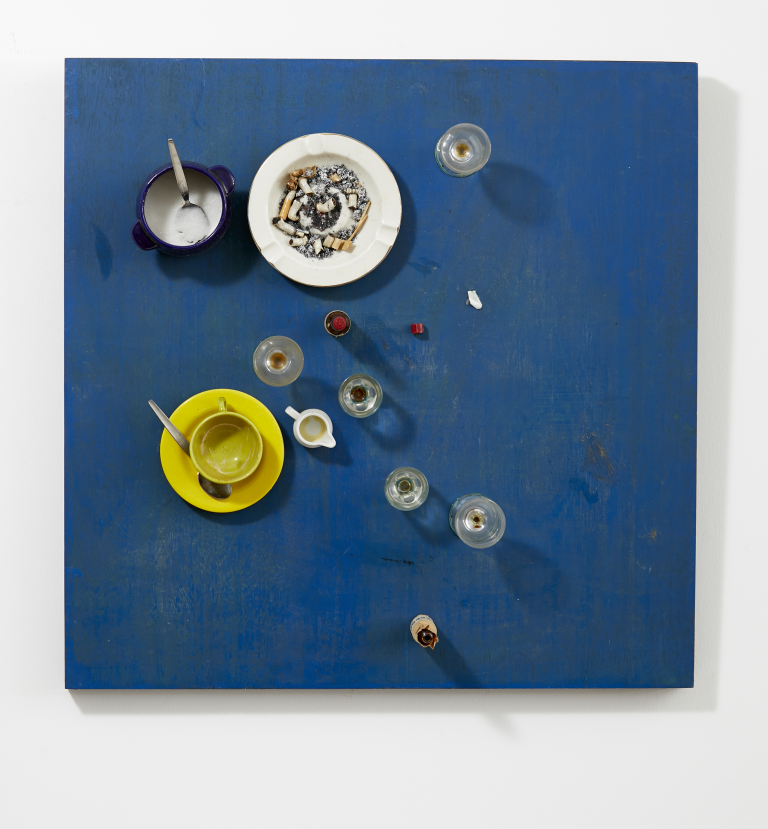 How has the gallery business changed over the last decades? What are new challenges – especially in terms of online presence?
TL: When I started in 1970, this digital presence didn't exist. That meant that customers mainly came by the gallery space in the past, and personal encounters were crucial for buying art. Nowadays, internet sales have become very important and [have been] boosted even more by the pandemic and limited mobility.
AL: Visibility and reach have increased significantly due to the digitalization of the art market. Online presence as mediation has become essential for a gallery. In addition, it has made communication about art easier and the barrier to buying art lower.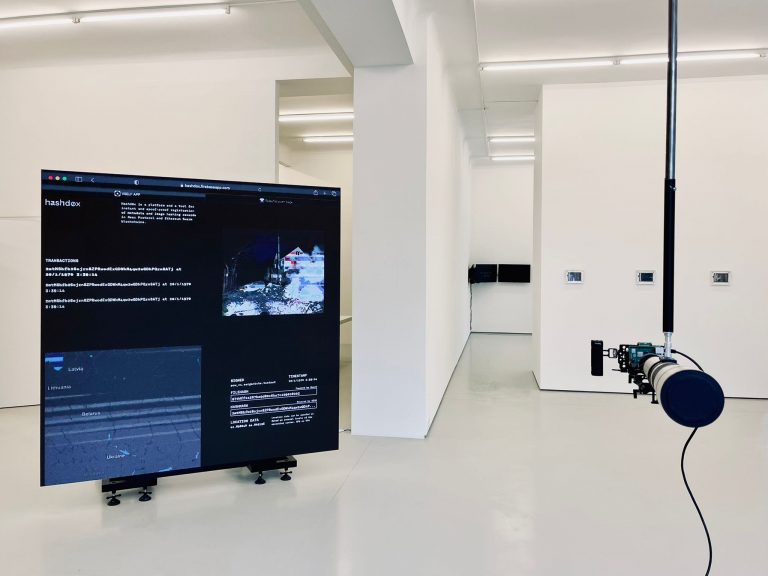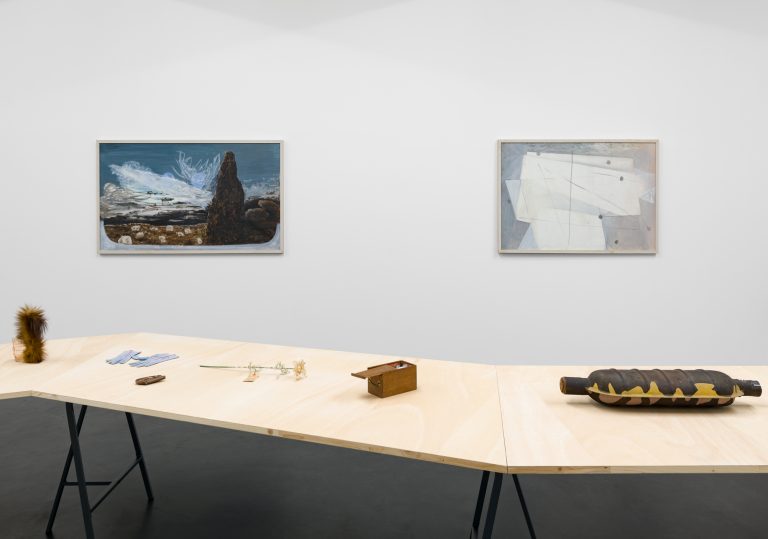 In your opinion, what distinguishes the younger generation of collectors from your older generation?
TL: In the past, collectors were much more closely tied to a gallery, were advised and accompanied by their gallery owners in building up their art collection, and remained loyal to them. Nowadays, buying art has become a social phenomenon: according to trends and hypes, people buy more with their ears and eyes. 
Isn't that every father's dream – a son who will follow in your footsteps and take over your business one day?
TL: YES!
The new space in Moabit is a joint venture for both of you. How did this come about? Have you always planned to start a space that ties together both of your galleries?
TL: Of course, we have always planned a future joint space together. For years, we have been looking for suitable rooms to ultimately pass on the future of my gallery – which has existed for over 50 years – to the new generation and to continue the long-standing collaboration with the important artists of both galleries as well as the care of the estates – also with economic success.
AL: We had already heralded the meshing of the two galleries in exhibition collaborations, for example, when we juxtaposed Dieter Roth from my father's program with young artists here in our spaces. Or with the solo exhibition of Daniel Spoerri and also Meret Oppenheim at our gallery in Berlin, where we wanted to look at their oeuvre from a new perspective. My father's artists have hardly ever been represented in Berlin.
TL: And Berlin is one of the art centers in Germany and is simply more international. In Hamburg, there are simply too few people who can see that.
What distinguishes the Berlin art scene from that in Hamburg?
AL + TL: Provocatively speaking: In Berlin, there is one, in Hamburg, there is none.
Was there ever any rivalry or tension between the two of you when it comes to curating art and artists for your respective galleries?
TL: My son and I have different gallery programs, which means that we each work for ourselves and have our own focus – that's how it should remain overall.
AL: I always could implement my ideas and those of my artists – even if they were not immediately obvious to my father. But he always gave me every opportunity to do so.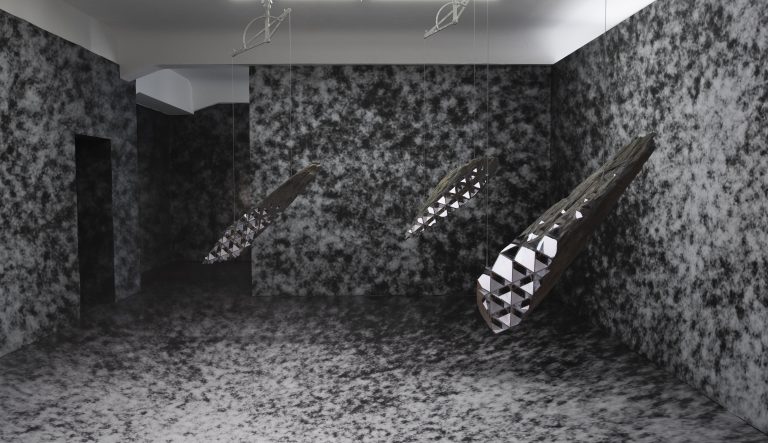 Concerning the gallery program, which is very different in terms of content, where do father and son nevertheless meet in artistic discourse or approach?
TL: The artists I represent – especially Meret Oppenheim, Man Ray, Dieter Roth, and Daniel Spoerri – are equally loved by my son. They, too, are so-called "idea artists" or conceptual artists.
AL: Yes, with Meret Oppenheim and Daniel Spoerri, it's less about the craft than about the artistic movement, the ideas, and views they embody.
Both galleries are known for showing works that interrogate social and political themes. Beyond art, what place did politics and social issues have in your personal lives that has transferred over to how you run your galleries?
TL: Art filters our everyday life and reality, and it isn't easy to get rid of its socio-political dimensions. Even if, at first, the purely sensual-aesthetic perception can be something very personal.
AL: There are certainly issues today that can no longer be ignored, such as gender equality, BIPOC empowerment, and the digitalization of art.
As we saw in parts during Art Düsseldorf, there are many vital positions in contemporary art coming out of Germany. How does this heritage and cultural history inspire your work as gallerists?
TL: Most of the artists I represent don't come from Germany – I don't think this point of view is crucial. Nevertheless, there are, of course, national discourses in which artists are also rediscovered. Take Werner Berges for an example – a pioneer of German Pop Art who achieved his fame in the 1960s and 70s, then fell out of sight. Today he is once again the focus of the rediscovery and recognition of the so-called "German Pop."
AL: The national context is not relevant for me as a gallery owner, yet it can become an artistic discourse for the artist.
How did your respective galleries adapt to the pandemic?
AL: During the Corona-related closure of galleries, we concentrated on the fundamental structures of our gallery: the (digital) mediation of art to our collectors and cultivating our contacts – and many collectors also had time and bought art. So we were lucky to survive these years well.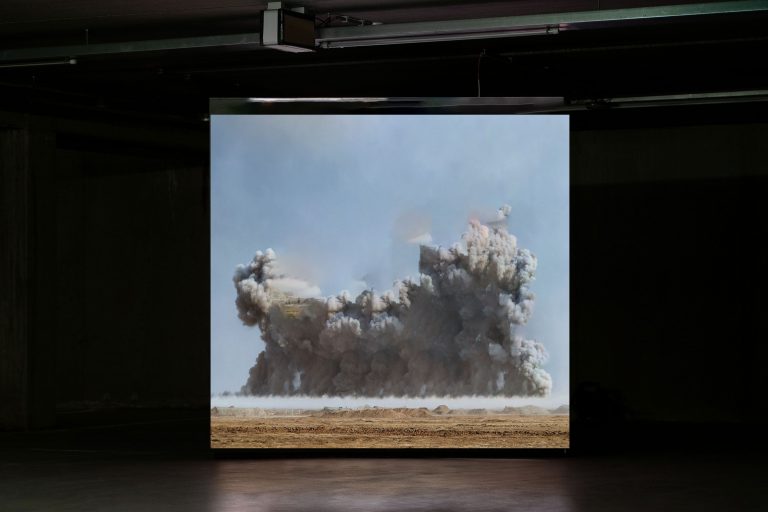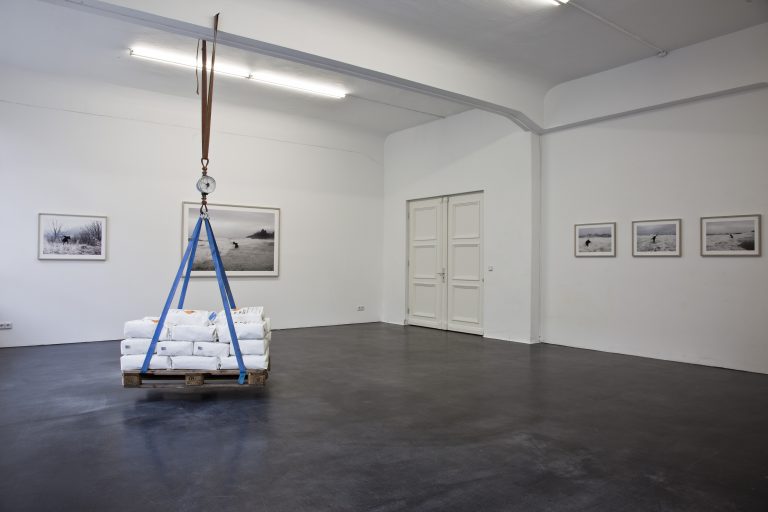 Can you walk me through the artists you chose for the inaugural exhibition in your new shared space? Were there any conflicts or disagreements about the artists?
TL: I chose Meret Oppenheim, Man Ray, and Daniel Spoerri because they are the foundation of my gallery, and I have a long-standing collaboration with them. Through them, I came to art, and they have influenced many artists to this day. I worked with Oppenheim from as early as 1978 until her death, and with Spoerri since 2000. And in 1969, as a 20-year-old, I met the then 79-year-old Man Ray in Paris – an encounter that significantly influenced my decision to open a gallery a year later.
AL: We didn't choose a specific artistic position for the opening exhibition; We had already selected Egor Kraft for some time. However, due to the current war situation in Ukraine, the Russian-Austrian artist has completely redeveloped his concept.
Isn't it very brave to open new big spaces in these times – especially with the post-COVID situation and the war?
TL: We waited five years for the new spaces. And now they have come to us, and we said yes. So it just goes on and on.
And can we expect at some point that a LEVY/alexander levy gallery may open in a completely different place?
TL: I have already had a gallery in Paris and Madrid in parallel. It depends mainly on the local partners. In my experience, it isn't easy because being a successful gallery owner is essentially a personal business.
AL: So I think it's a wonderful idea; I'd be attracted to have another gallery somewhere else.
Die LEVY Galerie wurde bereits 1970 gegründet, die Galerie alexander levy in 2012. An Alexander Levy: Welches Wissen hat dir dein Vater mitgegeben? An Thomas Levy: Was hast du von deinem Sohn gelernt?
AL (Alexander Levy, *1984): Von meinem Vater habe ich vor allem gelernt, wie wichtig die persönlichen und privaten Beziehungen zu den KünstlerInnen, mit denen man erfolgreich zusammenarbeiten möchte, sind, also zu verstehen, dass gelungene Zusammenarbeit menschliche, freundschaftliche Wurzeln braucht. Ich beobachtete, wie er sich mit Persönlichkeiten und KünstlerInnen umgab, mit denen er auch befreundet war. Es geht hier ja nicht nur um Waren und Objekte, die gehandelt werden, sondern um Menschen und Ideen, die ausgetaucht werden.
TL (Thomas Levy, *1947): Von meinem Sohn lerne ich immer noch, dass man Ausstellungen anders hängen muss, d.h. dass die visuelle Präsentation, das Ausstellungsdesign direkten Einfluss auf die Narrative der Werke nimmt und man bewusst einen Dialogkontext kreiert.
An AL: Auch deine Mutter hatte eine prägende Rolle im Galeriengeschehen deiner Familie. Welche Eigenschaften hat sie dir mit auf den Weg gegeben, die dir heute als Galerist weiterhelfen?
AL: Mein Mutter hat sich vor allem um die persönlichen Beziehungen im Galeriengeschehen gekümmert und mit ihrer Herzlichkeit das Miteinander auf den Eröffnungen und Veranstaltungen mitgeprägt. Ebenso hat sie sich in der Vorbereitung und im alltäglichen Betrieb um die Ordnung und Struktur gekümmert und das Große und Ganz – auch wirtschaftlich – im Blick behalten.
An AL: Meret Oppenheim, Man Ray, Daniel Spoerri – Sind das Namen, mit denen du aufgewachsen bist? Oppenheim wirst du kennengelernt haben, aber sie wohl nicht mehr selbst erinnern, aber mit Spoerri hast du sicherlich eine ebenso enge Verbundenheit wie deine Eltern?
AL: Ich erzähle immer, dass mir Meret Oppenheim noch vorgelesen hat, das stimmt aber gar nicht, also das habe ich falsch in der Erinnerung verankert. Daniel Spoerri kenne ich natürlich eng und
verbringe sehr gerne Zeit mit ihm. Er ist äußerst charmant und lustig und meine Eltern sind ihm tatsächlich sehr verbunden.
Kunst nimmt offensichtlich eine zentrale Stellung in eurer Familie ein: Welchen Wert misst ihr der Kunst in eurem Leben bei?
AL: Dadurch, dass ich in der Kunst aufgewachsen bin, war es elementar für mich erst einmal etwas anderes kreatives zu machen und so bin ich zunächst in die Musikwelt eingetaucht und war im Ausland. Dann bin ich aber zur Kunst zurückgekehrt, da sie ein direkter Filter der Gesellschaft und aktueller Themen ist und hier Ideen umgesetzt werden, die einen wesentlichen Impact zum Begreifen unserer Umwelt und menschlicher Gefüge leisten können.
TL: Für mich gehörte die Kunst schon immer zum Leben und ist nicht aus meinem Alltag wegzudenken.
Was ist ein Schlüsselelement guter Kunst?
AL: Kunst muss Fragen stellen und neue Perspektiven aufgeben.
TL: Kunst muss innovativ sein und die Zeit wiederspiegeln, in der sie entstanden ist.
Was unterscheidet die Kunstwelt der 1970er-Jahren zu heute?
TL: Als ich meine Galerie aufmachte, war die gesellschaftliche Resonanz für Kunst gefühlt viel weniger vorhanden. Heute ist sie enorm.
AL: …ob das heute nun nur am künstlerisch-Kreativen Output liegt oder am investigativem Interesse?
Wie hat sich das Galerienbusiness im Laufe der letzten Jahrzehnte verändert? Was sind neue Herausforderungen?
TL: Als ich 1970 angefangen habe, gab es diese digitale Präsenz noch nicht. Das hieß, dass früher die KundInnen vor allem in die Galerieräume vorbei gekommen sind und die persönliche Begegnung für den Kauf von Kunst entscheidend war, Heutzutage sind Internetverkäufe sehr wichtig geworden und haben durch die Pandemie und eingeschränkte Mobilität noch mehr Aufschwung erfahren.
AL: Die Sichtbarkeit und Reichweite hat sich durch die Digitalisierung des Kunstmarktes entscheidend vergrößert. Die Onlinepräsenz als Vermittlung ist mittlerweile essentiell für eine Galerie geworden. Sie hat die Kommunikation über Kunst leichter gemacht und ebenso die Barriere Kunst zu kaufen niederschwelliger. 
An TL: Was unterscheidet die junge SammlerInnengeneration von der Älteren?
TL: SammlerInnen sind früher viel enger an eine Galerie gebunden gewesen, haben sich von ihren  GaleristInnen beraten und begleiten lassen im Aufbau ihre Kunstsammlung und sind ihnen treu geblieben. Heutzutage ist Kunstkauf ein gesellschaftliches Phänomen geworden: man kauft mehr mit den Ohren und Augen, nach Trends und Hypes.
Ist das nicht eines jeden Vaters Traum – ein Sohn, der einem in die eigenen Fußstapfen folgt und das eigene Unternehmen einmal übernehmen wird?
TL: JA! 
Die neuen Räumlichkeiten in Moabit sind ein Joint Venture. Wie kam es dazu? Hattet ihr schon immer an eine gemeinsame Location gedacht, die beide Galerien zusammenbringt?
TL: Natürlich haben wir schon immer einen zukünftigen gemeinsamen Space zusammen geplant – seit Jahren suchen wir geeignete Räume, um letztlich die Zukunft meiner über 50 Jahre existierenden Galerie an die neue Generation weiter zu geben und die langjährige Zusammenarbeit mit den wichtigen KünstlerInnen beider Galerie sowie die Betreuung der Nachlässe – auch wirtschaftlich erfolgreich ­– weiter zu führen.
AL: Das Ineinandergreifen beider Galerien haben wir bereits in Ausstellungskooperationen eingeläutet, z.B. als wir Dieter Roth aus dem Programm meines Vaters mit jungen KünstlerInnen hier in unseren Räumen gegenüber gestellt haben. Oder mit der Einzelausstellung von Daniel Spoerri und auch Meret Oppenheim bei uns in Berlin, bei denen es uns darum ging, aus einem neuen Blickwinkel auf deren Oeuvre zu schauen. Die KünstlerInnen meines Vaters sind ja bisher kaum in Berlin vertreten.
TL: Und Berlin ist nun mal eines der Kunstzentren in Deutschland und ist einfach internationaler – in Hamburg sehen das einfach zu wenig Menschen.
Was unterscheidet die Berliner Kunstszene von der in Hamburg?
AL + TL: Provokativ gesprochen: In Berlin gibt es eine, in Hamburg keine ;-) 
Gab es jemals Rivalitäten oder Uneinigkeiten zwischen Vater und Sohn in Hinblick auf die Auswahl von KünstlerInnen oder die kuratorische Praxis?
TL: Mein Sohn und ich haben unterschiedliche Galerienprogramme, d.h. dass jeder für sich arbeitet und sich fokussiert – so soll es im Großen und Ganzen auch bleiben.
AL: Ich hatte immer die Möglichkeiten meine Ideen und die meiner KünstlerInnen umzusetzen – auch wenn sie nicht immer gleich für meinen Vater zu verstehen waren. Er hat mir aber stets alle Freiheiten gegeben.
Mit Blick auf das jeweils doch inhaltlich sehr unterschiedliche Galerienprogramm: Wo treffen sich Vater und Sohn dennoch im künstlerischen Diskurs oder Ansatz?
TL: Die KünstlerInnen, die ich vertrete – speziell Meret Oppenheim, Man Ray, Dieter Roth und Daniel Spoerri – liebt mein Sohn ebenso. Auch sie sind sogenannte »IdeenkünstlerInnen« bzw. KonzeptkünstlerInnen.
AL: Ja, bei Meret Oppenheim und Daniel Spoerri geht es weniger um das Handwerk, als um die künstlerische Bewegung, die Ideen und Ansichten, die sie verkörpern.
In beiden Galerien wird Kunst präsentiert, die sozialpolitische Dimension in sich trägt. Welche Rolle nehmen Politik und gesellschaftliche Diskurse im Galerieleben ein?
TL: Kunst filtert unseren Alltag und unsere Realität und ist ihrer sozialpolitischen Dimensionen kaum zu entledigen. Wenn auch zunächst die rein sinnlich-ästhetische Wahrnehmung etwas ganz persönliches sein kann.
AL: Es gibt heute sicherlich Themen, die nicht mehr außer Acht gelassen werden können, wie Gendergleichheit, BIPoC-Empowerment und die Digitalisierung von Kunst. 
In der zeitgenössischen Kunst gibt es heute vielfältige künstlerische Stimmen aus Deutschland. Welche Bedeutung schreibt ihr dem »nationalen Erbe« oder der Kulturgeschichte des eigenen Landes als Galeristen zu?
TL: Die meisten meiner vertretenen KünstlerInnen kommen nicht aus Deutschland – ich finde diesen Blickwinkel auch nicht entscheidend. Dennoch gibt es natürlich nationale Diskurse, in denen KüstlerInnen auch wiederentdeckt werden, wie z.B. Werner Berges – ein Pionier der deutschen Pop Art, der seine Bekanntheit bereits in den 1960er- und 70er-Jahren erreichte, dann aus dem Fokus geriert und heute im Mittelpunkt der Wiederentdeckung und Anerkennung des sogenannten »German Pop« steht.
AL: Der nationale Kontext ist für mich als Galeristen nicht relevant, dennoch kann er für den /die KünstlerIn zum künstlerischen Diskurs werden.
Wie haben sich die Galerien an die Situation der die Corona-Pandemie angepasst?
AL: In der Zeit der Corona-bedingten Schließung von Galerien, konnten wir uns auf die Grundstrukturen unserer Galerie konzentrieren: die (digitale) Vermittlung von Kunst an unsere SammlerInnen & Pflege unserer Kontakte – und viele SammlerInnen haben ebenso Zeit gehabt und Kunst gekauft. So hatten wir das Glück, diese Jahre gut zu überstehen. 
Könnt ihr uns einen Einblick in eure KünstlerInnenwahl für die Eröffnungsausstellung der neuen Räume geben?
TL: Ich habe Meret Oppenheim, Man Ray und Daniel Spoerri ausgewählt, weil sie den Grundstock meiner Galerie bilden und mich mit ihnen eine langjährige Zusammenarbeit verbindet. Durch sie bin ich zur Kunst gekommen und sie haben bis heute viele KünstlerInnen beeinflusst. Bereits seit 1978 arbeitete ich mit Oppenheim bis zu ihrem Tod zusammen, mit Spoerri seit dem Jahr 2000. Und 1969 traf ich als 20-Jähriger auf den damals 79-jährigen Man Ray in Paris – eine Begegnung, die mich maßgeblich in der Entscheidung eine Galerie ein Jahr später zu eröffnen, beeinflusst hat.
AL: Wir haben keine spezielle künstlerische Position für die Eröffnungsausstellung ausgewählt, Egor Kraft war schon länger ausgewählt. Durch die aktuelle Situation des Krieges in der Ukraine hat der Russisch-Österreichische Künstler sein Konzept allerdings komplett neu entwickelt.
Ist es nicht sehr mutig in diesen Zeiten neue große Räume zu eröffnen?
TL: Wir haben 5 Jahre auf die neuen Räume gewartet. Und nun sind sie zu uns gekommen und wir haben ja gesagt. Es geht ja immer weiter.
Und können wir irgendwann damit rechnen, dass vielleicht noch an einem ganz anderen Orteine LEVY/alexander levy Galerie eröffnen wird?
TL: Ich habe bereits parallel eine Galerie in Paris und in Madrid gehabt. Dabei kommt es vor allem auf die PartnerInnen vor Ort an. Meiner Erfahrung nach, ist es schwierig ist, weil das erfolgreiche GaleristInnensein im Wesentlichen ein persönliches Geschäft ist.
AL: Also ich finde die Idee wunderbar, mich würde eine weitere Galerie woanders reizen.