André Thomkins
Exhibition Outline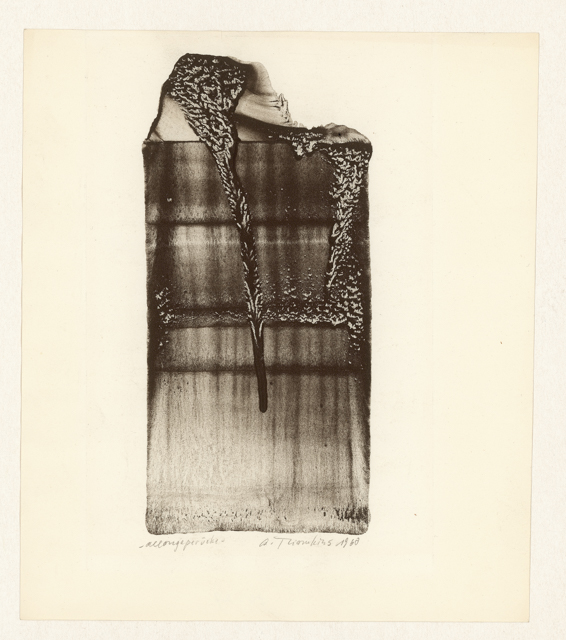 To the readymades, stoppages, frottages, flottages, André Thomkins has added the "Lackskins" and "Scharniere". He enters the spheres of chance and thus of magic, of enchantment and beauty, the kind of beauty which is not at hand and yet is there. A knowledge of a different kind is acquired and applied. 
Carlheinz Caspari, 1960/61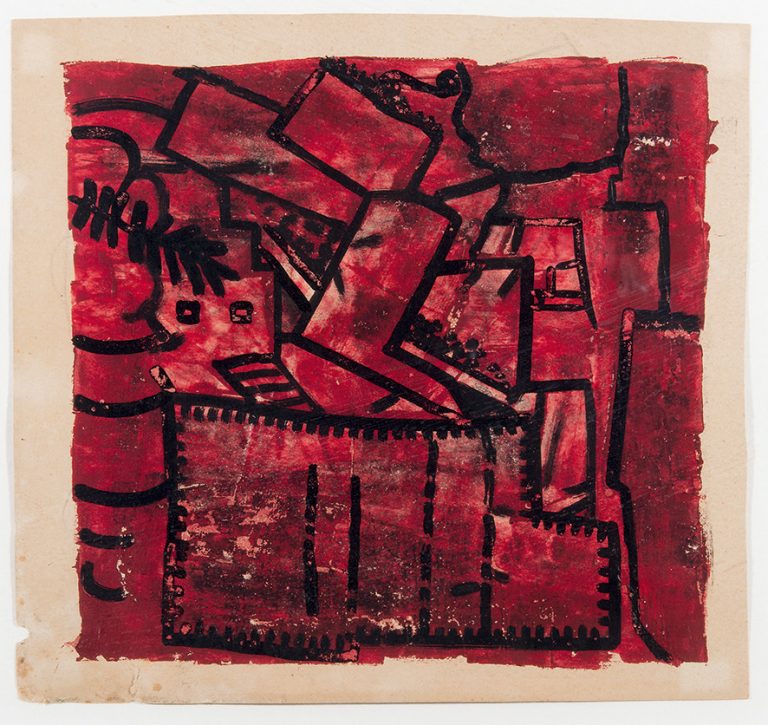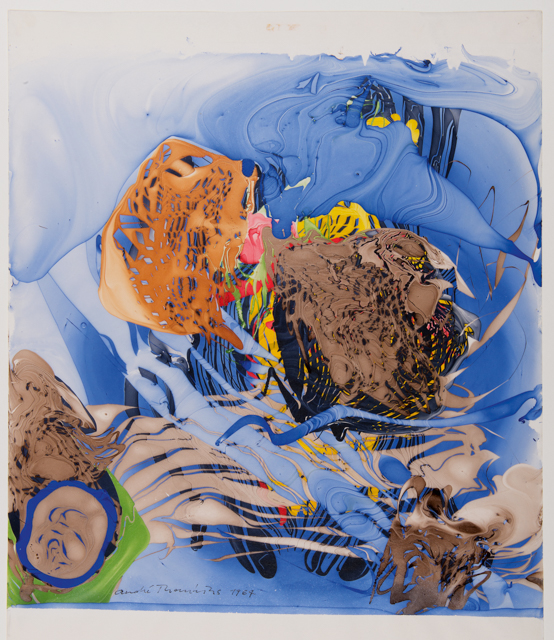 The Swiss artist André Thomkins (1930–1985) ranks among the most extraordinary artistic positions of the postwar era. Living in Germany since 1952, he creates – blessed with an exuberant inventiveness and the juvenile wish to become an "architect for fantastic buildings" – an oeuvre that in its diversity resists art-historical classification. Inspired by Surrealism, DADA and Pittura Metafisica, by artists such as Paul Klee, Max Ernst or Marcel Duchamp, he produces quite traditionally paintings, innumerable drawings and watercolours, but besides objects made of everyday trouvailles such as rubber bands, buttons, newspaper cuttings and food. In addition, starting in the mid-1950s, Thomkins develops his own artistic techniques with the so-called "Lackskins", "Rollagen" and "Scharnieren", placing him close to contemporary Art Informel and Abstract Expressionism. Essential component of the work of Thomkins, who describes himself in an anagram of his name as "Denkharmonist" ("thought harmonist"), are the linguistic art works and a playful handling of language in general, which characterises not least his work titles often humorous by association. Thomkins disposed of a network of close friends, including Dieter Roth, Daniel Spoerri, Jean Tinguely, Bernhard Luginbühl and Robert Filliou; artistic collaborations or exhibitions were the result, such as the legendary "Fruend Friends Freunde und Freunde" in 1969, featuring besides Roth, Spoerri, Gerstner and Thomkins their "Friends and friends of the friends" in Bern and Düsseldorf.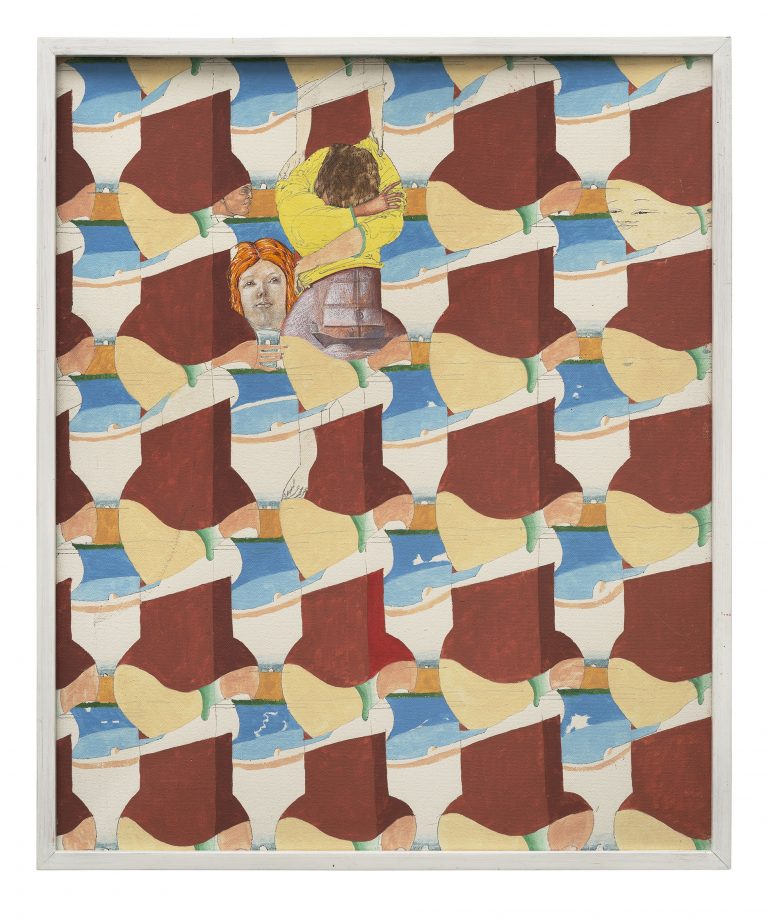 An hour ago, a guy by the name of Salvador Dali phoned me from Barcelona. "I wish I could draw as well as André Thomkins does", he said in a kind of mournful voice. "Why, Salvador Baby, you're not doing so badly yourself", I replied. "Cheer up, man!", I added.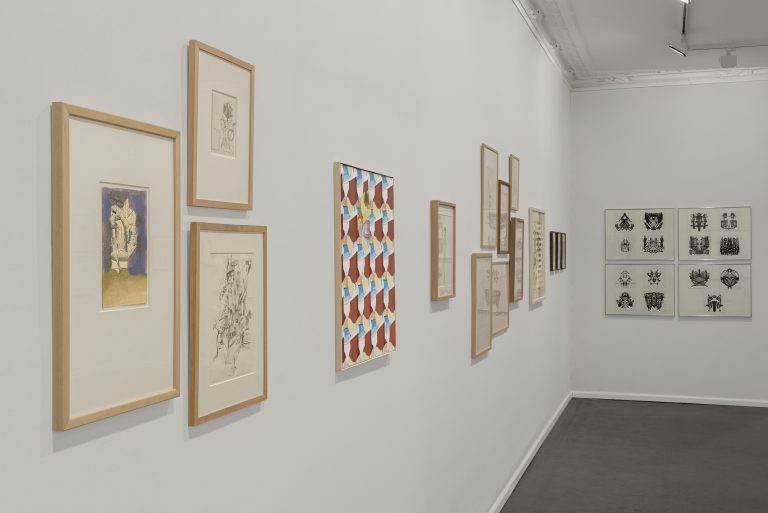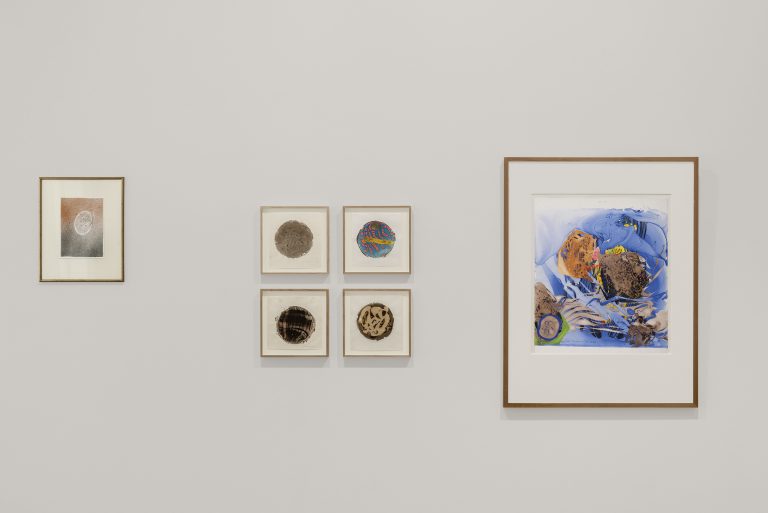 1971–1974 Professorship at the Kunstakademie Düsseldorf; Documenta participant in 1972 and 1977; exhibits in Harald Szeemann's "Les machines célibataires in 1975, Kunsthalle Bern; Member of the Berlin Akademie der Künste since 1978, a memorial exhibition was held there for him in 1989; more recently major survey "André Thomkins. Eternal Network" at the Kunstmuseum Liechtenstein in 2013/14 and currently presentation at Sammlung Scharf-Gerstenberg, Berlin, through to July 2022.
Oil paintings, watercolours, gouaches, drawings, Lackskins, Rollagen, Scharniere, rapport patterns, paraphrases, pantograph drawings – assembling around 50 works on the occasion of Gallery Weekend 2022, we present the artist André Thomkins in an comprehensive overview dating from 1948 to 1982.