Taína Cruz
Hound
Gallery Openings—15 September 2023, 6 to 9 PM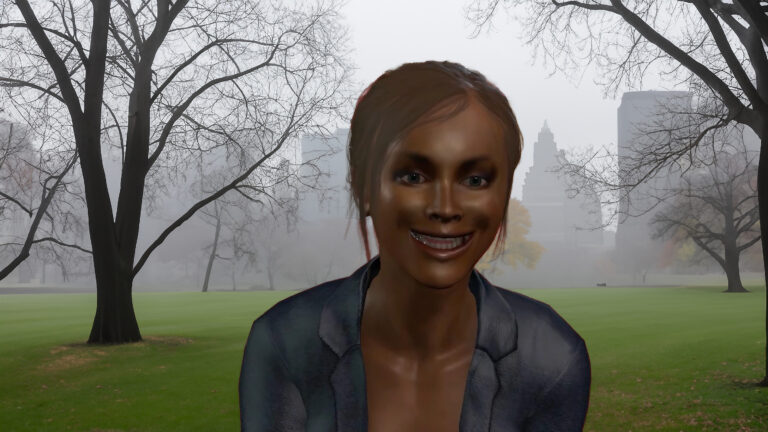 Taína Cruz (b. 1998, New York) is an artist, archivist, and researcher, whose work explores themes related to world building and folklore, visual and cultural history as well as identity. 
Cruz's artistic practice seamlessly traverses a range of mediums, encompassing sculpture, painting, and video. Her distinctive visual language emerges through the manipulation of digital imagery, a process that involves skillfully altering photographs and visual material from her own expansive digital archive. Referring to pop cultural and goth-punk scene aesthetics in her work, elves, monsters and fairies are often protagonists that help the artist explore the profound depths, eerie horrors, and hidden aspects of the world. With a foundation firmly set in her family's 400-year history as practitioners of West-African and Caribbean folklore, Cruz views the preservation and perpetuation of this practice as an urgent and essential task. Through her art Cruz transforms her personal history and biography by acknowledging epistemologies and spirituality as both ubiquitous and sublime. 
Recent exhibitions include Kraupa-Tuskany Zeidler, Berlin (2023, solo); Studio Mondial, Berlin (2023); Martos Gallery, New York (2023); Kraupa-Tuskany Zeidler, Berlin (2023); Housing Gallery, New York (2022, solo); Embajada, San Juan (2022, solo);  Housing Gallery, New York (2021); New Release Gallery, Online (2020); The Gormley Gallery, Baltimore, (2020). Cruz received the GO-A: Goya Opportunity Award, San Juan, Puerto Rico (2019) and was featured on the MICA Dean's List 2016-2020, Baltimore, United States of America (2020).
Hound marks the artist's first solo exhibition in Europe.