Rirkrit Tiravanija
GO FOR THE GOOD SPIRIT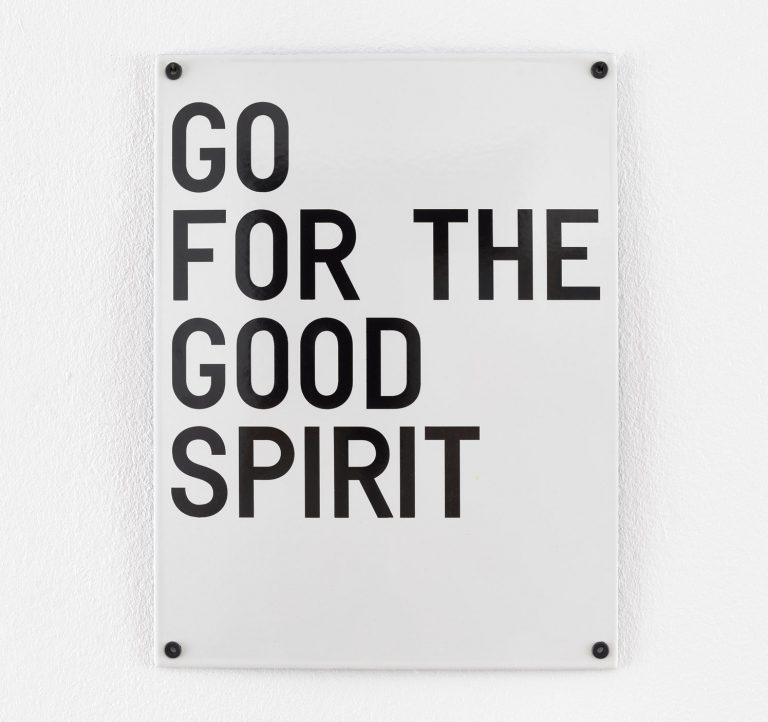 If you have taken leave of your senses, you should try going after them…
Rirkrit Tiravanija's imperative "Go for the good spirit", printed on an enamel sign at Klosterfelde Edition, comes up against an overall sense of cluelessness and symptoms of fatigue after more than a year of the pandemic. Like most galleries, the former stationery supply shop on an otherwise busy Potsdamer Straße has been largely vacant for a long time, and the next hard lockdown may be just around the corner. Tiravanija's exhibition explores the question of how spaces that have not served their actual purpose for so long—that is, interpersonal exchange and people encountering art—are affected by this emptiness. How does this alter the art and the space itself? Does an absence of people strengthen or weaken the good and bad spirits that are potentially present? In 1999, for his exhibition at Helga Maria Klosterfelde on Admiralitätstrasse in Hamburg, Tiravanija improved the energy of the space by rearranging the desks and placing bamboo flutes, plants, wind chimes, bells and mirrors in suitable places in accordance with Feng Shui principles. A fourteen-page fax, printed now for the Berlin exhibition as an edition on Japanese Kamiko paper, listed all of his suggestions for optimizing the space; these have now once again been applied to the gallery's current spaces.
Interested collectors can hang the accompanying enamel-sign multiple in their home and use the reproductions of the fax instructions to optimize the overall energy in their own spaces. Social practice, a central feature of Tiravanija's work, is carried over into individual and private space at a time when only very limited collective projects and social gatherings are possible due to the pandemic. For the time being, we are all following suggestion # 7:
"During difficult times do breathing exercises in the light of the moon."
Text: Bettina Klein, Translation: Erik Smith.