Johanna Dumet
Festmahl, s'il vous plaît !
KEWENIG PIED-À-TERRE
Gallery Openings—15 Sep 2023, 6 to 9 PM
Johanna Dumet's contemporary view of the traditions of art history finds expression here in new collages, to which this exhibition is exclusively dedicated. When viewed from above, the pictures depict set tables with the traces of smaller and larger meals,—snapshots capturing a moment of togetherness.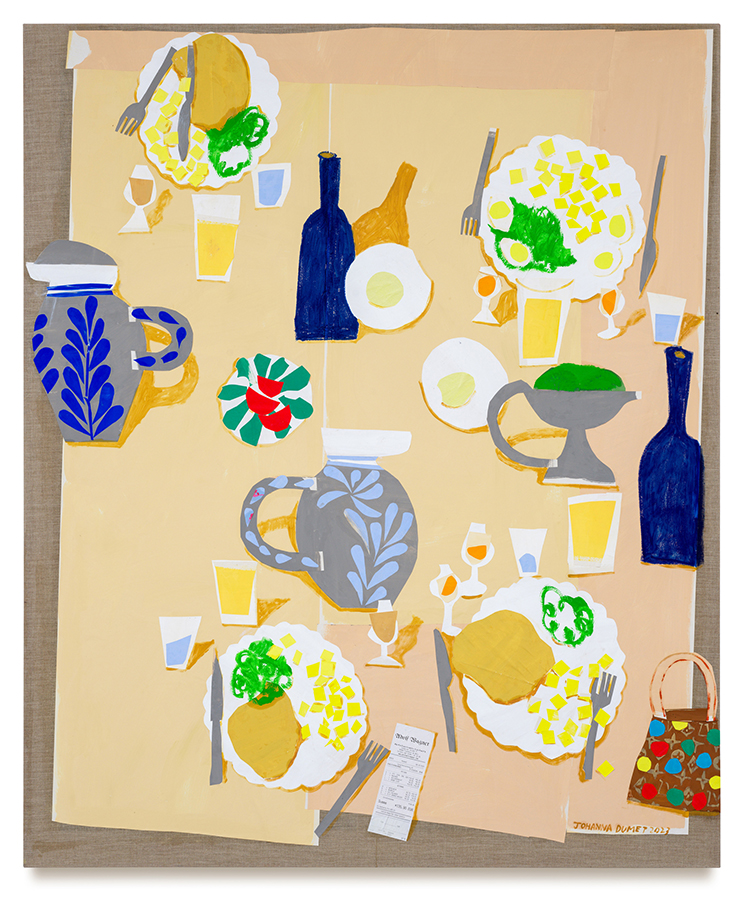 In her work, Dumet understands collage as a painterly technique. As in her previous pieces, her examination of still lifes becomes evident, especially the late representations from 18th-century France, characterised by their simplicity and everydayness, far from any courtly pomp. The bold colours and the energy that they exude are, however, reminiscent in their intensity of Henri Matisse (1869-1954). Like him and other Fauvist painters, Dumet's deliberate avoidance of depicting pictorial depth reveals an attempt to create a poetic space through the use of colour.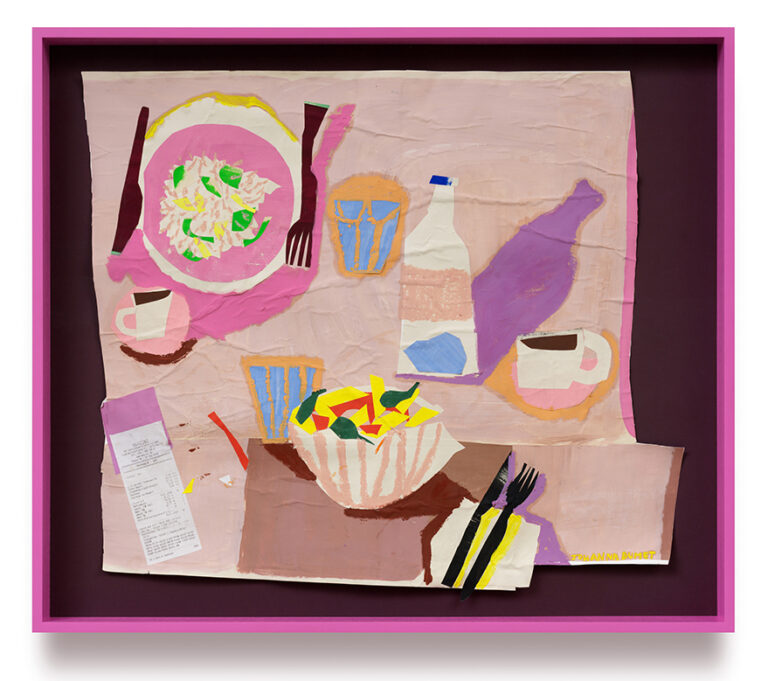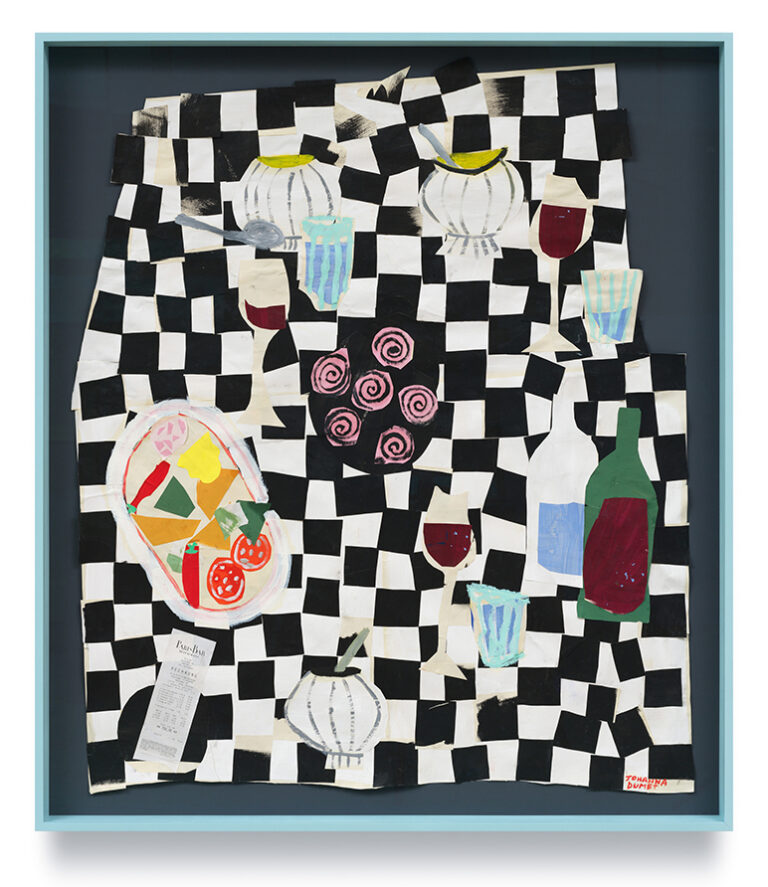 It is these moments, places, thoughts and experiences that Dumet paints in her collages, ultimately transforming them into Festmahle (Eng.: feasts). This is true even if Dumet's choice of the term in the exhibition title is often associated with decadence, since it can after all be understood provocatively or ironically, as it might refer to a stop at a café or a fast-food restaurant.
Johanna Dumet's compositions may evoke the immediacy of swift, everyday photography and its presence in social media, but her visible engagement with art history imparts a supra-temporal significance to her subjects, and her narrative dedication gives them emotional accessibility and contemporary relevance.
Kimsooja
Meta-Painting
Gallery Openings—15 Sep 2023, 6 to 9 PM
"I create work from the painter's point of view. If I cannot do that, I cannot find any articular meaning in using cloth."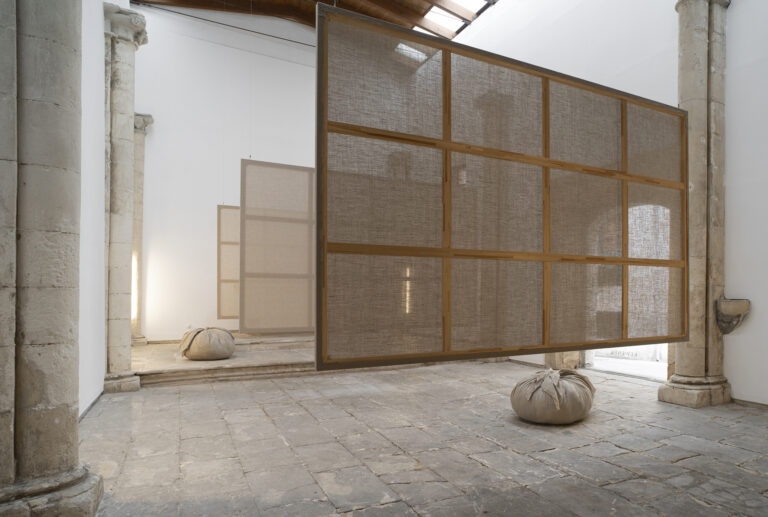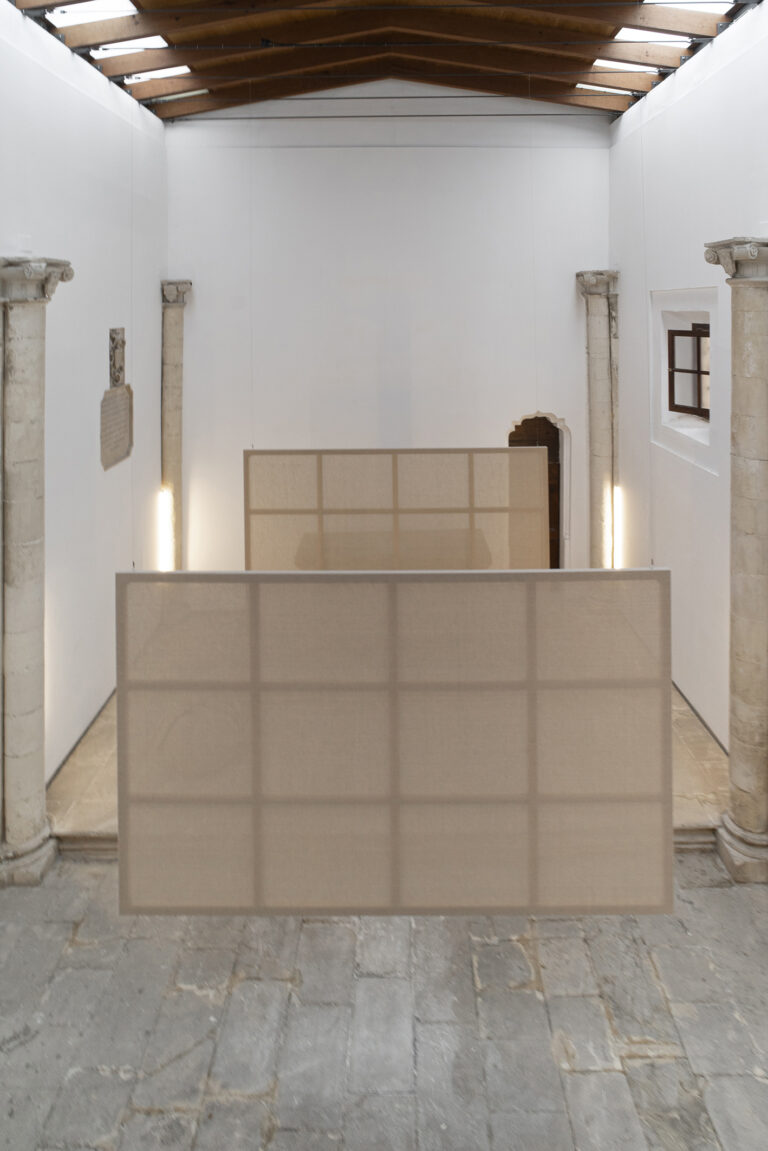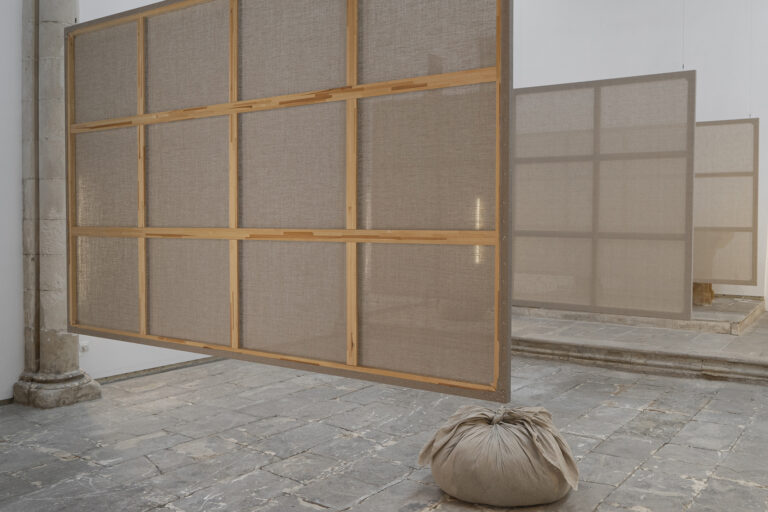 For her exhibition, Korean artist Kimsooja has covered all the windows of the historic gallery building with a film that lets in the daylight, breaking it into countless colours. This installation is part of her series of works To Breathe. It encompasses the entire building, bathing it in a shimmering light of bright rainbow colours and entering into a dialogue with other works shown here as well as with the people moving through the building.
The installation Meta-Painting, which lends its title to the exhibition, involves several stretched but unpainted canvases hanging on the wall but also freely in the room, and bottaris made of the same, natural linen fabric spread across the floor. Bottaris are traditional Korean travel bundles and an essential part of Kimsooja's oeuvre. They contain clothes, household items, things you need and want to carry with you for travel and life.
The focus is on traces of processes, of time, of material, and on how such transformations are perceived individually. With these works, the artist refers to an idea that she has repeatedly taken up and reformulated in many works of the past years: the dissolution of boundaries and the interpenetration of different levels, spatially or temporally. The simultaneity of materiality and immateriality can be experienced in each of Kimsooja's works in this exhibition, but also in the totality of this spatially comprehensive presentation.
Mimmo Rotella
Manifesti lacerati
Gallery Openings—15 Sep 2023, 6 to 9 PM
The décollages by the Italian Mimmo Rotella (1918–2006) on show in this exhibition impressively present an important chapter in European art history. His works involve the viewer in a perceptual game of coexisting image fragments. Torn advertising posters with colourful images and lettering are familiar to us from our fleeting perception in everyday life, for torn posters (Italian: manifesti lacerati), which are charming and at the same time a little run-down, are omnipresent in the modern city.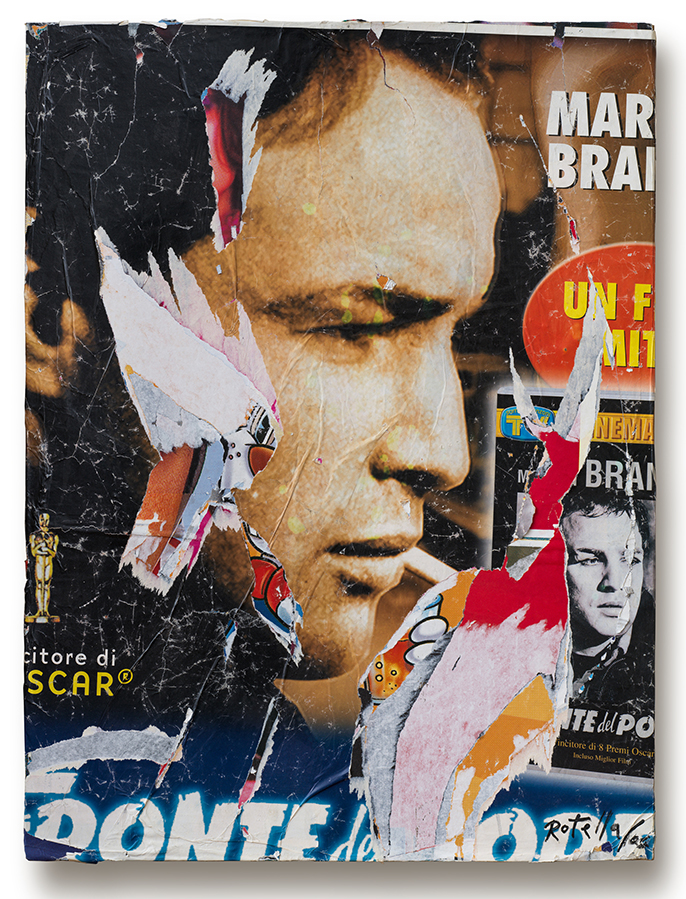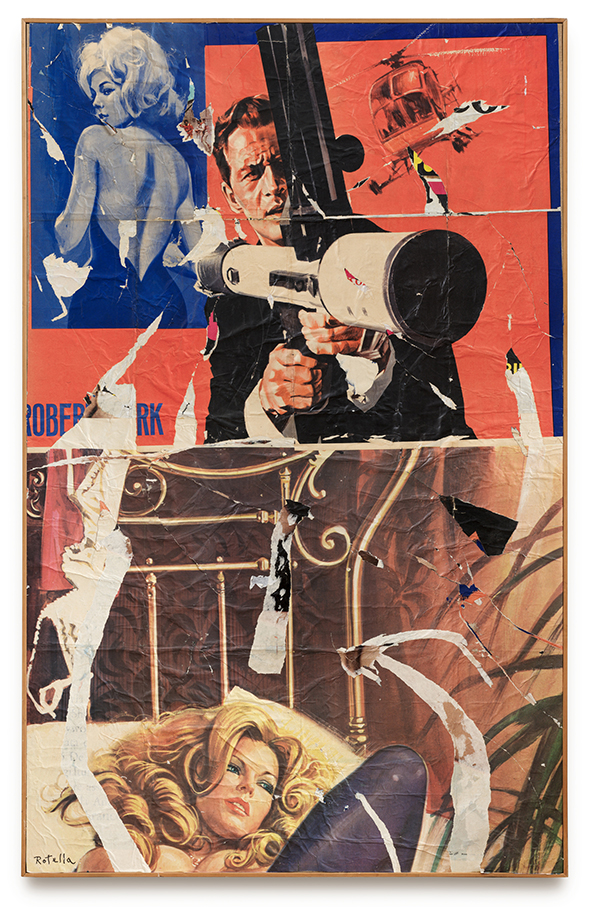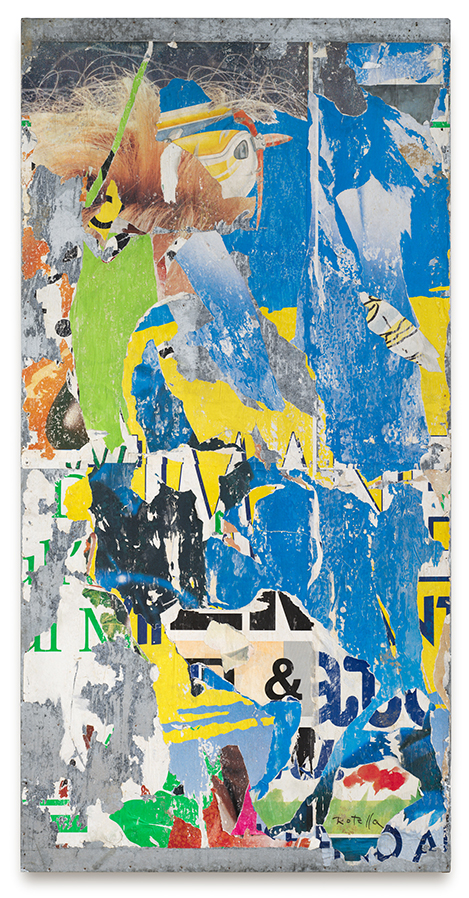 "First, I tear my posters off the walls, then from their supports. Impressions, ideas, stimuli pile up in abundance, clashing and accumulating between the first and the last layer […]. When I include matter in my exploration of colour, it transforms its meaning, the result is dramatic." 
Rotella took on a special role as pioneer and ideator within the group that subsequently formed around the critic Pierre Restany as the Nouveaux Réalistes. His work, as the pieces in this exhibition also show, is particularly characterised by intuition and liveliness. Colour, its selection and effect, also seemed to be extraordinarily significant for him.
When it comes to the appropriation of the source material and its processual post-production, Rotella's works show that they are still relevant today. For they are to be understood as a very direct response to today's consumption of images, especially in view of the constantly growing quantity of images made available and disseminated by the internet. Mimmo Rotella brings the appearance, permanence and disappearance of images into our consciousness and elevates the fragmentary that surrounds us to the value of living beauty.