Rosemary Mayer
Rods Bent Into Bows – Fabric Sculptures and Drawings 1972-1973
Josephine Baker
The Land Lies
BUNGALOW
Rosemary Mayer
Rods Bent Into Bows – Fabric Sculptures and Drawings 1972-1973
"Different every time they're hung though I have a way I prefer them. But next time another way might be OK and better. Possibilities. Colors fade. A door opens or someone passes and the fold change. Large works which can be rolled up on a bolt–stored in little space — easily transported"
Rosemary Mayer (1943-2014) was a significant figure in the New York art scene beginning in the late 1960s.
A prolific artist and writer as well as active participant in feminist artistic discourses, Mayer was intimately involved within a close-knit network of fellow artists, scholars and gallerists, including artist Adrian Piper; her sister and poet Bernadette Mayer; former spouse and artist Vito Acconci; artist Ree Morton; writer, art critic and curator Lawrence Alloway, and many others.
In 1972, Mayer, along with 19 other women artists, founded A.I.R. Gallery on Wooster St., Manhattan: the first nonprofit, artist-directed and maintained gallery for women artists in the United States.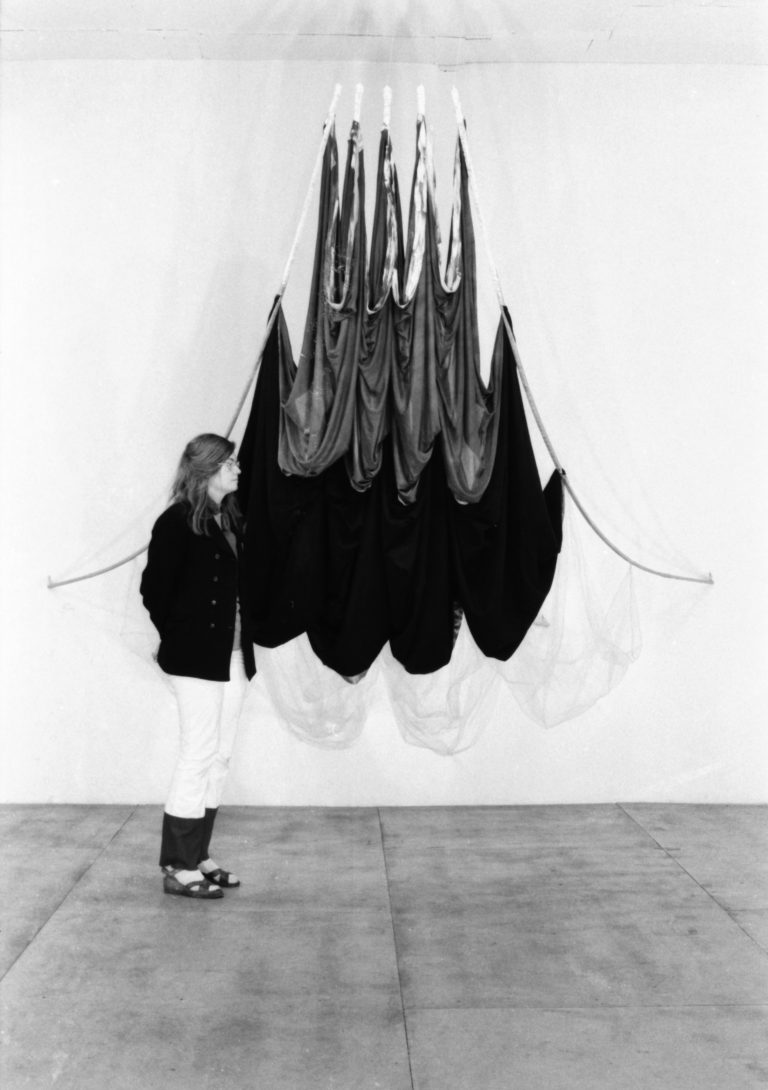 Between 1969 and 1973, Mayer's art developed from textual works into material sculptures primarily using fabric. Taking inspiration from the Mannerist painter Jacopo Pontormo, whose use of color and textural detail made considerable impact on Mayer, the works recalled myth and history in a manner radically distinct from the fashion of Minimalist male artists, who favored lasting materials such as steel and concrete.   
Although she is mostly known for her billowing fabric sculptures, Mayer's oeuvre extends far beyond the signature dyed and draped fabrics which signalled a critical point in her art making.
Throughout her artistic career, Mayer's work was exhibited at numerous alternative art spaces in New York, including The Clocktower, Sculpture Center and Franklin Furnace, as well as several university galleries.
The exhibition is organised in collaboration with the Estate of Rosemary Mayer, New York.
Josephine Baker
The Land Lies
at BUNGALOW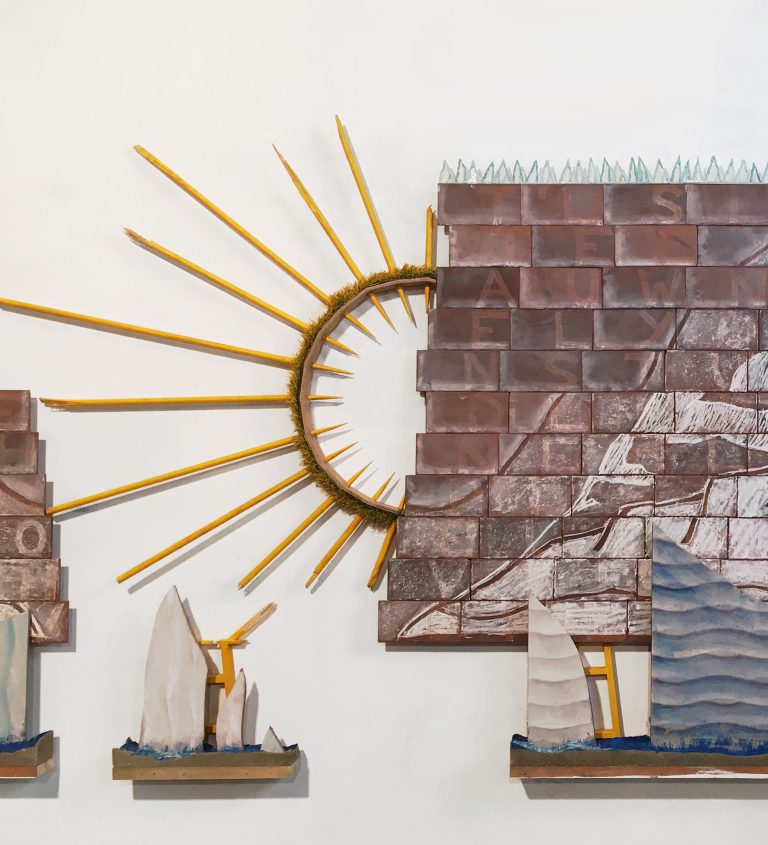 The Land Lies is a newly conceived installation for BUNGALOW on the occasion of Gallery Weekend Berlin.
Using readily-available building and landscaping materials, Baker composes physical metaphors for how the natural earth is represented in a capitalocentric world. Factory standardised and processed almost beyond recognition, Baker forms these materials in turn into signifiers of the complex distancing of 'nature' from 'culture' in today's markets and urban topographies. She relates this process directly to the anthropogenic conflation of natural and manmade catastrophe in its increasingly frequent manifestations across the globe. In invented languages of reconciliation, different materials and forms allegorise events to each other. They create microclimates of dependency and exchange, telling stories of labour and survival which unearth the histories of what (and where) their sources are, and the processes they have undergone.
Baker's installation at BUNGALOW is motivated by isolationism in the many senses of the word: political, social, and geographical. 
The show's title, The Land Lies, addresses the conflict within the symbolic, naming the direct topographical 'lay of the land' as indistinguishable from the geopolitics of nationhood grafted onto it: the fraught combination of the way land is and the way it is not.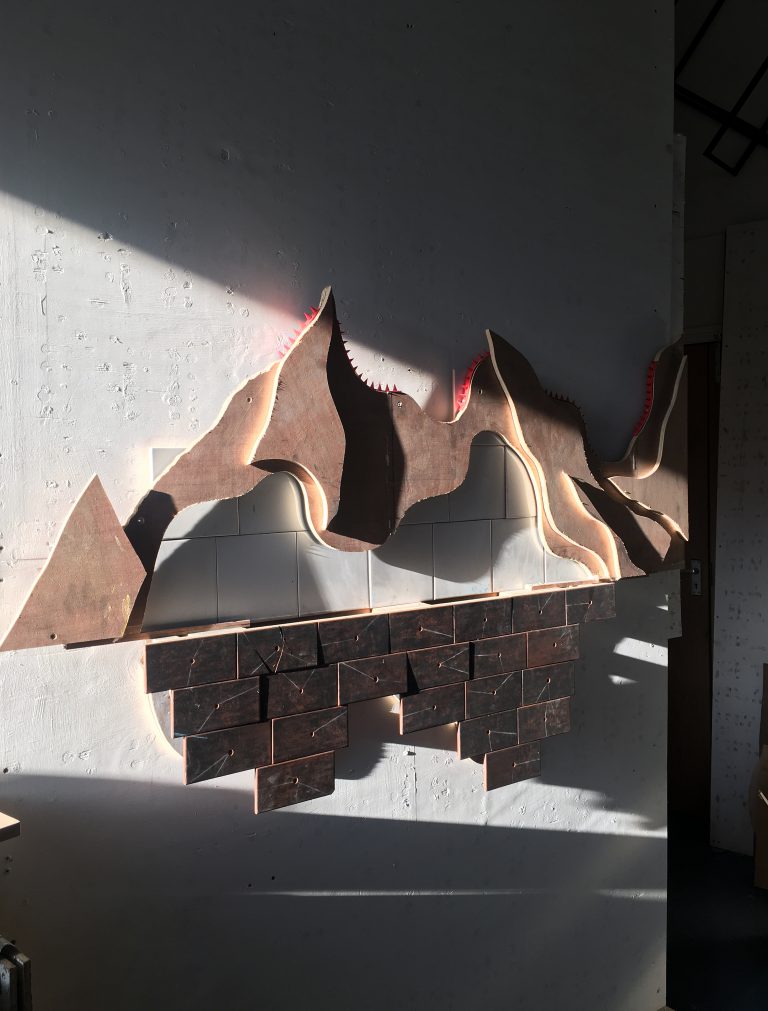 "These photos of the studio I took whilst making the work for ChertLüdde BUNGALOW. Lighting for me is always part of it, in not assuming it'll already be there: to illuminate something is an action of pulling things into focus, as well as defining the shadows that everything is capable of producing."
BUNGALOW is a space located in the basement of ChertLüdde dedicated to young contemporary artists. The aim of BUNGALOW is to provide further emphasis on the research-based aspect of the gallery program, by inviting a new generation of artists to develop a project specific to the space and context. BUNGALOW projects occur by invitation from the gallery.