Crisis and a Fresh Start
Berlin's art market in the late 1940s and 50s:
by Ingo Brunzlow
Ingo Brunzlow is an art historian, living in the Berlin area. He has written a dissertation on the Berlin gallery scene between the end of the war and the construction of the Berlin Wall (1945-61), which is to be published in 2021. In two extensive texts for Gallery Weekend Berlin he gives an overview of the development of the Berlin art market after the war.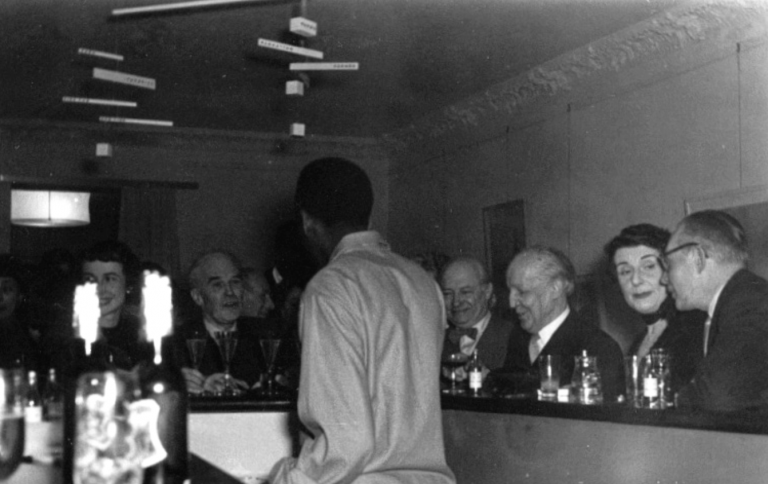 Especially in the early postwar years, many Berliners tried their luck with a so-called gallery. The war was over. There was something like a "hunger for culture" throughout the population, and many wanted—and indeed had—to venture something new. Yet most of these optimistic gallery entrepreneurs were soon forced to give up in view of the difficult material circumstances. For many, the currency reform and the Berlin Blockade of 1948/49, at the very latest, signaled the end. Even though there were eventually a number of business scattered throughout the city dealing in all kinds of old goods, including art and antiques, only a few succeeded in convincingly combining the sale and regular exhibition of modern art in more or less distinguished gallery spaces. The eastern part of the city only played a minor role here from the very beginning. Already in the early 1950s, the political conditions made it practically impossible for independent entrepreneurs to publicly exhibit modern art. Businesses largely concentrated in the west during that time. Those who were starting off in the very first years of the war in the bourgeois suburbs and who had only just survived the blockade, concentrated in the heart of the western part of the city around Kurfürstendamm and Gedächtniskirche.
Hardly anyone would describe the end of the war as "Stunde Null" from today's perspective, although the term probably corresponds well to how people felt at the time. And indeed, such contemporary skepticism is also well founded in view of Berlin's gallery landscape, where there were countless personal entanglements that survived the war and varied efforts to pick up where they left off. Nonetheless, what remains most striking was the spirit of new beginnings that suffused the entire cultural field at the time and the high proportion of newcomers who dominated the gallery scene.
Yet, one can also assume that there was simultaneously a lively, under-the-counter trade in art and antiques, organized by people who were active in this business prior to the war and could rely on well-established networks. People rarely inquired about the provenance of works back then and traded in whatever they could. It seems that the most prominent prewar dealers in modern art found it difficult to reopen under the early postwar conditions. Meanwhile, newcomers like Rudolf Springer, Walter and Irene Schüler, or Anja Bremer were able to establish themselves—albeit with great effort and commitment. To this day, it remains unclear whether or to what extent these dealers also traded in works of unknown provenance.
The Gerd Rosen Gallery was particularly prominent among the newcomers, and it still enjoys considerable fame to this day as the first German post-war gallery due to its remarkable program. The gallery was founded as early as August 1945 and soon made a name for itself beyond Berlin's borders. They maintained a high standard of quality, and visitors who were open to modern art sensed it even then. Rosen presented works by modern artists who were already renowned before 1933. But most of all, he was known for showing forward-looking work, including several varieties of abstract art as well as proponents of Berlin's postwar Surrealism such as Hans Thiemann or Heinz Trökes, who were well received at the time.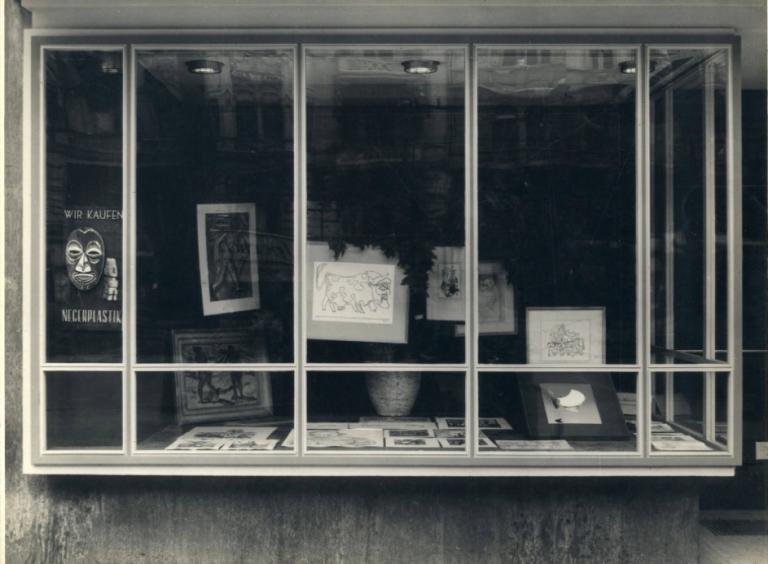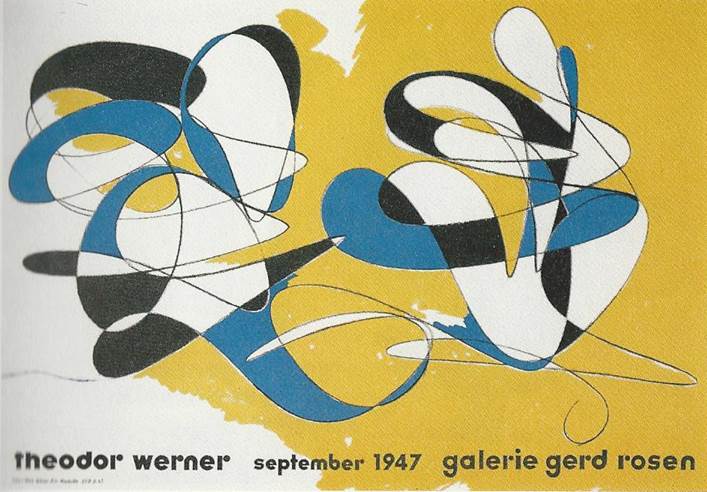 Soon after Rosen, Walter and Irene Schüler, Anja Bremer, and Rudolf Springer set up their businesses—all of which were to last several decades. Initially oriented towards prewar modernism, the programs of these galleries soon shifted towards contemporary art—much like Rosen did. The Currency reform and the Berlin blockade of 1948/49 brought an end to Rosen's regular gallery operations. Soon thereafter, he decided to focus on auctions and a flourishing antique bookstore. Then, in the mid-1950s, he took up gallery business again, but his greatest era remained a thing of the past.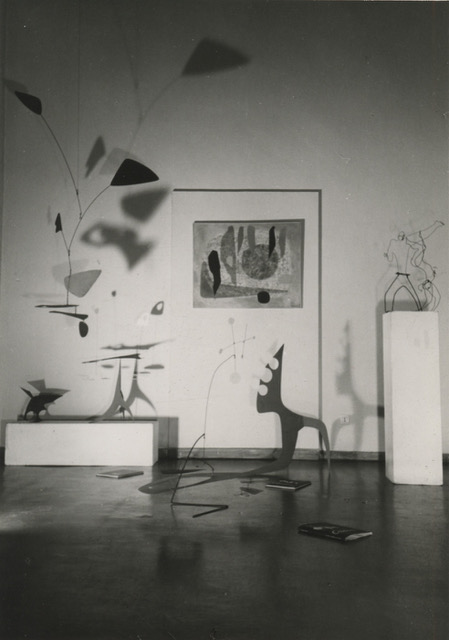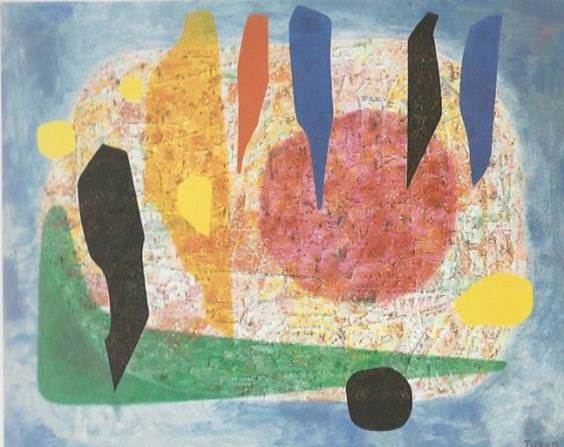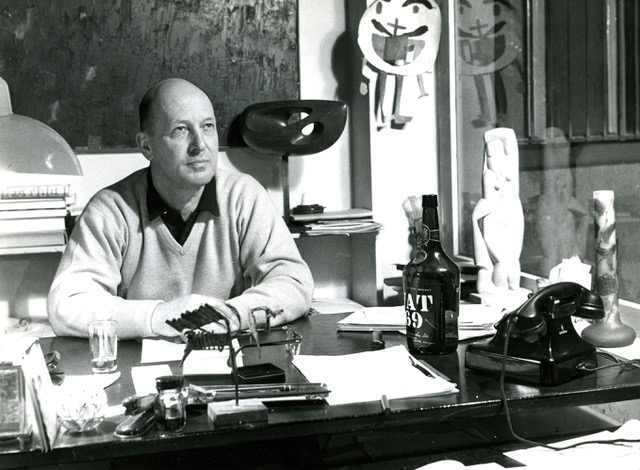 The few other galleries that survived the Berlin Blockade did so with panache from 1950 onwards. Anyone who hadn't already set up shop in the western part of the city would soon look for suitable premises near Gedächtniskirche—an impressive location at the time, though rather modest by today's standards. Rudolf Springer thus ran a small space in the then newly built Maison de France, the French cultural center that still exists today at the corner of Kurfürstendamm and Uhlandstraße. Springer opened this space with an exhibition of prints by Joan Mirò—a fine start for a gallery that was to become one of the best addresses for French and international art in the years to come. Walter and Irene Schüler, on the other hand, operated their gallery out of a medium-sized apartment in a prewar building on the corner of Leibnizstrasse, where they also lived. The works by mostly German abstract artists such as Fritz Winter, Fred Thieler, and Emil Schumacher—which only grew bigger, wilder, and more colorful over the years—stood in stark contrast to the Caucasian carpets and Biedermeier furniture, giving visitors a concrete example of how well modern art could also fit into bourgeois interiors.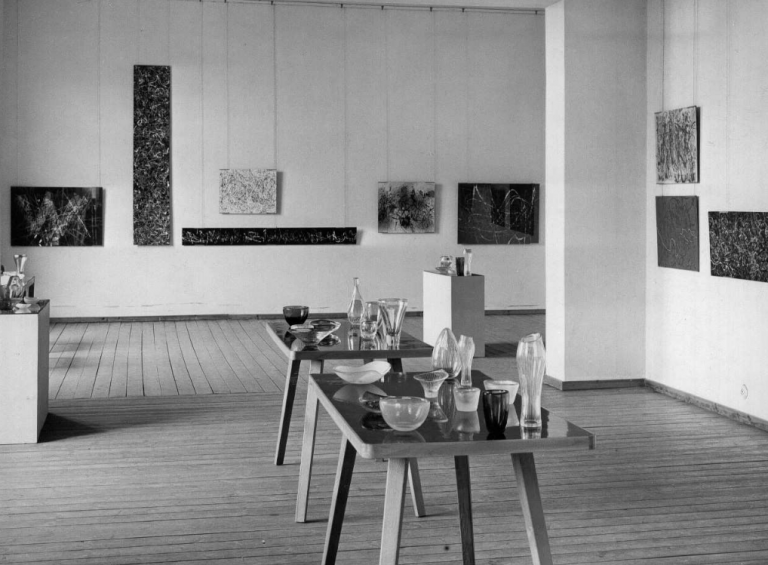 Anja Bremer made stylish living an explicit theme. Starting in 1952, she began selling design and craft objects like furniture, lamps, and tableware, largely because the sales from her existing circle of Berlin artists were insufficient. Her shows were also well received by the art critics of the time, whose most important representative was undoubtedly Will Grohmann, an art-history professor, author, newspaper critic, and otherwise influential man in the field of art whose opinion carried weight. Nonetheless, Anja Bremer's economic situation wouldn't improve in the long run. In 1955 she moved her gallery to smaller premises at Fasanenplatz, which nonetheless had the invaluable benefit of providing space for a cozy artists' bar in the back room. Furnished by Hans Scharoun, "Bar Bremer" quickly grew into a well-known meeting place for Berlin's culture industry. The business remained in operation until the beginning of the new millennium, long after the death of its resourceful founder, who had figured out such a clever way to subsidize her gallery. Some galleries developed other survival strategies, such as "gallery subscriptions" and the sale of books, or occasionally turned to the family fortune to ensure their survival.
Though the gallerists of the early 1950s were all united in their optimism about Berlin's great future, it became clear from the mid-1950s on that these hopes were somewhat premature. Events like the first Documenta in Kassel in 1955 demonstrated beyond a doubt that Berlin was no longer the cultural heart of Germany. The former capital had become a province. Success stories such as that of Galerie Nierendorf—the only effective resurrection of a renowned prewar gallery—and its acclaimed exhibitions of classical modernists did indeed spread occasional optimism. But the mood would become increasingly gloomy, especially concerning the exhibition and sale of contemporary art—not least because the newest artistic tendencies seemed to be developing in West German cities. Meanwhile, few people beyond Berlin's borders seemed to take much interest in what was going on there.
Die späten 40er- und 50er-Jahre – Aufbruch und Krise
von Ingo Brunzlow
Gerade in den ersten Nachkriegsjahren versuchten etliche Berliner ihr Glück mit einer sogenannten 'Galerie'. Der Krieg war zu Ende, bei der Bevölkerung gab es so etwas wie einen "Hunger nach Kultur" und viele wollten (und mussten wohl auch) etwas Neues wagen. Die meisten dieser zukunftsfreudigen Galerieunternehmer mussten angesichts der schwierigen materiellen Umstände allerdings schon bald wieder aufgeben. Spätestens die Währungsreform und die Berlin-Blockade von 1948/49 brachten für viele das Ende. Auch wenn es über die gesamte Stadt verteilt auch später noch etliche Unternehmen geben sollte, die mit Altwaren aller Art, darunter auch Kunst und Antiquitäten, handelten, gelang es nur wenigen, in mehr oder weniger repräsentativen Galerieräumen den Verkauf und die regelmäßige Ausstellung von moderner Kunst auf anspruchsvolle Weise miteinander zu verbinden.
Der Ostteil der Stadt spielte hierbei von Anfang an nur eine untergeordnete Rolle. Schon Anfang der 50er-Jahre machten die politischen Bedingungen die öffentliche Ausstellung von moderner Kunst als freier Unternehmer praktisch unmöglich. Im Westteil der Stadt konzentrierten sich zu diesem Zeitpunkt die Unternehmen, die ihre Anfänge in den allerersten Kriegsjahren oft in den bürgerlichen Außenbezirken genommen und die Blockadezeit gerade erst überlebt hatten, bereits um das Zentrum West-Berlins rund um Kurfürstendamm und Gedächtniskirche.
Kaum jemand würde das Kriegsende aus heutiger Sicht als "Stunde Null" bezeichnen, obwohl der Begriff dem Lebensgefühl vieler Zeitgenossen damals sehr entsprochen haben dürfte. Dies gilt natürlich auch für die Berliner Galerienlandschaft, auch hier gab es über den Krieg hinausreichende personelle Verflechtungen und das Bestreben, an länger Zurückliegendes anzuknüpfen. Dennoch springen vor allem der Aufbruchsgeist, der damals den gesamten Kulturbetrieb bestimmte, und der hohe Anteil der Neulinge ins Auge, die gerade unter den Galerien die Szenerie bestimmten. Man darf vermuten, dass es gleichzeitig – vor allem unter der Hand – einen regen Handel mit Kunst und Antiquitäten gab, der von Personen organisiert wurde, die auch in den Jahren zuvor schon auf diesem Feld aktiv waren und sich auf eingespielte Netzwerke verlassen konnten. Fragen nach der Herkunft von Werken stellte man damals nur selten, gehandelt wurde, was sich handeln ließ. Es fällt auf, dass sich einst führende Unternehmen auf dem Feld der modernen Kunst mit einer Wiedereröffnung unter den Bedingungen der ersten Nachkriegszeit schwer taten, während Neuanfänger wie Rudolf Springer, Walter und Irene Schüler oder Anja Bremer sich – wenn auch mit vielen Mühen und hohem Einsatz – etablieren konnten. Ob und wie intensiv diese ebenfalls am Handel mit Kunst mit ungeklärter Provenienz beteiligt waren, ist bis heute nur wenig geklärt.
Besondere Prominenz unter den neu gegründeten Galerien besaß vor allem die Galerie Gerd Rosen, die bis zum heutigen Tage als erste deutsche Nachkriegsgalerie und aufgrund ihres bemerkenswerten Programms einen bemerkenswerten Nachruhm genießt. Sie war bereits im August 1945 gegründet worden und machte schon bald auch über die Grenzen Berlins hinaus von sich reden. Der Qualitätsanspruch, den man hier pflegte, war hoch. Dies spürten Besucher, die der modernen Kunst aufgeschlossen waren, schon damals. Bei Rosen waren Arbeiten moderner Künstler zu sehen, die bereits vor 1933 Rang und Namen hatten. Vor allem aber wurde hier das gezeigt, was man für zukunftsweisend hielt, darunter etliche Erscheinungsformen abstrakter Kunst und Werke des damals vielbeachteten Berliner Nachkriegssurrealismus von Künstlern wie Hans Thiemann oder Heinz Trökes.
Bald nach Rosen gründeten sich die Unternehmen von Walter und Irene Schüler, Anja Bremer und Rudolf Springer, die alle für mehrere Jahrzehnte bestehen sollten. Die anfänglich oft deutlich an der Vorkriegsmoderne orientierten Programme dieser Galerien verschoben sich bald stark in Richtung zeitgenössischer Künstler – ähnlich wie dies auch bei Rosen geschah.
Währungsreform und Berlin-Blockade von 1948/49 beendeten auch den Galeriebetrieb bei Rosen. Mitte der 50er-Jahre sollte das inzwischen auf Auktionen und ein florierendes Buchantiquariat fokussierte Unternehmen diesen zwar noch einmal aufnehmen, dessen große Zeit sollte allerdings Vergangenheit bleiben. 
Die wenigen anderen Galerien, die nach der Berlin-Blockade weitermachten, taten dies ab 1950 mit viel Elan. Wer mit seiner Galerie noch nicht im Zentrum West-Berlins ansässig war, suchte sich nun geeignete Räumlichkeiten nahe der Gedächtniskirche – für damalige Verhältnisse repräsentativ, von heute betrachtet wohl eher bescheiden. So unterhielt Rudolf Springer einen kleinen Raum in der damals neuerrichteten Maison de France, dem noch heute bestehenden französischen Kulturzentrum an der Kreuzung des Kurfürstendamms mit der Uhlandstraße. Diesen Raum eröffnete Springer mit einer Ausstellung von Graphik Joan Miròs – ein schöner Auftakt für eine Galerie, die sich in den Folgejahren zur maßgeblichen Adresse für französische, aber auch andere auswärtige Kunst entwickeln sollte. Walter und Irene Schüler hingegen unterhielten ihre Galerie in einer mittelgroßen Altbauwohnung an der Ecke Leibnizstraße, die gleichzeitig Wohnraum war. Die mit den Jahren größer, ungestümer und farbstärker werdenden Werke vornehmlich abstrakter deutscher Künstler wie Fritz Winter, Fred Thieler und Emil Schumacher standen in bemerkenswertem Kontrast zu kaukasischen Teppichen und Biedermeiermöbeln und zeigten dem Besucher ganz konkret, wie moderne Kunst auch in ein bürgerliches Wohnumfeld passen konnte.
Anja Bremer machte sich das stilvolle Wohnen ganz direkt zum Thema. Sie verkaufte ab 1952 – weil die Verkaufserlöse der Werke ihres vornehmlich aus Berliner Künstlern und Künstlerinnen bestehenden Kreises nicht ausreichten – nun auch Kunstgewerbliches wie Möbel, Lampen und Geschirr. Sie fand damit auch Zuspruch bei der damaligen Kunstkritik, deren wichtigster Vertreter damals unumstritten Will Grohmann war, Professor für Kunstgeschichte an der Hochschule, Buchautor, Zeitungskritiker und auch ansonsten ein einflussreicher, meinungsbildender Mann auf dem Feld der Kunst. Trotzdem besserte sich die wirtschaftliche Lage für Anja Bremer nicht nachhaltig. So zog sie 1955 mit ihrer Galerie in kleinere Räumlichkeiten an den Fasanenplatz, die aber den unschätzbaren Vorteil hatten, im Hinterzimmer Platz für eine heimelige Künstlerbar zu bieten. Die mit Mobiliar von Hans Scharoun ausstaffierte "Bar Bremer" entwickelte sich rasch zu einem anerkannten Treffpunkt des Berliner Kulturbetriebes. Das Unternehmen bestand bis zum Anfang des neuen Jahrtausends, weit über den Tod der findigen Galeristin hinaus, die damit ihre Galerie gerettet hatte.  Andere Galerien halfen sich mit anderen Ideen, mit "Galerieabonnements", dem Verkauf von Büchern und gelegentlich auch mit dem Vermögen der Vorfahren, das helfen musste, das Überleben der Galerie zu sichern.
Einte alle Galeristen zu Beginn der 50er-Jahre noch der Glaube an die große Zukunft Berlins, so wurde ab Mitte der 50er-Jahre deutlich, dass es damit so bald nichts werden würde. Veranstaltungen wie die erste Documenta in Kassel im Jahre 1955 machten deutlich, dass in Berlin keineswegs mehr das kulturelle Herz Deutschland schlug. Die ehemalige Hauptstadt war Provinz geworden. Erfolgsgeschichten wie die Gründung der Galerie Nierendorf – die einzige geglückte Wiederbelebung einer bereits vor dem Kriege renommierten Galerie – mit ihren vielbeachteten Ausstellungen vornehmlich von Werken der Klassischen Moderne verbreiteten zwar gelegentlichen Optimismus. Die Stimmung trübte sich aber, gerade was das Ausstellen und Verkaufen zeitgenössischer Kunst anging, zunehmend ein, nicht zuletzt, weil neue künstlerische Tendenzen ganz überwiegend von westdeutschen Städten ausgingen, während Kunst aus Berlin jenseits der Stadtgrenze nur noch begrenzte Wahrnehmung fand.
Ingo Brunzlow ist Kunsthistoriker und lebt im Berliner Umland.
Er hat eine Dissertation über die Berliner Galerieszene zwischen Kriegsende und dem Bau der Berliner Mauer (1945-61) verfasst, die 2021 veröffentlicht werden soll. In zwei ausführlichen Texten für das Gallery Weekend Berlin gibt er einen Überblick über
die Entwicklung des Berliner Kunstmarktes nach dem Krieg.