Gallery portrait
Neu
by Kito Nedo
Alexander Schröder and Thilo Wermke were still students in their mid-twenties when they founded Galerie Neu on Auguststrasse in Berlin in 1994. At the time, say the gallery owners, it was all about "organizing yourself and not just accepting the existing system." This hands-on philosophy of the early years included the founding of the gallery's own techno label (Neu Records), with over thirty releases and evening events that at times blurred the boundaries between running a gallery and the nightlife scene. Today, more than two and a half decades later, Schröder (b. 1968) and Wermke (b. 1970)—along with their program—embody a living piece of Berlin's art history. The gallery program currently represents around thirty internationally renowned artists, including Kai Althoff, Cosima von Bonin, Marc Camille Chaimowicz, Anne Collier, Jana Euler, Cerith Wyn Evans, Florian Hecker, Karl Holmqvist, Sergej Jensen, John Knight, Kitty Kraus, Klara Lidén, Victor Man, Birgit Megerle, Jill Mulleady, and Andreas Slominski.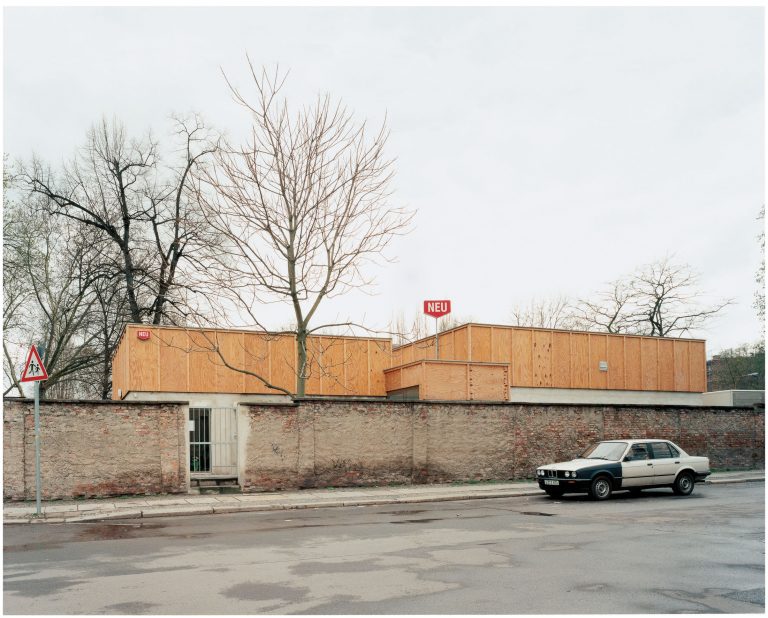 Since 2014, the gallery has occupied a converted combined heat and power plant in a rear courtyard on Linienstrasse. This unassuming building once supplied the surrounding GDR Plattenbauten (concrete tower blocks) with heat. Tom Burr's 2012 sculpture Room Four is installed in the open space next to the gallery: a cast bronze open interior with a table, chair, and cupboard, in which the inside becomes the outside, and the viewer's gaze wanders involuntarily toward the Berlin sky. On the building itself, a small pentagonal red light box glows at dusk with the striking Neu logo designed by Daniel Pflumm.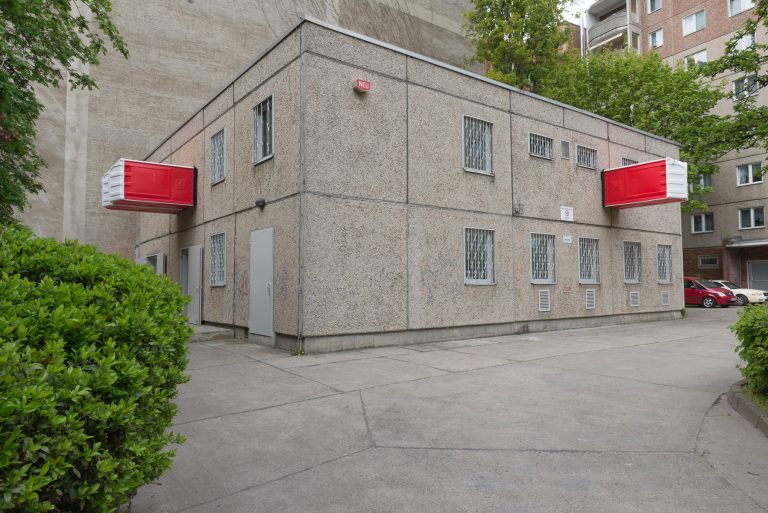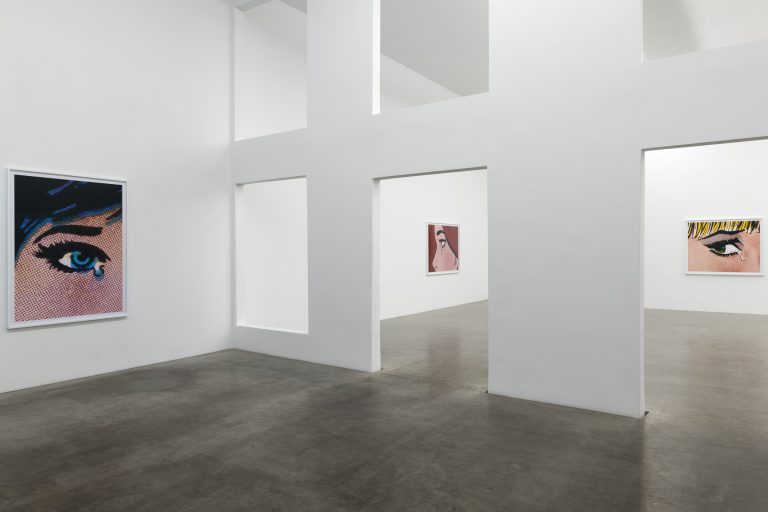 Thilo Wermke and Alexander Schröder met in Hamburg. Wermke was born in Dresden and studied cultural studies, political sciences, and ethnology at Berlin's Humboldt-Universität in the early nineties. Alexander Schröder studied in Katharina Sieverding's class at Berlin's Hochschule der Künste (now Universität der Künste, UdK) and was also associated with the Freie Klasse. The Freie Klasse was a self-organized group of artists within the academy. At the academy, Schröder met the photo artist Josephine Pryde, who is still represented by the gallery today, the painter Katharina Wulff, and the installation artist Manfred Pernice, among others.
The New York artist and gallerist Colin de Land (1955–2003) had a formative influence on Neu's gallery model. Back in 1996 he invited Schröder and Wermke to the relatively young Gramercy International Art Fair in New York in 1996, which was named after its venue, the Gramercy Park Hotel. De Land had originally studied linguistics and philosophy at NYU. With his gallery, American Fine Arts, Co., he not only represented conceptual approaches to art; his own gallery practice was also predominantly conceptual and community-oriented.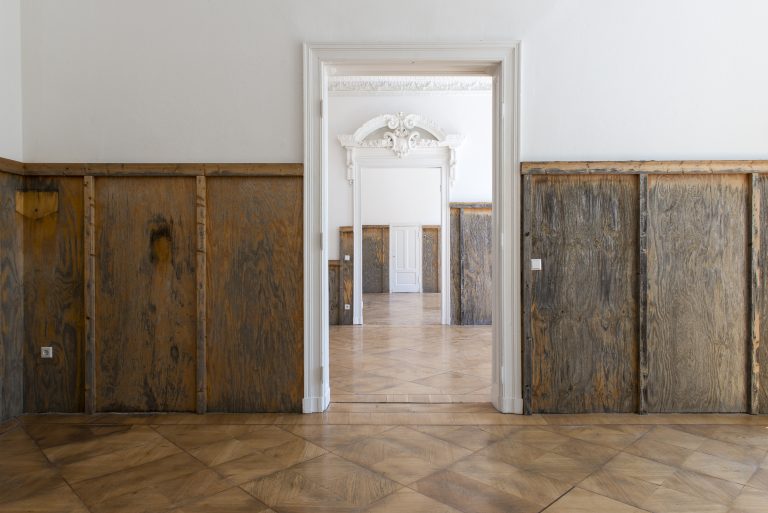 Neu's gallery and exhibition work is often flanked by a range of other activities aimed at the social aspect of the art world. Schröder and Wermke were instrumental in the development of Berlin-specific networks such as the discontinued fair abc—art berlin contemporary (2008–2016) or even Berlin Gallery Weekend, which was founded in 2005. The history of Galerie Neu also includes the Kreuzberg project space MD72 on Mehringdamm, the INIT-Kunsthalle (1998–2000) on Chausseestrasse in Mitte, and the basement club Pelham, which existed briefly in the early 2000s. In the spring of 2007, Wermke was involved in founding the Grill Royal restaurant. Yet contemporary art has remained the central focus of the influential Berlin gallery duo to this day.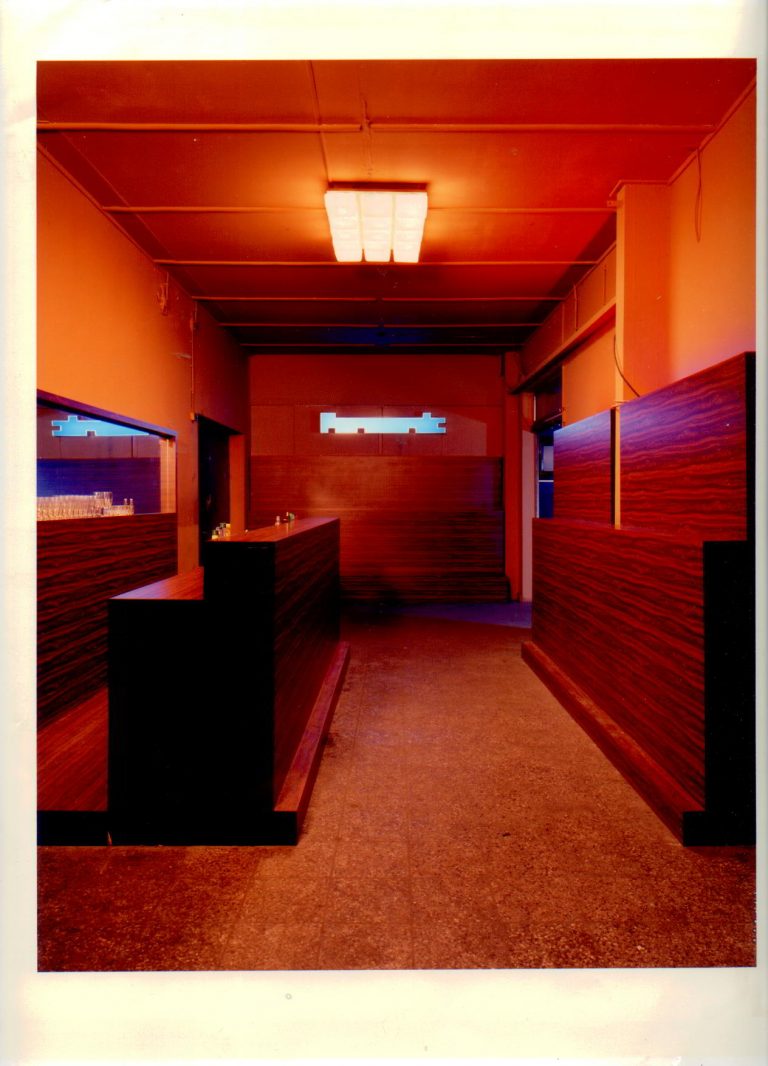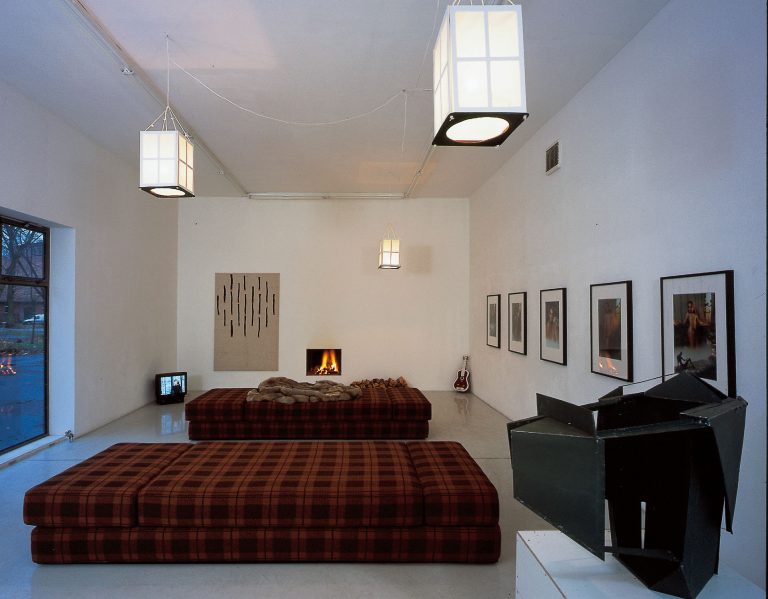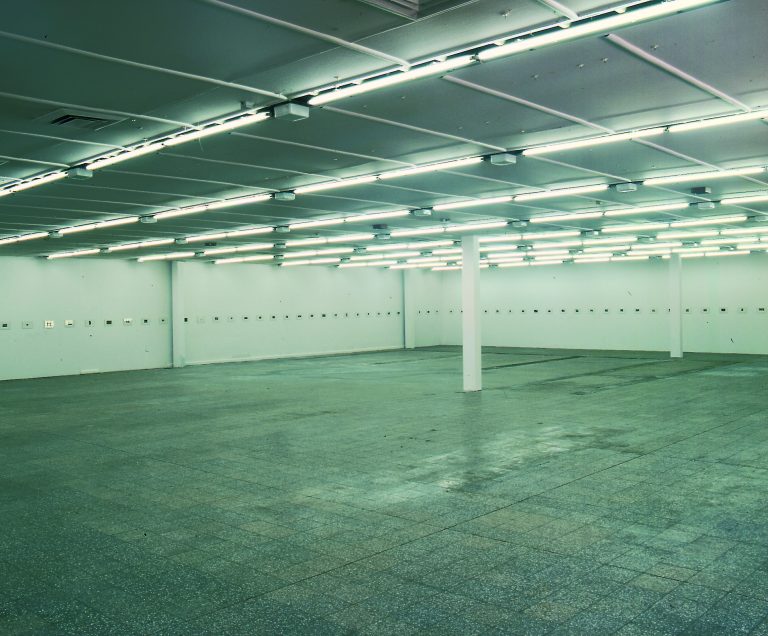 Alexander Schröder und Thilo Wermke waren noch Studenten, als sie 1994 als Mitte-Zwanzigjährige die Galerie Neu auf der Auguststraße in Berlin gründeten. Damals, so die Galeristen, ging es hauptsächlich darum, "sich selbst zu organisieren und nicht einfach das existierende System hinzunehmen." Zu dieser zupackenden Philosophie der frühen Jahre gehörte etwa die Gründung eines eigenen Techno-Labels ("Neu Records") mit über dreißig Veröffentlichungen und abendliche Veranstaltungsformate, welche die Grenzen zwischen Galeriebetrieb und Nachtleben zeitweise fließend werden ließen. Heute, über zweieinhalb Dekaden später, verkörpern Schröder (Jahrgang 1968) und Wermke (Jahrgang 1970) mit ihrem Programm selbst schon ein lebendiges Stück hauptstädtischer Kunstgeschichte. Gegenwärtig vertritt die Galerie mit ihrem Programm die Kunst von rund dreißig international renommierten Künstlerinnen und Künstlern, darunter Kai Althoff, Cosima von Bonin, Marc Camille Chaimowicz, Anne Collier, Jana Euler, Cerith Wyn Evans, Florian Hecker, Karl Holmqvist, Sergej Jensen, John Knight, Kitty Kraus, Klara Lidén, Victor Man, Birgit Megerle, Jill Mulleady oder Andreas Slominski.
Seit 2014 hat die Galerie ihre Adresse in einem für Ausstellungszwecke umgebauten ehemaligen Heizkraftwerk auf einen Hinterhof an der Linienstraße. Das schnörkellose Gebäude versorgte einst die umliegenden DDR-Plattenbauten mit Wärme. Auf der Freifläche neben der Galerie ist Tom Burrs Skulptur "Room Four" aus dem Jahr 2012 installiert: ein in Bronze gegossenes, offenes Interieur mit Tisch, Stuhl und Schrank, in dem das Innen zum Außen wird und der Blick unwillkürlich in den Berliner Himmel wandert. Am Gebäude selbst leuchtet in der Dämmerung ein kleiner fünfeckiger roter Lichtkasten mit dem markanten Neu-Logo gestaltet von Daniel Pflumm.
Kennengelernt haben sich Thilo Wermke und Alexander Schröder in Hamburg. Wermke ist gebürtiger Dresdener und studierte in den frühen Neunzigern Kulturwissenschaften, Politikwissenschaften und Ethnologie an der Berliner Humboldt-Universität. Alexander Schröder studierte in der Klasse von Katharina Sieverding an der Berliner Hochschule der Künste (heute Universität der Künste, UdK) und war ausserdem mit der Freien Klasse assoziiert. Bei der Freien Klasse handelte es sich um einen selbstorganisierten Zusammenschluss von Künstlerinnen und Künstlern innerhalb der Akademie. An der Kunsthochschule lernte Schröder unter anderem die bis heute von der Galerie vertretene Foto-Künstlerin Josephine Pryde, die Malerin Katharina Wulff und den Installationskünstler Manfred Pernice kennen.
Zum prägenden Vorbild für das von Neu praktizierte Galerie-Modell wurde der New Yorker Künstler-Galerist Colin de Land (1955–2003), der Schröder und Wermke frühzeitig bereits 1996 auf die relativ junge Kunstmesse Gramercy International Art Fair nach New York einlud, die nach ihrem Austragungsort, dem Gramercy Park Hotel benannt war. De Land hatte ursprünglich Sprachwissenschaften und Philosophie an der NYU studiert und vertrat mit seiner Galerie American Fine Arts, Co. nicht nur konzeptuelle Kunst-Ansätze, sondern betrieb seine eigene Galeristen-Arbeit vorrangig als konzeptuell und gemeinschaftsorientiert.
Der Galerie-Ausstellungsbetrieb bei Neu ist oft von einer Reihe anderer Aktivitäten flankiert, die auf das Soziale in der Kunstwelt zielen. Schröder und Wermke waren maßgeblich an der Entwicklung von Berlin-spezifischen Vernetzungen wie der eingestellten Messe "abc – art berlin contemporary" (2008–2016) oder auch dem 2005 gegründeten Berlin Gallery Weekend beteiligt. Zur Geschichte der Galerie Neu gehören auch der Kreuzberger Projektraum MD72 am Mehringdamm, die INIT-Kunsthalle (1998–2000) an der Chausseestraße in Mitte sowie der nur für kurze Zeit existierende Keller-Club Pelham Anfang der 2000er Jahre. Im Frühjahr 2007 war Wermke an der Gründung des Restaurants "Grill Royal" beteiligt. Doch die zeitgenössische Kunst ist bis heute der zentrale Fokus des einflussreichen Berliner Galeristen-Duos geblieben.