Gallery portrait
Ebensperger
by Christian Ganzenberg
If we have a look around the gallery scene, logos that work independently from gallerists' names appear only sporadically. Ebensperger, on the other hand, welcomes us with a casually deployed cigarette. It clearly expresses a nonchalant stance, a disposition for adventure in terms of content and space, as well as an affinity for all things strange. The gallery was founded as early as 2005 and its program can be shortly described as "off-beat." Although the gallery's emerging artists do not shy away from the traditional mediums of painting, drawing, and sculpture, their media-blasting and site-specific approaches make a more striking impression. Many of the gallery artists, including Hajnal Németh, Lea Draeger, Tim Etchells, David Moises, and Julius Deutschbauer, not only share a distinct affinity for film, space, and performativity as a political notion, they also seem to have internalized the gallerists' explorative and experimental approach.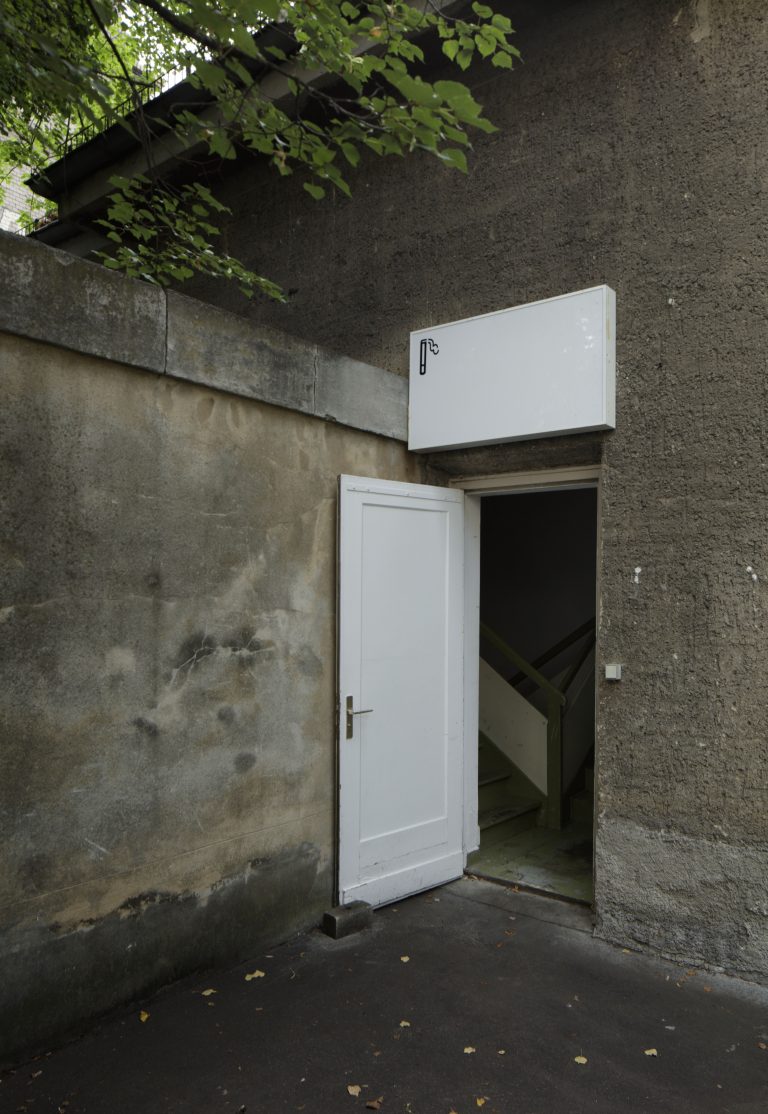 Whenever there is an appetite for adventure and new spaces become available, Patrick Ebensperger and Sebastian Hoffmann conceive extremely versatile and precise presentations in unusual locations. They are not mere "white cubes." Besides the current Berlin branch, which was once a crematorium, past gallery presentations have been held in a former Greek tavern, an industrial building, a local pub, and a long-established hotel. It is hardly necessary for them to participate in elaborate art fairs, in which they nevertheless occasionally take part—and strikingly so. The gallerists prefer to be on the road with their Trunk Shows, creating contemporary salon exhibitions to be closer to the gallery's fans. The spatial properties involved in their temporary exhibition series, which are called Neulich an der Salzach and Neulich in Hernals (in Vienna's 17th district), consistently shape their characteristic tongue-in-cheek set-ups.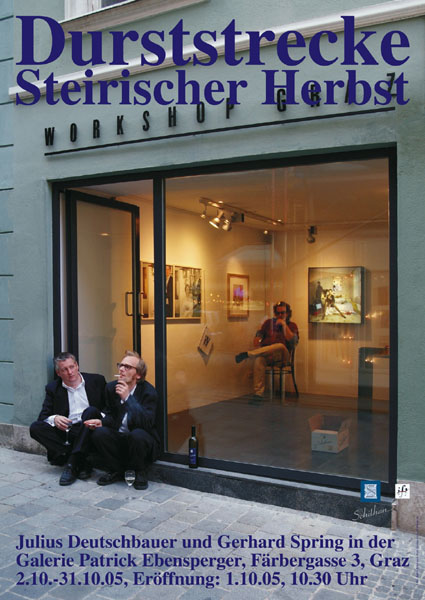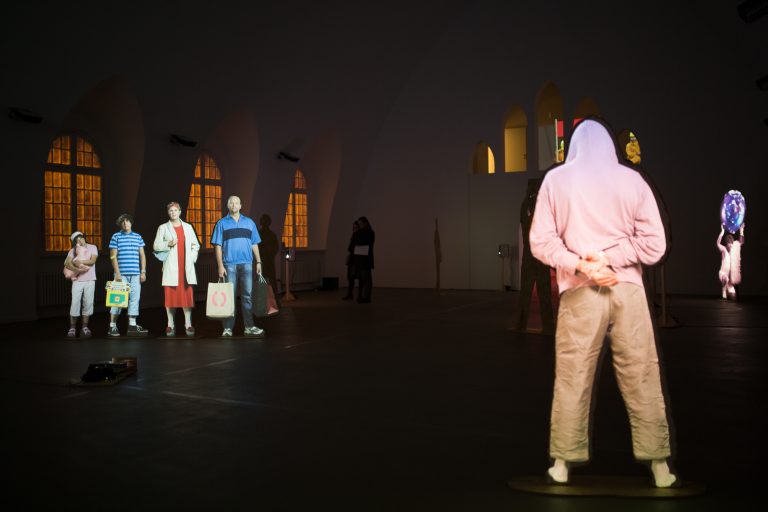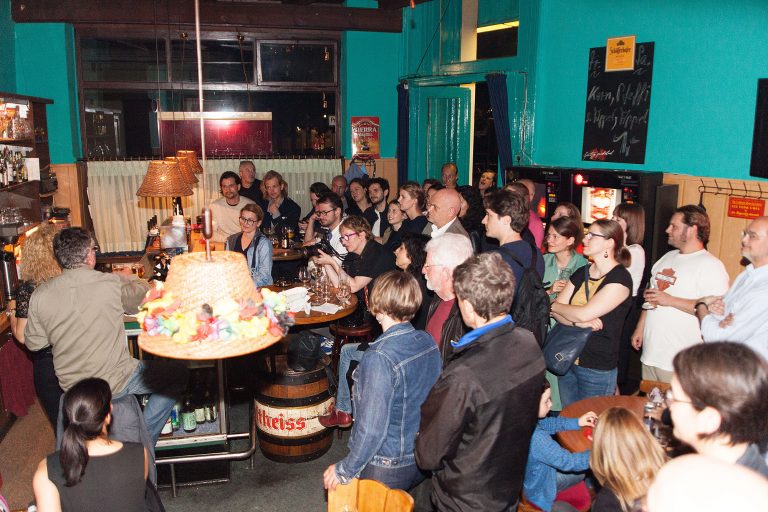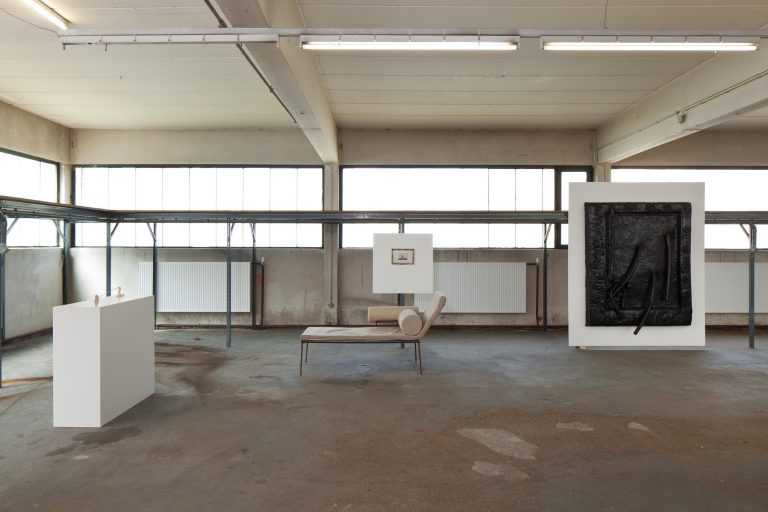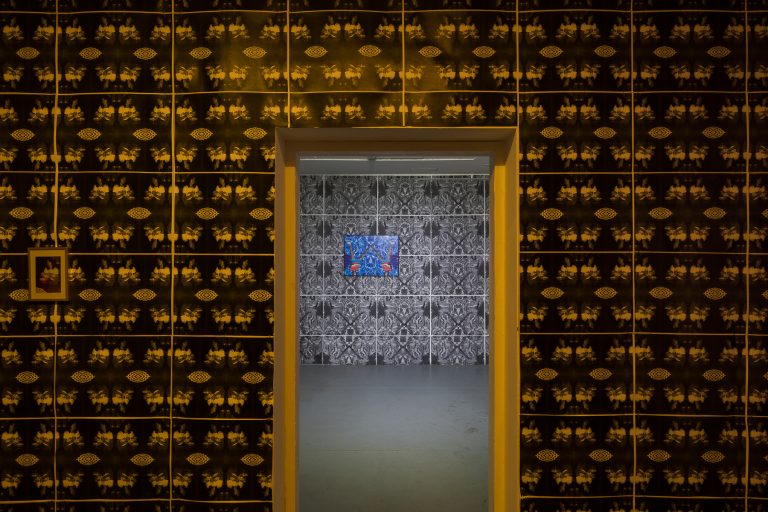 The gallery's history began in a five-by-five-meter room in Graz's historic center; this location was followed by an apartment in one of the city's townhouses, which to this day operates as a gallery showcase. Being distant from the Vienna and Berlin art scenes, Patrick Ebensperger was able to approach his work at the gallery in a rather unconventional and uncompromising way. An appetite for confrontation is still a hallmark of the gallery today, which has undertaken the task of "exploring art's potential for action," for political possibilities that can be experienced in terms of space and content. It is therefore not surprising that thematic exhibitions often juxtapose the represented artists with performative legacies—such as those of John Bock or Otto Muehl, with whose estate Ebensperger works closely. The gallery organizes equally astonishing, unconventional solo exhibitions, including those of film-maker Romuald Karmakar and theater-maker Marta Górnicka. It was the first time they both had solo exhibitions, as well as their first in a gallery space altogether. In these shows, as well as in presentations by Benjamin Heisenberg, Heiner Franzen, and Bjørn Melhus, Ebensperger showcases what "expanded cinema" can be in an art context, that is, a cinematic art that unfolds into space and needs to be physically grasped.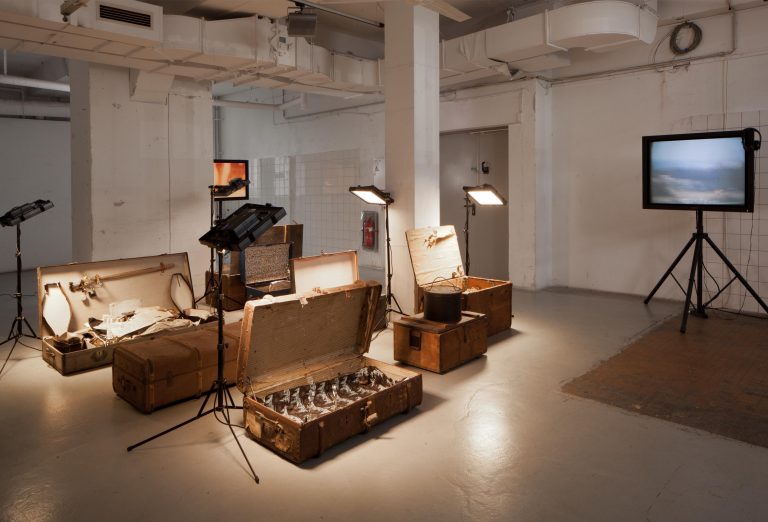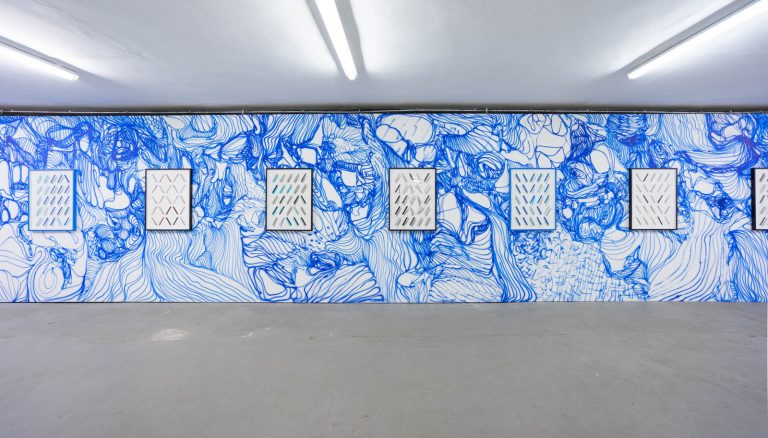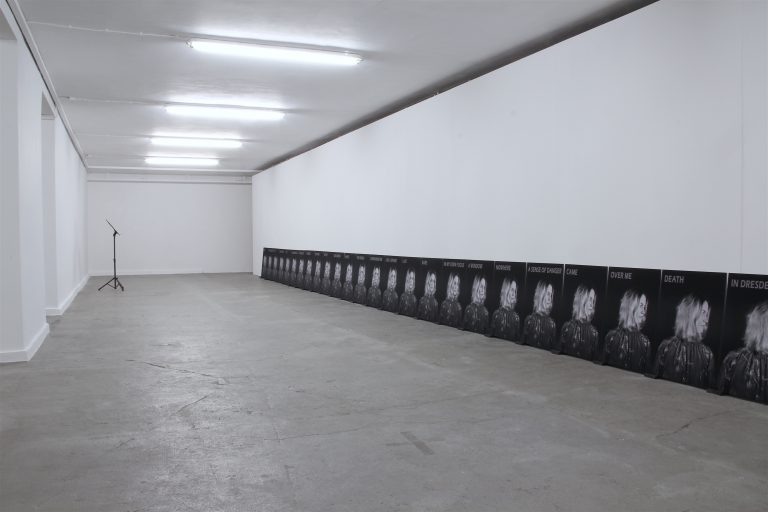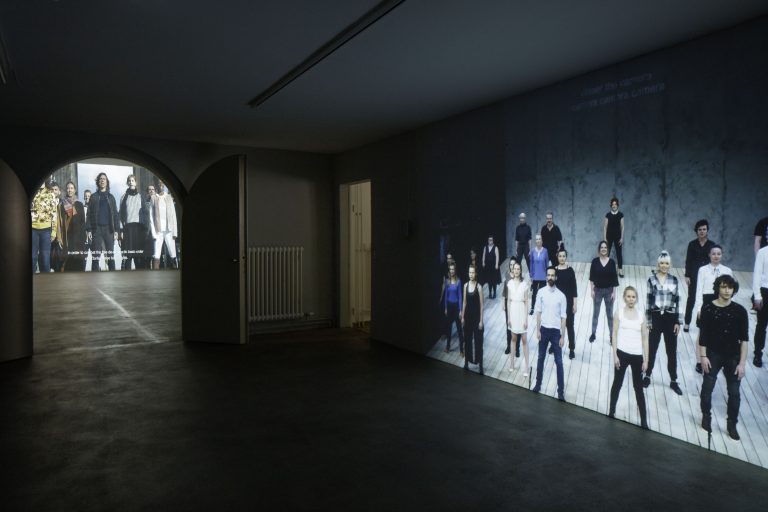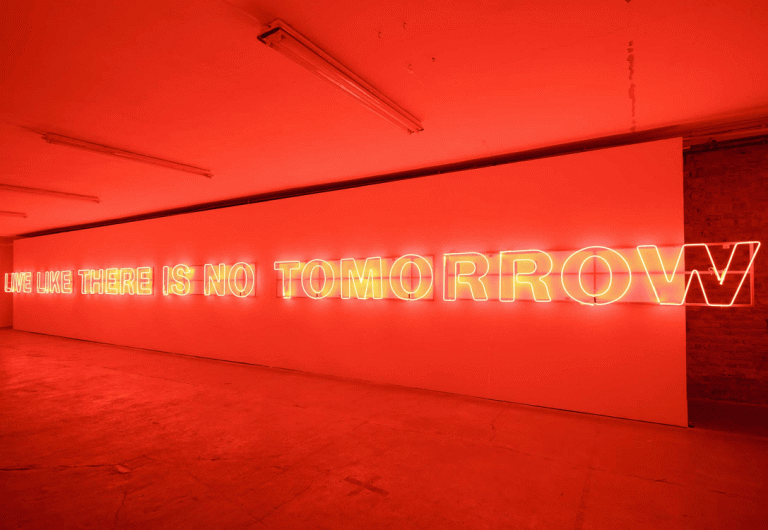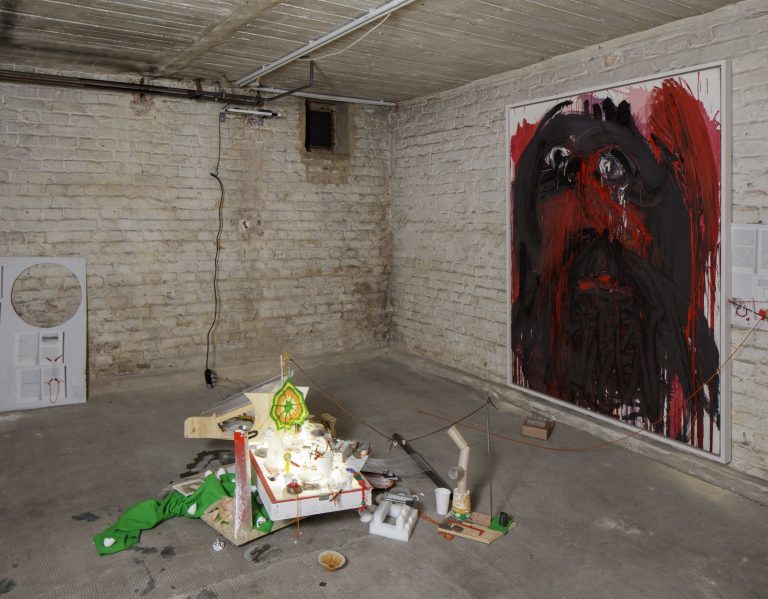 By the way: the logo is a found object. Sebastian Hoffmann came across it in the mentioned Salzburg tavern, and simply set it up afterwards. This is a lesson for us to keep our eyes peeled and listen to the space around us, because "art shouldn't have to adapt to a building. Rather, spaces should provide art with new possibilities."
Schaut man sich in der Galerienwelt um, findet man nur noch sporadisch von den jeweiligen Galerist:innen-Namen losgelöste Logos. Ebensperger jedoch wartet mit einer nonchalant aufgestellten Zigarette auf, die uns eine lässige Attitüde, die Bereitschaft zum inhaltlichen und räumlichen Abenteuer sowie die Affinität zum Seltsamen pointiert zum Ausdruck bringt. Das Programm der bereits 2005 gegründeten Galerie lässt sich kurz mit "Off-Beat" etikettieren. Zwar zieren sich die aufstrebenden Künstler:innen der Galerie nicht vor klassischen Medien wie Malerei, Zeichnungen oder Skulptur, aber markanter sind ihre mediensprengenden und raumgreifenden Ansätze. Viele von den Programmkünstler:innen, unter anderem Hajnal Németh, Lea Draeger, Tim Etchells, David Moises und Julius Deutschbauer, haben nicht nur eine ausgeprägte Affinität zu Film, Raum oder politisch verstandener Performativtät gemein; sie scheinen zudem den explorativen und experimentellen Ansatz der Galeristen verinnerlicht zu haben.
Immer wenn "das Spielbein juckt" und sich neue Räume auftun, dann konzipieren Patrick Ebensperger und Sebastian Hoffmann äußert behände präzise Präsentationen für ungewöhnliche Orte. Dabei handelt es sich nicht um 'white cubes'. Neben dem einstigen Krematorium, in dem die Berliner Filiale derzeit beheimatet ist, finden sich stattdessen in der Historie der Galerie Präsentationen in einer ehemaligen griechischen Taverne, einer Industriehalle, einer Kiezkneipe oder in einem Traditionshotel. Aufwendige Messeteilnahmen, die es dennoch gelegentlich – und dann markant – gibt, braucht es da kaum noch; lieber sind die Galeristen mit ihren Trunk-Shows selber unterwegs, gestalten der zeitgemäße Salon-Ausstellungen, um den Fans der Galerie näher zu sein. Für die stets humorvoll zwinkernden Zusammenstellungen ihrer temporären Ausstellungsreihen, die sich Neulich an der Salzach oder Neulich in Hernals (im 17. Wiener Bezirk) nennen, sind stets die jeweiligen Räumlichkeiten gestaltgebend. Angefangen hat alles in einem fünf mal fünf Meter großem Raum in der Grazer Altstadt, weiter ging es in einer Etagenwohnung in einem dortigen Stadtpalais, und bis heute bespielt man hier noch eine Vitrinengalerie. Die Distanz zu den Wiener und Berliner Kunstszenen eröffnete Patrick Ebensperger die Möglichkeit, die Galeriearbeit etwas unkonventioneller und kompromissloser anzugehen. Diese Lust auf Konfrontation zeichnet die Galerie noch heute aus; zudem hat sie es sich zur Aufgabe gemacht, die Kunst "auf ihr Aktionspotenzial zu untersuchen" – auf politische, räumlich-inhaltlich erfahrbare Möglichkeiten. Es verwundert daher nicht, dass die Galeriekünstler:innen in Themenausstellungen dazu gern mit performativen Positionen wie John Bock oder Otto Muehl, mit dessen Estate Ebensperger eng zusammenarbeitet, in Beziehung gesetzt werden. Ebensperger überrascht auch mit ungewöhnlichen Einzelpräsentationen, wie von dem Filmregisseur Romuald Karmakar oder der Theatermacherin Marta Górnicka. Beide hatten hier ihre ersten Soloausstellungen und ihre ersten in einer Galerie überhaupt. In diesen Ausstellungen, aber auch in den Präsentationen von Benjamin Heisenberg, Heiner Franzen oder Bjørn Melhus, demonstriert Ebensperger, was "expanded cinema" im Kunstkontext sein kann – nämlich Filmkunst, die sich in den Raum entfaltet und körperlich erfasst werden muss. 
Apropos: das Logo ist ebenso ein Fundstück, das Sebastian Hoffmann in besagter Taverne in Salzburg fand und anschließend einfach nur aufgestellt wurde. Das lehrt uns die Augen offenzuhalten und auf den Raum zu hören, denn die "Kunst muss nicht zum Gebäude passen, sondern die Räume müssen der Kunst neue Möglichkeiten geben."