Hito Steyerl
Contemporary Cave Art
For Gallery Weekend Berlin 2023 Esther Schipper is pleased to present Contemporary Cave Art, Hito Steyerl's first solo exhibition with the gallery. On view will be a site-specific iteration of her 2022 environment Animal Spirits adapted to the exhibition space. Animal Spirits is a video installation consisting of a film and a live computer-generated animation as well as spatial installation elements. The film and the animation are projected on custom-built, surround screens which create a room within the cave-like exhibition space. Hanging suspended from the ceiling are spherical glass containers with LED growth lamps shining on plants and soil. The planting and maintenance of the plants is handled in cooperation with the transcultural community garden Hevrîn Xelef, and the NGO Flamingo e.V., a network for refugee women and children.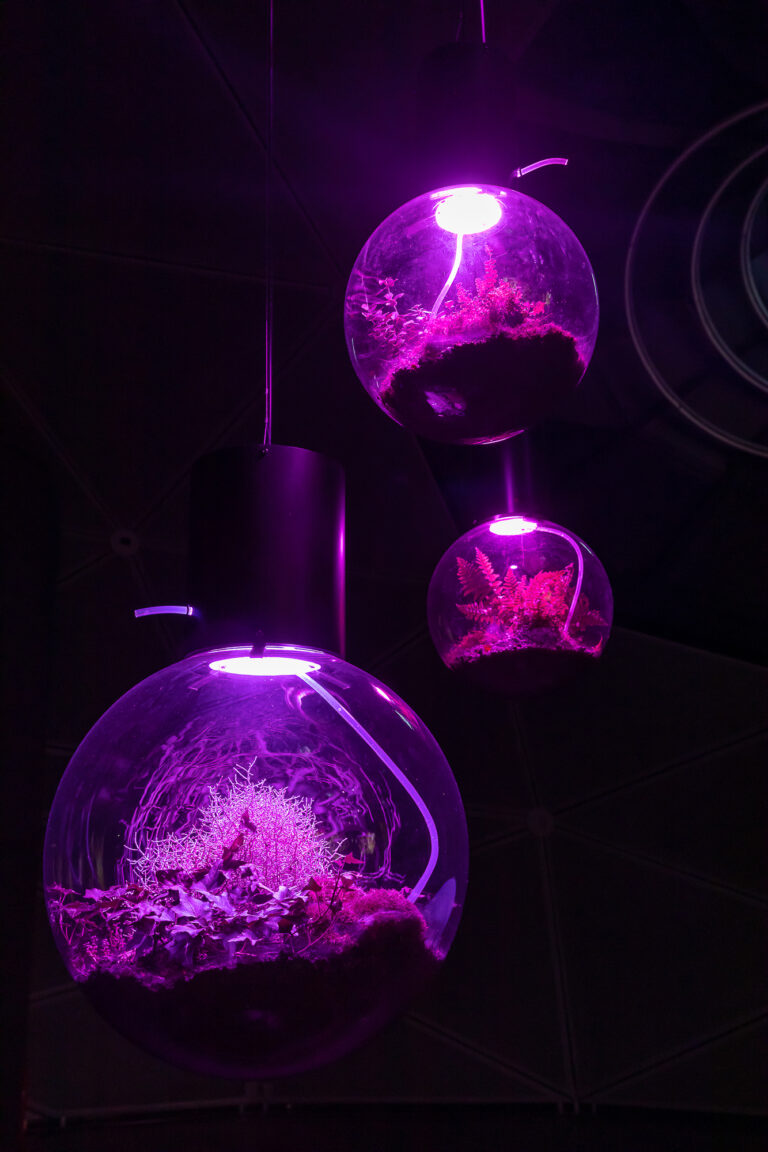 Apart from plants, the glass spheres also contain sensors that measure proxies for plant health as well as react to proximity of visitors in the space. The data gathered by the sensors influence a light-sparkling cloud of particles, appearing in the projection of an animated prehistorical cave. On the other screen, a narrative video interlaces scenes shot with the German actor Mark Waschke impersonating the economist John Maynard Keynes, with historical film footage, animation, motion graphics and documentary interviews, conducted by Steyerl with shepherds in Northern Spain as well as a group of fellow artists. It touches on topics of post-pandemic conditions of cultural production, the boom of cryptocurrencies and NFT art, and possibilities for systems of decentralization and autonomy, inspired by biological systems behind fermentation.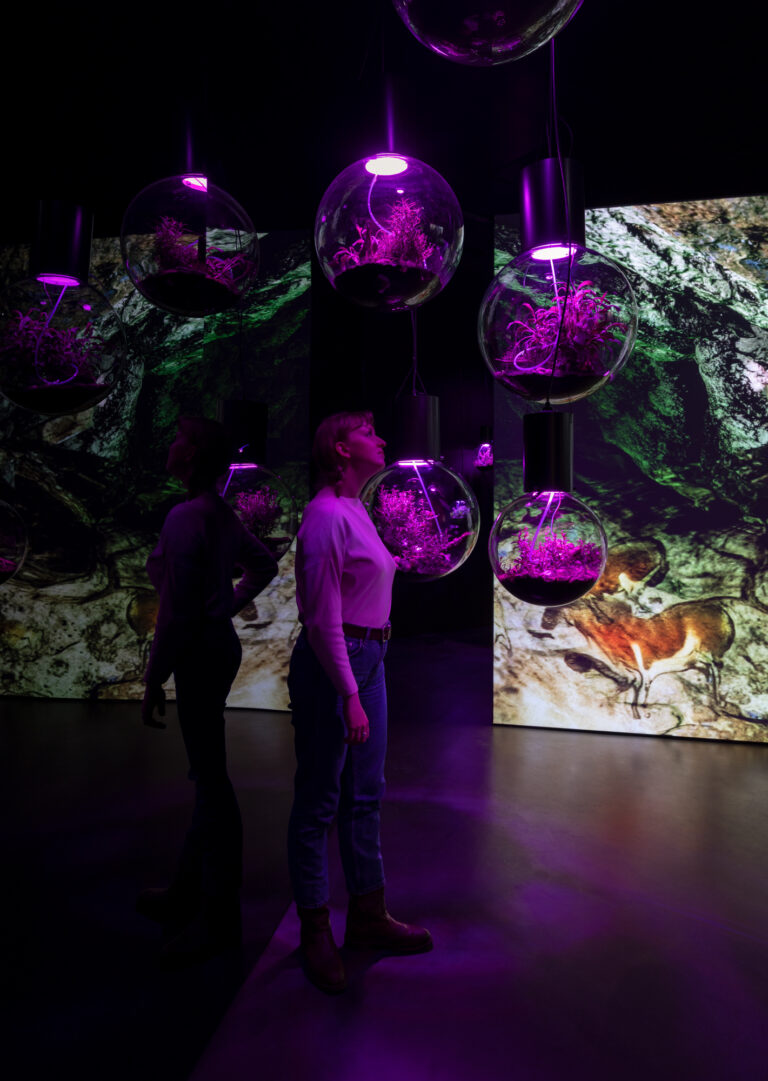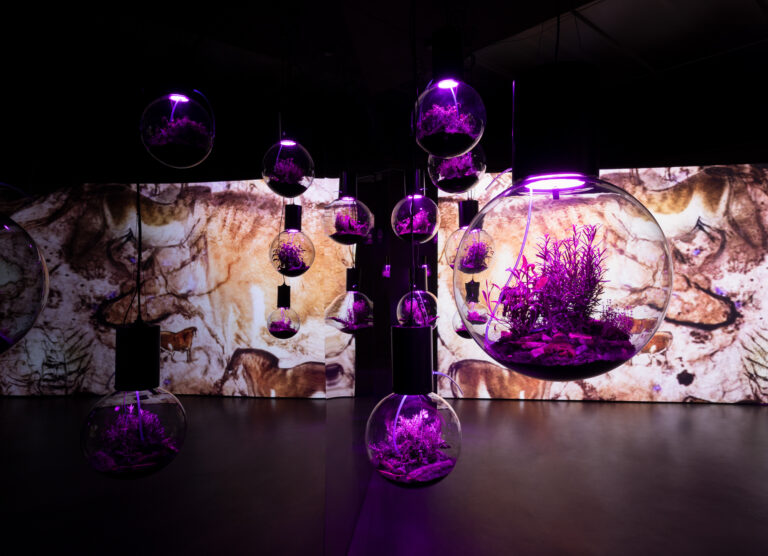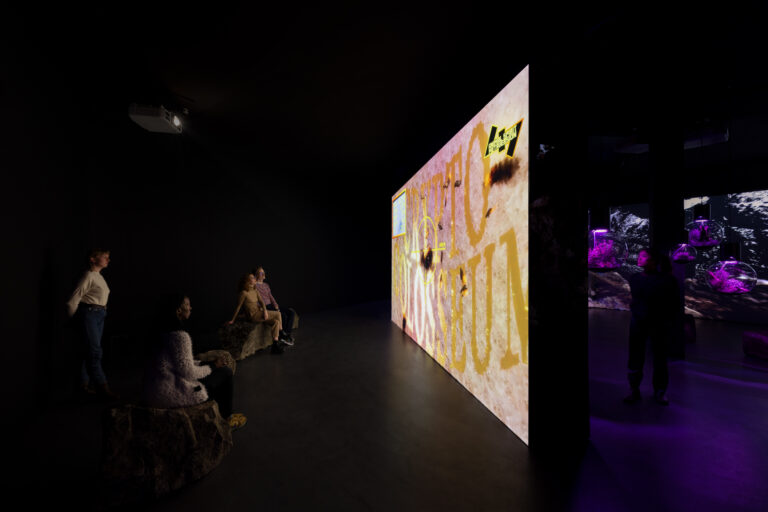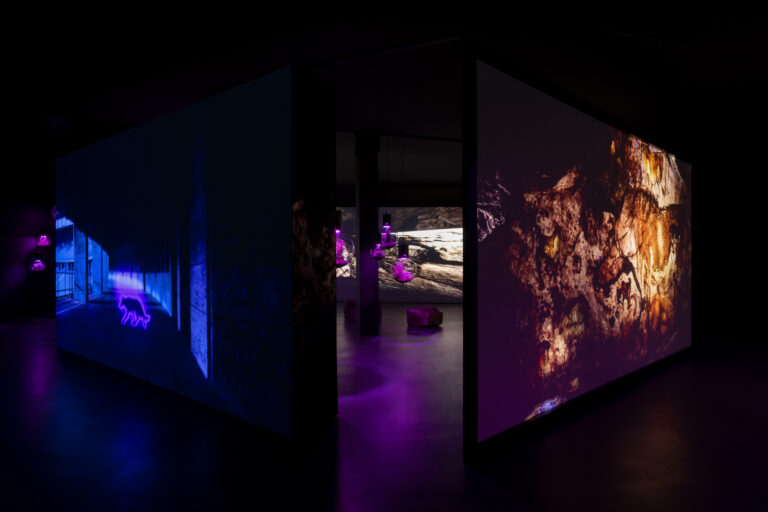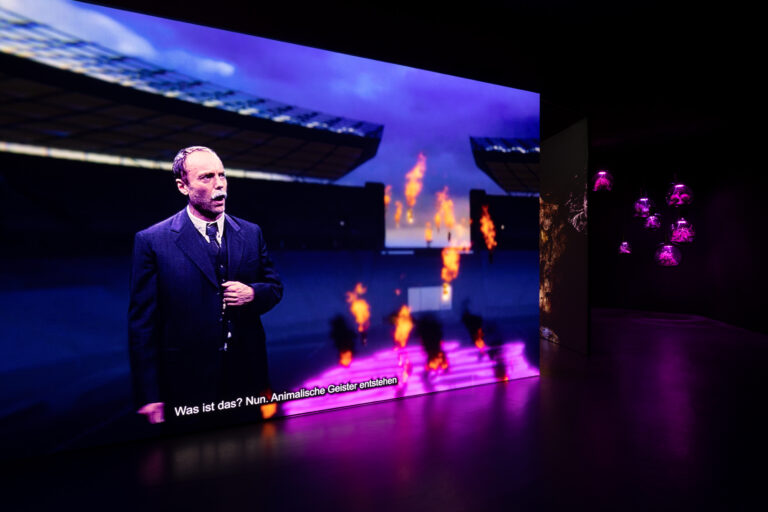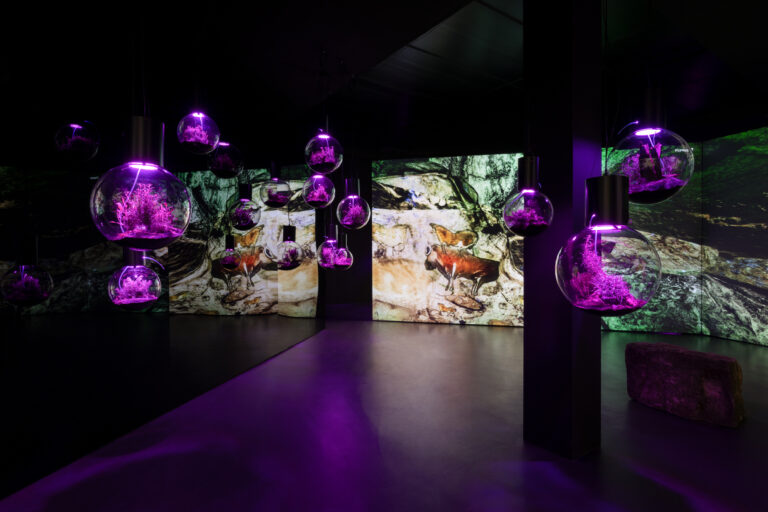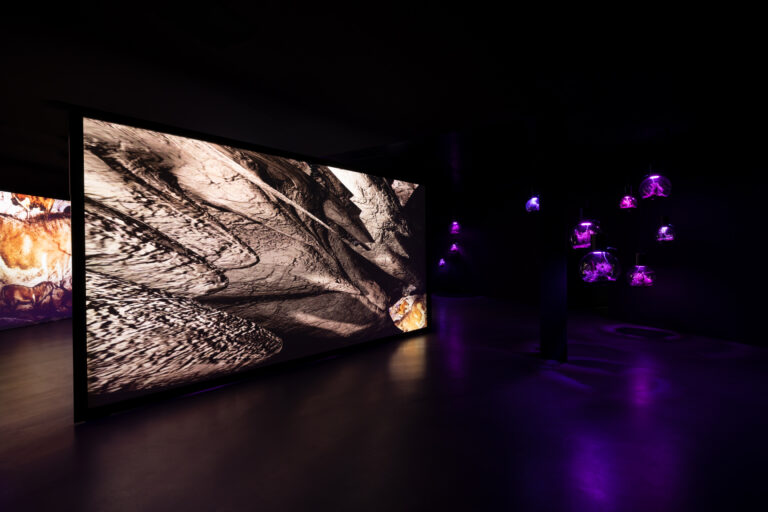 The glass spheres in the exhibition are being sold to raise funds for relief efforts following the severe earthquake in Turkey and northern Syria. All proceeds from these sales will be donated through Hevrîn Xelef/Flamingo e.v. to Jinwar, the women's village in Rojava, Northern Syria and personally delivered there to build a health center.
Hito Steyerl is a filmmaker and writer based in Berlin.
The artist's solo exhibitions include: Hito Steyerl – A Sea of Data, National Museum of Modern and Contemporary Art, Seoul (2022); Hito Steyerl: I Will Survive, Stedelijk Museum, Amsterdam (2022); Hito Steyerl. I Will Survive, Kunstsammlung Nordrhein-Westfalen K21, Düsseldorf, and Centre Pompidou, Paris (2020–21); Hito Steyerl, n.b.k. – Neuer Berliner Kunstverein, Berlin (2019–20); This is the Future, Art Gallery of Ontario, Toronto (2019–20); Hito Steyerl: Drill, Park Avenue Armory, New York (2019); Power Plants, Serpentine Galleries, London (2019); Käthe Kollwitz Prize 2019. Hito Steyerl, Akademie der Künste, Berlin (2019); The City of Broken Windows, Castello di Rivoli, Turin (2018); Liquidity Inc., The Institute of Contemporary Art, Boston (2017); Factory of the Sun, Museum of Contemporary Art, Los Angeles (2016); The Distributed Image, LUMA Foundation, Arles (2016); Duty-Free Art, Museo Nacional Centro de Arte Reina Sofia, Madrid (2015); Liquidity Inc., Tensta Konsthall, Spånga (2015); Too Much World, Institute of Modern Art, Brisbane (2016); Hito Steyerl, Artists Space, New York (2015); Hito Steyerl, Van Abbemuseum, Eindhoven (2014); Hito Steyerl, Institute of Contemporary Arts, London (2014); Circulacionismo, Museo Universitario de Arte Contemporaneo, Mexico City (2014); Hito Steyerl: Guards, Museum of Contemporary Art, San Diego (2013); Focus: Hito Steyerl, Art Institute of Chicago, Chicago (2012); The Kiss, Overgaden Institute of Contemporary Art, Copenhagen (2012); Hito Steyerl, n.b.k. – Neuer Berliner Kunstverein, Berlin (2009); The 1st at Moderna: Hito Steyerl, Moderna Museet, Stockholm (2008), and Red Alert, Kunsthalle Winterhur, Winterhur (2008). The artist's work is held in numerous collections.
Sun Yitian
Portrait
Esther Schipper is pleased to announce Portrait, a special presentation with works by Sun Yitian whose representation was announced in January. On view will be three new paintings. 
Sun Yitian is best known for her paintings of monumentally enlarged mass-produced objects, generally based on staged photographs taken by the artist herself. Lovingly rendered in colorful acrylic paint, the surfaces of the inflatable toys or the heads of dolls—both frequent motifs—shine brightly, often with flecks of reflecting camera lights visible. Sun Yitian's use of scale further draws attention to the inherent tension between pathos and banality on which the works draw: vastly enlarged the objects gaze at us from their huge eyes as if in puzzlement of their newfound sumptuous grandeur.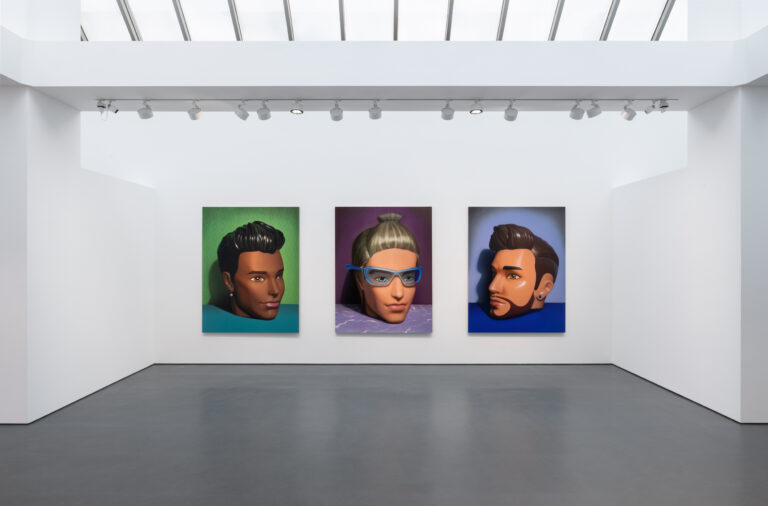 At the gallery three works from Sun Yitian's series of doll heads will be on view. Depicted in gigantic scale, the three male heads look out unconcerned at the world around them with a friendly smile. Each painting portrays a head with distinct skin tone and hair color against a near monochromatic background and floor. The bearded Alger has dark brown hair and honey-colored skin; Kevin is dark-haired and Black; Jason is blond-haired and fair-skinned. The heads are set in a deeply compressed space, yet the viewer nonetheless infers a three-dimensional area from the dark shadow they cast. With their depictions of gracefully curved lips and perfectly placed cheekbones, the paintings capture the generalized beauty of dolls. Small details—among them a section where Alger's beard rubbed off, Kevin's impossibly smooth hairline or the way Jason's strands of blond hair are inserted into the doll's head—draw attention to the paradoxical state in which the dolls' life-like yet vacuous presence hovers.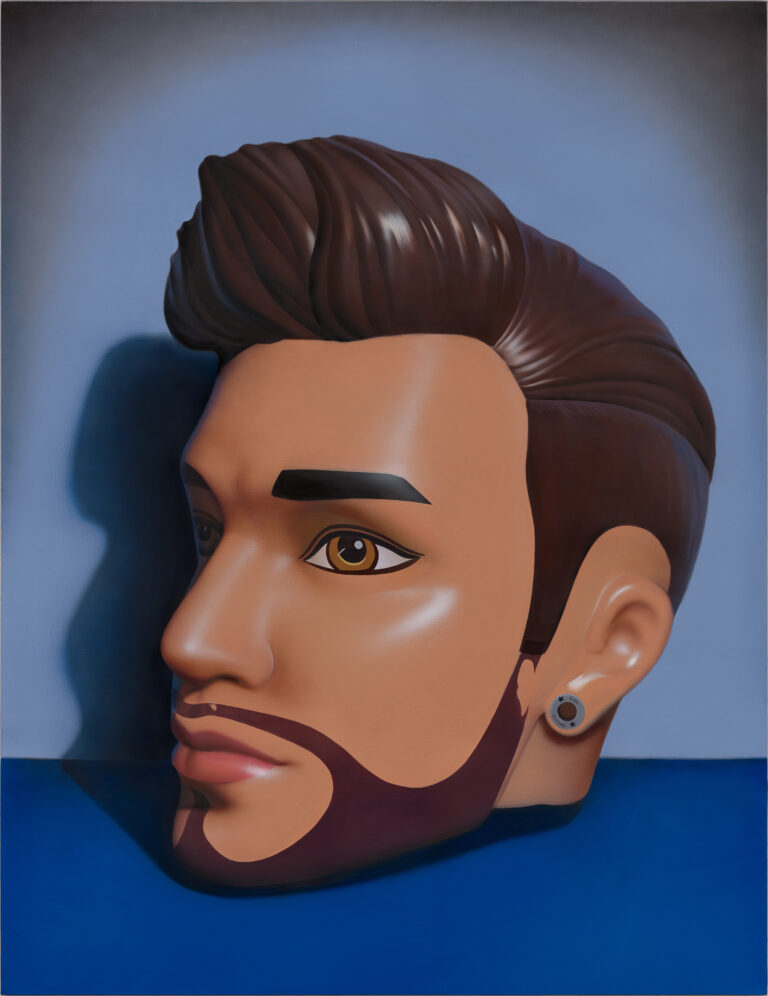 Iconography and Sun Yitian's manner of execution are perfectly paired: the plastic shells of the represented toys, their photographic representation, and the flatness of the painted canvas fuse, tenderly capturing mass-produced objects in a traditional medium associated with individual expression and unique creation. Seen up close, the impression of the paintings' photographic precision dissipates, as the painterly and coloristic effects created by the artist's expert application of paint become apparent. Carefully placed to seduce our gaze—to "remove all resistance to perception" in Sun Yitian's words—the subtlety of this effect allows the works to exist in a continuously contested realm between representation and abstraction. 
Sun Yitian was born in Zhejiang, China in 1991. She studied painting at the Central Academy of Fine Arts in China, graduating in 2015 and obtaining an MFA in 2018. Sun Yitian is now completing her doctorate in literature at the School of Humanities at Tsinghua University, Beijing. The artist lives and works in Beijing. The artist is also represented by BANK, Shanghai.
In 2023 Sun Yitian received the WSJ China's ON THE FIELD Creator of the Year Award. Sun was selected for the Forbes 30 Under 30 Asia Class of 2019. 
Recent exhibitions include Nián Nián: The Power and Agency of Animal Forms, Deji Art Museum, Nanjing (2023); The Infinite Conversation: 2022 Beijing Biennial "Symbiosis", National Base for International Cultural Trade, Beijing (2022); Summer '22, Esther Schipper, Berlin (2022); The Pieces I Am, Shanghai, UCCA Edge (2022); Art's Language, Artists' Game, OCAT Shenzhen, Shenzhen (2022); The Disconnected Generation, Song Art Museum, Beijing (2022).
Sun's work is held in the following collections: Hort Family Collection, New York; White Rabbit Gallery, Sydney; Museum Voorlinden, Wassenaar; By Art Matters, Hangzhou; Longlati Foundation, Shanghai; M WOODS, Beijing; Yuz Museum, Shanghai; and Sifang Art Museum, Nanjing.