Ugo Rondinone
i don't live here anymore
Gallery Openings—15 Sep 2023, 6 to 9 PM
Which place did you leave? Why don't you live there anymore? And where did you move? The statement as title i don't live here anymore immediately raises questions that will most likely remain unanswered, but it doesn't matter. It looks like a good place, with room to express oneself; to deepen understanding of the self; to experiment with fetishist interests; to play with gender; to show fierceness as much as vulnerability; to probe the sculptural potential of the body by morphing it into abstraction.
Nevertheless, it is not only a space of joy and happiness, as the photos' references to Pierrot indicate—a quietly observing archetype known to symbolize a sense of melancholy. What is the melancholy about? Is it about what one leaves behind when moving away, moving on or up? Goodbyes are indeed always part of change, markers of transition to move into a new mode, state, or phase.
A certain ease with change is, however, also discernable in these five photos, as much as in the larger body of Rondinone's photographic work to which this suite belongs. The photos portray Rondinone as compelling, timeless archetypes, transformed into ambiguous idiosyncratic figures: the femme fatale dressed entirely in black; the dreamy hippie girl; the Viennese actionist-cum-seductive-androgynous-butcher; the underground music type; and, as presented here, a fetish version of Pierrot in a sculptural, Dadaist-like outfit. Altogether, the photos show an enjoyment of androgyny; the possibility to alternate identities; and the concept of gender fluidity that was made intelligible after years of emancipatory work. As the body of work exemplifies, one can shift character, if one understands how to use the tools of performativity.
But what about the references to Dadaism? Isn't it often considered the big bang of modernism, heralding a time of rapid change? Indeed, after its 1916 proclamation with a manifesto, various other modernist movements took off—not irregularly drawing on the eclectic Dada movement, which was against any kind of prewritten form and thrived on ambiguity. More than eighty years later, i don't live here anymore was created at the dawn of a new era too, namely the digital age. In it, imagery and image-making have taken a radical turn because of the exponential progress of the internet and digitalization processes, which transmuted into social media where decentralized mechanisms of image distribution would let subjectivity blossom—with all its advantages and disadvantages.
There is yet another anachronistic reference to decipher: the muzzle—with its flawless lines that stylistically resemble the line flow of constructivism—emphasizes and extends the shape of the face, but also discloses its grid-like structure, almost as a precursor to biometric facial recognition of today. Combined with the fierce gaze into the abyss, which looks like a Nietzschean warning that the abyss also gazes back, it is as though the downsides of the dawning digital age are already identified.
Besides Rondinone's reflection on performativity and transformation, these interpretations and thoughts seek to unravel how i don't live here anymore renders the notion of timelessness palpable. Taking eternally recurring archetypes as subject matter, the artist modifies and reinterprets them, plays around with them and explores their potential in relation to his own subjective being, placing them in a realm of ambiguity to render them ubiquitous and unique at the same time. As such, Rondinone shows that no matter how alienating something may seem, one can always discern one's own connections. It is the shimmering yet powerful familiarity one finds in a déjà vu.
Text by Léon Kruijswijk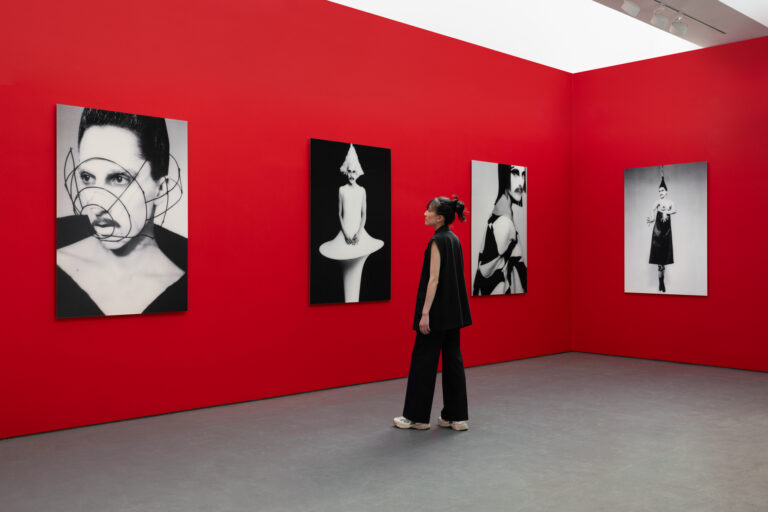 Anicka Yi
A Shimmer Through The Quantum Foam
Esther Schipper is pleased to announce Anicka Yi's first solo exhibition with the gallery. Entitled A Shimmer Through The Quantum Foam, the exhibition features a series of unique animated pod sculptures that pulse and undulate, casting their flickering light across the surfaces of luminous algorithmically-generated paintings. Below this suspended constellation of bio-techno lifeforms, the soft glow of an aqueous ooze—indicative of life's marine origins—sprawls in a shallow crater in a built-up section across the gallery floor.
Anicka Yi has produced a unique body of work over the past decade, that operates at the intersection of politics and macrobiotics. Her practice questions traditional distinctions between what is human, animal, plant, and machine, and is the result of an alchemical process of experimentation that explores often incompatible materials. Yi collaborates with researchers to create materials and media that are often inherently political, delving into the cultural conditioning of sensation and perception in a way she describes as a "biopolitics of the senses." Yi's diverse installations draw on scientific concepts and techniques to activate vivid fictional scenarios, asking incisive questions about human psychology and the workings of society.
Informed by a profound understanding of biology and history, A Shimmer Through The Quantum Foam continues Yi's creation of hybrid ecosystems, evolving her notion of the "biologized machine" which she introduced in her critically-acclaimed presentation of kelp pod sculptures at the 58th International Venice Biennale in 2019 and expanded in her recent major solo exhibitions In Love With The World at Tate Modern's Turbine Hall in 2021 and Metaspore at Milan's Pirelli HangarBicocca in 2022. Featuring semi-autonomous floating machines known as aerobes, which accrued an artificial physical intelligence through their interaction with other machines and with human visitors, In Love With The World attempted to dissolve conventional ideas around cognition. Refuting the human fantasy of a disembodied intelligence and seeking to expand humanity's capacity for compassion, Yi's notion of "biologizing the machine" asks: "Can we actively align machines to better reflect our biological reality?"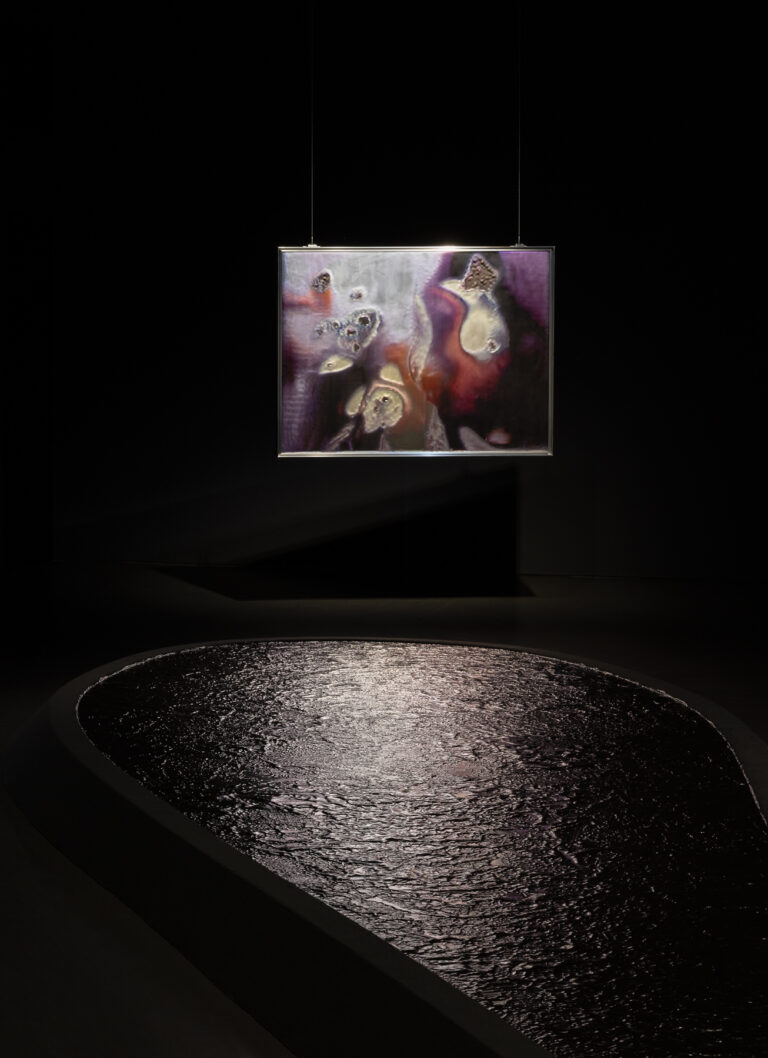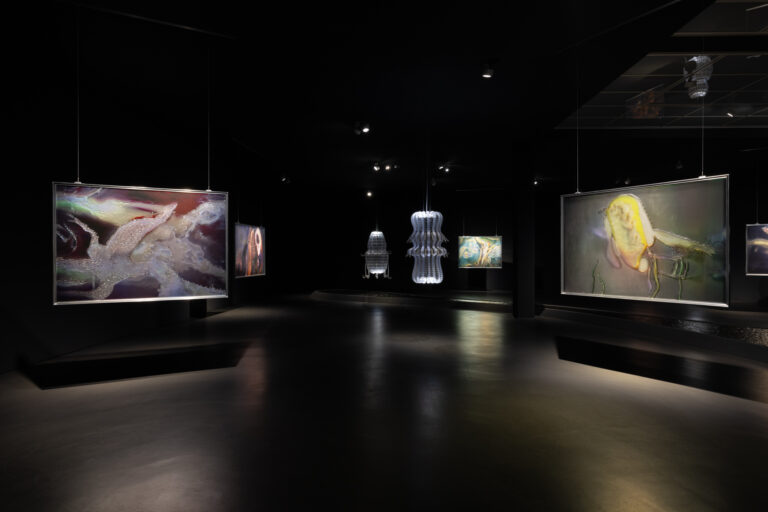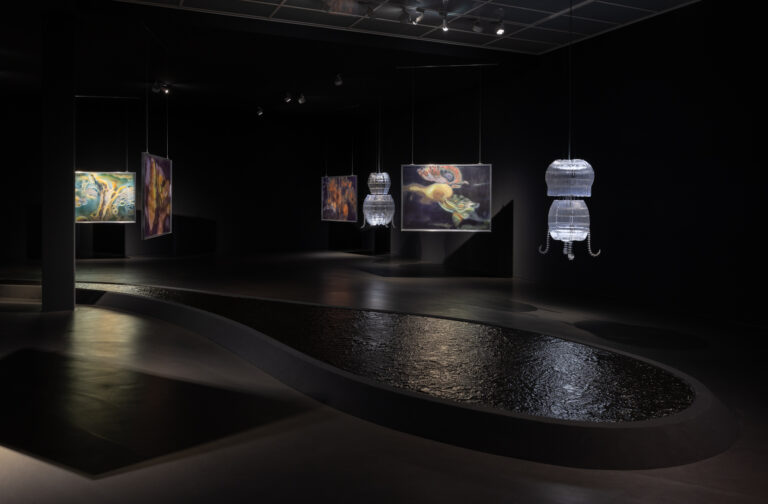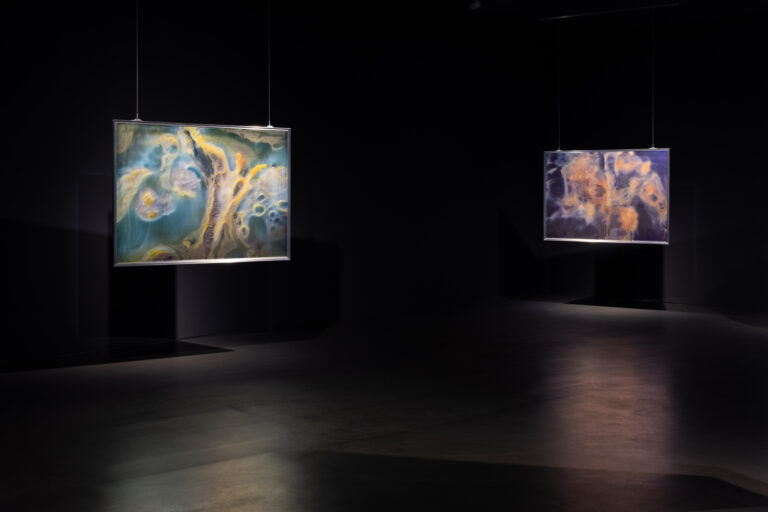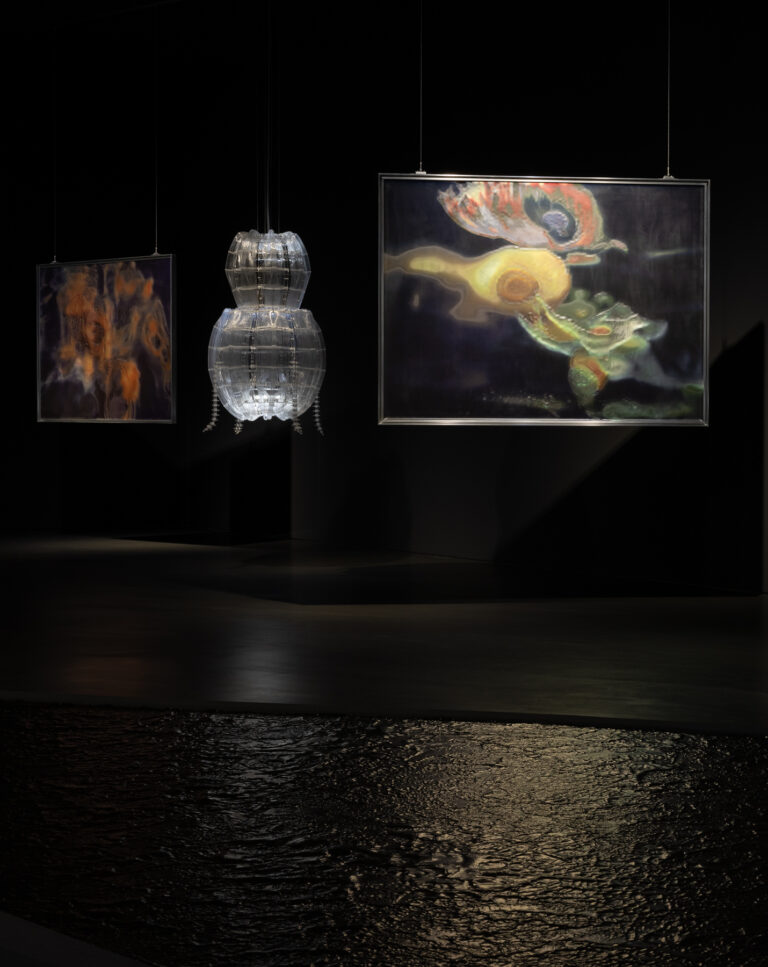 In 2022 Yi began a set of investigations into painting by training a machine learning model with images of her more painterly artworks. The artist worked in dialogue with the algorithm, deconstructing and manipulating her past work to prompt and guide the algorithm in unexpected directions. As Yi experimented with machine learning, she branched out to work in dialogue with several machine learning models at once. Yi conceptualized this process as hybridizing her own visual patterns and motifs with those of other ecological entities, living and non-living alike.
Premiering at Esther Schipper, Yi's new series of horizontal paintings depart from the veiled mystery of her previous painting series, providing rare glimpses into the sources from which these imagined skeletal forms emerged. Here the textures of blood cells and fish eggs, clumps of algae and ruptured skin, rise to the surface with glistening clarity. Slipping just beyond human comprehension and existing at the threshold of becoming recognizable or identifiable, real-world objects and hybridized abstractions swell and break in luminous waves and biomorphic impressions.
A series of new suspended animated pod sculptures emerge from similar territory, relatives of Yi's well-known kelp pods and floating aerobe sculptures. In the darkened exhibition space, they appear as magnified bio- techno lifeforms in a shadowy unknown. A close inspection of the sculptures—inspired by radiolaria, a type of protozoan zooplankton dating back to the Cambrian Period—reveals flickering pulsations of illumination that travel the length of their delicately interwoven fiber-optic bodies. The sculptures take the form of two species of radiolaria: one with a smooth shell and long tentacle appendages, the second species characterized by many accordion-like segments beset with small tendrils.
In the darkened exhibition space a sprawling pond-like structure with a reflective surface catches the light of the flickering pod sculptures and creates a vivid mis-en-scène for the elusive, evolving and incandescent ecosystem A Shimmer Through The Quantum Foam forms. Wafting unseen through the air, a fragrance by the French perfumer Barnabé Fillion takes its associations from Yi's darkly shimmering world to create a custom-made scent.
Anicka Yi is represented by Esther Schipper in collaboration with Gladstone Gallery.
Anicka Yi was born in 1971 in Seoul, South Korea. She studied at the University of California, Los Angeles, and Hunter College, New York. She lives and works in New York, NY. In 2016, Yi was awarded the Hugo Boss Prize and in 2019 her work was featured in the 58th International Venice Biennale, titled May You Live In Interesting Times. Anicka Yi was awarded the 2020 Tate Turbine Hall Hyundai Commission.