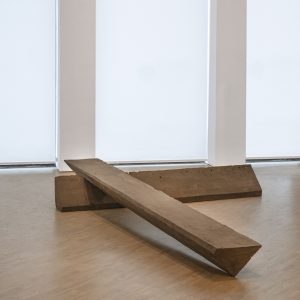 Bernd Lohaus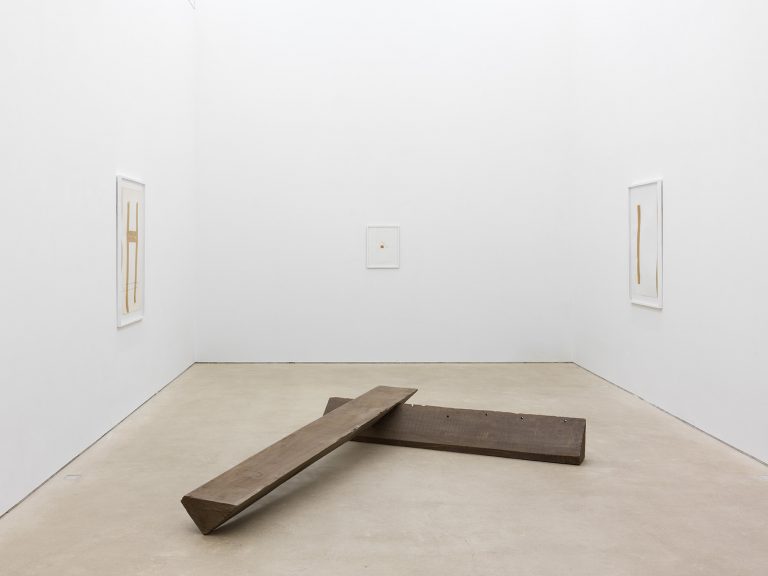 Daniel Marzona is pleased to announce a solo exhibition of works by Bernd Lohaus.
Lohaus' third solo exhibition at the gallery brings together a two-part wooden sculpture, placed on the floor, a wall-related sculpture, as well as several collages and works on paper made between 1969 and the mid-80s.
Historically anchored in Fluxus and Minimal Art, Lohaus' sculptural works are somehow vulnerable. By embracing the wood's found personality, without directly referencing it, his sculptures are charged with meaning through minimal intervention. Inscribed prepositions, names or fragments of sentences, sometimes adorn the ashen colored pieces' extremely heavy presence giving hints about possible relationships and placing the works in a different realm.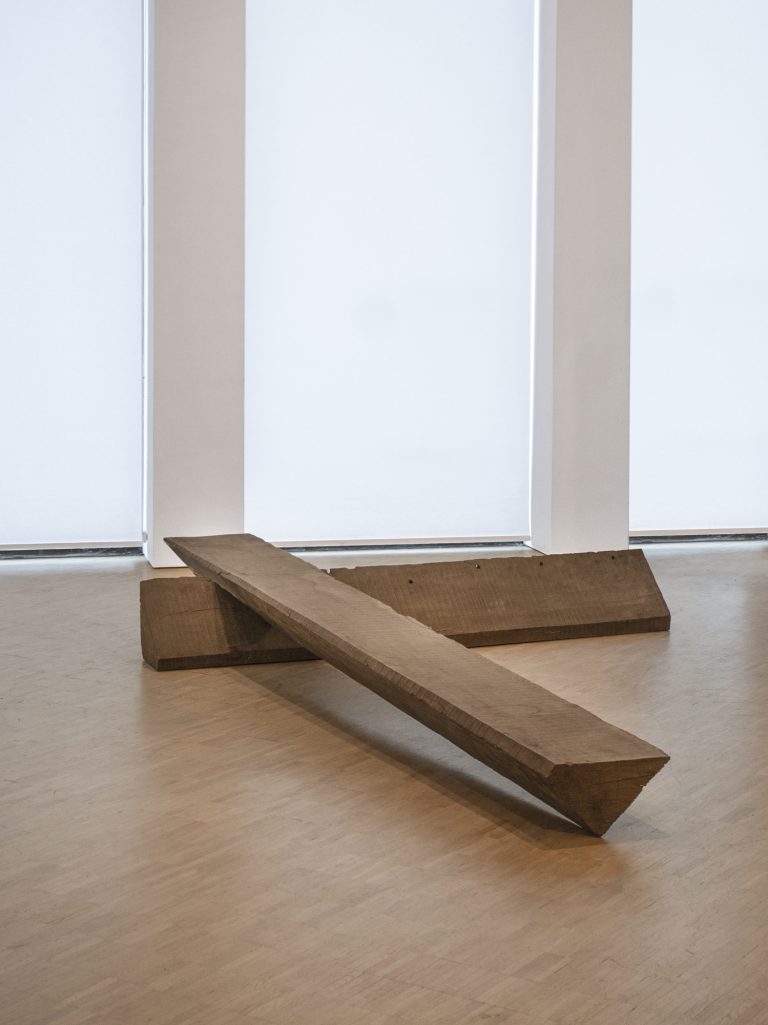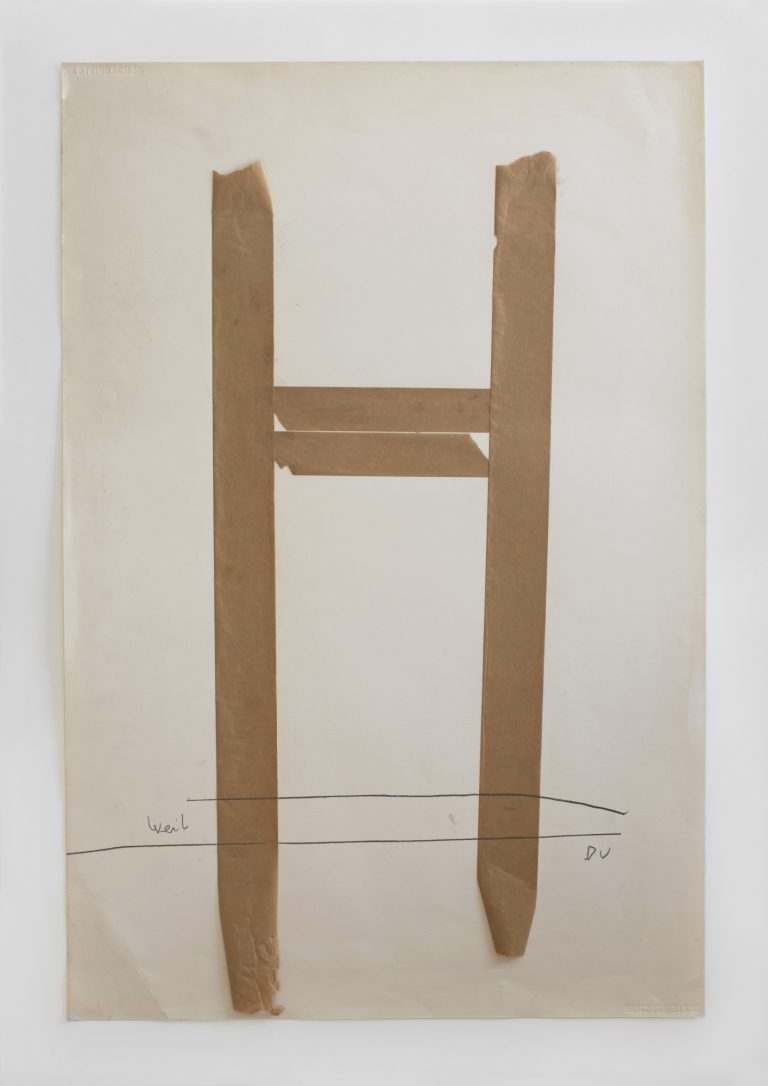 Although weighty and static, Lohaus' arrangement of sculptural elements implies the potential for movement: wooden beams lean against a wall, or are placed in a way that proposes potential re-arrangement. Parts are not attached to each other but stacked, or loosely laid together, adding to their internal tension. Lohaus' Untitled (1991) which consists of two carefully placed beams of azobe, the coarsely textured, dense and heavy wood known for its great strength and resilience and common in his sculpture, is indicative of Lohaus' quintessential ability to embody human tensions and articulate relationships within and between seemingly inanimate units.
Lohaus' collages possess a similar dynamic. Their formal reductiveness can clash with expressive language (e.g. NEIN and JA), and provoke an interplay of high emotion and humble materials applied unpretentiously. The words, despite their clear respective meanings, remain obscure, and only hint at connections with one another. The feeling of suspense is heightened by the artist's modest use of tape and crayon. Markings are intentionally placed and yet resemble traces from a conversation. This transformative quality is present in all of Lohaus' works, making his oeuvre singular in its subliminal expressiveness.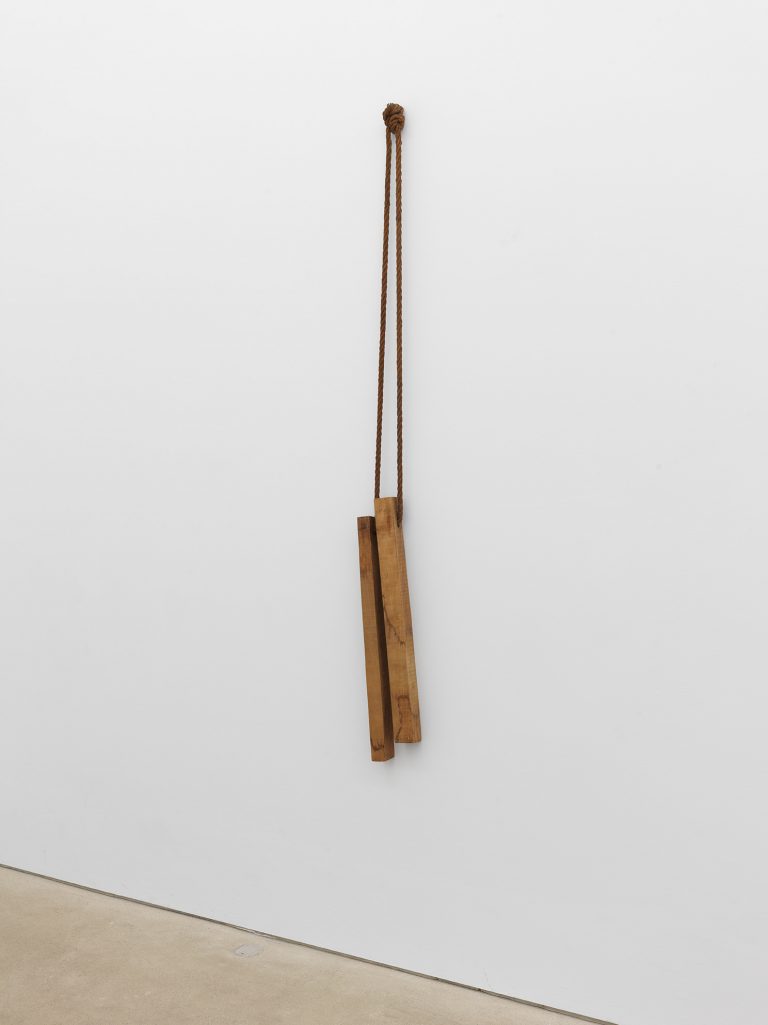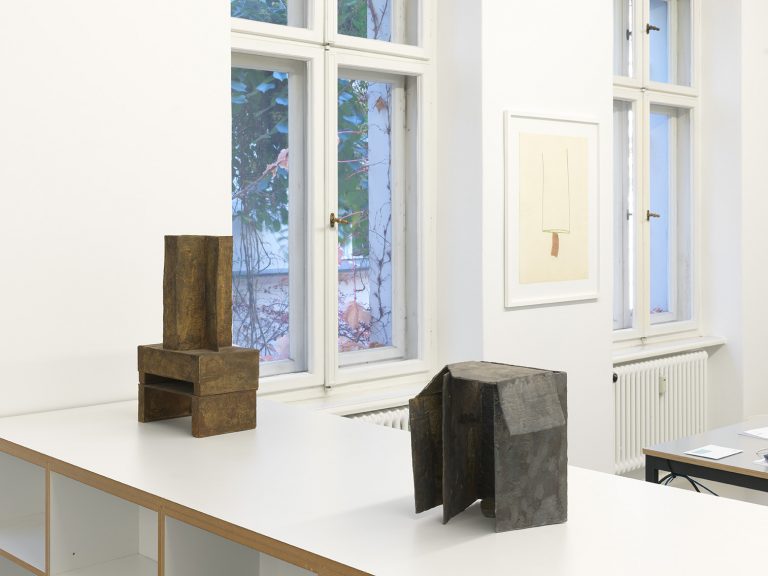 Bernd Lohaus was born in Dusseldorf in 1940 and died in Antwerp in 2010. In 1965, he and his wife Anny De Decker founded Antwerp's Wide White Space Gallery (until 1976). After beginning with Fluxus-like Happenings, in 1969 he had his international artistic debut at Harald Szeemann's exhibition "When Attitudes Become Form" in the Kunsthalle Bern. In September 2014, Daniel Marzona opened his Berlin gallery programmatically with a solo exhibition by this pioneering artist. Lohaus' work has been shown in international institutions, most recently at Skulpturenhalle Neuss (2019), and Palazzo Grassi, Punta Della Dogana, Venice (2020).