Vincent Fecteau
Galerie Buchholz presents 12 new, wall-mounted sculptures by San Francisco artist Vincent Fecteau. They are made from papier-mâché, epoxy clay, and acrylic, and adorned with burlap, cotton batting, wicker, felt, rattan, rope, and tule.
While the works are painted, Fecteau is not a painter. Instead, he considers the problems of painting – illusion, composition, color, tone, texture, and more – via physical form and sculptural depth. Works that are most susceptible to flattening, like an image, are afforded the most significant profile. A bright yellow cylinder floats across the lower midsection of the deepest work, like caution tape or a roller coaster safety bar.
The artist reports that the works "fall apart" and "come together" countless times in the course of their creation; they perform similarly as one approaches, slipping from rough rectangles into countless permutations of irregular form.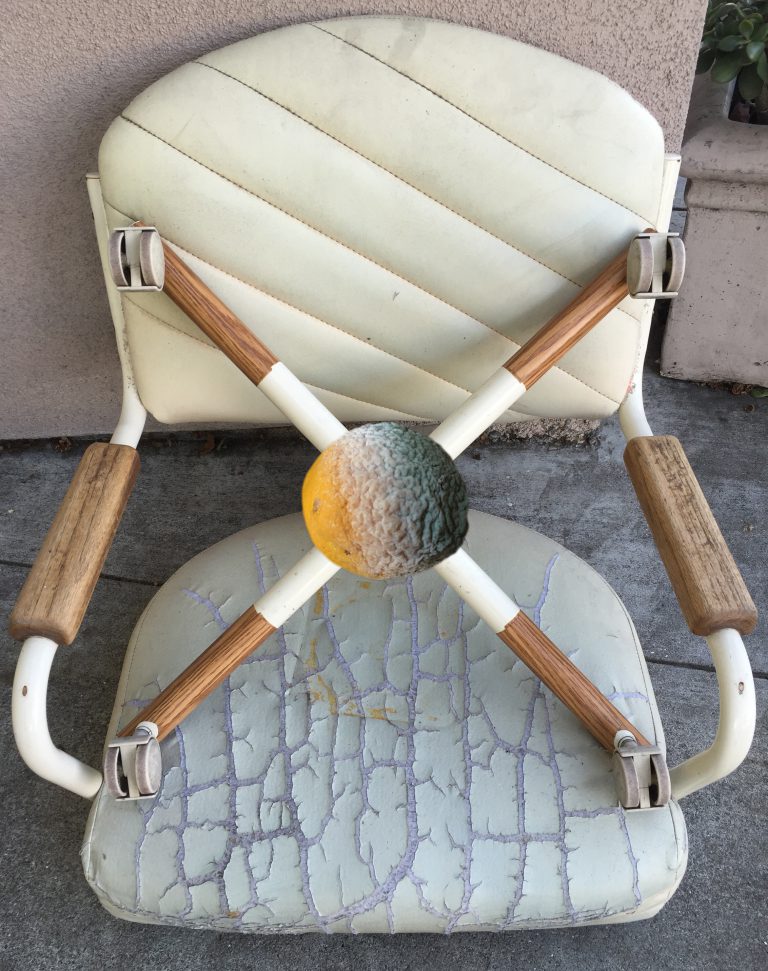 Looser and more varied in individual character than recent efforts, they are at turns sweet and strange, solemn and screwball.
The new works have further embraced accoutrement under quarantine: A sheet of dark green net hangs over a gap; a golden felt diamond sits on a shadow (or a hole); and a narrow gingham ribbon skirts a long edge. Their physical and metaphysical heft is counterbalanced by these dolled up and decorative touches. The cyclical admission of sincerity and its opposite is one way the work moves.
Some sculptures are scenes, some are objects, and sometimes they switch positions. This is another way the work moves.
After many months, they're finished, autonomous. It's as if they announce themselves: We're here, we're done. The artist reports that the smallest sculpture may be the heaviest.
Jordan Stein
Richard Hawkins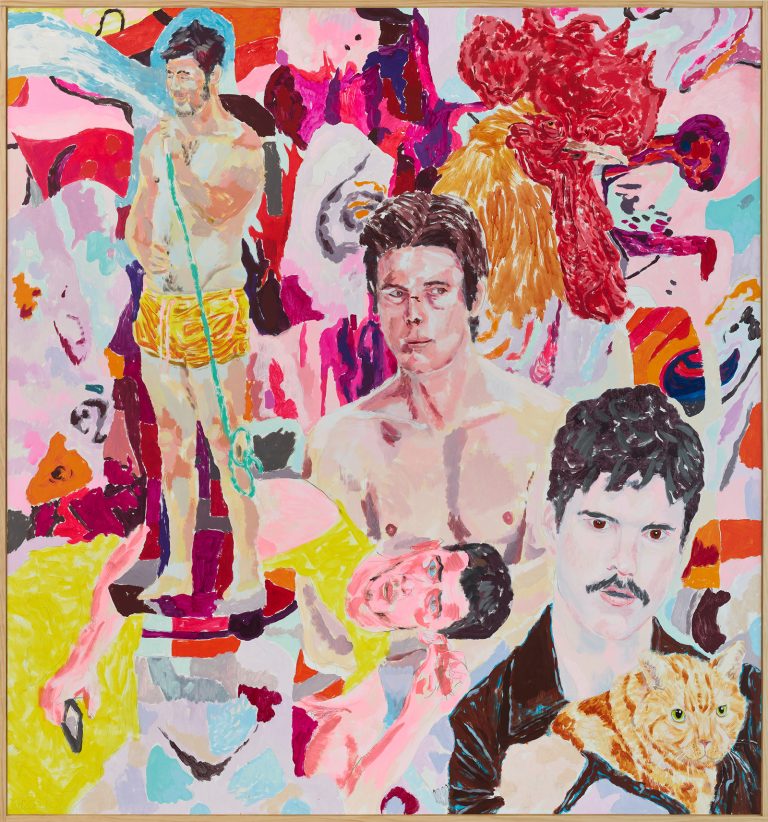 Richard Hawkins (*1961 in Mexia) moved out of Texas for art school in Los Angeles in 1986. Then, after a few years of writing experimental fiction, he began a career in art that would contain all of American culture in its erotic death grip.
As a painter, Hawkins often swims in different directions – mining art history, as he has over the past two decades, to create surrealist, tragicomic scenes of gay cruising zones and exotic hustler bars. He also mines literature for inspiration, character cameos, and excerpts of text inserted directly onto his canvases.
Hawkins new group of paintings for his 11th solo exhibition at Galerie Buchholz are brightly colored compositions that contain a constellation of subjects as varied as the celebrity hunk Nick Jonas, the boxer Canelo Alvarez, Justin Bieber, Adam Driver, but also "Death in Venice's" Gustav von Aschenbach as played by Dirk Bogarde or Alain Delon as Baron de Charlus from "Swann in love". Two of these paintings include snippets of poetry from the decadent Victorian writer Algernon Charles Swinburne.
These new works originate out of the mindset of collage, the medium that is central to Richard Hawkins entire artists practice, but which is here emphatically transformed into painting. Hawkins' subjects seem to dissolve in glowing, even fluorescent colors, and alongside his ensemble of reoccurring characters painterly references appear: butterflies by Odilon Redon, a dried sunflower and secreting opium. 
A new artist book by Richard Hawkins has just been published by Fridericianum, Kassel on the occasion of their Forrest Bess exhibition (co-published with Koenig Books). Hawkins is also featured in the forthcoming anthology The Age of Collage Vol. 3, published by Gestalten, Berlin. Galerie Buchholz would like to thank Christopher Bollen, whose writing on Richard Hawkins for Interview Magazine's Spring 2020 issue we borrowed from for this press release.