Julie Mehretu
Metoikos (in between paintings)
Richard Mosse
Broken Spectre
Julie Mehretu
Metoikos (in between paintings)
carlier | gebauer is pleased to announce Metoikos (in between paintings) the third solo exhibition of American artist Julie Mehretu. A sense of volatility marks Julie Mehretu's most recent canvases. Roiling black lines, smudges, eruptions of color, and halftone patterns unfold atop lucid, saturated grounds, which are countered by luminous shapes and fragments that seem to hover above the tangled compositions like a simmering, spectral residue. As the art histo- rian Julia Bryan-Wilson notes about the Mehretu's formal transitions over the past decade, "The clean, centripetal choreography that once stood for the global has given way to contaminated streams and surges."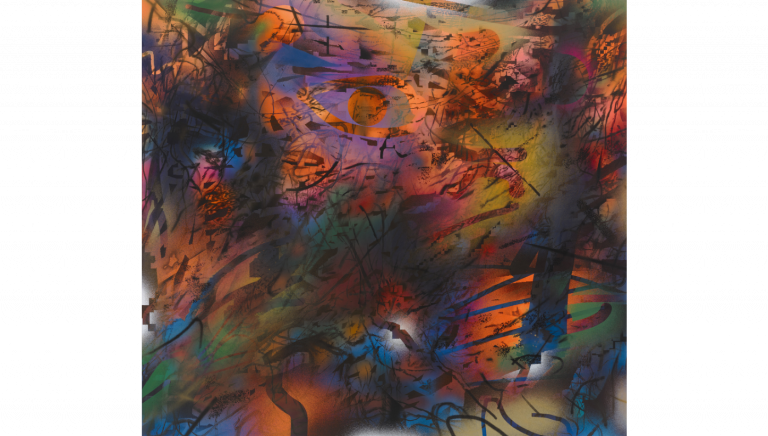 Mehretu considers abstraction a space of unknowing, of possibility—that which offers something beyond language, a space of potential that cannot be articulated otherwise. Painting is thereby a means, in Mehretu's words, to "think through the struggle in an alternative, abstract way." Her newest works respond to a diverse set of images related to current events, ranging from immigrant detention centers and social upheaval to ecological disasters. These photographs, some of which she keeps in her studio for months or even years before finding a point of entry for the work, form the "DNA" of the painting. Using Photoshop, Mehretu distorts the image beyond recognition, at times combining multiple images, before building a layered composition with paint, screenprint, airbrush, and ink. Subsumed beneath accumulations of riotous, luminous marks, the specificity and source of the image is sublimated yet remains, as Mehretu claims, the "pain and the source of the image."
Parallel to the new paintings, Mehretu will also display a suite of etchings entitled
Slouching Towards Bethlehem (2020). Distorted news images of anti-immigration protests comprise the base layers of these prints, whose title cites Joan Didion's canonical 1967 essay, which itself quotes William B. Yeats' poem The Second Coming (1919). Created during a moment marked by the uncertainty of a global pandemic, the rising tide of racially-motivated violence and police brutality, and the creeping spread of fascist authoritarianism, Mehretu harnesses both the dread and the precarious sense of openness present in both literary works to articulate a communal space guided by intuituion, an "ontological congregation of resistance."
Julie Mehretu (b.1970, Addis Ababa) lives and works in New York City. She was named one of the "100 most influential people" by Time Magazine in 2020. Other selected awards and honors include the "Liberty Award for Artistic Leadership" given each year by the Lower Manhattan Cultural Council (LMCC), New York (2018); The US State Department's "National Medal of Arts"(2015); The American Academy's "Berlin Prize" (2007); and the John D. and Catherine T. MacArthur Founda- tion's "MacArthur Fellowship" (2005).
The Los Angeles County Museum of Art, Los Angeles and the Whitney Museum of American Art, New York recently co-organized a mid-career survey of Mehretu's work, which also traveled and
will travel to the High Museum, Atlanta and the Walker Art Center, Minneapolis. Her work has been exhibited extensively in museums and biennials including at the Carnegie International (2004–05), Sydney Biennial (2006), Solomon R. Guggenheim Museum, New York (2010), dOCUMENTA (13) (2012), Sharjah Biennial (2015), Museu de Arte Contemporânea de Serralves, Porto, Portugal (2017), Kettle's Yard, University of Cambridge, UK (2019); and the 58th International Art Exhi- bition, La Biennale di Venezia (2019).
Richard Mosse
Broken Spectre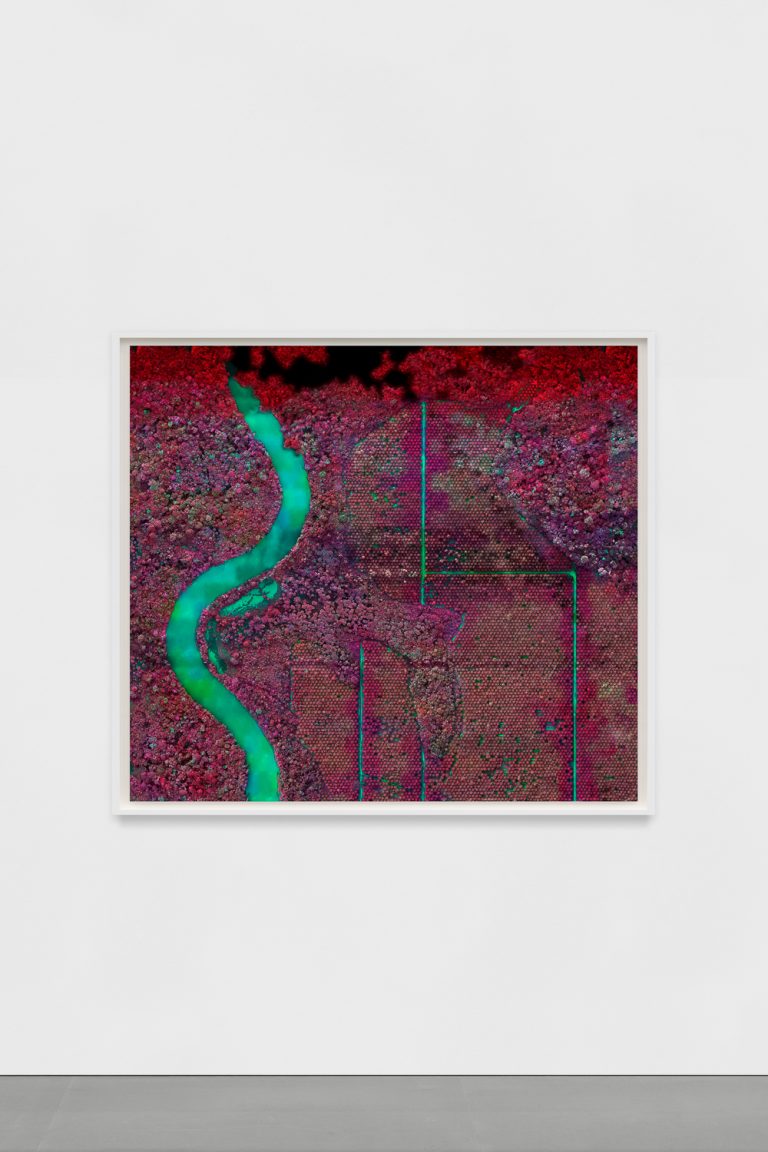 carlier | gebauer is pleased to present Broken Spectre, the gallery's fifth solo exhibition by Irish artist Richard Mosse. Working between documentary forms and contemporary art, Mosse has consistently leveraged photographic technologies in reflexive ways to create potent forms of storytelling.
Broken Spectre is the result of careful study of ecocide in the Brazilian Amazon. An estimated 99% of deforestation in the Amazon results from illegal activities, explicitly encouraged by the Brazilian government and global investment, yet the scale and effects of such ecological changes are not easily revealed through conventional photography. Illegal logging, land invasion into protected forests and indigenous territories, massive meat and soybean farming, and illegal gold mining occur on a vast scale, devastating the world's most biodiverse rain- forest and contributing directly to climate change. Mosse has searched for activated ways of photographing these processes.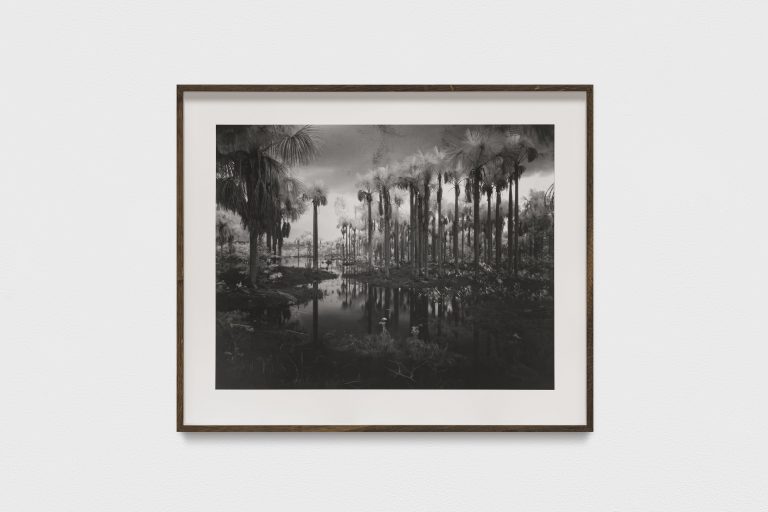 Frost. An aerial video camera tracks over topography of mass deforestation, extractive
violence and forest dieback, indexically revealing the health of the earth below using scientific multispectral sensors. Multispectral cameras carried by satellites orbiting earth are used by scientists to understand the scale and velocity of environmental devastation.
Capturing specific bands of solar radiance in the infrared and near-infrared wavelengths reflected from the foliage below, this data can reveal conditions of ecological degradation that are difficult or impossible to perceive with the human eye. The camera was custom built according to Mosse's design and operated by cinematographer Trevor Tweeten.
An accompanying series of multispectral maps were made with a mapping camera designed and sold to agribusiness and mining companies to exploit the environment. Using the camera against its intended purpose, Mosse flew it over remote sites of environmental crimes across the Amazon rainforest. Composited using orthographic software and processed using GIS (geographic information systems) techniques, Mosse gathered the data into intensively detailed topographical maps that yield disarming aesthetic force while revealing traces of these complex ecological narratives, at turns geopolitical, multinational, local and cultural, the effects of which can be difficult to perceive in time and space.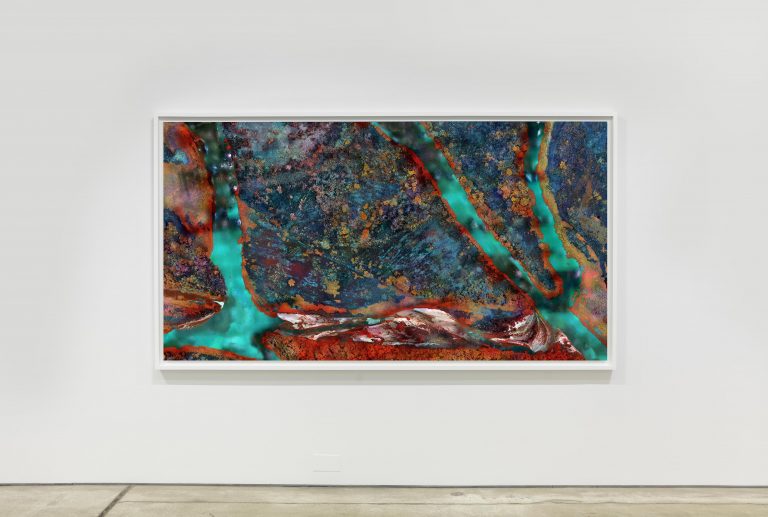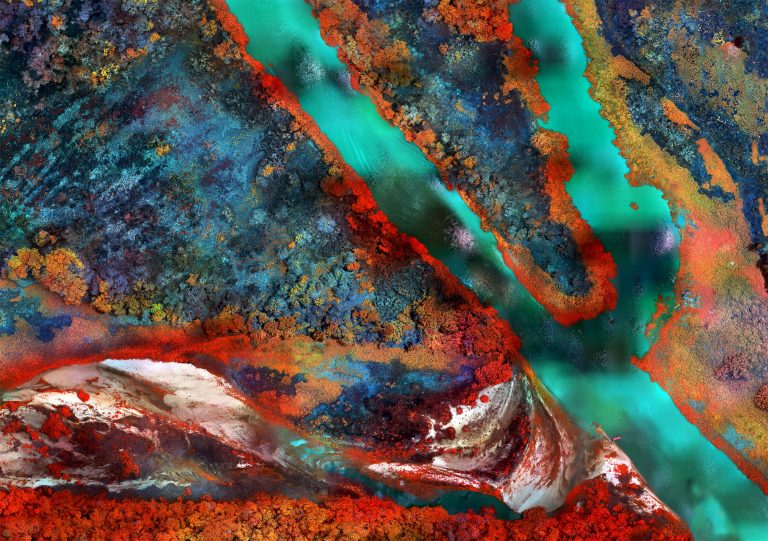 A series of gold-toned analogue silver gelatin prints, intimate in scale, were made with a long-discontinued monochrome infrared film medium named Kodak High Speed Infrared. Mosse has used this extinct heat sensitive medium to document sites of deforestation and extractive violence. In the process of making these images, the film's emulsion was damaged by environment conditions, resulting in a patina of tears, scratches, fingerprints, and other debris that Mosse employs to visually express global heating while pointing to the limits of representing climate change itself. The infrared medium registers the forest's vast amount of chlorophyll, a carbon absorbing asset in fighting climate change which is being burned on catastrophic levels. The artist revisited and rephotographed specific sites along what is known as the 'arc of fire', to examine the temporal process of turning rainforest into cattle pasture and soy fields.
Broken Spectre addresses not only the limits of storytelling and human perception, but also the limits of our globalized economy – our unwillingness to contain environmental catastrophe and suicidal addiction to growth in a post-capitalist world.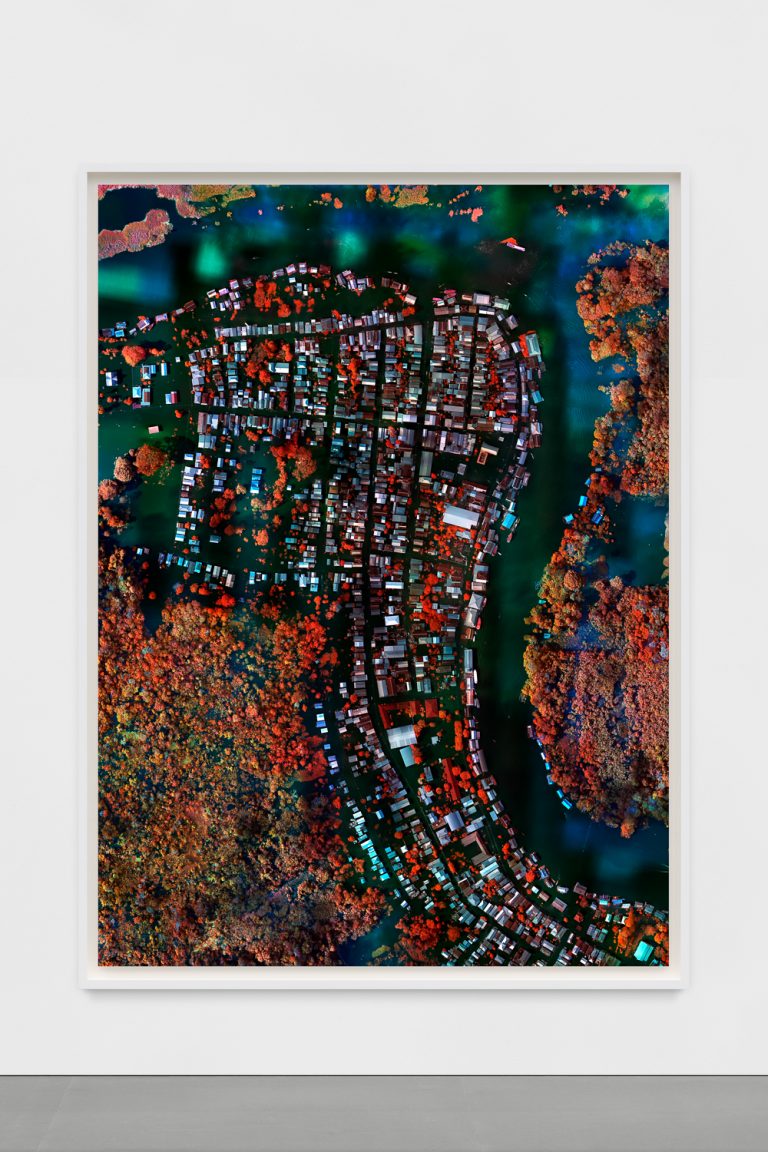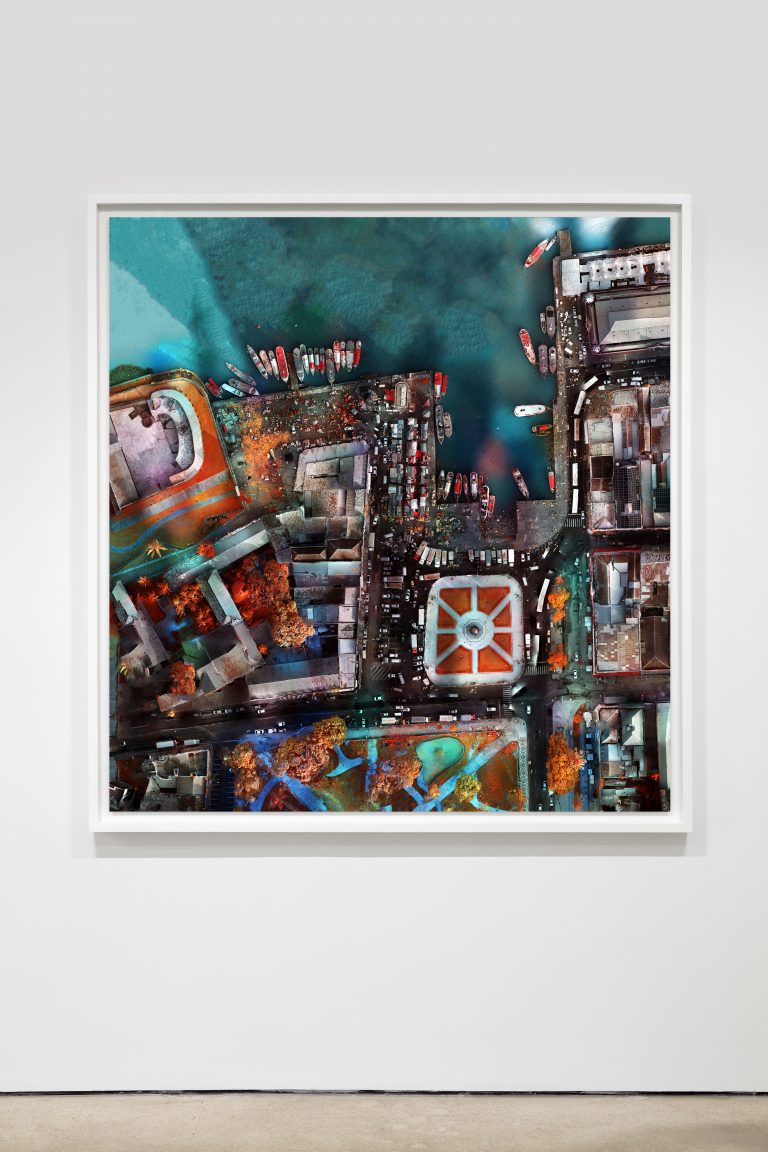 Richard Mosse (b.1980, Ireland) lives and works in New York and Ireland. He has been awarded the Prix Pictet (2017), the Deutsche Börse Photography Prize (2014), a Guggenheim Fellowship (2012), and has represented Ireland at the 55th Venice Biennale (2013). This year, he received his first major survey exhibition, Richard Mosse, Displaced, at MAST Foundation, Bologna, Italy. An immersive video installation accompanying Broken Spectre is currently under production. Co-commissioned by the National Gallery of Victoria and the VIA Art Production Fund, the work will debut in London in 2022. In association with this new project, Mosse has been awarded a 2021 residency with Arts at CERN, Geneva and Serrapilheira in Brazil. Recent solo exhibitions include Incoming at the San Francisco Museum of Modern Art (2019), National Gallery of Art, Washington DC (2019), and the Barbican Art Gallery, London (2017). Mosse has also received solo exhibitions at Louisiana Museum of Modern Art, Humlebæk (2015); FOAM, Amsterdam (2014); Portland Art Museum (2014); National Gallery of Victoria, Melbourne (2014); Nasher Museum of Art, Durham (2014). Recent exhibitions include RAY Triennial at MMK, Frankfurt, Germany (2018); Hamburg Triennial of Photography, at Hamburger Kunsthalle, Kunstmuseum Basel, and Akademie der Künste, Berlin (2018). He has published seven books.