Berlin 1960 and After:
Becoming a Gallery City
Ingo Brunzlow is an art historian, living in the Berlin area. He has written a dissertation on the Berlin gallery scene between the end of the war and the construction of the Berlin Wall (1945-61), which is to be published in 2021. In two extensive texts for Gallery Weekend Berlin he gives an overview of the development of the Berlin art market after the war.

Shortly before 1960, two galleries of a completely different kind were founded, signaling the changes to come. Galerie Diogenes founded by Günter Meisner succeeded in enthusing the Berlin public for the ZERO movement, which was developing in the Rhineland around artists such as Otto Piene, Heinz Mack, and Günther Uecker. These artists worked with phenomena such as light and movement in a way that was completely new at the time. Located in a Kreuzberger backyard, the Zinke Gallery on the other hand drew its visitors into a milieu somewhere between the working class iconically portrayed by Heinrich Zille and the petty bourgeoisie. The local residents were rarely too keen on culture, and though their protests against the humorous readings or happening-style performances often pushed the art into the background, they also manage to give educated, bourgeois gallery goers a shiver of pleasure, making Zinke all the more attractive in the process.
When the Berlin Wall was erected in August 1961, a dark cloud suddenly settled over the city's gallerists—though only temporarily. For the Wall also meant that the rulers of East Berlin and their Soviet allies were forced to recognize West Berlin as part of the Federal Republic of Germany. Everyday life in the city acquired an unusual stability and predictability. Now isolated from its environs, West Berlin grew ever closer to the FRG, which provided a steady influx of tourists, students, and other new residents. For these new Berliners, their arrival was all the sweeter given the so-called "Zitterprämie"—a government grant available to anyone employed in West Berlin. Generally speaking, billions in subsidies would flow from then on. Art and culture in particular profited from these considerably, such that many of the new artistic tendencies developing in the 60s found fertile (financial) ground in West Berlin.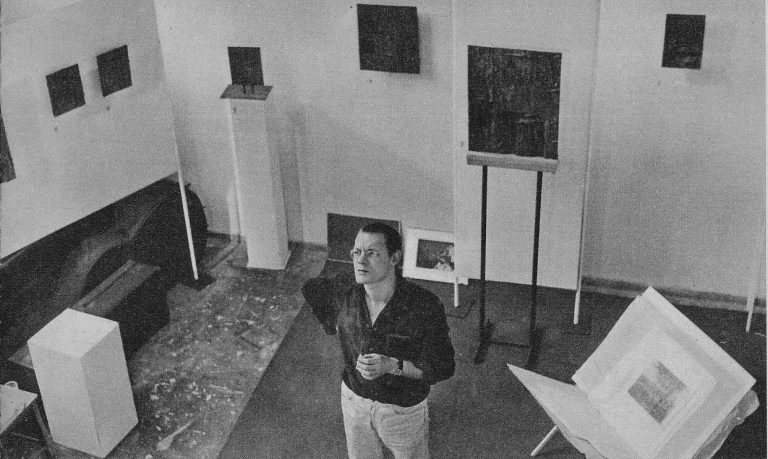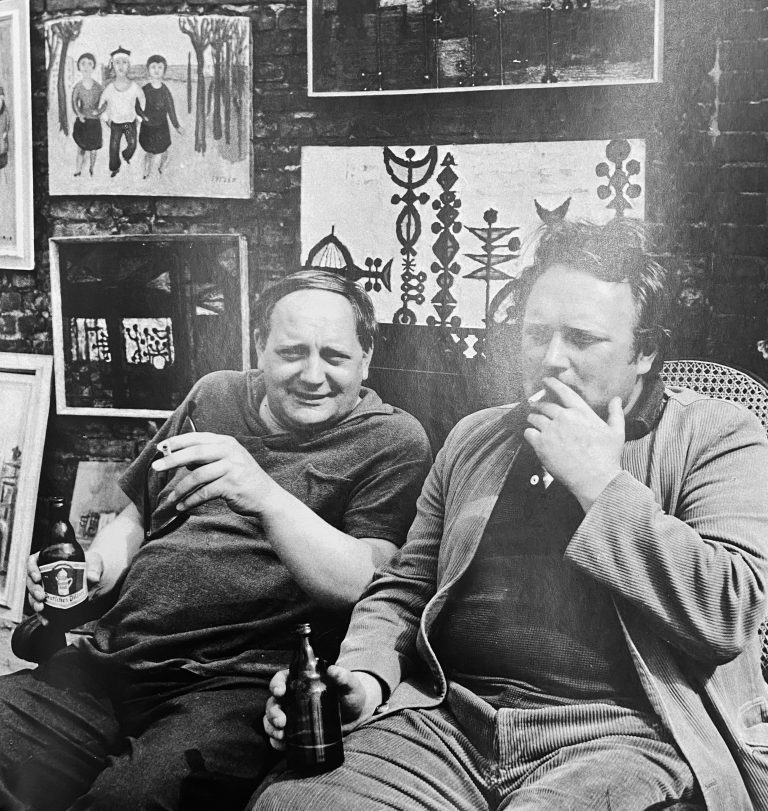 Several new galleries were established soon after the wall was built. On one hand, there were galleries with a relatively broad program, such as Ben Wagin's Galerie S (founded in 1962), Galerie Gerda Bassenge (founded in 1963 as Galerie Rosen's successor), or Galerie Mikro by the American historian Michael S. Cullen (founded in 1964). On the other hand, there were also galleries with a narrower focus like Christian Chruxin's Situation 60 gallery (founded 1963), which specialized in Concrete and Constructivist Art, or Hanspeter Heidrich's Daedalus gallery (founded 1966), which focused on Constructive and Kinetic Art. After the wall came, Caroline Müller's storefront gallery (founded in 1962) also made a name for itself on the scene by showing paintings from the GDR and other socialist countries—a highly controversial choice during the gallery's early years. The exhibition association and artist-run gallery Grössgörschen 35 (founded in 1964) proved to be particularly important in forming a generation of realist painters who were very influential within Berlin. Many of the artists active there would then continue their careers with Galerie Poll, which was founded in 1968 and still exists today. René Block's gallery also opened its doors in 1964, and his first exhibition Neodada, Pop, Decollage, Capitalist Realism confronted Berliners with entirely unknown works. Josef Beuys' first Berlin appearance in the same year was also on Block's account. The developments initiated in this early period continued throughout the second half of the 60s, so much so that the West-Berlin art scene would hardly have been recognizable to anyone in 50s.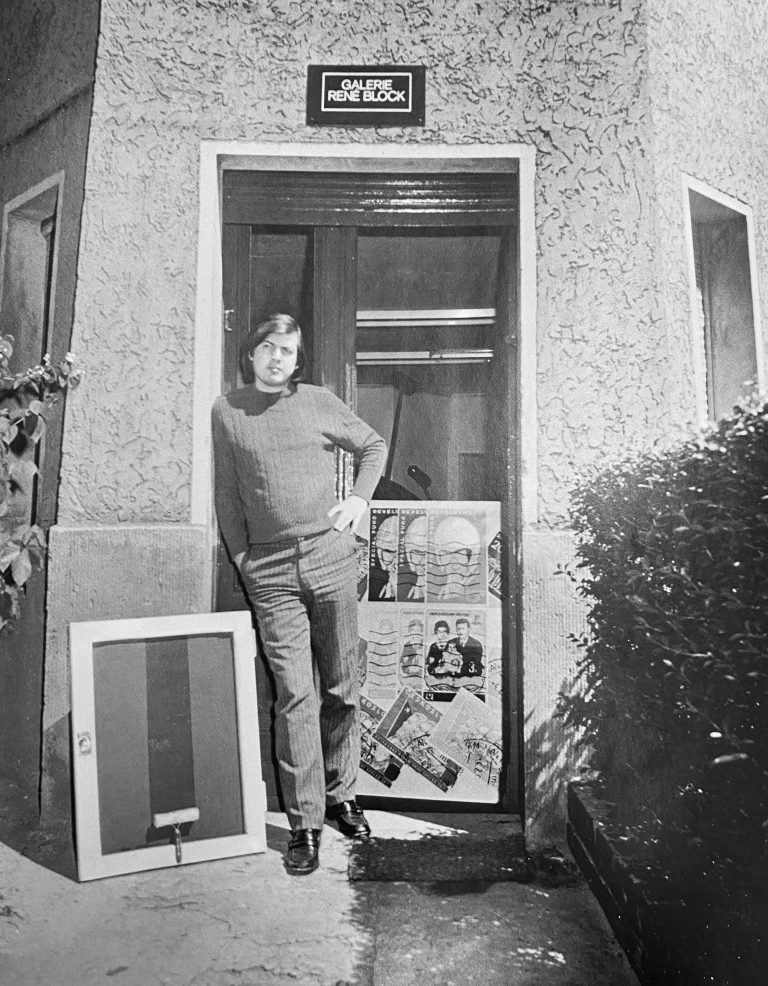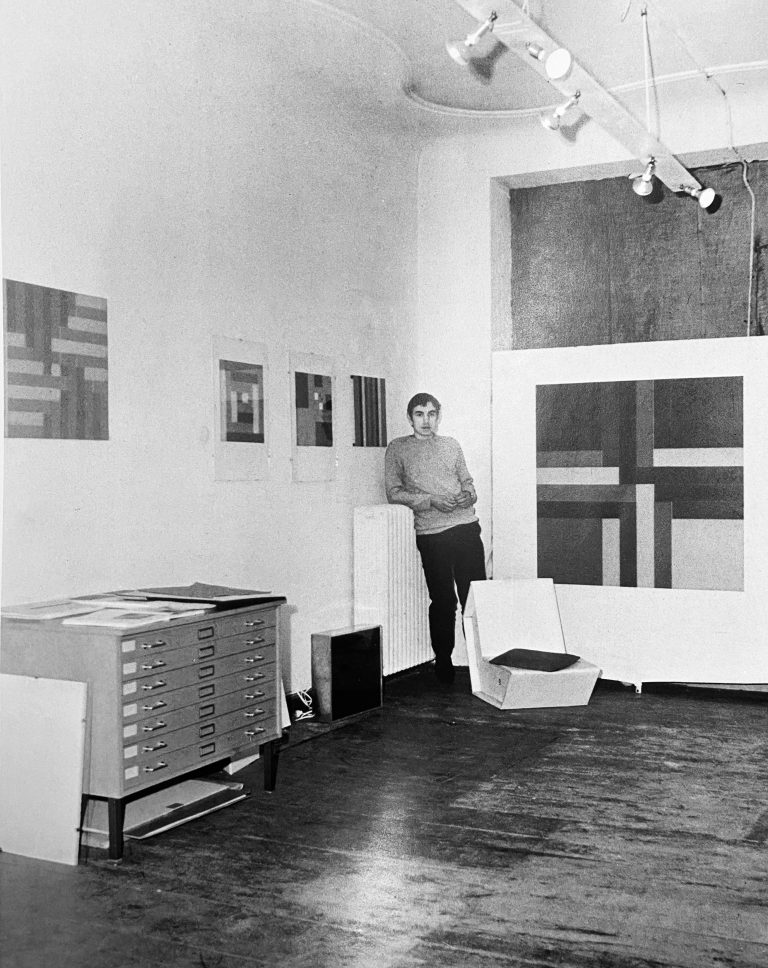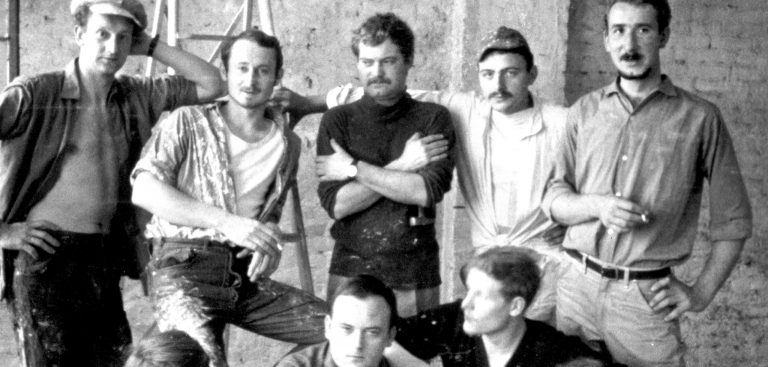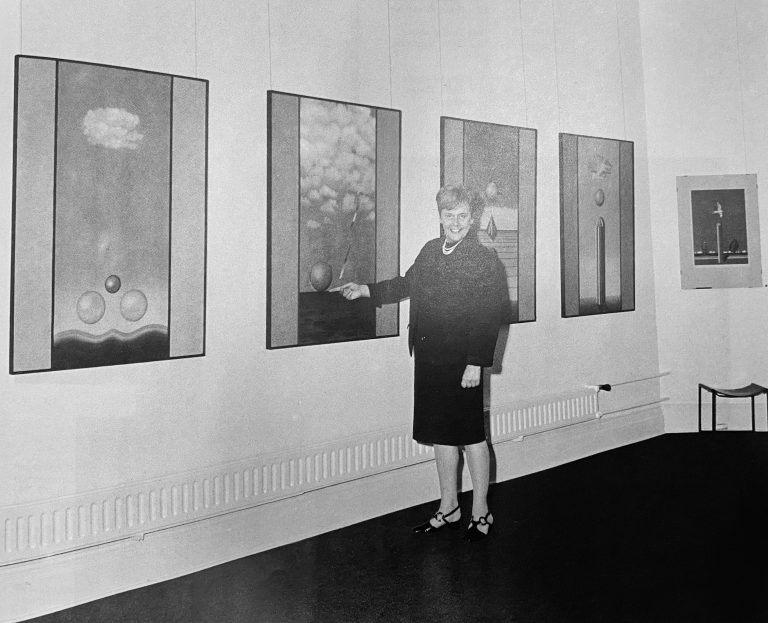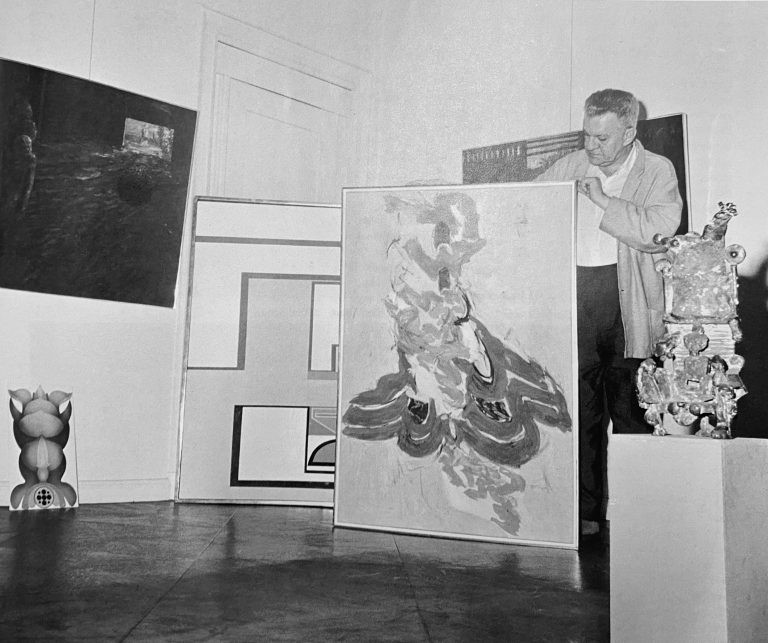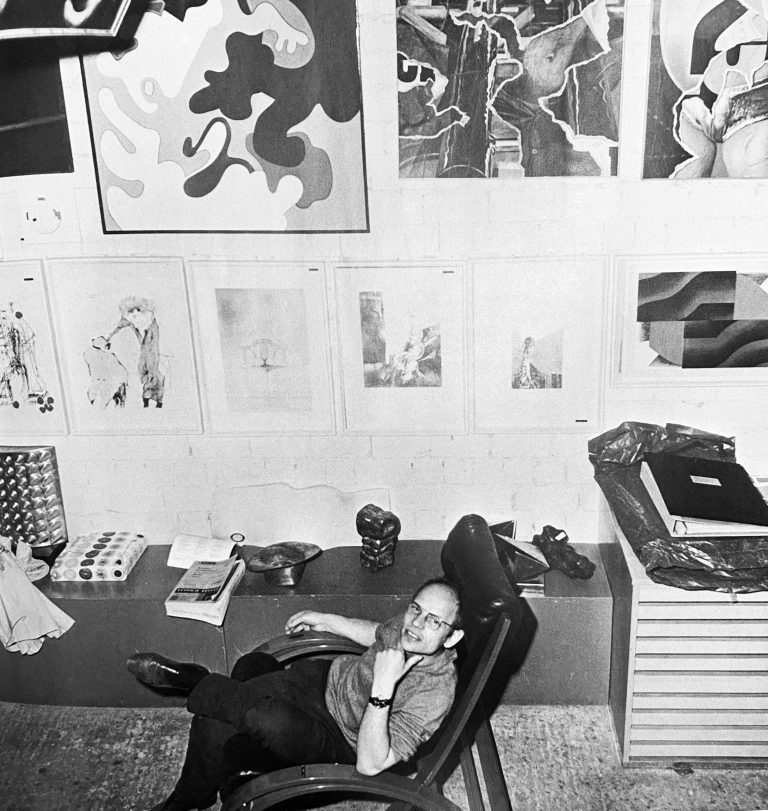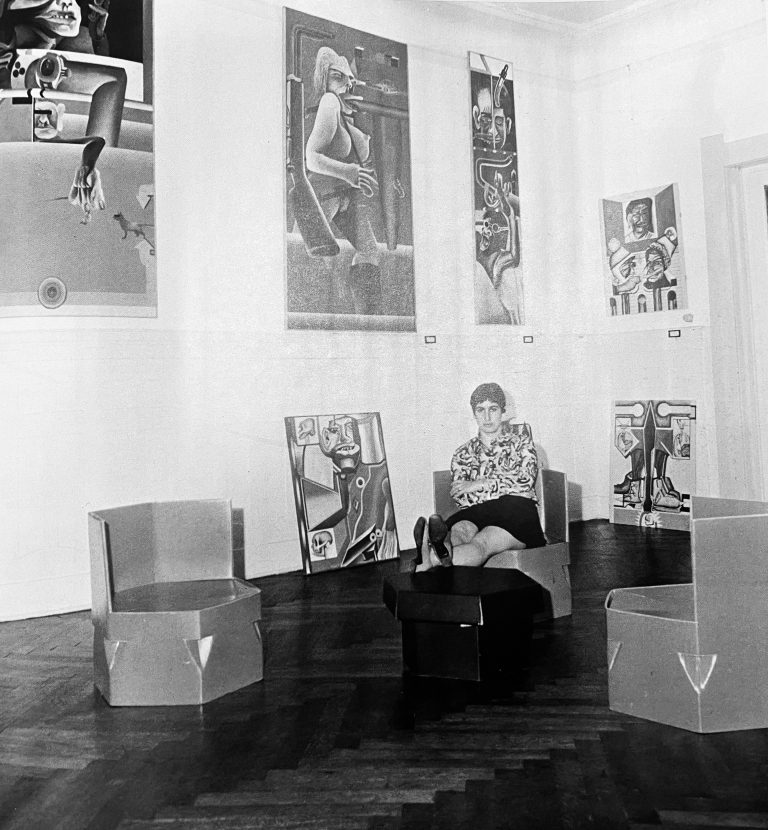 During the 1960s, roughly two permanent galleries were founded each year, consistently expanding the existing circle of galleries. But it wasn't until the second half of the 1960s that focus really shifted. In the middle of the decade, older galleries founded in the 1940s and 1950s—especially the Schüler and Springer galleries in the field of contemporary art—still seemed to dominate the overall picture. But this gradually changed from the middle of the decade onwards. In 1968, the Interessengemeinschaft Berliner Kunsthändler was founded, and its members included seven of Berlin's leading galleries of the time. Apart from the Springer and Schüler galleries, the other five had only been founded in recent years. Only then did it become clear that there were now other players operating on the same level as the established postwar galleries. Incidentally, the founders' goal was to organize an art fair in Berlin in response to the Kölner Kunstmarkt, which was founded in 1967 and still exists as Art Cologne. After more than two decades of being on the defensive against their West German colleagues, such self-confidence on the part of Berlin's gallerists was certainly something new. The first Frühjahrsmesse Berliner Galerien took place in 1969. This enterprise grew rapidly in the years that followed, and by 1971 the number of international and non-Berlin galleries participating exceeded the number of West Berlin galleries, even though the number of galleries based in the city grew consistently during those years. The steady but moderate growth of the 1960s soon exploded, and one can safely assume that by the mid-1970s there were about 60 galleries in West Berlin.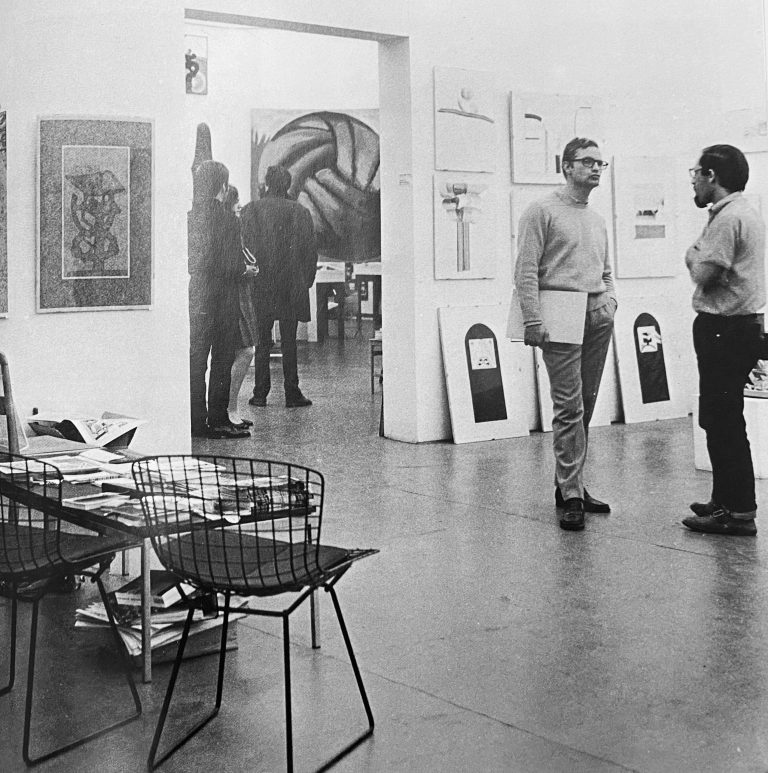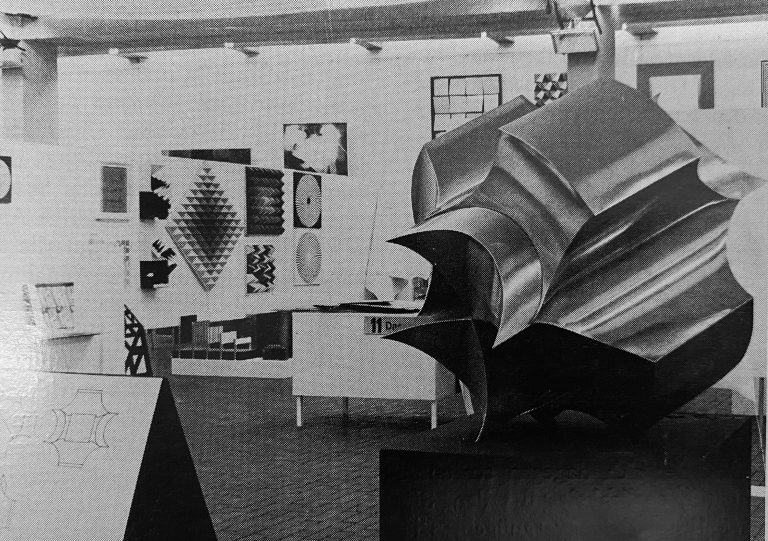 The expansion of the Berlin gallery would only continue, and the designation "Art from Berlin" gradually became a common predicate. While the reach of the Critical Realism coined in West Berlin during the 1970s was still largely restricted to its own city, the neo-expressionist artists that followed during the 1980s—the so-called "Neue Wilden" with protagonists such as Rainer Fetting, Salomé, and Bernd Zimmer—would achieve more far-reaching acclaim. Berlin's galleries were heavily involved in these successes, and the city was becoming increasingly attractive for art dealers and galleries from outside to an extent that was hitherto unknown. In 1982, for example, Dieter Brusberg's gallery, which was based in Hanover since the late 1950s and was renowned nationwide, opened quite spacious premises in a prominent location on Kurfürstendamm. Various events, especially in the 1980s, also highlighted Berlin's growing importance as a cultural capital over the decades, despite or precisely because of the Wall. The city's confidently staged 750th anniversary visibly demonstrated this. Numerous contemporary art exhibitions inside and outside the galleries made West Berlin's claims clear. Only a little later, on November 9, 1989, the wall came down after a long period of East and West Berlin's separate development and a relatively short prehistory of political upheaval. In terms of urban and national history, the reunification of Germany was a profound caesura. And for the Berlin gallery scene, the post-war period had indeed come to its long-awaited end.
Berlin nach 1960 – Auf dem Weg zu einer Stadt der Galerien
Kurz vor der Wende zu den 60er-Jahren deutete sich mit der Gründung zweier Galerien von ganz anderer Art ein Umschwung an. Der Galerie Diogenes des Günter Meisner gelang es, das Berliner Publikum für die im Rheinland entstehende ZERO-Kunst um Künstler wie Otto Piene, Heinz Mack und Günther Uecker zu begeistern. Diese thematisierte damals in ganz ungewohnter Weise Phänomene wie Licht und Bewegung. Die Galerie Zinke wiederum entführte mit ihrer Lage in einem Hinterhof in Kreuzberg in eine Welt zwischen Zille-Milieu und Kleinbürgertum. Wenn die meist wenig kulturbeflissene Anwohnerschaft lautstark ihren Protest gegen die humorvollen Lesungen oder happening-artigen Aufführungen einlegte, ließ das zwar die eigentliche Kunst in den Hintergrund treten, bescherte dem bildungsbürgerlichen Galeriebesuchern aber einen wohligen Schauder – und machte "die Zinke" gerade dadurch zur Attraktion.
Als im August 1961 die Berliner Mauer errichtet wurde, verdüsterte sich auch für die Inhaber der Berliner Galerien die Stimmung schlagartig – allerdings nur kurzzeitig. Denn die Mauer bedeutete faktisch auch die Anerkennung West-Berlins durch die Ost-Berliner Machthaber und ihre sowjetischen Verbündeten. Der Alltag der Stadt bekam ungewohnte Stabilität und Planbarkeit. West-Berlin, das nun endgültig sein Umland verloren hatte, rückte näher an die Bundesrepublik heran, von dort kamen zunehmend Touristen, Studenten und andere Neubewohner, denen der Zuzug nach Berlin mit Zulagen wie der legendären Zitterprämie versüßt wurde. Generell flossen die Subventionsmilliarden fortan reichlicher, gerade auch Kunst und Kultur profitierten in erheblichem Umfang, so dass die vielen neuen künstlerischen Ansätze, die die 60er-Jahre brachten, einen materiell fruchtbaren Boden vorfanden.
Schon bald nach Mauerbau entstanden etliche neue Galerien. Einerseits waren dies Unternehmen mit einem relativ breitem Programm wie die Galerie S von Ben Wargin  (gegründet 1962), die Galerie Gerda Bassenge (gegründet 1963) in der Nachfolge der Galerie Rosen oder die Galerie Mikro  des amerikanischen Historikers Michael S. (gegründet 1964). Auf der anderen Seiten traten Galerien mit einem recht fokussierten Programm an die Öffentlichkeit wie die auf konkrete und konstruktivistische Kunst spezialisierte Galerie Situationen 60 von Christian Chruxin  (gegründet 1963) oder die auf konstruktive und kinetische Kunst ausgerichtete Galerie Daedalus von Hanspeter Heidrich  (gegründet 1966). Auf den Plan trat kurz nach Mauerbau auch die gerade in den ersten Jahren stark umstrittene Ladengalerie von Caroline Müller (gegründet 1962), die Bilder aus der DDR und anderen sozialistischen Ländern zeigte. Für die Formierung einer für Berlin sehr prägenden Generation realistischer Maler hatte die im Jahre 1964 gegründete Ausstellungsgemeinschaft und Produzentengalerie Grössgörschen 35 besondere Bedeutung. Viele der dort aktiven Künstler setzten ihre Wege mit Hilfe der im Jahre 1968 gegründeten und bis heute bestehenden Galerie Poll fort. Im Jahre 1964 eröffnete auch die Galerie von René Block ihre Räume, die Erstausstellung Neodada, Pop, Decollage, Kapitalistischer Realismus konfrontierte die Berliner mit weitgehend Unbekanntem. Auch das erste Berliner Auftreten von Josef Beuys im gleichen Jahr ging auf das Konto von Block. Die angestoßenen Entwicklungen setzten sich in der zweiten Hälfte der 60er-Jahre fort, so dass der West-Berliner Kunstbetrieb gegenüber den 50er-Jahren nunmehr kaum wiederzuerkennen war.
Während der 60er-Jahre entstanden pro Jahr etwa zwei auf Dauerhaftigkeit angelegte Galerien, die den bestehenden Galerienkreis erweiterten. Aber erst in der zweiten Hälfte der 60er-Jahre setzte eine wirkliche Verschiebung der Gewichte ein. Noch um die Mitte des Jahrzehnts schienen die bereits in den 40er- und 50er-Jahren gegründeten Galerien – im Bereich der zeitgenössischen Kunst insbesondere die Galerien Schüler und Springer – das Gesamtbild zu dominieren. Dies änderte sich allmählich ab Mitte des Jahrzehnts. Im Jahre 1968 gründete sich die "Interessengemeinschaft Berliner Kunsthändler", der sieben führende Berliner Galerien angehörten. Neben den Galerien Springer und Schüler waren dies fünf Neugründungen der letzten Jahre. Erst jetzt wurde deutlich, dass es neben den schon länger etablierten Nachkriegsgalerien inzwischen weitere auf ähnlichem Niveau agierende Akteure gab. Ziel der Gründung war es, als Reaktion auf den 1967 ins Leben gerufenen "Kölner Kunstmarkt", eine Kunstmesse in Berlin zu organisieren. Dass sich die Berliner Galerien nun so selbstbewusst gaben, nachdem sie sich mehr als zwei Jahrzehnte gegenüber ihren westdeutschen Kollegen in der Defensive gesehen hatten, war etwas vollkommen Neues. Die erste "Frühjahrsmesse Berliner Galerien" fand dann auch schon im Jahre 1969 statt. In den Folgejahren wuchs dieses Unternehmen rasant, bereits 1971 überstieg die Zahl der auswärtigen Aussteller, oft sogar aus dem Ausland, die Zahl der beteiligten West-Berliner Galerien, selbst wenn die Zahl der in der Stadt ansässigen Galerien in diesen Jahren immer noch weiter anstieg. Aus dem stetigen, aber insgesamt maßvollen Wachstum der sechziger Jahre wurde ein massiver Schub. Für Mitte der siebziger Jahre kann man schon von etwa 60 Galerien in West-Berlin ausgehen.
Die Expansion der Berliner Galerienlandschaft ging weiter. Die Herkunftsbezeichnung "Kunst aus Berlin" wurde allmählich zu einem Prädikat. War der Kritische Realismus der 70er-Jahre als künstlerische Hervorbringung West-Berlins in seiner Ausstrahlung noch stark auf die eigene Stadt begrenzt, so reichte die Anerkennung der um das Jahr 1980 nachdrängenden neoexpressionistischen Künstler, jener "Neuen Wilden" mit Protagonisten wie Rainer Fetting, Salomé und Bernd Zimmer, deutlich weiter. Berliner Galerien waren an diesen Erfolgen stark beteiligt. Die Stadt begann allmählich eine bisher kaum gekannte Anziehungskraft auch für Kunsthandel und Galerien zu entwickeln. So eröffnete im Jahre 1982 die seit Ende der 50er-Jahre in Hannover ansässige und überregional renommierte Galerie von Dieter Brusberg sehr großzügige Räumlichkeiten in prominenter Lage am Kurfürstendamm. Zahlreiche Veranstaltungen unterstrichen gerade in den 80er-Jahren die im Laufe der Jahrzehnte trotz oder gerade wegen der Mauer gewachsene Bedeutung Berlins als Kulturstadt. Beim selbstbewusst inszenierten 750jährigen Stadtjubiläum wurde gerade dieser Aspekt deutlich betont. Zahlreiche Ausstellungen zeitgenössischer Kunst inner- und außerhalb der Galerien verdeutlichten den Anspruch West-Berlins auf diesem Gebiet. Nur wenig später, am 9. November 1989, kam es nach einer langen getrennten Entwicklung von Ost- und West-Berlin und einer relativ kurzen Vorgeschichte des politischen Umbruchs zum Mauerfall. Stadt- und nationalgeschichtlich war die Überwindung der deutschen Teilung eine tiefe Zäsur. Auch für die Berliner Galerienlandschaft war die Nachkriegszeit nun tatsächlich an ihr langersehntes Ende gelangt.