berlin insights…
Anke and Frank Delenschke
Frank Delenschke is a Berliner through and through. A native to the city, he runs several event companies and is known – together with his wife Anke – as a regular in Berlin's galleries. They spent over 20 years in Ahrenshoop, where one of the most important East German artists' colonies was located. Not only did they contribute their ideas and financial support to the establishment of the art museum there, their passion for collecting also began…
Gallery Weekend Berlin How did you first get into the arts? How did your collection start and what was the first work? 
Frank Delenschke We both became interested in visual arts quite early on through our parents, but the galleries and museums in the GDR only gave a platform to conceptions of art that were ideologically acceptable. After apprenticing as a typesetter and working as a photographer at the Universität Greifswald, I got quite involved in the mail art scene surrounding Robert Rehfeldt and bought a few artworks. The first work that we purchased together, in 1995, was a collage by Edmund Kesting from the twenties—it was the beginning of our collection.
GWB Do you have any specific criteria in mind when purchasing a work? Does your collection have a particular focus?
FD Our focus has shifted from creative practices in artist colonies in the Baltic Sea region, particularly those where we live in Ahrenshoop, towards contemporary art. We don't think that a particular direction can be attributed to our collection at this point. It comprises abstract and figurative art. The way it's developed has been influenced by the emotions we feel when encountering an artwork, but also by our friends—the artists, gallerists, and collectors that we're in conversation with.
GWB What is the connection between your professional activity in the events sector and your private collection?
FD Primarily the fact that professional success makes it possible to purchase the works you like (laughs). Other than that, having a space for events allows us to make exhibitions.
GWB Is there a work that has brightened up your days or that have you seen in a completely new light in recent weeks?
FD (After a long pause.) Pawel Althamer and his work Mama III, a sculptural self-portrait on a moveable pottery  wheel… we shuffle the sculpture back and forth between the rooms we are currently staying in—it is really a hands-on way of engaging with the artwork. A work that we've literally seen in a new light is Philippe Parreno's invisibleboy, purchased during last year's Gallery Weekend. The effects of familiarity and terror visible here seems irritatingly topical to us in the present circumstances.
GWB The first galleries and museums have briefly opened their doors. Where did you go first?
FD We already had appointments scheduled with different galleries. In the past few days, we've been to BQ, Capitain Petzel, Guido W. Baudach, Neugerriemschneider, Sprüth Magers, and Esther Schipper. We are particularly looking forward to seeing the Yayoi Kusama's exhibition at Gropius Bau. But first of all, we'll do a studio visit with Thomas Zipp.
GWB Let's look a little further into the future. How does the perfect Sunday of Gallery Weekend Berlin look like?
FD The perfect Sunday would be a day like we had last year on the terrace of the Haus der Kulturen der Welt, the "pregnant oyster" as they call it—it was wonderful. During the GW, we'd really like to see a lot of things, to feel inspired, to talk about it with friends on a nice day, and drink a glass of wine…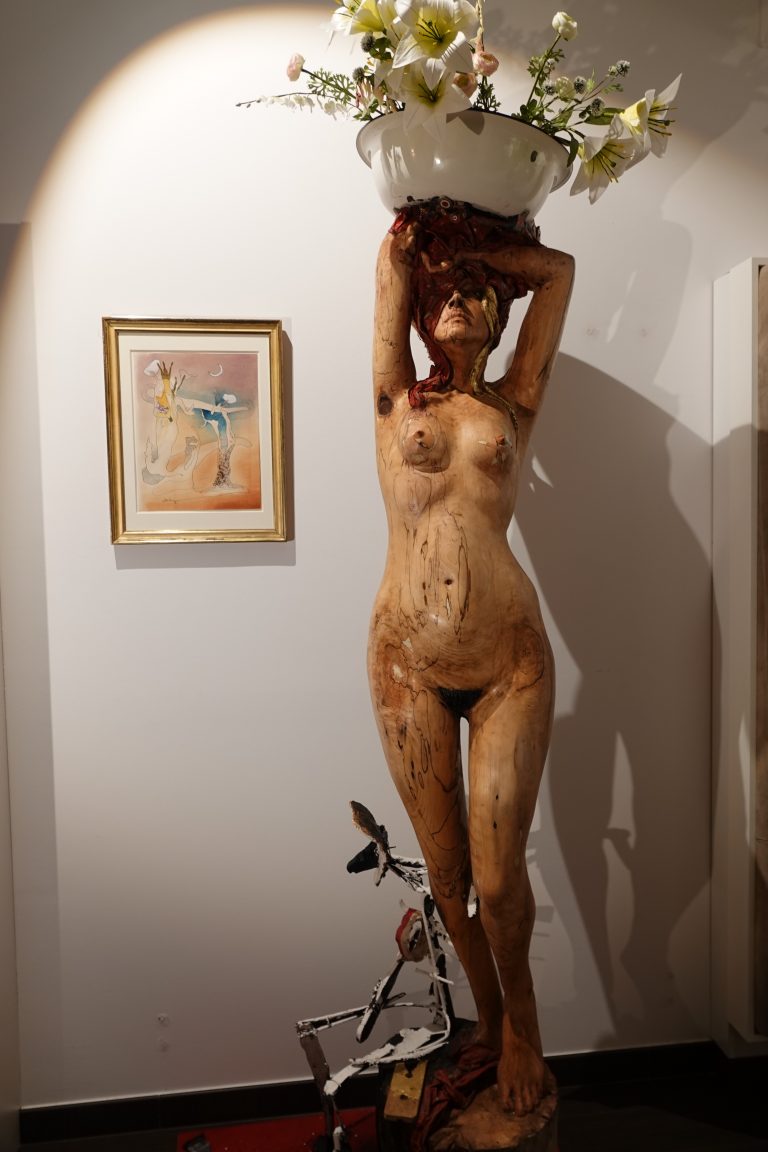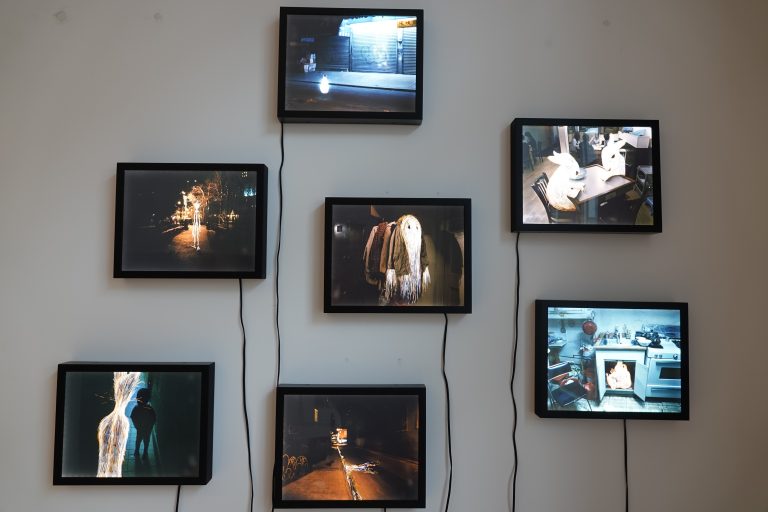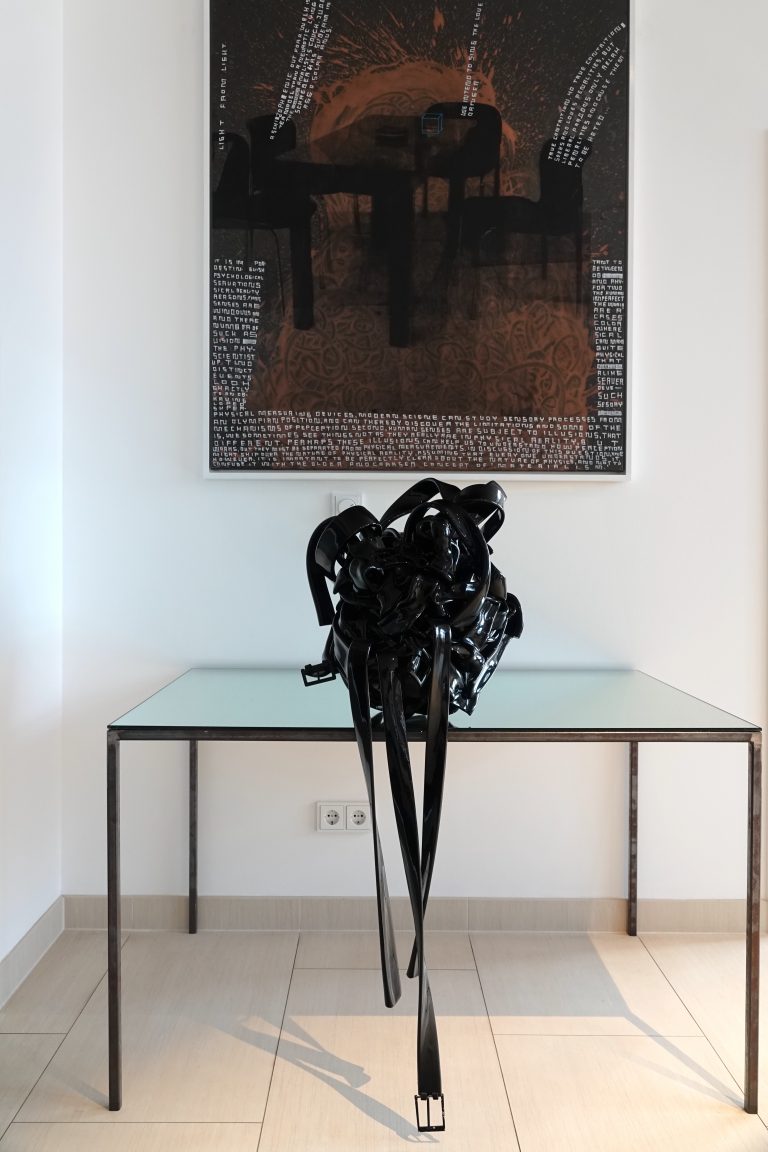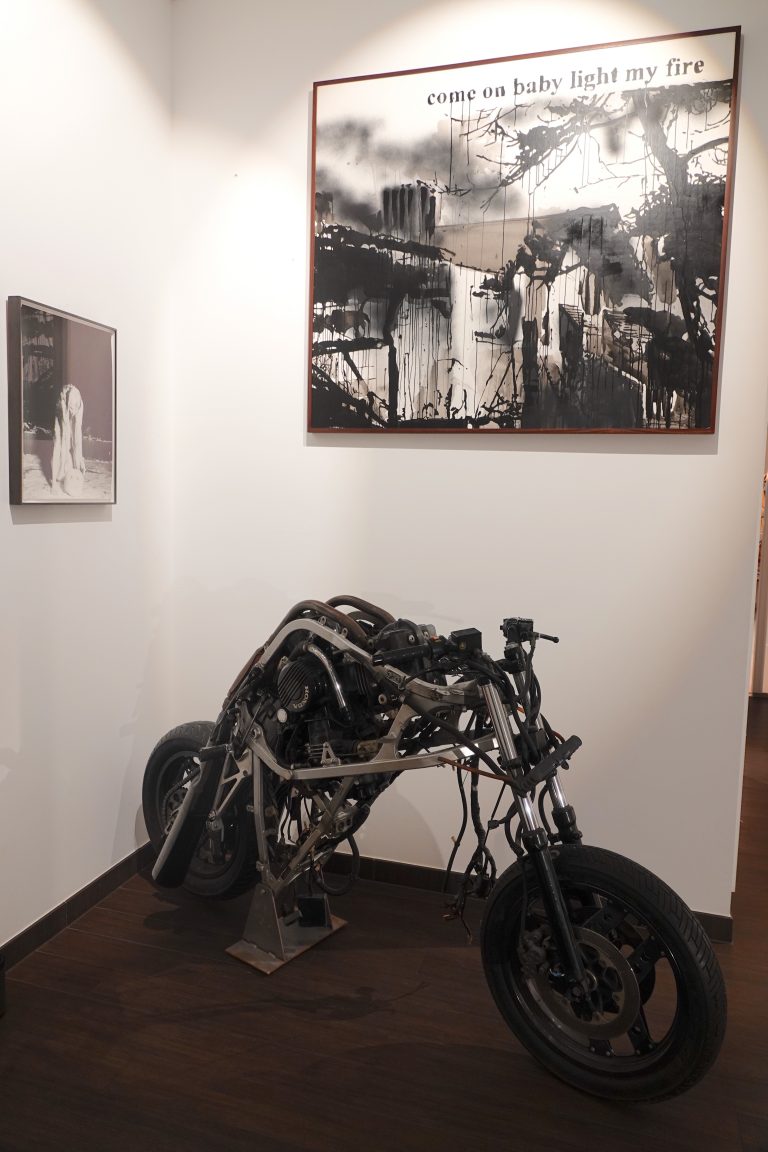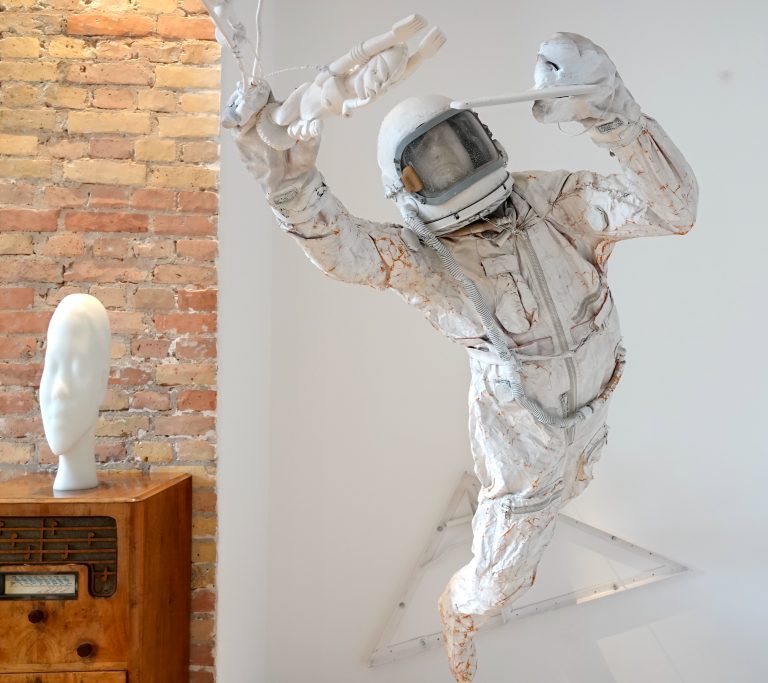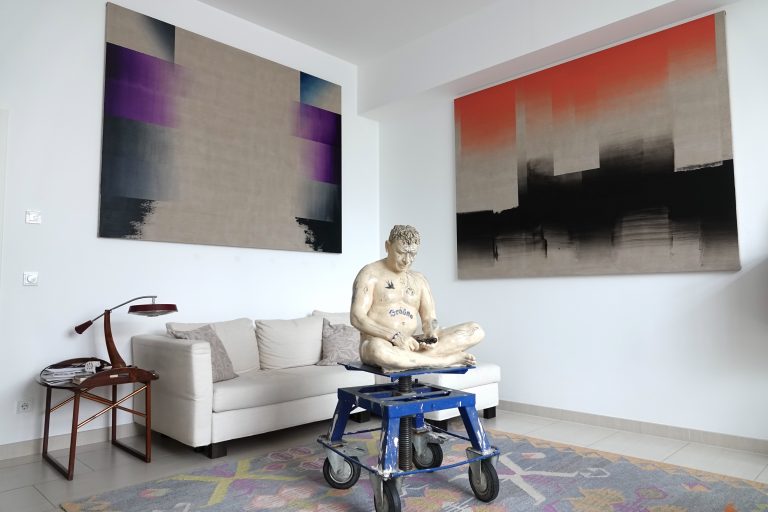 Frank Delenschke ist Berliner durch und durch. In seiner Geburtsstadt betreibt er verschiedene Firmen im Eventbereich und ist – zusammen mit seiner Frau Anke – ein regelmäßiger Gast in den hiesigen Galerien. Seit mehr als 20 Jahren wohnen sie auch in Ahrenshoop, wo sich eine der wichtigsten ostdeutschen Künstlerkolonien befand. Vor Ort haben sie nicht nur den Bau des dortigen Kunstmuseums ideell und finanziell unterstützt, sondern auch ihre Sammlerleidenschaft hat dort ihren Anfang gefunden…
Gallery Weekend Berlin  Wie kamen Sie zur Kunst und wie hat die Sammelleidenschaft bei Ihnen begonnen? Was war die erste Arbeit in der Sammlung Delenschke?
Frank Delenschke  Unser beider Interesse an bildender Kunst ist im Elternhaus zwar früh geweckt worden, die Galerien und Museen der DDR vermittelten aber nur ideologisch genehme Kunstauffassung. Nach meiner Lehre als Schriftsetzer und Arbeit als Fotograf an der Universität Greifswald begannen intensivere Beschäftigungen mit MailArt im Umfeld von Robert Rehfeldt und vereinzelte Kunstkäufe. Die erste,1995 gemeinsam erworbene Arbeit, war eine Collage von Edmund Kesting aus der zwanziger Jahren – sie war unser Beginn des Sammelns.
GWB  Sammeln sie nach bestimmten Auflagen oder gibt es eine Ausrichtung in ihrer Sammlung?
FD  Unser Fokus hat sich vom Schaffen aus dem Umfeld der Ostsee-Künstlerkolonien, insbesondere unseres Wohnortes Ahrenshoop, zum Zeitgenössischem hin entwickelt. Die Ausrichtung der Sammlung ist jetzt nicht eindeutig zuzuordnen, so glauben wir. Sie umfasst abstrakte und figurative Kunst. Sie wird in ihrem Wachsen beeinflusst vom emotionalen Moment der Begegnung mit dem Kunstwerk, aber auch von befreundeten Künstlern, Galeristen und Sammlern, mit denen wir im Austausch sind. Reizvoll ist für uns,die verschiedenen Generationen, Bildsprachen und Techniken in Bezug zueinander zu bringen.
GWB  Welche Verbindung gibt es zwischen ihrem beruflichen Tun im Eventbereich und ihrer privaten Kunstsammlung?
FD  Vornehmlich den Umstand, dass der berufliche Erfolg den Erwerb des Begehrten ermöglicht (lacht). Darüber hinaus geben uns die Eventflächen die Möglichkeit Kunst auszustellen.
GWB  Welches Werk hat Ihnen zuletzt die Tage verschönert hat oder ist Ihnen in einem gänzlich neuen Licht erschienen?
FD  (Lange nachgedacht) Pawel Althamer und seine Arbeit Mama lll, ein plastisches Selbstporträt auf einem fahrbarem Töpfersockel…wir bewegen die Skulptur in den Räumen, in denen wir uns gerade aufhalten, hin und her – das ist wahrhaft eine greifbare Beschäftigung mit dem Kunstwerk. In einem neuem Licht erscheint uns die beim letztjährigen Gallery Weekend erworbene Arbeit invisibleboy von Philippe Parreno. Die hier sichtbare Wirkung von Vertrautheit und Schrecken erscheint uns irritierend aktuell.
GWB  Glücklicherweise konnten zuletzt viele Galerien und Museen ihre Türen wieder öffnen. Wo waren Sie in den letzten Tagen unterwegs?
FD  Verabredungen hatten wir  schon mit verschiedenen Galerien. Zuletzt waren wir schon bei BQ, Capitain Petzel, Guido W. Baudach, Neugerriemschneider, SprüthMagers und Esther Schipper. Besonders freuen wir uns die Ausstellung von Yayoi Kusama im Gropius Bau anzuschauen. Aber zu allererst machen wir einen Atelierbesuch bei Thomas Zipp.
GWB  Schauen wir etwas weiter in die Zukunft. Wie fühlt sich der perfekte Sonntag des Gallery Weekend Berlin an?
FD  Der perfekte Sonntag wäre ein Tag, wie der im letzten Jahr auf der Terrasse der "Schwangeren Auster". Das war wunderbar. Während des Gallery Weekend viel sehen und sich begeistern lassen, sich mit Freunden an einem schönen Tag austauschen und ein Glas Wein zu trinken, das wünschen wir uns…