Julius von Bismarck
Whole Earth Archive
Whole Earth Archive by Julius von Bismarck—the last exhibition in the old premises of alexander levy gallery on Rudi-Dutschke-Strasse 26, 10969 Berlin—is on view through 1 May.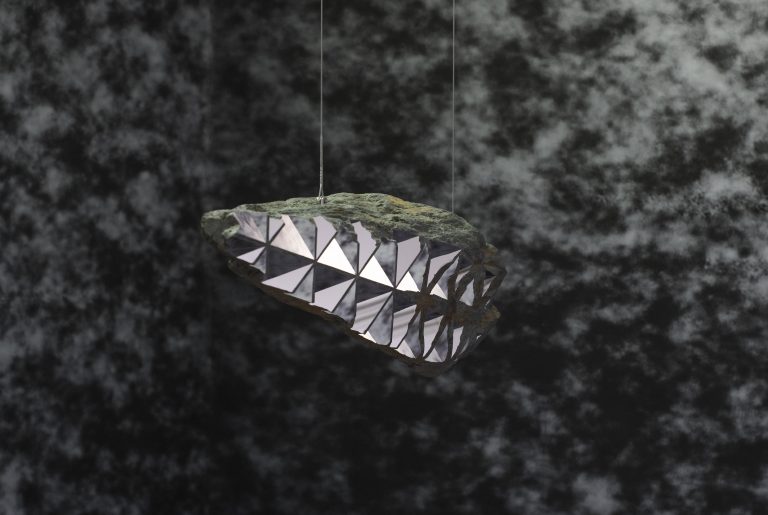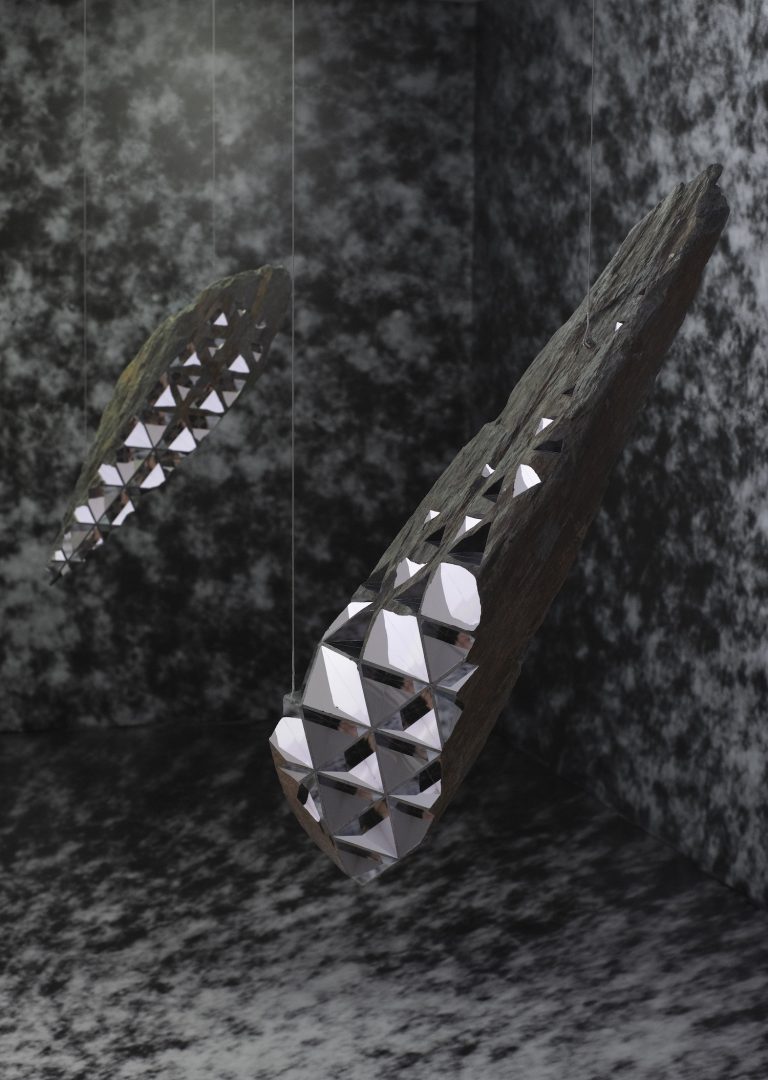 The installation Whole Earth Archive explores alternative ways of understanding and archiving events on Earth and seeing the universe as a carrier of all information that ever radiated out from the planet. With a kinetic installation consisting of asteroid-looking stones and a Cosmic Microwave Background-tapestry, von Bismarck investigates a theoretical possibility to access that archive and look into the Earth's past.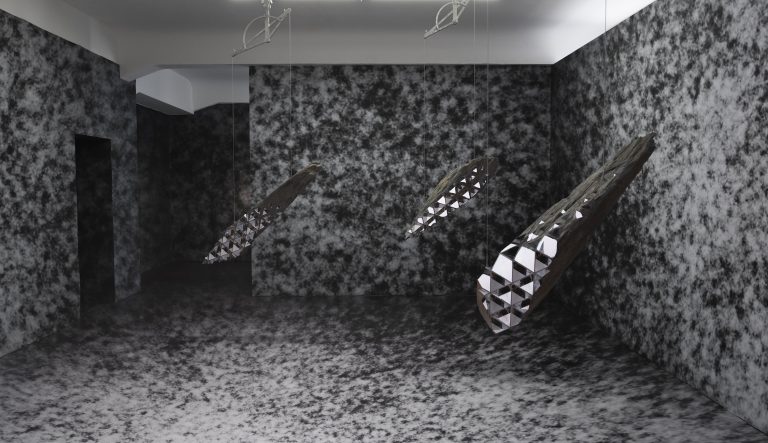 Three massive rotating slate stones with retroreflective mirror surfaces entitled Time Apparatus float at the centre of the exhibition space. Evoking images of orbiting asteroids, the sculptures represent models of von Bismarck's envisioned space archive: "Looking far into space means looking far back in time; this leads to the conclusion that, reversely, an observer in space, would see Earth as it appeared in the past." "Combining the principle of the limited speed of light with a set-up of huge mirrors in the cosmos would allow us to access this past. The light radiating away from Earth can be understood as a storer, the mirrors placed in the cosmos as a provider of data." The retroreflective structure of the Time Apparatus-sculptures formulates this idea by using microscopic mirror planes that bounce back each image to its source.
Artist Talk: Julius von Bismarck and Dr. Subodh P. Patil
Apr 30, 5 pm
alexander levy, Rudi-Dutschke-Str. 26
On the occasion of Gallery Weekend Berlin and the exhibition Whole Earth Archive alexander levy will host an artist talk between Julius von Bismarck and Dr. Subodh P. Patil, a theoretical physicist and assistant professor at the Lorentz Institute, Leiden University, this Saturday.

Egor Kraft
Lies, Half-Truths & Propaganda [The Bad, the Worse, and the Worst]
alexander levy gallery is relocating to new premises in the Moabit district just in time for Gallery Weekend Berlin 2022. After 10 years in Kreuzberg, a new chapter begins in this new location; and following more than 50 years in Hamburg and temporary branches in Paris and Madrid, LEVY gallery will now also have a space in Berlin again. Thanks to the new spatial proximity between the father's and son's galleries, visitors will have the opportunity to discover the different artistic stances in both programs.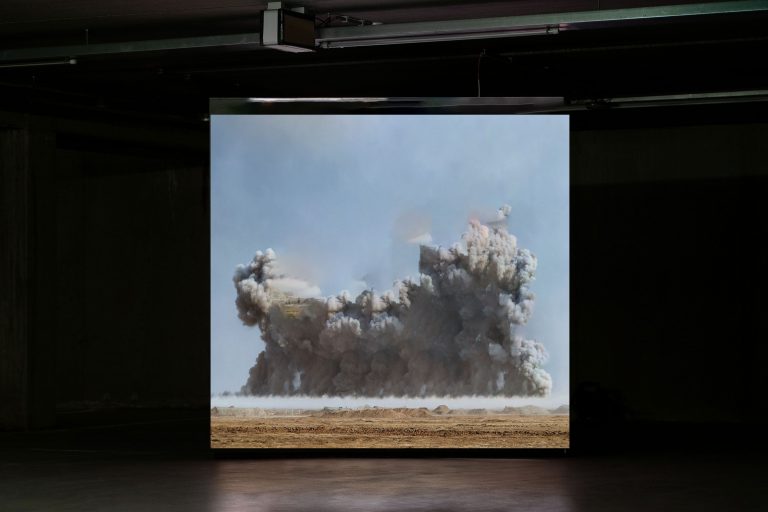 In the exhibition Lies, Half-Truths & Propaganda [The Bad, the Worse, and the Worst] the Russian-Austrian artist Egor Kraft will be presenting new works at alexander levy. As a result of the Russian invasion of Ukraine, Kraft is unable to complete the work he had originally planned. Nonetheless, he believes that it is absolutely necessary to react to the current acts of war. Kraft will show a series that was already part of his ongoing research. It explores the technological potential for combating the spread of misinformation and propaganda that is at the heart of the continuing warfare in Ukraine. Independent and serverless technologies make it possible to verify the authenticity of still and moving images. With this in mind, he has developed a series of prototypes that provide journalists—including war correspondents—with a blockchain-based toolset to record the extended metadata of their footage. This allows it to be registered and stored in a forgery-proof format as soon as the images are captured. Thus introducing a decentralised public evidence archive and a next generation tool for effective fact-proofing.
By involving serverless technologies for decentralizing a public archive of data storage and in dynamic collaboration with multiple blockchain focused projects and communities the artist suggests a proposal  to further develop solutions that  circumvent censorship—something that is essential for independent reporting. Kraft thus makes complex propositions at the frontier between art, technology, and activism to counter the current and forthcoming information wars.
The exhibition will be continuously developed in collaboration with other artists and technologists, including those from Ukraine.