Gallery tour Mitte
by Christian Ganzenberg

Back to the past or to a dystopian future? This is the question raised by the large-format paintings of the Peruvian painter Paolo Salvador, who returns to Peres Projects for Gallery Weekend. Parallel to this is Nicholas Grafia's first solo presentation at Peres. A master student of Dominique Gonzalez-Foerster, his motifs interrogate global historiography and its Western influences.
A revision of historical forms is also carried out by Monika Sonsnowska, whose "gate" welcomes us in the display window at Capitain Petzel. Although new photographs by Christopher Williams await visitors in the basement, it's worth spending time in front of Matt Mulican's five wall works. In addition to these two CalArts alumni, there is also a premiere on display here: the first solo presentation by the Hong Kong artist and composer Samson Young.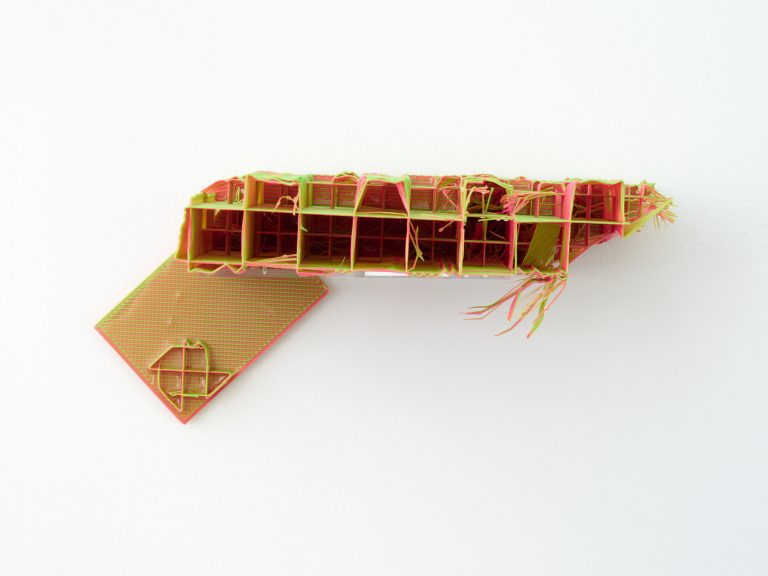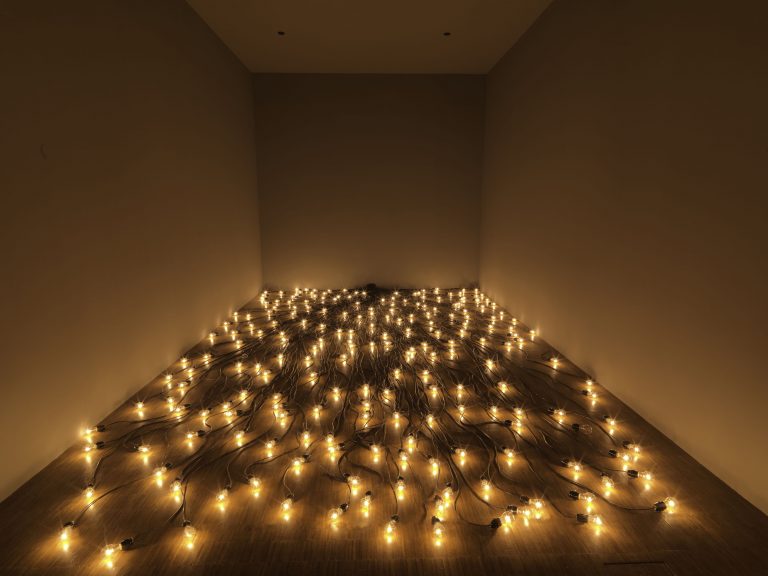 The detour to KEWENIG is worthwhile as always, as the French grand seigneur Christian Boltanski has occupied the entire Stadtpalais for the second time since his opening exhibition eight years ago. His Danach (Afterwards) is a Gesamtkunstwerk that presents his best-known groups of works and the core themes of his artistic approach—the ephemerality of the individual and memory. If you are not tempted to visit the historic electrical substation in Moabit in order to see the works of the Portuguese artist Cabrita, you can walk with us past the Humboldt Forum toward BQ. There we meet an old acquaintance, who was last exhibited in Berlin in 2009: Glasgow-based artist Cathy Wilkes is back with a sparsely furnished poetic presentation showing "impressions of flowers and landscapes from my childhood."
Childhood memories are also negotiated at the nearby Dittrich & Schlechtriem, but here they are recapitulated from a distanced, queer perspective. Born in 1994, Thomas Liu Le Lann amalgamates his memories with contemporary curiosities such as zombie knives or steel butt plugs to create strangely symbiotic sculptures and fabric paintings. The visitor is also challenged at Schiefe Zähne in Schliemannstrasse, where last year's Ars Viva prizewinner Richard Sides has created a mural that takes up the entire gallery space. A series of various other eclectic objects, such as printers or a robot dog, are installed on top of the mural, triggering unexpected associative processes.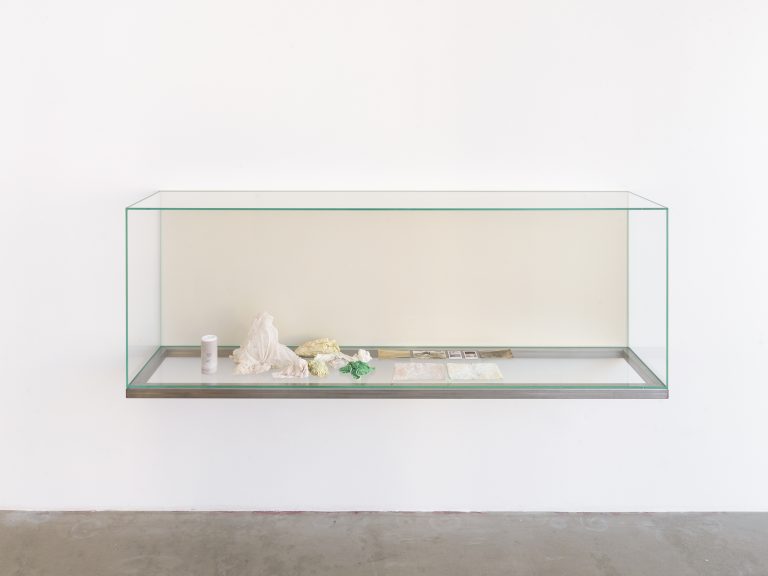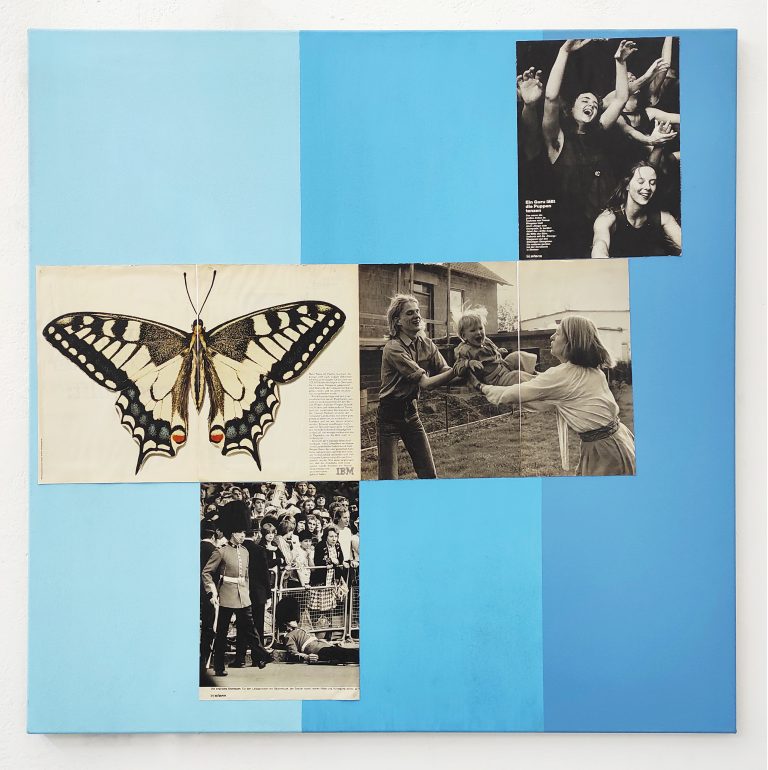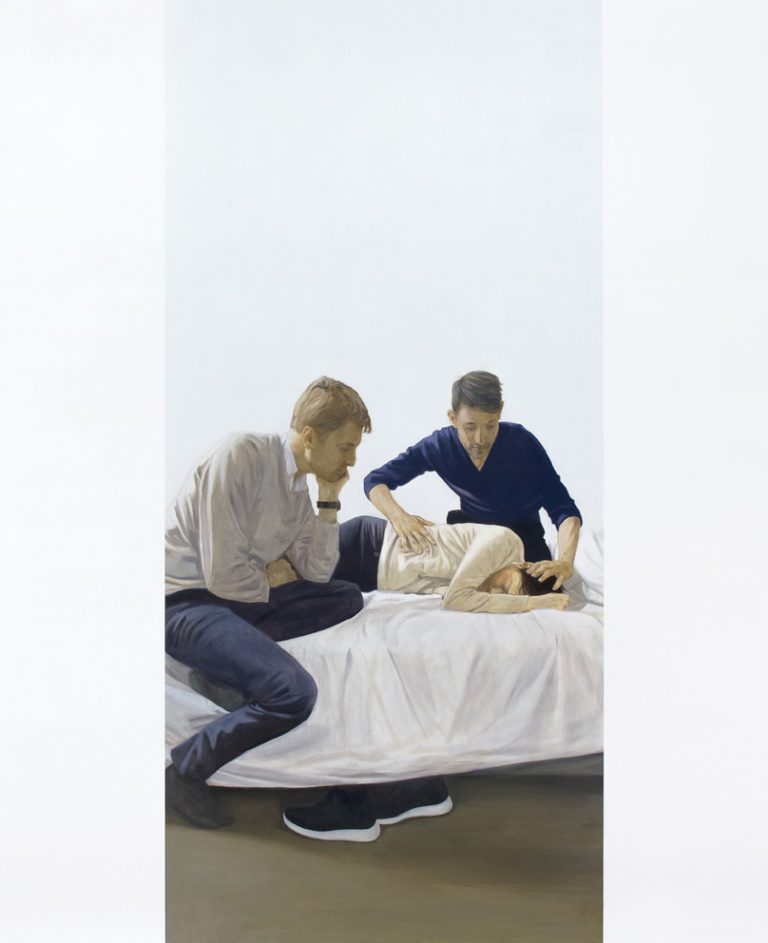 Things are more restrained at EIGEN+ART, where the new, strangely disturbing works of Tim Eitel can be examined. Eitel already atmospherically anticipated the (post-?) pandemic mood years ago. The EIGEN+ART Lab is louder and bolder: here, Malte Bartsch creates intellectual scenarios in his videos and sculptures that seek to free us from the confusing present for a few moments.
We continue on to Linienstrasse, where the American artist Pae White is exhibiting at neugerriemschneider for the sixth time. The "champion of the overlooked, the undervalued and the ephemeral" has produced no fewer than five new groups of works this time, comprising sculptures, paintings, and colored tiles. The Israeli artist, dancer and choreographer Noa Eshkol's rarely seen tapestries, made from found fabrics, are a wonderfully colorful rediscovery.
There is also a reunion at Neu: in his exhibition >Accrochage<, the Berlin sculptor Manfred Pernice includes existing works from his own portfolio alongside his newer works, in order to fully capture and convey the particular motifs and formal references of his oeuvre.
Sprüth Magers offers visitors big-name blockbusters: not only do new—tenderly violent —works by Georg Condo await us here, there is also an almost museum-style retrospective of Gilbert & George. THE PARADISICAL PICTURES marks the first solo exhibition of the British artist duo at the Berlin outpost, and there is no shortage of impressive major works. In the new Sprüth Magers Window we can also discover the romantically inclined paintings of Robert Elfgen.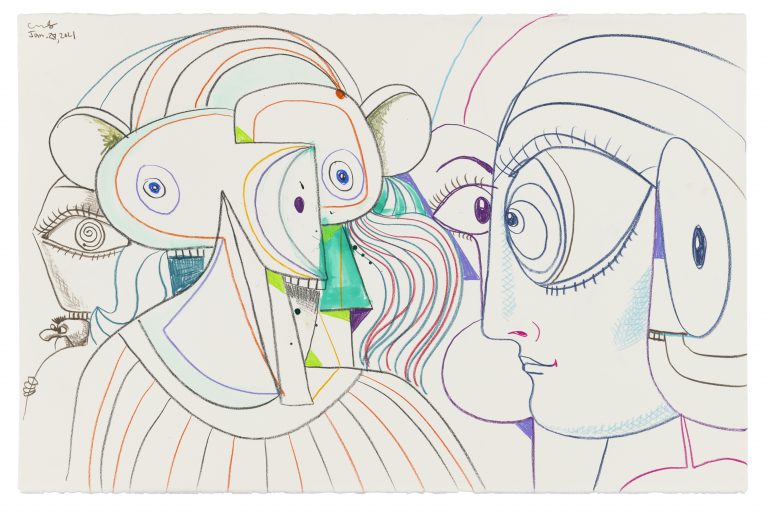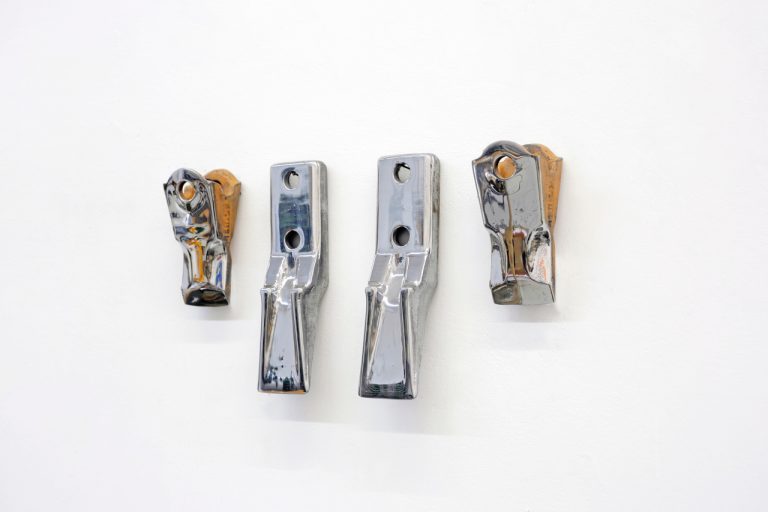 Sofia Hultén, on the other hand, has a home advantage, staging her rough and experimental objects, sculptures and installations in Daniel Marzona's sleek gallery space. Despite the ordinariness of her materials, Hultén always manages to ask what it would be like if things had been different. This should also appeal to Heiner Franzen, whose site-specific installation WAKE transforms Ebensperger's labyrinthine premises into a walk-through eight-channel projection. Those who would like to continue onwards can go back to square one, to Karl-Marx-Allee—or more precisely to Frankfurter Tor—and take a look at Bjørn Melhus' light installation in the striking dome of the northern tower. The bluish light pulsates: dot dot dot, dash dash dash, dot dot dot. Those familiar with Morse code will immediately recognize the message being broadcast into the Berlin night sky: Save Our Souls.
Zurück in die Vergangenheit oder doch lieber eine dystopische Zukunft? Diese Frage stellt sich vor den großformatigen Gemälden des peruanischen Malers Paolo Salvador, der anlässlich des Gallery Weekend in die Räume von Peres Projects zurückkehrt. Parallel dazu, und erstmals solo bei Peres präsentiert, hinterfragt Nicholas Grafia, ein Meisterschüler von Dominique Gonzalez-Foerster, motivisch in seinen Werken die westlich geprägte globale Geschichtsschreibung.
Eine Revision von historischen Formen vollzieht auch Monika Sonsnowska, deren "gate" uns im Schaufenster von Capitain Petzel begrüßt. Obwohl im Souterrain neue Fotografien von Christopher Williams warten, lohnt ein Verweilen vor den fünf Wandarbeiten Matt Mulicans. Neben diesen beiden CalArts-Alumni gibt es auch hier eine Premiere: die erste Solopräsentation des Hongkonger Künstlers und Komponisten Samson Young.
Der Abstecher zu KEWENIG lohnt wie immer, hat doch der französische grand seigneur Christian Boltanski – zum zweiten Mal nach seiner Eröffnungsausstellung vor acht Jahren – das gesamte Stadtpalais bespielt. Sein "Danach" ist ein Gesamtkunstwerk, das seine bekanntesten Werkgruppen und die Kernthemen seines künstlerischen Ansatzes – die Vergänglichkeit des Individuums und das Erinnern – vorstellt. Wer sich jetzt nicht verleiten lässt in das historische Umspannwerk nach Moabit zu fahren, um dort die Ausstellung des Portugiesen Cabrita zu sehen, der geht mit uns am Humboldtforum vorbei Richtung BQ. Dort begegnen wir einer alten Bekannten, die zuletzt 2009 in Berlin zu sehen war: Die Glasgowerin Cathy Wilkes ist zurück mit einer spartanisch eingerichteten poetischen Präsentation, die "Impressionen von Blumen und Landschaften aus meiner Kindheit" zeigt.
Auch in unmittelbarer Nachbarschaft, bei Dittrich & Schlechtriem, geht es um Kindheitserinnerung, hier jedoch aus einer distanzierten, queeren Perspektive rekapitulierend. Thomas Liu Le Lann, geboren 1994, amalgamiert seine Erinnerungen mit heutigen Kuriosa wie Zombie-Messer oder stählernen Butt-Plugs zu seltsam symbiotischen Skulpturen und Stoffmalereien. Gefordert wird der Besucher ebenso bei Schiefe Zähne in der Schliemannstraße, wo der letztjährige Ars-Viva-Preisträger Richard Sides ein den gesamten Galerieraum einnehmendes Wandbild geschaffen hat, auf dem verschiedene weitere eklektische Objekte wie Drucker oder ein Roboterhund installiert sind, was ungeahnte Assoziationsprozesse in Gang setzt.
Zurückhaltender geht es zu bei EIGEN + ART, wo die neuen, seltsam beunruhigenden Werke von Tim Eitel begutachtet werden können. Atmosphärisch hat Eitel die (post-?) pandemische Stimmungslage schon vor Jahren vorweggenommen. Im EIGEN+ART Lab ist es lauter und knalliger: Hier erlaubt sich Malte Bartsch in seinen Videos und Skulpturen einige Gedankenspiele, die uns die unübersichtliche Gegenwart für einige Momente entknäulen wollen.
Weiter geht es in die Linienstraßen, wo die Amerikanerin Pae White bereits zum sechsten Mal bei neugerriemschneider ausstellt. Die "Meisterin des Übersehenen, Unterbewerteten und Vergänglichen" wartet diesmal mit gleich fünf neuen Werkgruppen auf, die Skulpturen, Malerei und farbige Fliesen umfassen. Eine wunderbar farbige Wiederentdeckung sind die selten zu sehenen Wandteppiche von Noa Eshkol, die die israelische Künstlerin, Tänzerin und Choreografin aus gefundenen Stoffen gefertigt hat.
Auch bei Neu geht es um ein Wiedersehen: In seiner Ausstellung >Accrochage< bezieht der Berliner Bildhauer Manfred Pernice neben neuen Arbeiten auch bereits existierende Werke aus den eigenen Beständen ein, um so die besondere Motivik und die formalen Bezüge seines Werkes aufgreifen und vermitteln zu können.
Großes Kino mit großen Namen gibt es bei Sprüth Magers: Hier erwarten uns nicht nur neue – zärtlich-gewalttätige – Werke von Georg Condo, sondern es gibt zudem eine quasi-museale Retrospektive von Gilbert & George. THE PARADISICAL PICTURES markiert die erste Einzelausstellung des britischen Künstlerduos in der Berliner Dependance und es mangelt nicht an eindrucksvollen Hauptwerken. Im neuen "Sprüth Magers Window" entdecken wir zudem die romantisch angehauchte Malerei von Robert Elfgen.
Ein Heimspiel hatte hingegen Sofia Hultén, die in den sleeken Räumen von Daniel Marzona ihre rauhen und experimentellen Objekte, Skulpturen und Installationen inszeniert hat. Trotz der Alltäglichkeit ihrer Materialien gelingt es Hultén stets zu fragen, was wäre, wenn sich die Dinge anders zu getragen hätten. Das dürfte auch Heiner Franzen gefallen, der mit seiner ortsspezifischen Installation WAKE die labyrinthischen Räume von Ebensperger in eine begehbare Acht-Kanal-Projektion verwandelt. Wer jetzt noch weiter gehen möchte, der darf zurück auf Los, in die Karl-Marx-Alle, genauer gesagt zum Frankfurter Tor, und sich in der markanten Kuppel des nördlichen Kuppelhochhauses die Lichtinstallation von Bjørn Melhus anschauen. Das bläuliche Licht pulsiert: di, di, dit, dah, dah, dah, di, di, dit. Die Morsekundige erkennen unmittelbar, was hier in den Berliner Nachthimmel gesendet wird: "Save our Souls".