Gallery tour
Kreuzberg
by Laura Helena Wurth

We begin our art tour through the south of Mitte and Kreuzberg at Galerie Buchmann. The gallery on Charlottenstraße is currently playing host to new works by Bettina Pousttchi, whose exhibition Directions delves once again into the canon of her sculptural language. At Buchmann Box, self-deprecating photographs by the artist couple Anna & Bernhard Blume are juxtaposed against works by the sculptor Des Hughes.
Just around the corner we find the gallery Carlier Gebauer, which presents the Irish documentary photographer Richard Mosse. He became famous for his images from the Congo in distorted colors. In the exhibition Broken Spectre he explores the boundaries between traditional reportage photography and artistic interpretation. These are images that manipulate reality and make us doubt that they are what they are supposed to be: real. Alongside these works are paintings by Julie Mehretu that also challenge the concept of reality. In her large-scale, gestural paintings, she uses the architecture of a place as the starting point for her explorations, resulting in detailed psychograms of our surroundings.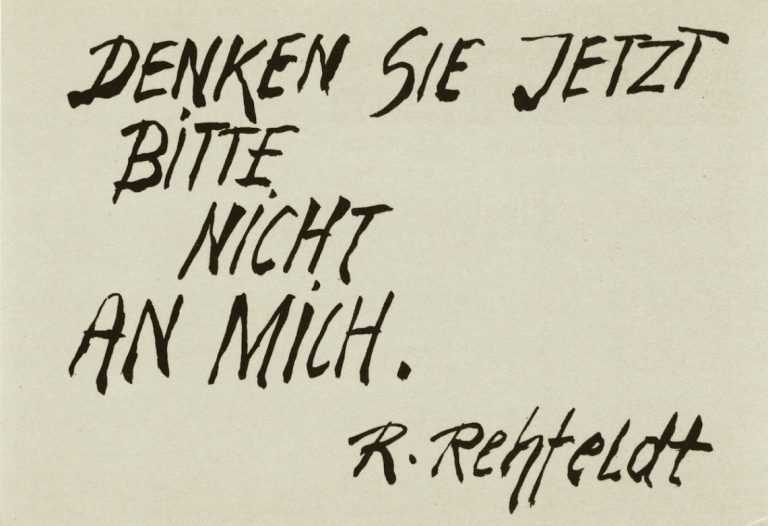 ChertLüdde welcomes Juan Antonio Olivares, Monia Ben Hamouda, and Robert Rehfeldt to its three exhibition spaces. In his new videos, presented via holograms, Olivares examines the psychological experiments conducted by the neurologist Oliver Sacks in the 1960s. In the gallery's Bungalow we can see Monia Ben Hamouda's shamanic intervention that explores the historical and sensitive implications of the henna ritual. Also on view are the witty and cryptic works of Robert Rehfeldt, who died in 1993. In his mail art he addresses all the questions that still bother us today, even though they are from the 1970s and 1980s.
When you then arrive at the impressive premises of Konrad Fischer Galerie, you will find two exhibitions, one by K.R.M Mooney and the other by Wolfgang Laib. In the former electrical substation, both artists explore the relationship between body and space. While K.R.M. Mooney dissolves these intersections and interstices, Wolfgang Laib works with organic materials such as pollen, milk, and wax. Although there are forty-one years between the two artists, they communicate with each other in a subtle way.
At Klemms, meanwhile, you will find yourself in Jonas Roßmeißl's first solo exhibition, where he exhibits sculptures that look like the artifacts of a "New Dark Age." Remnants of what we have made of this world. They are simultaneously a glimpse into the future and a critique of the present
Michael E. Smith, whose exhibition can be viewed at KOW, also focuses on an archeology of the present. Various everyday objects can be observed that are endowed with great symbolic power and convey a dystopian idea of the future.
At KÖNIG Galerie you will find a colorful potpourri of young emerging artists. As part of MISA, "Discoveries", a group exhibition of young art, is taking place there for the first time. Among the exhibitors are Johanna Dumet, Navot Miller and Fabian Warnsing.
Continuing along the canal in the direction of Kottbusser Tor we end up at Kraupa-Tuskany Zeidler. Their rooms are filled with the work of Brook Hsu: at the intersection of text, sculpture and painting. She draws closer to her own past through art and art history. In the process, she presents large-scale, blurry green paintings that swell upwards like memories from the subconscious.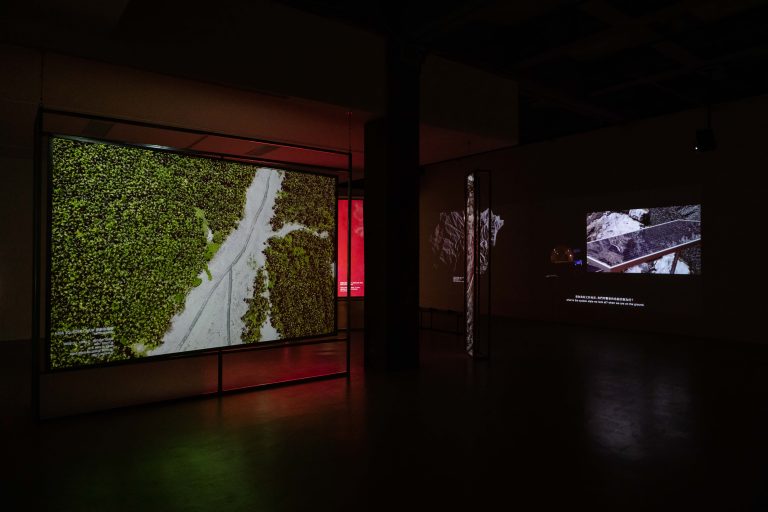 At Alexander Levy, Su Yu Hsin focuses more on the present. Together with scientists from the German Research Center for Geosciences and the Department of Disaster Prevention and Water Environment, Hsin has observed landslides in her native Taiwan and found out what they can tell us about the relationship humans have with their environment.
Thomas Schulte has invited the Mexican artist Abraham Cruzvillegas to design a site-specific work for the gallery's impressive bay window. During the preparation period, the artist asked the gallery staff to assist him with providing the cardboard boxes that are now painted in thirty-four different colors, each assigned a different quality. This is contrasted with Richard Deacon's skeletal stainless-steel sculptures, which blend rather fluidly into the space. 
At Sweetwater we have arrived in New York, where the artist Christopher Aque explores the structures of public fountains and pedestrian walkways. He has installed two fountains that draw water from each other. The water is simultaneously purified by a sterile UVC light. An additional series of photographs dissects—almost obsessively—the behavior of a pedestrian in the city.
Everything is more figurative at Soy Capitán. Dirk Lange displays three large-scale new figurative paintings in which every detail comes to life upon closer inspection. The delicate nature of their execution contrasts with the size of their formats. The figures in the works are always on the lookout, experiencing absurd and sometimes surreal things in the process.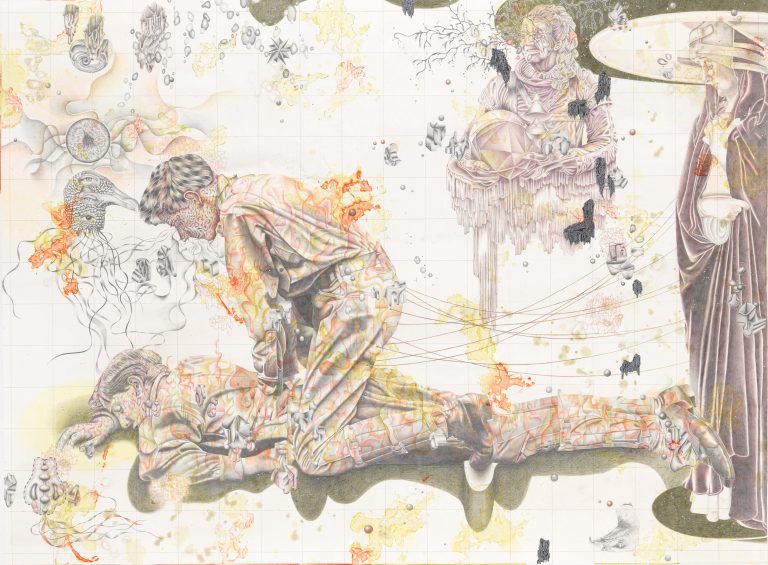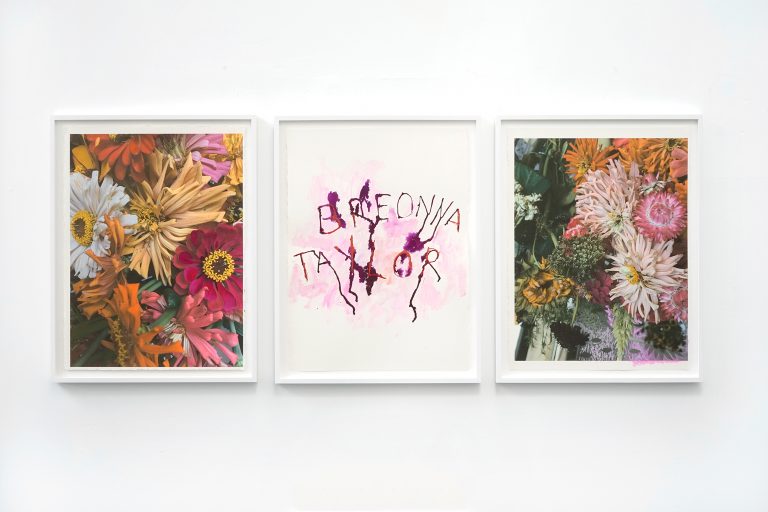 María Magdalena Campos-Pons takes an equally poetic approach to her subject. She has created five large mobiles out of Murano glass for Galerie Barbara Thumm, in which the patterns on butterfly wings slowly morph into the eyes of the murdered Breonna Taylor. The artist consistently addresses the theme of people who are all too little heard and seen, giving them a space away from these daily horror stories.
The tour ends at Barbara Weiss. Here, too, the focus is on a different view of various subcultures. Cudelice Brazelton IV assembles found materials in such a way that they relate to her own Black culture, punk, and the DIY movement. For Andreas Siekmann, on the other hand, the overarching themes of increasing privatization and rampant capitalism are the starting point for his work. He has sculpted forty-seven busts out of modeling clay, among them the philosopher Ayn Rand and Mark Zuckerberg, who now—somewhat rumpled—watch their surroundings and the world they either anticipated or shaped today.
Wir starten den Kunstrundgang durch den Süden Mittes und Kreuzberg in der Galerie Buchmann. Die Galerie in der Charlottenstraße beherbergt neue Arbeiten von Bettina Pousttchi, die mit ihrer Ausstellung "Directions" wieder tief in den Kanon ihrer Skulpturensprache eintaucht. Die selbstironischen Fotografien des Künstlerpaars Anna & Bernhard Blume werden in der Buchmann Box dem Bildhauer Des Hughes gegenübergestellt.
Direkt um die Ecke finden wir die Galerie Carlier Gebauer, die den irischen Dokumentarfotografen Richard Mosse zeigt. Bekannt geworden ist er mit farblich verfremdeten Bildern aus dem Kongo. In der Ausstellung "Broken Spectre" lotet er die Grenzen zwischen traditioneller Reportage-Fotografie und künstlerischer Interpretation aus. Es sind Bilder, die die Wirklichkeit manipulieren und überhaupt infrage stellen, was das sein soll: Wirklichkeit. Gleichzeitig sieht man Malereien von Julie Mehretu, die ebenfalls das Konzept von Wirklichkeit befragen. In ihren großformatigen, gestischen Malereien geht sie von der Architektur eines Ortes aus und untersucht diesen dann. So entstehen detaillierte Psychogramme unserer Umgebung.
ChertLüdde bespielt seine drei Ausstellungsräume mit Juan Antonio Olivares, Monia Ben Hamouda und Robert Rehfeldt. Olivares setzt sich in seinen neuen Videos, die über Hologramme präsentiert werden, mit den psychologischen Experimenten, die der Neurologe Oliver Sacks in den 1960er-Jahren durchgeführt hat, auseinander. Im Bungalow der Galerie können wir die schamanische Intervention von Monia Ben Hamouda sehen, die sich mit den geschichtlichen und sensitiven Implikationen des Henna-Rituals auseinandersetzen. Zusätzlich sieht man die witzigen und hintersinnigen Arbeiten des 1993 verstorbenen Robert Rehfeldt, der sich in seiner Mail-Art mit all den Fragen auseinandersetzt, die uns heute noch umtreiben, obwohl sie doch aus den 70er- und 80er-Jahren sind.
Wenn man dann zu den beeindruckenden Räumen der Konrad Fischer Galerie kommt, findet man zwei Ausstellungen. Von K.R.M Mooney und Wolfgang Laib. In dem ehemaligen Umspannwerk beschäftigen die beiden Künstler sich mit dem Verhältnis von Körper und Raum. Während K.R.M. Mooney diese Übergänge und Zwischenräume auflöst, arbeitet Wolfgang Laib mit organischen Materialien, wie Blütenstaub, Milch oder Wachs. Zwischen den beiden Künstlern liegen 41 Jahre und dennoch korrespondieren sie auf eine subtile Art miteinander.
Bei Klemms hingegen findet man sich in der ersten Einzelausstellung von Jonas Roßmeißl wieder. Er zeigt Skulpturen, die aussehen wie die Artefakte eines "New Dark Age". Überbleibsel dessen, was wir aus dieser Welt gemacht haben. Sie sind gleichzeitig ein Blick in die Zukunft und eine Kritik der Gegenwart.
Michael E. Smith, dessen Ausstellung man bei KOW sehen kann, beschäftigt sich ebenfalls mit einer Archäologie der Gegenwart. So sieht man verschiedene Alltagsgegenstände, die mit großer Symbolkraft ausgestattet sind und eine dystopische Idee von Zukünftigem vermitteln.
In der KÖNIG Galerie kann man ein buntes Potpourri an jungen, aufstrebenden Künstler*innen finden. Als Teil der MISA findet dort zum ersten Mal "Discoveries" statt, eine Gruppenausstellung mit junger Kunst. Unter den Ausstellenden befinden sich unter anderem Johanna Dumet, Navot Miller oder auch Fabian Warnsing.
Weiter am Kanal lang in Richtung Kottbusser Tor landen wir bei Kraupa Tuskany Zeidler. Die Räume werden von Brook Hsu bespielt, die sich an den Schnittstellen von Text, Skulptur und Malerei mit den Mitteln der Kunst und Kunstgeschichte ihrer eigenen Vergangenheit nähert. Dabei zeigt sie großformatige, grün-verschwommene Malereien, die wie die Aufzeichnungen aus dem Unterbewussten nach oben schwappen.
Bei Alexander Levy konzentriert sich Su Yu Hsin mehr auf die Gegenwart. Zusammen mit Wissenschaftler*innen aus dem Deutschen Geo Forschungs Zentrum und dem Department für Katastrophenschutz und Wasserumwelt hat Hsin Erdrutsche in ihrer Heimat Taiwan beobachtet und herausgefunden was diese uns über das Verhältnis des Menschen zu seiner Umwelt erzählen können.
Thomas Schulte hat den mexikanischen Künstler Abraham Cruzvillegas eingeladen, eigens eine Arbeit für den beeindruckenden Erker der Galerieräume zu konzipieren. Während der Vorbereitungszeit hat der Künstler das Galeriepersonal gebeten, ihm mit Kartons auszuhelfen, die nun bemalt mit 34 verschiedene Farben, denen jeweils eine andere Qualität zugeordnet ist, zu sehen sind. Dem gegenüber stehen die skelettartigen Edelstahlskulpturen von Richard Deacon, die sich eher fließend in den Raum einfügen. 
Nach New York gelangen wir bei Sweetwater, wo der Künstler Christopher Aque sich mit den Strukturen der öffentlichen Brunnen und Fußgängerwege beschäftigt. Er hat zwei Brunnen installiert, von denen jeder dem anderen Wasser entnimmt. Gleichzeitig wird das Wasser durch keimfreies UVC Licht gereinigt. Eine Serie von Fotografien seziert zusätzlich fast obsessiv das Verhalten eines Fußgängers in der Stadt.
Figurativer geht es bei Soy Capitán zu. Dirk Lange zeigt drei neue, großformatige figurative Gemälde, bei denen jedes Detail bei näherer Betrachtung zum Leben erweckt wird. Das Filigrane ihrer Ausführung steht der Größe ihrer Formate gegenüber. Die Figuren darin sind immer auf der Suche und erleben dabei absurde und manchmal surreal anmutende Dinge.
Ebenso poetisch nähert sich María Magdalena Campos-Pons ihrem Thema. Sie hat für die Galerie Barbara Thumm fünf große Mobiles aus Murano Glas angefertigt, in denen die Muster von Schmetterlingsflügeln langsam zu den Augen der ermordeten Breonna Taylor werden. Immer wieder bearbeitet sie Themen von Menschen, die zu wenig gehört und gesehen werden und gibt ihnen so einen Raum abseits von täglichen Schreckensmeldungen.
Der Rundgang endet bei Barbara Weiss. Auch hier geht es um einen anderen Blick auf verschiedene Subkulturen. Cudelice Brazelton IV setzt gefundene Materialien so zusammen, dass sie in Verbindung zu ihrer eigenen Schwarzen Kultur, zu Punk, zur DIY-Bewegung stehen. Für Andreas Siekmann hingegen sind die übergreifenden Themen der zunehmenden Privatisierung und des ausufernden Kapitalismus Ausgangspunkt seiner Arbeit. Er hat 47 Büsten aus Knetgummi geformt. Darunter der Philosoph Ayn Rand oder auch Mark Zuckerberg, die nun etwas geknautscht in die Gegend und die Welt, die sie entweder vorhergesehen oder heute geformt haben, schauen.