Gallery tour
Mitte & Wedding
by Sophie Jung

Urban expanse: in the course of history, much has taken place here on this former GDR boulevard in East Berlin, but what remains today, above all else, is widely spaced concrete. With its flanking "workers' palaces," Karl-Marx-Allee stretches out along the mirrored wall in the early Soviet exhibition space of Peres Projects, while sand on the floor of the gallery makes its emptiness even emptier. It is in this urban desert that the American artist Donna Huanca places her large-scale paintings—abstract patterns that are actually the material legacy of performances. Harm Gerdes, on view at Peres Projects for the first time, adds his smoldering spatial portraits to the scene.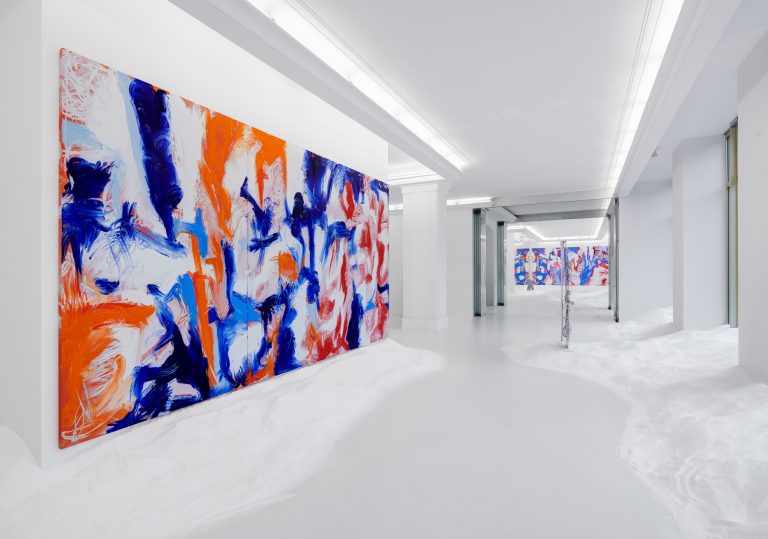 Due to the fullness of his figurative scenes, Tobias Pils sometimes forgets that he does not use any color at all in his painting: "You may see it in black and white, but you don't experience it in black and white." His friend and fellow artist Joe Bradley is quite different; his lines and expanses in lush colors are scribbled happily across the canvas. A few hundred meters further, in an East German modernist glass pavilion towards Alexanderplatz, Capitain Petzel now juxtaposes the colorful and the grayscale against each other—a debut in the gallery for the latter.
The extent to which Sean Scully can turn architecture into the scale for his autonomous color paintings was demonstrated at the Palladio-designed Church of San Giorgio Maggiore in Venice two years ago. He translated his familiar horizontal layers of paint into a larger-than-life tower under the Renaissance-era dome, while reducing them to an intimate paper format for the choir stalls. At Kewenig's town house on the historic Spree Island, the Irish-American old master displays his large-format wall paintings from a period spanning fifty years, ranging from abstract landscapes to monochrome color fields.
A gloomy sense of foreboding cannot fail to emerge from the photographs of a family album from 1938 that was found by chance. Jamie Diamond recreates historical scenes from a year in the life of a Berlin child shortly before the outbreak of World War II; Kewenig presents her series 365 days: 1938/2017 in its warehouse in Moabit, five kilometers to the west.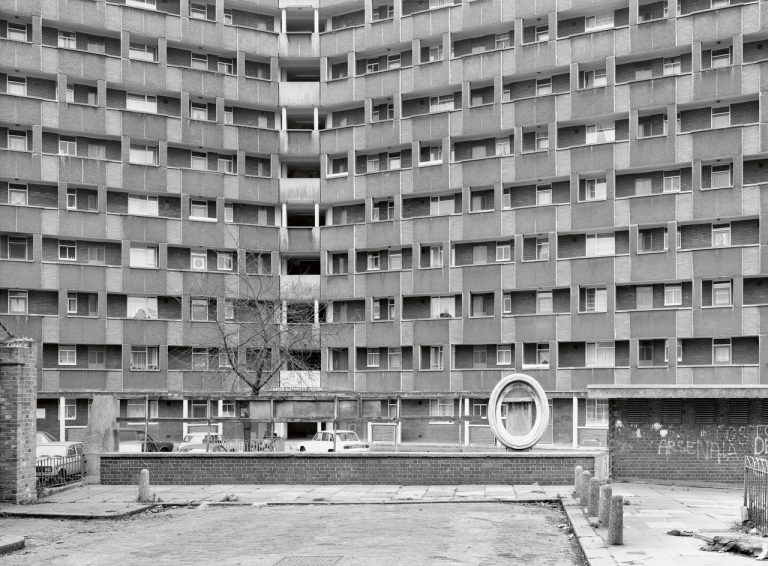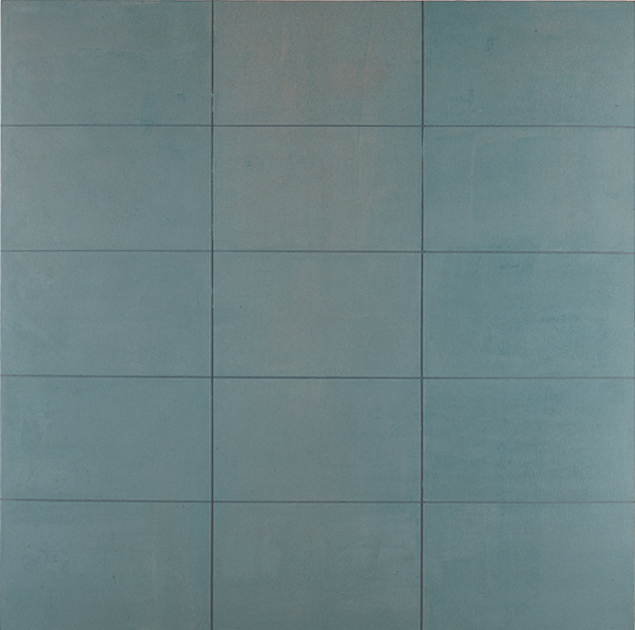 Only at second glance does the ambiguity of Axel Hütte's austere black-and-white architectural photographs become clear at Daniel Marzona, which can be accessed behind the Friedrichstraße S-Bahn station: the student of Bernd and Hilla Becher makes houses disappear into the grid of their own facade or plunges a street into disorientation through all its vanishing lines.
The photographs of museums in Louise Lawler's photographic essay for the postmodern art theory volume On the museum's ruins by Douglas Crimp, who died in 2019, seem frozen in their own knowledge regime and removed from the outside world. At Sprüth Magers, back on the other side of the Spree, the Pictures Generation artist now casts her alternative and revealing gaze over the recent MoMA exhibition of the minimalist Donald Judd, who is still widely acclaimed today.
In the other spaces of the gallery, the Georgian artist Andro Wekua designs a personal universe with a multimedia installation of his own memories, political events, and historical fragments, while the Helsinki-born artist Henni Alftan removes all affect from her flat and colorful still lifes. In her work, even people become figurative.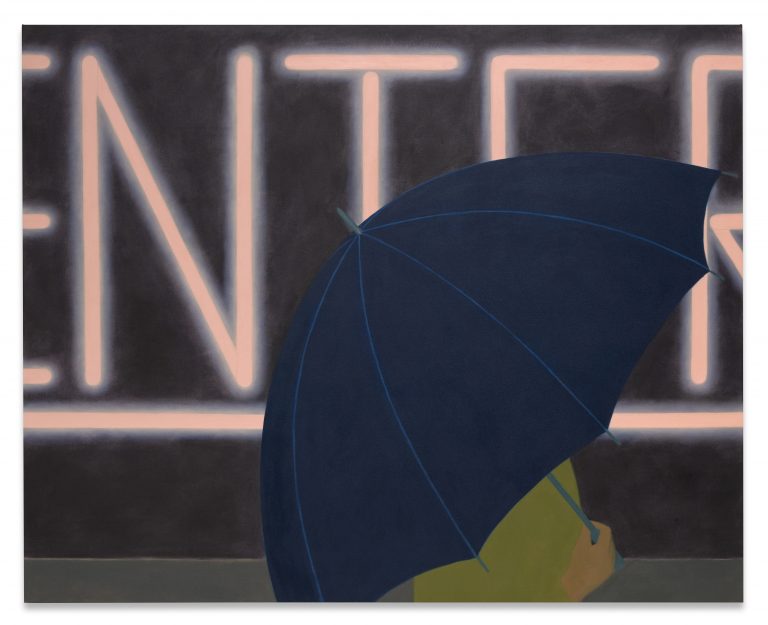 With clinical detachment, Igor Hosnedi also incorporates female figures into his poster-sized paintings of glossy surfaces and floral motifs at Eigen+Art's Lab a little further up Torstraße. Slightly further south again, on Augsutstraße, Karl-Heinz Adler's precise drawings and patterns with repetitive gestures at Eigen+Art seem almost machine-made. This important representative of the postwar concrete avant-garde, who died in 2019, also developed serial systems for the facades, fountains and playgrounds of the GDR in the 1960s.
In an unusual, serially manufactured building on Linienstraße, that is to say a 'Maisonette-Platte' (a prefabricated maisonette), Galerie Neu presents Win McCarthy, who was born in New York and still lives there to this day. With his sociologically subtle installations, the conceptual artist strikes a chord with American society in particular, which has already earned him—born in only 1986—a place in major collections such as that of the Whitney Museum.
Hundreds of spiders populate Tomás Saraceno's now famous Lichtenberg studio and produce the natural material for his bionic installations, which are exhibited worldwide. At neugerriemschneider, a few meters away on Linienstraße, the Argentinian's sensual spatial arrangements can now be seen for the first time. In we do not all breathe the same air, fine webs and particulate matter become an aesthetic experience—and an indicator of the pollution of our air at the same time.
Jorge Pardo, whose colorful patterned wallpapers in the café of the recently reopened Neue Nationalgalerie counter Ludwig Mies van der Rohe's "almost nothing" with a strong "quite a lot," continues to devote himself to the subject of modernist design at neugerriemschneider with a homage to Lilly Reich, the long underappreciated working partner of Ludwig Mies van der Rohe.
Julian Charrière is a melancholic documentarist of the Anthropocene. For his two sculptural ensembles at Dittrich & Schlechtriem—complemented by an intervention by the young sculptor Daniel Hölzl—he comes to terms with the crises of the twenty-first century through a psychedelic trip: lumps of coal become sacrifices to an oracle, while stones become a copy of Brion Gysin's already freaky Dreamachine.
The youngest artist between Wedding and the Spree during Gallery Weekend is Mara Wohnhaas. Born in 1997, she is currently still studying at the Kunstakademie Düsseldorf. For her first exhibition at BQ, she has built an abstract fairground ride out of metallic elements and takes a seat in its cubicle herself.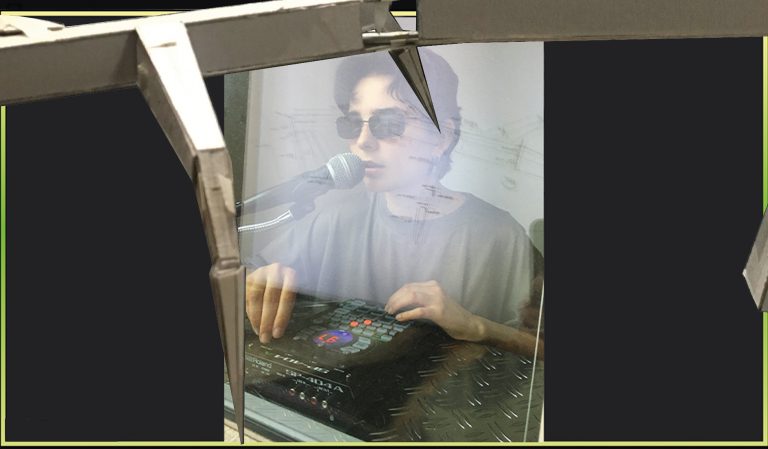 The name Phung-Thien Phang has been circulating in the Rhineland for quite some time. In Schiefe Zähne's small rear courtyard gallery in Prenzlauer Berg, the Essen-based artist remixes the codes of domesticity, everyday life and work through word games ("let's trip" or "triplets") and transformed everyday objects.
Philip Gröning is an established name in art cinema. Ebensperger in Wedding is showing his work for the first time in a former crematorium as part of the Oktoberfest project. In this virtual reality installation, Gröning condenses online images, videos and sounds from the last thirty years into a phantom of the world's largest public festival. The ghosts of conservative German cultural heritage are not new to him; in 1992 Gröning caused a stir that reached the ranks of the Chancellor with his film about a planned assassination attempt on Helmut Kohl, Die Terroristen (The Terrorists).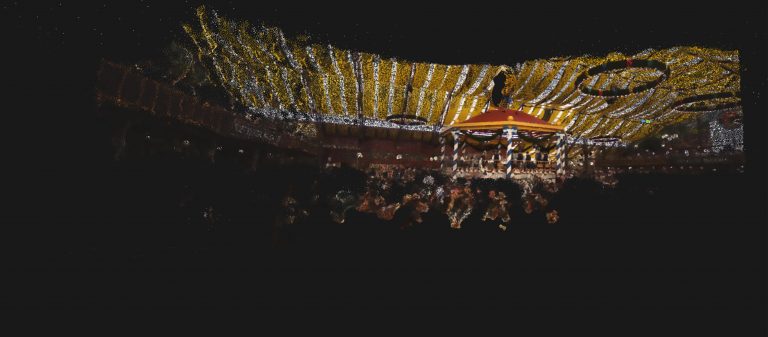 Urbane Weite. Hier an der einstigen DDR-Prachtstraße in Ostberlin hat historisch viel stattgefunden, doch geblieben ist davon vor allem weit auseinander stehender Beton. Die Karl-Marx-Allee mit ihren flankierenden Arbeiterpalästen dehnt sich auf der Spiegelwand in dem frühsowjetischen Ausstellungsraum von Peres Projects, Sand auf dem Boden der Galerie macht die Leere noch leerer. In diese städtische Wüste setzt die US-Amerikanerin Donna Huanca ihre großformatigen Malereien. Abstrakte Muster, die eigentlich die materielle Hinterlassenschaft von Performances sind. Harm Gerdes, erstmals bei Peres Projects zu sehen, fügt dem Setting seine schwelenden Raumbildnisse hinzu.
Ob seiner vollen figurativen Szenen, vergisst Tobias Pils manchmal, dass er in seiner Malerei gar keine Farben einsetzt: "Vielleicht siehst du Schwarz und Weiß, aber du erfährst es nicht in Schwarz und Weiß". Ganz anders sein Freund und Künstler Joe Bradley, dessen Linien und Flächen in satten Farben nur so fröhlich über die Leinwand kraxeln. Einige hundert Meter in Richtung Alexanderplatz, in einem gläsern-ostmodernistischen Pavillonbau stellt nun Capitain Petzel den Bunten und den Grautönigen – für den Letzteren ein Debüt in der Galerie – einander gegenüber.
Wie sehr Sean Scully Architektur zum Maßstab seiner autark stehenden Farbmalereien machen kann, war vor zwei Jahren in der Palladio-Kirche San Giorgio Maggiore in Venedig zu sehen. Seine bekannten horizontalen Farbschichten überführte er unter dem Renaissancegewölbe zu einem überlebensgroßen Turm und reduzierte sie zugleich für das Chorgestühl auf ein intimes Papierformat. Im Stadtpalais von Kewenig, auf der historischen Köllner Insel, zeigt der irisch-amerikanische Altmeister seine großformatigen Wandgemälde aus fünfzig Jahren von der abstrakten Landschaft bis zur monochromen Fläche.
Eine düstere Vorahnung muss sich auf den Fotografien eines zufällig gefundenen Familienalbums von 1938 abzeichnen. Jamie Diamond stellt die historischen Szenen aus dem Lebensjahr eines Berliner Kindes kurz vor Ausbruch des Zweiten Weltkriegs nach, Kewenig zeigt ihre Serie "365 days: 1938/2017" in seinem fünf Kilometer westlich gelegenen Moabiter Warehouse.
Erst auf den zweiten Blick wird die Doppelbödigkeit von Axel Hüttes strengen schwarz-weißen Architekturfotografien bei Daniel Marzona deutlich, zu denen man hinter dem S-Bahnhof Friedrichstraße gelangt: Der Schüler von Bernd und Hilla Becher lässt Häuser in ihrem eigenen Fassadenraster verschwinden oder eine Straße vor lauter Fluchtlinien in der Orientierungslosigkeit versinken.
In ihrem eigenen Wissensregime verharrend und von der Außenwelt entrückt wirkten die Aufnahmen von Museen in Louise Lawlers fotografischem Essay für den postmodernen Kunsttheorieband "Die Ruinen des Museums" des 2019 verstorbenen Douglas Crimp. Bei Sprüth Magers zurück über die Spree wirft die Künstlerin der Picture Generation ihren alternativen und gleichsam aufdeckenden Blick nun auf die kürzliche MoMA-Ausstellung des bis heute vielfach rezipierten Minimal Artist Donald Judd.
Der Georgier Andro Wekua entwirft in den weiteren Räumen der Galerie mit einer medienübergreifenden Installation aus eigenen Erinnerungen, politischen Ereignissen und historischen Fragmenten ein persönliches Weltgebäude, die in Helsinki geborene Henni Alftan hingegen entzieht ihren farbig-flächigen Stillleben jeglichen Affekt. Bei ihr werden selbst Personen gegenständlich.
Klinisch-distanziert fügt auch Igor Hosnedi die weiblichen Figuren in seine postergroßen Malereien von glänzenden Oberflächen und floralen Motiven im Lab von Eigen+Art etwas weiter in der Torstraße. Geradezu wie von der Maschine angefertigt scheinen die präzisen, eine Geste wiederholenden Zeichnungen und Muster von Karl-Heinz Adler bei Eigen+Art wieder etwas südlich in der Auguststraße. Der 2019 verstorbene, wichtige Vertreter der konkreten Nachkriegsavantgarde entwickelte in den 1960er Jahren der DDR auch serielle Systeme für Fassaden, Brunnen und Spielplätze.
In einem besonderen Bau serieller Produktion in der Linienstraße, einer "Maisonette-Platte" nämlich, zeigt Galerie Neu den in New York geborenen und bis heute dort lebenden Win McCarthy. Der Konzeptkünstler trifft mit seinen soziologisch spitzfindigen Installationen vor allem den Nerv einer US-amerikanischen Gesellschaft, was ihm, Jahrgang 1986, bereits einen Platz in bedeutenden Sammlungen wie der des Whitney Museums einräumte.
Hunderte Spinnen bevölkern das mittlerweile schon berühmte Lichtenberger Atelier von Tomás Saraceno und produzieren ihm das natürliche Material seiner weltweit ausgestellten bionischen Installationen. Bei neugerriemschneider einige Meter weiter in der Linienstraße sind die sensuellen Raumarrangements des Argentiniers nun zum ersten Mal zu sehen. In "we do not all breathe the same air" werden feine Gewebe und kleinste Partikel zu einer ästhetischen Erfahrung – und gleichsam zu einem Indikator für die Verschmutzung unserer Luft.
Jorge Pardo, der mit farbigen Mustertapeten im Café der gerade wieder eröffneten Neuen Nationalgalerie dem Mies'schen "fast-Nichts" ein kräftiges "ganz Viel" entgegenhält, widmet sich auch bei neugerriemschneider weiter dem Thema Design der Moderne mit einer Hommage an Lilly Reich, der lang viel zu unterschätzten Arbeitspartnerin von Ludwig Mies van der Rohe.
Julian Charrière ist ein melancholischer Dokumentarist des Anthropozän. Für seine zwei skulpturalen Ensembles bei Dittrich & Schlechtriem – ergänzt um eine Intervention des jungen Bildhauers Daniel Hölzl – bewältigt er die Krisen des 21. Jahrhundert mit einem psychedelischen Trip: Kohleklumpen werden zu Opfern des Orakelwesens, Steine zu einer Kopie der ohnehin schon freakigen Dream Machine von Brion Gysin.
Die jüngste Künstlerin zwischen Wedding und Spree während des Gallery Weekend ist Mara Wohnhaas, Jahrgang 1997. Noch studiert sie an der Kunstakademie Düsseldorf. Für ihre erste Ausstellung bei BQ baut sie aus metallischen Elementen ein abstraktes Fahrgeschäft auf und nimmt selbst in der Kabine Platz.
Im Rheinland zirkuliert der Name Phung-Thien Phang schon seit einer Weile. In der kleinen Prenzlauer Berger Hinterhof-Galerie von Schiefe Zähne mischt die in Essen lebende Künstlerin mit Wortspielen ("lets trip" oder "triplets") und umgewandelten Gebrauchsgegenständen die Codes von Häuslichkeiten, Alltag oder Arbeit neu.
Philip Gröning ist eine feste Größe im Kunstkino, Ebensperger im Wedding zeigt ihn in den Räumen eines einstigen Krematoriums mit dem Oktober-Fest Projekt zum ersten Mal. In der Virtual Reality-Installation, wo dieser Rundgang endet, verdichtet Gröning im Netz auffindbare Erinnerungsbilder, Videos und Töne der letzten dreißig Jahre zu einem Phantom des weltgrößten Volksfests. Die Geister konservativ-bundesrepublikanischen Kulturguts sind ihm nicht fremd, 1992 erregte Gröning Aufsehen bis in die Ränge des Kanzlers mit seinem Film "Die Terroristen" über ein geplantes Attentat auf Helmut Kohl.