Gallery tour
Schöneberg
by Christian Ganzenberg

It's discovery time, baby! After the quiet summer months, it's time for new finds again. Many galleries of Gallery Weekend Berlin have gone all out and are presenting numerous shows at the start of the season that deal with all kinds of new discoveries and rediscoveries, revelations, reveals, findings and disclosures. It is in this spirit that we begin our tour on Schöneberger Ufer at Barbara Wien, where the German photographer, draftsman, archivist, and collector Peter Piller (b. 1968) is waiting to be rediscovered. In different degrees of completeness, Piller presents new photographs of his own, found images, and drawings, all of which emerge from a central question: How does Piller's engagement with Stone Age art change his view of our everyday world?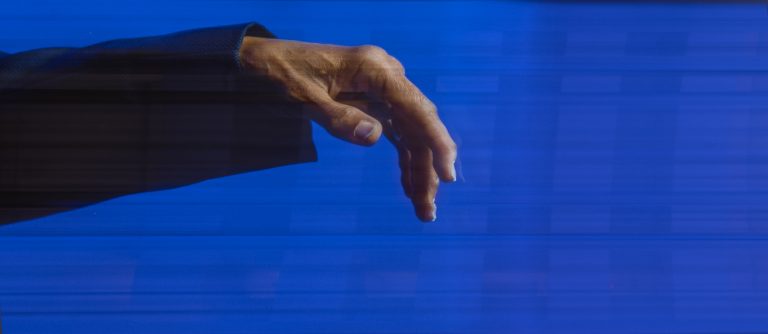 Next door at PSM there is another new find: Emma Jääskeläinen (b. 1988) is presented in Germany for the first time here. On display are sculptures made of granite and marble that emerge from repetitive, manual processes such as carving and chiseling and are counterpointed by lively, ephemeral layers of fabric, shells, or even chewing gum. This fragile juxtaposition not only represents emotionality and material transience, but also hints, so to speak, at the young Finn's quirky, dry sense of humor. In the same building entrance, Isabella Bortolozzi plays host to the American artist Wu Tsang: at the heart of her exhibition LOVESONG is a reconfigured version of a site-specific installation that was still on view at the Guggenheim Museum in New York until early September. It is a declaration of love—in the form of a film portrait—to the legendary singer, composer, and transgender activist Beverly Glenn-Copeland, who is experiencing a belated renaissance of his work after the chance rediscovery (!) of his first self-produced New Age cassette album by a Japanese collector in 2015. In the Eden Eden exhibition space, artist duo Jay Chung and Q Takeki Maeda get to the bottom of things: their large-scale totemic collages reveal how the erroneous assumption of the existence of a Mongoloid human race can be traced back to the imagination of a German academic who attempted, back in the 1770s, to make sense of the diverse human phenotype without any specialist knowledge on the matter.
Further along Potsdamer Straße, we can marvel at Cemile Sahin's (b. 1990) observations at Esther Schipper. Using wallpaper, 3D models, film, photographs, and printed Plexiglas plates, the artist has created a complex environment whose themes and motifs explore the treaties of Sèvres and Lausanne, in which the fate of the Ottoman Empire was sealed more than 100 years ago. In her artistic practice, which interweaves texts and images, Sahin explores the question of how history is written, what significance multiple perspectives (might) have in the process, and whether historical narratives, once written, can be reconstructed. Liu Ye's solo exhibition Internationale Architektur (International Architecture) is also a premiere, featuring twelve new paintings by the Chinese painter. Many motifs are related to architecture and themes from the Bauhaus era, which Liu Ye fuses with real and fictional figures to create an entirely personal iconography.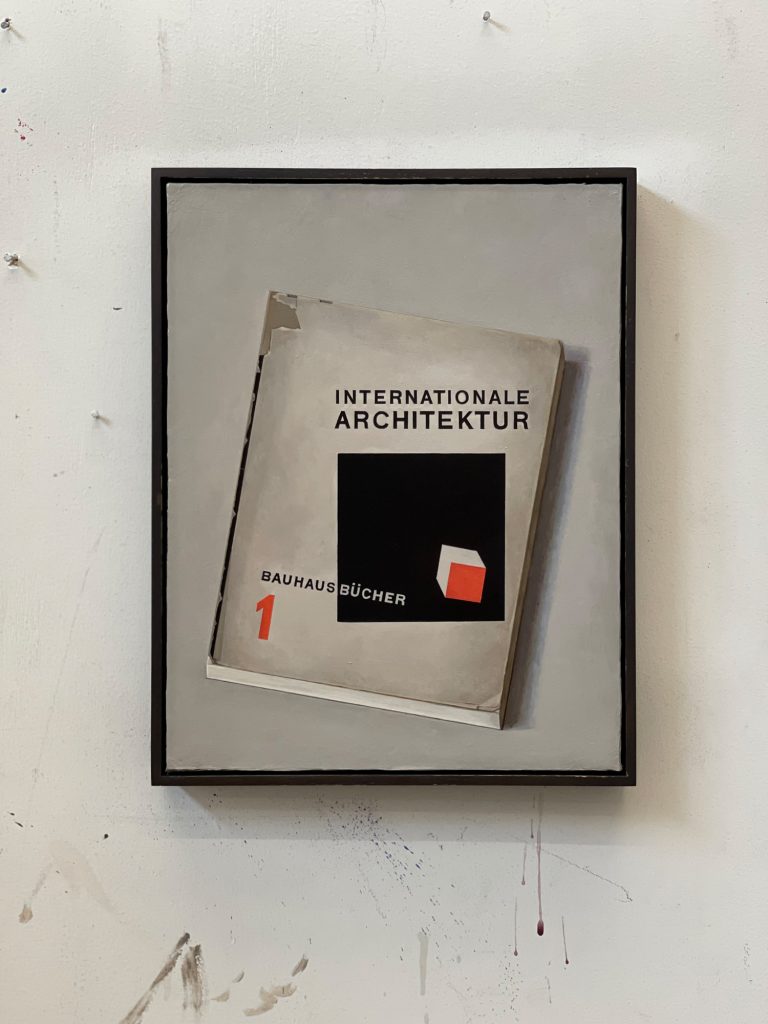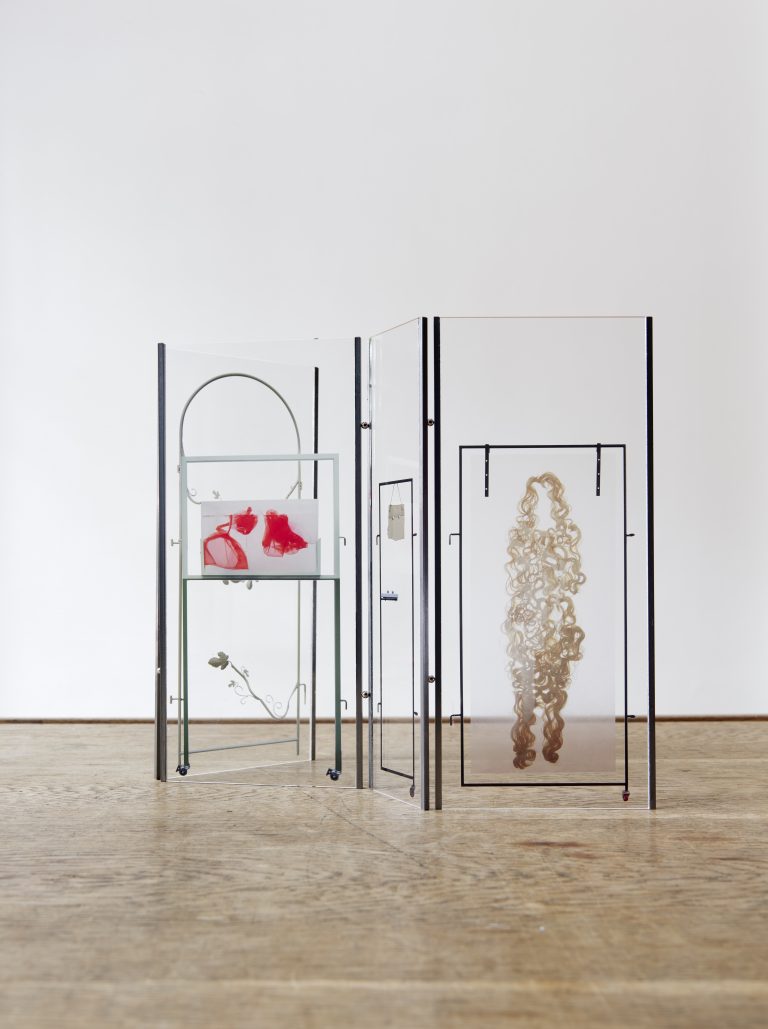 At Galerie Judin, Swiss artist Uwe Wittwer has created a large-scale installation titled Schwarzer Schnee (Black Snow). Wittwer's exhibition, which consists of paintings, watercolors, painted glass panels, and a wall drawing, offers an arc of suspense on the topic of the German forest. On the one hand, the forest can be experienced as the German Romantics' place of longing, where God can be discovered and peace found. On the other hand, a charcoal wall drawing shows us the forest as a place of war and violence.
At Plan B, Ciprian Muresan has critically examined the littering of institutional collections and the irrelevance of outdated monuments after radical changes in political systems. Using a number of Romanian examples—mainly from Cluj and Bucharest—Muresan has "mixed" new models from old monuments, repurposed them and given them new meaning, just as you might haphazardly reassemble the shards of broken porcelain figurines. He has also taken on the role of curator-discoverer by inviting Paul Stoie, a fellow artist from Cluj, to present his graduate work. Stoie had only recently recovered these works after more than thirteen years.
Further south on Potsdamer Straße, we discover Kasia Fudakowski's portable adaptation of her ongoing sculpture series Continuousslessness (since 2017) at Klosterfelde. Like the original version, the smaller translation is a lifelong project in which no element is able to stand alone, but is instead is dependent on the structural support of neighboring elements. As long as they can always be connected, this series will never be completed. And we keep going too, in the direction of Kurfürstenstraße: at Tanya Leighton, Kate Mosher Hall (b. 1986) presents her paintings in Berlin for the first time; their optical illusion effect is only one of countless ambiguities. The young UCLA graduate uses new screen printing techniques to test the limits of painting, while also exploring the spiritual conditions of our ways of seeing. Her large-scale paintings are delicately knitted webs of observations and glances, memories and reflections, proximity and distance, whose chiaroscuro dissolves into atmospheric sharpness and precise blur.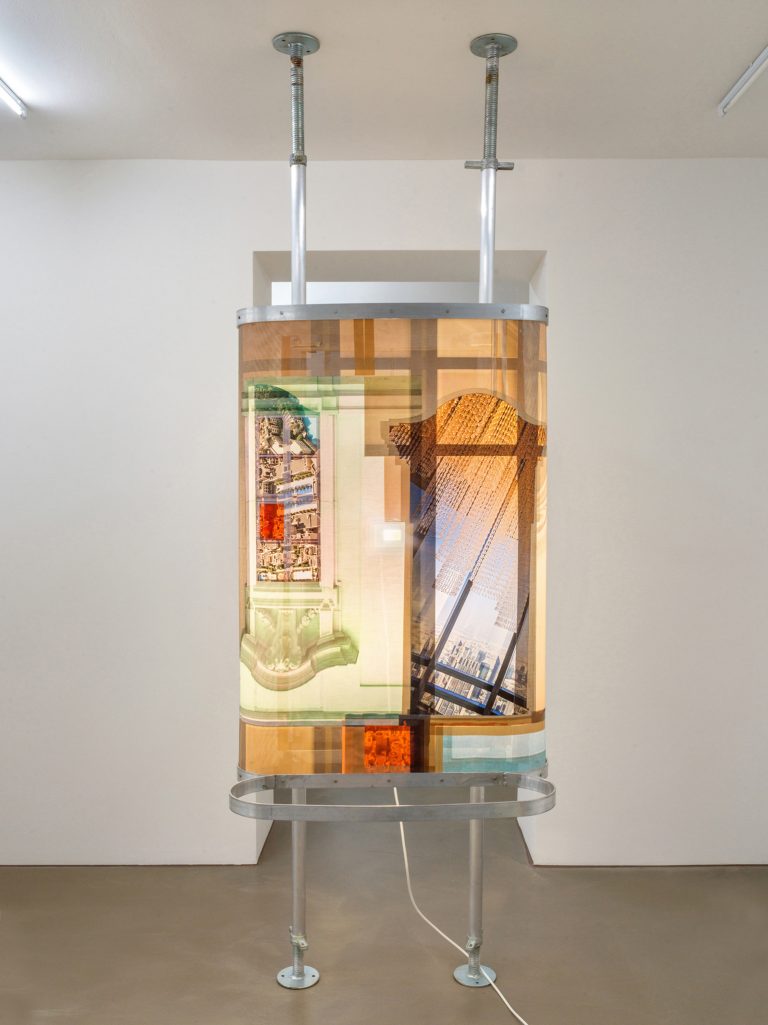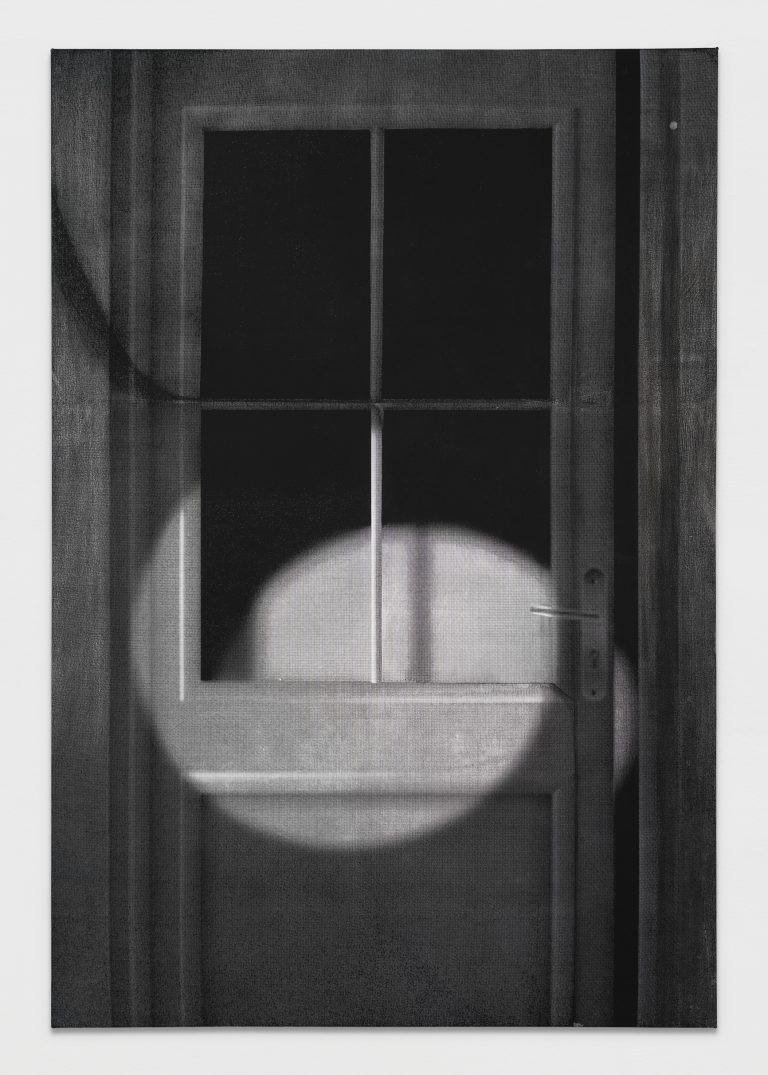 Guido W. Baudach also presents a new find, having invited the young German-Filipino sculptor Jasmin Werner (b. 1987) to exhibit there. Werner's latest series of works are dedicated to the so-called OFWs in Dubai, the Overseas Filipino Workers who are essentially responsible for the construction of the country, but otherwise do not (are not allowed to) make an appearance. In expansive, assemblage-like sculptures that resemble scaffolding and billboards, Werner intertwines a wide variety of visual sources, some of them familial.
More abstract and subtle, but no less fresh, are the works of Rachel Garrard (b. 1984) on view at Tanja Wagner. Garrard's artistic practice is exploratory, focusing on nature as a source of power. Garrard uses purpose-made natural substances such as quartz and rock powder, and integrates her own body performatively or ceremonially into her work. Alongside sculptures and an ephemeral installation, A Continuous Song for Several Voices features paintings that radiate a contemplative, almost cosmic tranquility. In them, the British artist's interest in the dialogue between symbolic and geometric representations of organic forms is revealed. At the end of our tour, things get more speculative at Noah Klink, where the Canadian artist Alison Yip had her future predicted by a clairvoyant and a shaman for her first solo exhibition in Berlin. Both of the resulting series of oil paintings depict the artist as a puppet-like figure in these contradictory projections of the future. Yip thus not only makes the "dispersed nature" of our cognitive apparatus her subject, she also makes us think about the significance of imagination in a post-factual world. That is—in the light of so many "discoveries" this year—thankfully nothing entirely new in art. In the end, the only question that remains is whether you would rather seek out more discoveries in other parts of the city, or whether you would rather discover yourself.
It's discovery time, baby! Nach ruhigen Sommermonaten ist es wieder Zeit für Entdeckungen. Viele Galerien des Gallery Weekend Berlin haben sich ins Zeug gelegt und präsentieren zum Saisonauftakt zahlreiche Schauen, die sich mit Formen von Neu- und Wiederentdeckungen, Enthüllungen, Aufdeckungen, Funden und Offenlegungen beschäftigen. Ganz in diesem Sinne beginnen wir unseren Rundgang am Schöneberger Ufer bei Barbara Wien, wo der deutsche Fotograf, Zeichner, Archivar und Sammler Peter Piller (*1968) wiederzuentdecken ist. In different degrees of completeness zeigt Piller neue eigene Fotografien, gefundene Bilder und Zeichnungen, die alle einer zentralen Fragestellung erwachsen: Wie verändert die Beschäftigung mit steinzeitlicher Kunst Piller's Blick auf die Alltagswelt?
Nebenan bei PSM gibt es eine Neuentdeckung: Hier präsentiert sich Emma Jääskeläinen (*1988) zum ersten Mal in Deutschland. Zu sehen sind Skulpturen aus Granit und Marmor, die aus repetitiven, manuellen Bearbeitungsprozessen wie Schnitzen und Meißeln hervorgehen und von lebendig-flüchtigen Schichten aus Stoffen, Muscheln oder auch Kaugummi konterkariert werden. Dieses zerbrechliche Nebeneinander veranschaulicht nicht nur Emotionalität und materielle Vergänglichkeit, sondern lässt gleichsam auch den schrägen und trockenen Humor der jungen Finnin erahnen. Im gleichen Hauseingang ist die amerikanische Künstlerin Wu Tsang zu Gast bei Isabella Bortolozzi: Den Kern ihrer Ausstellung LOVESONG bildet eine rekonfigurierte Version einer ortsspezifischen Installation, die noch bis Anfang September im Guggenheim Museum in New York zu sehen war. Es ist eine Liebeserklärung – in Form eines Filmporträts – an den legendären Sänger, Komponisten und Transgender-Aktivisten Beverly Glenn-Copeland, der nach der zufälligen Wiederentdeckung (!) seines ersten selbstproduzierten "New Age"-Kassettenalbums 2015 durch einen japanischen Sammler eine verspätete Renaissance seines Werkes erlebt. Im Ausstellungsraum Eden Eden gehen das Künstlerduo Jay Chung und Q Takeki Maeda den Dingen auf den Grund: Ihre großformatigen totemischen Collagen enthüllen, wie die fälschliche Annahme der Existenz einer mongoloiden Menschenrasse auf die Fantasie eines deutschen Gelehrten zurückgeht. Dieser versuchte in den 1770er Jahren ohne jegliches Fachwissen, dem vielfältigen menschlichen Phänotyp einen Sinn zu geben.
Weiter in der Potsdamer Straße bestaunen wir bei Esther Schipper die "Aufdeckungen" von Cemile Sahin (*1990). Aus Tapeten, 3D-Modellen, Film, Fotos und bedruckten Plexiglasplatten hat sie ein vielschichtiges Environment geschaffen, das sich motivisch und thematisch mit den Verträgen von Sèvres und Lausanne beschäftigt, in denen vor mehr als 100 Jahren das Schicksal des Osmanischen Reichs besiegelt wurde. In ihrer Text und Bild verschränkenden künstlerischen Praxis geht Sahin der Frage nach, wie Geschichte geschrieben wird, welche Bedeutung dabei multiple Perspektiven haben (könnten) und ob sich einmal geschriebene historische Narrative neu konstruieren lassen. Eine Premiere ist auch Liu Yes Einzelausstellung Internationale Architektur, die mit zwölf neuen Gemälden des chinesischen Malers aufwartet. Viele Motive beziehen sich auf Architekturen und Motive aus der Bauhaus-Ära, die Liu Ye mit fiktiven und realen Figuren zu einer ganz persönlichen Ikonografie verschmelzen lässt.
In der Galerie Judin hat der Schweizer Uwe Wittwer unter dem Titel Schwarzer Schnee eine groß angelegte Installation geschaffen. Wittwers Ausstellung, die Gemälde, Aquarelle, bemalte Glasstelen und eine Wandzeichnung umfasst, wartet mit einem Spannungsbogen zum Motiv des deutschen Waldes auf. Einerseits wird der Wald als Sehnsuchtsort der deutschen Romantiker erfahrbar, in dem Gott entdeckt und Friede gefunden werden kann. Andererseits führt uns eine Wandzeichnung in Kohle den Wald als Ort von Krieg und Gewalt vor Augen.
Bei Plan B hat sich Ciprian Muresan kritisch mit der Vermüllung institutioneller Sammlungen und der Gegenstandslosigkeit überholter Denkmäler nach radikalen Veränderungen der politischen Systeme auseinandergesetzt. Anhand einiger rumänischer Beispiele – vor allem aus Cluj und Bukarest – hat Muresan aus alten Denkmälern neue Modelle "gemixt", umgewidmet und mit neuer Bedeutung versehen – so wie man die Scherben zerbrochener Porzellanfiguren willkürlich neu zusammensetzen könnte. Zudem hat er auch die Funktion eines Kurator-Entdeckers übernommen, indem er Paul Stoie, einen Künstlerkollegen aus Cluj, eingeladen hat, seine Diplom-Abschlussarbeiten zu präsentieren. Stoie hatte diese Arbeiten erst kürzlich nach mehr als 13 Jahren wiedergefunden.
Weiter südwärts auf der Potsdamer Straße entdecken wir Kasia Fudakowskis portable Adaption ihrer fortlaufenden Skulpturserie Continuousslessness (seit 2017) bei Klosterfelde. Wie die Originalversion so ist auch die kleinere Übersetzung ein lebenslanges Projekt, bei dem kein Element alleinstehen kann, sondern auf die strukturelle Unterstützung der Nachbarelemente angewiesen ist. Anschlussfähigkeit immer vorausgesetzt, wird diese Serie niemals abgeschlossen sein. Und auch wir schauen weiter in Richtung Kurfürstenstraße: Bei Tanya Leighton zeigt Kate Mosher Hall (*1986) erstmals in Berlin ihre Bilder, deren optischer Täuschungseffekt nur eine von zahllosen Ambiguitäten ist. Die junge UCLA-Absolventin testet mit neuen Siebdrucktechniken die Grenzen der Malerei aus, und geht dabei auch den spirituellen Bedingungen unseres Sehens nach. Ihre großformatigen Bilder sind zart gestrickte Netze aus Beobachtungen und Blicken, Erinnerungen und Reflektionen, Nähe und Distanz, deren 'Chiaroscuro' sich in atmosphärischer Schärfe und präziser Unschärfe auflösen. Auch Guido W. Baudach präsentiert einen neuen Fund, hat er doch die junge deutsch-philippinische Bildhauerin Jasmin Werner (*1987) eingeladen. Werners neueste Werkgruppen widmen sich den sogenannten OFWs, den Overseas Filipino Workers in Dubai, die als überseeische Arbeitskräfte zwar wesentlich für den Aufbau des Landes verantwortlich sind, aber sonst nicht in Erscheinung treten (dürfen). Auf raumgreifenden, assemblageartigen Skulpturen, die Baugerüsten und Werbetafeln ähneln, verschränkt Werner verschiedenste, zum Teil familiäre Bildquellen miteinander.
Abstrakter und subtiler, aber nicht weniger taufrisch, sind die Werke von Rachel Garrard (*1984), die bei Tanja Wagner zu sehen sind. Garrards künstlerische Praxis ist eine forschende, in der die Natur als Kraftquelle im Vordergrund steht. Garrard verwendet eigens hergestellte natürliche Substanzen wie Quarz und Gesteinspulver und integriert ihren eigenen Körper performativ oder zeremoniell in ihr Schaffen. A Continuous Song for Several Voices zeigt neben Skulpturen und einer ephemeren Installation auch Gemälde, die eine kontemplative, fast kosmische Ruhe ausstrahlen. In ihnen offenbart sich das Interesse der britischen Künstlerin am Dialog von symbolischen und geometrischen Darstellungen organischer Formen. Zum Abschluss unseres Rundganges wird es bei Noah Klink noch einmal spekulativer, hat sich doch die kanadische Künstlerin Alison Yip für ihre erste Einzelausstellung in Berlin von einem Hellseher und einem Schamanen ihre Zukunft vorhersagen lassen. Die beiden darauf basierenden Serien von Ölgemälden zeigen die Künstlerin selbst als marionettenhafte Figur in den widersprüchlichen Zukunftsprojektionen. Damit macht Yip nicht nur die "dispersed nature" unseres kognitiven Apparats zum Thema, sondern sie lässt uns zudem über die Bedeutung der Fantasie in einer post-faktischen Welt nachdenken. Das ist – im Angesicht so vieler "discoveries" in diesem Jahr – zum Glück nichts ganz Neues in der Kunst. Dann bleibt zum Schluss nur noch die Frage, ob man lieber in anderen Stadteilen weitere "discoveries" aufstöbern oder sich lieber selber entdecken möchte.